This is a fully loaded list of homemade nachos recipes. The idea of baked nachos may sound simple, but there are endless combinations of nacho chips and toppings try!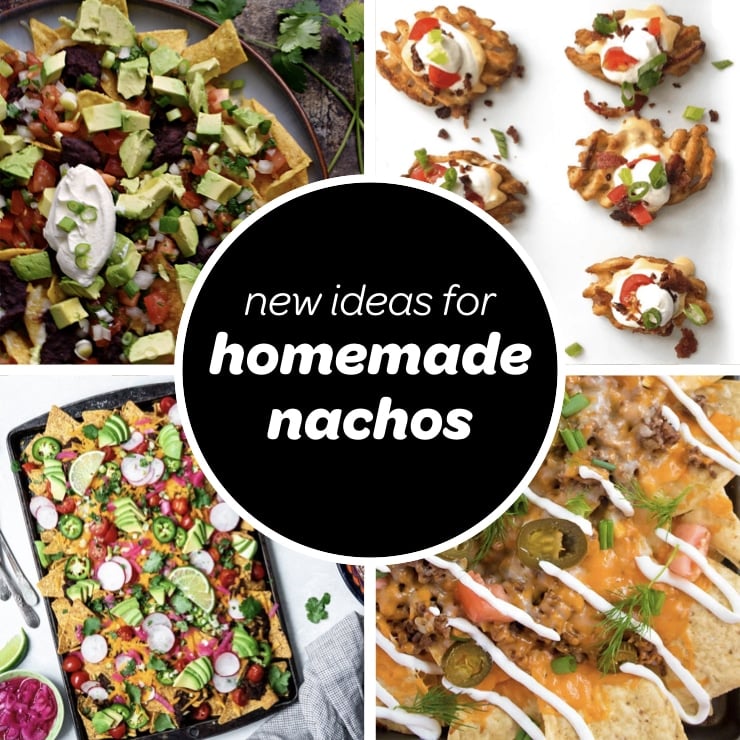 Find the best nacho recipes right here..
Learn how to make restaurant nachos at home.
Wow guests. These gourmet nachos recipes are the epitome of game day food. Serve them for Superbowl, March Madness, etc. with some crispy baked wings.
Make dinner nachos with leftovers. Turn leftover sous vide pulled pork or a chicken dinner into a new meal. Almost anything from the previous day can become homemade nachos ingredients.
Nachos recipes with beef
This list of ideas starts with restaurant style beef nacho recipes. Here are a few tasty recipes for nachos with beef, including one with a chili topping.
Loaded Beef Nachos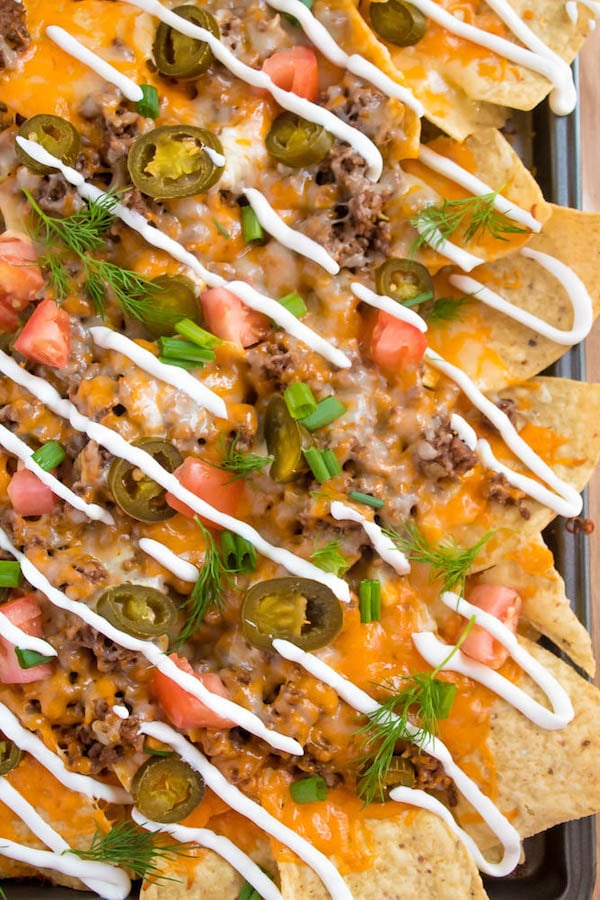 These tasty fully loaded beef nachos are topped with taco-seasoned ground beef, jalapeños, two melty cheeses and a couple of surprises! Serve them at your Superbowl party, movie night, or any party crowd.
Get the recipe at Queenslee Apetit
One of my favorite things to do with leftover beef is to make beef patties made from scratch. Homemade burgers are always so good!
Smoked Brisket Nachos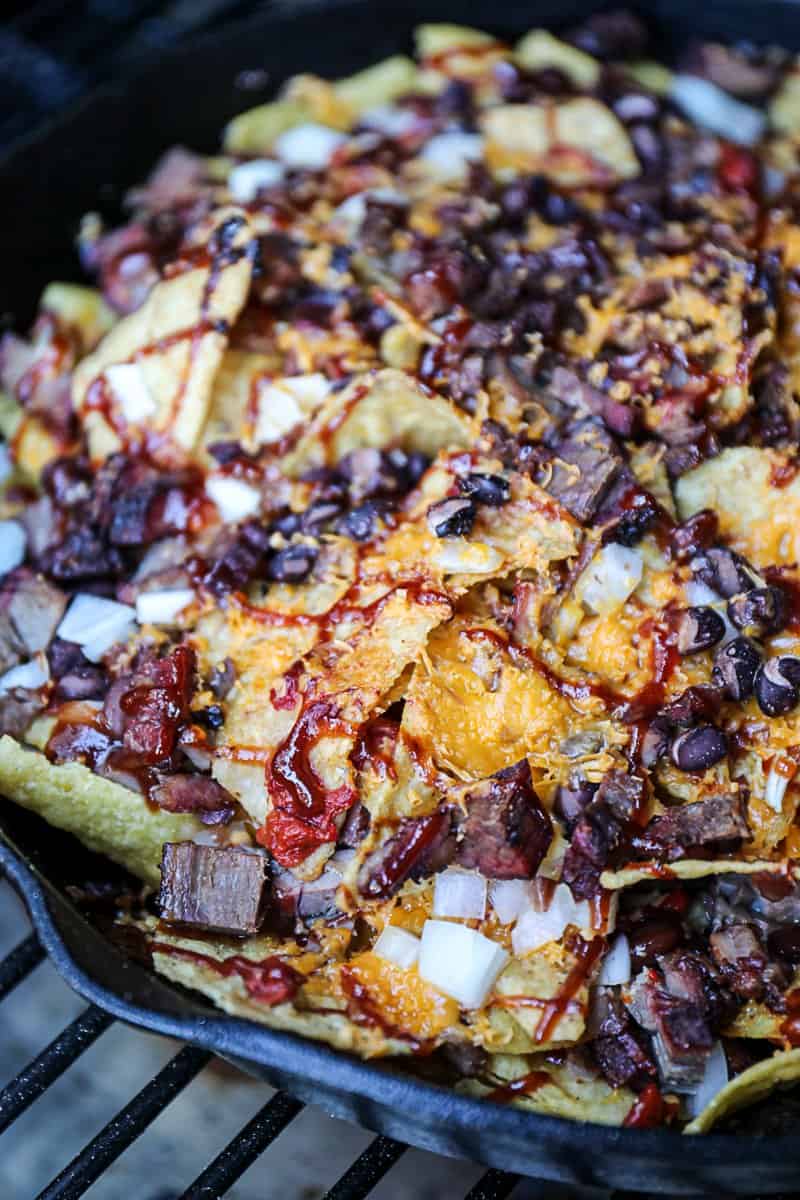 When we have leftover sous vide brisket or smoked brisket flat, our favorite appetizer to make are smoked brisket nachos.
You can adapt this recipe with any cooked protein you have on hand.
Other good toppings for meat include pan grilled chicken, shredded smoked whole chicken or smoked pulled pork.
See the best smoked foods for game day…
Chili Beef Nachos
These Chili Beef Nachos kick things up a notch with a jalapeno sour cream or this jalapeno ranch sauce. If you want to go a bit milder, serve these homemade chili nachos with regular sour cream or guacamole. The other ingredients are simple and easy to toss together on a sheet tray.
Get the recipe at Slow The Cook Down
Loaded Beef Nachos with Spinach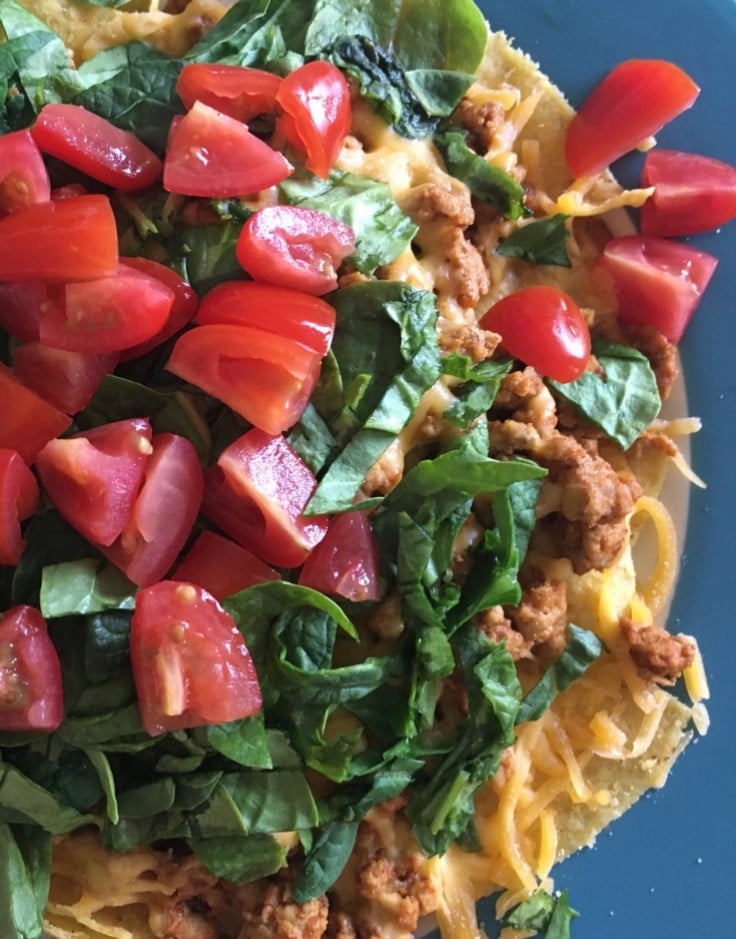 Spinach makes these beef nachos a little healthier, right? This is a super simple nachos recipe for a regular ol' game day. You can amp these up for big, special events like Superbowl with some additional toppings.
Get the recipe at Drugstore Divas
Vegetarian Nachos
Even if you aren't a vegetarian, when feeding a crowd, you should include vegetarian nachos recipes like these ones. They're loaded with black beans, tofu, and one can even be made in the microwave!
Loaded Spicy Black Bean Vegan Nachos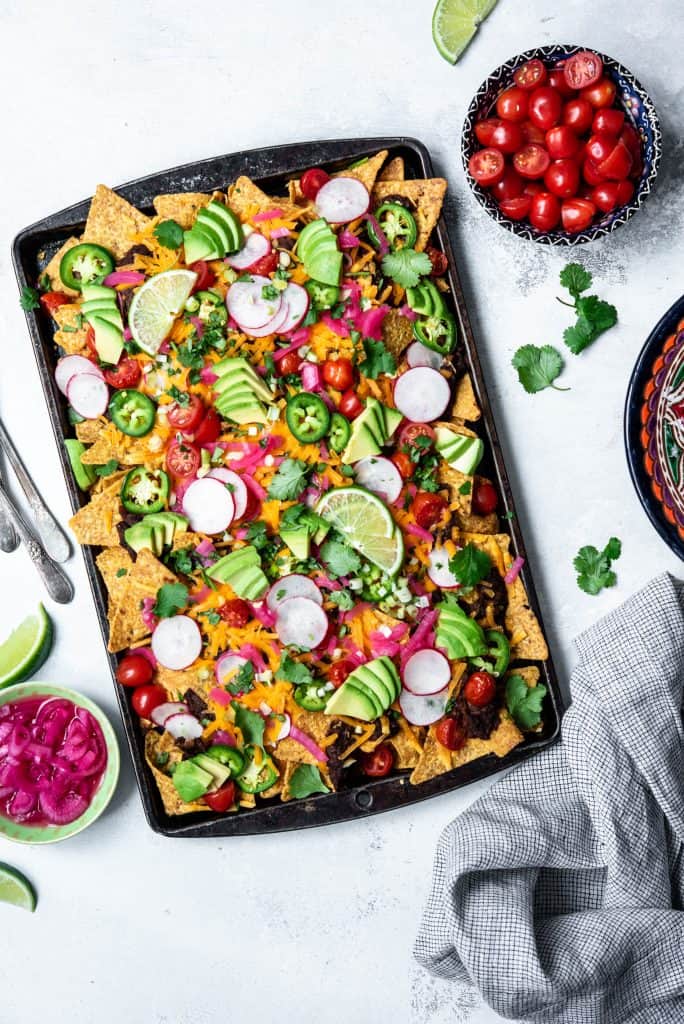 Nachos packed with veggies can easily turn into a quick weeknight dinner! These Vegetarian Nachos pair well with a refreshing margarita. These loaded Spicy Black Bean vegan nachos have all the fixings: homemade black beans, vegan cheese, tomatoes, jalapeño, pickled onion, radishes, avocado, cilantro, green.
Get the recipe at Crowded Kitchen
Easy Vegetarian Microwave Nachos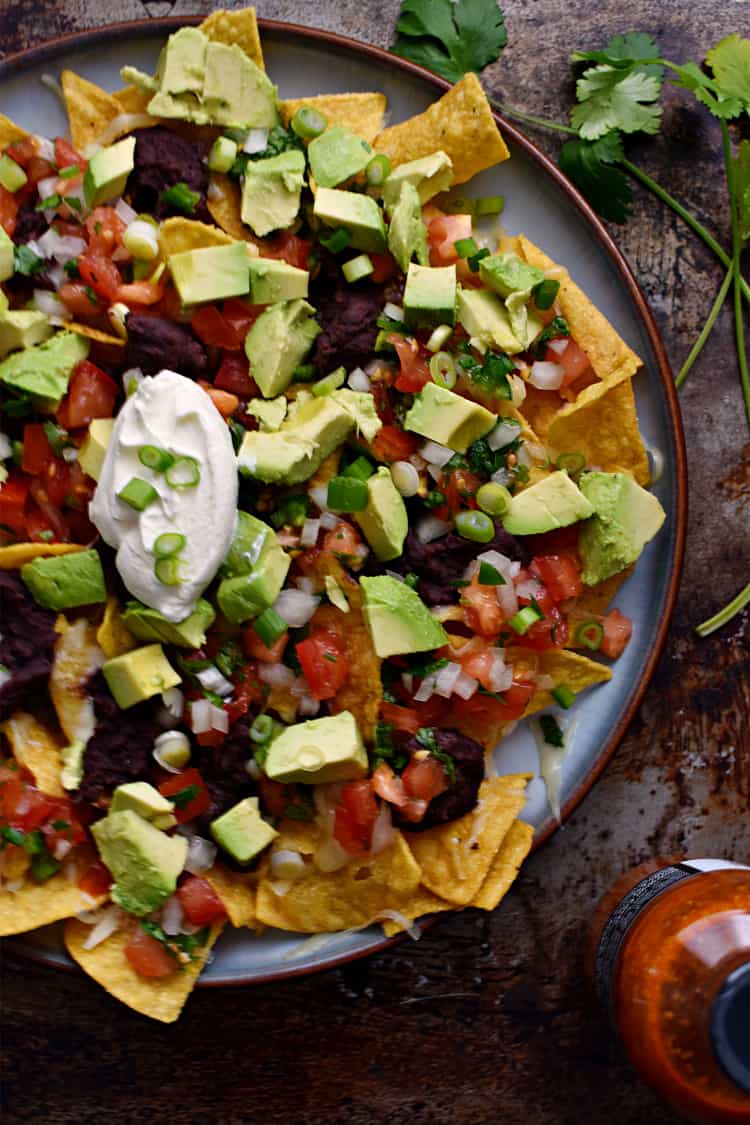 When it comes to easy homemade loaded nachos, it doesn't get much better than making nachos in the microwave. They also make a delicious, no-fuss lunch or dinner when you don't feel like cooking.
Get the recipe at The Boozy Oyster
Gourmet nachos with chicken
Add some protein with a pick from this variety of chicken nachos. Try enchilada style fully loaded chicken nachos. Or make homemade chicken nachos with Sriracha sauce or in the slow cooker.
Loaded Sriracha Chicken Kettle Chips
This is a slow cooked, pulled Sriracha chicken piled on to crispy kettle chips with bacon, jalapeno, tomato, and tons of cheese. These insanely good, party chips with my delicious Sriracha chicken is worthy of your biggest football get-together. Enjoy!
Get the recipe at Erica's Recipes
Pulled Chicken Nachos
Want a great home gating recipe? Check out this great slow cooker chicken recipe!!! They were really easy to make, especially because I used the slow cooker to make chicken.
Get the recipe at Drugstore Divas
Chicken Enchilada Nachos
The shredded roasted chicken dripping in homemade enchilada sauce takes this nacho idea into the upper echelon of deliciously quick snacks. When you're trying to think of some good quick recipes for game day, give these Chicken Enchilada Nachos a try and I think you will enjoy it.
Get the recipe at Dudes That Cooks
Nachos with pork
These recipes include nachos smothered with pulled pork. Make them with the help of the grill. Or ahead of game day, or for a party crowd in the slow cooker to save time.
Hatfield Slow Cooker Pulled Pork Nachos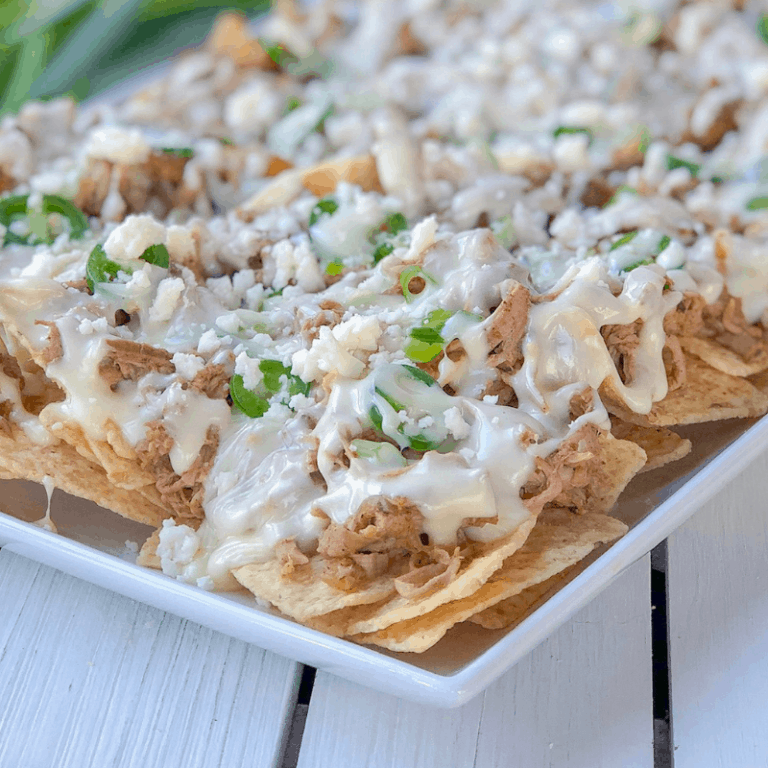 Hey slow cooker fans! You'll love these pulled pork nachos. This pork nachos recipe is so easy to set and forget in your crock pot. This recipe includes nachos ingredients your friends and family will love, like a simple cheese sauce.
Get the recipe at Bitesized Kitchen
Pulled Pork Nachos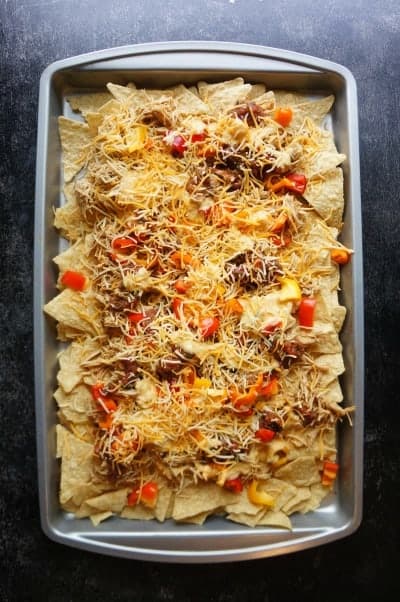 These Pulled Pork Nachos are festive, tasty, and so simple to make. Loaded nachos that are guaranteed to be a crowd-pleaser! Simply layer your toppings, bake onto a sheet pan and serve. Done. Easy peasy!
Get the recipe at Windy City Dinner Fairy
More unique nachos recipes
Want to get creative in the kitchen? Here are some wild, unique homemade nachos recipes I didn't want you to miss out on. They're inspired from around the world… check out these Asian, Irish, and Greek nachos!
Potsticker Nachos with Wonton Chips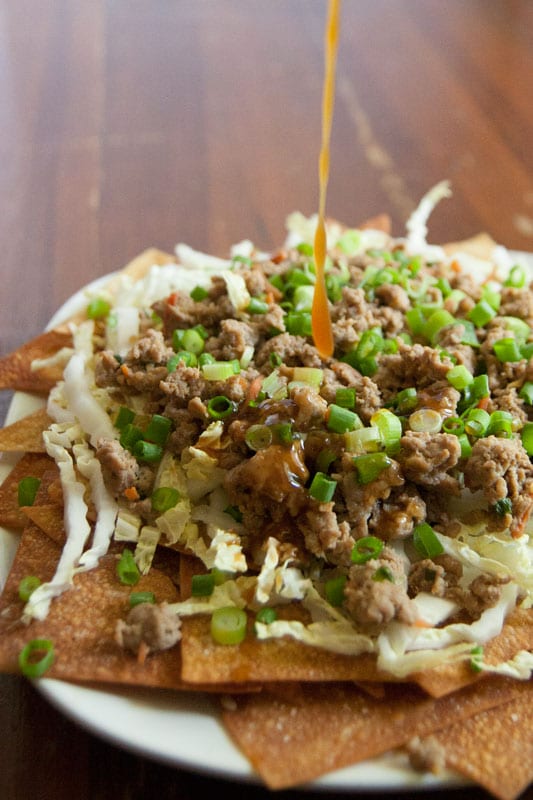 This is one of my favorite unique nacho recipes. Enjoy the juicy, gingery filling in a crunchy, fun, easy-to-share format. These Asian-inspired nachos are sure to be a hit! The wonton chips are baked, not fried, so they're a little healthier and your whole house won't smell like hot oil for the next three days.
Get the recipe at Pinch Me I'm Eating
Loaded Irish Pub Waffle Fry Nachos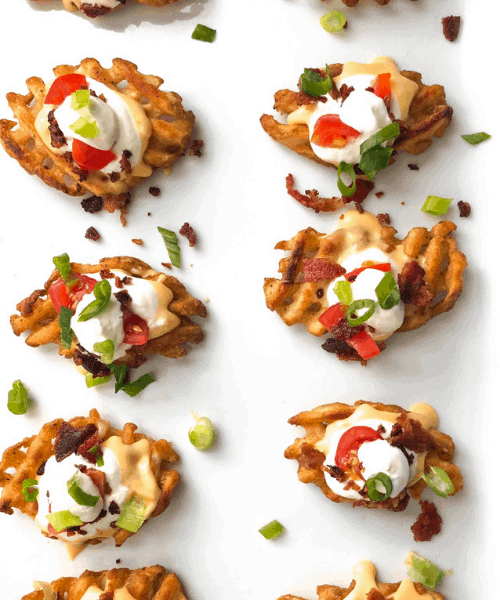 These Loaded Irish Pub Nacho Fries are a spin-off of an appetizer a local Irish Pub serves. Served on crispy waffle fries topped with a homemade cheese sauce, they are the perfect appetizer for any sports party or tailgate!
Get the recipe at Bitesized Kitchen
Greek Nachos With Creamy Hummus
Craving Greek food but wanting nachos, Greek Nachos with Creamy Hummus is the perfect Greek/Mexican fusion. Greek Nachos with Creamy Hummus is a wonderful way to enjoy two different countries in one awesome dish.
Get the recipe at Homemade And Yummy
How long do you bake nachos at 425?
If you're looking for a standard temperature to bake nachos, 425 degrees is a good starting point. Use the cheese as your guide for how long to bake nachos at 425. Check on the nachos once they're in the oven for 10-15 minutes and bake them until the cheese has completely melted.
How to assemble homemade nachos
Line chips in one layer on a

sheet pan

lined with parchment paper

Lightly cover with ½ the cheese

Add toppings

Cover with remaining cheese

Bake in the oven at 425 for 10-15 minutes until cheese melts. Alternatively, broil in the oven (watch carefully so the parchment paper and nachos don't burn) for 2-3 minutes.
Tasty tips + ideas for homemade nachos
What are standard nacho toppings?

Shredded meat like this

sous vide pulled pork

, jalapenos, beans, guacamole, sour cream, and diced tomatoes or salsa.

What kind of cheese should you use for nachos?

The best cheese for nachos are cheeses that melt fast. Jack cheese, a Mexican cheese blend,

Oaxaca cheese,

or cheddar cheese are good options.

How should I serve nachos?

Serve the nachos right on the

sheet pan

or a

large cast iron pan

(once the pan cools). Or, transfer nachos to a

large Mexican platter

.

How do you feed nachos to a crowd?

Set out a nacho toppings bar for parties so everyone can DIY their favorite nachos. Bake a couple sheet trays with just cheese so the nachos are a blank canvas for your guests.

How do you re-crisp nachos?

Make homemade nachos crispy again in the oven for 2-5 minutes at 425 degrees.

What should you do if your nachos came out too salty?

Balance the saltiness of nachos with a squeeze of lime. The acid will help offset the saltiness.
Let me know when you make one of these homemade nachos recipes. It means so much to hear from Sip Bite Go readers and I love seeing photos of your food! Don't forget to tag me @sipbitego on Instagram so I can see how the recipe turned out.
Readers also love these party foods and game day recipes…