The best slow cooked sausage sandwiches are juicy, a little chewy, and have tasty toppings. They're served on thick hoagie style rolls. And they keep hungry friends and family coming back for seconds. This slow cooked sausage peppers and onions recipe is an easy way to make sausage sandwiches. It's one of my go-to slow cooker recipes for a crowd.
Slow cooking sausages with beer
This slow cooker sausage sandwich recipe is made with beer and has no sauce added. The slow cooked sausage marinated in beer creates tender, juicy sausages. The beer adds a ton of flavor to caramelized onions and peppers . Another option, instead of beer, is to slow cook the sausages in cider.
Also see how to cook brats in oven
Browning sausages for the crock pot
As with any crock pot meat recipe, for best results, brown the sausages with olive oil in a medium-hot skillet. Before adding them to the skillet, poke holes in the raw sausages to help release steam.
Searing sausages locks in a ton of flavor and gives them a nice crunch in the hoagie roll. Once the sausages are browned on the stove, add them to the crock pot with 1 inch of beer (about 1 cup).
Prepping the onions and peppers
Diced onions and peppers can go directly into the slow cooker. In my house, we LOVE caramelized onions (like these red wine caramelized red onions), so we sauté them on the stove first.
If you haven't seen it yet, I have a trick to cutting the peppers. Or, should I say, my husband has a trick I stole and put on the internet. See how to cut bell peppers into strips.
Slow cooked sausage meal ideas
Once you learn how to slow cook sausage in the crock pot with peppers and onions, you'll have this slow cooker recipe in your back pocket to use all year.
Here are a few easy slow cooked sausage meals:
Whip up slow cooker sausage sandwiches.
Skip the hoagie rolls and serve the sausages over rice or potatoes for easy weeknight crockpot meals.
For parties, dice up the sausages before adding them to the crock pot and serve them with a stash of toothpicks to eat as finger foods.
Make ahead slow cooker sausages, peppers and onions to use in breakfast sandwiches, served with eggs.
Check out these other tasty slow cooker recipes.
The best rolls for slow cooker sausage sandwiches
Slow cooker sausage peppers and onions need a hearty, thick roll. Serve slow cooker sausage on a hoagie roll, baguette, ciabatta roll, or hotdog bun.
Toppings for slow cooked sausage sandwiches
There are so many versions of sausage sandwiches to make. When making this slow cooker main dish for a party, I like to set out a variety of toppings for guests to build their own sausage sandwiches.
Here are some of my favorite toppings for sausage sandwiches:
Slow cooked peppers and onions

Mustard – stone ground mustard or dijon mustard are great choices

Sauerkraut – tasty with german sausage or other pork sausages

Marinara sauce or tomato sauce – great for pairing with a sweet Italian sausage or mild Italian sausage

Bleu cheese crumbles

Bacon crumbles

Chili

Salsa

Fried onions

Eggs for breakfast

Baked beans
Looking for more sandwich ideas? Check out my recipe for sous vide pulled pork!
Mustards for sausage sandwiches
Any mustard can be used to bring out the flavor of these juicy sausage sandwiches. A classic yellow mustard, Dijon or spicy brown mustard will taste delicious. For a sweet flavor, mix honey and mustard to create a homemade honey mustard sauce for the sausages.
How to cook sausages from frozen
If you're working with frozen sausages, defrost them in the microwave before searing them in the skillet.
Leftover sausage meal ideas
Slow cooked sausages made in large quantities can feed a family for days. Add leftover sausages to homemade pizza, sausage rolls (made in puff pastry), pasta dishes or enjoy them for breakfast in a scramble with eggs.
For game days, Super Bowl parties, and cool winter months, I believe you can never have too many easy slow cooker dinner recipes! If you're looking for another easy crock pot sandwich, check out these Hawaiian pineapple BBQ meatballs. They're sweet and sour, and in my crock pot right now as I type this!
Readers also love 17 gourmet hot dogs to feed a crowd.
Love easy weeknight dinners? Check out these Cheesy Italian Stuffed Peppers and grilled brats.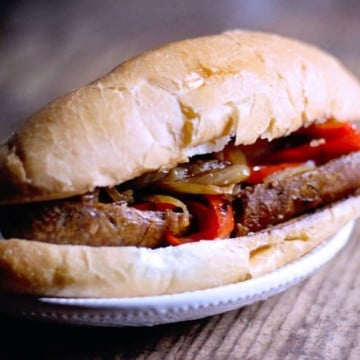 Slow cooked sausage sandwiches with onions and peppers (Sip Bite Go)
This easy crock pot main dish is made with mild Italian sausage, peppers and onions. Slow cooked sausage sandwiches are great for weeknight dinners and crock pot meals for a crowd.
Print
Pin
Rate
Ingredients
Sausages
5

mild Italian sausages

1

tbsp

olive oil

1

cup

beer

lager

2

onions

sliced thin

2

red peppers

sliced thin
Sandwiches
5

hoagie rolls

¼

cup

Dijon mustard
Instructions
Poke holes in the raw sausages to help release steam. Sear sausages with olive oil in a pan on medium-high. Brown sausages on all sides.

(optional) Saute onions with 2 tbsp olive oil on medium in a pan, stirring regularly, for 10-20 minutes until brown.

Add sausages, beer, onions and peppers to crock pot. Mix to integrate ingredients. Cook ~4-6 hours on high.

Serve on hoagie rolls with dijon mustard or other toppings.
Notes
Show me your slow cooked sausages! I'd love to check out your toppings and learn how this recipe went for you. Find me @sipbitego on Instagram and tag #sipbitego.
Nutrition