Hope you're hungry, because you've landed on a huge list of Gourmet Hot Dogs with Fun Toppings. Get ideas for a hot dog bar, grilled hot dogs, condiments, and how to serve hot dogs for a crowd or potluck. With these creative gourmet hot dog recipes, you can trade in all the classic hot dog condiments for fun hot dog toppings. Let's get to it!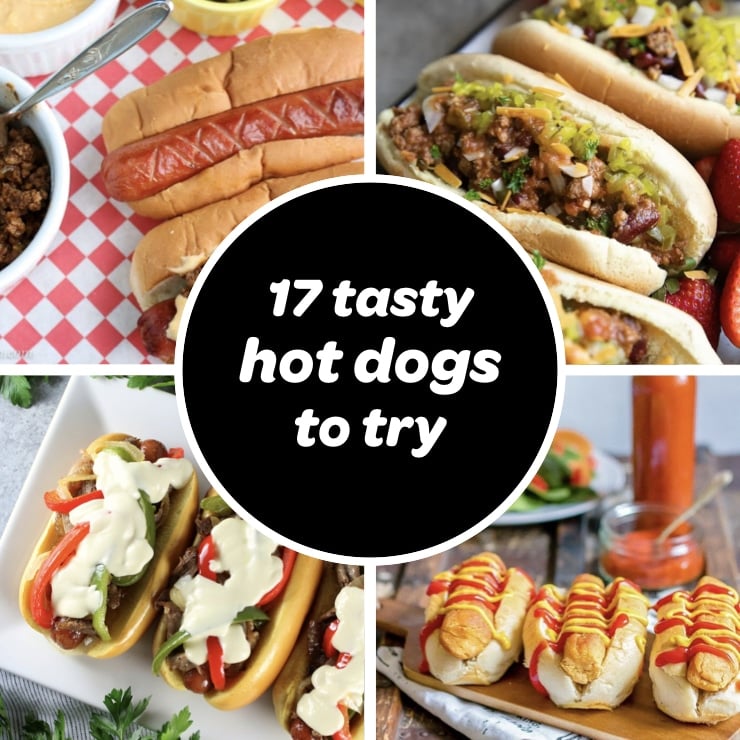 Fast and easy gourmet hot dogs
Simple Air Fryer Hot Dogs
Tasty air fryer hot dogs cook in only 5 minutes! See how to make 'em juicy inside, crisp outside, without any olive oil. A great air fryer recipe for kids.
Add on your favorite hot dog toppings like pickle relish, ketchup and mustard, and this classic might just be better than grilled hot dogs!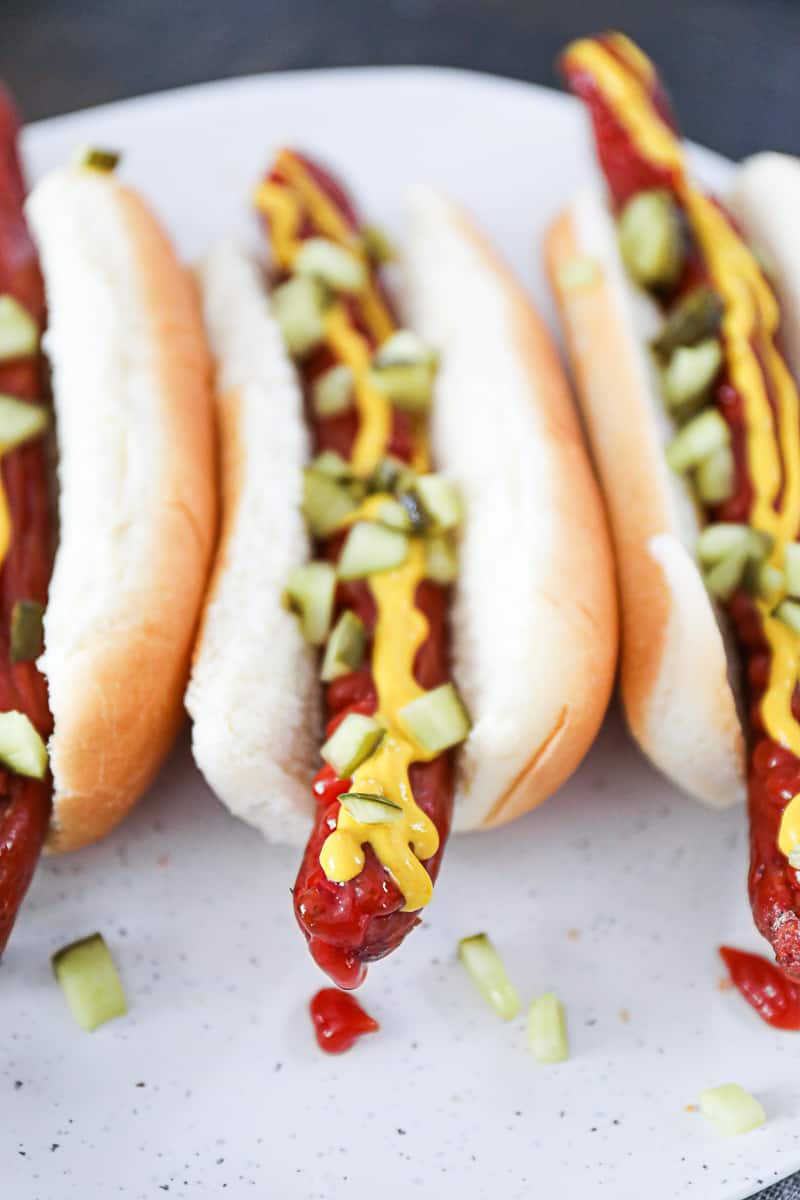 Tortilla wrapped hot dog "taquitos"
Forget the bun, and the ketchup. Go Mexican restaurant style and serve these in flour tortillas with a side of sour cream and guacamole.
See how to make cheesy hot dog tortillas.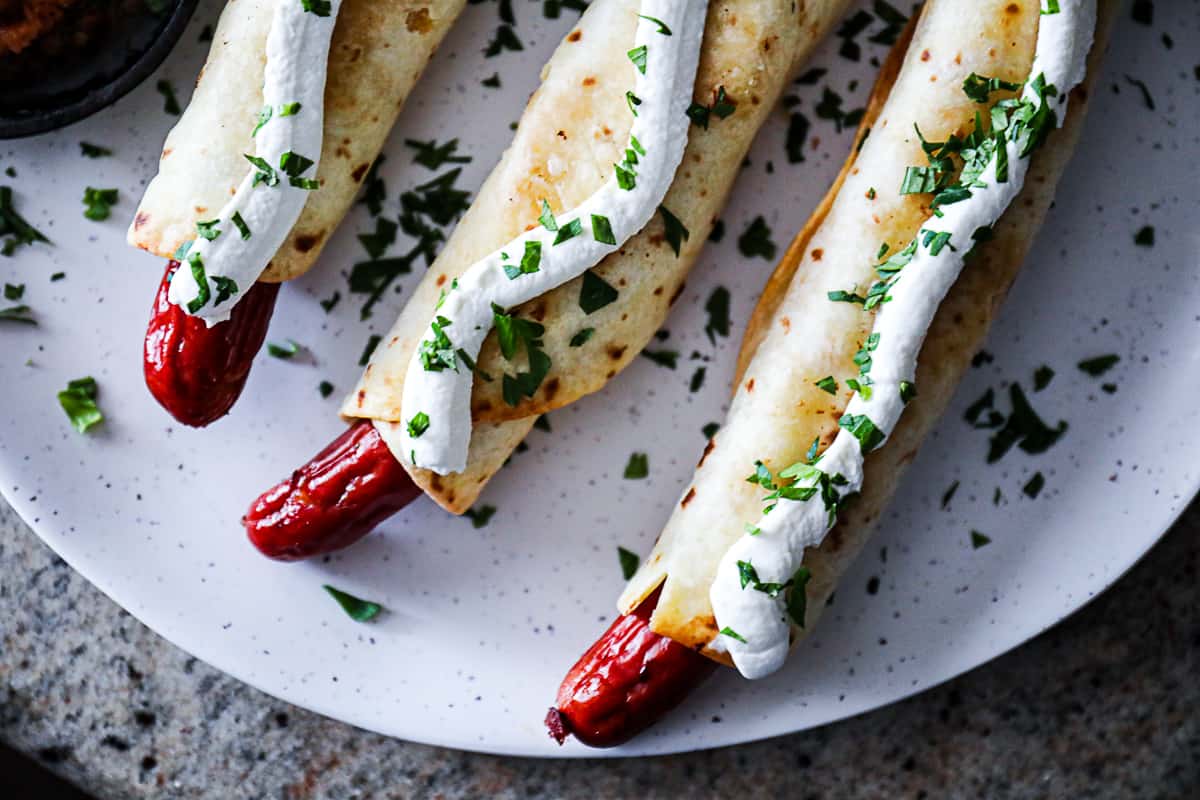 Bacon wrapped hot dogs (air fry, grill, OR baked)
As the saying goes… Cheese, bacon and hot dogs… a match made in foodie heaven! (okay, no one has said that but this recipe makes it official!).
Just a few ingredients and your choice of cooking tool of choice: an air fryer machine, oven baked, or grilled. These tasty gourmet style hot dogs are ready to devour in only 20 minutes.
See how to make bacon wrapped hot dogs.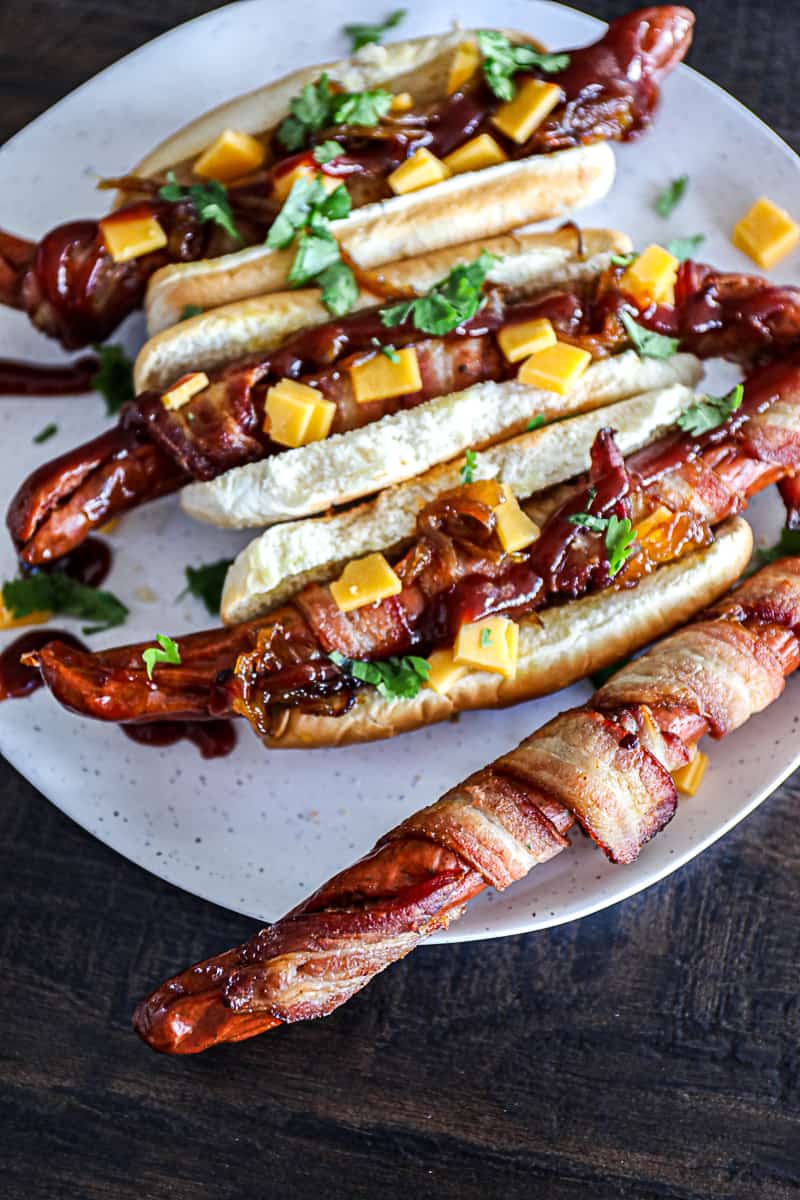 Spicy hot dogs
Buffalo Style Hot Dogs
Forget your basic hot dog toppings. These Buffalo Style Hot Dogs will send your meal into a flavor explosion!
Buffalo Style Hot Dogs take the American classic dog to a new level. Pile on fun hot dog toppings like buffalo sauce, blue cheese and celery to make this version.
Get the recipe at cooking on the front burners
Love buffalo sauce? Me, too! Try this sous vide chicken wings recipe or crispy oven baked wings.
Jalapeño Pretzel Dogs
These spicy Jalapeño Pretzel Dogs have a bunch of fun hot dog toppings. They're crunchy from the French's Crispy Jalapeños, and soft from the pizza dough. 
I like to sprinkle a little celery salt on them for a gourmet taste.
Get the recipe at who needs a cape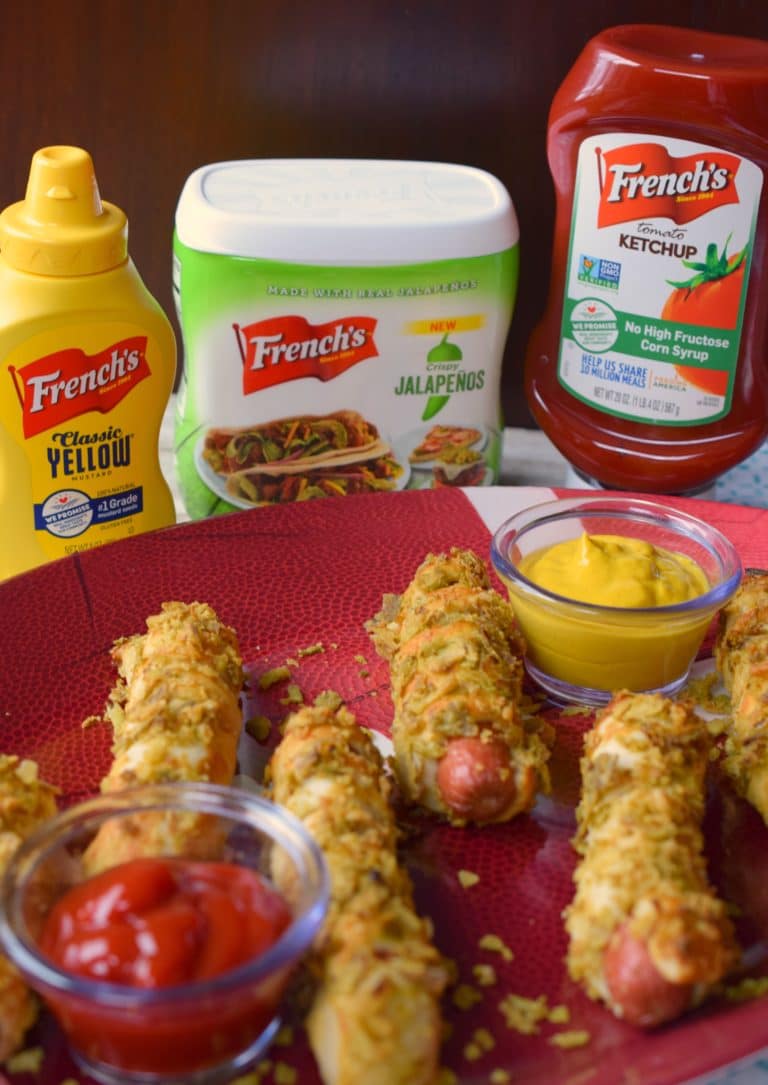 Gourmet hot dogs with bacon
Bacon Wrapped Hot Dogs
Love bacon? Once you learn how to serve hot dogs with bacon, you may never go back. These ones are also packed with garlic aioli – a win-win if you like bold flavors. Serve these Bacon Wrapped Hot Dogs with a side of cold beer.
Get the recipe at bottom left of the mitten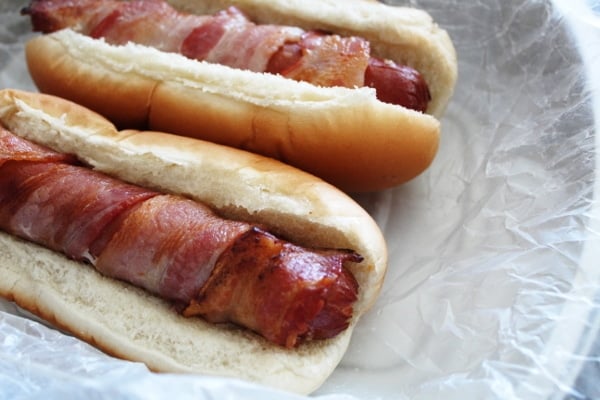 Need some chips for these hot dogs? Check out these pan fried potato chips!
Memphis Hot Dogs
We already established that bacon is amazing. So for another thrilling answer to the age-old question of how to serve hot dogs with bacon… these beef hot dogs wrapped in bacon with a drizzle of BBQ sauce. You gotta try these Memphis Hot Dogs for yourself.
Get the recipe at bottom left of the mitten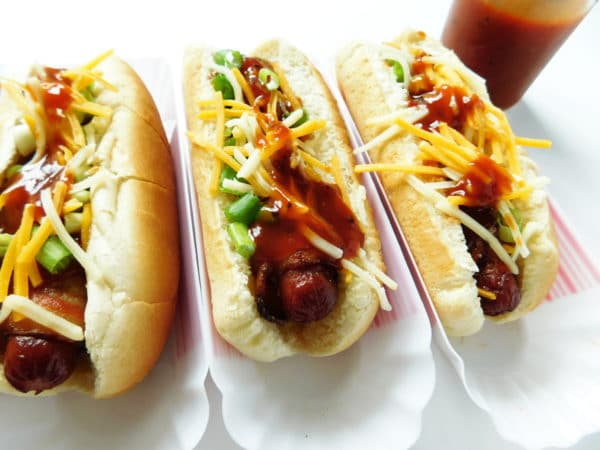 Homemade Gourmet Hot Dog with Bacon and Salsa
This homemade gourmet hot dog with bacon and salsa, topped with caramelized onions & cheese is a dream come true for your taste buds! Have you ever tried a gourmet hot dog like a Chicago dog?
If no, then you must do it soon!
Chicago dogs are in a different league than the ordinary hot dog street snacks! Often using specialty sausages & fillings that make your mouth water!
Read the recipe at my turn for us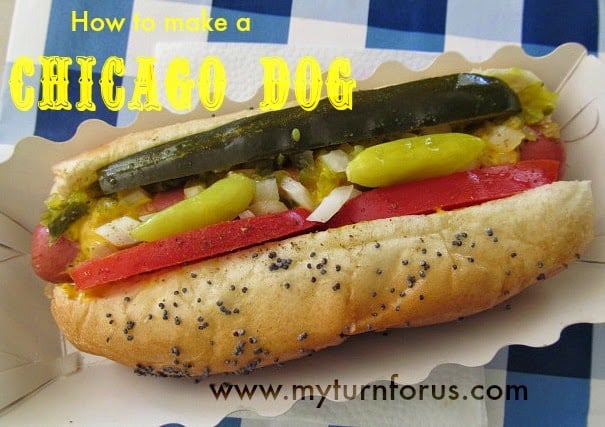 Check out these other crowd pleasing party foods.
Barbecue Bacon Hot Dogs
Here's a hot dog with bacon recipe for the grill. These Barbecue Bacon Hot Dogs are topped with crispy onion rings. Oh yes. This recipe goes there.
Get the recipe at cooking with curls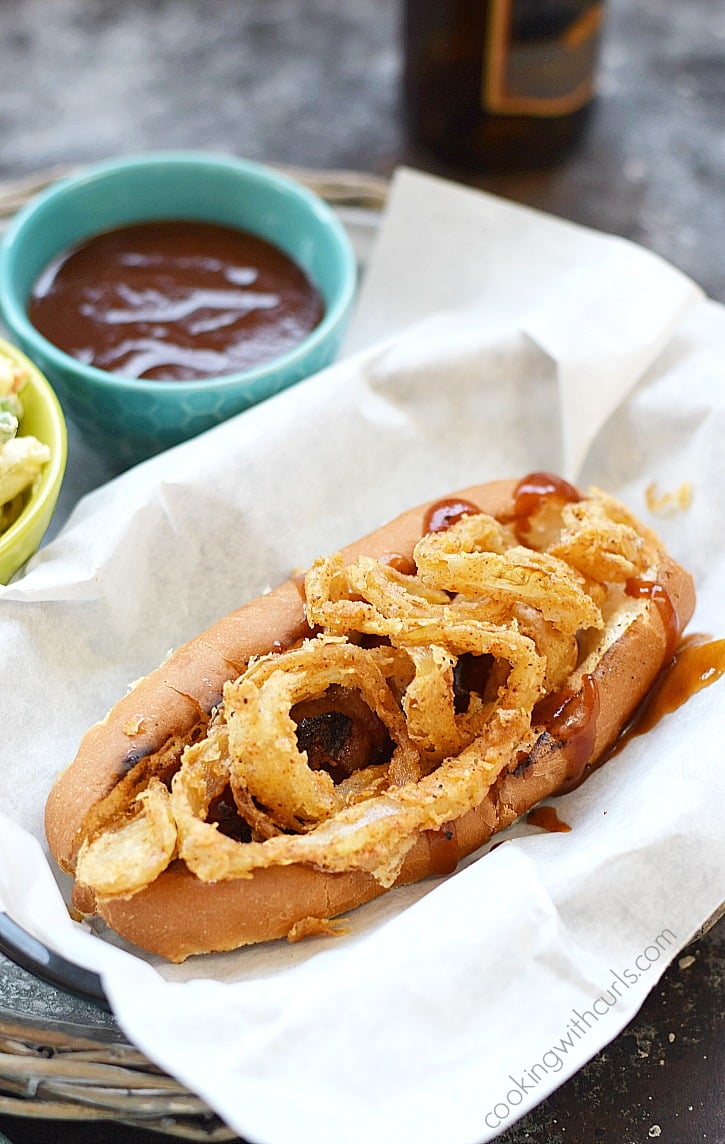 Gourmet hot dogs in the Instant Pot
Instant Pot Hot Dogs
Cooking gourmet hot dogs for a potluck or large gathering? What could be easier than making them in the Instant Pot?
Learn how to quickly whip up a large batch of hot dogs in the Instant Pot. 
Get the recipe at melaine cooks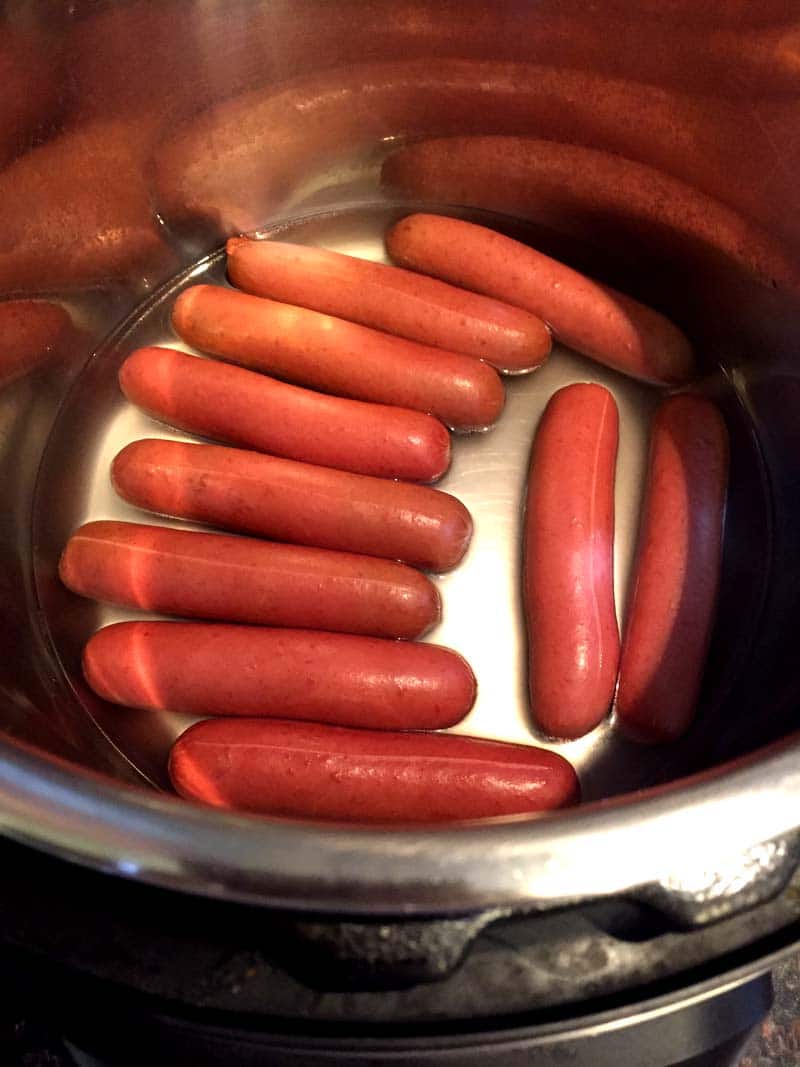 Pressure Cooker Coca Cola Chili and Sausage Dog
So get this. These pressure cooker gourmet hot dogs are topped with a Coca-Cola Chili. Then loaded up with a bunch of hot dog condiments: ketchup, mustard, relish, pickled jalapeño, cheese, green onions, and diced white onion.
Read the recipe at The Forked Spoon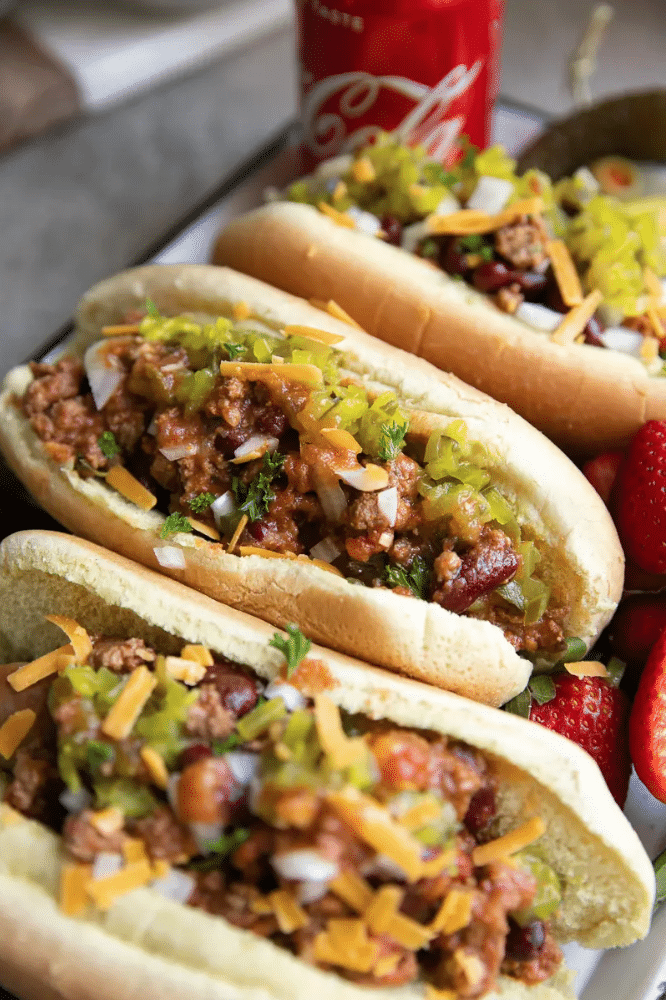 Have leftover ground beef? Make this stuffed shells recipe.
Gourmet hot dogs with pineapple
Aloha Teriyaki Franks
Nothing says gourmet hot dogs like these tropical Aloha Teriyaki Franks. A major hit at potlucks and neighborhood block parties, everyone loves these pineapple inspired Aloha Teriyaki Hot Dogs.
Get the recipe at who needs a cape
See how to make 5 minute grilled pineapple slices…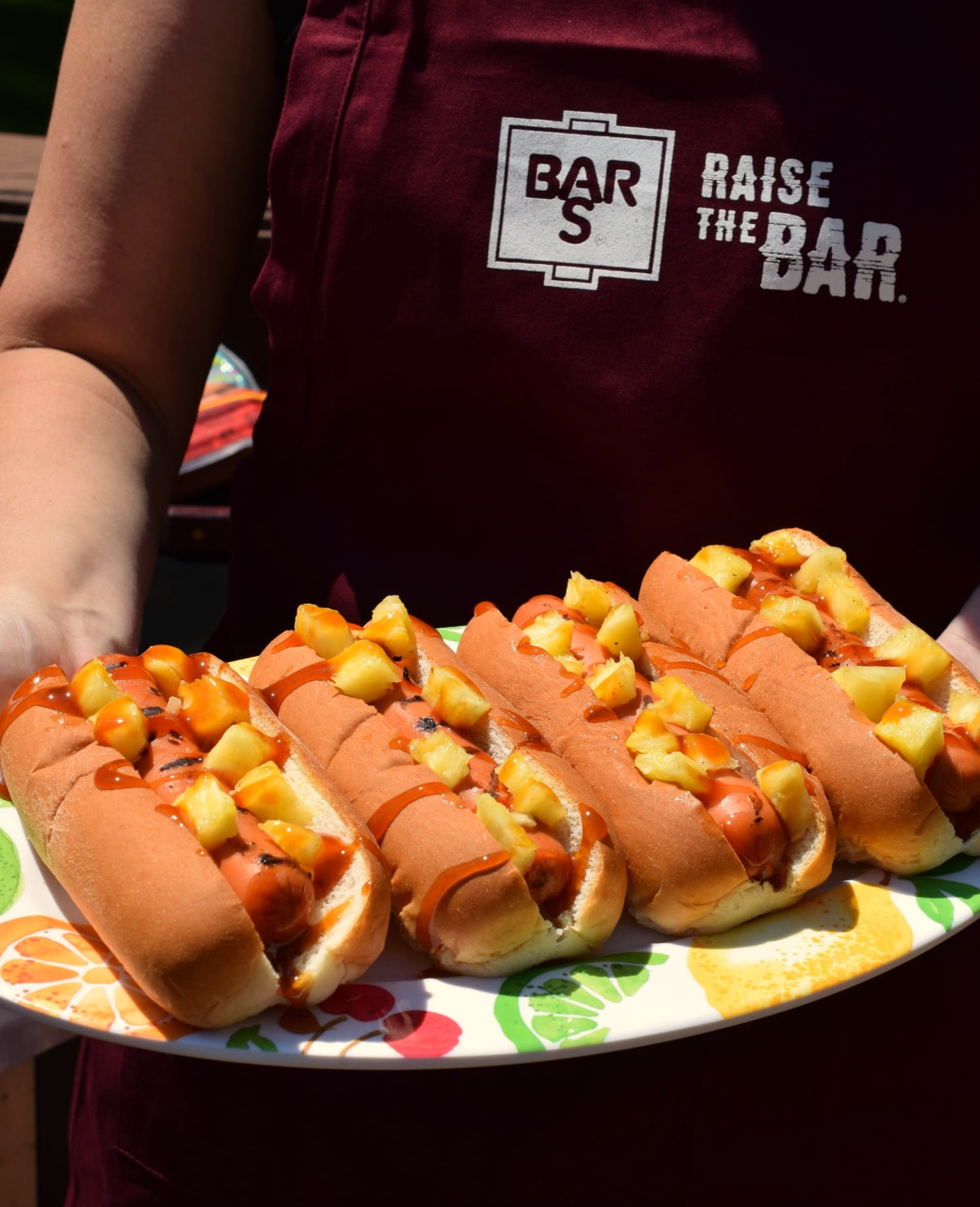 Grilled Pineapple Teriyaki Hot Dogs
Typical hot dog toppings NEED NOT APPLY. Leave the ketchup and mustard in the fridge for this dog.
The gourmet hot dog toppings on this one are grilled pineapple (also try smoked pineapple), roasted jalapeños and teriyaki sauce (there is a homemade teriyaki recipe in this guide).
Make sure to stock up on some sweet Hawaiian hot dog buns for these! It's perfect for a luau. 
Get the recipe at whitney bond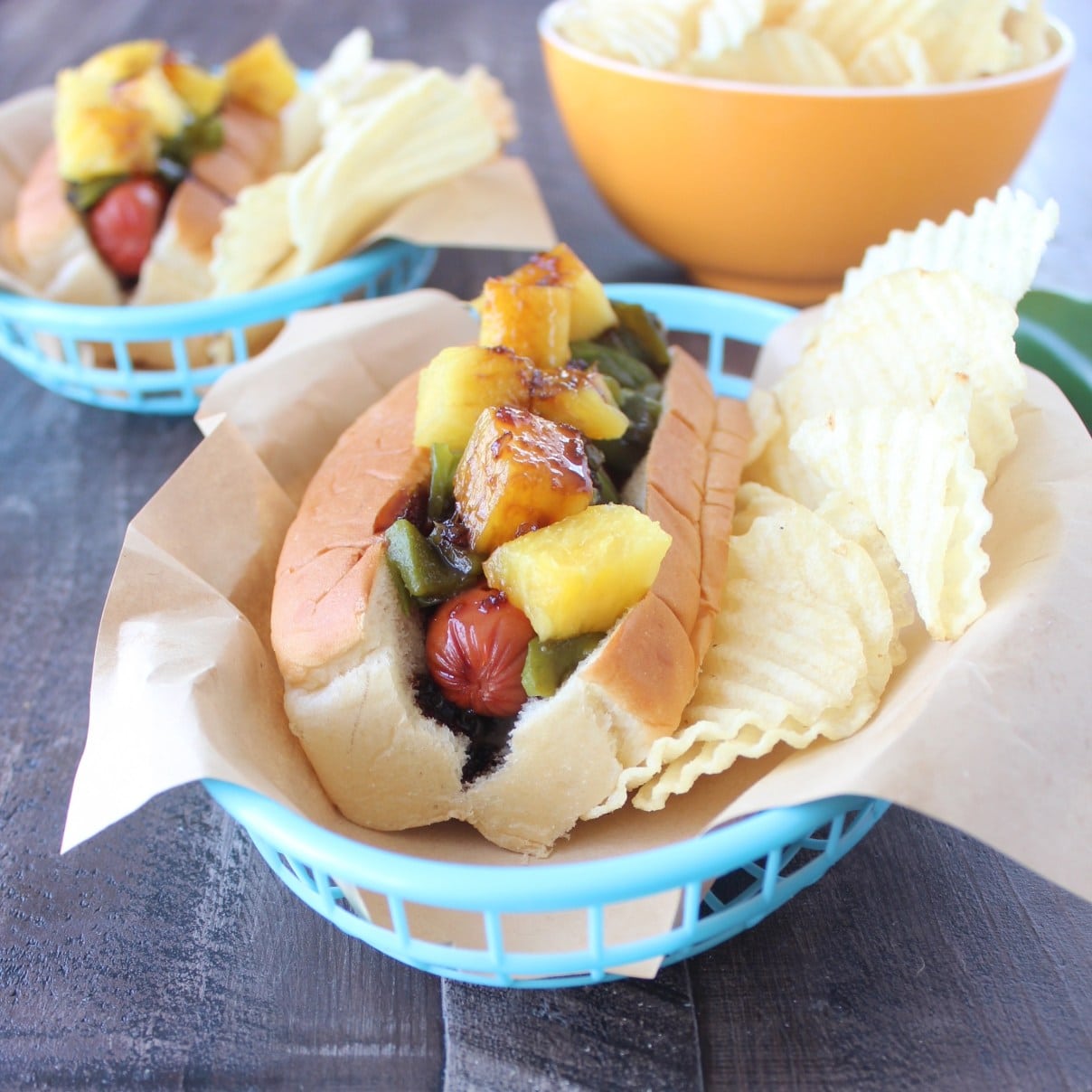 Want more of that tropical feeling at your event? Try these Hawaiian BBQ Pineapple Meatballs and tropical drinks.
Hawaiian Hot Dog with Special Sweet-Spicy Yogurt Sauce
Pull up a large bun for this one. This Hawaiian Hot Dog comes with gourmet toppings like mango, pineapple, avocado, onions, and a sweet-spicy sauce. The recipe teaches you how to make the Sweet-Spicy Yogurt Sauce from scratch.
Get the recipe at easy cooking with molly
Gourmet hot dogs with Mexican flavors
Tex Mex Hot Dogs
Forget traditional hot dog condiments. These Tex Mex Hot Dogs pair well with a margarita!
Get the recipe at turtles life for me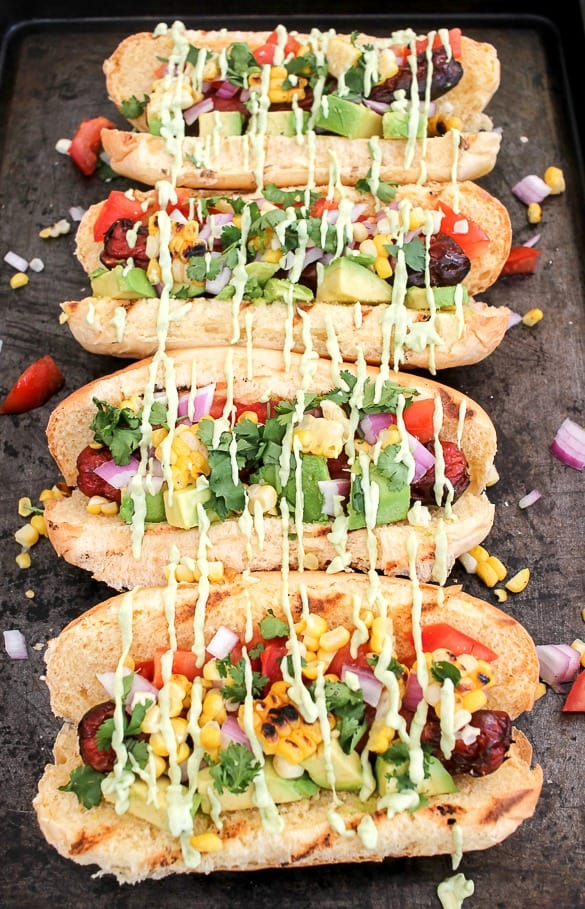 Frito Pie Chili Dogs
These gourmet hot dogs are baked with chili and cheese – then topped with Fritos! Frito Pie Chili Dogs will be all the rage for a hungry crowd. Perfect for game day, tail gating, and making otherwise boring Tuesday night dinners exciting.
Read the recipe at the salty marshmallow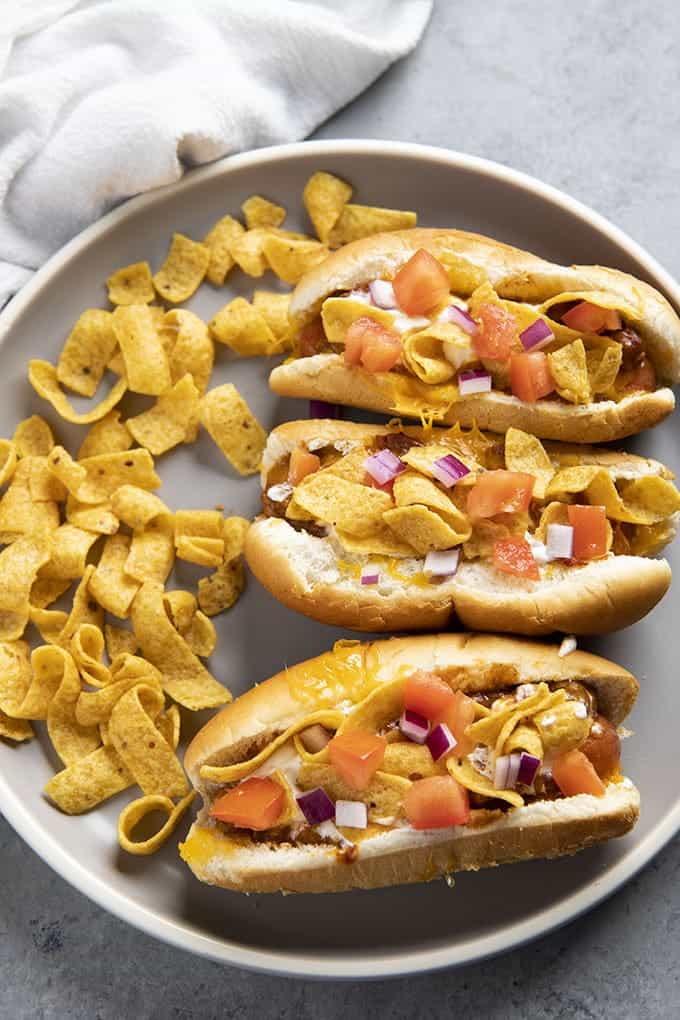 Non- typical hot dog toppings with big flavor
Pretzel Pastry Pigs with Hard Cider Cheddar Cheese Sauce
One of the first ideas I became obsessed with when planning for Super Bowl were these pastry pigs wrapped in pretzel dough, quickly followed by making some kind of cheese sauce to dip them in. Cheese dips with beer are understandably very popular that time of year, but the idea of apples and cheese intrigued me. Could I accomplish something similar using a hard cider? The answer is yes.
Read the recipe at feast in thyme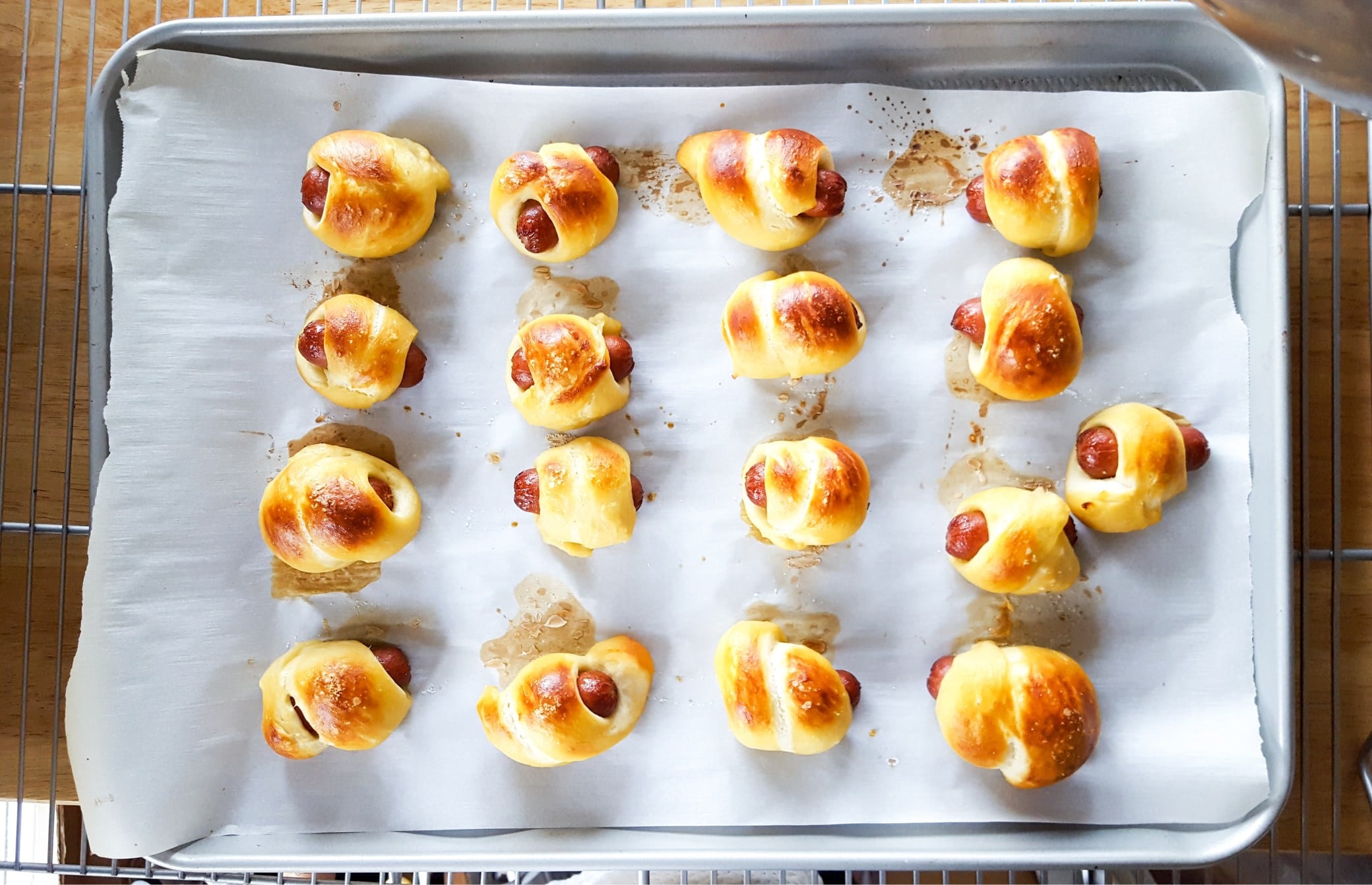 Coney Island Hot Dog
Here's a great hot dog recipe for a potluck. It's a classic Coney Island Hot Dog recipe with a beanless chili sauce, onions, and a homemade cheese sauce.
Read the recipe at krazy kitchenmom
Love cheese sauces? Try this cheddar cheese beer dip. It's great on hot dogs!
Philly Cheesesteak Hot Dog
Classic hot dog toppings are ditched for cheese steak sandwich toppings in this gourmet hot dog. Sautéed onions, peppers, maybe some sliced green onions, and thinly shaved flank steak are piled high on an all-beef hot dog to make this Philly Cheesesteak Hot Dog.
Get the recipe at taste and see
See how to make Philly Cheese Steak Pizza.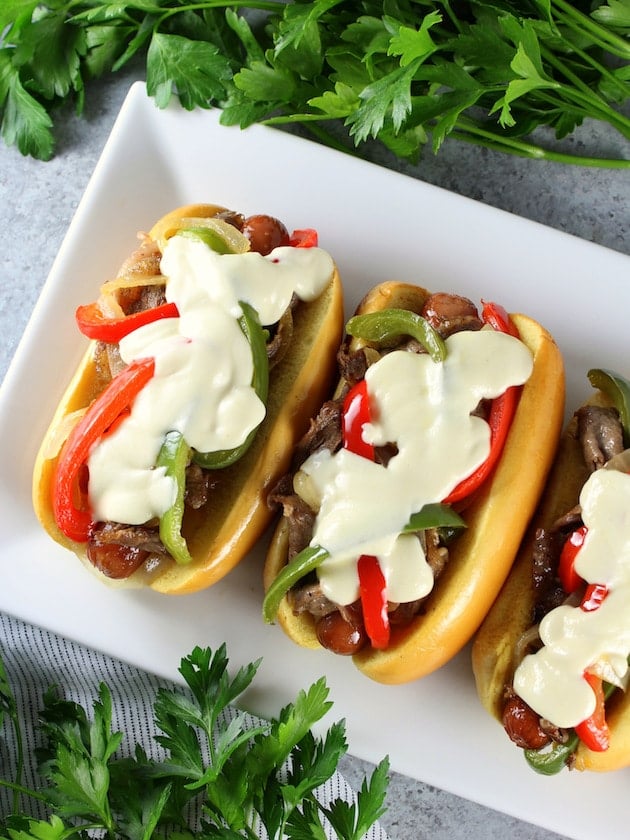 Love cheese steaks? See my recipe for Philly Cheesesteak Pizza made with white sauce and sautéed onions and peppers.
Oven Baked Hot Dog
No grill? No problem. Chili cheese dogs can be made year-round with this easy Oven Baked Hot Dogs recipe. Loaded with chili, chopped onion, and melted cheddar, they're crispy on the outside but soft and savory dogs tucked into fluffy hot dog buns. Lunch, dinner, pot lucks, even on Game Day with a side of air fryer chicken wings. these are perfect for almost any occasion.
Get the recipe at 4 son r us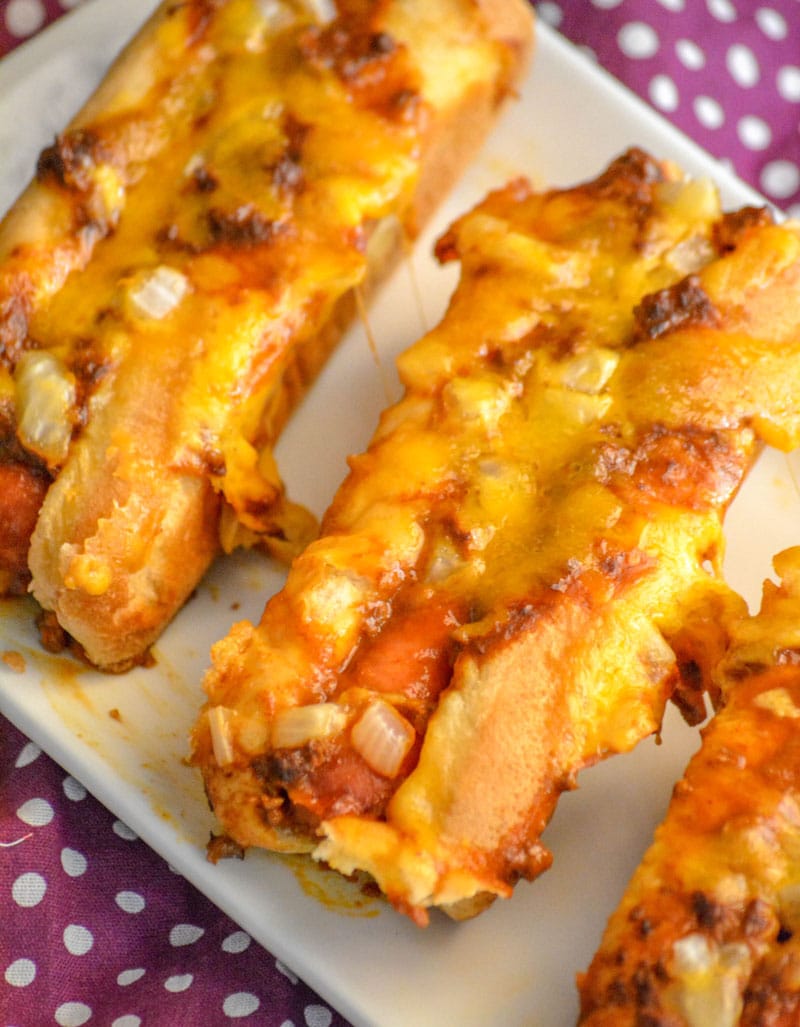 Paleo & vegan
hot dog
recipes
Paleo Pretzel Dogs
These Paleo Pretzel Dogs are homemade and feature a paleo hot dog bun substitute to keep your diet on track.
Get the recipe at a girl worth saving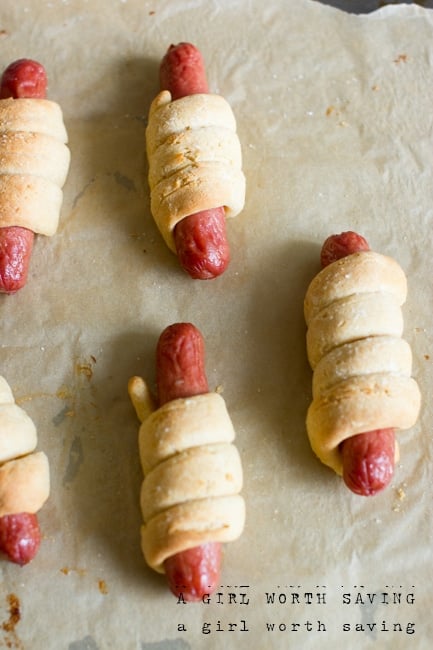 Vegan Chili Dog Pizza
This recipe is at the intersection of vegan gourmet hot dogs and pizza. That's right. Try this new take on hot dog pizza. Vegan chili hot dogs are the featured topping of this dish along with dill pickles, non-dairy cheese, and mustard.
Get the recipe at cadrys kitchen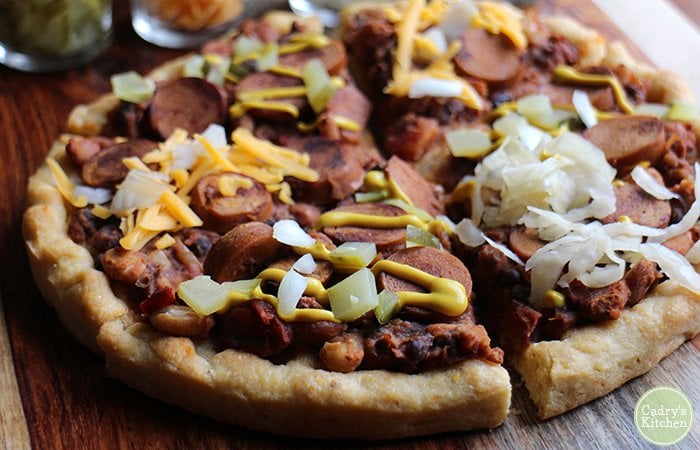 Vegan Chili Dog
Vegan chili dog recipe is similar to the pizza above, but in a hot dog bun. All the fun flavors of three bean chili, non-dairy cheese, dill pickles, and mustard come together in a bun. Minus the meat.
Get the recipe at cadrys kitchen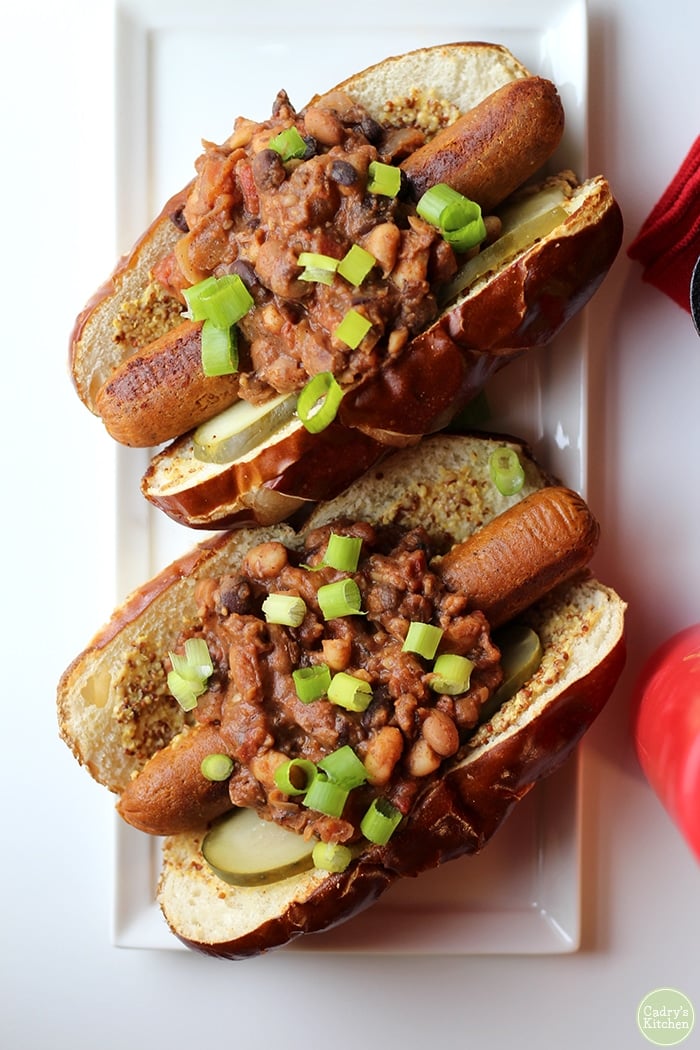 German-Style Carrot Dogs
Carrot hot dogs? Yes! Make them like this and you won't miss the beef version. These gourmet hot dogs are pan-charred with smoky barbecue seasoning for a bold flavor.
And this recipe recommends serving the carrot hot dogs on toasted pretzel hot dog buns with spicy brown mustard, and a blend of sauerkraut and sweet relish.
I'm foaming at the mouth just thinking about them! 
Get the recipe at this wife cooks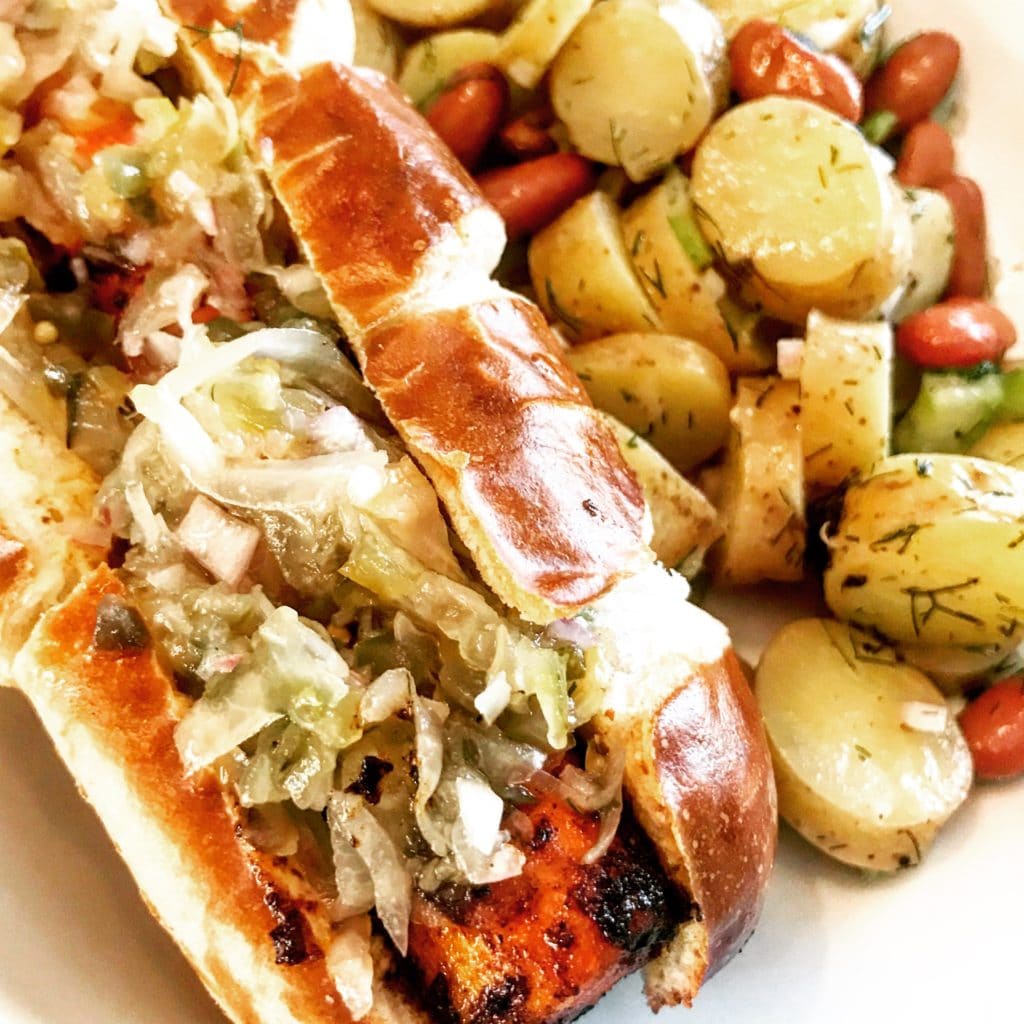 Lentil Carrot Hot Dog
Quick. Tasty. Vegan. Pureed veggies and lentils give this gourmet vegan hot dog all the right texture and taste. Plus, they are gluten free!
Read the recipe at veggie dessert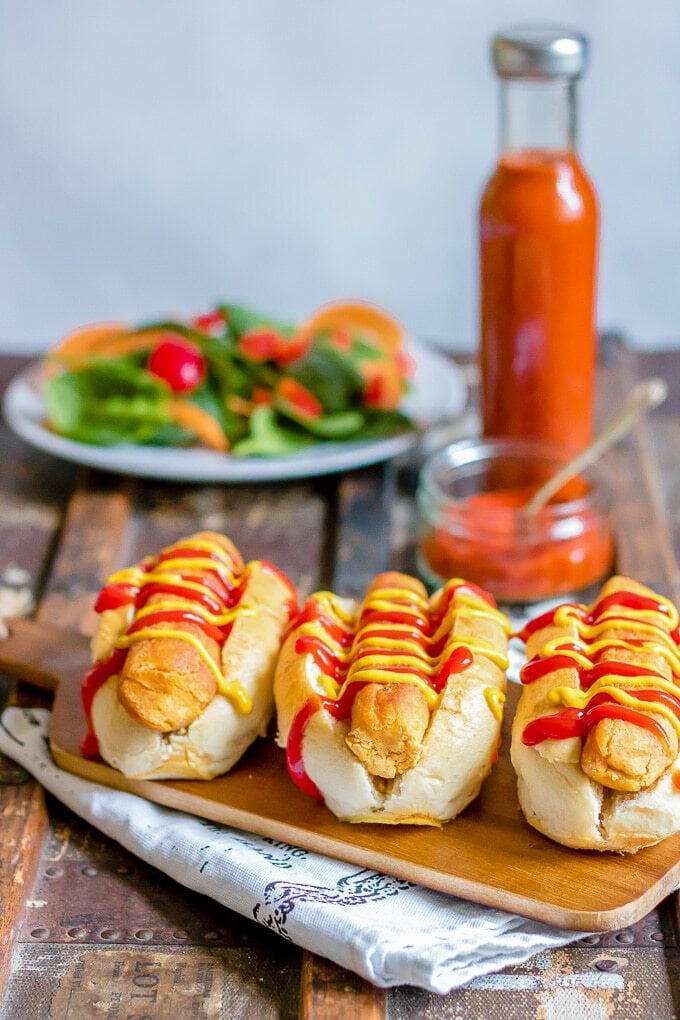 Which dog will you try first?
Let me know when you make your gourmet hot dogs! They're a great break from the traditional grilled beef patty. Serve them with grilled wings or baked wings for an easy meal.
It means so much to hear from Sip Bite Go readers and I love seeing photos of your food! Don't forget to tag me @sipbitego on Instagram so I can see how the recipe turned out. And sign up for the Sip Bite Go newsletter.
Sip Bite Go readers also like these slow cooked sausage sandwiches.
The best hot dog recipes from Sip Bite Go