Make a 30 minute or less chicken dinner with inspiration from this recipe. Here these perfectly cooked chicken breasts are served with an easy avocado and vegetable salad. You can make a simple chicken dinner like a restaurant would make – right at home.
Let's dive into it. Here's how I put together an easy chicken dinner for the family…
If you like this video, subscribe to Sip Bite Go on YouTube for more.
[youtube https://www.youtube.com/watch?v=uCNCjbsmcRQ]
Mentioned in this chicken dinner video
Here are the details behind putting together a really simple dinner with chicken breasts cooked in a pan.
It all comes together in about 20 minutes and is served with a side of avocado salad with ranch.
Getting started with the chicken dinner
The chicken starts cooking in a pan, and then it finishes in the oven.
So the first thing to do is to preheat the oven to 400 degrees and then add olive oil to the pan. Once the pan gets hot on medium-high heat, the chicken breast goes in.
Wondering which pan to use to cook chicken breast?
I like to use an oven-safe pan I can take from the stovetop to the oven. Because if you use an oven-safe pan, you use fewer dishes. That's the whole point of easy chicken recipes for dinner, right?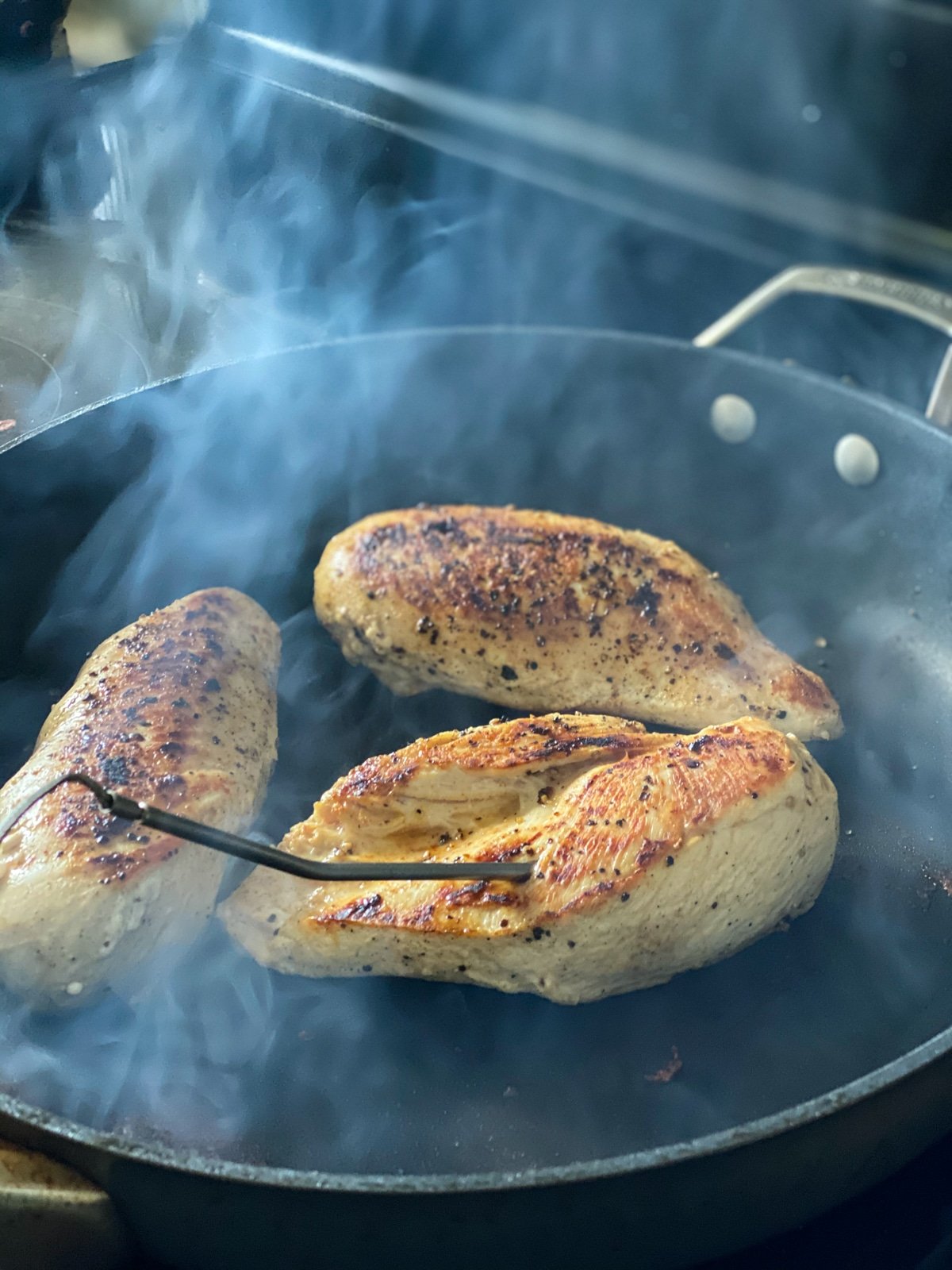 It's okay to make a chicken dinner in a hurry
Since it takes under 20 minutes to make, and you can use any seasonings you'd like, chicken dinners are really easy to pull off in a hurry.
My husband and I split up nights to cook so we can enjoy cooking and enjoy some one on one time with our toddler.
Since I was cooking this for my night to cook, and I was low on time, I needed to save time cooking chicken and making the salad.
So I didn't season the chicken breast ahead of time.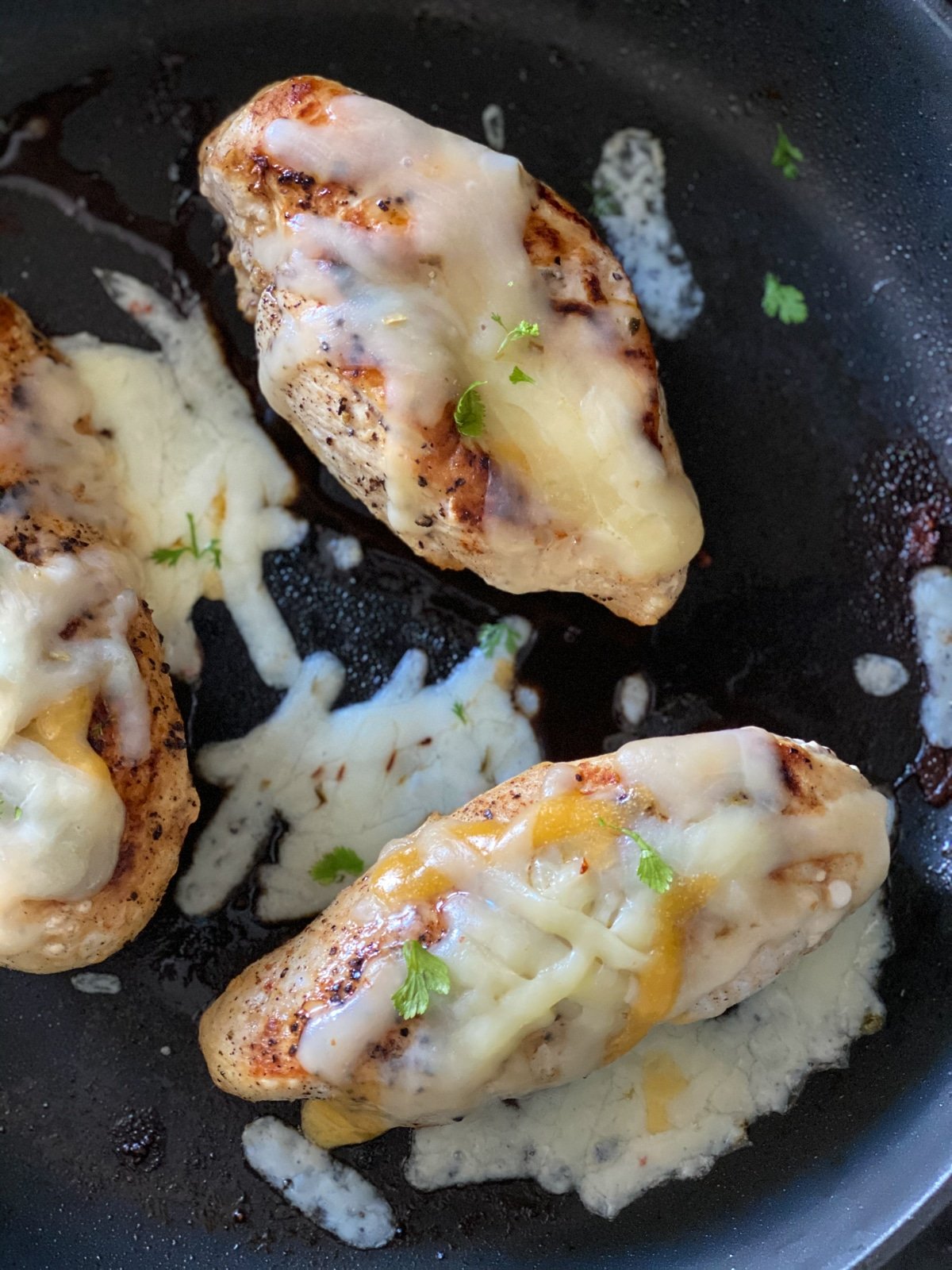 Seasoning the chicken
The chicken was added to the pan with the hot oil, then some salt and pepper was sprinkled on top.
I also added a little bit of paprika and fresh lime juice that I squeezed right from the lime.
As you can probably imagine, the kitchen starts to smell really delicious with all these flavors in the air.
Another thing you can do to add flavor is to marinade chicken in advance. If you have balsamic dressing in the fridge, you can make this easy balsamic marinaded chicken.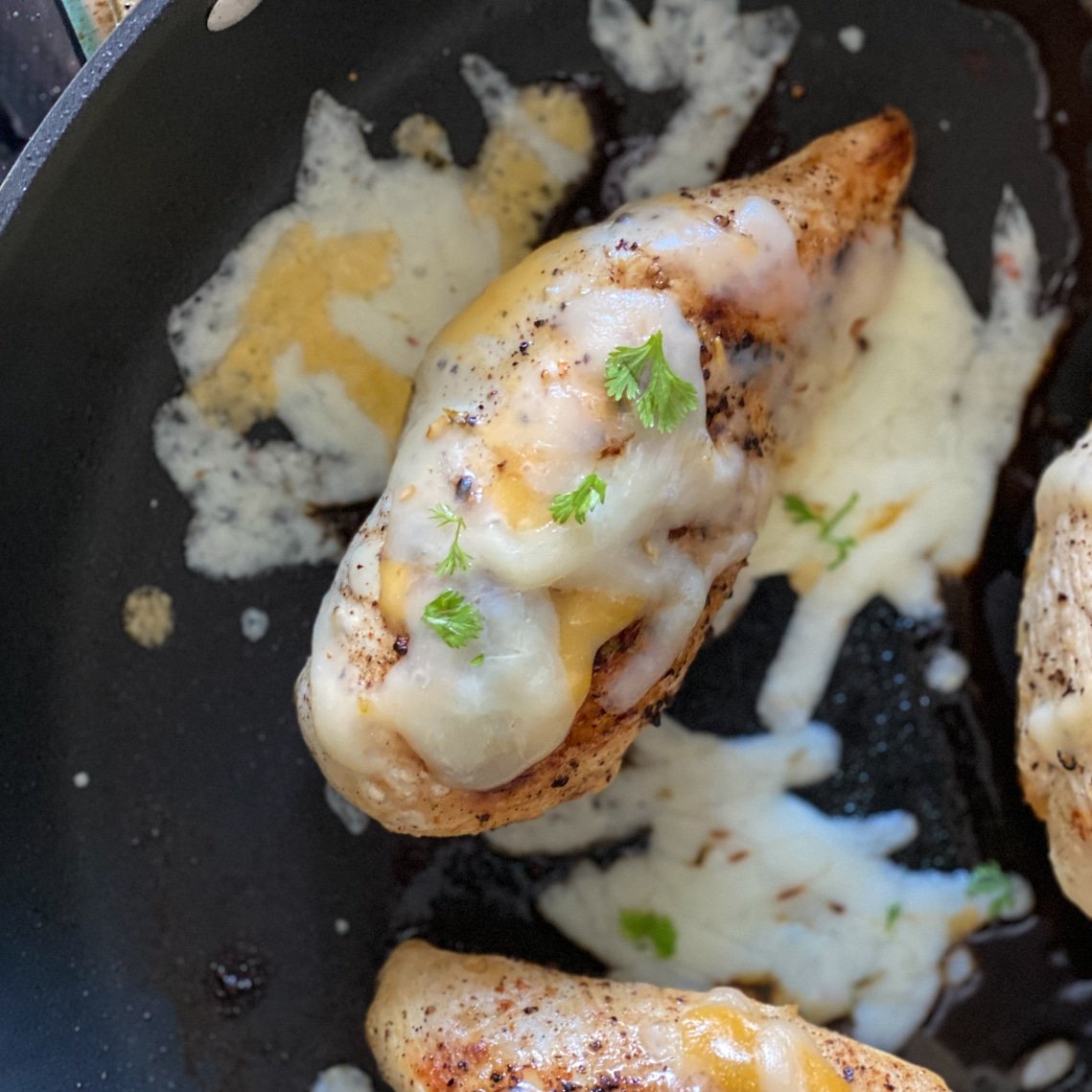 My techniques for a simple chicken dinner
You can't just cook the chicken in a pan and expect it to cook thoroughly and deliciously.
That's not how they cook chicken dinners in restaurants.
In my technique, the chicken breast is turned a few times while cooking, for about 2-3 minutes each side.
This means that the outside of the chicken is cooked, but it doesn't burn. Yes, the inside of the chicken is raw at this point, but that's fine because once the chicken is finished in the oven, it will cook completely inside.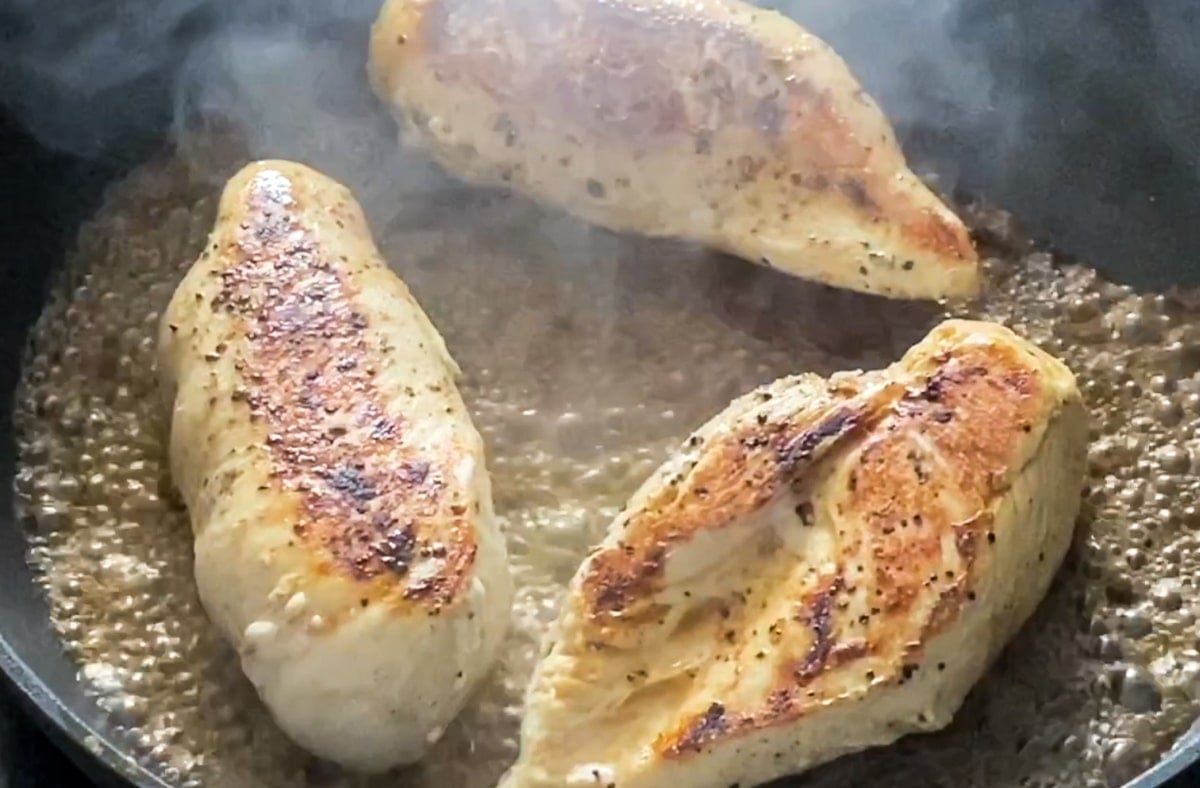 Adding water to the chicken technique
One thing to note about searing chicken in the pan is that by the third flip, the pan will probably be dry because the olive oil has cooked off.
When the pan gets dry, and before the chicken breast goes into the oven, add one tablespoon of water – slowly so it doesn't splatter when it touches any remaining oil – into the pan.
This is a secret for helping the chicken to get really juicy and keep it from burning on the pan.
Using a thermometer will help you know when chicken is done cooking.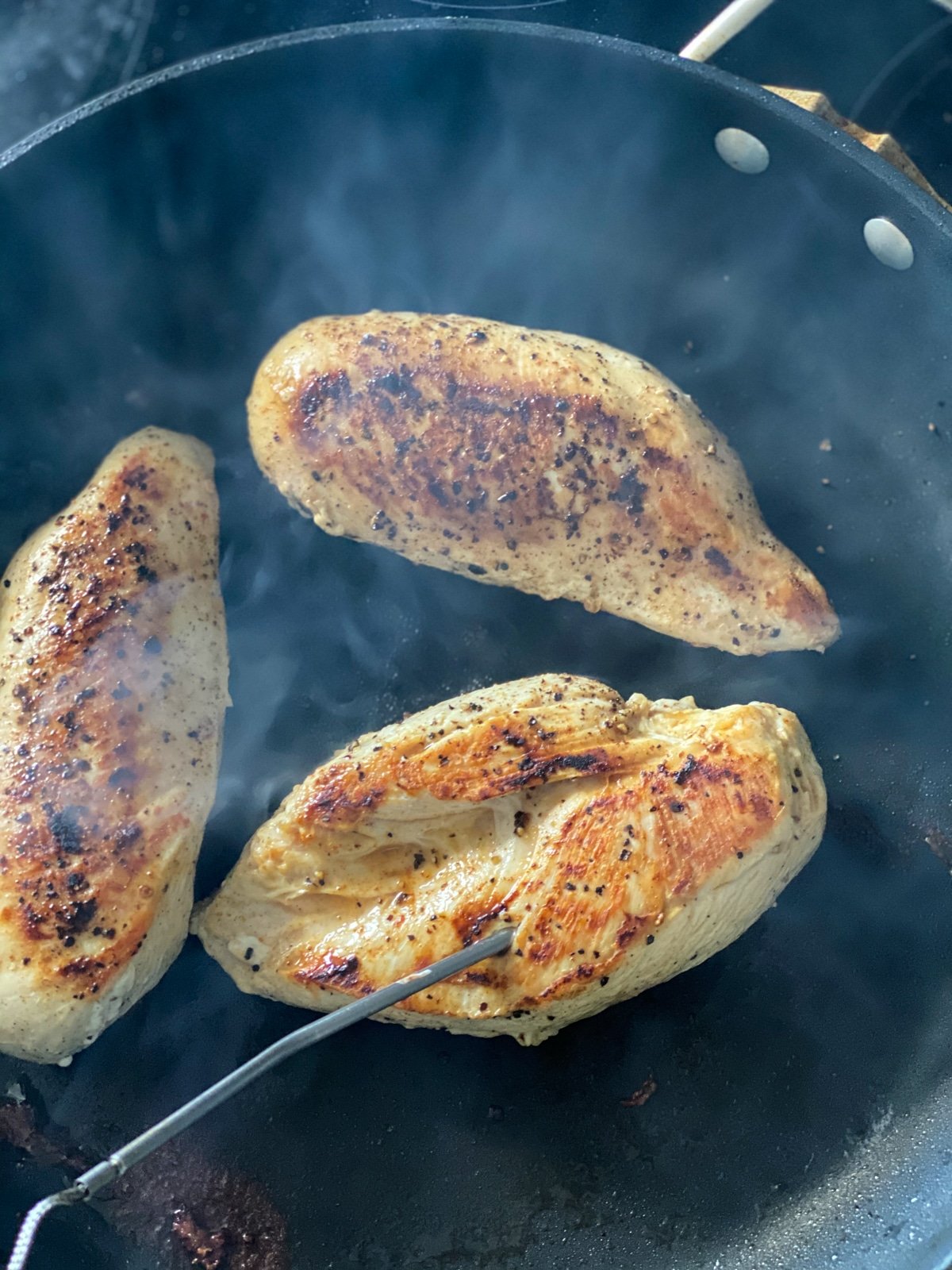 It's so helpful to use a digital thermometer
One reason people tell me they are afraid to cook chicken dinners for the family is that their chicken always comes out undercooked.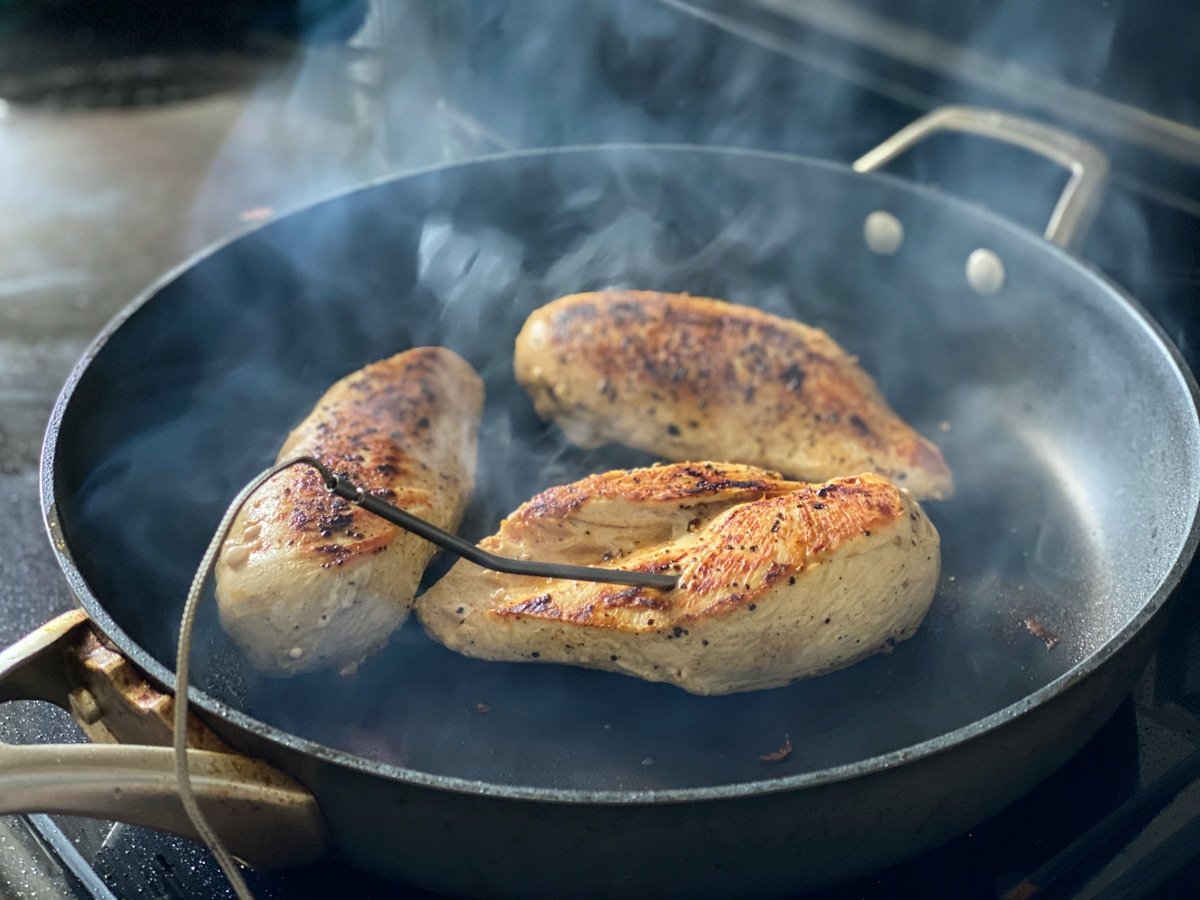 If you don't already have one in your kitchen tool lineup, now is the time to get a digital thermometer. I swear by mine, because it goes in the oven with the food, and connects to a little beeper that stays outside the oven.
When the chicken is done cooking, my digital thermometer beeps and I get the food.
This tool is one of the reasons why I never overcook chicken, steak, and turkey.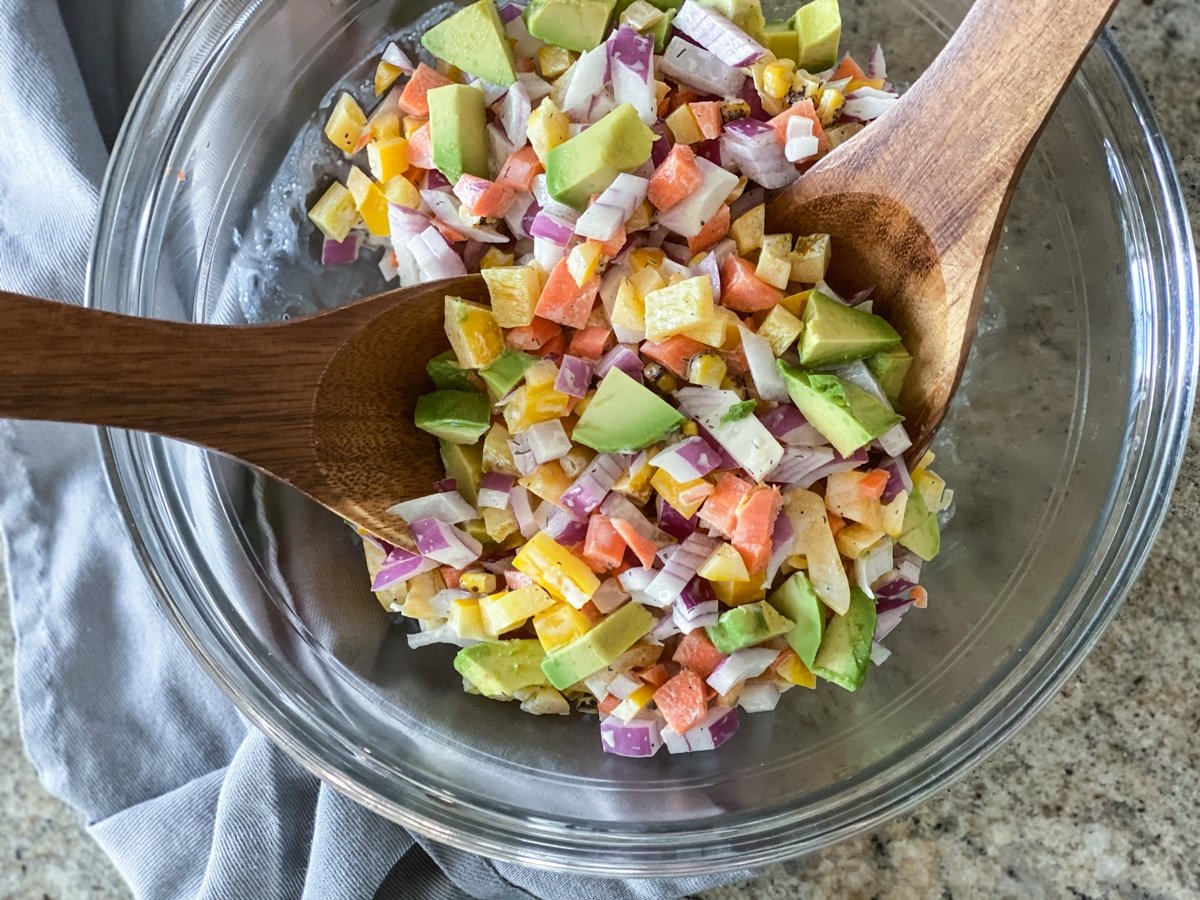 Prepping salad while the chicken cooks
This chicken dinner is rounded out with a tasty side dish packed with refreshing vegetables and creamy ranch dressing.
You can get my recipe for avocado ranch salad on Sip Bite Go, but here's the gist of it.
A bunch of delicious vegetables go in it: carrots, orange or yellow bell pepper, onion, and corn.
To the bowl of vegetables goes two tablespoons of ranch dressing, and a squeeze of lime. It's all mixed together and chunks of avocado are added on top. It's so freakin good.
Timing a chicken dinner just right
When you're starting to make a new dish for dinner, it can be overwhelming to think of which sides to serve that will be ready at the same time.
Something like a make-ahead salad is helpful on busy nights. I was able to throw together the salad while the chicken was cooking, but you can easily make the salad ahead so all the food is ready at the same time without pressure.
So make the salad up to a day ahead. Add the avocado chunks right before it's time to serve so they'll stay green and fresh.
Other salads that would be great with this are this make-ahead Mexican salad, tortellini pasta salad, and Caprese salad.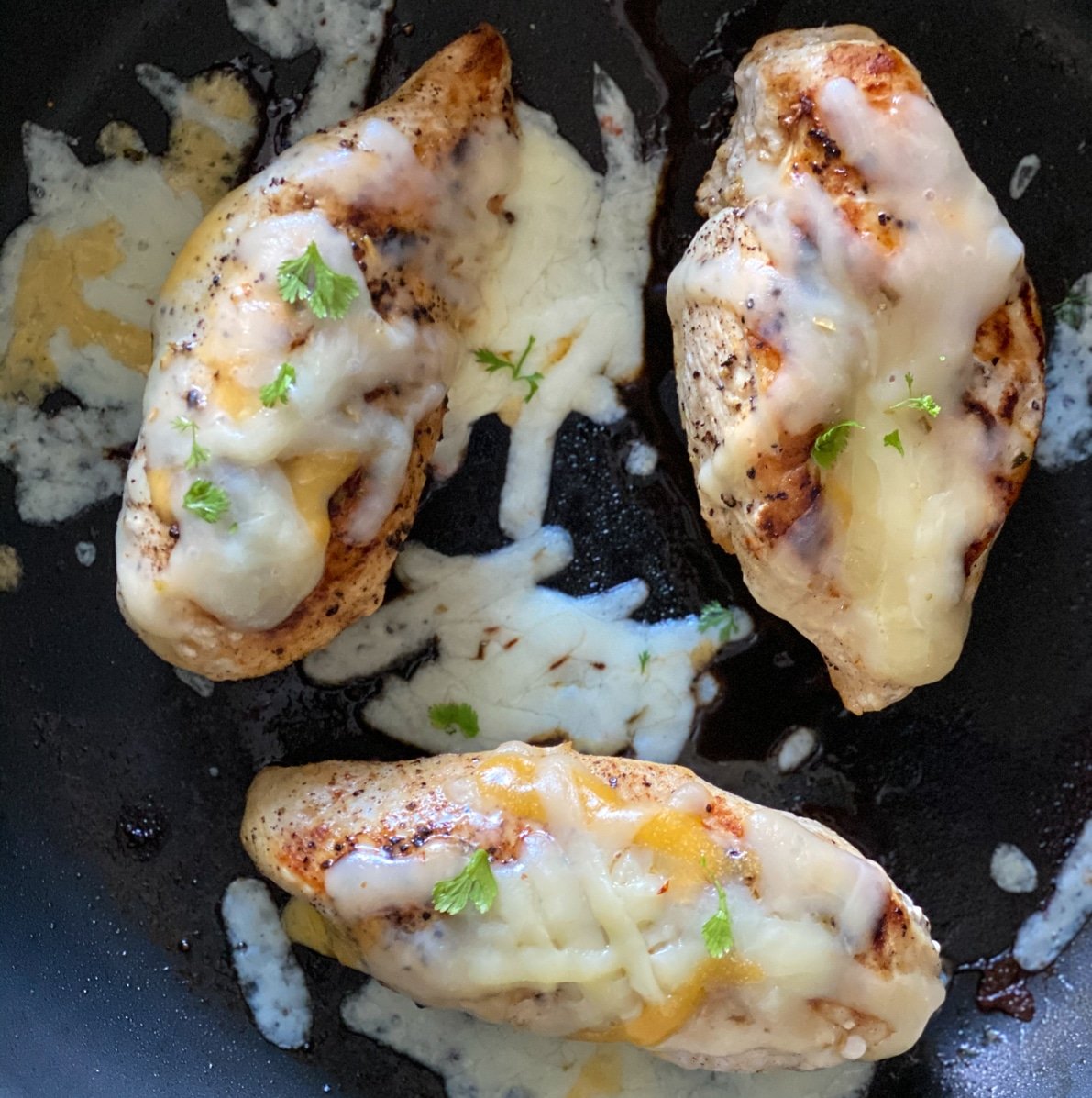 Finishing and serving the chicken breast on rolls
Once the salad side dish is prepped, it's time to finish the chicken and plate the meal.
I had some Mexican blend grated cheese from Tillamook to use.
So to melt it on the chicken, I kept the oven at 400 degrees, added a tablespoon or so of cheese to each chicken breast, and popped the pan back in the oven for about one or two minutes.
Once the cheese was melted, I took the pan out of the oven and added a little cilantro to the chicken from my indoor herb garden.
After the chicken cooled for about 10 minutes, I just sliced it and served the chicken on mini Hawaiian rolls as sliders.
My husband added BBQ sauce and I added Frank's Hot Buffalo Sauce (because I'm an addict). We also brought Tabasco Chipotle Hot Sauce to the table – but forgot to use it. There's always next time – chicken dinners are a staple around here.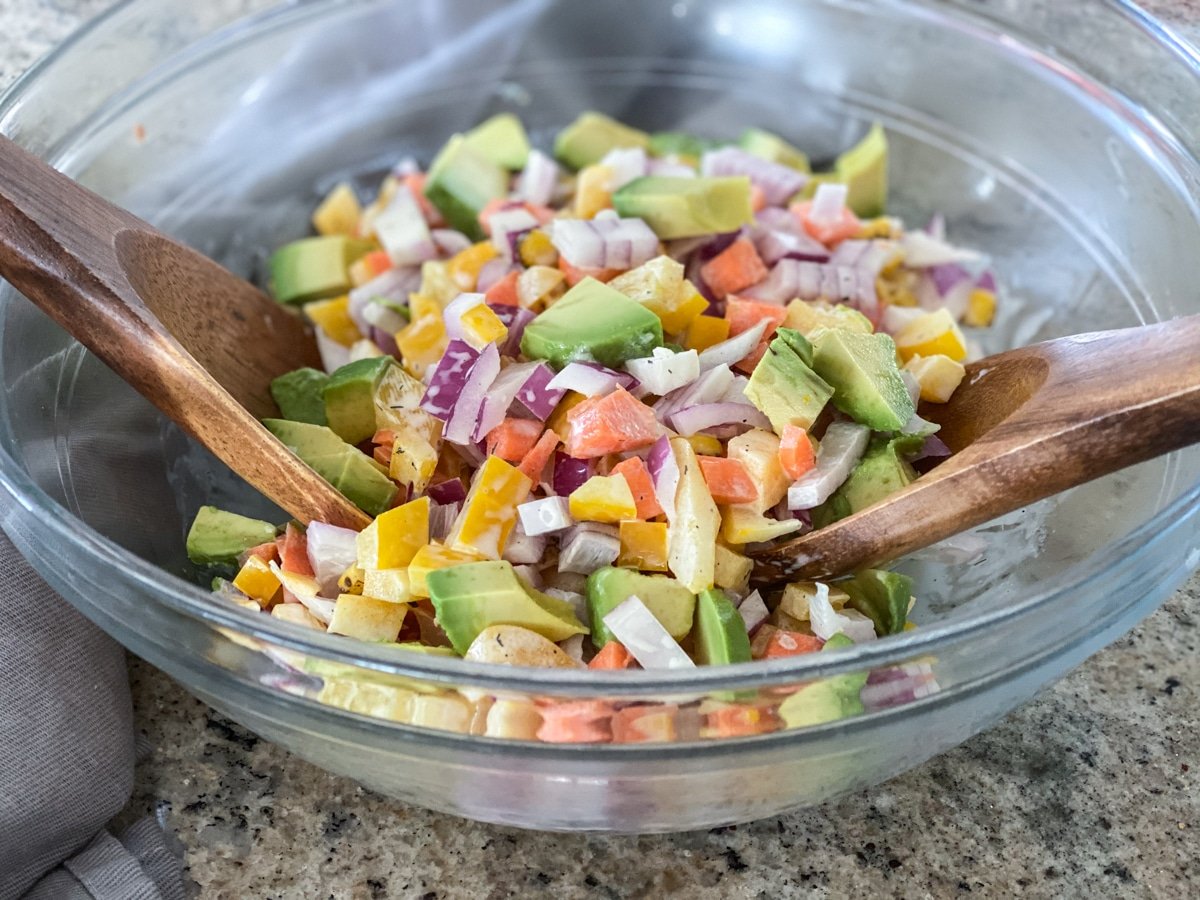 Get the recipes to make a chicken dinner with salad
Check out the step by step guide to making chicken breast on the stove and the always-tasty avocado ranch salad.
Also see this recipe for air fryer chicken breast.
Share your own simple chicken dinner
Going to make something like this super simple chicken dinner? Find me on Instagram to let me know how your chicken dinner turns out @sipbitego.
Subscribe to the Sip Bite Go channel on YouTube for more delicious recipes.