Check out the food menu for Whiskey Cake Kitchen & Bar in Plano, Texas. There are multiple locations throughout Dallas, Texas and Oklahoma. This popular steak restaurant also has a huge whiskey cocktail menu and plenty of smoked food dishes on the menu, too.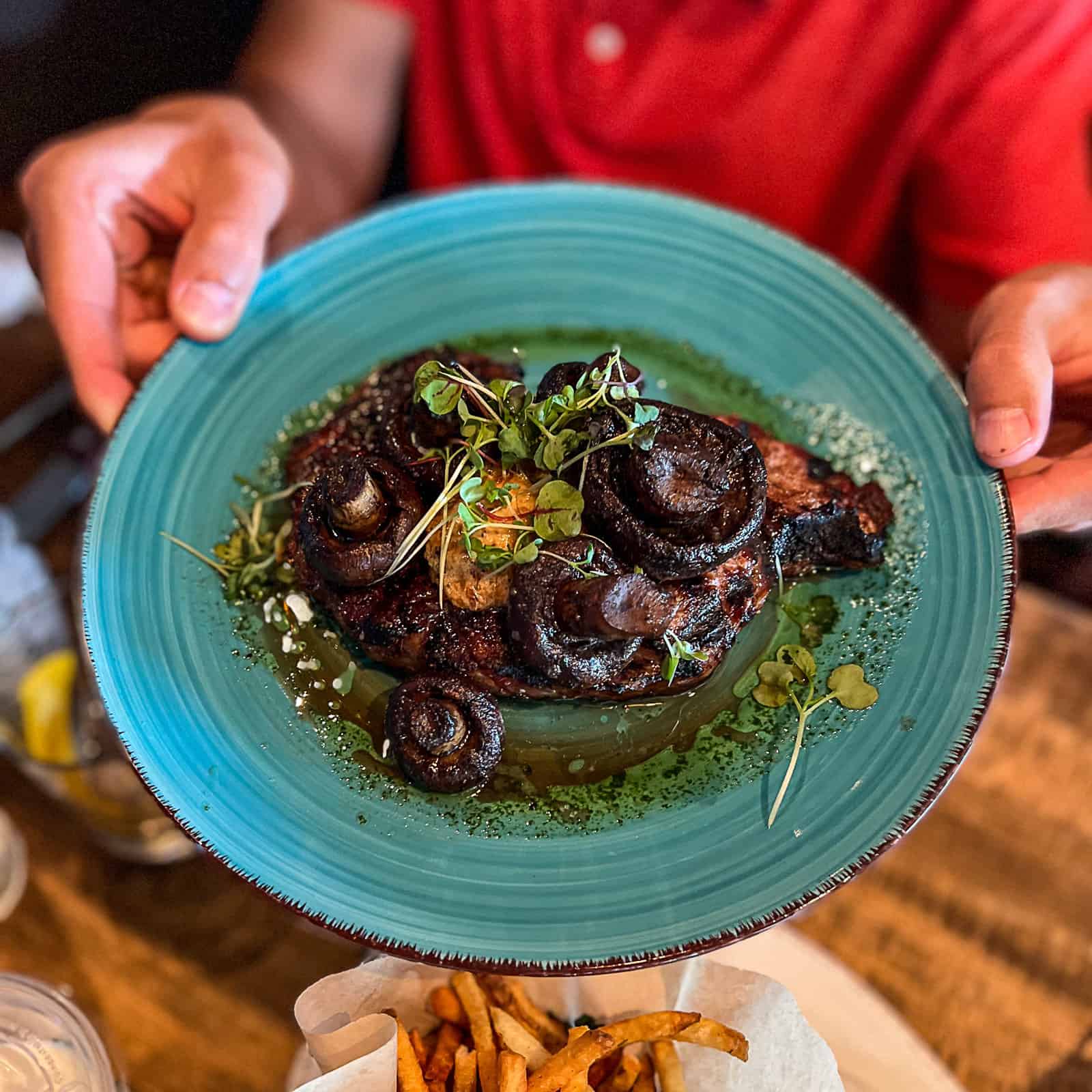 HEY Dallas Area Foodies — Follow Sip Bite Go for new menu tours on Instagram…
Also check out Toulouse Plano…
What to order at Whiskey Cake restaurant
This is a quick overview – scroll down for photos and details.
There are so many tasty things to try when you dine out at Whiskey Cake Kitchen and Bar.
If you're into cocktails, there is a ton to choose from, with an entire section dedicated to whiskey cocktails. There you'll find the smokey old fashioned, which is as delicious as it sounds.
There's so many great appetizers and side dishes to start off with like crispy thin fries and smoked mac and cheese.
And for a main, steak dishes like this ribeye are not to be missed.
Cocktail menu
On the Whiskey Cake menu of cocktails, there is a whole section for whiskey cocktails….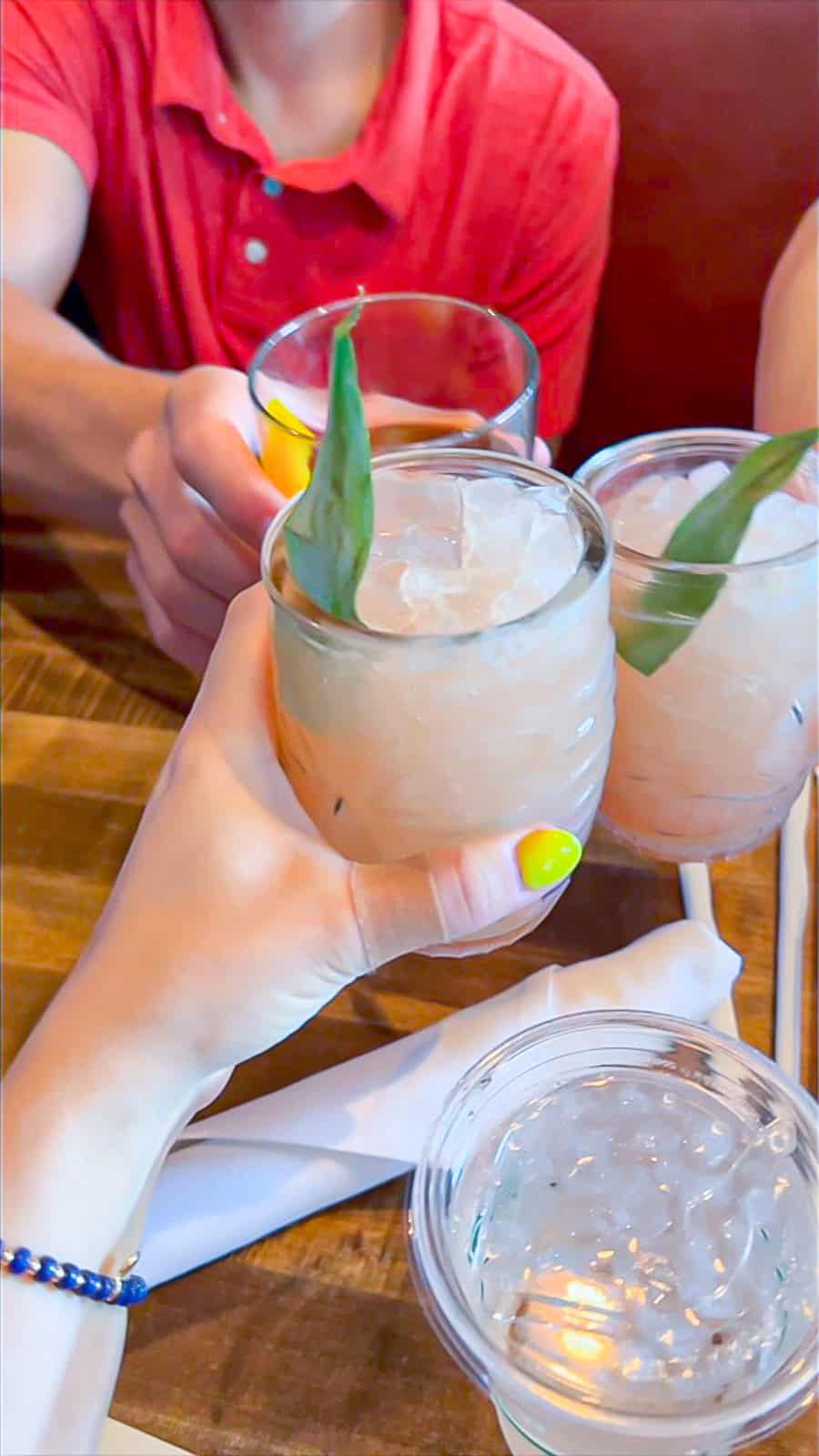 SMOKED OLD FASHIONED
Woodford Reserve Bourbon, smoked with rotating wood chips
THE GREAT ESCAPE
Pineapple-infused Boquerón Gold Rum, guava, pineapple-ginger syrup, lime
See how to grill pineapple…
Side dishes / appetizers
The menu at Whiskey Cake restaurant is packed with tasty side dishes, so it's obvious to start your meal with some of those…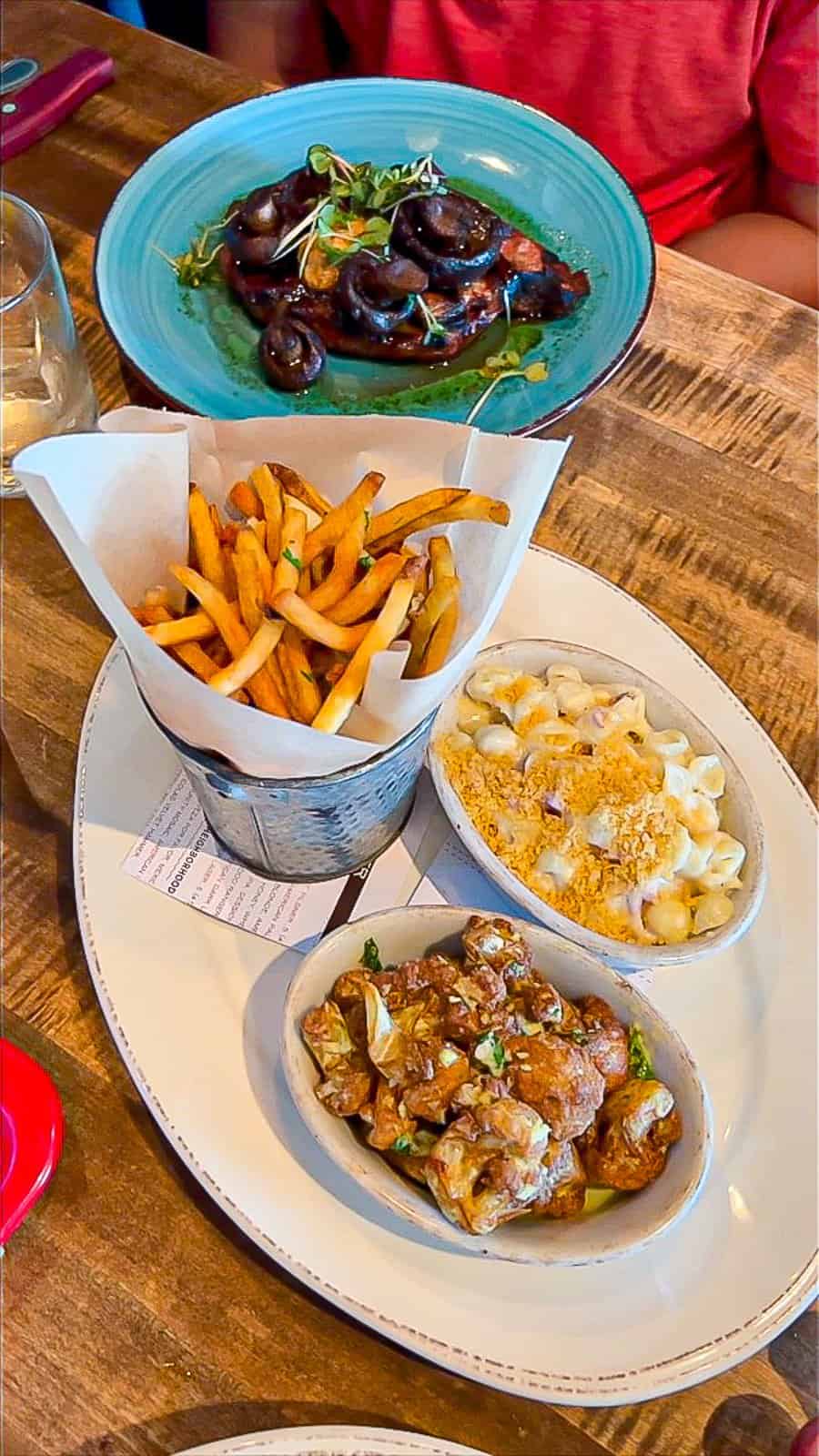 HAND CUT FRIES W/ MUSTARD SEED KETCHUP
Yummy, crispy fries.
SMOKED GOUDA & DUROC HAM MAC N CHEESE
Again: yummy, creamy and delicious.
Also see my recipe for smoked mac and cheese on the Traeger…
ROASTED CAULIFLOWER-PARSNIP MASH
If you love cauliflower, how can you ever pass it up?
Also in the Whiskey Cake Kitchen food video you'll see on this page…
3 LITTLE PIGS
Slow-roasted pulled pork sliders, shaved cabbage slaw, house-made pickles, carolina style BBQ sauce, pretzel rolls.
See the best game day smoker recipes…
Whiskey Cake Dinner menu highlights
There are so many tasty things to try!
Here are some entrees to try…
RIBEYE
Herb-roasted cremini mushrooms, caramelized onion butter, basil oil.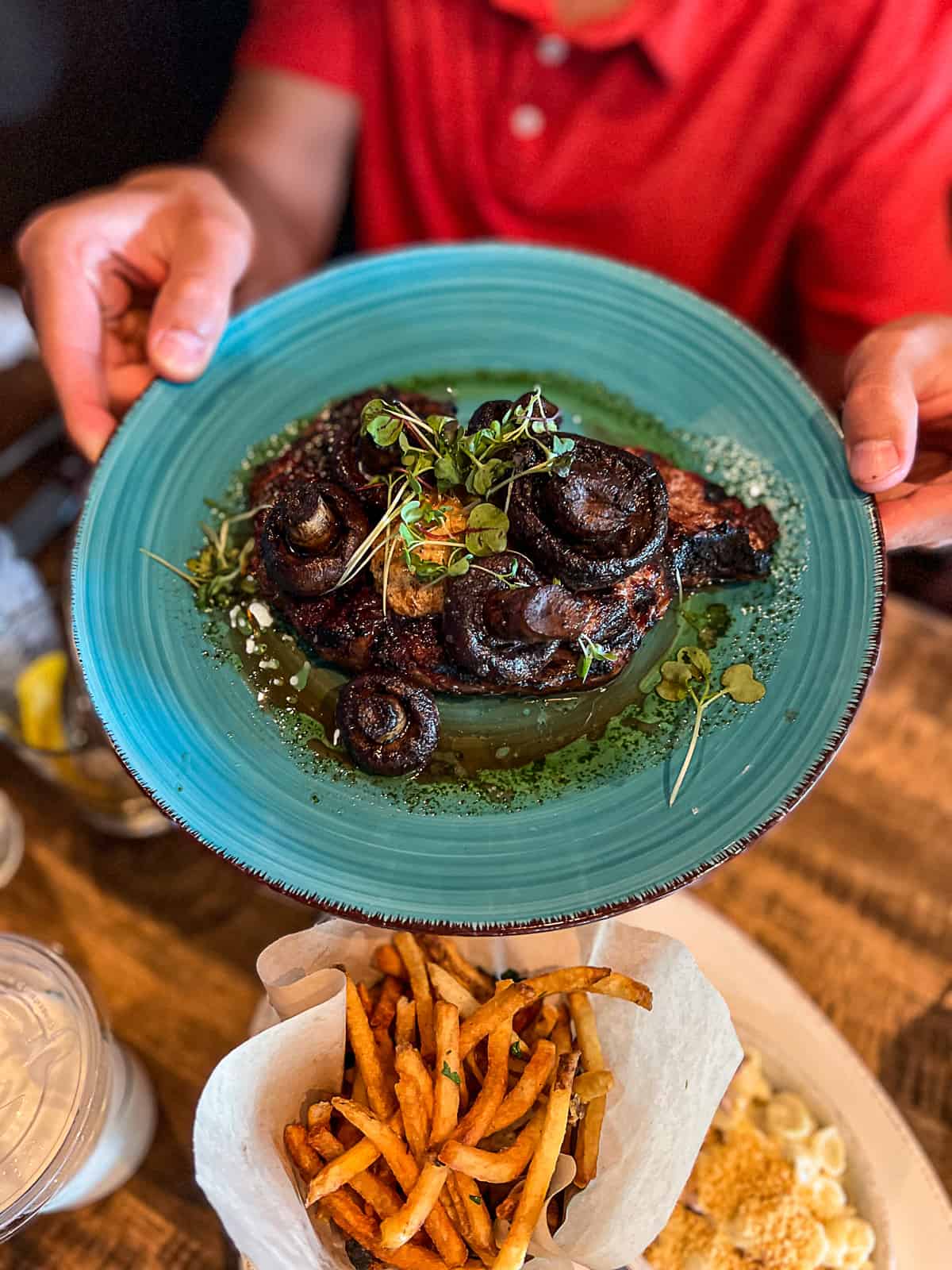 This is really a fantastic steak dish.
See how to grill ribeye…
STEAK FRITES
Hand cut fries, shishitos, whiskey peppercorn sauce.
This is a pretty simple steak dish, but it's done right.
I'd suggest getting it with another side dish in addition to the tasty fries it comes with.
More dinner entrees
I've also heard great things about the wood grilled salmon, and anything with their tasty pulled pork is going to hit the spot.
See how to smoke salmon…
Salads "from the garden"
SMOKED CHOPPED CHICKEN SALAD
Chopped baby romaine, smoked grilled chicken, crispy bacon, baby heirloom tomatoes, avocado, smoked cheddar, hard boiled egg, basil garlic dressing.
Wow, I loved everything about this salad.
Smoked chicken breast is one of my favorite things to cook, and all the ingredients really tied together in this tasty salad main dish.
Kids menu
CRISPY SOUTHERN FRIED CHICKEN FINGERS
The kids menu at Whiskey Cake Kitchen comes served on an old school lunch tray.
Usually I find there aren't a lot of healthy kids meal options, but on this menu, the dishes come with carrots which I really appreciate.
Whiskey Cake dessert
The whiskey cake dessert, which the restaurant is named for…
Is absolutely delicious…
And I can't recommend enough how thrilled you'll be if you leave with a big slice of it to enjoy later!
Are you a foodie, too?
Hey home chefs, hope that answers all your questions about what to order from the menu at Whiskey Cake Kitchen and Bar in Plano, Texas.
See how to get more smoke flavor from your favorite Traeger dishes…
Connect…
Dallas Area Guides