Wondering where are the Magnolia Silos in Waco, Texas? Get tips for visiting the bakery, restaurants, coffee press… Plus details on shopping at Chip and Joanna Gaines tourist attraction on a road trip from Dallas or Austin, TX…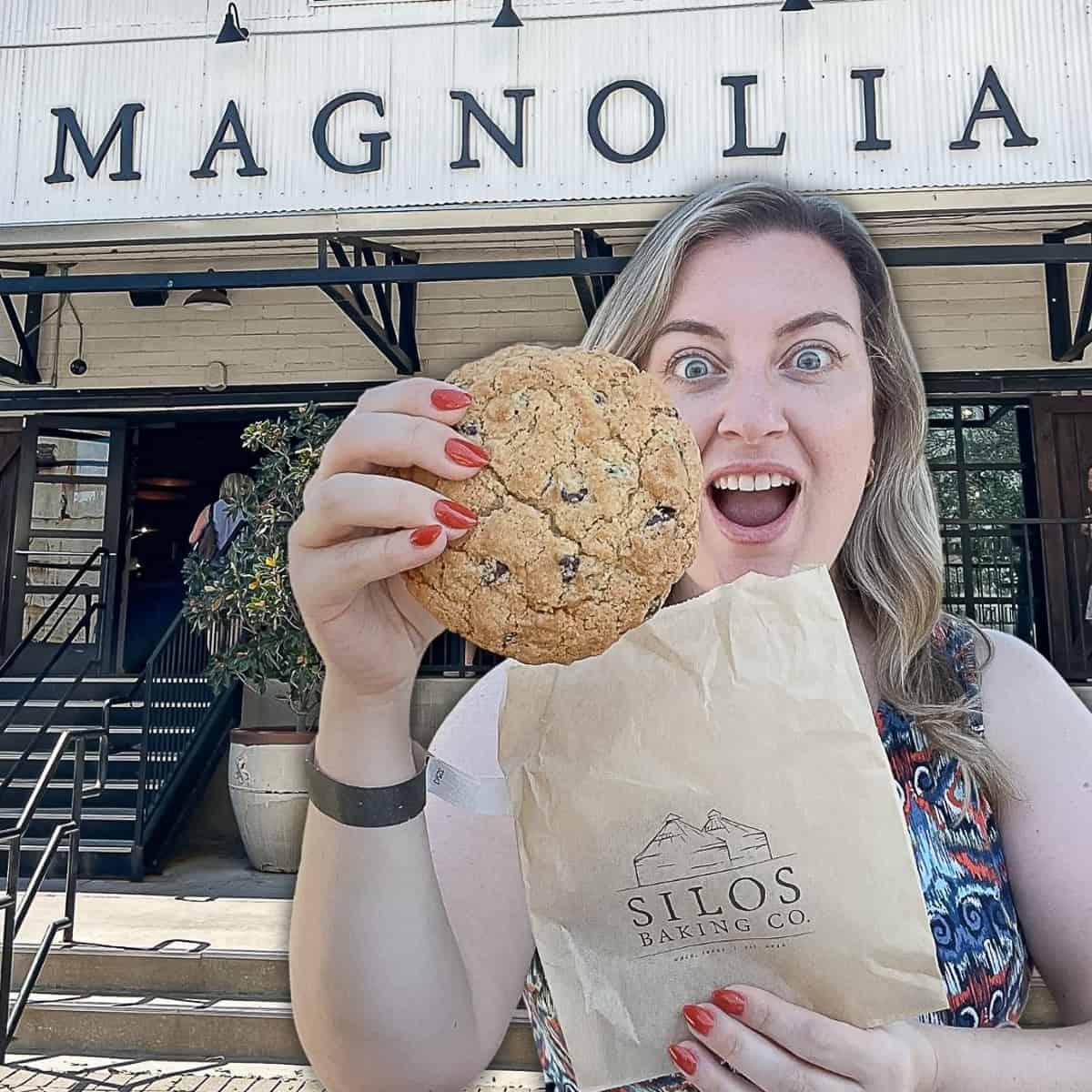 HEY THERE — Follow SBG for food and travel features on Instagram / TikTok
Well I was happy to find out, after moving to Dallas with my family, that it is just a short road trip to visit Joanna Gaines' many shops and restaurants at the Magnolia Market in Waco Texas.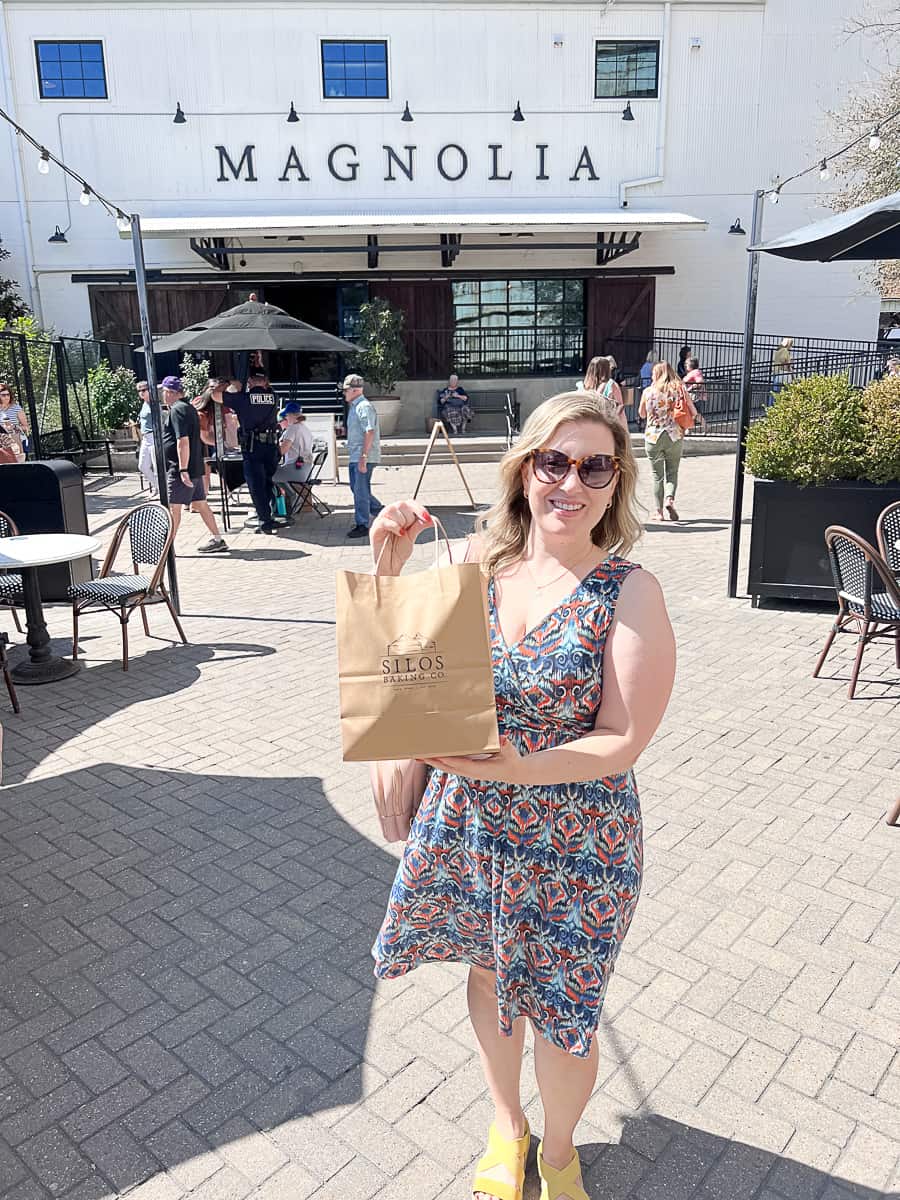 After extensive research, eating, and checking out the shops, I have a bunch of TIPS for first timers visiting Waco…
There's plenty of info here to plan and enjoy a weekend or one day trip to JoAnna Gaines' Magnolia Silos as a family or girls trip.
Where are The Magnolia Silos in Texas?
Austin is about 90 minutes South of Waco.
Dallas is about 2 hours North of Waco.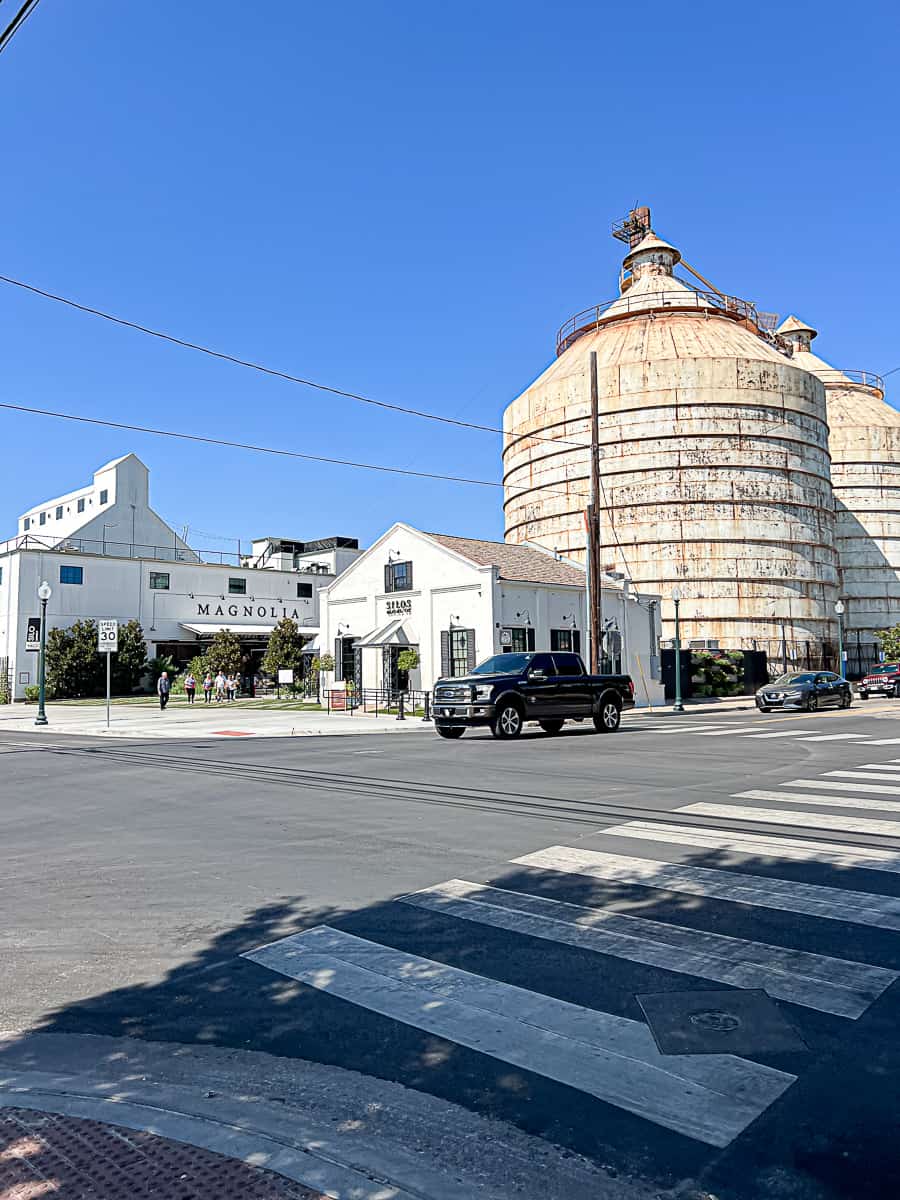 You can easily spend a full day (or drag it out to enjoy a weekend) in Waco, which is a road trip stop between Austin and Dallas. 
See how to pack plane snacks for kids…
Parking at The Silos
We found parking on the streets free within a couple of blocks.
Check out the full-length travel video
SEE the FULL experience of Magnolia Silos (Magnolia Market) in this video!
This video shows what visiting the Magnolia Silos is like.
See including where to eat, the bakery, where to see JoAnna Gaines filming the baking competition live, and where to shop on your trip to Waco, Texas.
Hotels near Magnolia Market in Waco TX
Courtyard by Marriott Waco (includes an outdoor pool)
Pivovar Hotel (highly rated, and within walking distance to the Silos grounds)
Hilton Waco (near the convention center with an outdoor pool)
Quick tips for visiting the Magnolia Silos from Austin
There are plenty of food options like food trucks and little shops, but if you want to eat at Magnolia Table cafe, the JoAnna and Chip's restaurant, it's actually a short drive from the silos, and you definitely need reservations. More on that below.
Spend the day at The Silos. You can make a short 2 hour visit, or a long day visit enjoy all the intricate details of Magnolia Market.
OR make it a weekend trip to Waco and enjoy the Waco farmers market and tour a Fixer Upper house.
Where to eat at Magnolia Silos
For fast food, you can eat at on-site food trucks serving tacos, pizza, juices, and more.
For sweets, visit Magnolia Bakery (wondering what to get from the Silos Bakery Menu? Definitely get the strawberry cupcake and a chocolate chip cookie!)
For coffee at The Silos, while you're in line, they have a free spout of sparkling water to enjoy.
More on the food options below!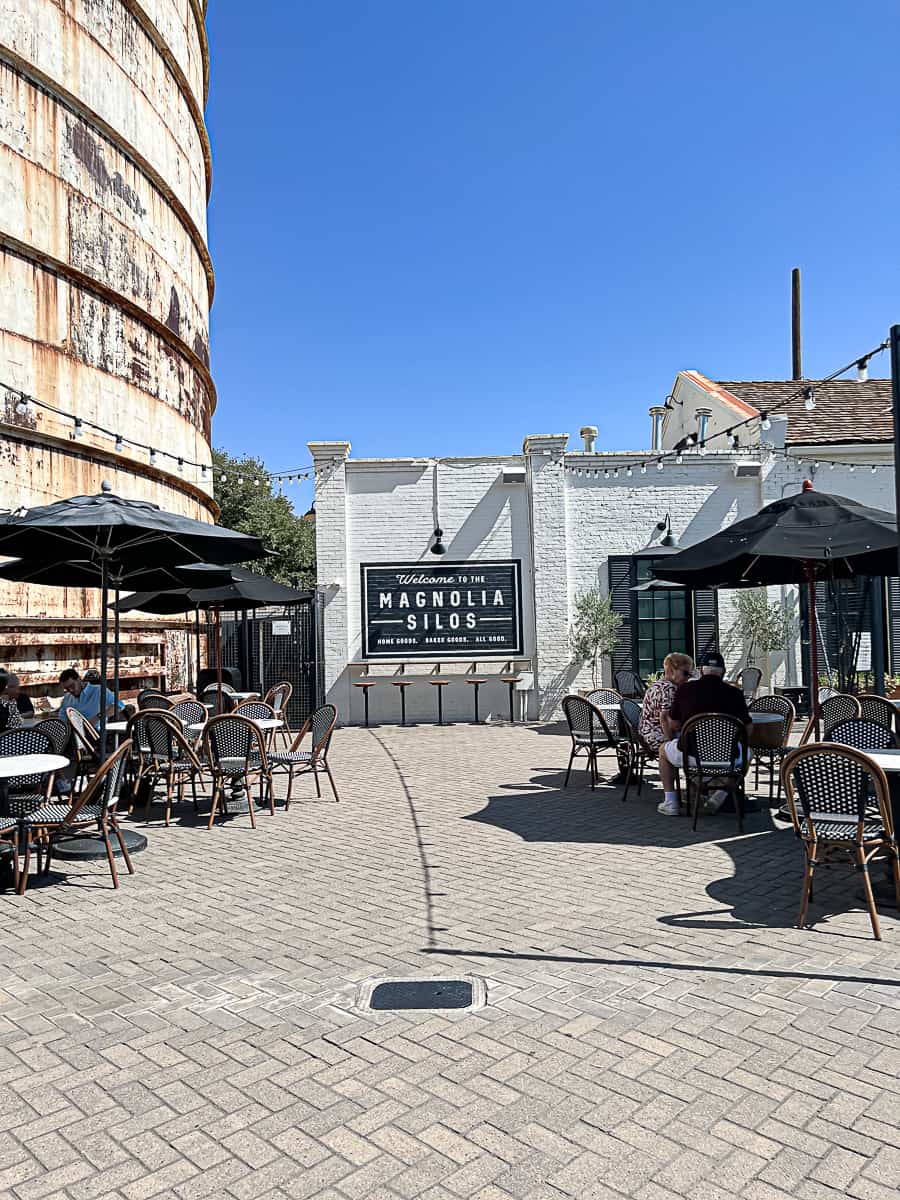 Visiting Magnolia Table (actually NOT at the silos!)
NOTE: Magnolia Table is not AT the silos, but is actually a quick drive down the street…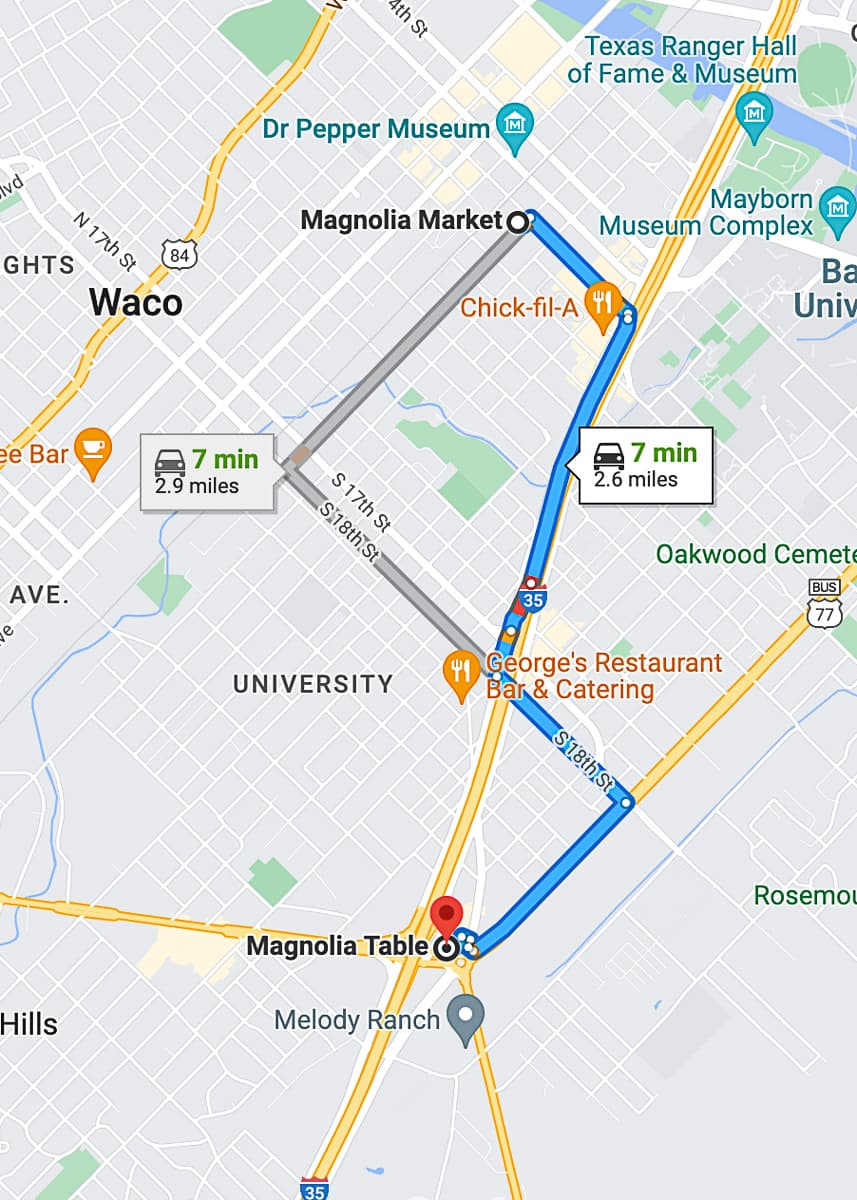 Want to eat at Magnolia Table, the restaurant?
My main tip is to BOOK IN ADVANCE, otherwise you could have a ~90 minute wait, maybe longer.
Forgot to make reservations at Magnolia Table?
Go to the side of the building and select off their limited menu to enjoy a chicken sandwich, burger, or kids snack pack.
You'll want reservations to dine-in there. For lunch, I recommend the chicken sandwich or burger from the Magnolia Table menu.
See the food at Magnolia Table in this video…
This is from the takeaway cafe menu…
Non food activities at Magnolia Silos
Watch the LIVE baking show filming with Joanna, herself!
For a kids activity, try cornhole on the lawn (aka the "Magnolia Great Lawn"), or play baseball on the field that Babe Ruth himself played at (the Wiffle Ball Fields).
Shop some of the stores for furniture, home goods, planing supplies, skin care products, mens products, and more…
The Magnolia Baking Competition filming live at the silos!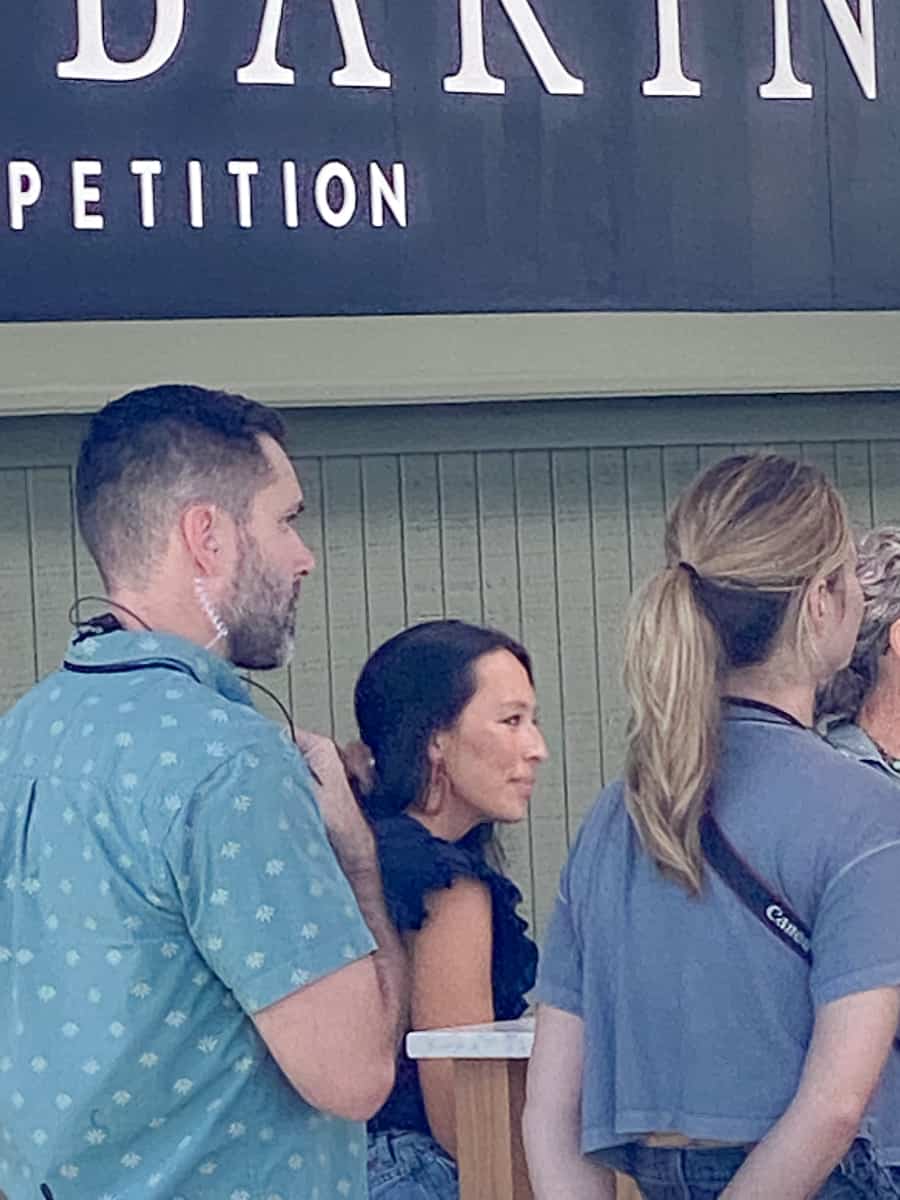 Did you know you can see Joanna Gaines filming The Silos Baking Competition during a trip to the silos.
Check out the schedule of days Joanna Gaines films The Silos Baking Competition, which is outdoors and easy to check out while walking the grounds.
See The Silos Baking Competition filming at Magnolia Market
You'll have to look up the schedule for The Silos Baking Competition filming days at the Silos.
I was joyfully surprised on a weekday afternoon when it was being taped / recorded live on site.
What is Magnolia Market?
The Magnolia Market at The Silos is just one of the many attractions to enjoy while you roam around the property.
It's the magnolia store that greets you when you enter near the Silos Bakery, close to the Silos with the old Magnolia logo on them.
You pass the Market at Magnolia Silos on your way to the outdoor production / filming area, before you get to the green lawn.
You'll see in my ​​magnolia market photos that there's so much to get into if you love home decor or are doing some holiday decorating, or Christmas season shopping for gifts.
Inside Magnolia Market you'll find things to wear and decorate your home with. There are plenty of gifts and souvenirs to choose from to bring back from your trip.
You can also shop the collection online.
The market is not the only magnolia shop to enjoy.
There are other themed shops at the Silos where you can purchase everything Jo curated for guests to enjoy during a visit, like the Seed and Supply shop…
Magnolia Home store
This is separate from Magnolia Market, and is the more furniture-focused Joanna Gaines store at the Silos.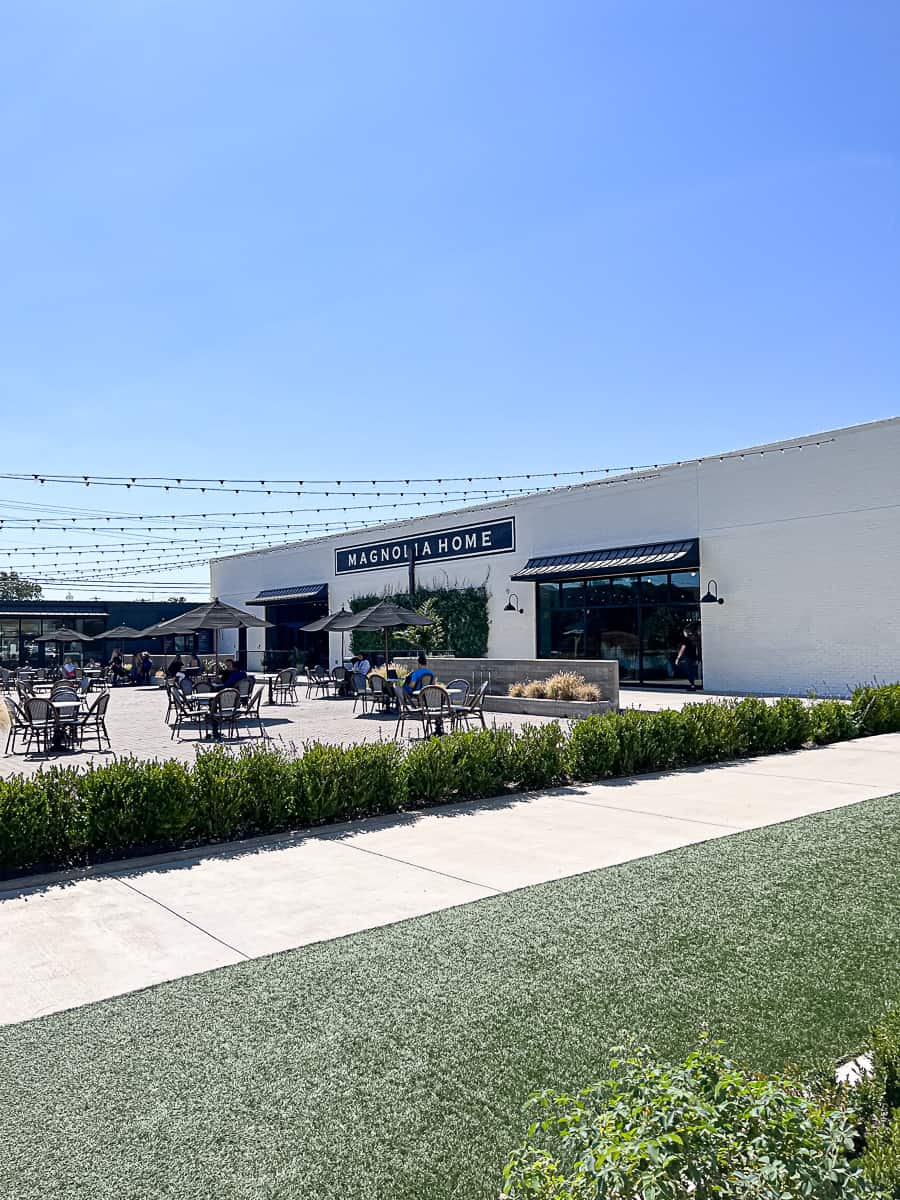 It's very beautiful inside and a great place to enjoy Joanna's design sense and styling ideas.
If you're not in the market for furniture, it's still worth a visit.
It's basically like an in-person lookbook inspiration store, similar to her online site.
The Seed and Supply shop
This was one of my favorite discoveries. Outside of the shop is the quaint, almost English-garden-looking Magnolia Gardens.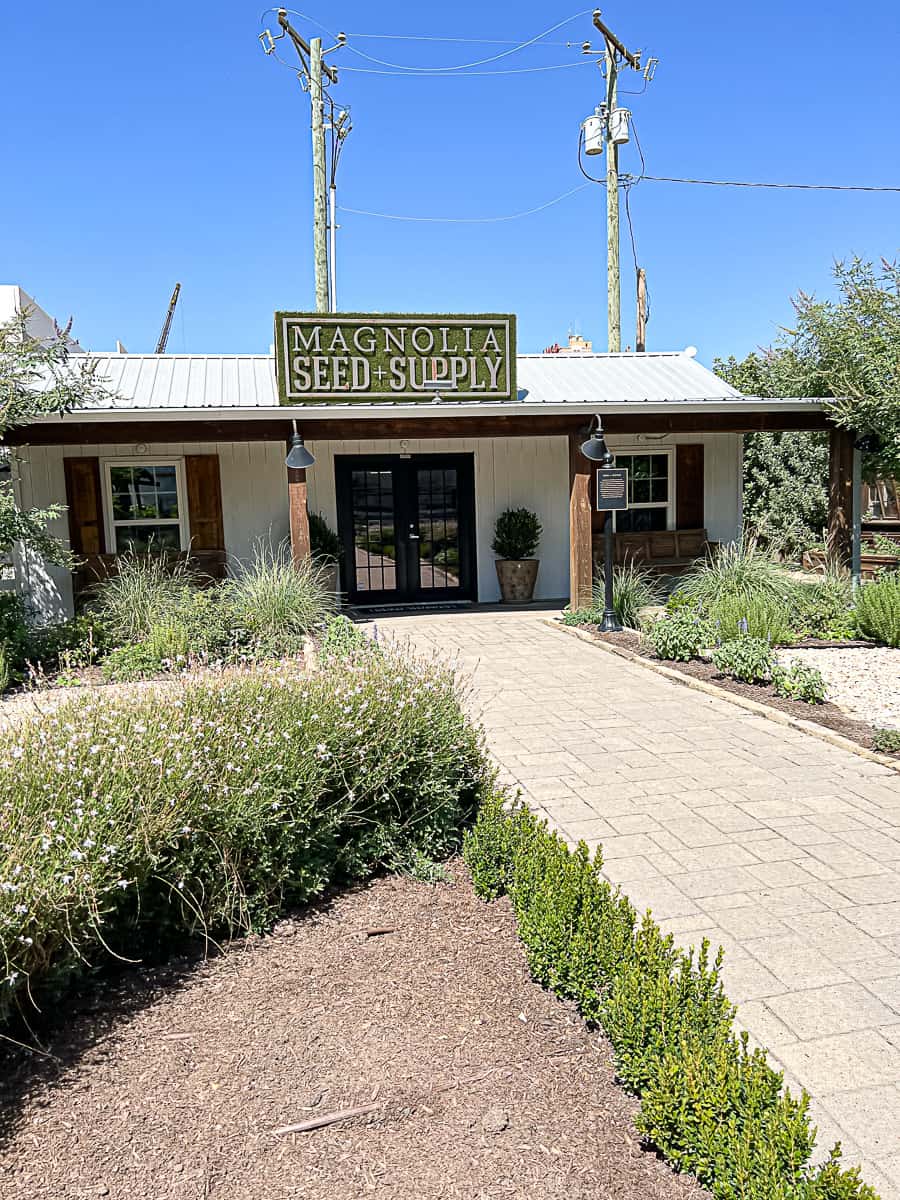 While Magnolia Farms where Chip and JoAnna Gaines live is not available for a tour, you can get the feel of what their yard may be like with a little garden outside this shop.
Inside the cute garden themed shop, there are planters and plant accessories.
What to get at the Magnolia Bakery (Silos Bakery)
Everything is so wonderful, and I liked the organization and experience going in.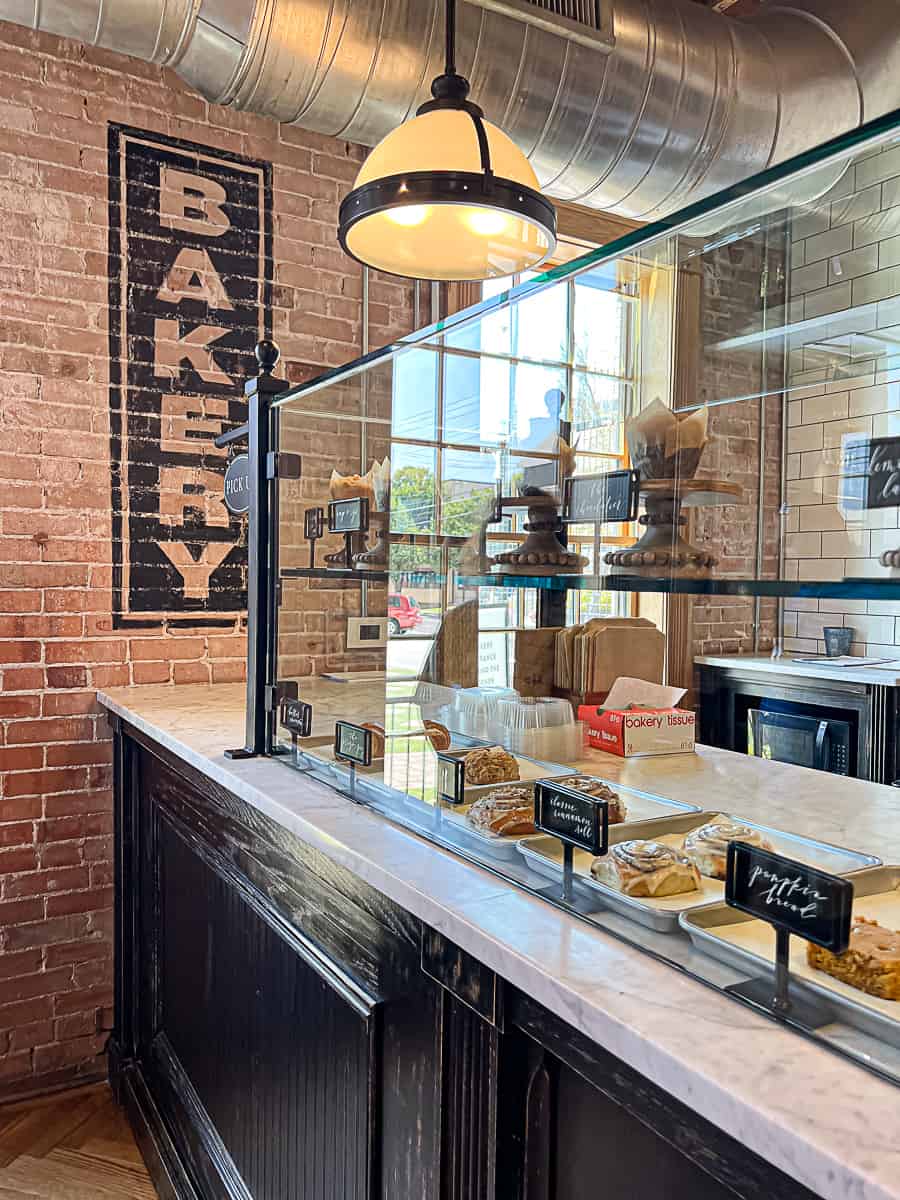 There is someone outside to hand you a card and pencil where you fill out your bakery order.
Inside the bakery is a case with all the goodies, including plenty of cupcakes, brownies, cookies, and more.
We tried and loved the chocolate chip cookies, brownie, and the cupcakes…
The Silos Baking Co. Strawberry and cream cupcakes are amazing!
The treats and cupcakes I will try next time include the lemon lavender cupcake, and its cousin, the blueberry muffin.
I heard people were freaking out about what happened to Joanna Gaines' bakery when it closed during the time we were all cooped up in our houses…
But now it's open and a must-stop place to see at the Silos and get a souvenir treat for yourself.
Magnolia Press Coffee Co.
After a day of eating, or maybe to start your day with energy to browse the Silos, definitely check out the tasty Magnolia Press Coffee Co…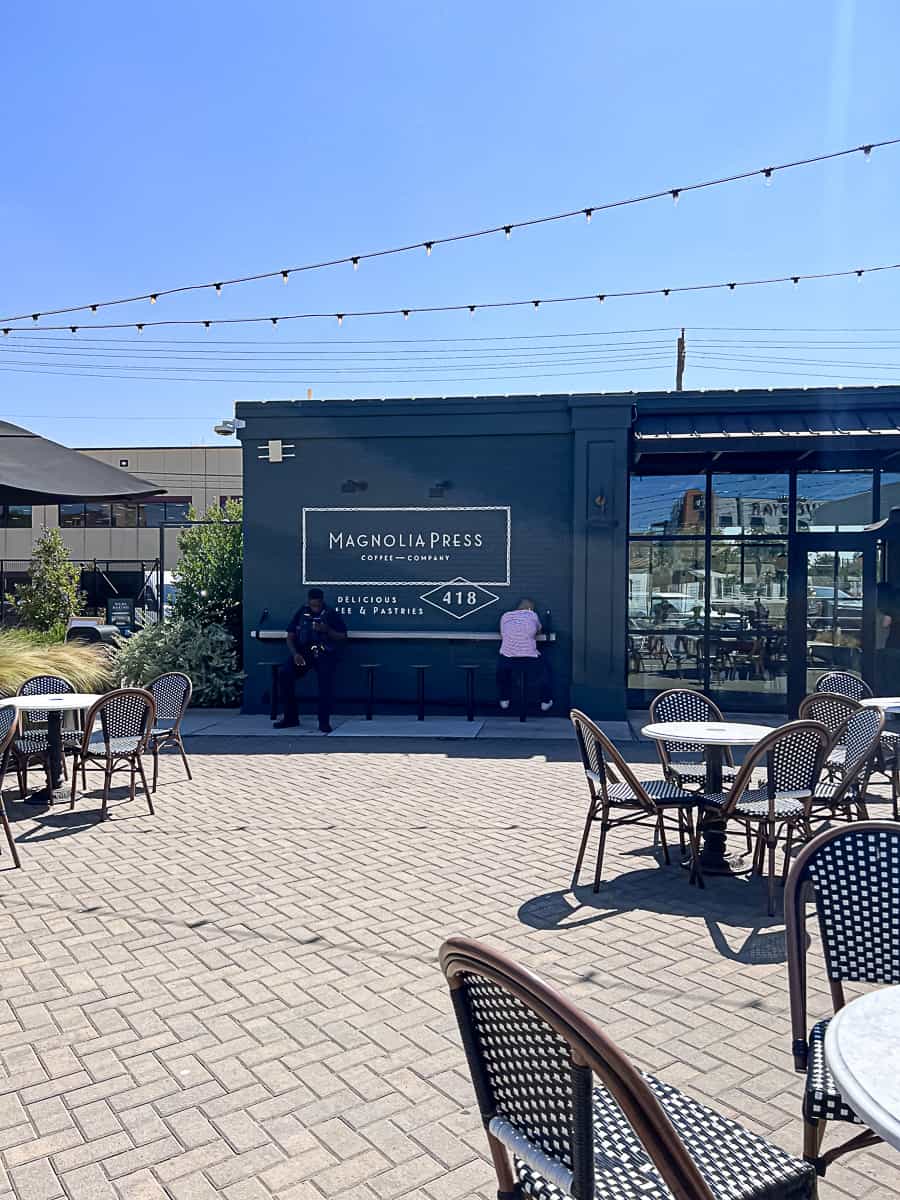 The atmosphere is beautifully designed and feels cozy, yet open.
To drink, try something new on the Magnolia Press Coffee Co. menu, like the 1905, a creative marshmallow and vanilla latte.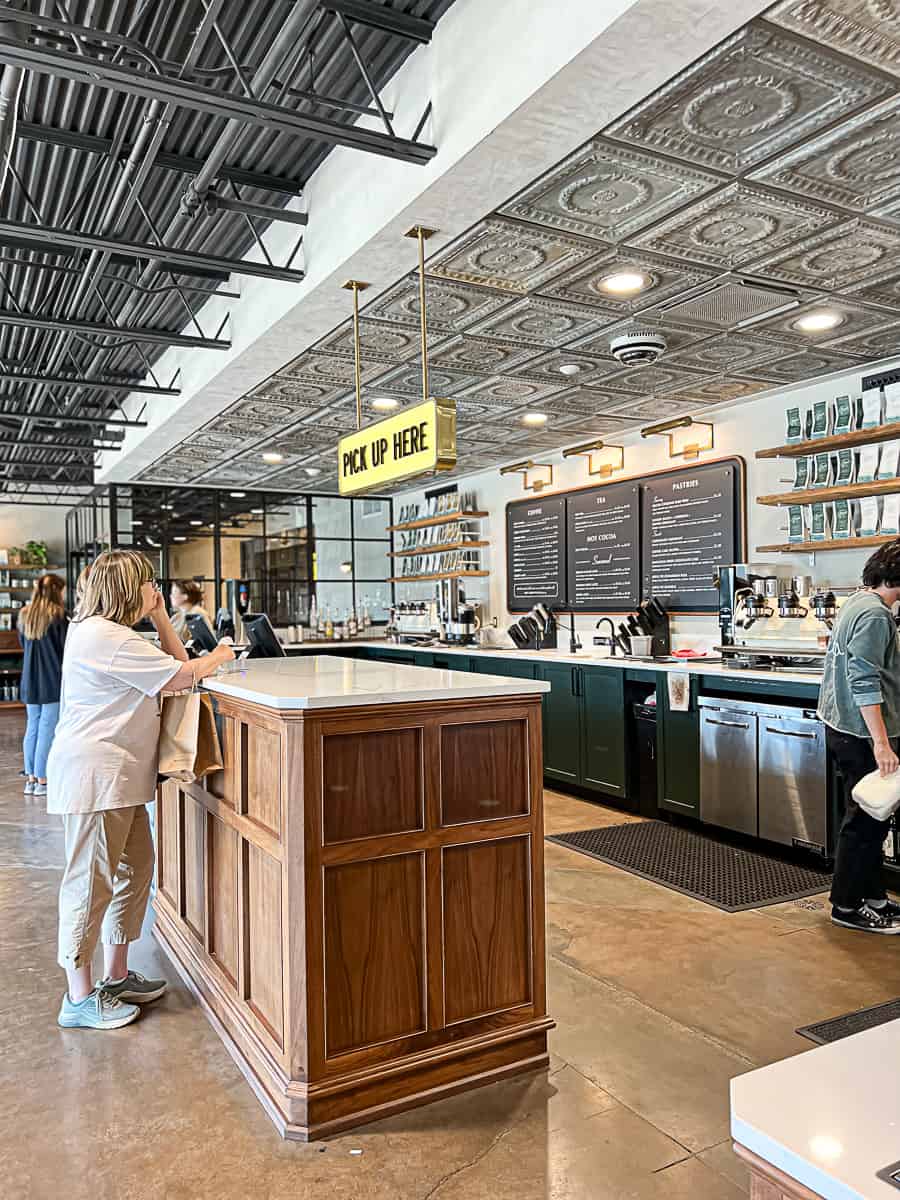 Lunch time is the busiest at the Magnolia coffee shop, and that's probably because you can enjoy savory items like an artichoke pastry.
If it's busy inside, head to the pristine, breezy patio like we did…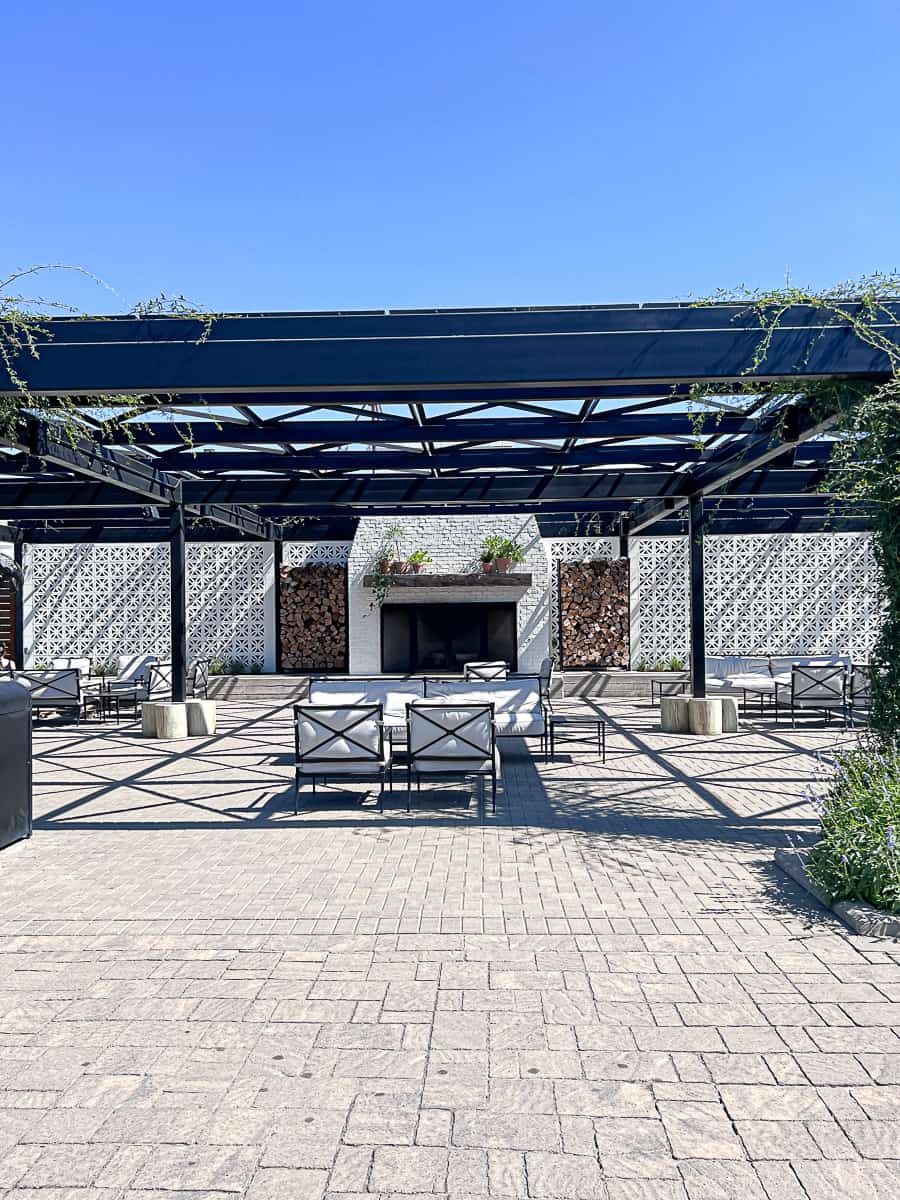 There's a fireplace and lounge chairs in the shade to enjoy while you take in your food and the beautiful surroundings.
My husband can't refuse a cinnamon roll we got before heading here at the bakery, so we enjoyed that, along with the cupcakes we got at the Silos Bakery on site, too.
Though I hear they have a wonderful lemon berry cinnamon roll, Pumpkin Spice latte, and Pecan house coffee brew which I'll try next time.
Is visiting the Magnolia Silos a good family activity?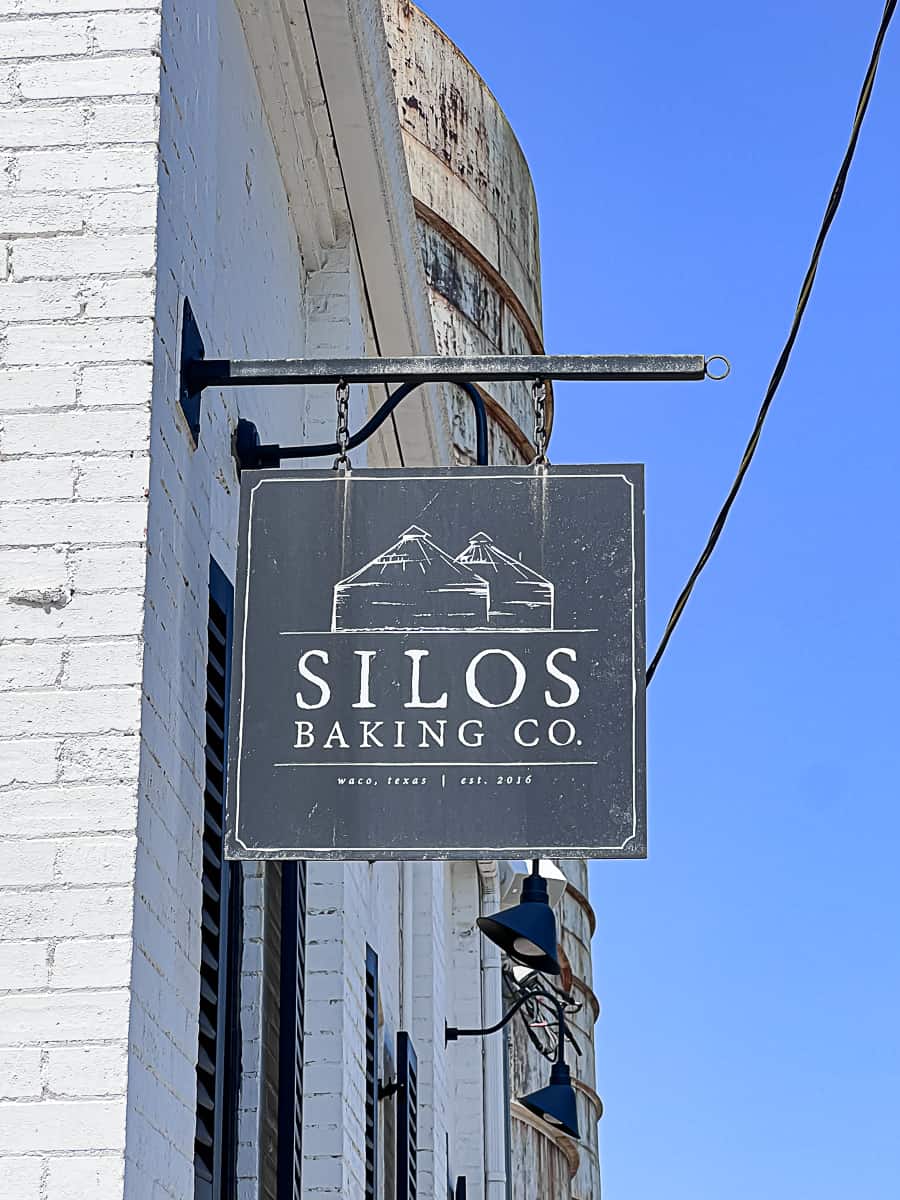 I sure think so! In my life in this season, I'm traveling with my husband and toddler son.
The silos were great for us because there were physical activities (making this a great stop on the way to and from Austin to Dallas).
And plenty of food options.
The Silos are pretty enclosed, so there is no traffic around them.
Magnolia Great Lawn
If you're wondering where The Magnolia Baking Competition is filmed, well, it's right here at the silos, by the Great Lawn.
It's a great stop on the way to Austin from Dallas for a family trip, because little ones can get out and kick soccer balls and play on the grass field.
Magnolia Wiffle Ball Field
The wiffle ball field is a great place to run around and have fun swinging a bat where Babe Ruth himself apparently played.
Here we are taking a quick shopping / eating break to play wiffleball at the Silos baseball field. This is right on-sight at Magnolia Market in Waco Texas.
Historic Waco Church at The Silos
This church, from 1894, was moved and revitalized to be a larger part of The Silos.
Live entertainment
Check the website to find out when you can see the Silobration around the holidays.
Ready to visit the Magnolia Silos in Waco, Texas?
I hope this guide has been of great help for visiting Magnolia Silos and planning a day trip or weekend travel itinerary around all things Magnolia fans love.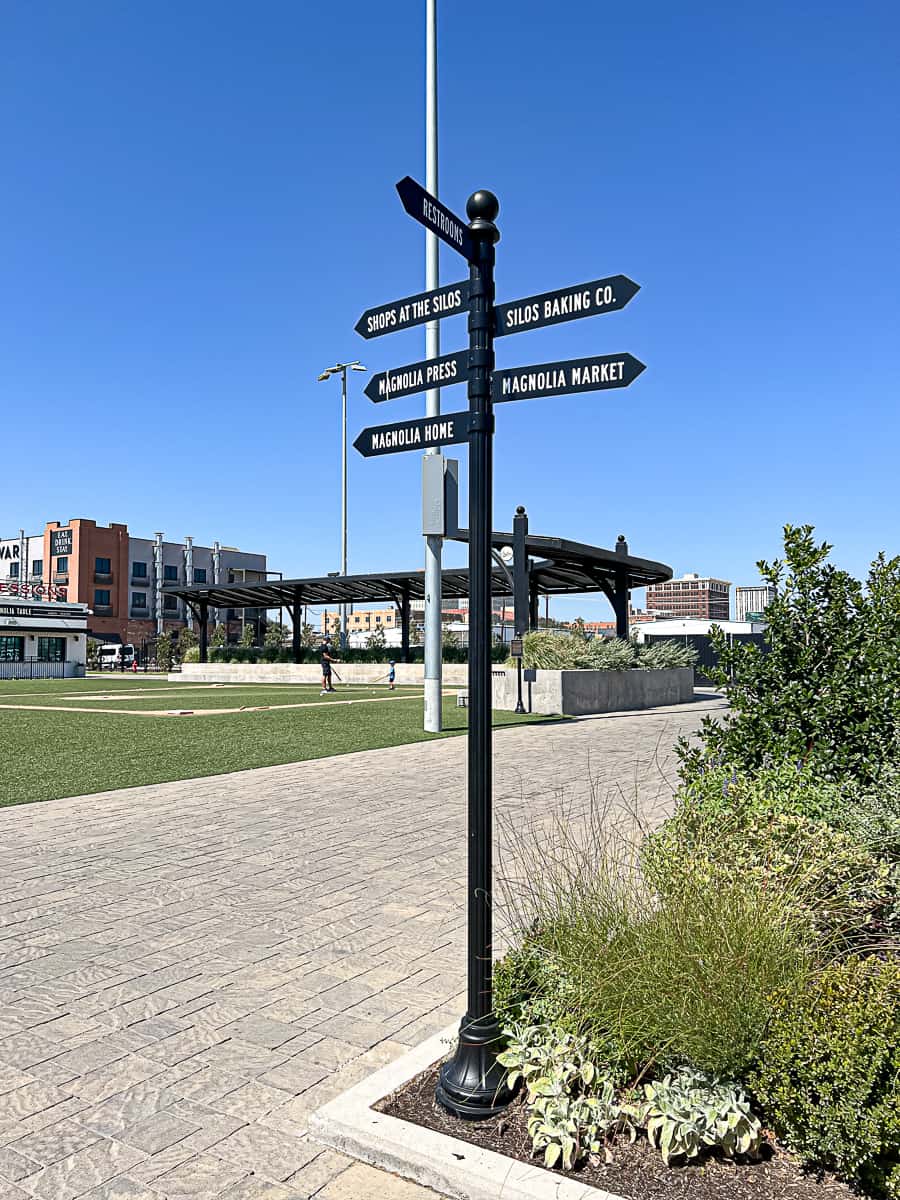 With the short Dallas to Waco drive time, you can bet I will be back to enjoy more of it, soon!
They were starting to put out Christmas decorations when I visited in late September, so I'm eager to make a trip back and see the holiday arrivals at the shops.
JoAnna, if you're reading this, call me and I'll come do a restaurant review of Magnolia Table to expand on this article, WINK WINK!
Guides for visiting Austin, Texas on Sip Bite Go
More travel tips