So you have the new Traeger Flatrock griddle and are now wondering…how do I protect it? I got you covered with the Flatrock griddle grill cover. This must-have cover protects your griddle investment against the elements of outdoor living.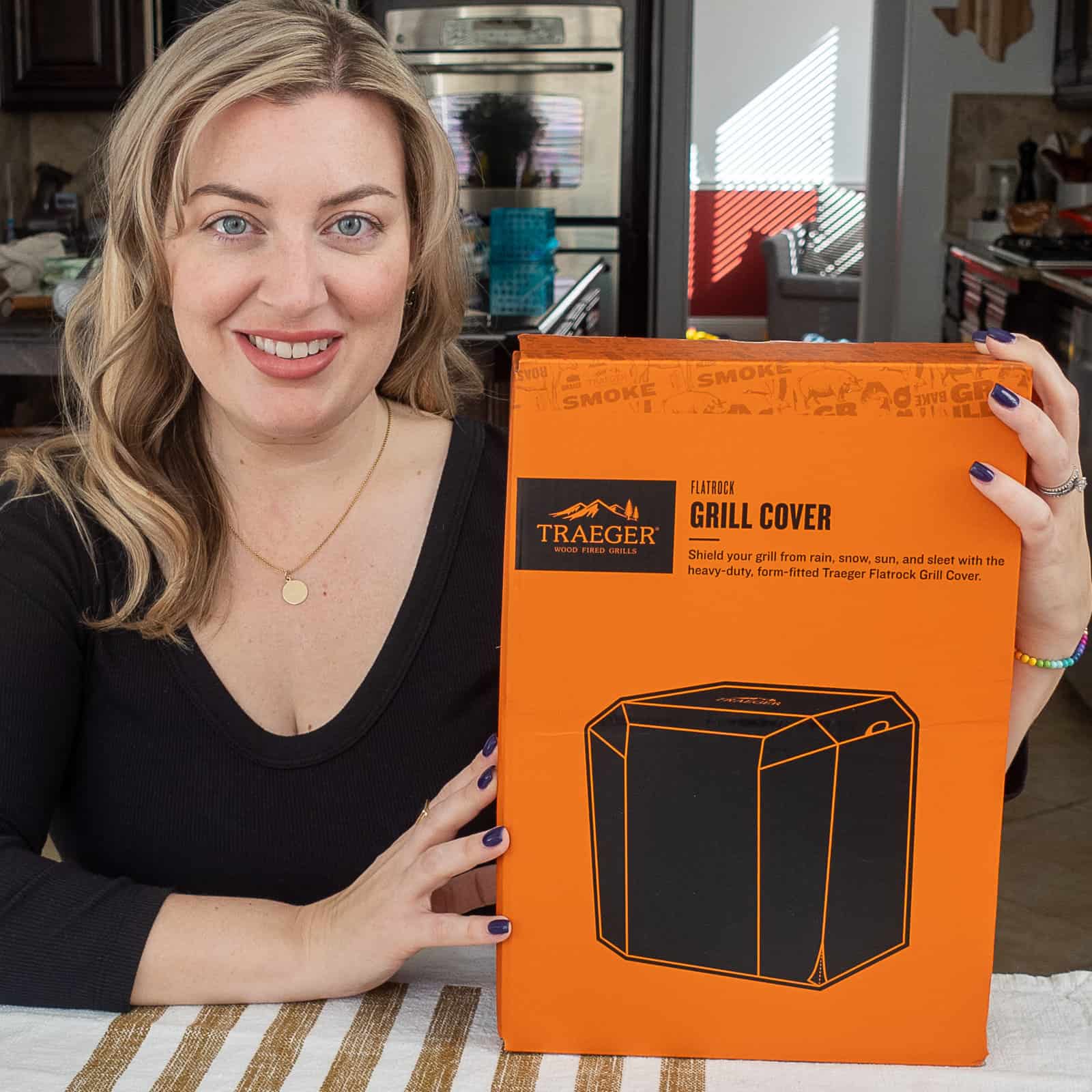 Special thanks to Traeger Grills for providing Sip Bite Go with the Flatrock grill for review. All opinions are my own.
See the Traeger Flatrock Cover box opening video…
Follow Sip Bite Go on Instagram and TikTok for easy griddle cooking tips…
Why having a Flatrock griddle cover is a good idea…
The cover will shield your flat top from the weather.
Helps prevent rusting.
Keep your Flatrock in good looking condition.
Should you cover your Traeger Flatrock griddle?
Yes, you should definitely cover your griddle for a variety of reasons…
Covering your griddle will protect it from weather storms that roll through.
The cover will increase the griddle's lifespan.
Covers protect against dust, air pollen, or even rodents looking to get into your griddle when it's not on.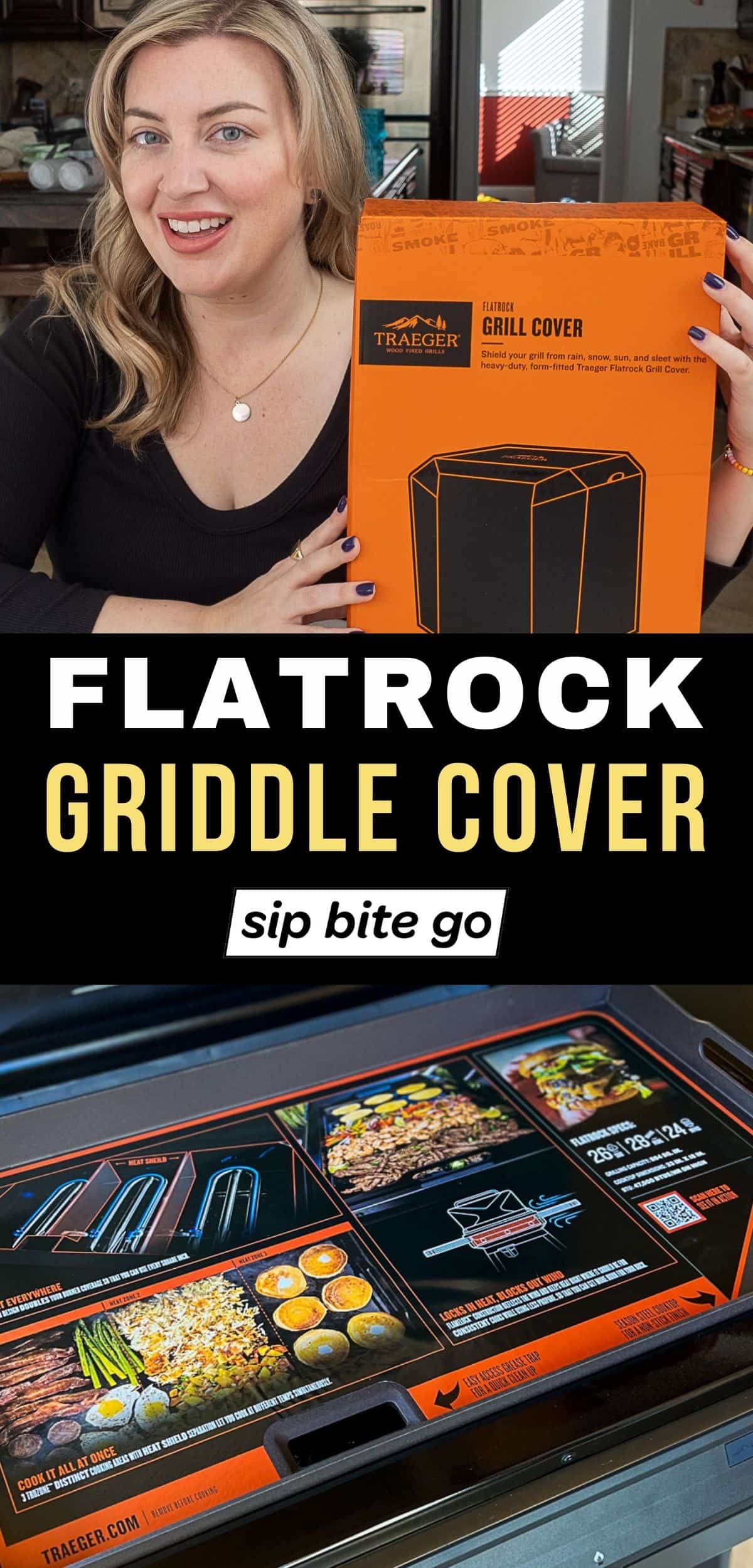 FAQs
Can Traeger Flatrock griddles be kept outside?
Yes. The Flatrock was designed to be used outdoors. This is why the griddle comes with a lid for the surface. Additionally, it is recommended that you use a griddle cover to protect your griddle when it's not in use.
Can you ruin a Traeger Flatrock griddle flat top?
Yes, unfortunately if you do not take the proper steps, you will ultimately ruin your griddle. The surface of the Flatrock is a cast iron cooktop. These cooktops take a lot of conditioning to stay maintained and in good working condition. 

Since the Flatrock will be kept outdoors most of the time, you need to take additional precautions against rusting for example. Seasoning, conditioning, and using a grill cover will help keep you from ruining your Traeger Flatrock. 
Should you oil the Traeger Flatrock after each use?
Yes, it is HIGHLY recommended that you oil your griddle after every use. This keeps the cast iron surface in good shape, prevents rusting / chipping, and it will keep the surface non-stick.
Try these easy griddle recipes…
See new griddle recipes for beginners…
Griddle cooking tools in the SBG setup…
Main griddle equipment
Other helpful grilling tools, accessories, ingredients…
Traeger Flatrock guides
Meat thermometer recommendations
Every home chef needs a reliable meat thermometer to cook food perfectly.
On Sip Bite Go, you'll often see me using:
Meater thermometer – a fancy wireless thermometer that connects to a phone app – gifted to me from a Traeger partnership.
ThermoPro digital thermometer – which has a wire that connects the thermometer to a display box outside the oven/grill.
It's like being psychic! The great thing about either of the thermometers above is that I don't have to take the food out of the oven to know the temperature.
How to use 'em… What I do is stick the digital thermometer in steak, pork, chicken, whatever… Then put the food in the oven, on the smoker, or grill.
While the meat cooks, it reads the temperature so I know exactly what temp meat is as it's cooking. Without having to take it out and check. It's really difficult to overcook food when you know exactly what temp it is inside!
Are you a foodie, too?
Hey home chef, hope that answers all your questions about covering the Flatrock Griddle.
Enjoy griddle recipes and chat soon on Instagram / TikTok / YouTube.
– Jenna
Next, browse the Sip Bite Go recipe collection…