See how to make griddled onions on the Traeger Flatrock Griddle or Blackstone Grill. This easy flattop recipe is an easy way to prep onions with lots of flavor for other recipes like burritos, tacos, sandwiches, and more…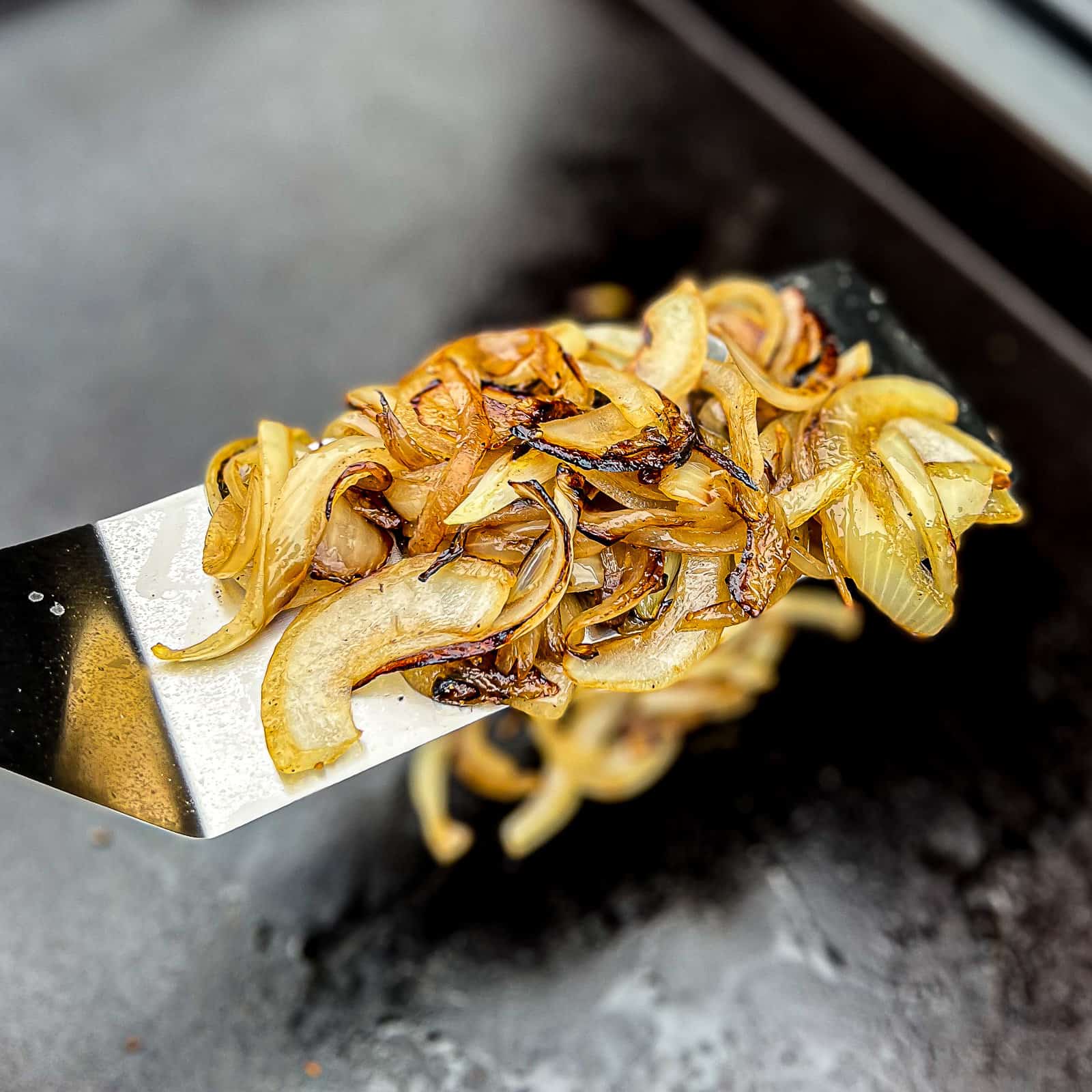 Special thanks to Traeger Grills for providing Sip Bite Go with the Flatrock grill for review. All opinions are my own.
Follow Sip Bite Go on Instagram and TikTok for easy griddle cooking tips…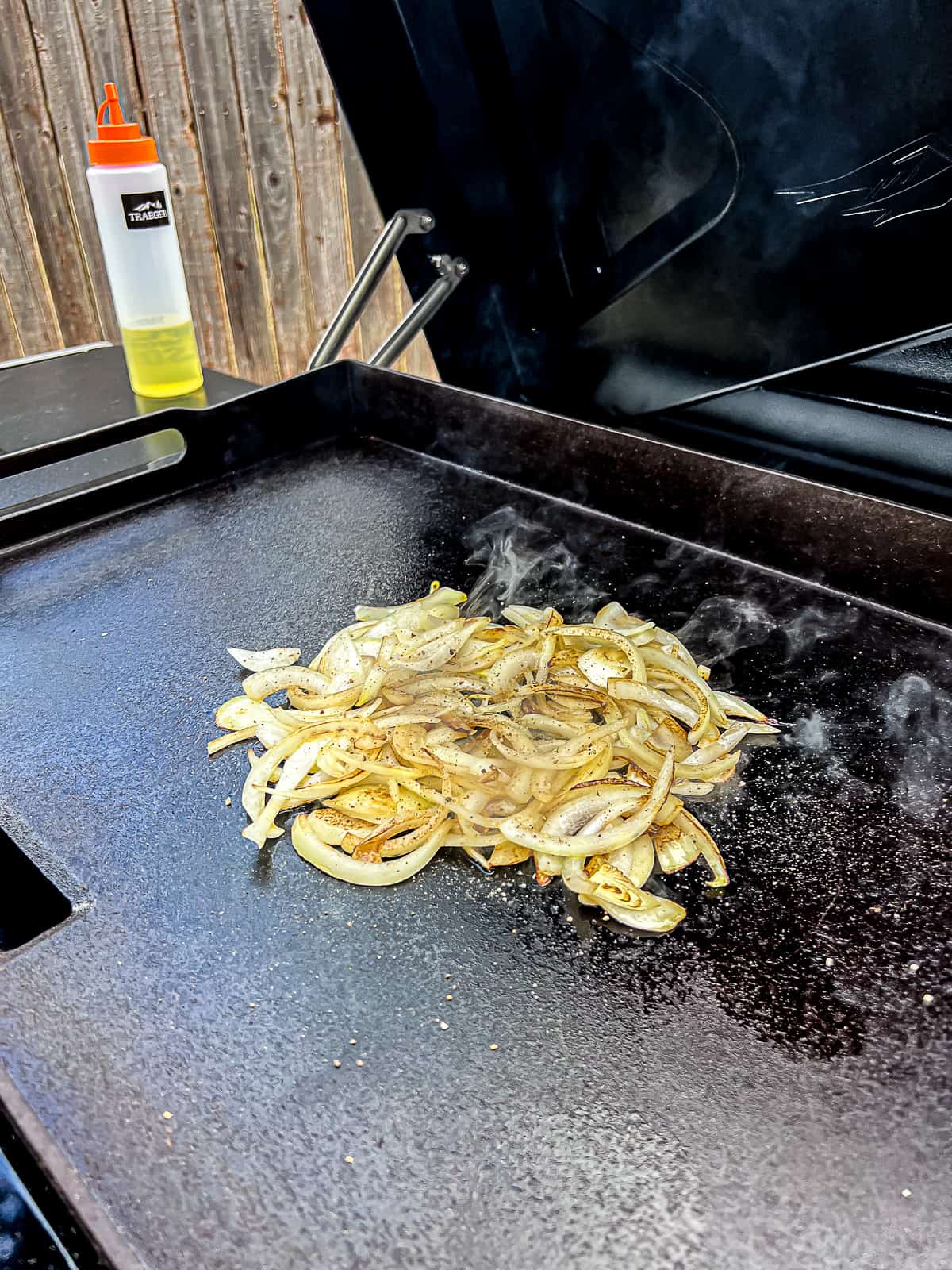 Griddled onions are a great topping for homemade hamburger patties…
Why griddle onions are so good…
Super easy recipe.
Fast cook time.
Just a few ingredients.
Can be added to anything!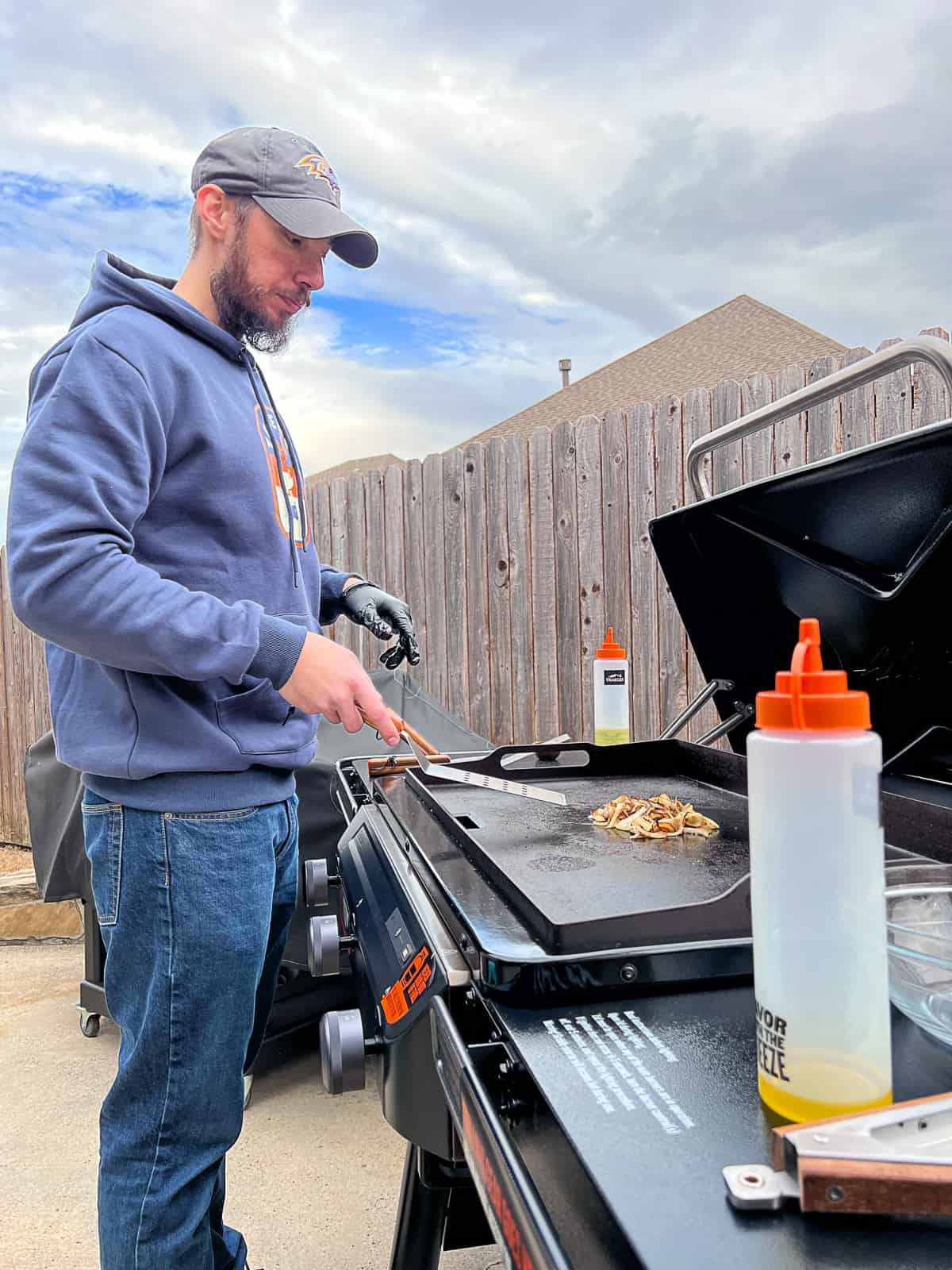 New to flat top cooking?
Scroll to the bottom of this post for step-by-step video instructions.
Ingredients
Here's what you need to make onions on a griddle cooktop.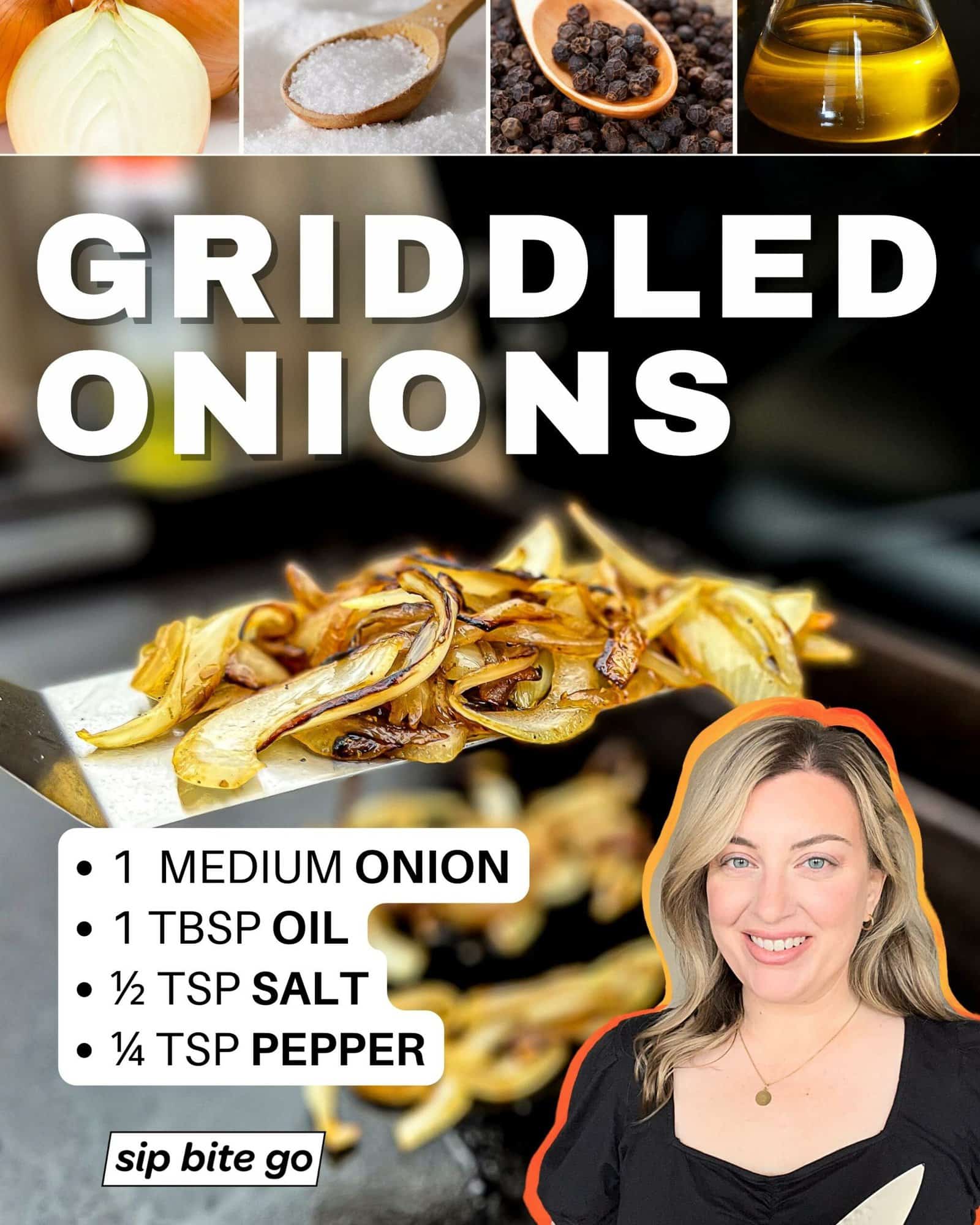 1 medium onion, skin removed, ends cut off, cut in half and sliced to thin half moons
1 tbsp avocado oil, or whatever vegetable oil you'd like to coat the griddle
½ tsp salt
¼ tsp pepper
See popular smoked food recipes on Sip Bite Go…
How to make griddled onions
Now I'll walk you through it…
Quick look at griddling onions on the flattop
Preheat flattop griddle and prep onions.
Griddle onions with salt and pepper.
Finish griddling until onions are caramelized to your liking.
Enjoy.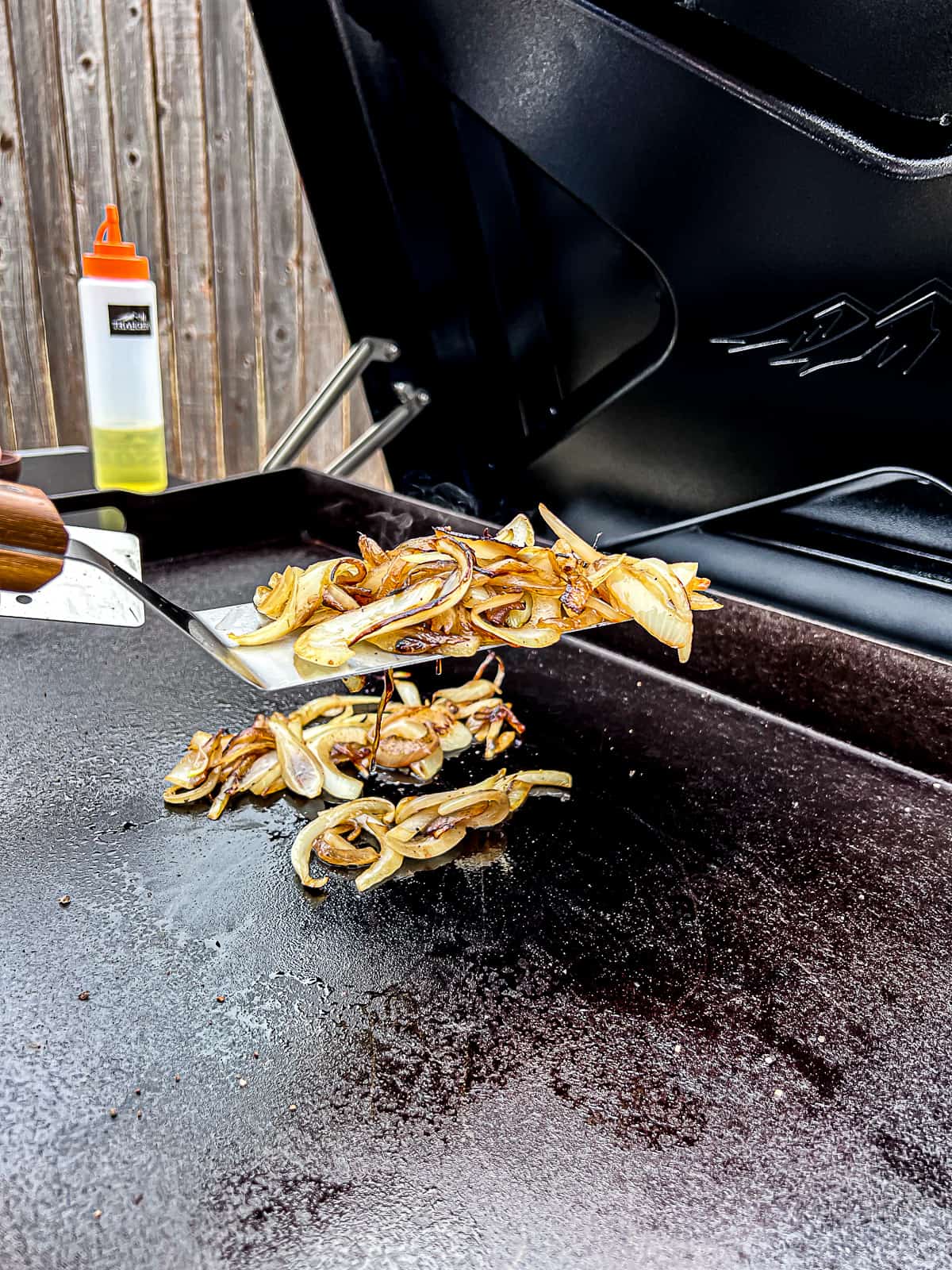 Detailed recipe steps
Prep all ingredients before cooking on the griddle. You'll want them ready to use. I like to use a tray.
Preheat Traeger Flatrock, Blackstone Grill, or whatever indoor griddle or outdoor flattop you're using to medium-high.
Add cooking oil to coat the griddle.
Once oil is hot and shiny, add sliced onions on top. At this point, for the first ~ 5 minutes or so, until the onions begin to brown, we leave the flattop griddle open and regularly flip the onions so they don't burn in any particular spot. If desired, you can add some more oil.
Once onions on the griddle begin to wilt and become translucent, add salt and pepper. Continue flipping onions to season all over.
Continue cooking griddled onions a few minutes, or as long as you'd like, to caramelize them to your desired doneness. In the Sip Bite Go recipe demonstration, you'll see we shut the griddle lid at this point and turned down the heat to medium to brown them a few more minutes.
Enjoy on your favorite foods like burgers, quesadillas, eggs and more…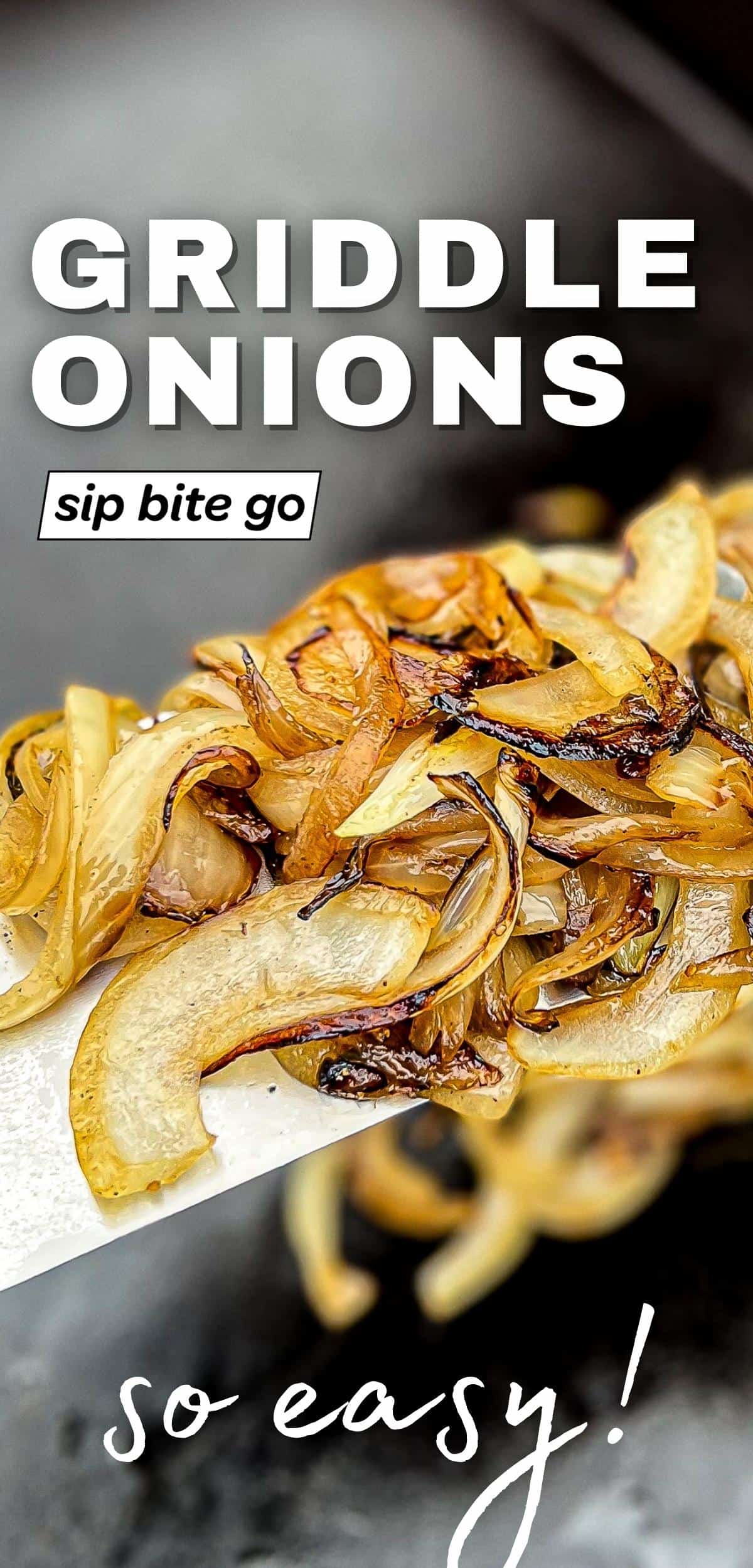 See the flattop onion and chicken quesadilla video…
Add griddle onions to this Philly cheesesteak pizza recipe…
FAQs
What's the difference between smoked VS griddled onions? 
Onions cook a lot faster on the griddle… They turn out more "fried" when griddled, vs. when they're cooked to melt-in-your-mouth deliciousness in the smoker.
What type of onion can be grilled this way?
Walla Walla, yellow onions like the one in this recipe tutorial, or red onions are all great choices.

Also see how to caramelize onions…
Try these easy griddle recipes…
See new griddle recipes for beginners…
Griddle cooking tools in the SBG setup…
Main griddle equipment
Other helpful grilling tools, accessories, ingredients…
Traeger Flatrock guides
Meat thermometer recommendations
Every home chef needs a reliable meat thermometer to cook food perfectly.
On Sip Bite Go, you'll often see me using:
Meater thermometer – a fancy wireless thermometer that connects to a phone app – gifted to me from a Traeger partnership.
ThermoPro digital thermometer – which has a wire that connects the thermometer to a display box outside the oven/grill.
It's like being psychic! The great thing about either of the thermometers above is that I don't have to take the food out of the oven to know the temperature.
How to use 'em… What I do is stick the digital thermometer in steak, pork, chicken, whatever… Then put the food in the oven, on the smoker, or grill.
While the meat cooks, it reads the temperature so I know exactly what temp meat is as it's cooking. Without having to take it out and check. It's really difficult to overcook food when you know exactly what temp it is inside!
Are you a foodie, too?
Hey home chef, hope that answers all your questions about making fried onions on the griddle.
Enjoy cooking and chat soon on Instagram / TikTok / YouTube.
– Jenna
Next, browse the Sip Bite Go recipe collection…
Griddled Onions Recipe | sipbitego.com
See how to make griddled onions on the Traeger Flatrock Griddle or Blackstone Grill. This easy flattop recipe is an easy way to prep onions with lots of flavor for other recipes like burritos, tacos, sandwiches, and more… | sipbitego.com
Print
Pin
Rate
Ingredients
1

medium onion

skin removed, ends cut off, cut in half and sliced to thin half moons

1

tbsp

avocado oil

or whatever vegetable oil you'd like to coat the griddle

½

tsp

salt

¼

tsp

pepper
Instructions
Detailed recipe steps
Prep all ingredients before cooking on the griddle. You'll want them ready to use. I like to use a tray.

Preheat Traeger Flatrock, Blackstone Grill, or whatever indoor griddle or outdoor flattop you're using to medium-high.

Add cooking oil to coat the griddle.

Once oil is hot and shiny, add sliced onions on top. At this point, for the first ~ 5 minutes or so, until the onions begin to brown, we leave the flattop griddle open and regularly flip the onions so they don't burn in any particular spot. If desired, you can add some more oil.

Once onions on the griddle begin to wilt and become translucent, add salt and pepper. Continue flipping onions to season all over.

Continue cooking griddled onions a few minutes, or as long as you'd like, to caramelize them to your desired doneness. In the Sip Bite Go recipe demonstration, you'll see we shut the griddle lid at this point and turned down the heat to medium to brown them a few more minutes.

Enjoy on your favorite foods like burgers, quesadillas, eggs and more…
Nutrition
Calories:
85
kcal
|
Carbohydrates:
5
g
|
Protein:
1
g
|
Fat:
7
g
|
Saturated Fat:
1
g
|
Polyunsaturated Fat:
1
g
|
Monounsaturated Fat:
5
g
|
Sodium:
584
mg
|
Potassium:
84
mg
|
Fiber:
1
g
|
Sugar:
2
g
|
Vitamin A:
2
IU
|
Vitamin C:
4
mg
|
Calcium:
14
mg
|
Iron:
0.1
mg