Want to plan a weekend trip to Austin with the family? I've got you covered in this post geared towards foodies with kids. In this post, I'm sharing all the details on a weekend trip to Austin we took as a family with a toddler, including food/restaurants, kids activities, festivals… And stopping in Waco, TX on the way to visit Joanna Gaines' Magnolia Silos. Here we go…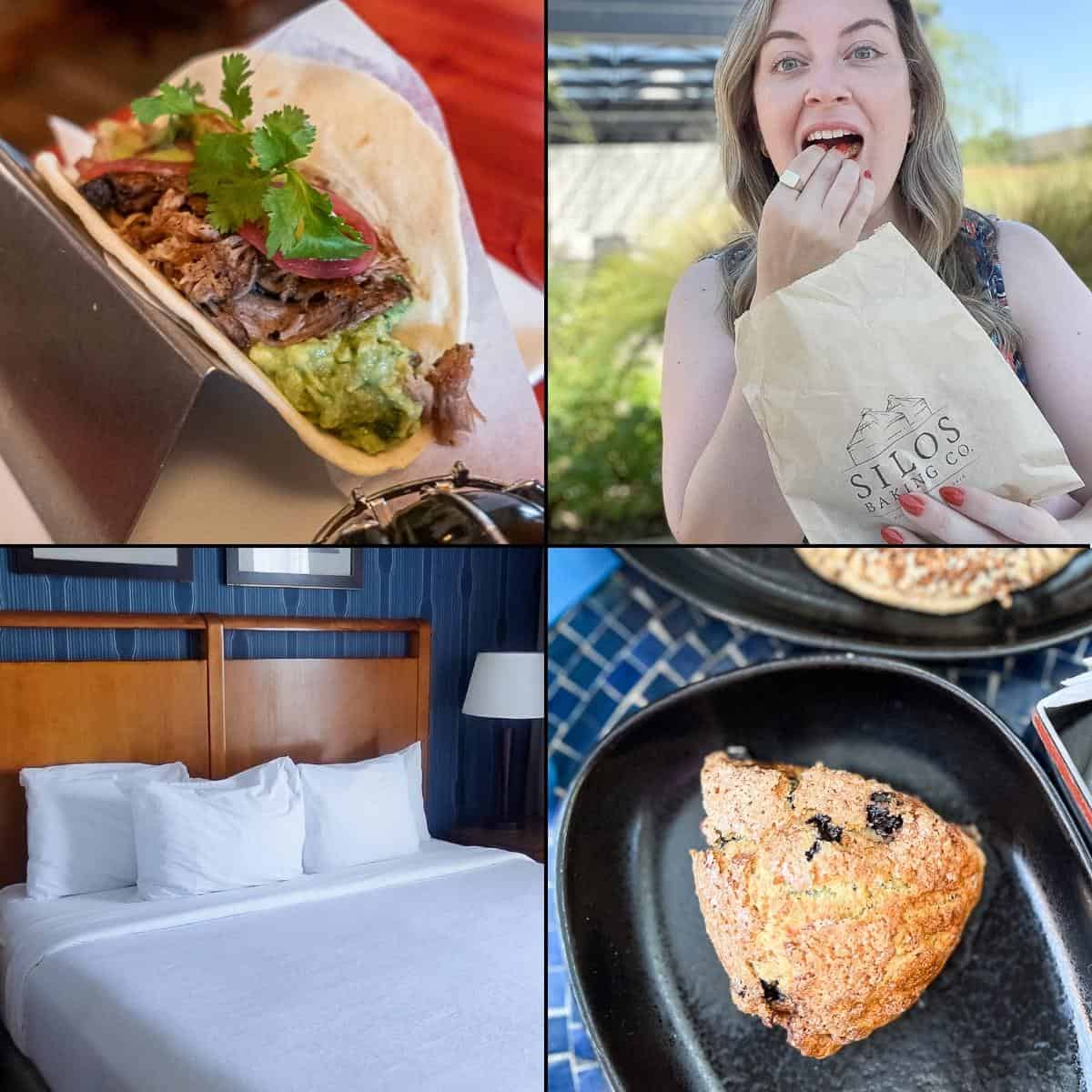 HEY THERE — Follow SBG for food and travel features on Instagram / TikTok
What to pack for a family weekend trip to Austin
Wondering what to pack for a weekend trip to austin?
I have you covered with what to wear and what to pack for your car ride or airplane carry on.
Including a portable potty for cars, in case you're taking a road trip from Dallas like we did.
See this extensive packing list for Austin Texas…
Check out the full-length travel video
Check out this Austin family road trip from Dallas in thisYouTube video…
Foodie list of things to do on an Austin trip with the family
Here's a quick list of my favorite "top 3" things to do in Austin with a family, from this list…
Try Austin BBQ like Franklins BBQ (line up early, more on that below).
Get coffee and breakfast tacos (on this particular Austin family trip, we stopped at a coffee shop called Try Hard Coffee which is right down the street from Franklin BBQ).
Go to Cidercade, a pay-by-the-hour arcade that sells their own ciders, has pub food, and is a fun way to enjoy a hot afternoon or take a break for a few hours and burn some energy.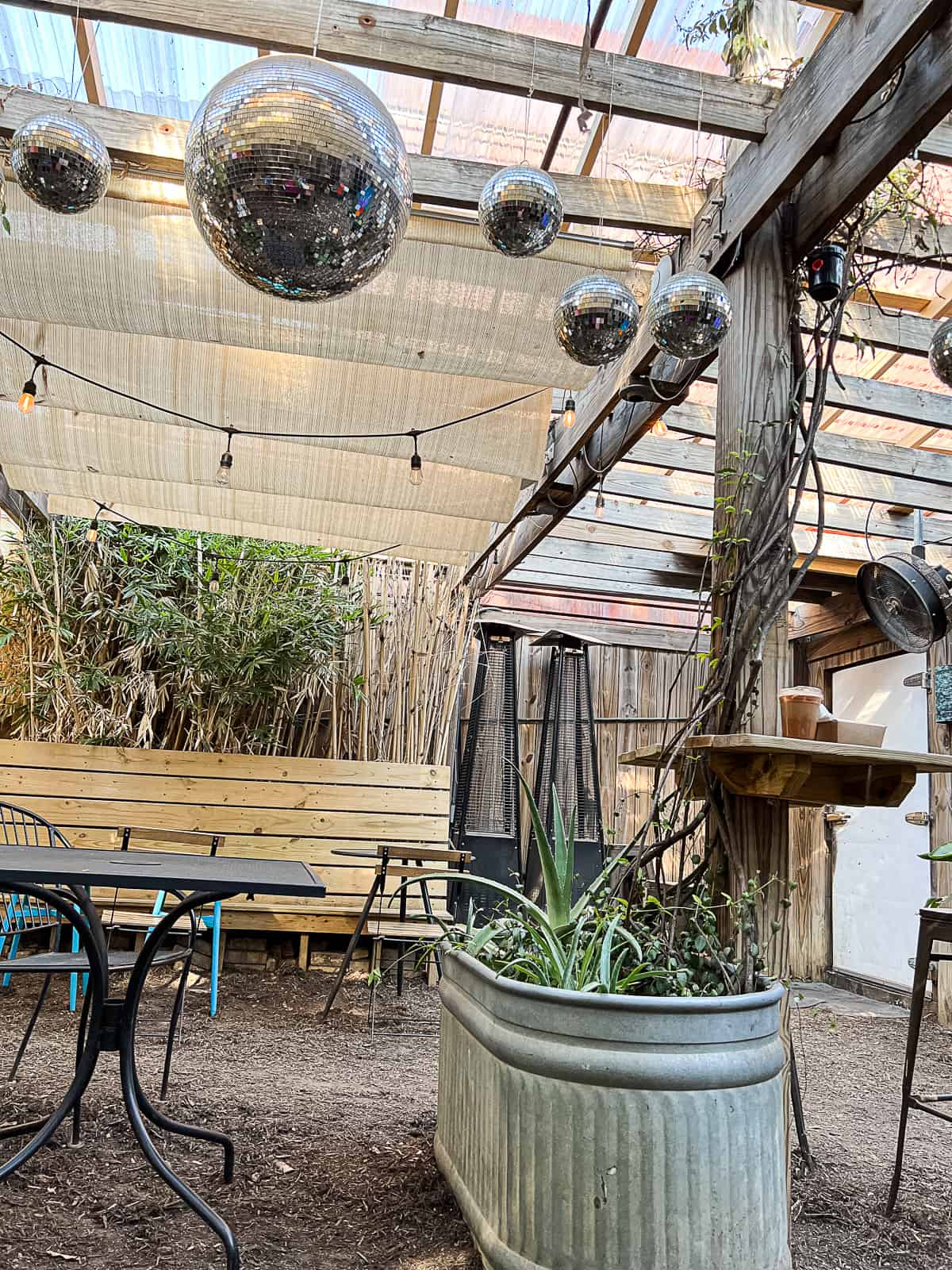 More on all the top family Austin activities below…
See how to pack plane snacks for kids…
How do you get around Austin?
On our trip, we had a car because we did a road trip from Dallas to Austin.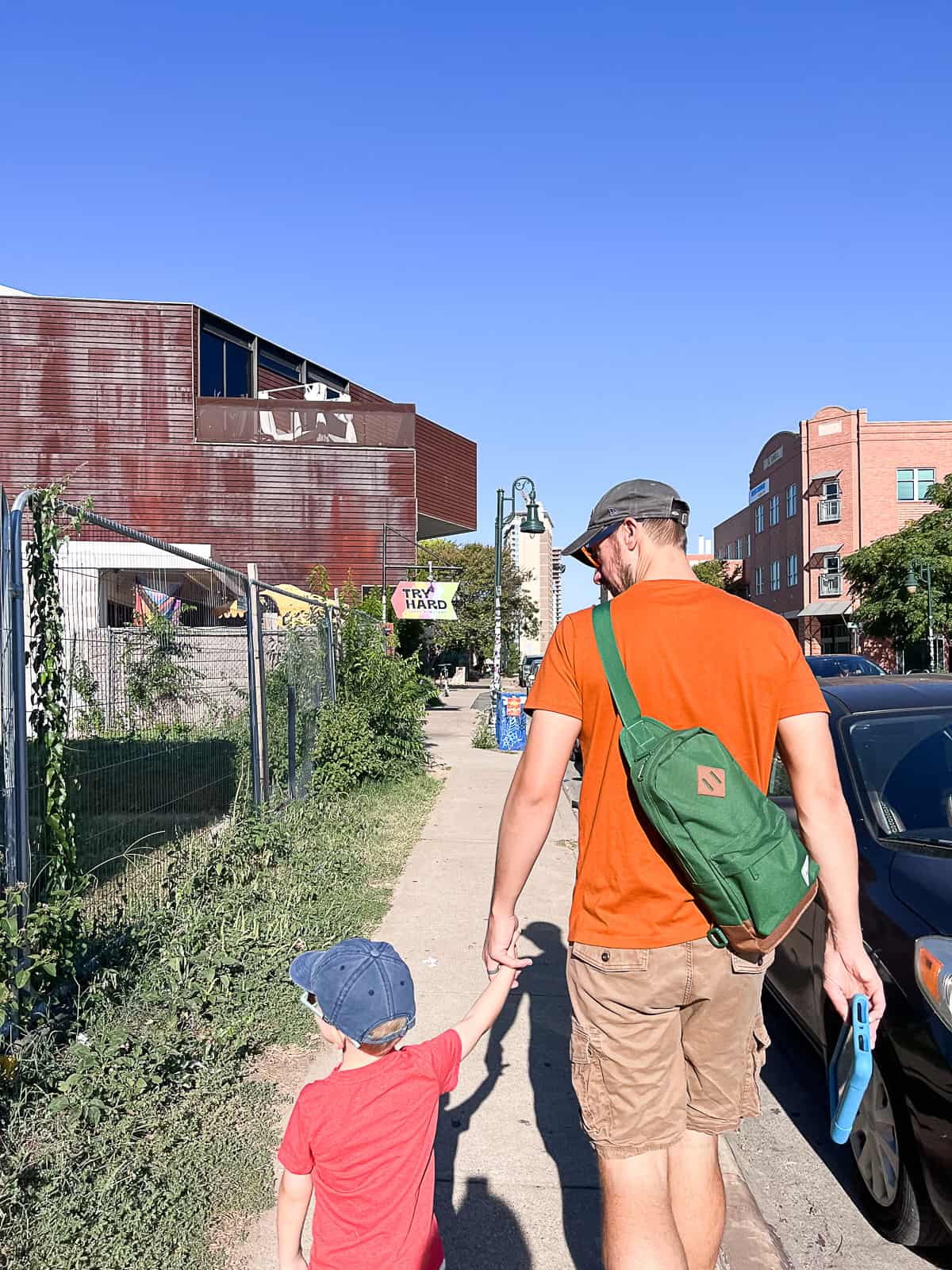 You don't necessarily have to rent a car, unless you want to go to some more remote areas and don't know about taking a Lyft / Uber there.
For example, we went to Pumpkin Nights Austin, a halloween festival, during a recent family trip to Austin. It was out in a somewhat remote farm, so we were happy to have a car.
Staying At Hilton Embassy Suites Austin Central
As part of this road trip guide to Austin from Dallas, I planned to do a "best Austin hotels" feature… but long story short, I didn't love our hotel and we checked out a day early.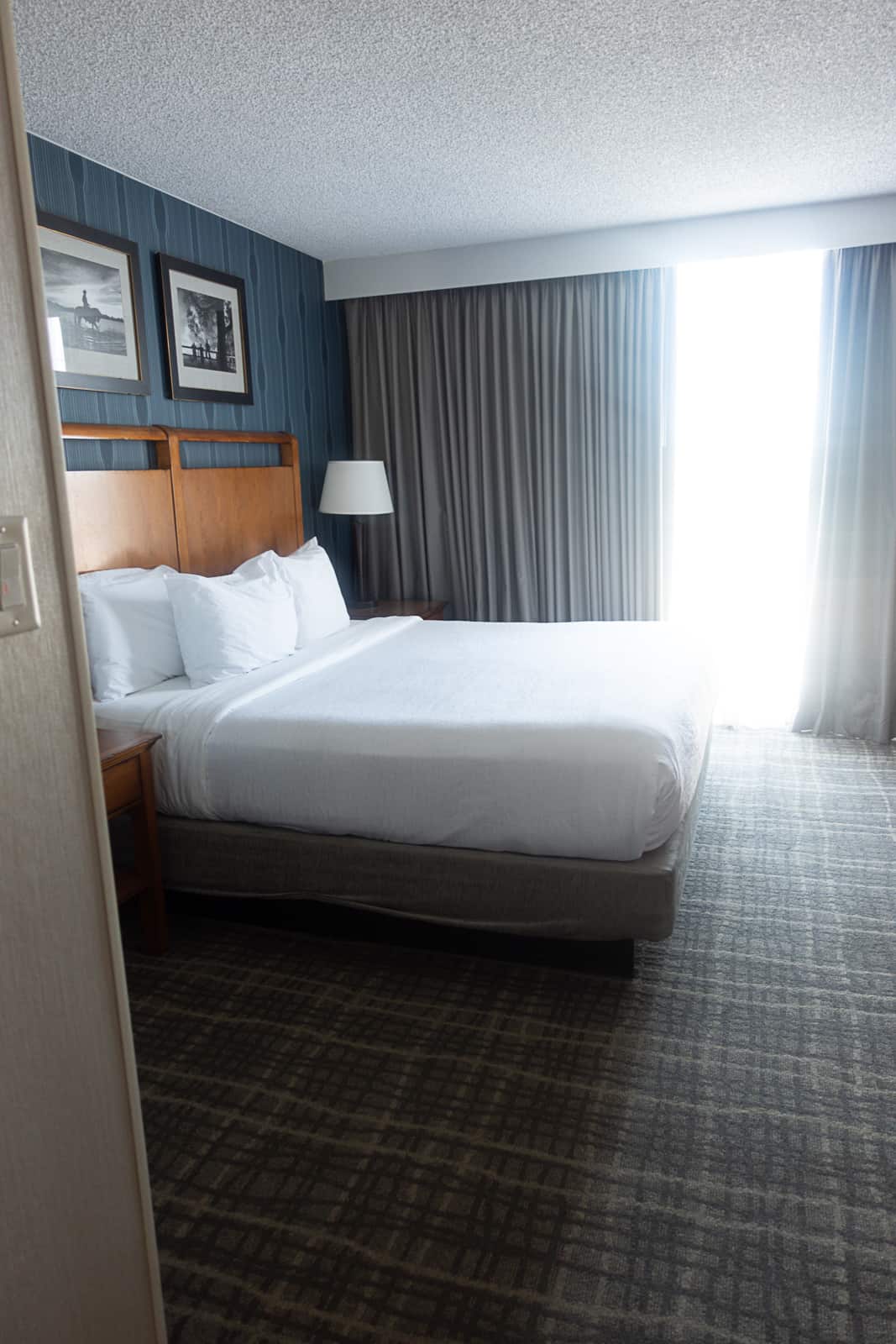 Here's a room tour / review video of Embassy Suites Austin Central hotel…
Read more about my honest review of Embassy Suites Austin Central…
Family Activity in Austin: Cidercade
This is a great kids / family activity in Austin.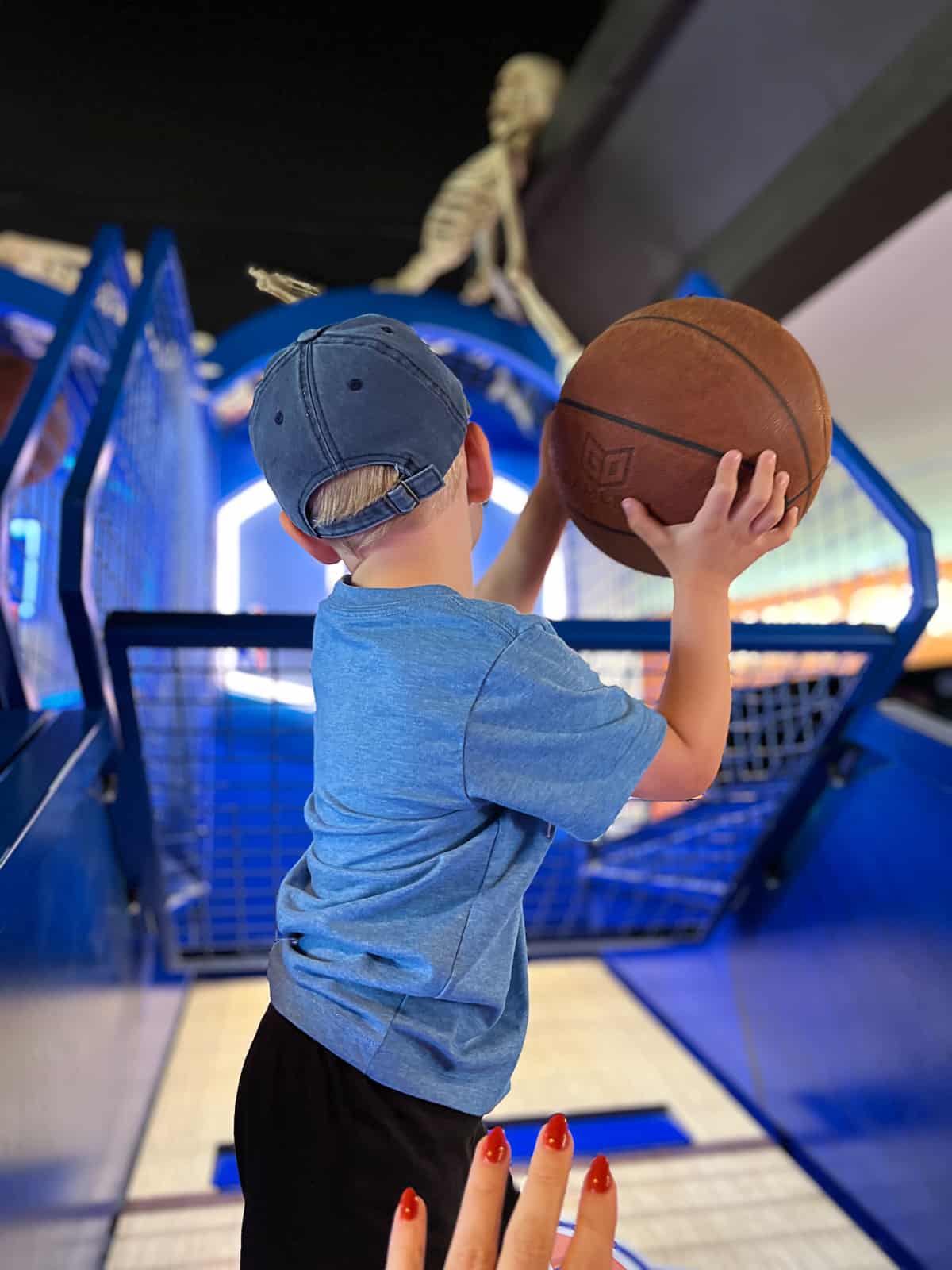 I think it's more fun for everyone because there are plenty of old 80s and 90s video games in this arcade, plus air hockey and skeeball, for instance.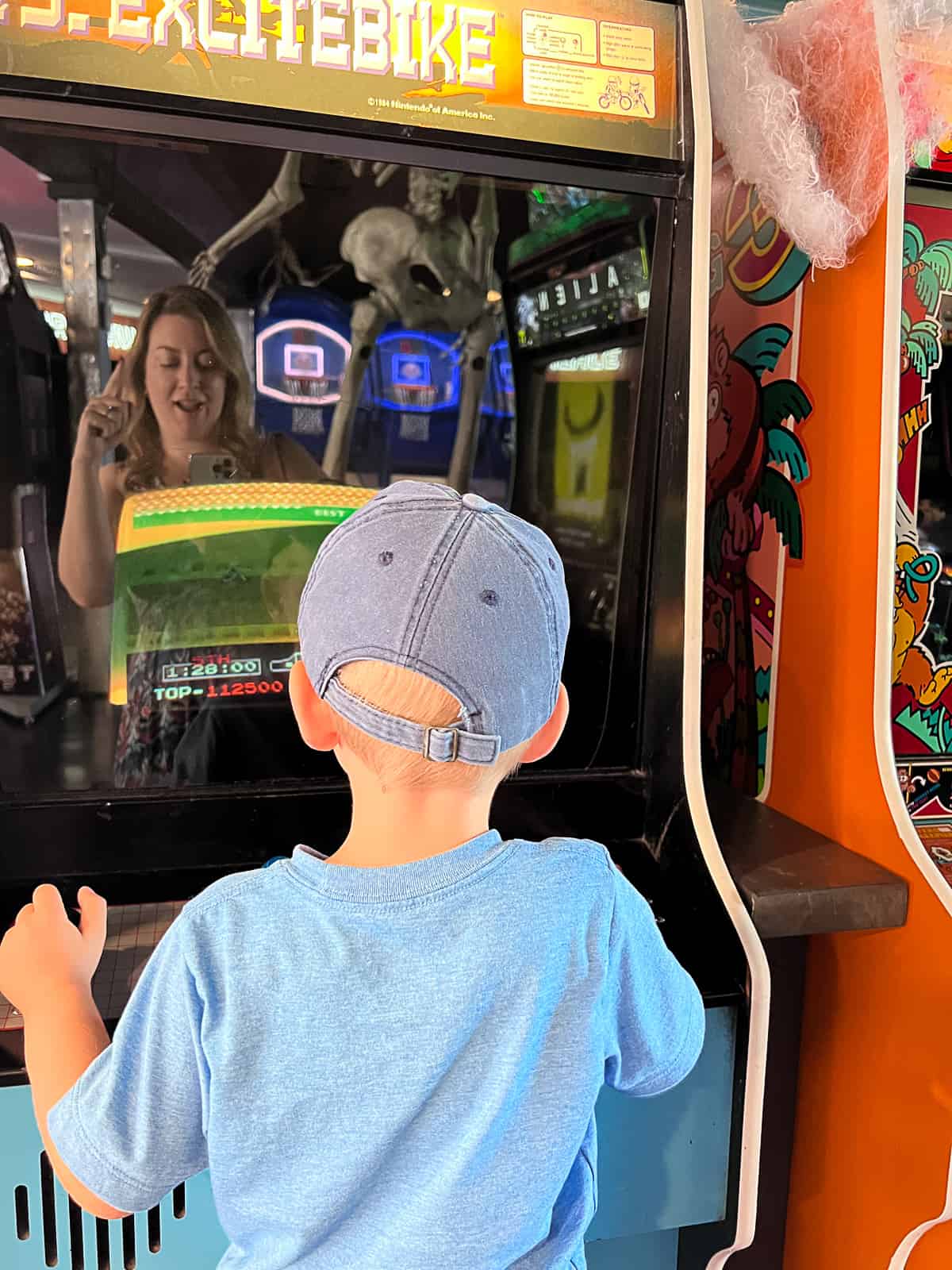 But the best part is paying a flat fee, so you can play as many of the games you'd like, getting better at them as you go.
They also make and serve cider and other adult beverages. I didn't get to try one, but the menu is extensive and everything sounds tasty.
And they have pizzas and bar type appetizers on the menu, which you can enjoy outside on the swing seat tables.
Kids activity in Austin: The Thinkery
If you're looking for an all-day family activity and have toddlers, I can't recommend this place enough. It's The Thinkery….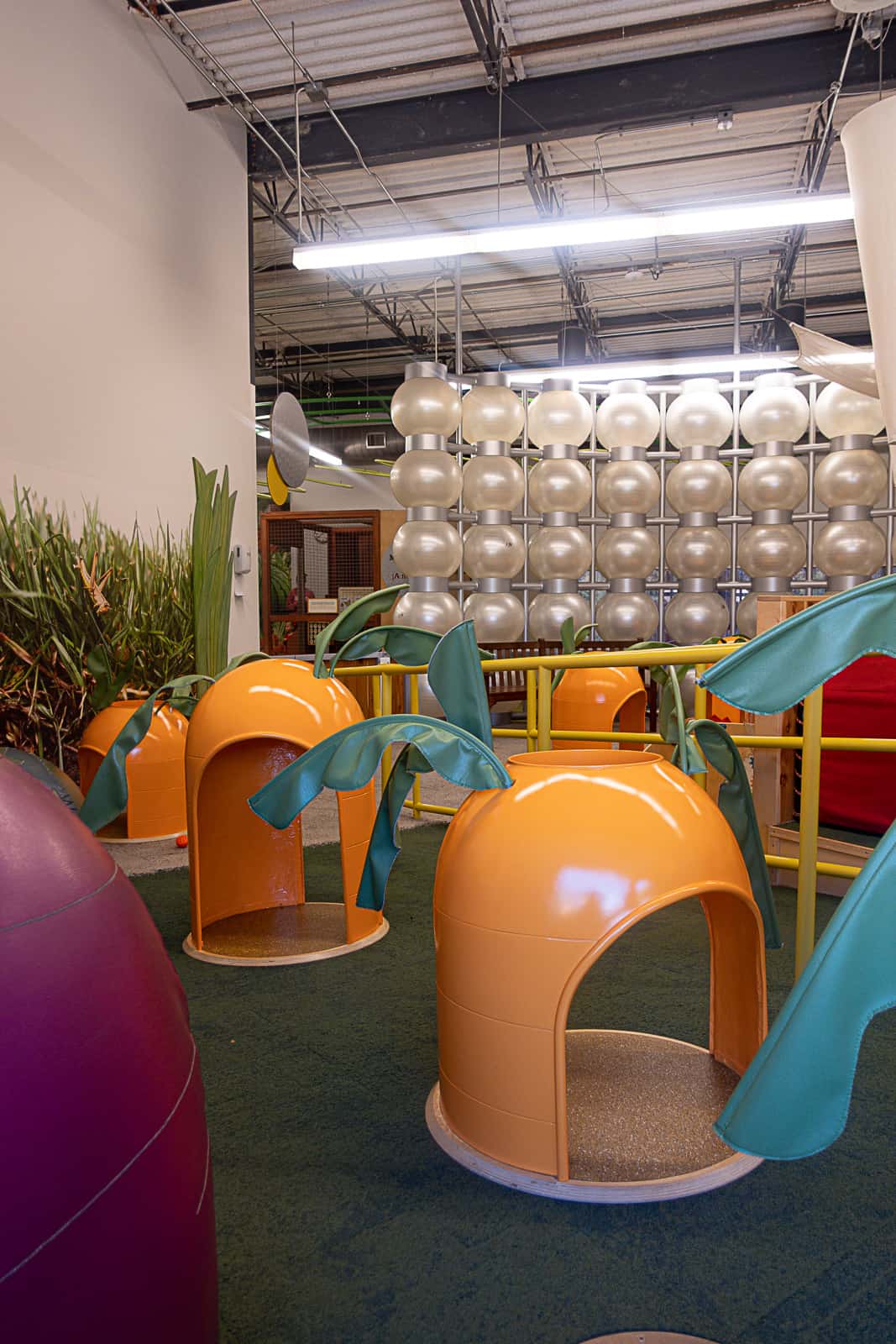 See what there is to do for kids in Austin's Thinkery…
Where to eat in Austin Texas as a family
Revelry on the Boulevard on Lamar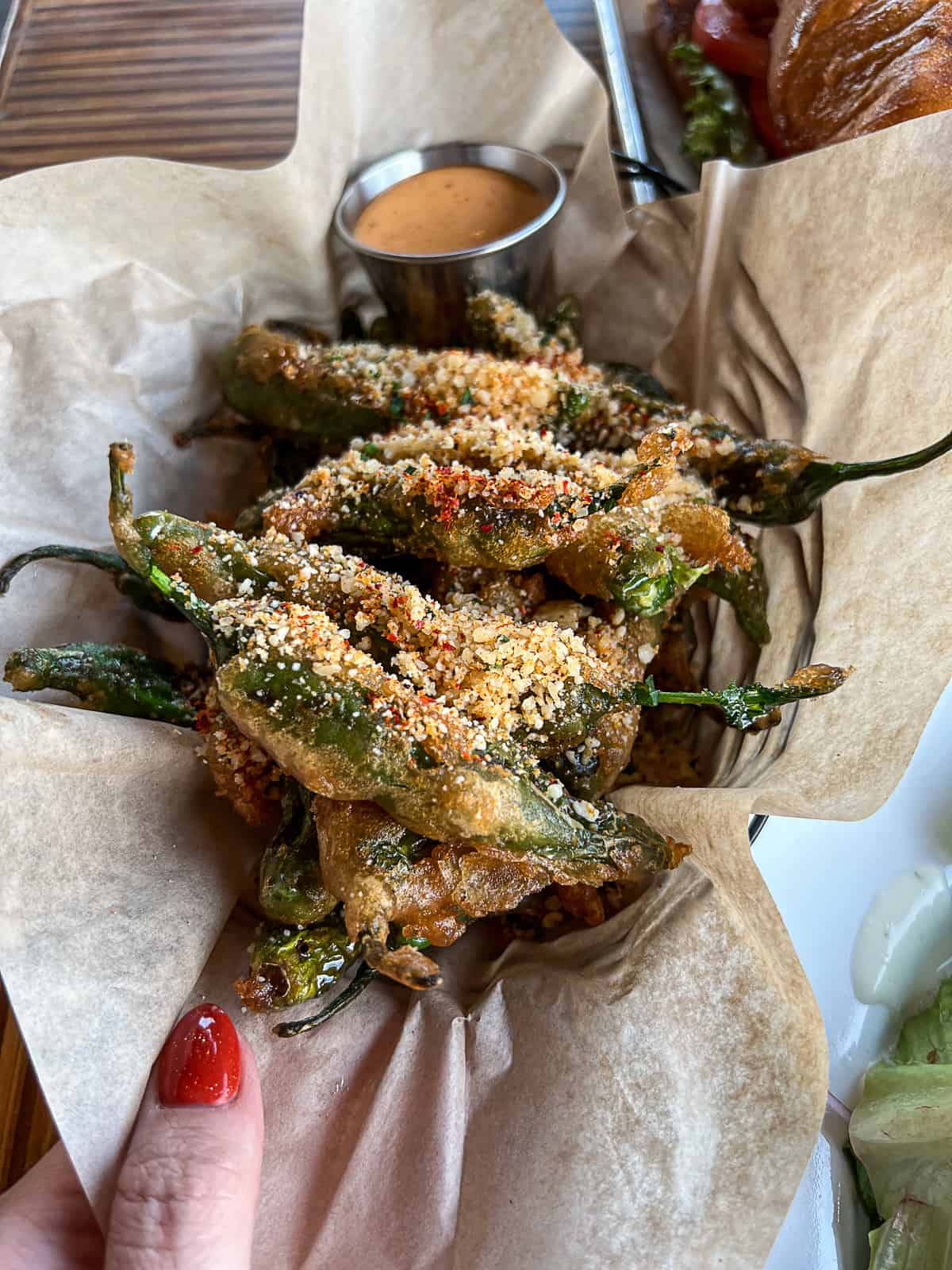 There are two Revelry Bar and Kitchen locations, and this particular one is Revelry on the Boulevard (6215 N Lamar Blvd)…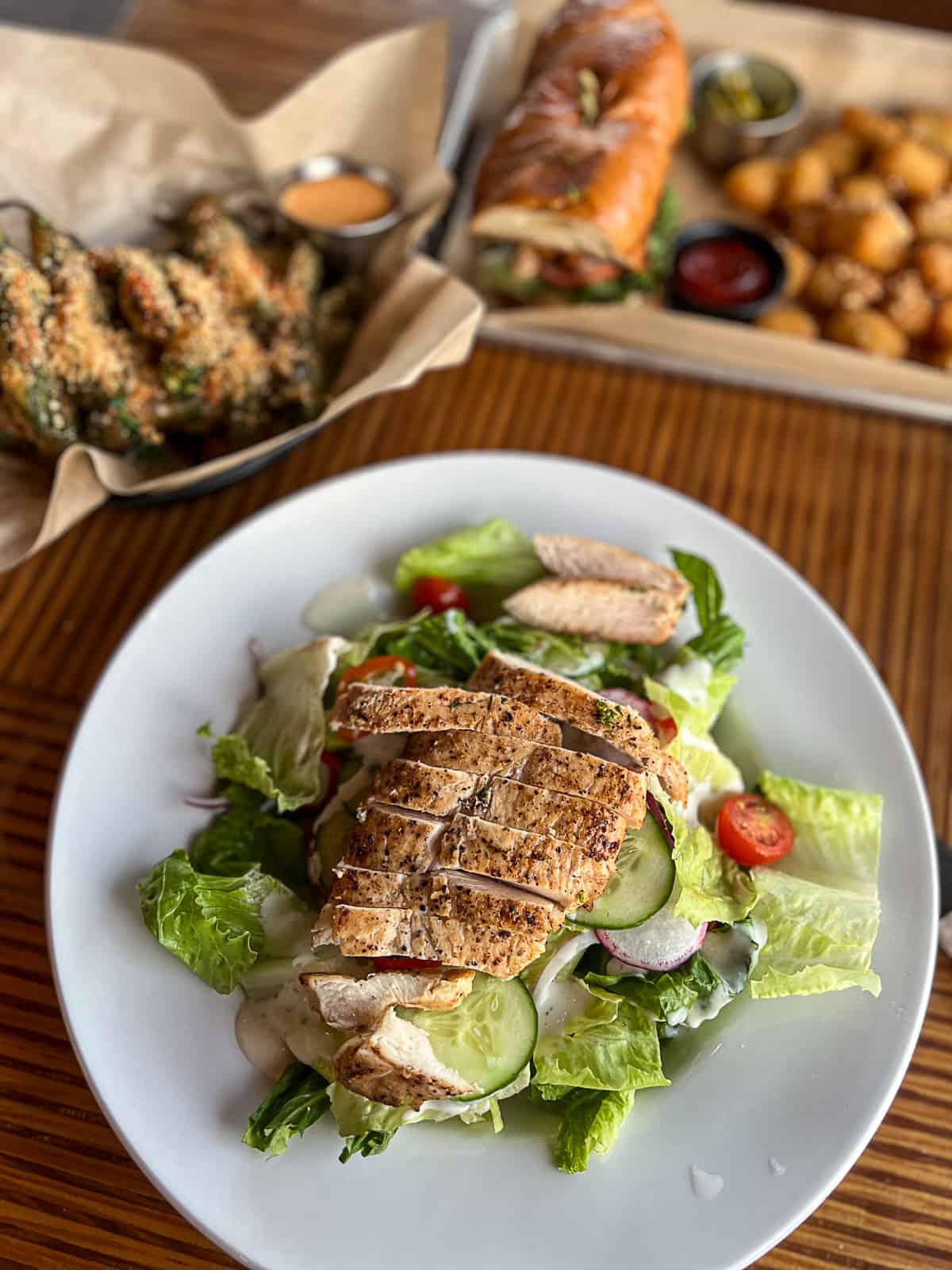 I loved Revelry because they had outdoor seating which was perfect for a kid to enjoy getting some energy out (dinner time wiggles), while we all got to enjoy some tasty Creole / Cajun style cuisine.
See this menu tour of Revelry on the Boulevard in Austin…
Good Coffee and Breakfast Tacos in Austin
Many coffee places in Austin have tasty breakfast tacos on the menu…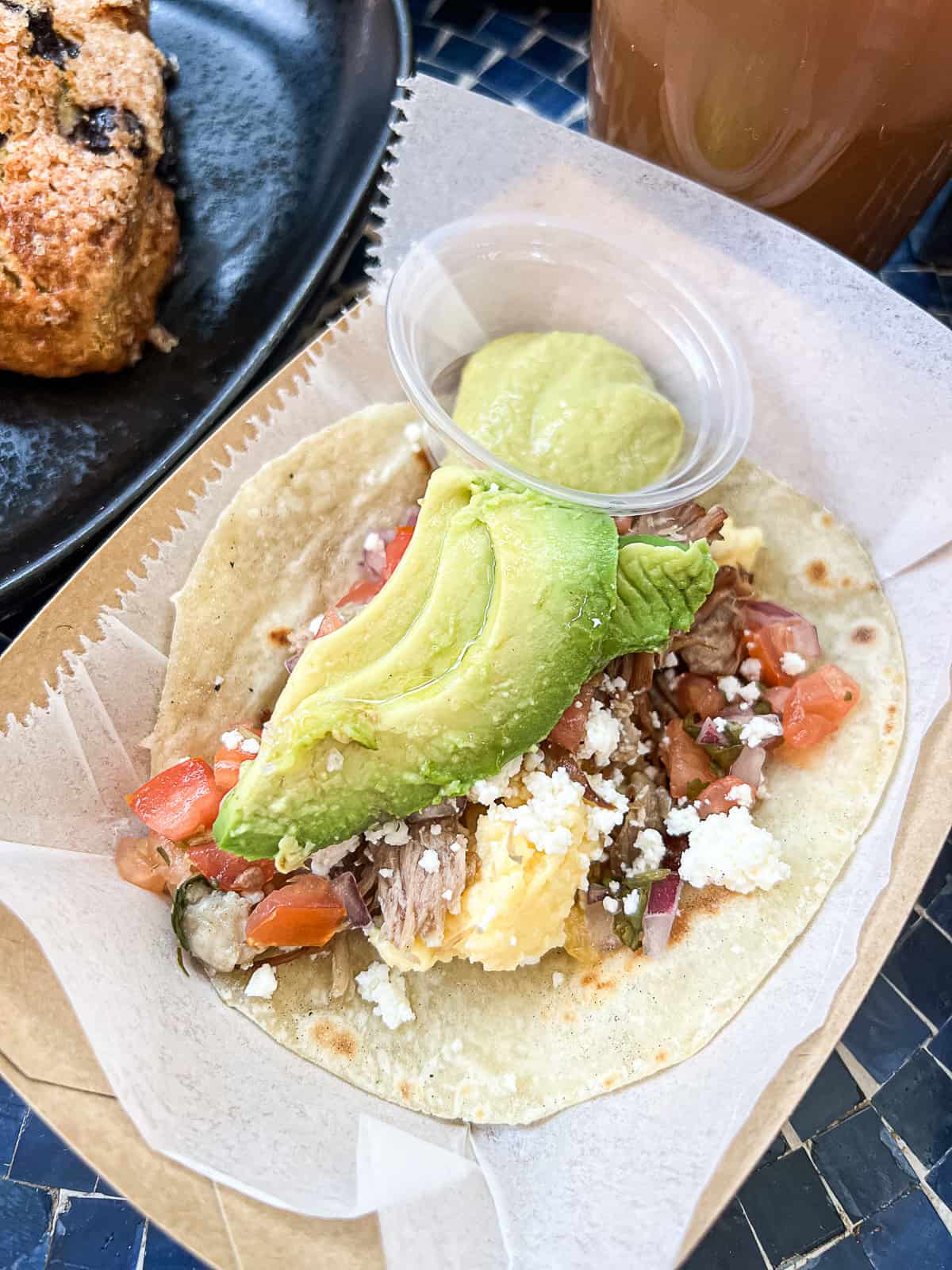 One place we loved on a recent family trip to Austin is Try Hard Coffee.
It's a great spot to get good coffee that is roasted right in Austin, TX.
Parking is easy to find around the corner.
Unexpectedly, they have a DJ spinning music when you enter. The DJ let us spin the wheel for the chance to win a prize.
They have a pastry case to peruse while you're waiting in line to order…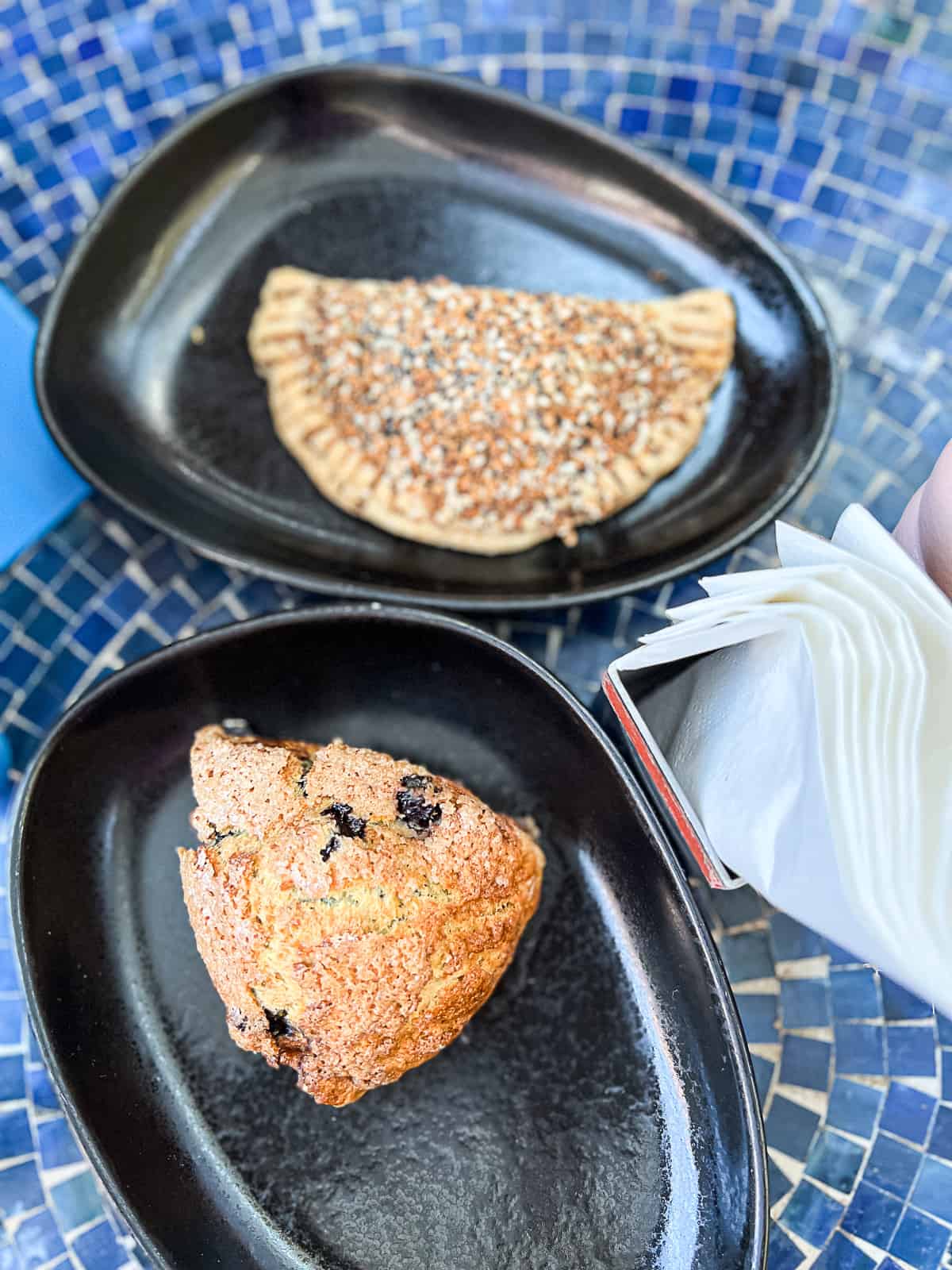 It was difficult to choose which pastry from the Try Hard breakfast menu to try first: a blueberry scone or a cream cheese filled "everything bagel seed" pillow puff pastry?
These are the pork carnitas tacos, but they also have tofu / vegan options.
See how to make smoked pork…
You can find all sorts of breakfast tacos around Austin at food trucks and little shops that are filled with potatoes, meat, scrambled eggs, and tasty sauces and salsa options.
Where to find Try Hard Coffee
You'll find it right up the street from Franklin BBQ (within walking distance). So you could grab a coffee and bite and then go line up to get BBQ when Franklin's opens at 11am (as of the time of writing this).
See this coffee shop menu tour of Try Hard Coffee in Austin…
Franklin BBQ
​​You'll see people lining up around 9am, for when this popular East Austin BBQ restaurant opens a couple hours later.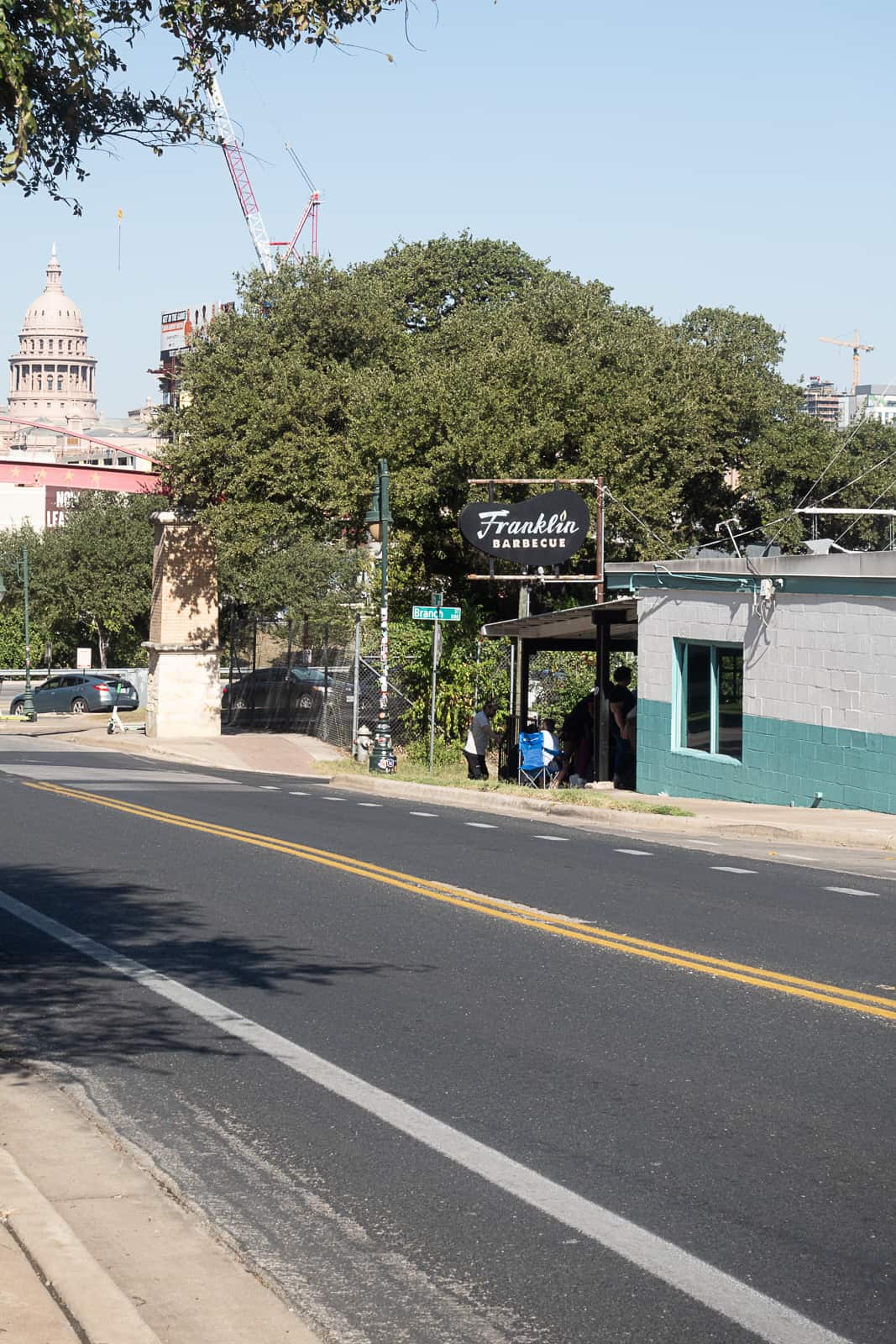 Now, not sure about you, but I wouldn't consider lining up for hours for BBQ foods a fun family activity…
So if you definitely want to try Franklin's BBQ on your trip, maybe one adult can scope out a spot while the rest of your party does something fun in Austin.
Some of the best bbq in Austin can also be found at…
La Barbecue – order days ahead of your trip so you can pick it up and eat at the hotel or even on-site without waiting in line.
LeRoy and Lewis
Stiles Switch BBQ & Brew
Franklin Barbecue (mentioned above)
Micklethwait Craft Meats
Nice family meal at Salty Sow in East Austin
We wanted to hit up the best restaurants Austin has to offer, which are also family friendly, and were happy to stumble upon Salty Sow in East Austin.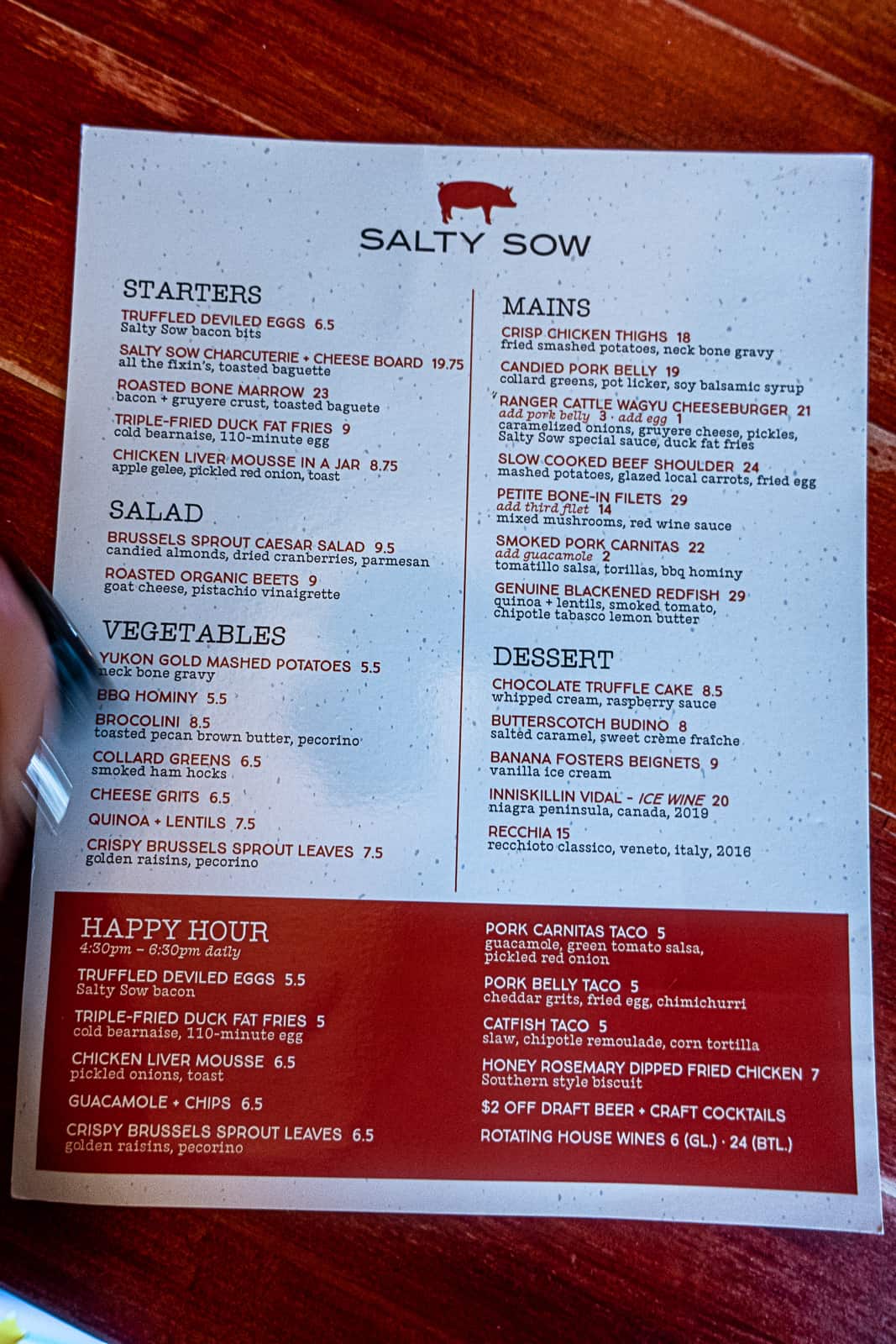 Besides having a tasty dinner (mmm those brussels sprouts were so good!)…
There is a playground down the street, and a dog park, too. So you can have dinner as a family then enjoy some outdoors time after.
I've heard they have a great happy hour menu.
This is definitely a place where you'll want to make dinner reservations.
See this video review and menu tour of Salty Sow in Austin…
In the 30 second video above, you'll check out the Salty Sow Menu and see what we got for dinner… including cocktails and tacos.
Food trucks
One of my long-time favorite food trucks in Austin is Chi'Lantro Food Truck. I've been loving it since attending SXSW many years ago.
This Korean BBQ food truck is known for their Kimchi Fries, which are so tasty. I'm not sure if they're in business at the moment.
6th Street
You can find a lot going on in Austin's 6th street area – bars, restaurants, clubs… they call it "​​the live music capital of the world".
There are plenty of opportunities to get Tex Mex in Austin on 6th Street…
Asador at Bufords is a great choice for queso and tacos.
Z'Tejas is a great place to stop for happy hour margaritas.
Coffee shops to try in Austin, TX
Sure, there is free coffee in most hotels, including the Embassy Suites Central where we stayed. But we wanted to start each day in Austin with tasty coffee.
The coffee scene is often filled with unique experiences…
One place we really like is Try Hard Coffee, as mentioned above.
Closer to the Embassy Suites in Central Austin is Flightpath Coffee.
It is a little more off the beaten path, but a good place to go and enjoy a good cup of coffee while getting some work done at a quiet table.
More tourist attractions in Austin
Texas State History Museum
​​Bullock Texas State History
​​Blanton Museum Of Art
Austin City Limits (3 day weekend music festival in Zilker Park along Lady Bird Lake)
Congress Avenue Bridge (check out how the incredible bats fly here during sunset)
Barton Springs Pool
The Honky Tonk music scene and Rainey Street area in Downtown Austin
Do some shopping at boutiques on South Congress Avenue.
Stopping at Waco (Magnolia Silos) between Dallas and Austin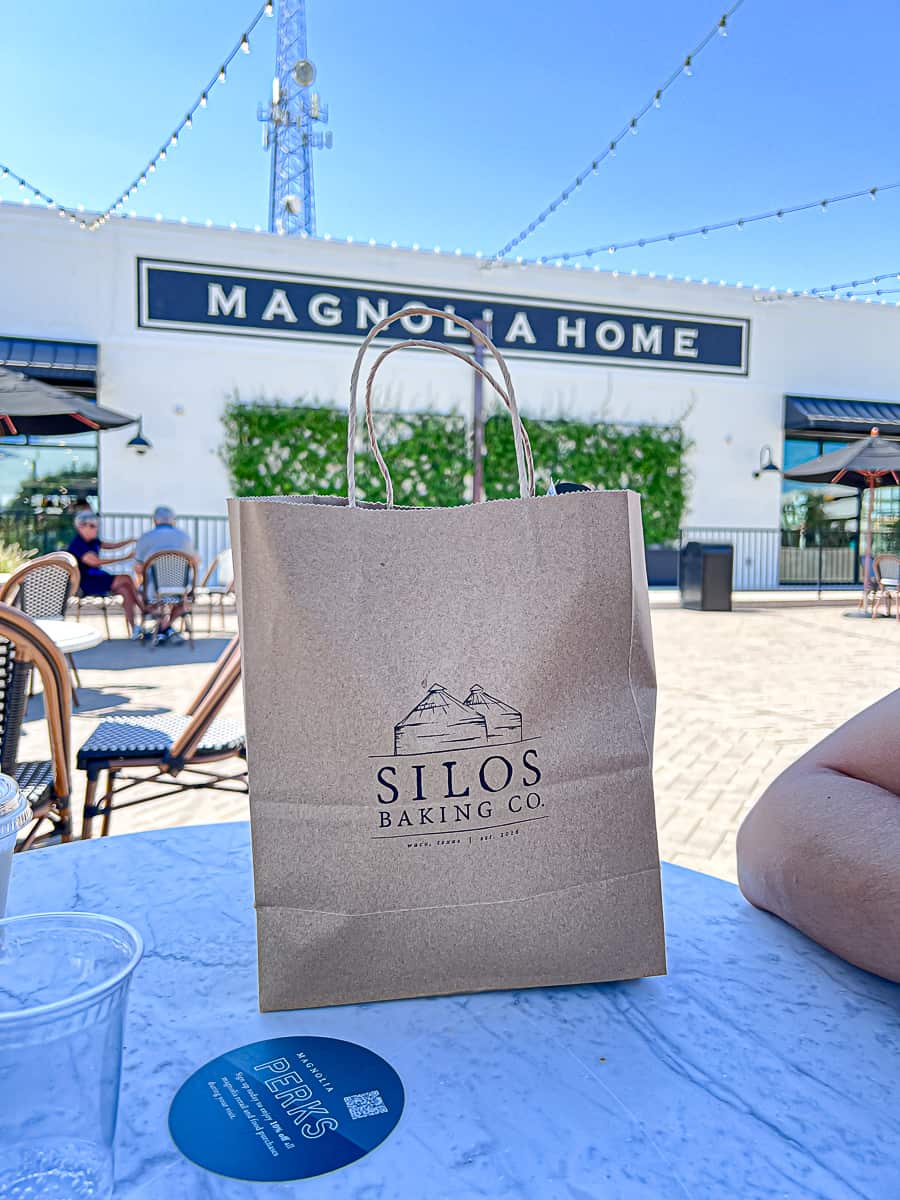 Since we were taking our first real road trip as a family to enjoy a weekend trip to Austin, Texas, we didn't know what to expect with stops along the way.
I wanted to stop at a few places, but ended up focusing on just driving to Waco from Dallas, which was about 2 hours, a little past half-way.
A road trip stop in Waco Texas led us to Magnolia Table and this lunch with tasty sandwiches and burgers before a 2 hour trip to Dallas.
I recently posted about tips for visiting Magnolia Silos, which was on a day they were filming, and Joanna Gaines was there for the baking competition show. Watch the Silos filming day video on YouTube.
And see this Magnolia table menu video on YouTube, too.
Enjoy your family trip to Austin!
Well, I hope you have a list of plenty of ways to enjoy a family weekend in Austin, Texas.
If you're heading north, check out some of my favorite things to do in Dallas, Texas, including where to eat.
Guides for visiting Austin, Texas on Sip Bite Go
More travel tips