Are gifts for foodies leaving you stumped this holiday season? Need a foodie gift for a friend's birthday? Here I'll share with you a few of the best gifts for people who love food: decadent food gifts that are sure to 'wow' the lucky receiver.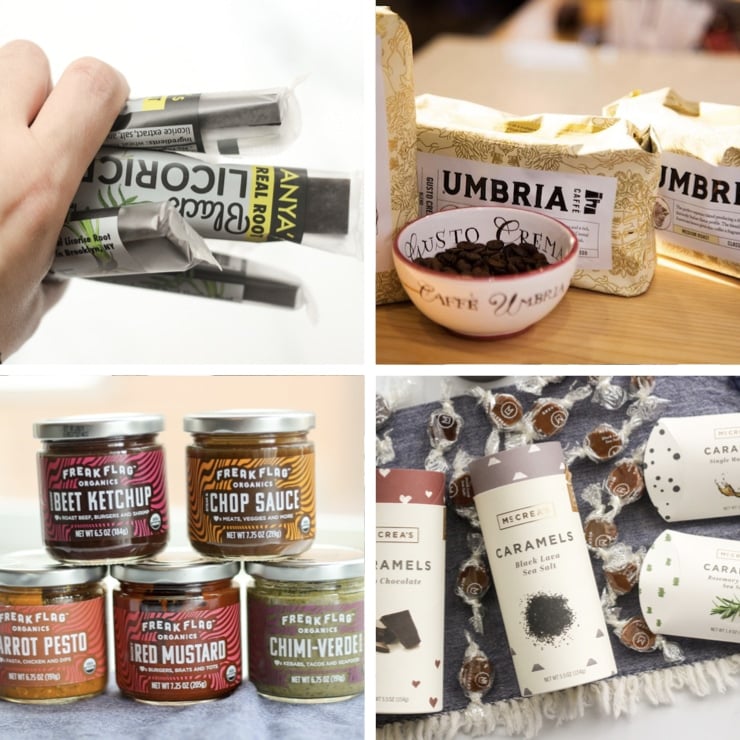 This is a foodie holiday gift list for people who love cooking, hosting, and eating good food. See stocking stuffers, food birthday presents, kitchen products, and small gift ideas you can buy online. Consider yourself warned: you'll want some of these gifts for yourself!
Disclosure: Some links in this post are affiliate links and items have been provided free for review. All thoughts and opinions are my own. 
Gourmet food gifts for foodies
Let's start with cool food gifts for anytime of the year, but especially birthdays and holidays like Christmas — indulgent treats that cater to a connoisseur palate and will have your food-loving recipient's mouth watering before they've even finished pulling off the wrapping paper. If the way to your friend's heart is through their stomach, you'll be best friends forever.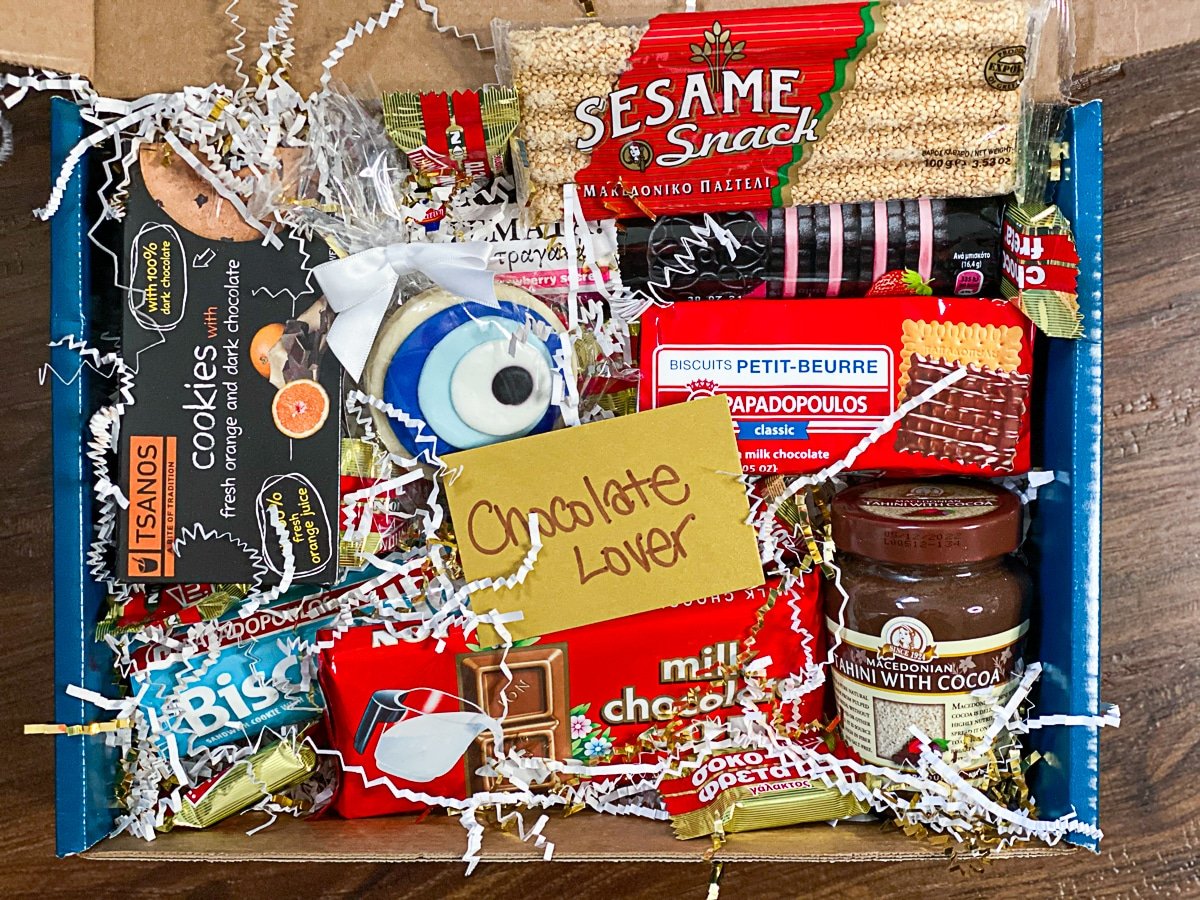 Greek Chocolate Lovers Box
Imported chocolate, fancy cookies, and other Greek treats? Yes, please! Send all the chocolate lovers in your life this Greek Chocolate Lover's gift basket from my partners at the Greek International Market.
It's stuffed with tasty treats like:
Tahini with cocoa (spread on crackers or toast for breakfast)
Evil Eye cookie (custom made by Bake It Yours in Wellesley, MA)
Biscuits with chocolate (by a top Greek brand PAPADOPOULOS)
Tsanos cookies (with orange juice base)
Greek stuffed cookies (Greece's version of Oreos)
Greek red wafers (very popular in Greece!)
Greek sesame bars with honey
Blue candies flavored with ouzo without the alcohol
ION chocolate bars (they've been part of Greek life for about 85 years!)
Prepare to immediately want to send your best friend, mom, extended family, teachers, neighbors, and everyone else you know this tasty Greek chocolate gift basket.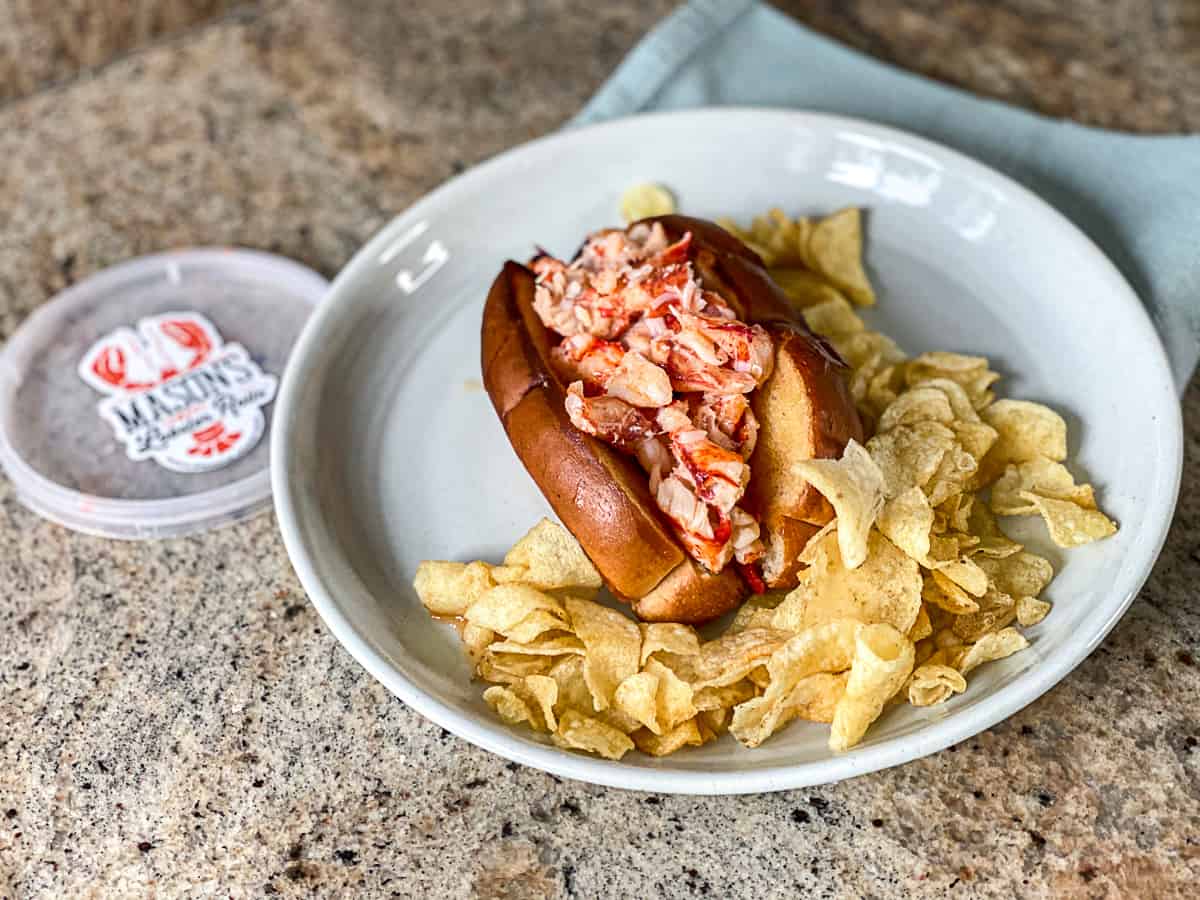 Maine 
Lobster Rolls By Mail
Need a foodie gift for seafood lovers? Send them a super-fresh lobster roll kit from Mason's Famous Lobster Rolls. The lobster is overnighted from Maine and we were so impressed how fresh it was – unbelievable. See this video of our lobster roll lunch. 
Our kit for four was packed with beautiful lobster, fluffy, buttery rolls, Fancy Irish butter, mayo, a fresh lemon, a packet of seasonings, bags of Cape Cod Chips (yum yum) and whoopie pies. The entire meal was so delicious and unexpected – we felt like we were chillin' on the coast in New England. Can't wait to send these kits to friends and family. 
Love this lobster gift? Check out Mason's At Home Kit.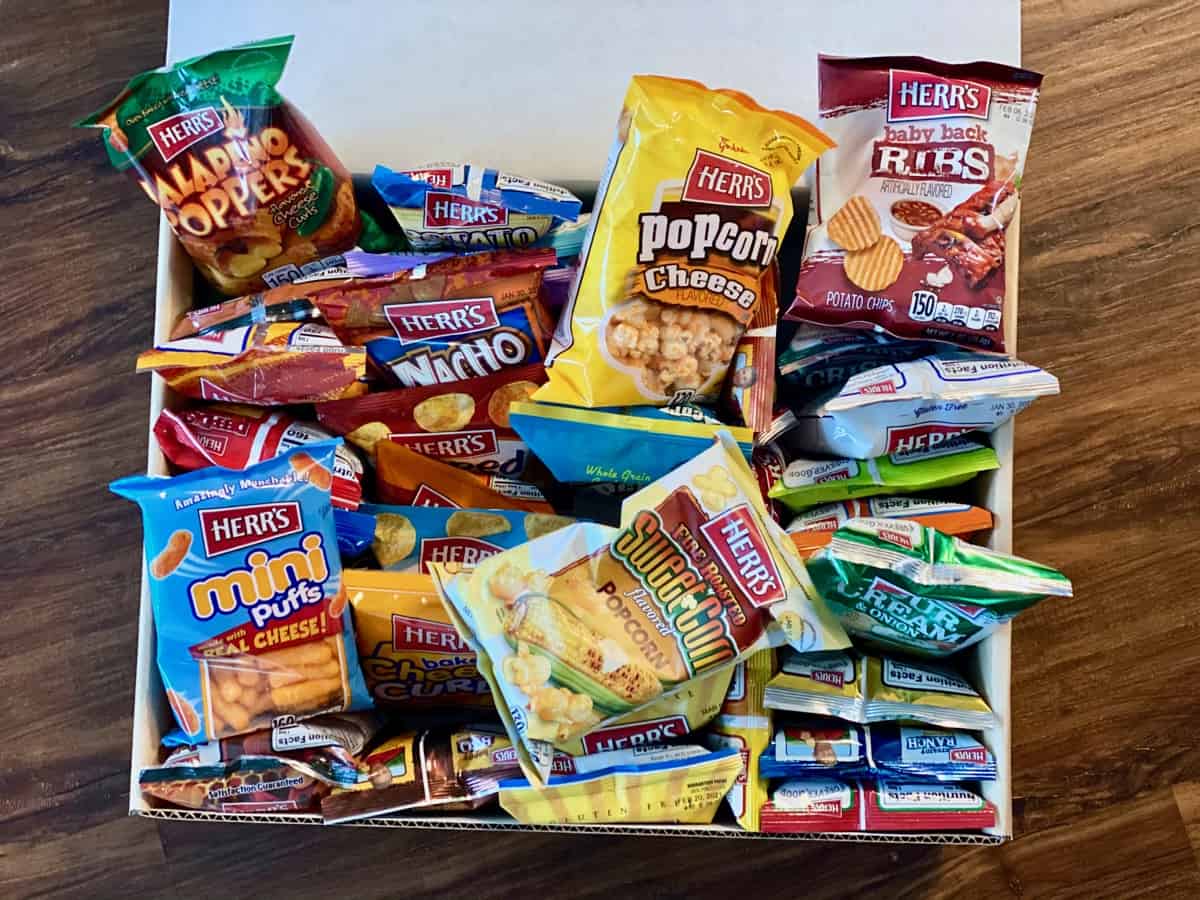 Inexpensive snack box packed with flavor
YUM! Here's a quick and easy food gift to send off to someone who loves snacks. When I received my box in the mail, I couldn't believe there were so many varieties of chips, and that the pack only costs ~30 bucks! 
Inside a variety pack you'll find Herr's famous chips, pretzels, cheese puffs, popcorn, and more. The holiday gift box option comes in a cute box and was so fun to discover the box with my family. 
Herr's is a family owned snack company from Pennsylvania. If you're a fan of The Office TV show like me, you might recognize this company from references to Herr's snacks in several episodes.
Pick up a snack box from Herr's.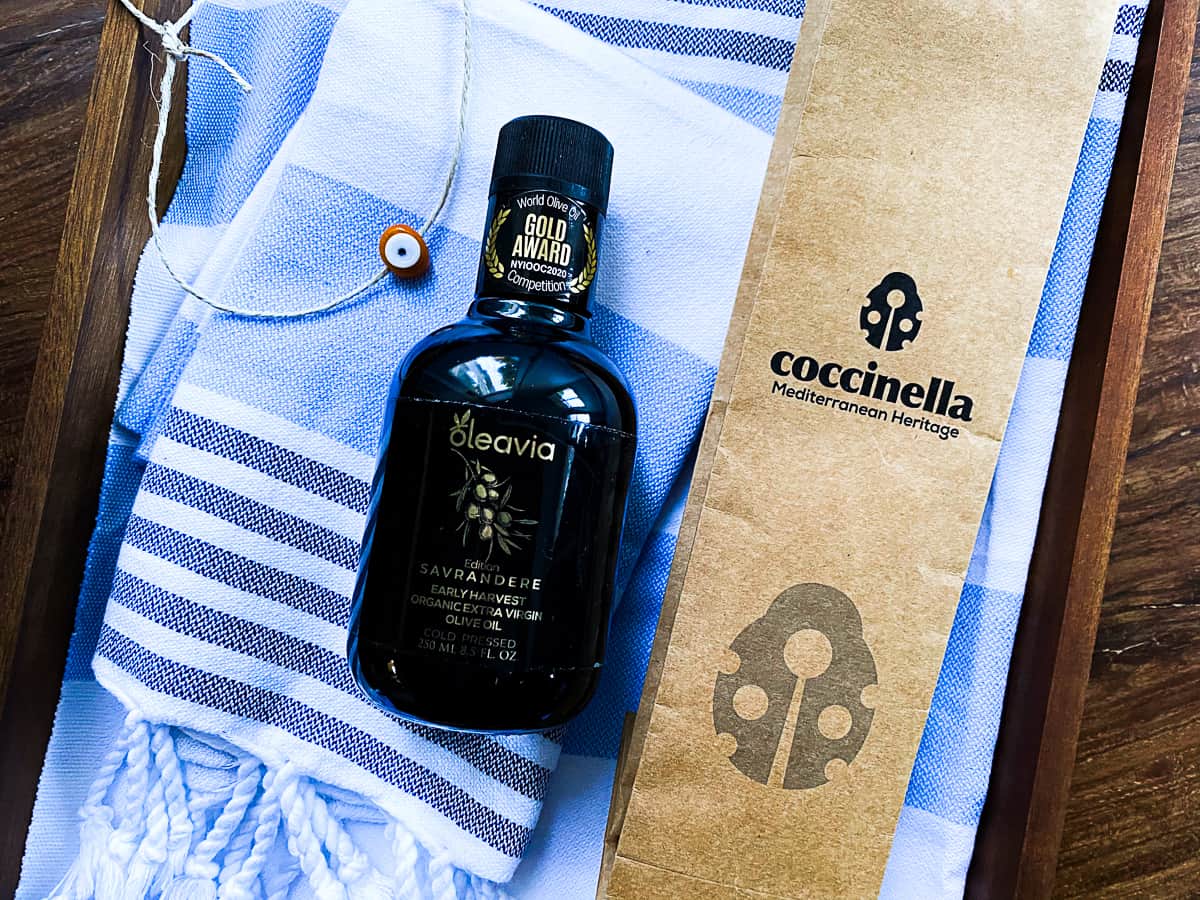 Gourmet Olive Oil + Towels From Turkey
A true home chef always needs a high-quality bottle of olive oil at arms reach, and a beautiful tea towel to dress the table. This company offers both – which is perfect for assembling a diy holiday basket for a foodie.
The Oleavia Early Harvest Organic EVOO is organically grown and has a reputation for an exquisite peppery tone. Drizzle it on salads or zucchini soup. The olives are picked by hand and pressed within hours of harvest. It even received a Gold Medal during the 2020 New York International Olive Oil Competition (NYIOOC). It's very prestigious!
As for the beautiful striped Efes towels, I like to keep these type of towels in the kitchen to layer on trays with cheese boards. But actually, these ones in particular are super-absorbent and are recommended for drying hair and dressing up the guest bathroom as hand towels. To each, their own!
Shop the Oleavia Turkish olive oil and Aegean Breeze textiles at 25% off wholesale with code JENNA25. 
California Gummy Bears Care Package
What makes these gummy bears so special? They're made using fresh fruit from the sunny west coast, in small batches. They check all the boxes: nothing artificial, no HFCS, non-GMO, and gluten-free. They're called "the healthier gummy bears" and boy, are they delicious! Perfectly chewy and full of flavor, there are a variety of flavor packs to choose from including cherry, strawberry, pink grapefruit, mango, citrus, and more. 
See care packages available from California Gummy Bears.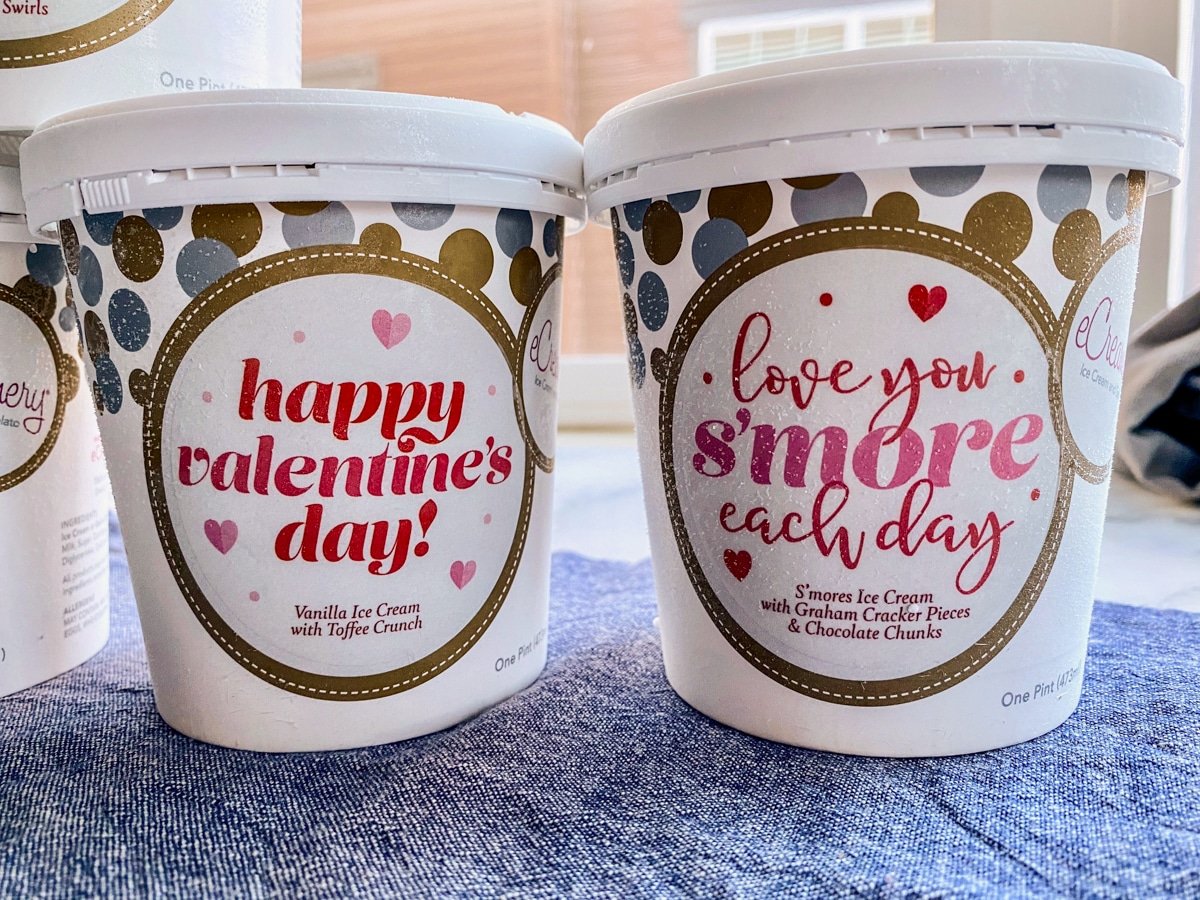 Personalized ice cream, delivered
If I want someone to feel the love, I'm going to send them this mail delivery ice cream by eCreamery. This particular photo features the Valentine's Day package which was packed with a variety of ice creams with cute names. But, get this, they have all types of ice cream assortments, including a package of "pregnancy cravings". Love it.
See gourmet eCreamery ice cream options.
Chocolate crumb cakes gifts
There's something about the Clarkson Avenue Crumb Cake's rich chocolate crumb cake that always leaves my guests raving. Maybe it's the old family recipe, the natural ingredients, or way it's always delivered perfectly fresh– no preservatives needed. While I love making desserts from scratch (like my triple chocolate bundt cake), when guests visit for an extended stay, it's so helpful to have desserts ready to go. This is a great foodie gift to ship to someone's house you are visiting so they don't have to worry about making dessert. Or to send to loved ones on holidays or birthdays. 
Clarkson Avenue Crumb Cake offers a variety of flavors like blueberry and caramel. There's a gluten free version, too, in case your recipient doesn't do wheat flour! 
Shop Clarkson Avenue Crumb Cakes here. 
"Taste of Greece" foodie gift basket
If you want to start someone's kitchen off with a plethora of fine Mediterranean ingredients, Greek International Food Market is a great choice. You get a plethora of quality imported ingredients that make Mediterranean cooking accessible to anyone, all bundled up in a fun package that is exciting to open and looks great to display. There are two options: if you like it done for you, just choose a dollar amount (starting at $25) and get a basket chosen and prepared by their food experts.
If you have specific ingredients in mind, shop their site and ask for specific items in the gift package. I've tried a couple of them. Mine have included with greek pasta, crackers, juice, fancy beans, olive oil, tahini, tasty canned dolmas, and more. 
Order Greek foodie gift baskets here. 
Perfect gift for licorice lovers
You haven't experienced real licorice until you try Anya's Licorice. I sit here writing this as my mouth still tingles (in the best way possible) from this intensely satisfying black licorice. They have other flavors like mango, cherry and strawberry. But the black? That's something special. This one is different because it's made the old-fashioned way, by hand, with actual licorice root and molasses. Strong and just a little bit salty, more like Scandinavian licorice than Twizzlers.
If you're looking for stocking stuffers for foodies, this is a good one: split up a gift pack into the individual size bars and cram them in those stockings! 
Shop Anya's Licorice on Amazon. 
Smokey olive oil gift for foodies
Did you know you could get the rich flavor of the smokehouse hummus or smoky pesto without doing any roasting whatsoever? All you need is this Holy Smoke Olive Oil. Cold pressed extra virgin olive oil, cold-smoked with hickory, it has a wonderful savory smoke taste and just a little peppery bite. This is the perfect gift for that foodie friend who's been bemoaning their lack of an outdoor grill– or the vegetarian friend who misses savory meat tastes. Delicious, healthy, and versatile, it tastes almost like bacon but is 100% vegan. 
Get this tasty olive oil on Amazon.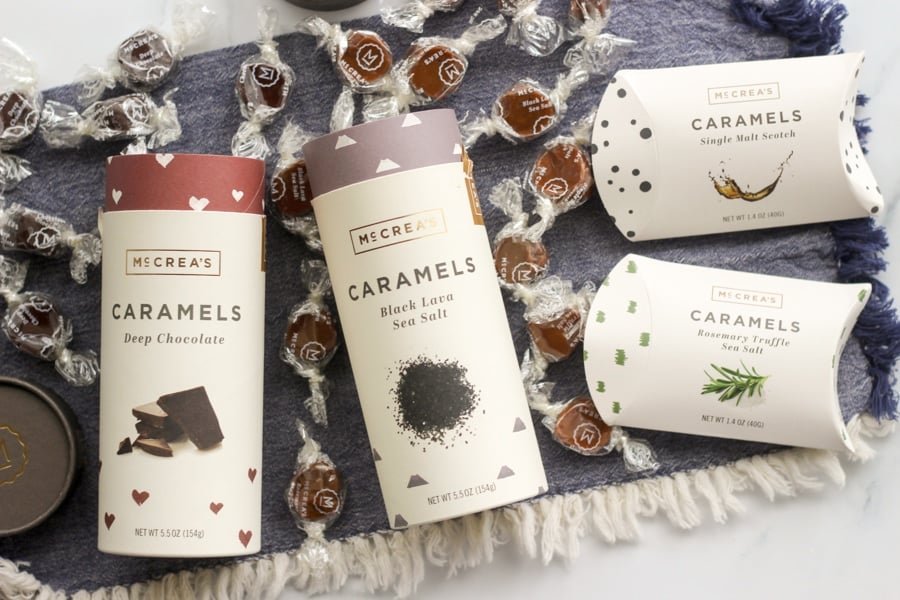 Luxe caramels
Here's a unique foodie gift for someone with a complex pallet. McCrea's Candies makes these super interesting Luxe Caramels. They sell a sampler. I loved the black lava sea salt. And the rosemary was out of this world. That savory/sweet combo was like nothing I've tried before. They also have chocolate and scotch caramels that any foodie would be interested to try.
Shop McCrea's Candies Luxe Caramels.

Condiments to brag about
Carrot pesto? How fun! These Freak Flag Organics condiments are good gifts for adventurous eaters.
If you've got someone on your list who just delights in weird flavors, do a random pick and then enjoy their face when they take a first taste.
Freak Flag Organics has many condiment flavors, from carrot pesto to chimi-verde (which I love on on sous vide turkey breast). They can inspire any home chef to make the most of their meal. 
Shop Freak Flag Organics.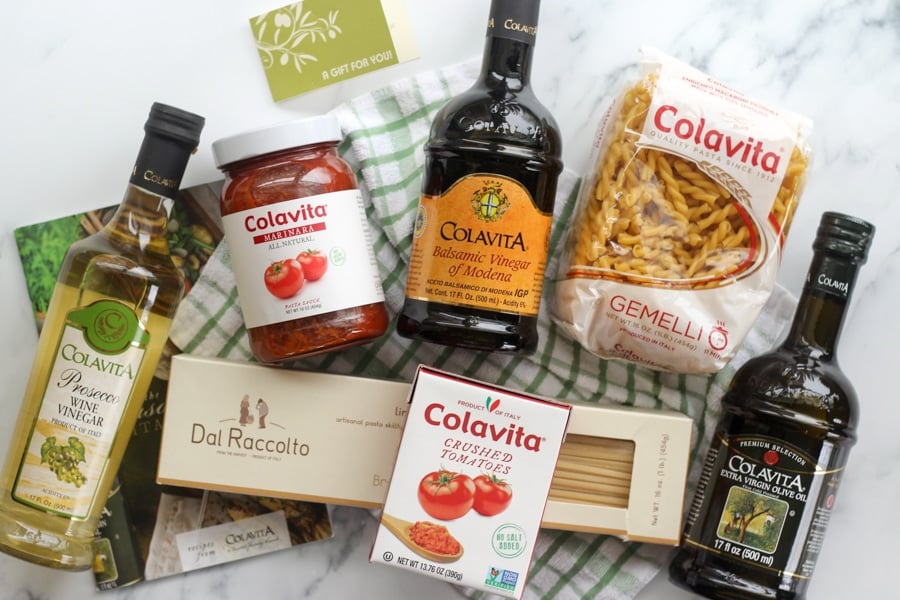 Italian gift box for foodies
Want to gift an Italian meal, ready to cook? Then try this foodie gift idea – the quintessential Colavita sampler. It includes all the basics: olive oil, wine vinegar, balsamic vinegar, red sauce, linguine, crushed tomatoes (which are perfect for homemade tomato sauce), and pasta.
There's even a cookbook included. With ingredients from this kit, you can easily make homemade pizza taste like it came straight from Italy. Everything is high quality, and I love the classy vinegar and oil bottles.
This sampler comes packed neatly in a cute tote bag: a gourmet Italian kitchen on the go. 
Shop Colavita Sampler Tote Gift Bags.
You might also like Vineyards and Wineries That Ship Gifts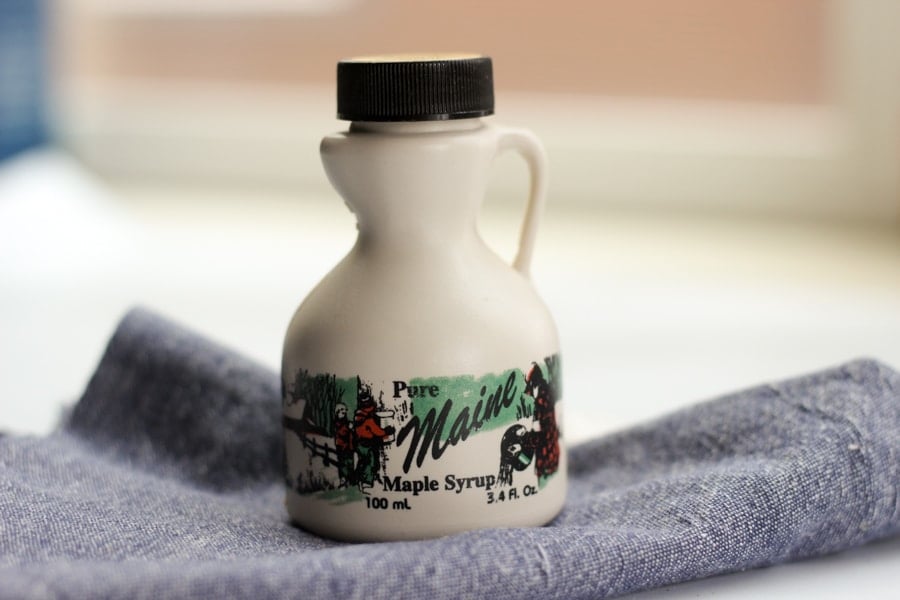 Maple syrup, fresh from Maine
Have you got a foodie on your list that also cares about health, and puts a high priority on sustainability? How about a gift that ticks all the boxes: locally produced, sustainably gathered, and a healthy sugar substitute? 
This pure Maine maple syrup comes in a cute 100 ml jug.
The grade A amber has a rich, full body and is sweet but natural tasting. It can be used as syrup on breakfast breads or pancakes, in holiday baking, or as healthier sugar substitute in any recipe. 
Shop gourmet Maine maple syrup. 
Gourmet coffee gifts for foodies
There are people who love their food, and then there are people who love their coffee.
If you've got a friend who is all about the strong black stuff but can't stay home by their coffee machine all day long, try gifting a coffee they'll love.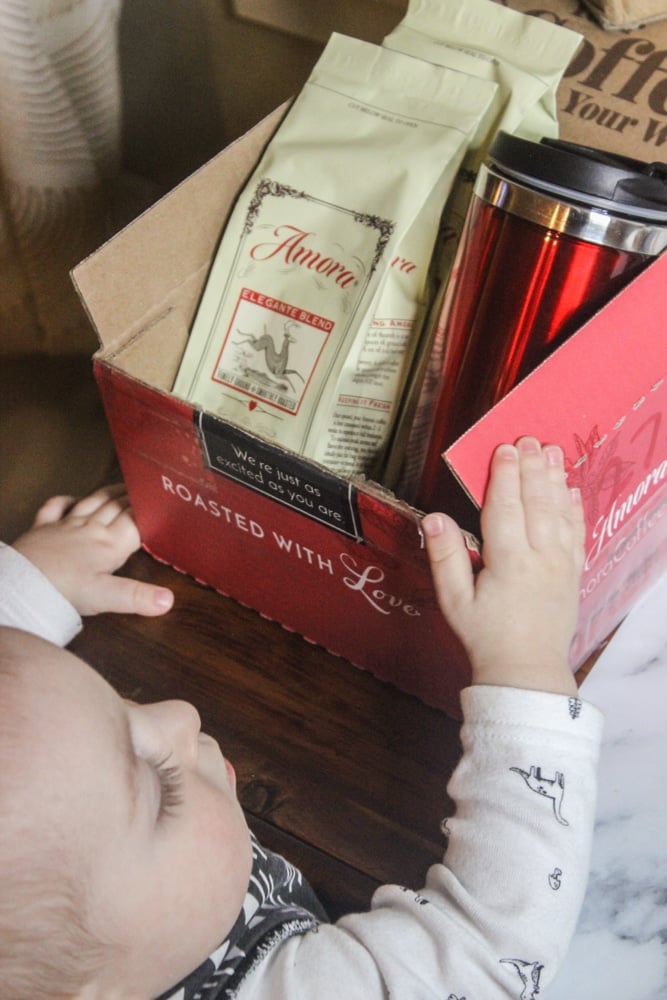 Monthly coffee subscription
One of the reasons I love coffee as a clever foodie gift is because coffee drinkers need coffee every day.
The thing is, a lot of people are stuck in a coffee rut. They don't treat themselves to coffee shop style coffee everyday at home. This monthly subscription coffee delivery service from Amora Coffee is a great idea.
While its brewing, the kitchen smells like a coffee bar. The coffee is smooth and not bitter at all.
And they send "surprises" with their coffee shipments.
What that means is that members automatically receive a free bag of coffee, a coffee canister, and even a coffee machine with the subscriptions. That's pretty special.
Shop Amora Coffee.

Fine Italian coffee gift box
Do you need a gift for a foodie who loves the finer things in life? This coffee can be found in high end establishments like select Four Seasons and the Bellagio in Las Vegas.
Caffé Umbria from Seattle makes a smooth medium roast coffee with notes of fig and milk chocolate called Gusto Crema. It's great as both espresso or coffee by the cup. 
Shop Caffé Umbria coffee on Amazon or visit their site for monthly subscription gifts.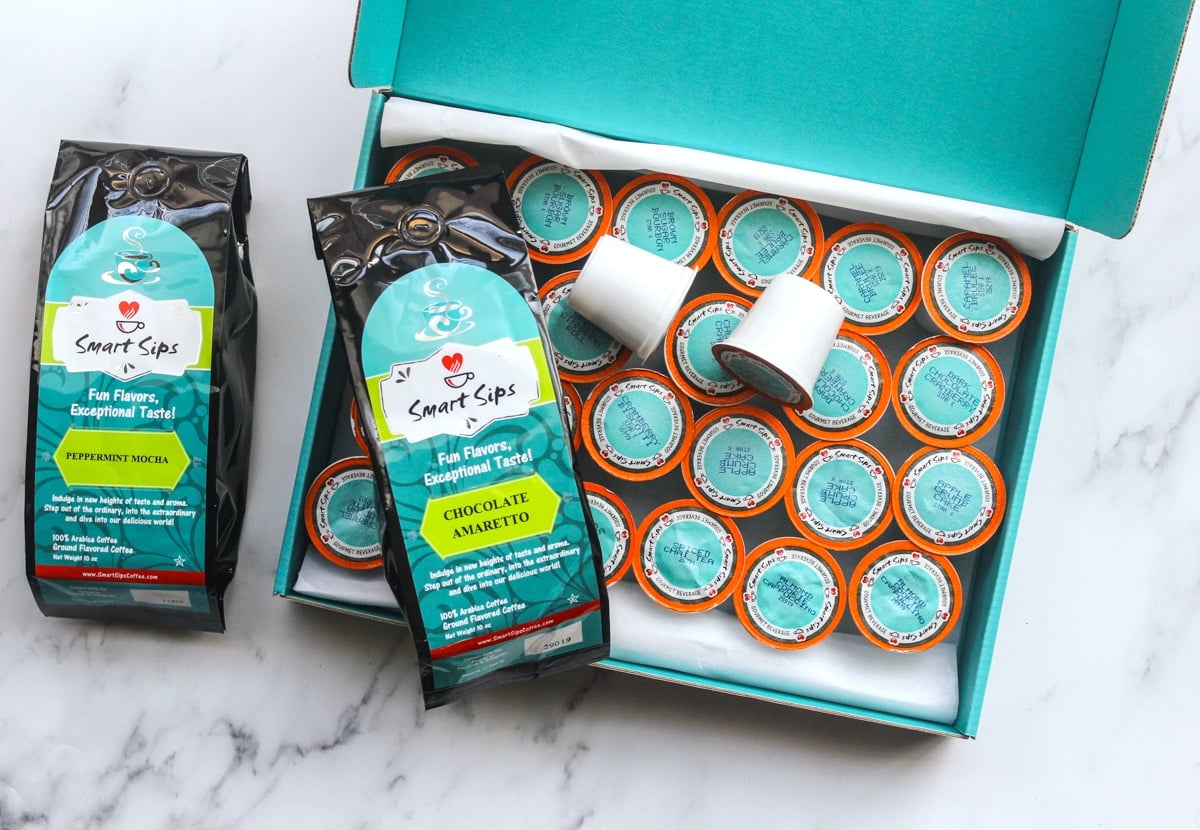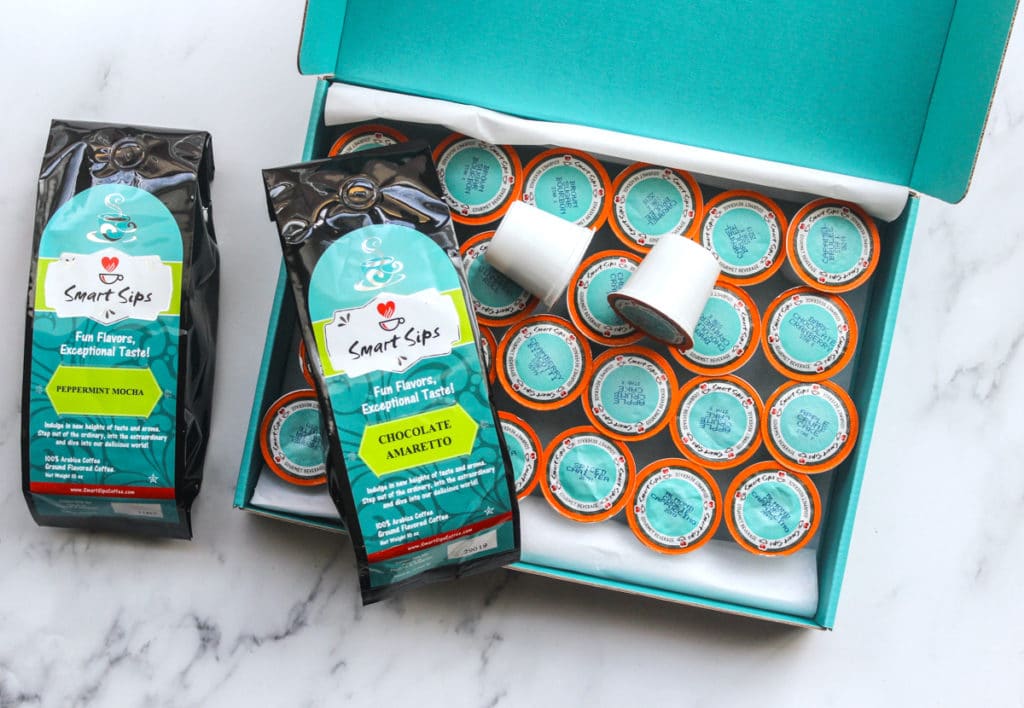 Gourmet K-cups gift box for coffee lovers
Smart Sips sends gourmet coffee in either grinds or pods to caffeine lovers. Order a one-month supply of coffee pods in a sampler pack filled with chocolate and fruit flavored coffees and cappuccinos.
Shop gourmet k-cups like their Brown Sugar Bourbon on amazon.
Kitchen decor for foodies
If you're a food addict, the kitchen is probably the most important room in your house! That's why kitchen decor gifts might be ideal for a food connoisseur– they make that special place just that much more inviting. 
Cute washable kitchen rugs
These rugs are great because they prevent fatigue when you're in the kitchen cooking.
I could have used these especially when I was pregnant and cooking long recipes like my sous vide short ribs!
They come in two sizes, (24"x34" and 24"x76") and fit nicely in front of the sink, before the stove, or by a food prep island. 
See one of my favorites, this patterned Taryn rug. 
Food prep gifts for foodies
Another good direction to explore when hunting for gift ideas for foodies is food prep gifts.
These are specialty items your recipients are unlikely to have in their kitchen– but, once they receive your gift, they'll wonder how they lived without it! 
Foodie gift kids will love
Kids will love these dino pancakes.
Their personal chef will love how easy it is to whip breakfast up! For something different and whimsical, try the Whiskware line of kitchen tools.
These brunch helpers use Blender Ball technology to quickly blend pancake mix or whisk together eggs for omelets. They also have a salad dressing mixer so you can throw in olive oil, vinegar, spices and a squeeze of lemon to make a tasty salad dressing.
Shop the pancake art kit, individual batter mixer, egg mixer, and the salad dressing mixer.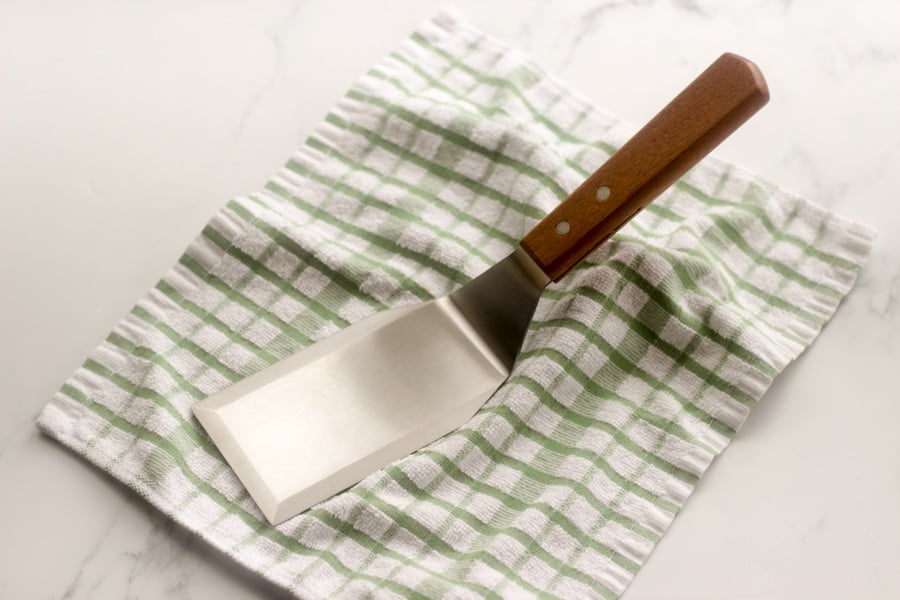 Everyone's favorite metal spatula 
A spatula that can handle nonstick pans? Yes, please!
But that's not all this MannKitchen spatula is good for. It turns out to be the absolute best spatula for cast iron; ideal for doing that final sear on your sous vide recipes. 
There's also a garlic press which matches it in rugged goodness: roomy, easy to clean, and with a bit of mechanical advantage that will make crushing garlic that much easier. 
Shop this heavy duty spatula. 
Curious about selling kitchen tools online? Don't miss this. Learn how to launch kitchen item crowdfunding campaigns with tips from MannKitchen's founder!
Drinks for foodies (beer, wine, spirits)
If your foodie friends are more into drinks than eats, here are some suggestions that may make their day.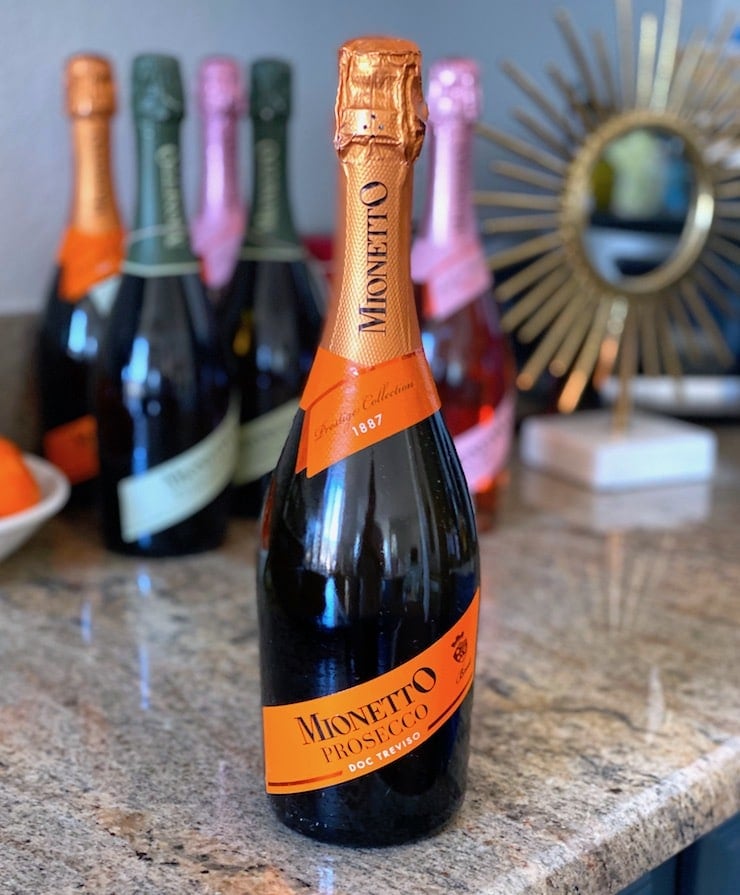 A stash of Prosseco
People love having a stocked wine fridge.
Brunch any time when you have a stash of Mionetto Prosseco at hand. This brand is very widely available and they make tasty bubbly. Get a sampler of their flavors, including my favorite – the rosé.
Drink them straight or make a cocktail with Mionetto Prosseco – like these pineapple mimosas.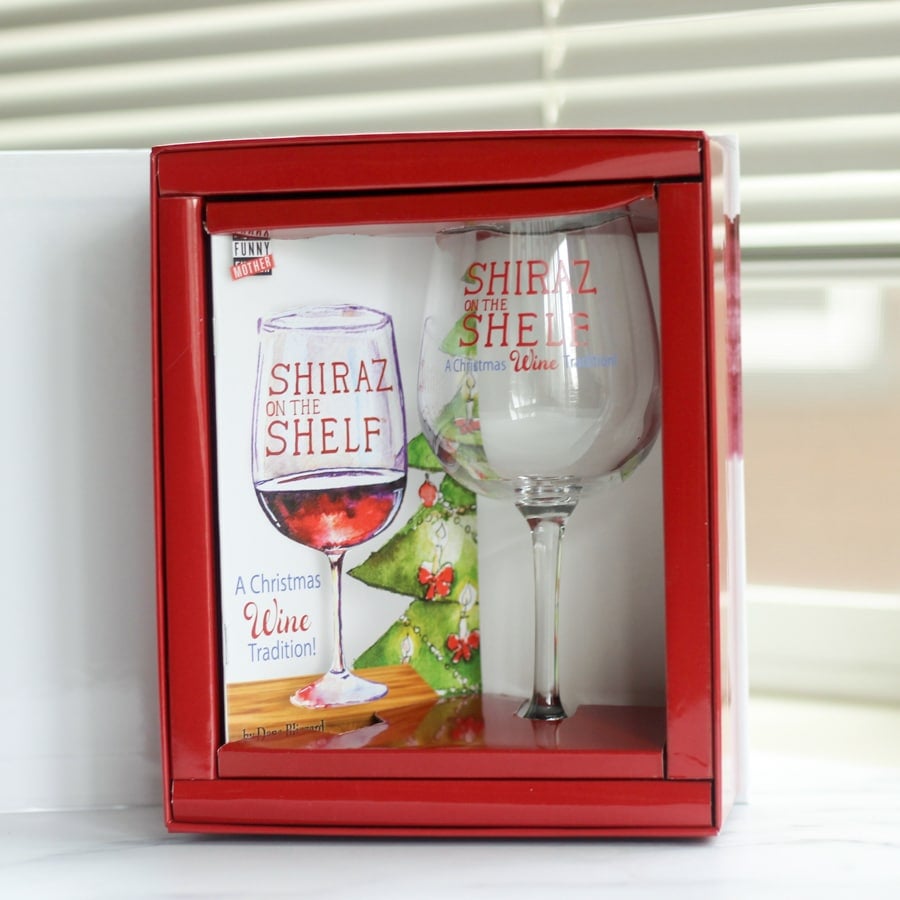 "Shiraz On The Shelf" funny foodie gift
Gotta love a mompreneur with a good sense of humor!
This tongue-in-cheek parody of the much loved/hated Elf on the Shelf features a wine glass that a magical fairy fills each night to help the harried, under appreciated moms (or anyone really) out there survive the holidays.
This perfectly packaged gift set includes a designed wine glass and hilarious illustrated booklet with your new favorite inappropriate Christmas poem. 
Shop Amazon for Shiraz On The Shelf.
Cute to-go wine glasses
All wine drinkers will enjoy Snowfox glasses. These glasses actually keep your drink to within two degrees from when it was poured, ensuring it tastes the way it was meant to be from start to finish.
Lightweight with a one millimeter thin rim, they make for an elegant table setting. That doesn't mean these are flimsy, though– in fact, they're said to be shatterproof, and I believe it.
Use these for a backyard BBQ so you can safely sip Chardonnay while grilling sous vide shrimp kebabs.
Cookbooks make great foodie gifts
No foodies gift guide would be complete without cookbooks! Here are a few interesting cookbooks for foodies…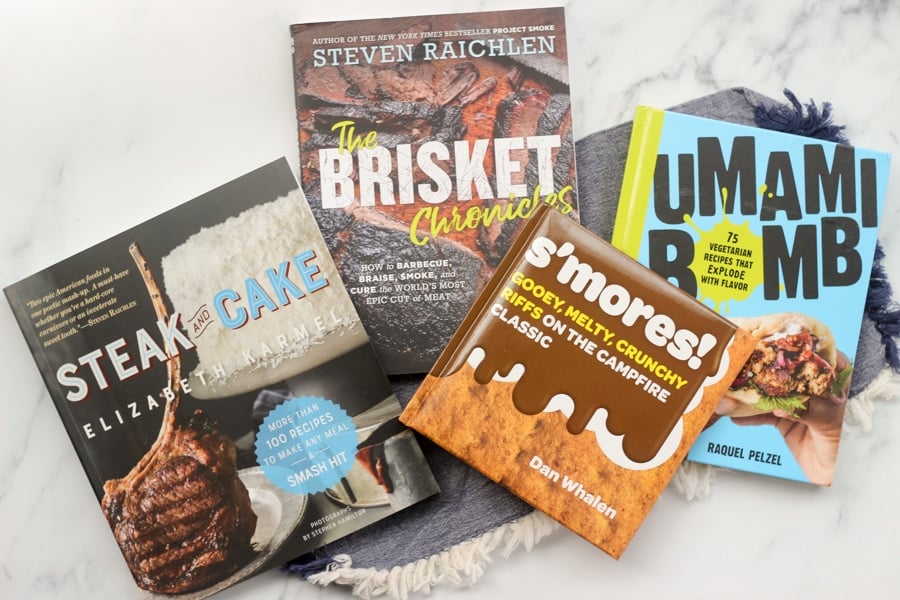 The Brisket Chronicles is for anyone who loves to BBQ, braise, smoke, and cure meat. 
Steak and Cake has more than 100 recipes to make juicy steak, tacos, and to finish it off: cake! 
Umami Bomb celebrates the most beloved unami-packed dishes. 
This S'mores cookbook is filled with more than 50 playful recipes. It's perfect for people with firepits and people who love to camp.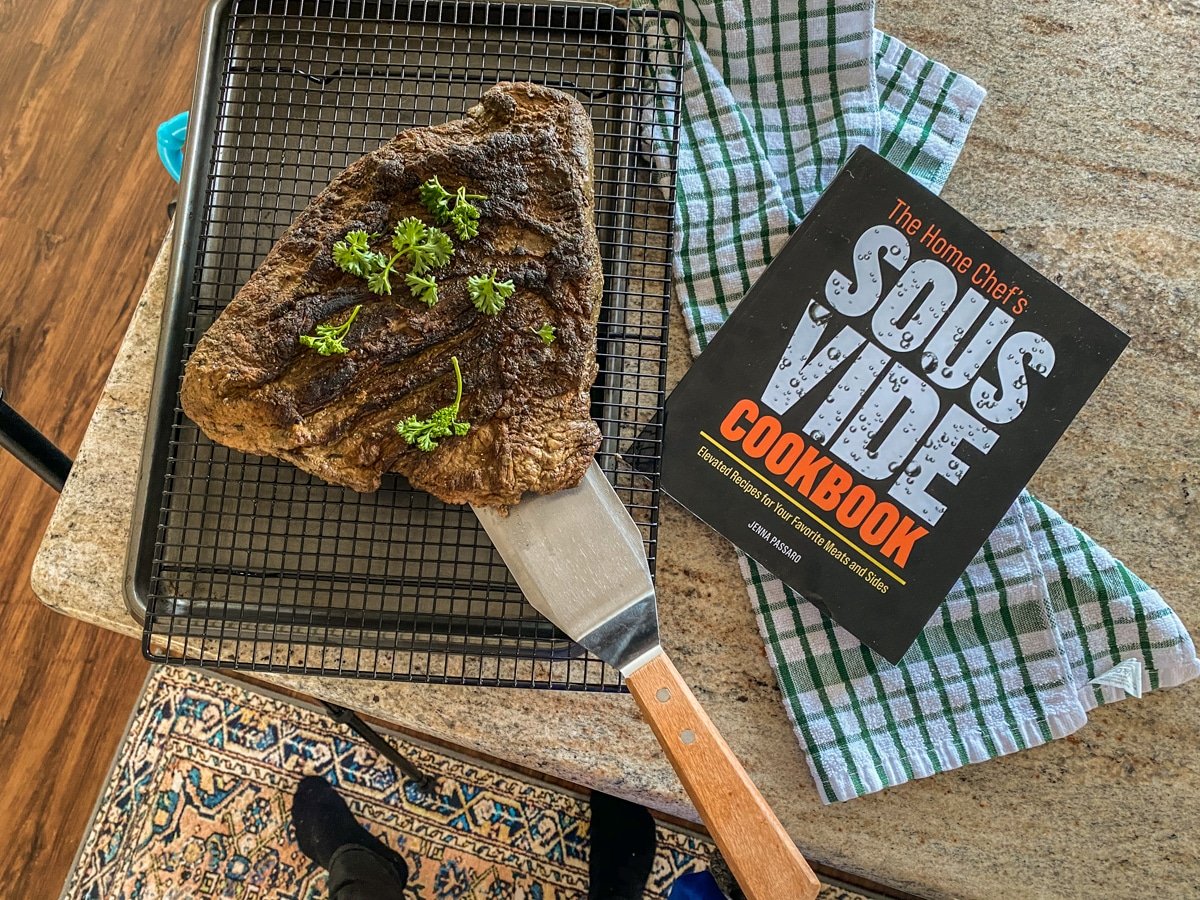 Get them my cookbook: The Home Chef's Sous Vide Cookbook
Tech gift for foodies: sous vide setup
A couple sous vide recipes to check out here: sous vide turkey, sous vide chicken wings, sous vide Brussels sprouts.
A Radical Frying Pan
Do you have friends that love to entertain? If you want to buy them a gourmet food gift, the Radical Pan is the perfect gift. Any foodie will love the toxin free, non-stick, and stay cool handle of this pan.
You also won't have to worry about the extra calories because you will use less oil and butter when you are cooking!
I just used this last week when I made sous vide steaks from frozen.
A high quality and well-made frying pan is just one of the unique food gifts to send this holiday season!
Be sure to check out this pan on Amazon!
Cocktail Lovers Rejoice!
Tom of Finland is famous for bringing the gay icons into the mainstream. Men like Freddy Mercury and Jean Paul Gaultier were very inspired by Tom of Finland. For foodie gifts, this vodka is one of the best!
It is certified organic and there is no added sugar in it. The finish of this vodka is quite smooth and any foodie will rejoice in the vanilla cream and black pepper balance. It is truly one of a kind!
You can see where Tom of Finland is sold near you!
A Multi-Pot That Can Do It All!
The Fissler Mutli-Pot is made to hold six quarts and is the perfect gift for foodies. It is made of stainless steel and has 18 1-touch programs. The foodies in your life can steam, sauté, slow cook, and ferment using this multi-pot. It is dishwasher safe, has a childproof locking lid, and is cool on the outside.
Make anything from bread to yogurt in just a matter of hours! Love to sous vide? See my favorite sous vide recipes like this one for sous vide chicken wings and sous vide turkey breast. And check out my new sous vide cookbook.
Check out the Fissler Multi-Pot on Amazon!
An Eye-catching Gin 
Gifts for foodies and drinkers can be pretty tough to find, but the Empress 1908 gin will make the perfect gift. It contains eight natural botanicals that include tea, juniper, rose, coriander seed, grapefruit peel, ginger root, cinnamon bark, and butterfly pea blossom. It is in a class all by itself!
Be sure to check out where you can buy Empress 1908 gin.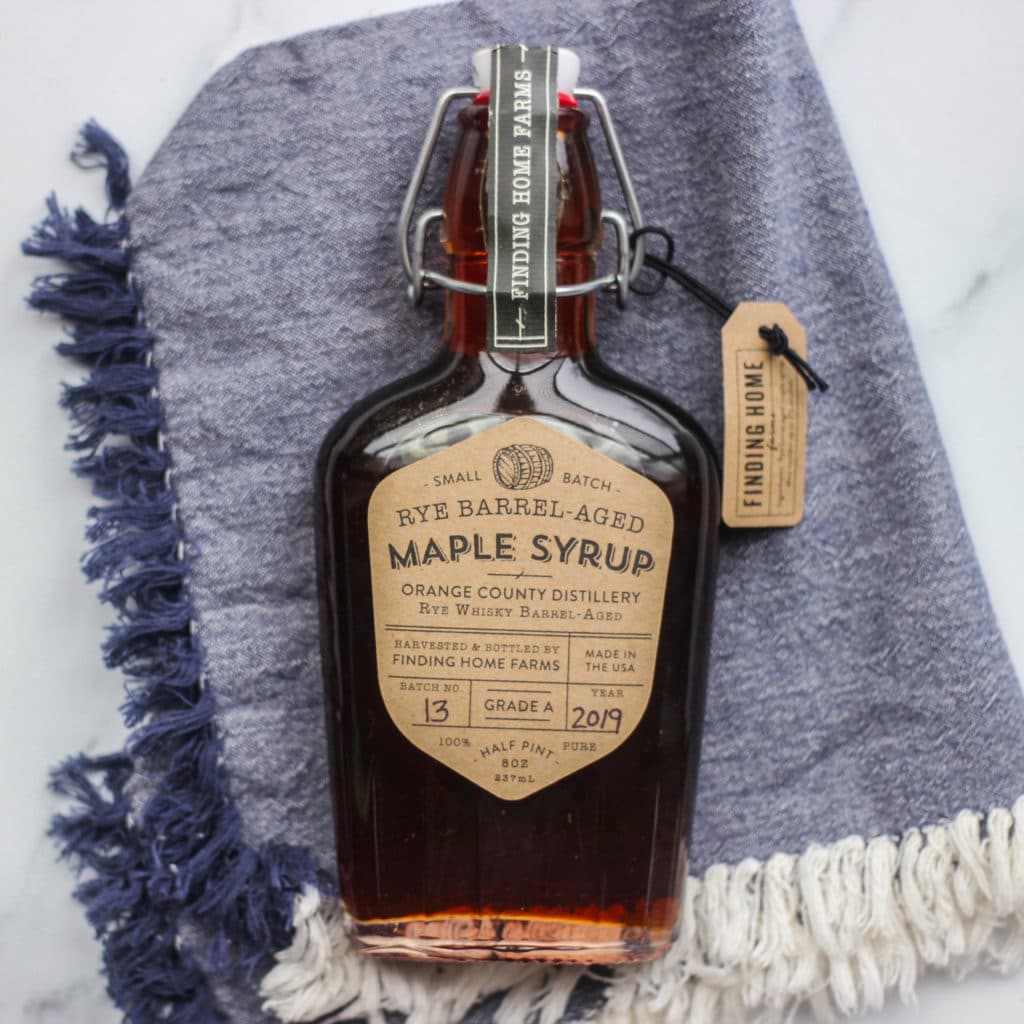 Maple Syrup with a Twist
Making waffles and pancakes is never complete without the right maple syrup. Finding Home Farms, based out of Middletown, New York, has made the perfect syrup! It is delicious and is made in rye barrels. The syrup is aged in these barrels for a flavor like no other! The foodies in your life will be shocked at how scrumptious it is! The flavor is unbelievable on pancakes, waffles, and even bacon!
Check out their website for more information on how to order.
Let me know if you have more ideas for the best gifts for foodies! And don't forget to sign up for the Sip Bite Go newsletter for the latest foodie news.