Shopping for a foodie? See my list of gifts for foodies 2022 edition. There's plenty on here for Christmas ideas, birthday presents, anniversaries, etc. These are fun gifts for food lovers are fun and creative. Let's see the list…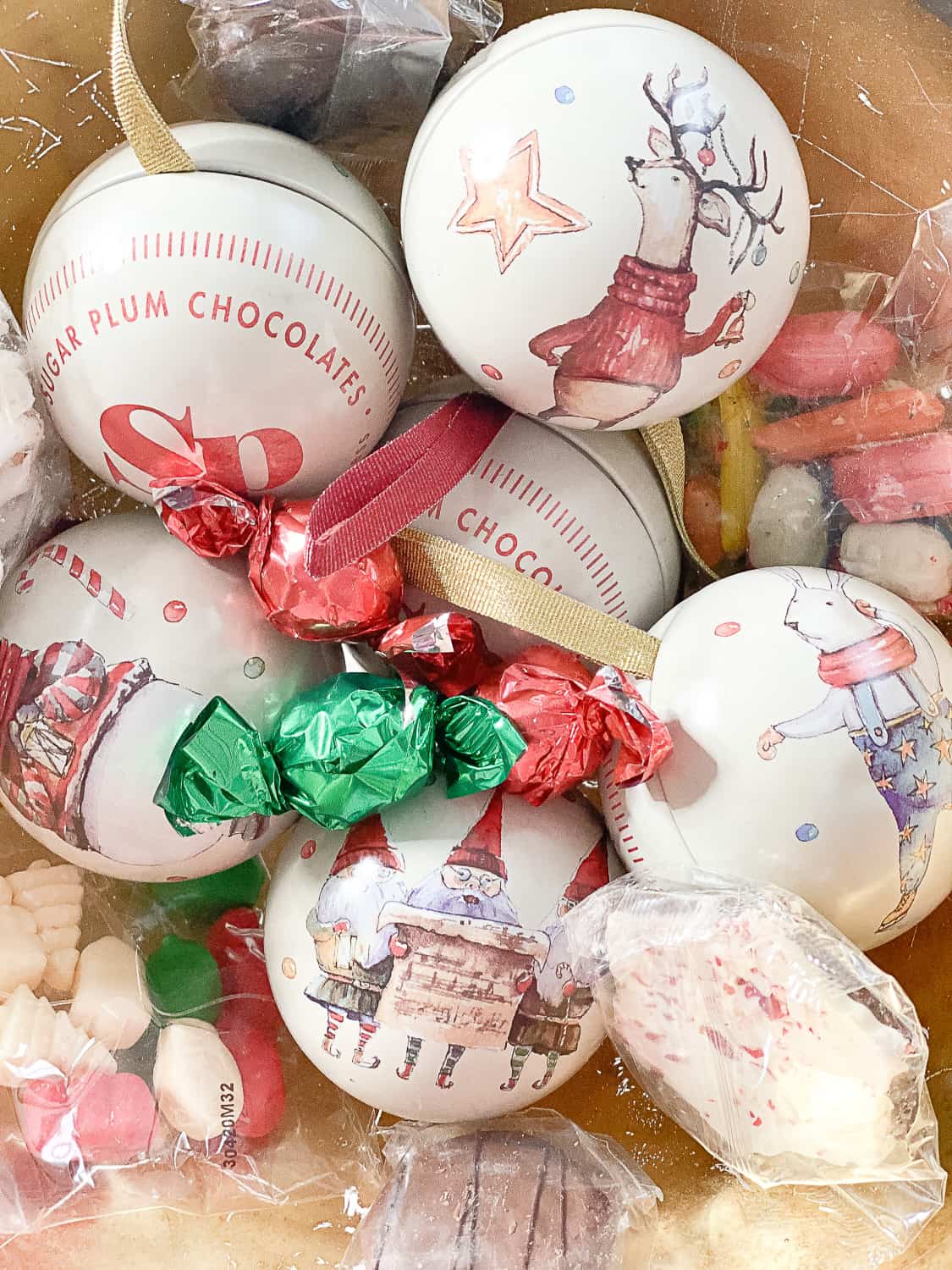 Fun gift ideas for foodies
Disclosure: Some products have been gifted and some items from the food gift list include affiliate links.. All thoughts and opinions are my own.
These gifts are mostly great ideas for any time of the year… But especially birthdays and holidays like Christmas.
Here you'll find chocolates, food sampler boxes, condiment gifts, and gourmet foods and more.
BBQ lovers gift everyone loves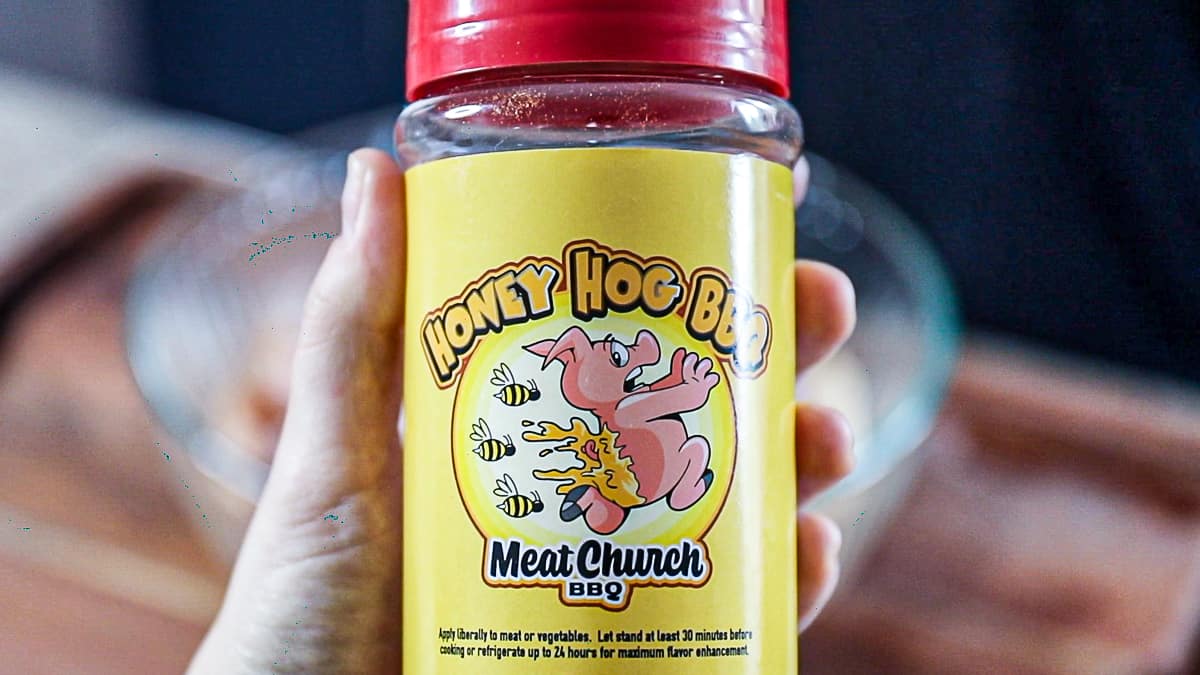 Shopping for a meat lover??
Everyone who loves smoked foods and grilled foods loves this seasoning. It's a must-have for the BBQ lover in your life. It's called Meat Church Honey Hog BBQ Seasoning and it is both savory and sweet. We recently used it on these bbq glazed smoked chicken thighs.
See my video review of Meat Church Seasonings.
German beer sampler box
Sign up beer / cider / wine lovers in your life for Sip Scout (by The Crafty Cask)
This German beer sampler box is just one of the many boxes you can gift someone to help expand their palate, deepen their boozy passion, and support small businesses from home.
It's a subscription club for craft drinks explorers that includes a monthly virtual party where their team of craft alcohol experts lead an educational and entertaining session related to that month's kit.
Gift for smoked foods lovers: Bear Mountain Pellets
Have someone in your life that loves smoked food recipes?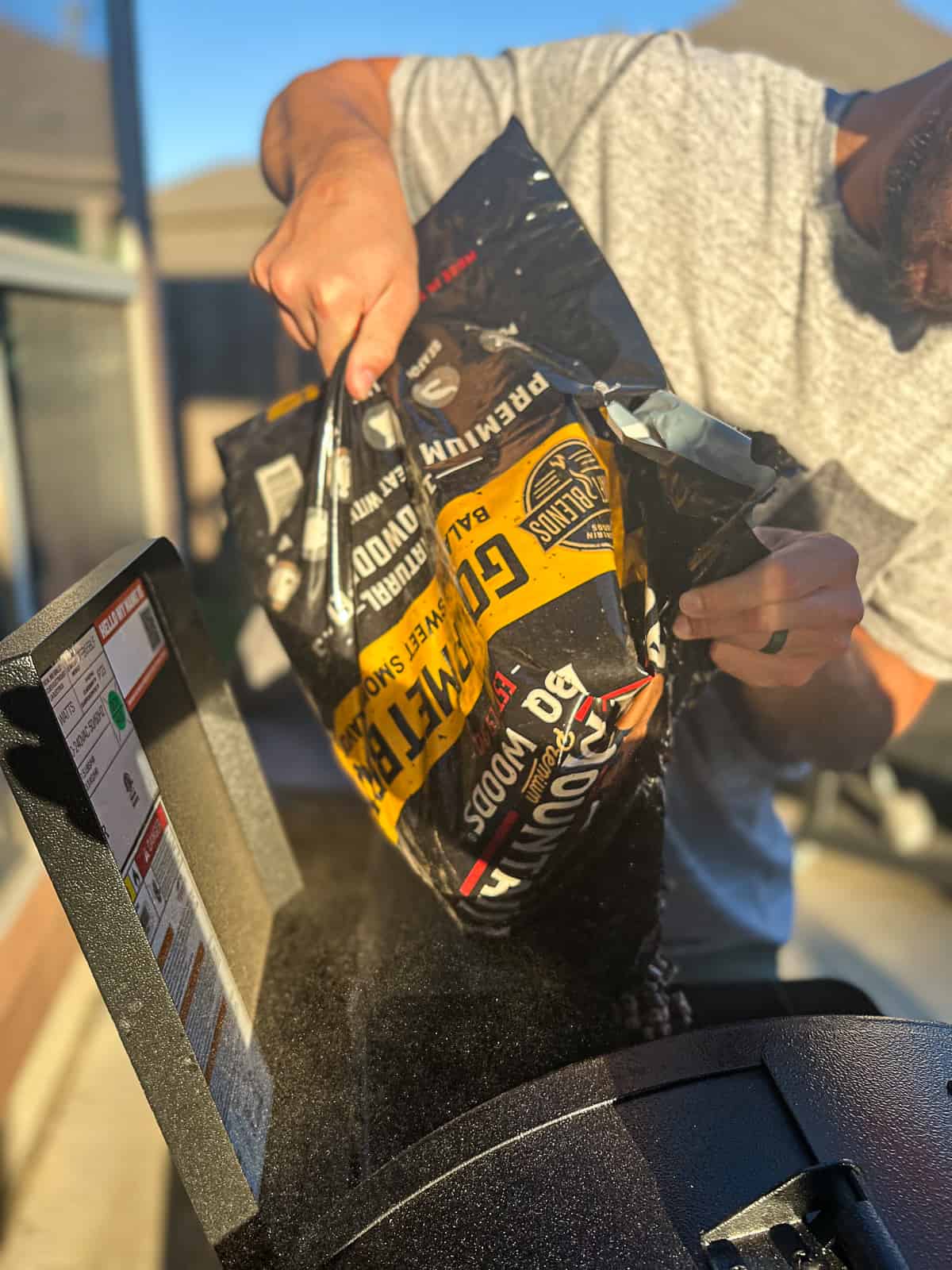 Give them the gift of gourmet pellets…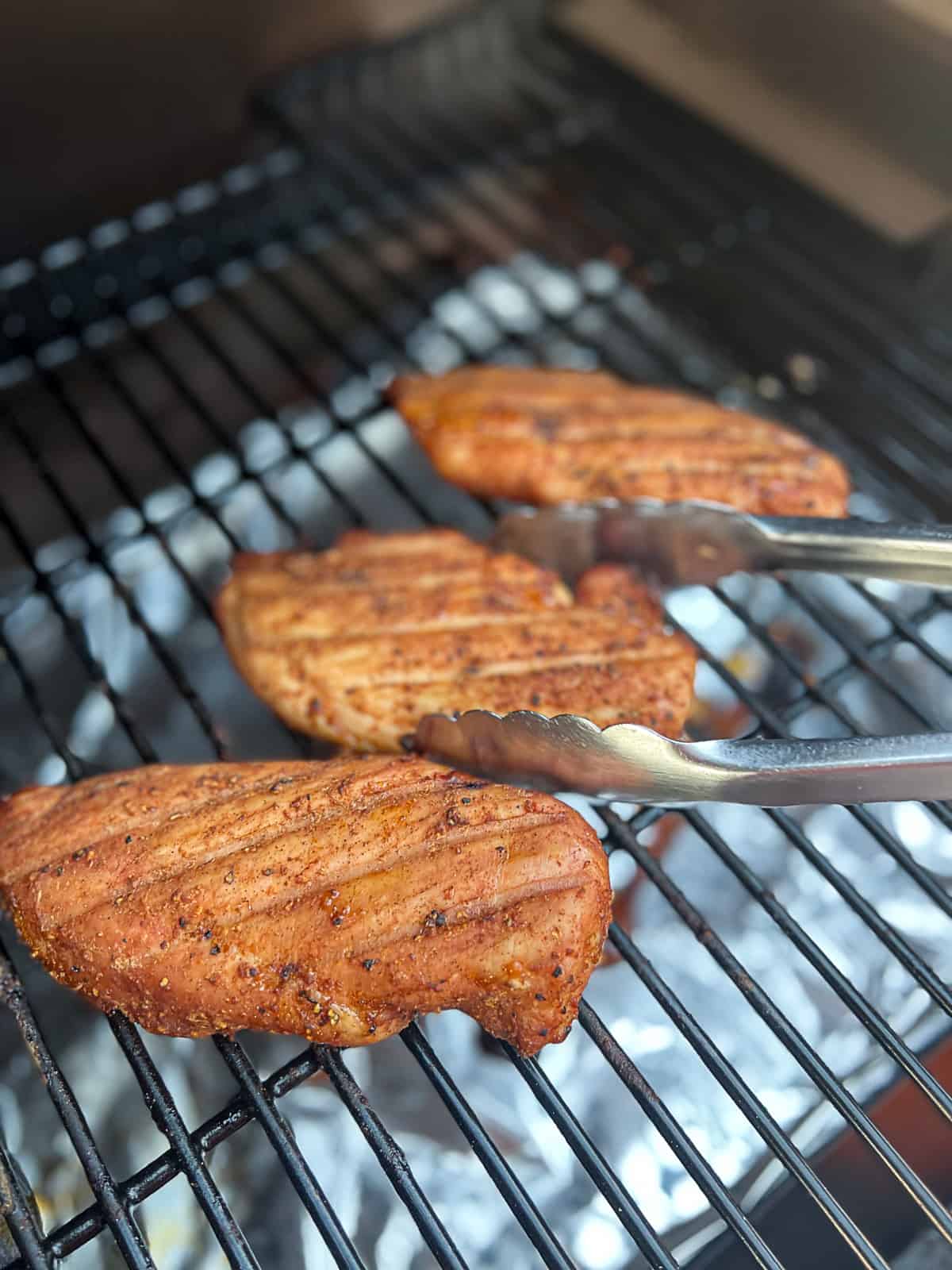 Your recipient can use these Bear Mountain pellets to add smoky flavor to their favorite recipes, like 3 2 1 ribs, smoked queso, and smoked chicken breast.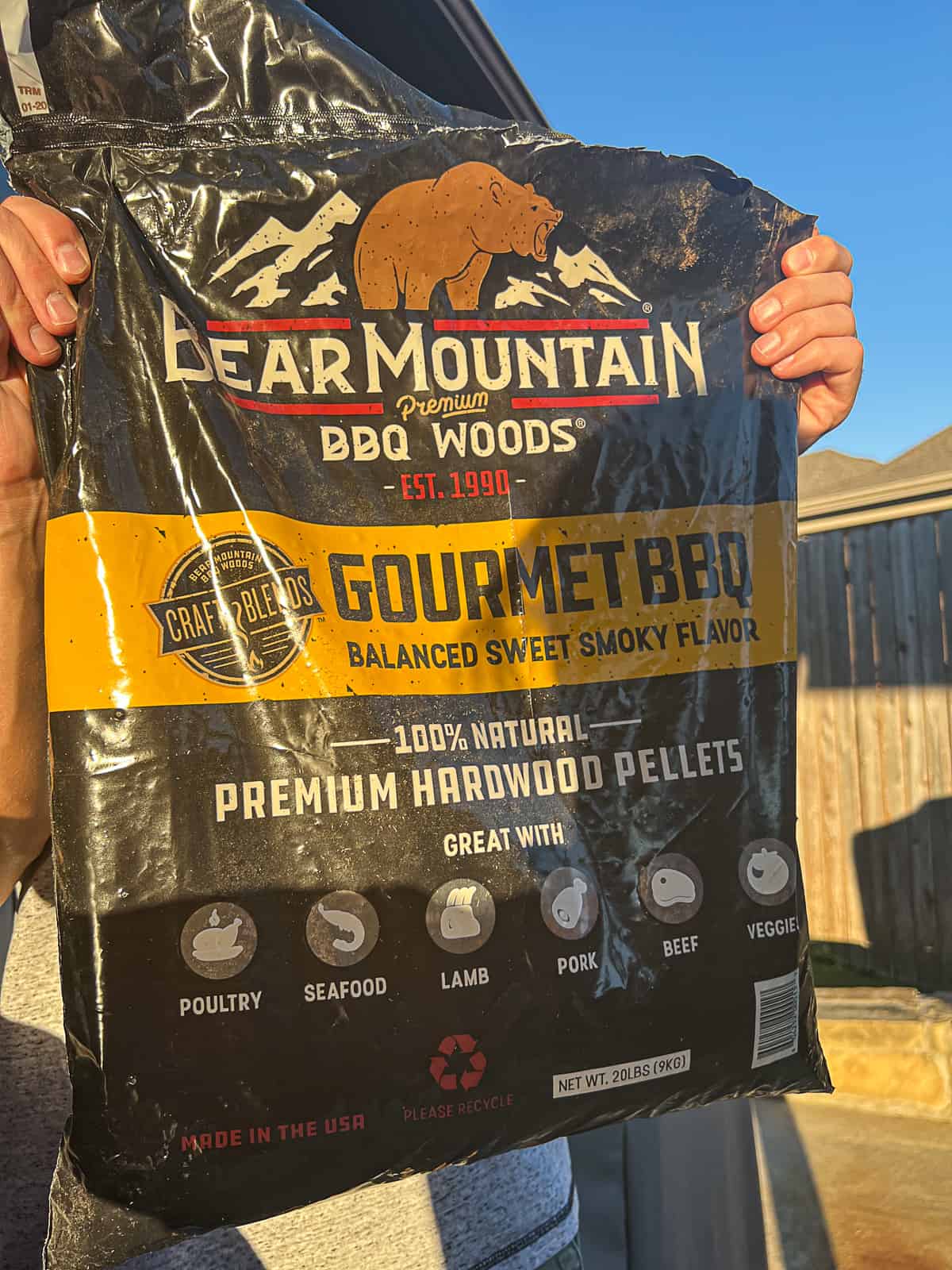 In addition to pellets for the smoker, Bear Mountain creates high quality, natural hardwood pellets for grill recipes (gas, charcoal, electric grill).
Bear Mountain BBQ Smoking Pellets are available at many on-line retailers including: Bear Mountain, Amazon, Lowes, and Tractor Supply Co.
Chocolate lovers gift for Christmas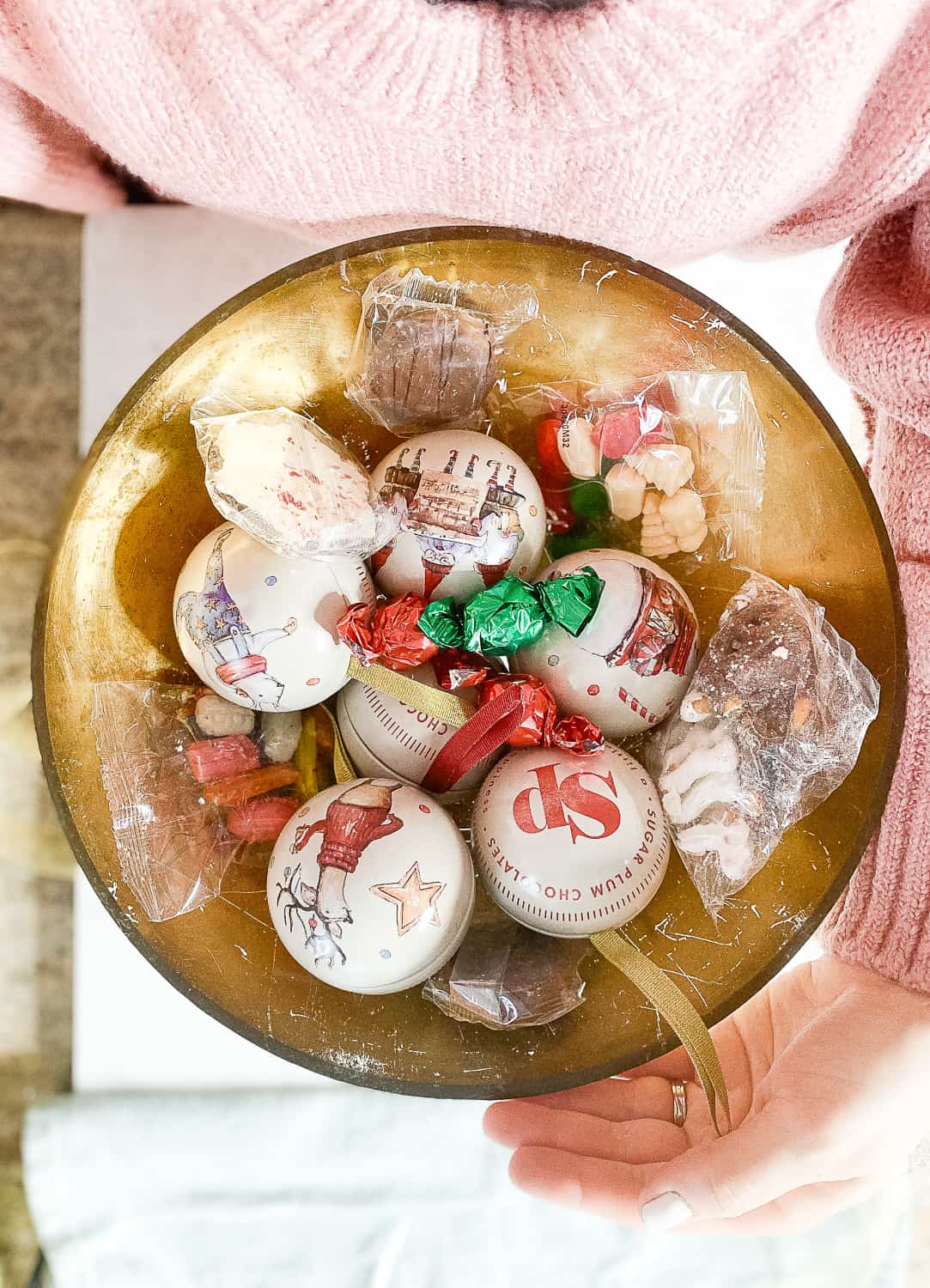 If you're looking for gift ideas for foodies around the holidays, this package from Sugar Plum Chocolates – their Christmas Ornaments gift – is perfect. It's filled with candy, cookies, and treats. The metal tin balls turn into hanging Christmas tree decorations. See the unboxing video on Instagram reels.
You'll see the treats in my Christmas veggie tray idea. You can shop this gift on Gold Belly.
Gift bakers + bagel lovers a stash of butter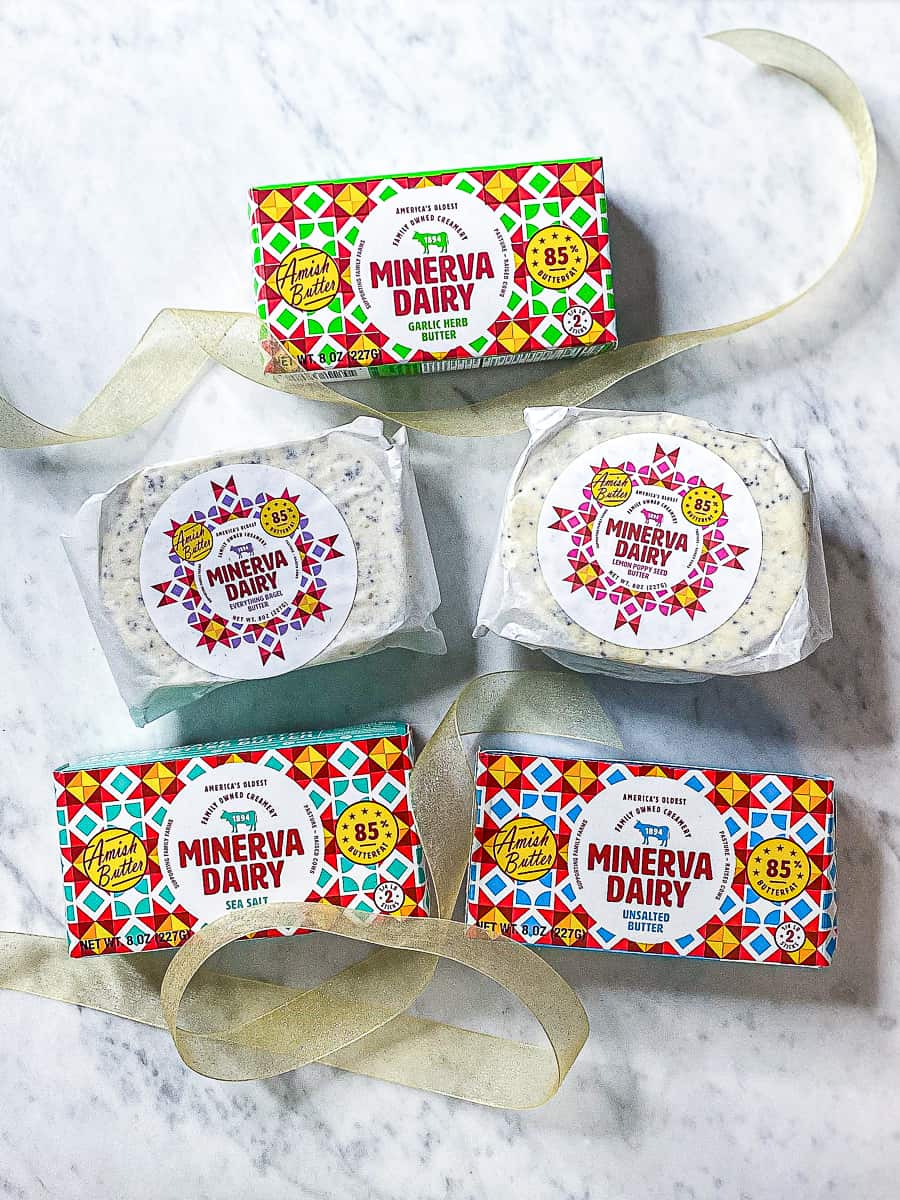 Butter for Christmas? Yes, especially when they come in all the fun flavors Minerva offers, like garlic herb — as seen in the best scrambled eggs recipe video — along with pumpkin spice, smoked maplewood, lemon poppyseed and everything bagel.
All gourmet butters and products from Minerva are available on Goldbelly to ship nationally. Or SHOP Minerva butter on Amazon.
Gifts for people who love charcuterie boards
The creative flavors included in the Coro Salumi Sampler are perfect for holiday entertaining. This is a great hostess gift, or gift for charcuterie board lovers.
The salumi is from a Seattle based company that is the only certified woman-owned salami company in the US. Coro comes from the famous Salumi Deli in Pioneer Square and was featured on an Anthony Bourdain episode several years ago.
They use unique flavors such as lemongrass, mole and their new holiday flavor Porcini Leek.
Gourmet gift for chocolate lovers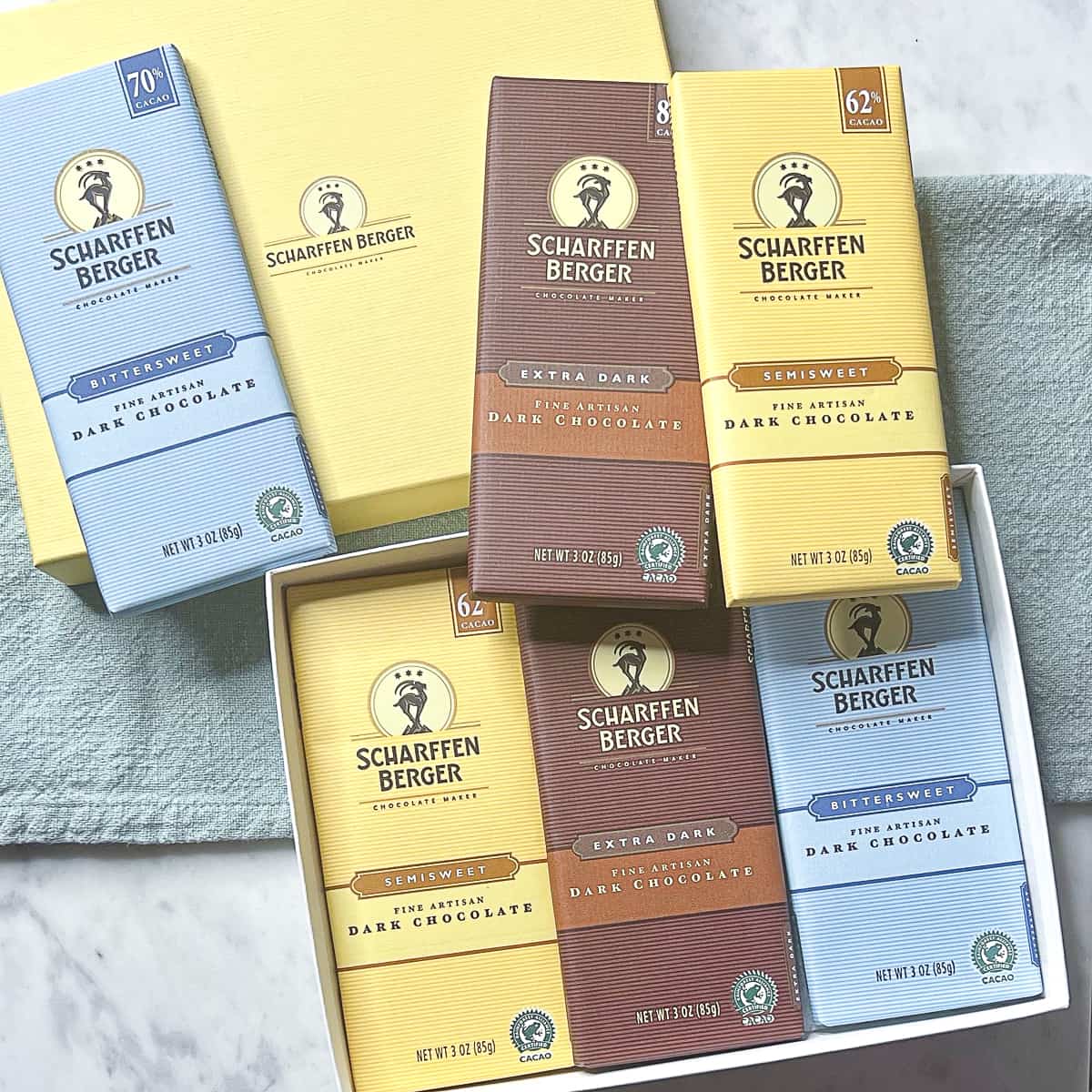 Scharffen Berger has created a chocolate tasting gift box that highlight the true flavor of cacao instead of masking it with sugar and other additives.
The result is an array of truly distinctive chocolates with balance and complexity normally reserved for exceptional wines.
This gift box is a lovely gift for chocolate lovers, bakers, the newly dating, and for a neighbor or co-worker. It's also a thoughtful host/hostess gift. All SCHARFFEN BERGER Chocolates are certified kosher and gluten free. Shop Scharffen Berger.
A gift for nut lovers
This gift pack is full of both healthy and chocolatey treats.
Did you know that 99% of all the hazelnuts produced in the United States are grown in the picturesque Willamette Valley in Oregon? The state's rich, volcanic soil and climate conditions contribute to their quality and taste.
Some of the most popular ways to have hazelnuts — their nutty and buttery taste is described as umami — are roasted or seasoned. Hazelnuts are versatile and may be enjoyed with sweet or savory dishes. Hazelnuts also pair well with a chardonnay or cabernet sauvignon (or an Oregon pinot!).
Shop the Oregon Orchard Store's Hazelnut Gifts.
Send a gift of sourdough bread (and more)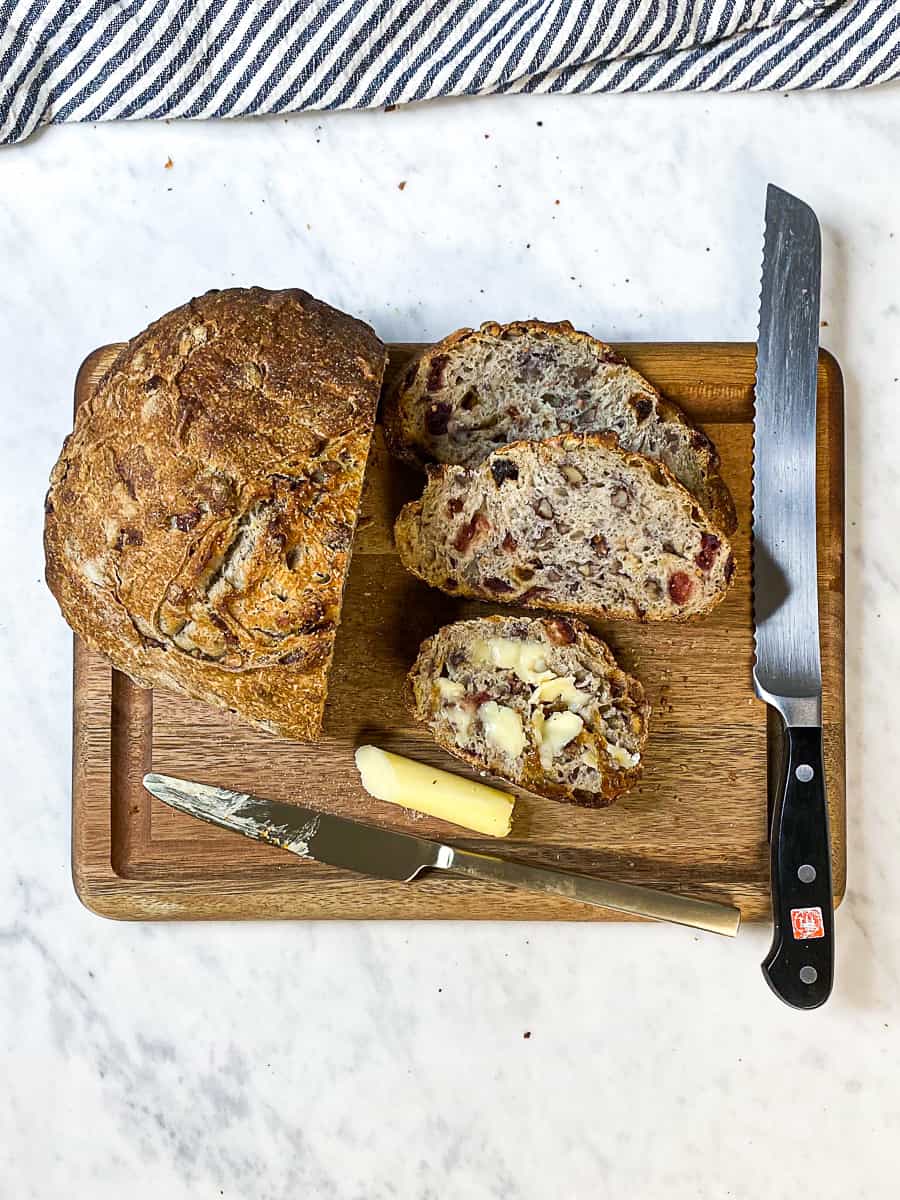 Any foodie who loves sourdough bread will be happy to receive a box of Wildgrain's subscription-style bread delivery.
The loafs are ready in about 20 minutes, baked from frozen in the oven. In my pack, they also sent some flavored breads with dried fig, for example (phenomenal!) and gourmet pasta and cinnamon rolls.
The company was developed by a husband-and-wife team inspired to bring quality breads to the US after living in Paris and loving the fresh bread and pastries there. Shop Wildgrain.
Delicious seafood sampler by mail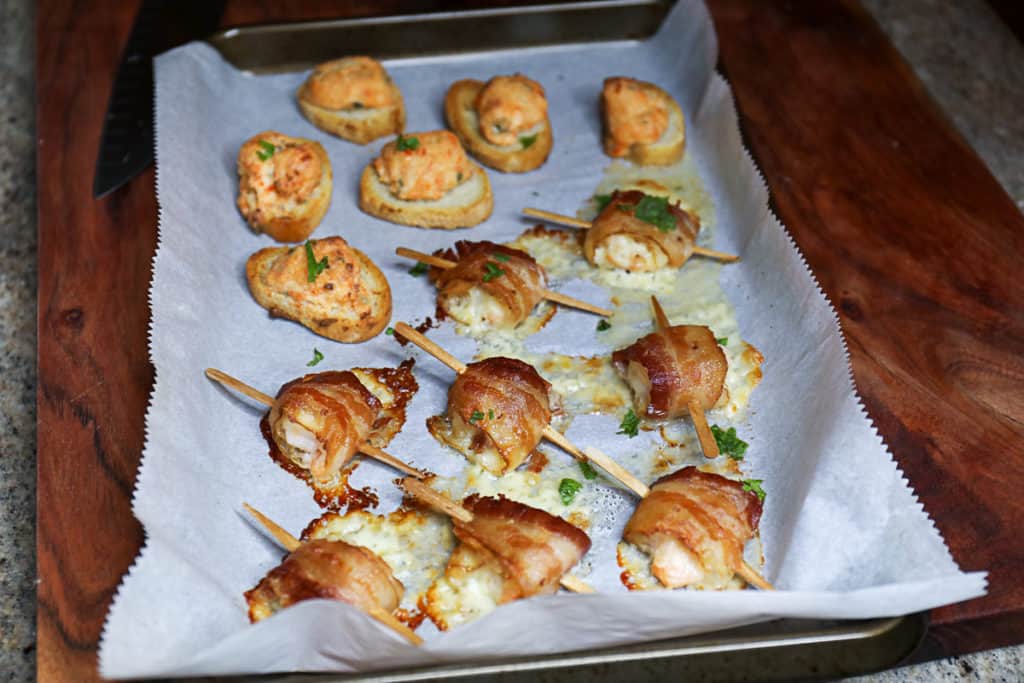 The plethora of seafood dishes you can make from a shipment of City Pier is something exciting to look forward to. We've been popping these in the oven to make for game days and easy weeknight dinners. Any seafood loving foodie would delight in receiving a box. Shop City Pier Seafood.
Gourmet foodies will love this salt sampler
Any home chef would love a pack of gourmet finishing salts (and general use salts) like the ones in this gift box. I've been going nuts putting these tasty sea salts on everything from avocado toast, to burrata salads, to the best scrambled eggs recipe I shared recently. Shop SalterieOne on Amazon.
Gift for grill lovers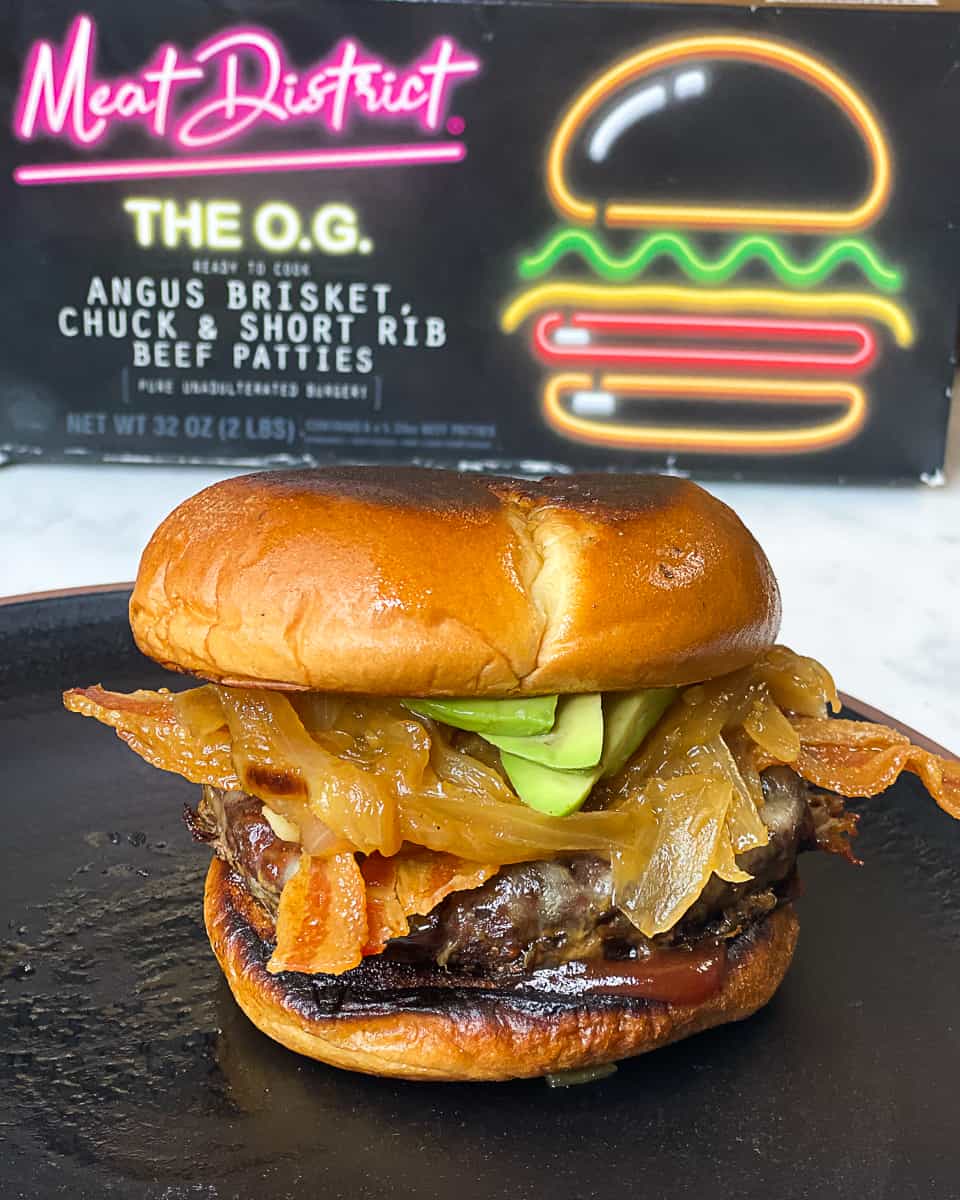 Give the grill lover the ultimate gift with Meat District's Ultimate Grilling Pack filled with butcher-crafted, premium meats that are seasoned to perfection and ready to cook. We've loved sampling our pack of hamburger patties you may have seen on Instagram or on my husband's IG. We served them piled high with caramelized onions.
Each pack includes:
Gourmet BBQ sauces and spices for grill masters
These are favorites for seasoning smoked tri tip and smoked turkey breast on game days. Shop Rufus Teague's Honey Sweet BBQ Sauce and Steak Rub.
A game foodies love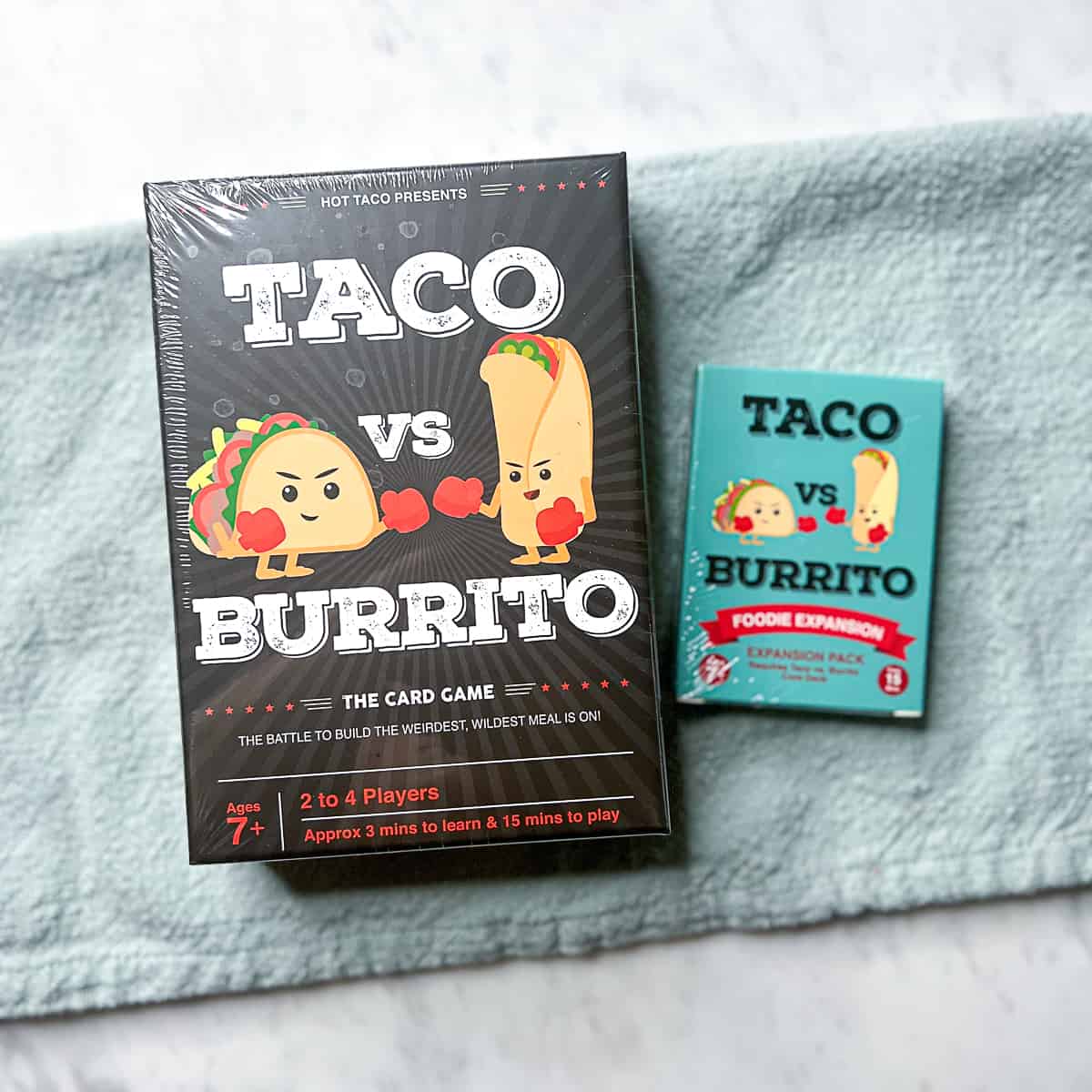 In lieu of an actual food item, gift your foodie friends something fun and enjoyable they'll have for years to come. You play with 2-4 players to build a crazy meal other people will agree on.
Shop the expansion pack version of Taco Vs Burrito Game for foodies who love to entertain.
Condiment sampler pack from Mesa De Vida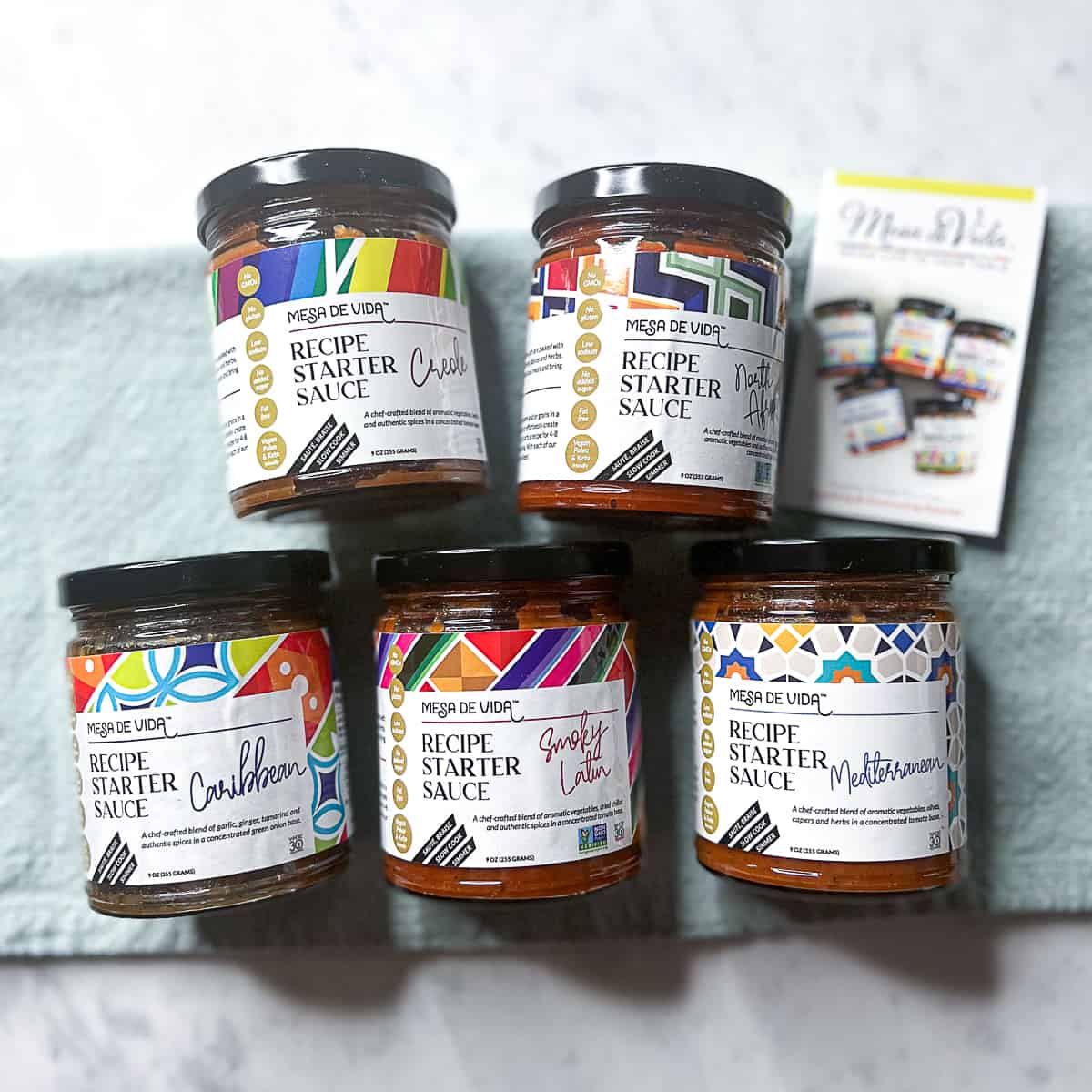 Any home cook would love this line of 5 globally-inspired recipe starter sauces. Mesa de Vida products are low/no sodium, have no added sugars or fillers, and are multi-tasking kitchen helpers to bring life to your table.
The company is run by an amazing chef/mama and former chef to professional athletes (Seahawks), She's helping others cook and eat with ingredients that enhance health, and are TRULY delicious. Shop Mesa De Vida.
A jerky gift box packed with goodies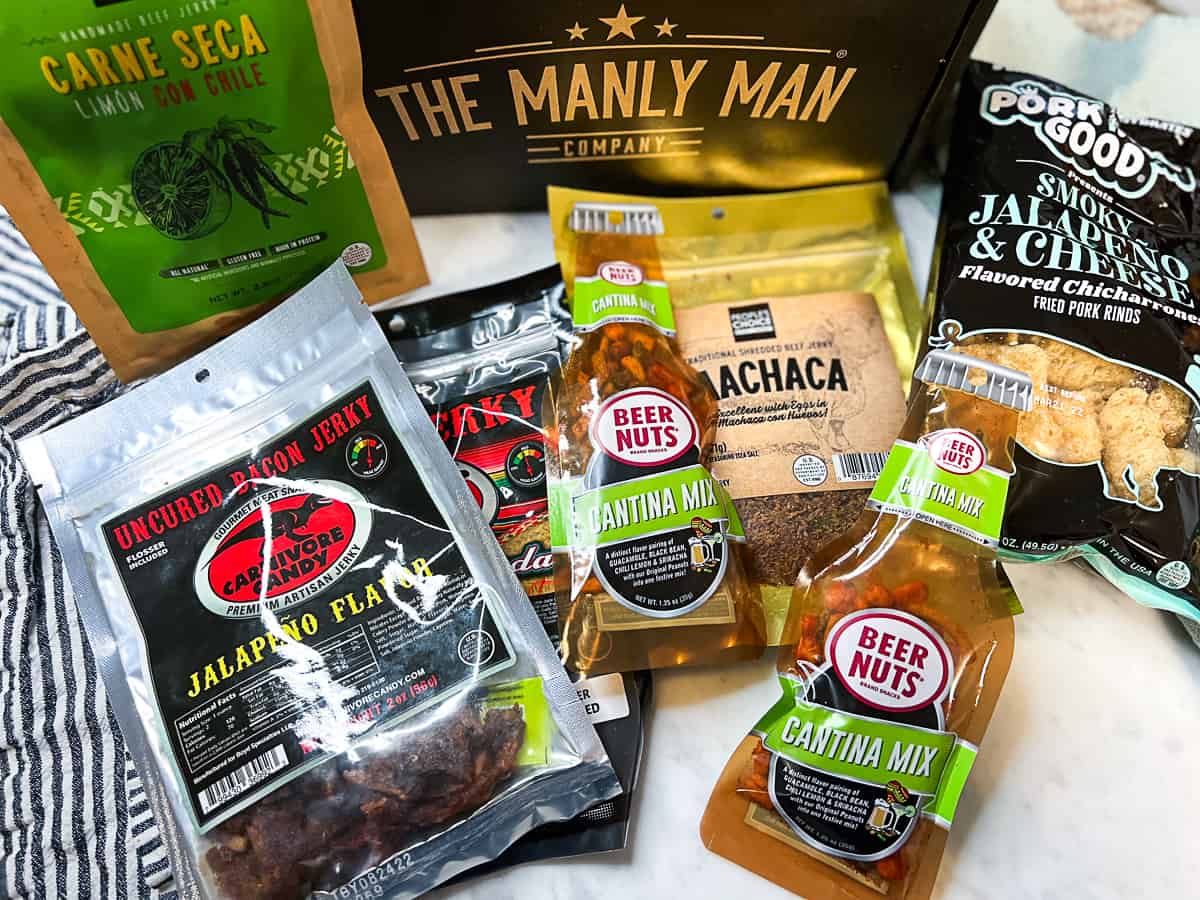 We've been loving these jerky gift box samplers from Manly Man Co. Particularly the Viaje a Mexico Snack & Jerky Gift Box. There is so much to try inside in flavors that are unexpected, but delicious. Shop Manly Man gift boxes and don't miss their beef bouquet.
Gift foodies a sampler of European butter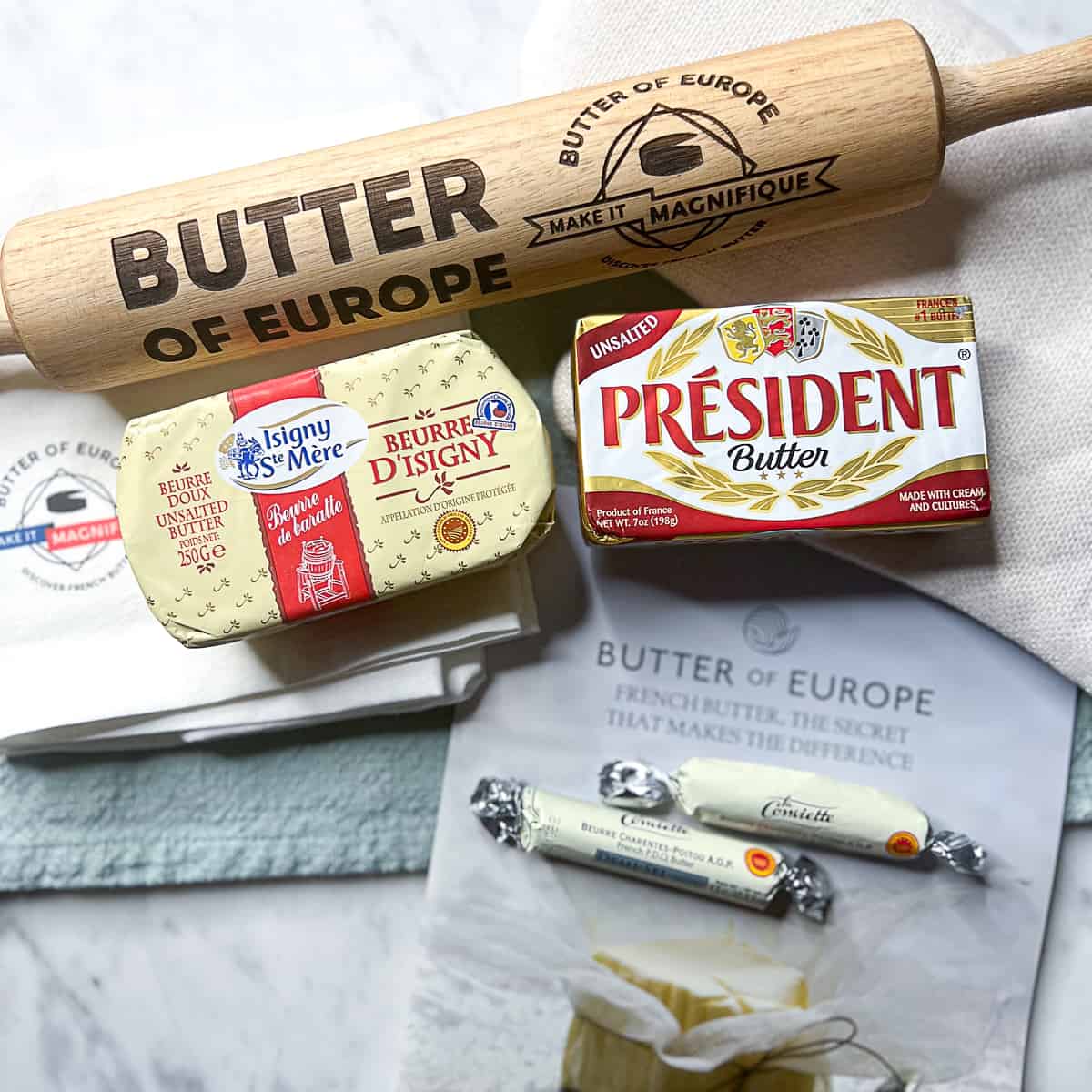 Butter of Europe sampler gift for people who love to bake. An assortment of French Butter is a great gift for foodie friends. While an affordable gift, this butter is a luxury-treat that most people don't buy all the time.
You can shop items like the ones in this photo on Amazon including the Isigny Ste Mère Unsalted Butter and President Butter.
Gifts for foodies who like a little spice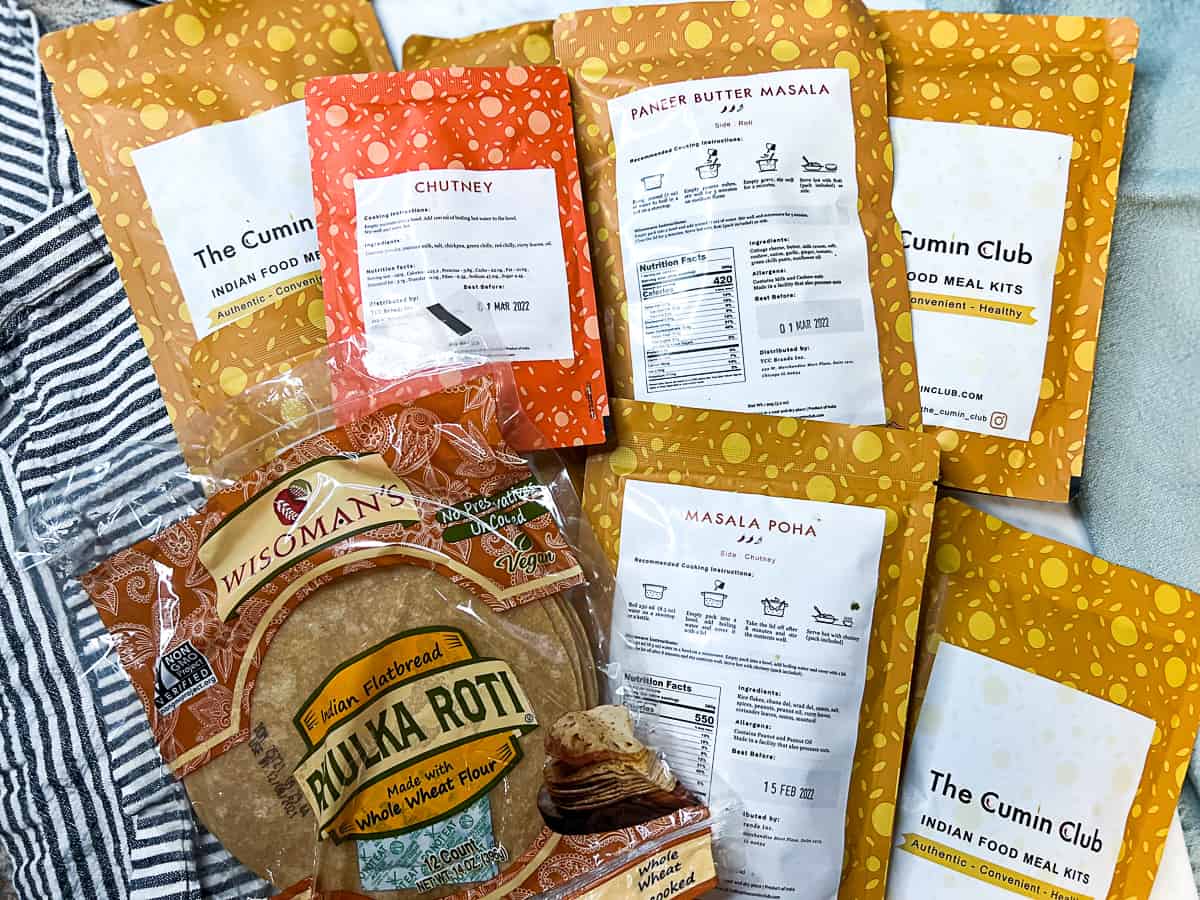 I'm digging the variety packs from The Cumin Club and have a few people on my gift list each year who would LOVE this assortment. They offer quick and easy meals that pretty much just need water added to them.
Each packet includes authentic Indian flavors and ingredients for people to enjoy the flavors of India through classic dishes like pav bhaji (a popular Mumbai Street food made with potato, tomato, onion, peas and tropical spices), and poha (flattened rice cooked with onion, spices, peanuts and chickpeas, served with a creamy coconut chutney).
As a gift, you can choose from several meal plans, including a 5-meal kit, 10-meal kit or 20-meal kit, or sign up for a subscription plan. See their options.
Greek Food Sampler Chocolate Lovers Box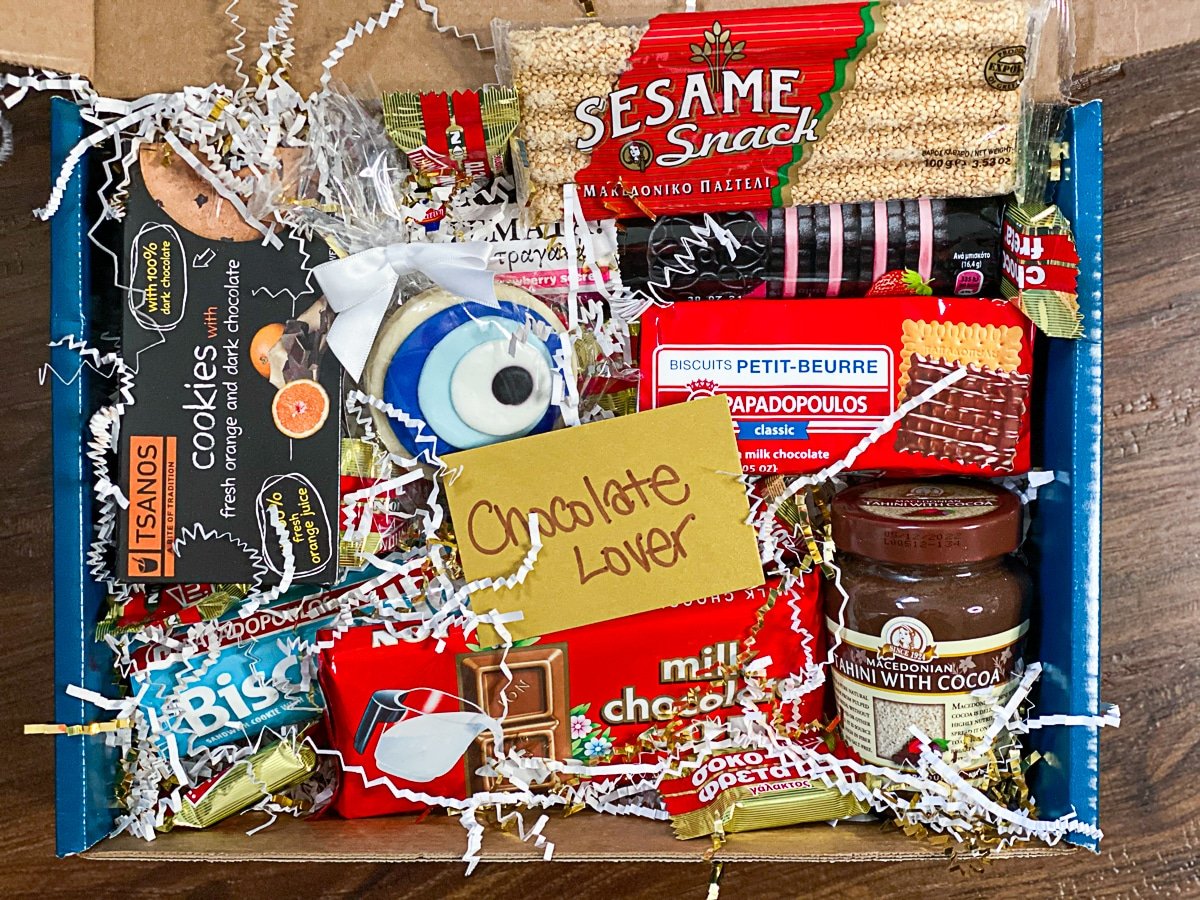 Imported chocolate, fancy cookies, and other Greek treats? Yes, please! Send all the chocolate lovers in your life this Greek Chocolate Lover's gift basket from my partners at the Greek International Market.
It's stuffed with tasty treats like:
Tahini with cocoa
Evil Eye cookie
Greek stuffed cookies
Greek sesame bars with honey
Blue candies flavored with ouzo
ION chocolate bars (they've been part of Greek life for about 85 years!)
Prepare to immediately want to send your best friend, mom, extended family, teachers, neighbors, and everyone else you know this tasty Greek chocolate gift basket.
Maine
Lobster Rolls By Mail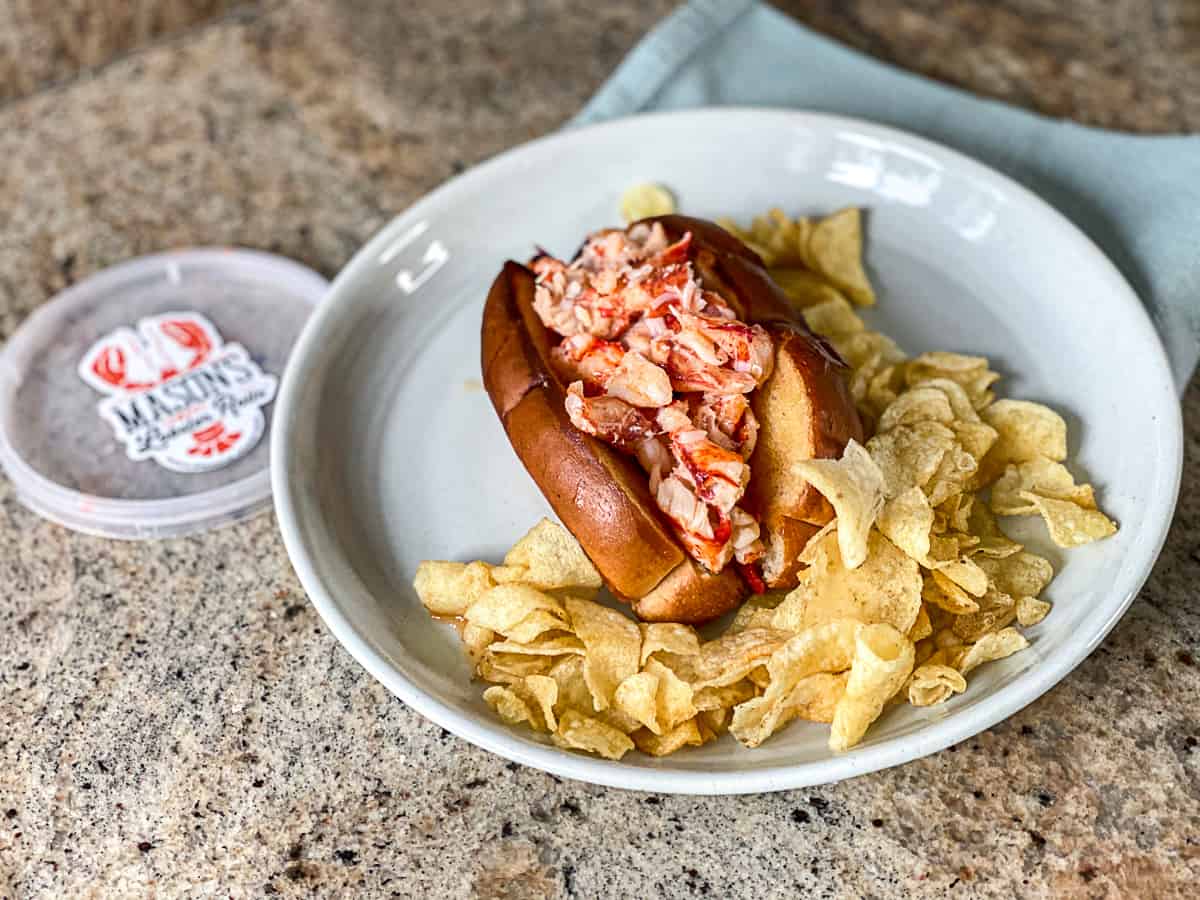 Need a gift for seafood lovers? Send them a super-fresh lobster roll kit. The lobster is overnighted from Maine — we were so impressed how fresh it arrives… See this video of our lobster roll lunch.
A kit for four is packed with beautiful Maine lobster, fluffy, buttery rolls, Fancy Irish butter, mayo, a fresh lemon, a packet of seasonings, Cape Cod Chips, and whoopie pies. Check out Mason's At Home Kit.
Snack box

gift idea for chip lovers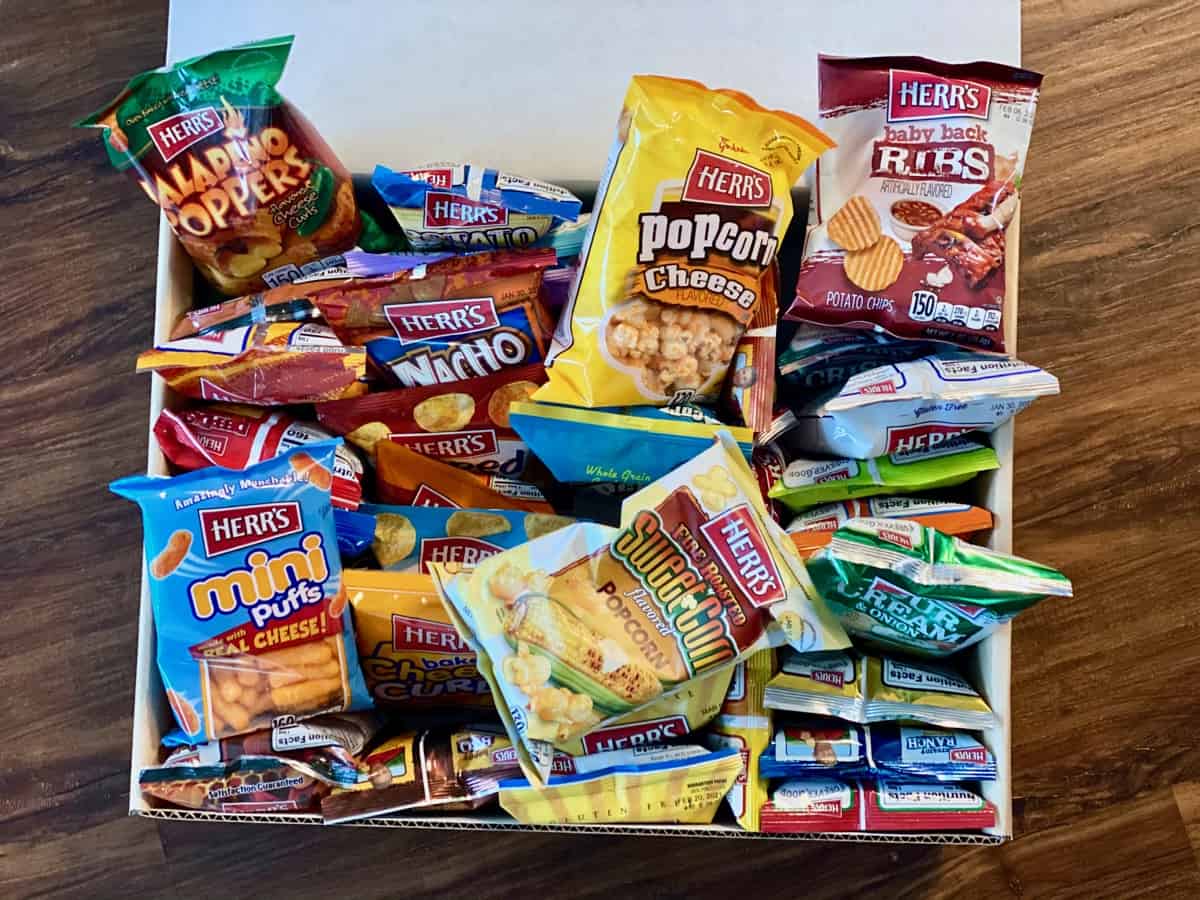 Inside a variety pack you'll find Herr's famous chips, pretzels, cheese puffs, popcorn, and more. The holiday gift box option comes in a cute box and was so fun to discover the box with my family.
If you're a fan of The Office TV show like me, you might recognize this company from references to Herr's snacks in several episodes. Shop Herr's snack box.
Holiday sampler for gluten free foodies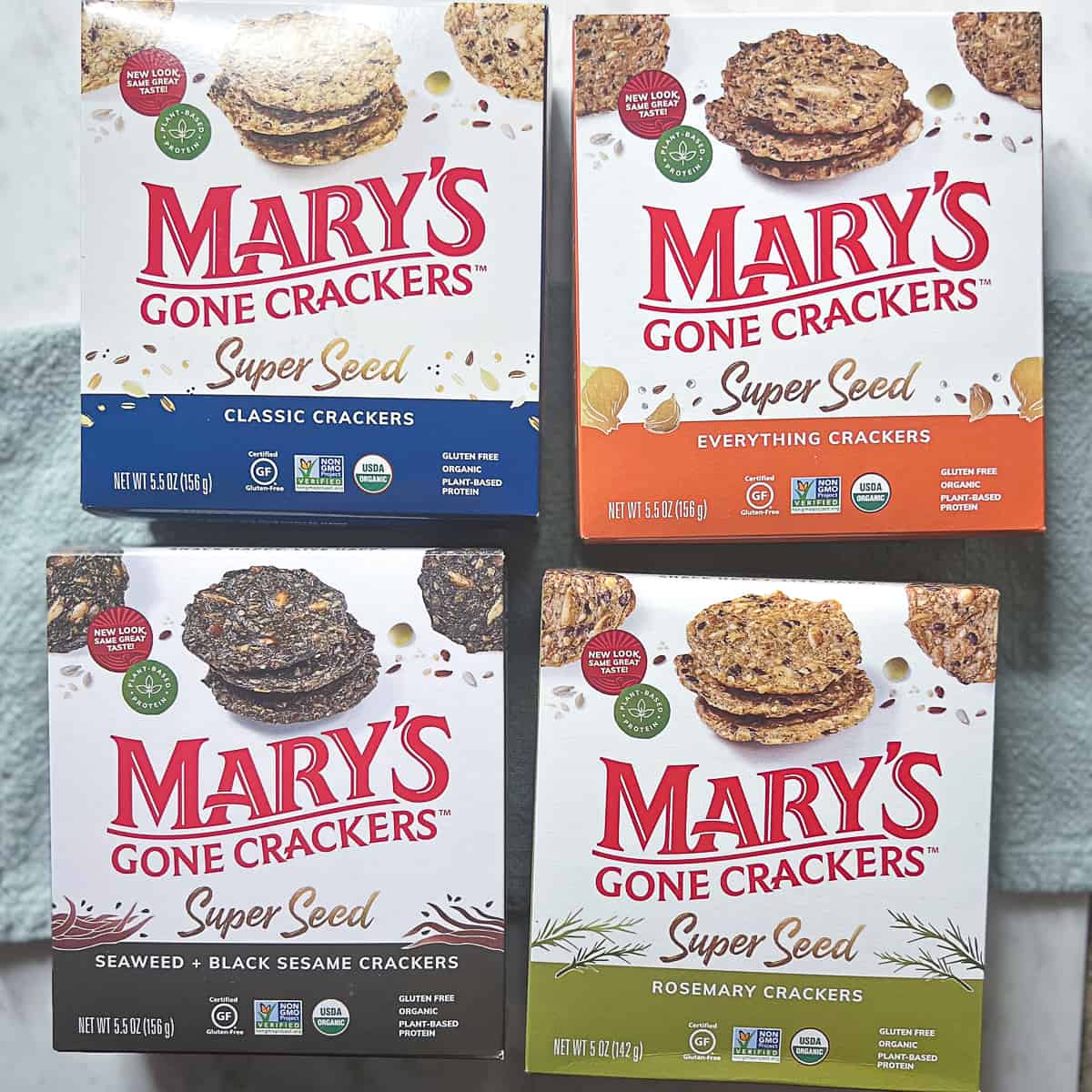 Here's a great food gift for someone who's gluten free or has other food sensitive. Mary's Gone Crackers offers some of the the tastiest organic crackers in a variety of flavors, all which are allergen-friendly. This pack is great to have on hand for holiday snack boards.
Gift box with seasonal ice cream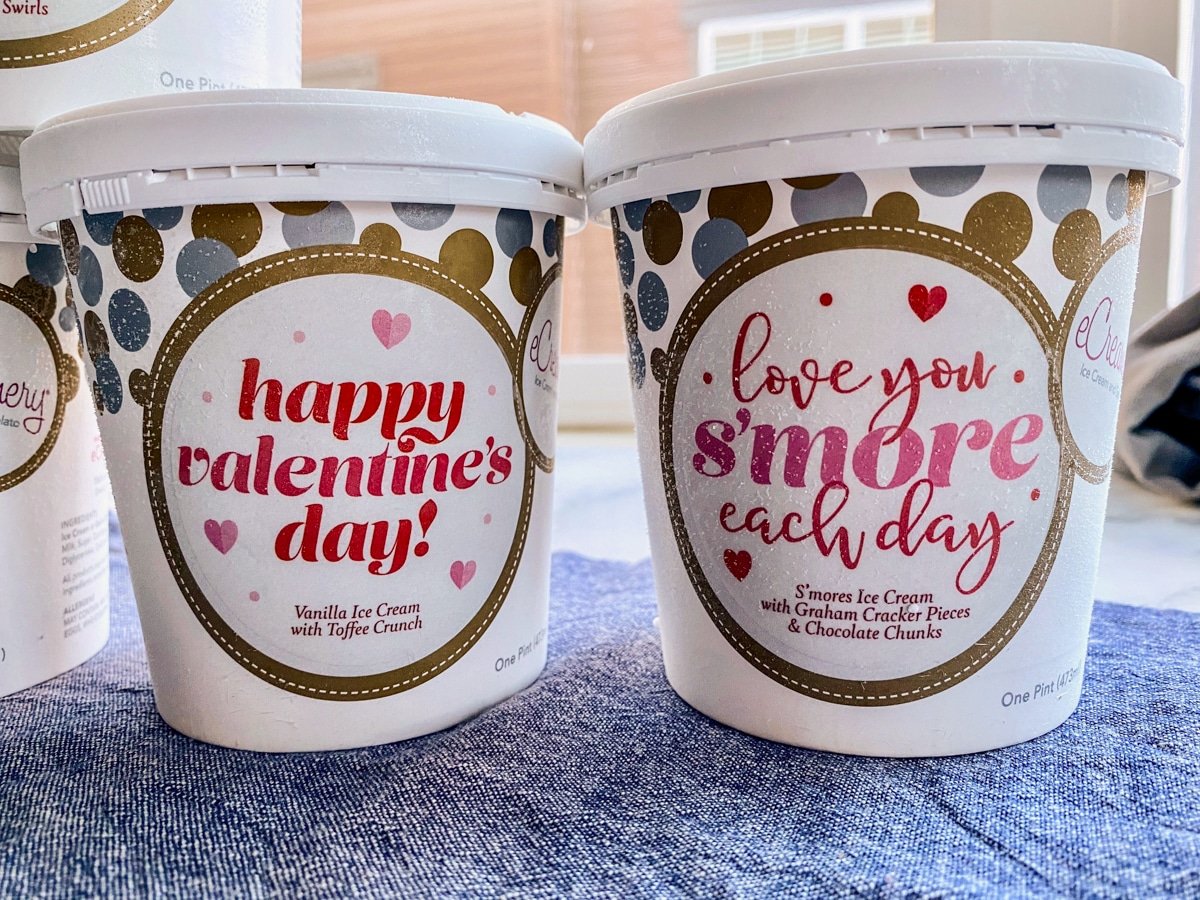 Any season or holiday has it's own special ice cream flavors to try with this company. This particular photo features the Valentine's Day package.
There's also a Christmas ice cream gift box you can send family and friends. And also a "pregnancy cravings" box. Love it. See all of the eCreamery ice cream options.
"Taste of Greece" foodie gift basket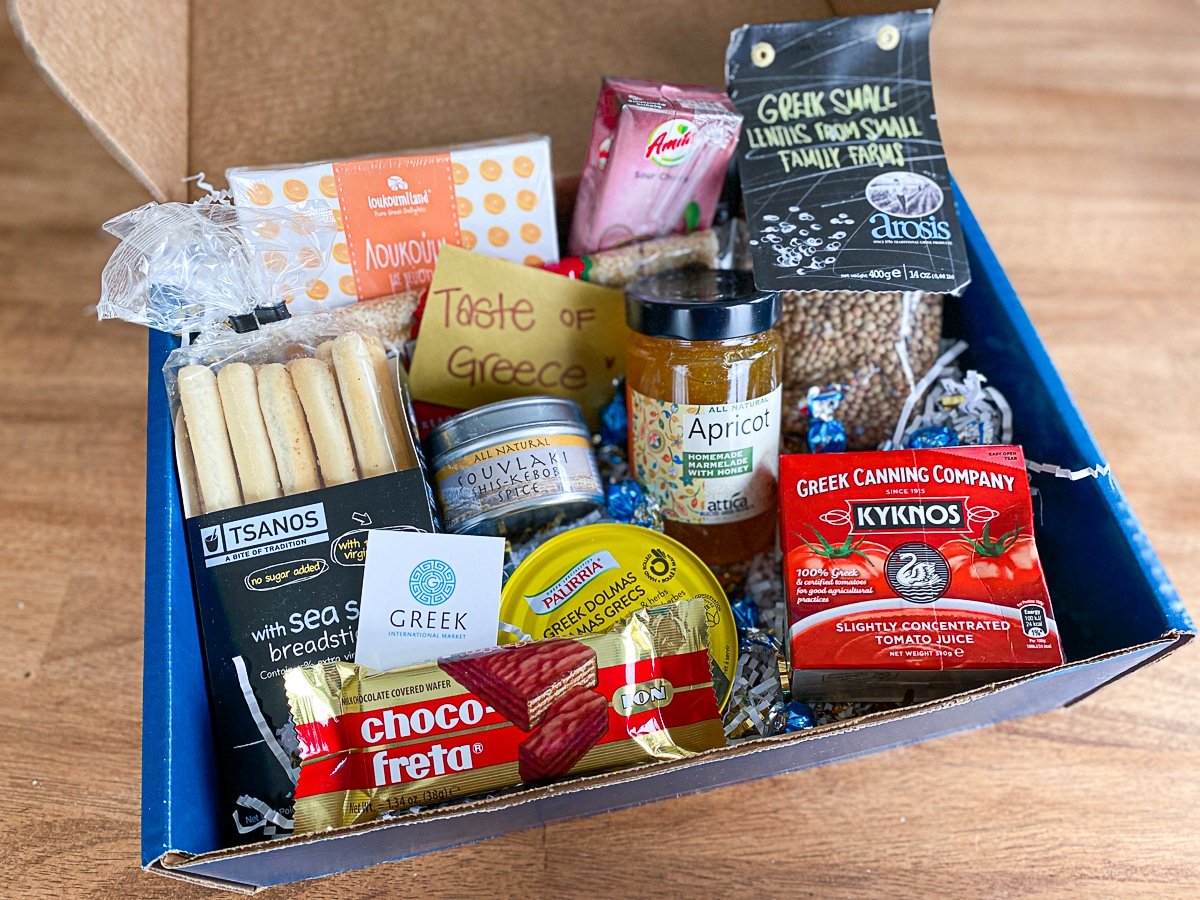 Indulge someone with a plethora of gourmet Mediterranean ingredients from Greek International Food Market.
Choose a dollar amount and one of their Greek food experts will prepare you a box with tasty imported ingredients like pasta, crackers, juice, beans, olive oil, tahini (use it in this kale pear salad), canned dolmas, and more. Order a custom Greek foodie gift basket here.
Luxe caramels for candy lovers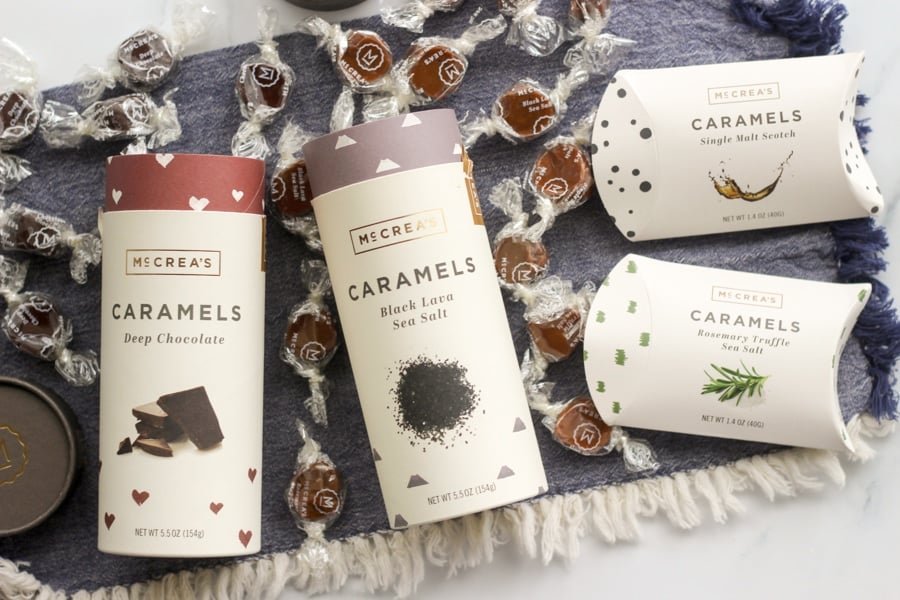 Everything from this candy gift pack is delicious: scotch caramels, black lava sea salt, rosemary. It's a great gift idea for a food lover with a sweet tooth. Shop McCrea's Candies Luxe Caramels.
Italian food gift box for foodies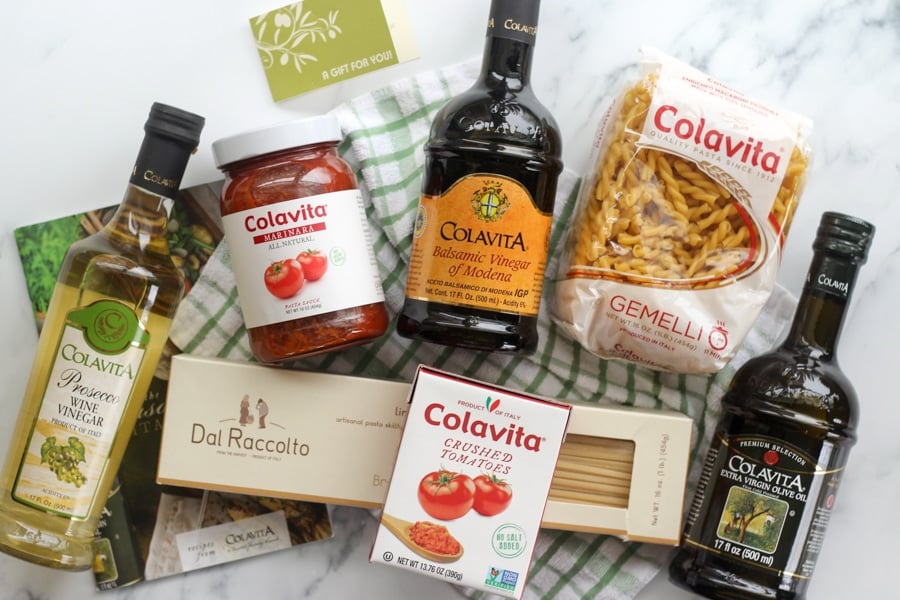 Want to gift an Italian meal, ready to cook? Then try this foodie gift idea – the quintessential Colavita sampler. It includes all the basics: olive oil, wine vinegar, balsamic vinegar, red sauce, linguine, crushed tomatoes (which are perfect for homemade pasta sauce), and homemade pasta.
With ingredients from this kit, you can easily make homemade pizza taste like it came straight from Italy. Everything is high quality, and I love the classy vinegar and oil bottles. Shop Colavita Sampler Tote Gift Bags.
You might also like Vineyards and Wineries That Ship Gifts
Gift pack for seafood lovers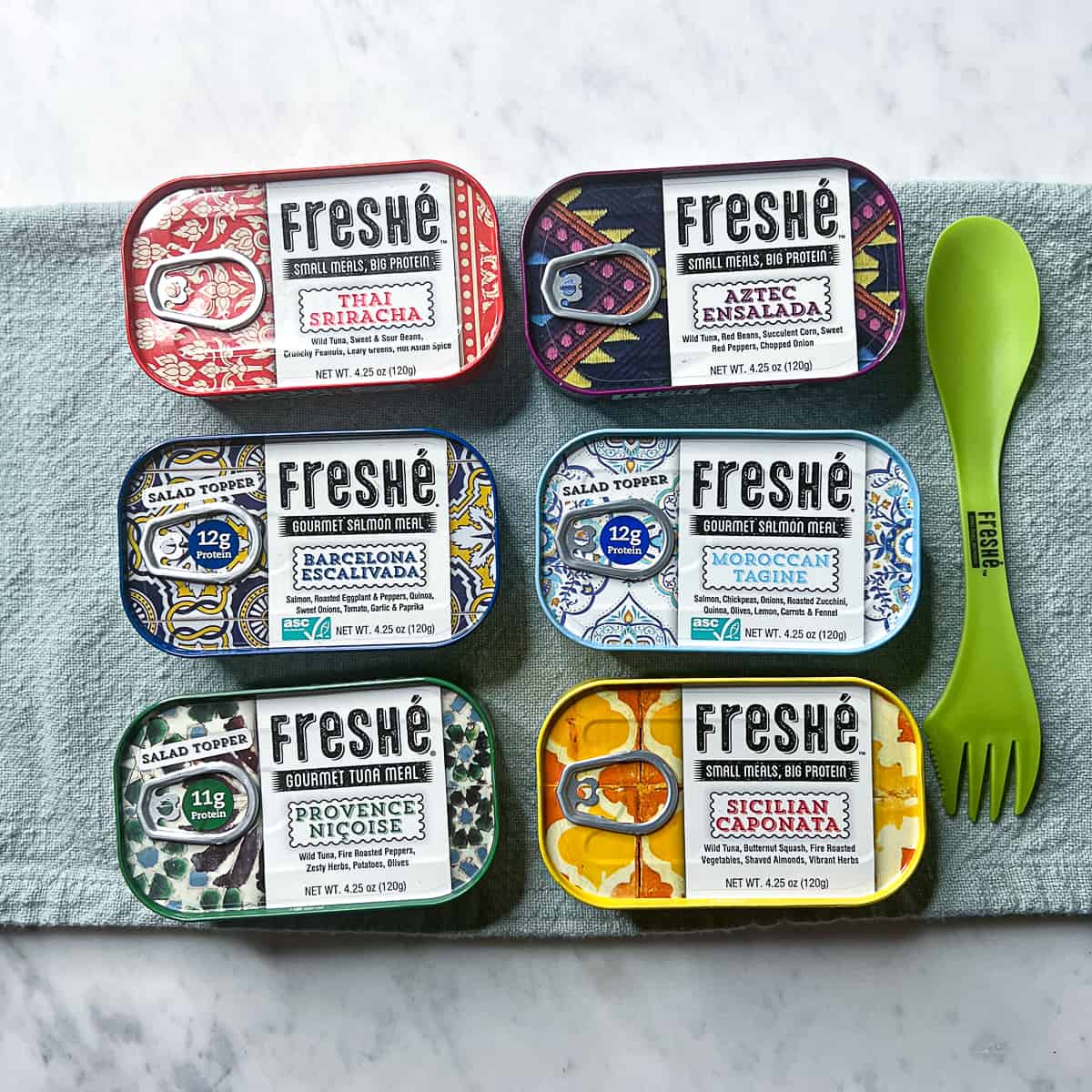 These are perfect stocking stuffer gifts for people who love seafood.
From the coastlines of Portugal and Spain, Freshé brings an old European tradition of artisanal tinned meals to the American shore. They offer a line of ready-to-eat, globally inspired small meals that are made up of simple ingredients and packed with flavor from savory herbs and spices. They're healthy and portable, too.
Meal selections include: Sicilian Caponata, Provence Nicoise, Aztec Ensalada, Thai Sriracha, Moroccan Tagine, Barcelona Escalivada. Shop Freshé on Amazon.
Send a gift box of cookies to make
I love this idea as a food gift to send to kids and families who love baking. We tried the box of chai gingerbread (a modern twist on gingerbread houses) and loved that it came with pre-measured ingredients, an easy-to-follow illustrated recipe card, and tools like cookie cutters. Shop the Innocent Baker cookie gift boxes.
Maple syrup, fresh from Maine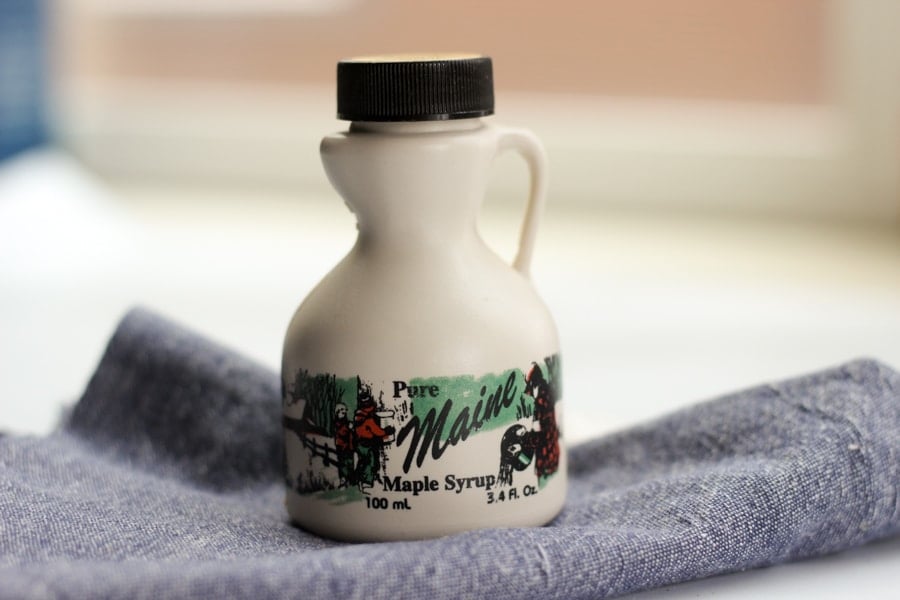 The grade A amber has a rich, full body and is sweet but natural tasting. It can be used as syrup on breakfast breads or pancakes, in holiday baking, or as healthier sugar substitute in any recipe. Shop gourmet Maine maple syrup.
Gourmet coffee gift box for foodies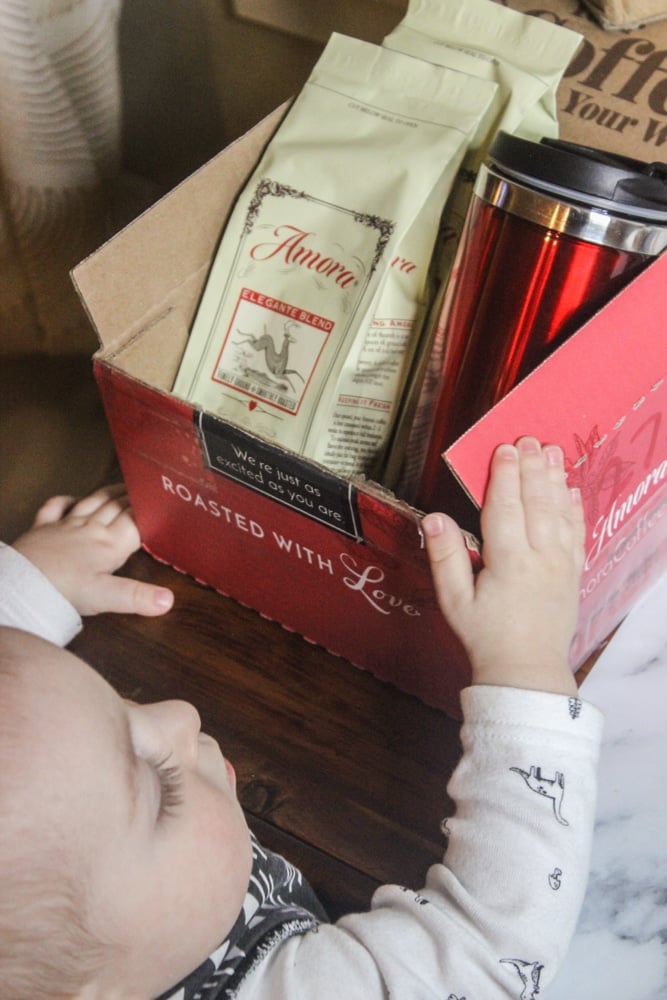 There are people who love their food, and then there are people who love their coffee. This company offers a monthly coffee subscription. Shop Amora Coffee.
Fine Italian coffee gift box
Do you need a gift for a foodie who loves the finer things in life? This coffee can be found in high end establishments like select Four Seasons and the Bellagio in Las Vegas.
Caffé Umbria from Seattle makes a smooth medium roast coffee with notes of fig and milk chocolate called Gusto Crema. It's great as both espresso or coffee by the cup.
Shop Caffé Umbria coffee on Amazon or visit their site for monthly subscription gifts.
Gourmet K-cups gift box for coffee lovers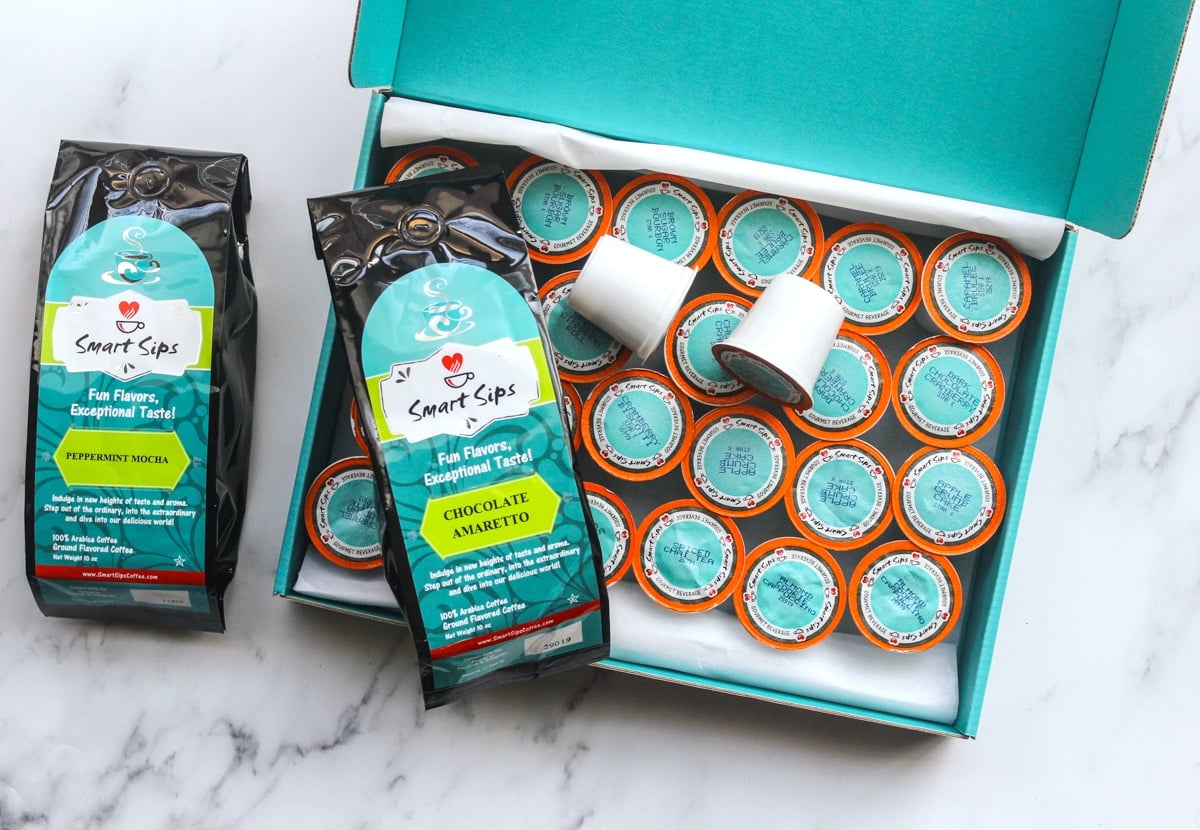 Smart Sips sends gourmet coffee in either grinds or pods to caffeine lovers. Order a one-month supply of coffee pods in a sampler pack filled with chocolate and fruit flavored coffees and cappuccinos.
Shop gourmet k-cups like their Brown Sugar Bourbon on amazon.
A gift for a foodie who likes to cook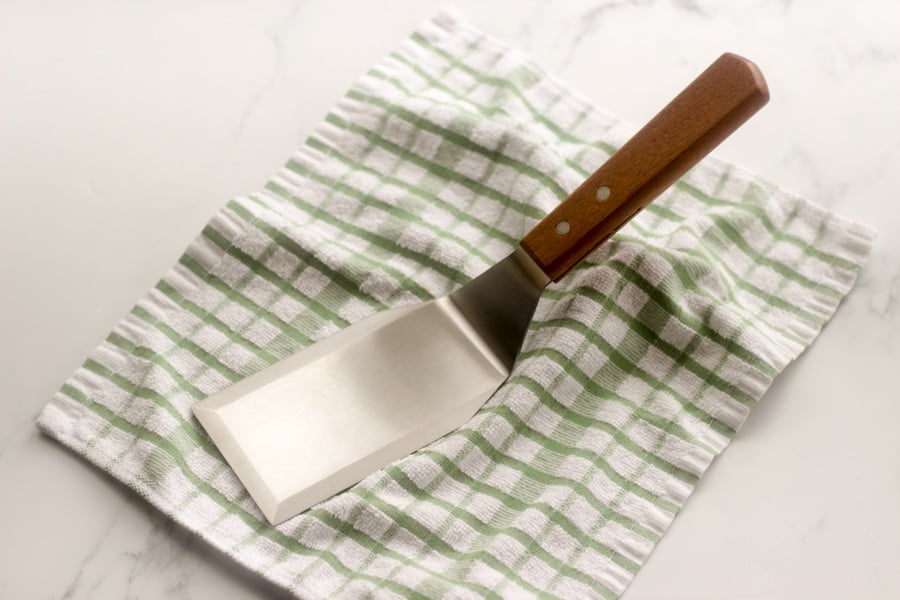 A spatula made for nonstick pans like cast iron skillets? Yes, please! Shop this heavy duty spatula.
I interviewed the owner of this kitchen equipment company on the Sip Bite Go Podcast on an episode on how to launch kitchen item crowdfunding campaigns with tips from MannKitchen's founder!
Drinks for foodies (beer, wine, spirits)
If your foodie friends are more into drinks than eats, here are some suggestions that may make their day.
A stash of Prosseco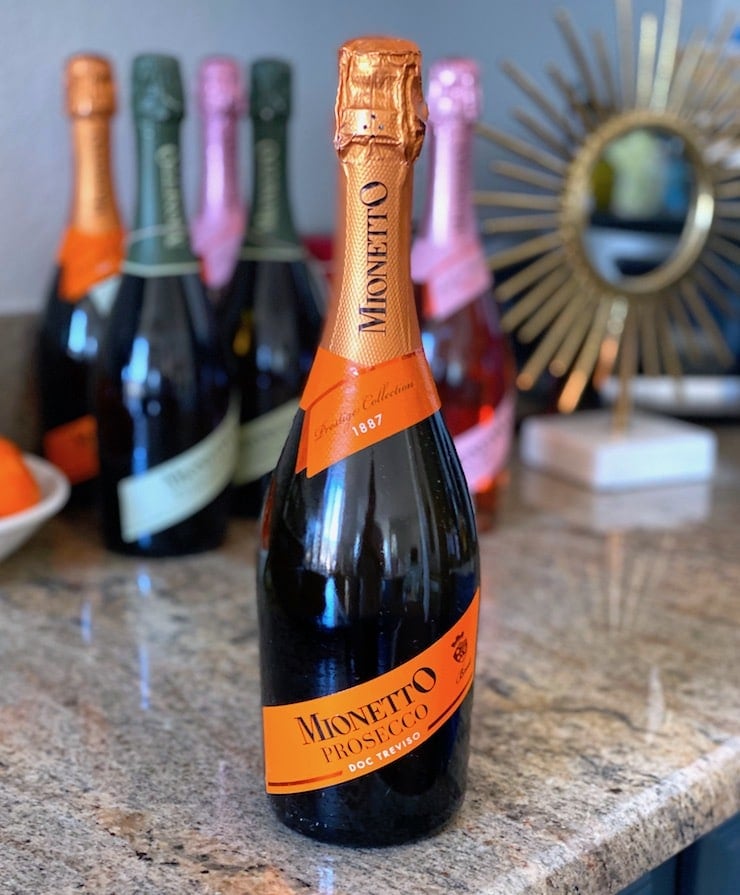 The foodie in your life can throw a fancy brunch any time when they have a stash of Mionetto Prosseco at hand. This brand is very widely available and they make tasty bubbly. Get a sampler of their flavors, including my favorite – the rosé.
Drink them straight or make a cocktail with Mionetto Prosseco – like these pineapple mimosas.
Wine glass gift "Shiraz On The Shelf"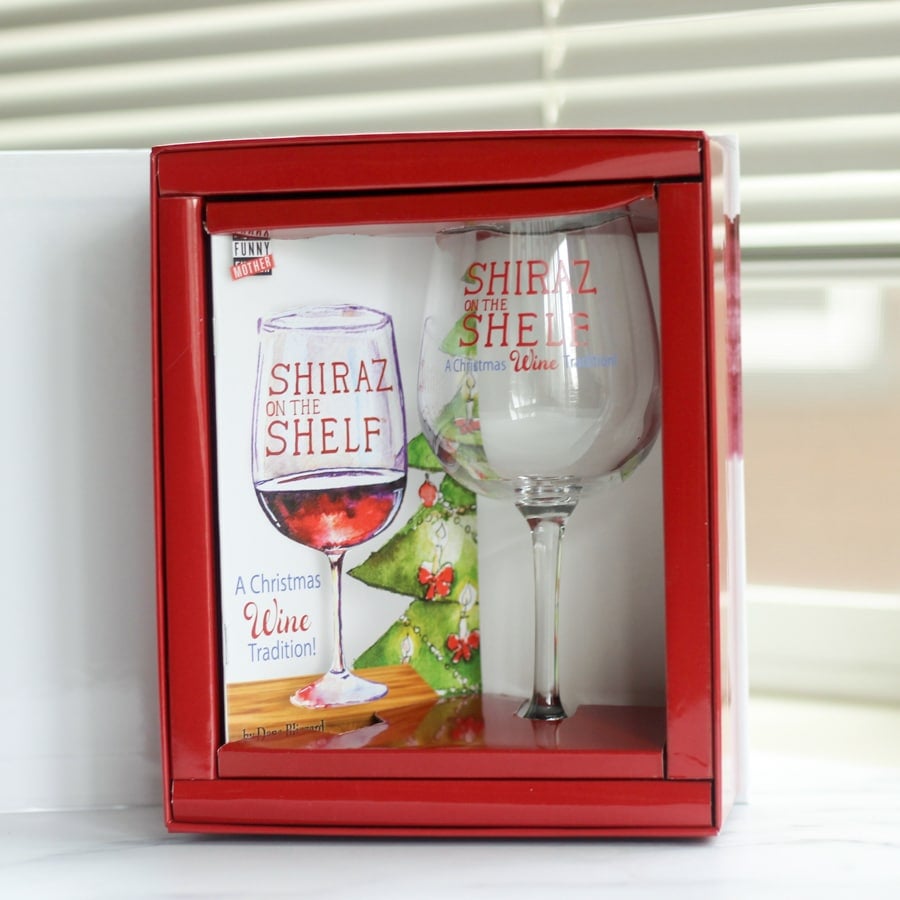 This perfectly packaged gift set includes a designed wine glass and hilarious illustrated booklet with your new favorite inappropriate Christmas poem. Shop Amazon for Shiraz On The Shelf.
On-the-go wine glasses
These glasses actually keep your drink to within two degrees from when it was poured, ensuring it tastes the way it was meant to be from start to finish. Shop Snowfox wine glasses.
Use these for a backyard BBQ so you can safely sip Chardonnay while grilling sous vide shrimp kebabs.
Cookbooks for foodies
No foodies gift guide would be complete without cookbooks! Here are a few interesting cookbooks for foodies…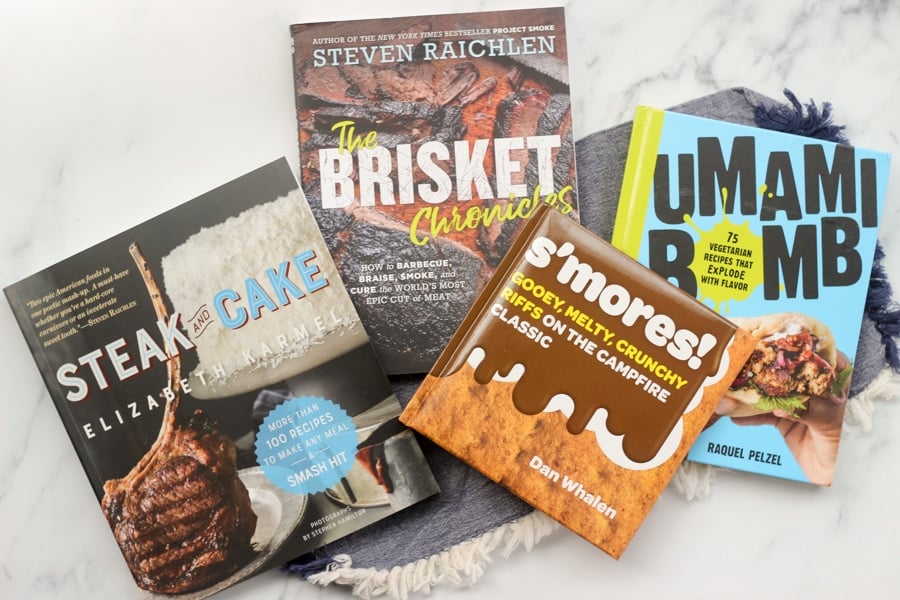 The Brisket Chronicles

is for anyone who loves to BBQ, braise, smoke, and cure meat.

Steak and Cake

has more than 100 recipes to make juicy steak, tacos, and to finish it off: cake!

Umami Bomb

celebrates the most beloved unami-packed dishes.

This

S'mores

cookbook is filled with more than 50 playful recipes. It's perfect for people with firepits and people who love to camp.
Get them my cookbook: The Home Chef's Sous Vide Cookbook
Foodie tech gift idea: sous vide cooking tools
If you're unfamiliar, sous vide cooking is done underwater and is a fun hobby for foodies, especially people who love perfectly cooked steak.
Here's what you need to sous vide…
A

sous vide bucket

to hold the water "sous vide bath" that the food cooks inside.

Vacuum sealer

and bags or

plastic gallon bags

to cook food.
A sous vide machine like the

Anova

,

Joule

, Instant Pot Slim
A couple sous vide recipes to check out here: sous vide turkey, sous vide chicken wings, sous vide Brussels sprouts.
Multipot with sous vide function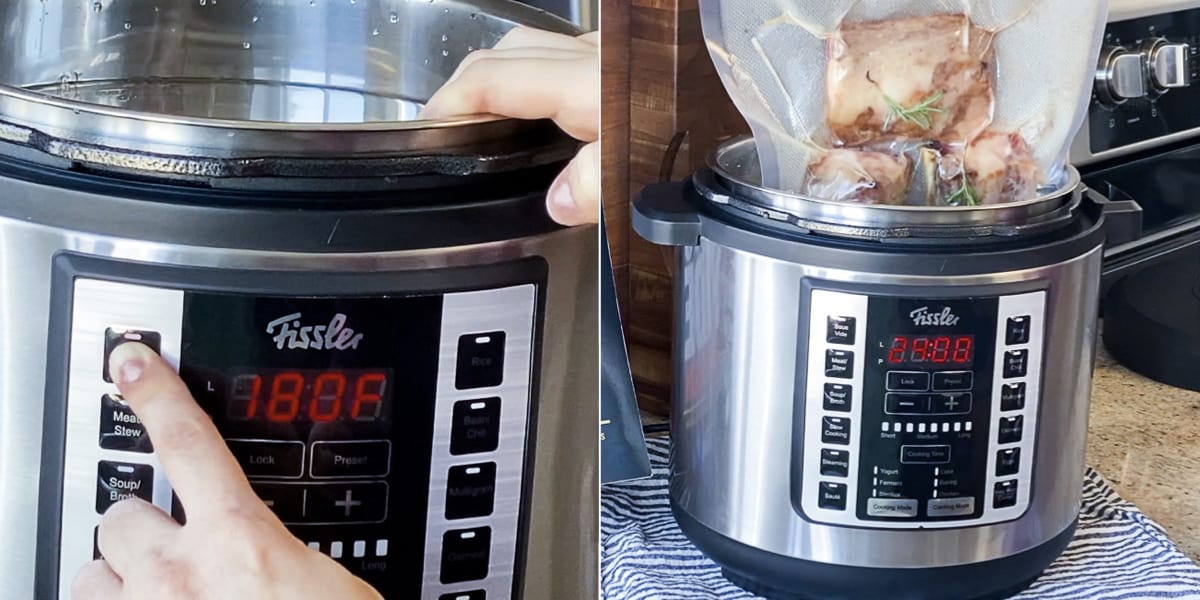 Make anything from bread to yogurt in just a matter of hours! You can even sous vide too and pressure cook rice and soups. Check out the Fissler Multi-Pot on Amazon.
Love to sous vide? See my favorite sous vide recipes like sous vide chicken wings and sous vide turkey breast.
Maple syrup gift for whiskey lovers
This syrup is aged in whiskey barrels for a flavor like no other! The foodies in your life will be shocked at how scrumptious it is! The flavor is unbelievable on pancakes, waffles, and even bacon. Check out this syrup from Finding Home Farms.
What looks good to you?
Hope this helped you find the perfect gifts for people who love cooking, hosting, and eating good food.
Let me know if you have more ideas for the best gifts for foodies! And don't forget to sign up for the Sip Bite Go newsletter for the latest foodie news.
See tasty recipes for holidays