See what the Turkey Blend Traeger Pellets are all about. And why I love them for smoking foods for Thanksgiving. Plus, get my recommendations for tasty smoked Thanksgiving turkey and other holiday dishes to make with turkey pellets, too.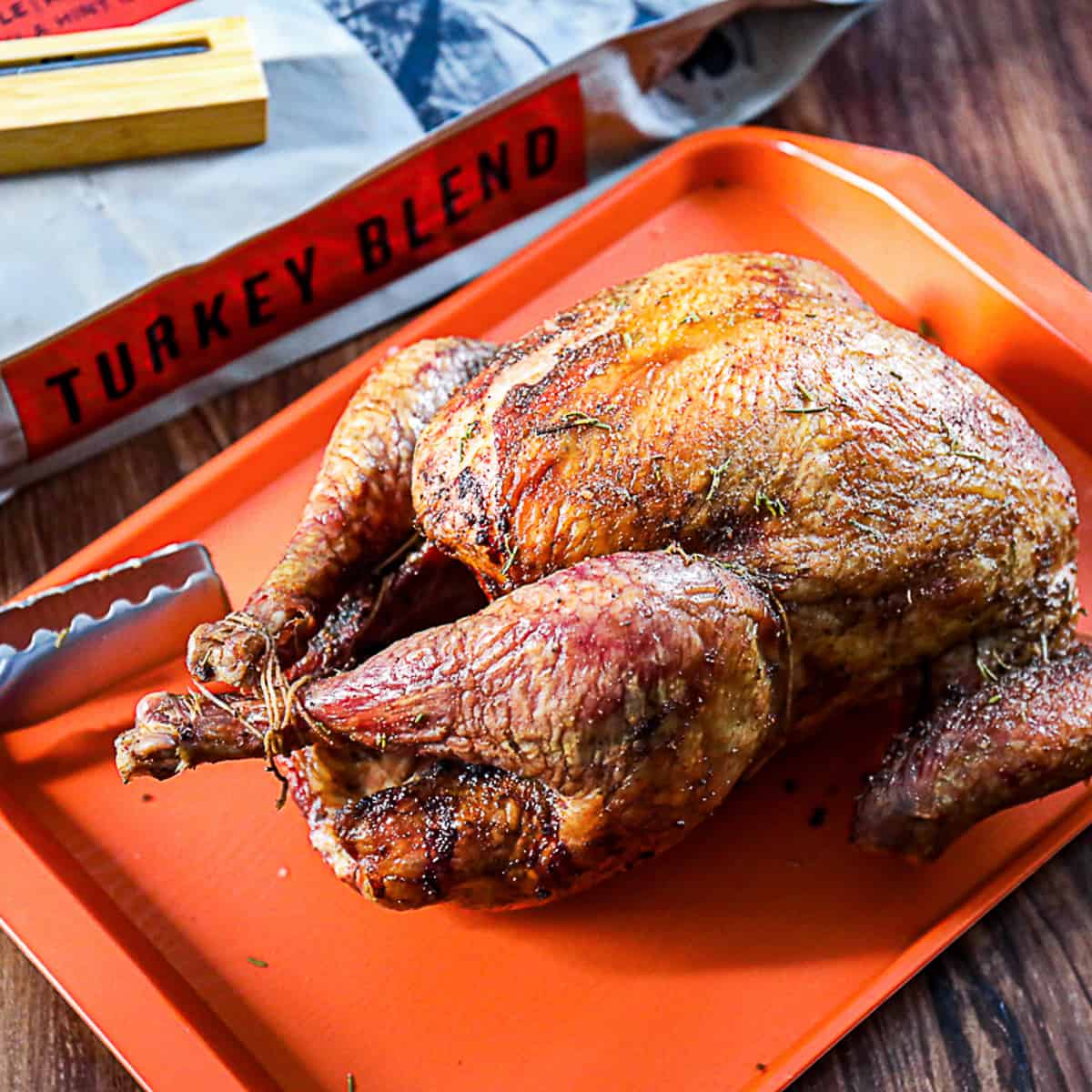 What are the Thanksgiving Traeger Turkey Pellets All About?
Last year while I was putting together my modern Thanksgiving menu, Traeger reached out and asked if I would work with them on a smoked Thanksgiving turkey recipe…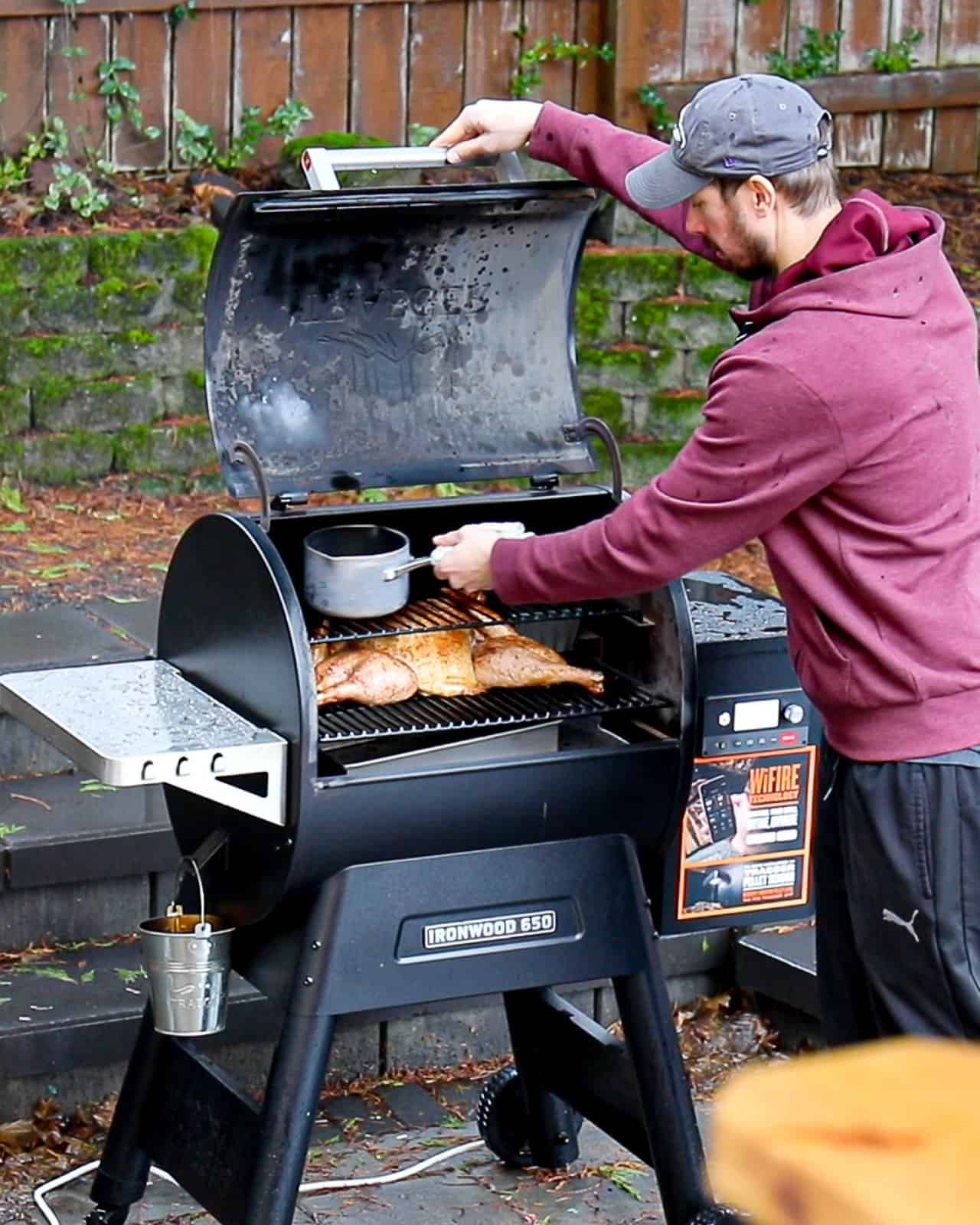 Below I'm also sharing what to smoke with turkey pellets.
HEY FOODIES — Follow SBG for new Thanksgiving smoker recipes on Instagram / TikTok
Are Turkey pellets good?
Yea, I sure think so! I was able to test them first while working on the turkey recipe for the Traeger Thanksgiving campaign.
The particular thing I found notable was how it worked so well with the flavor of rosemary in my smoked whole turkey recipe.
See my review of the Traeger Fin And Feather Rub…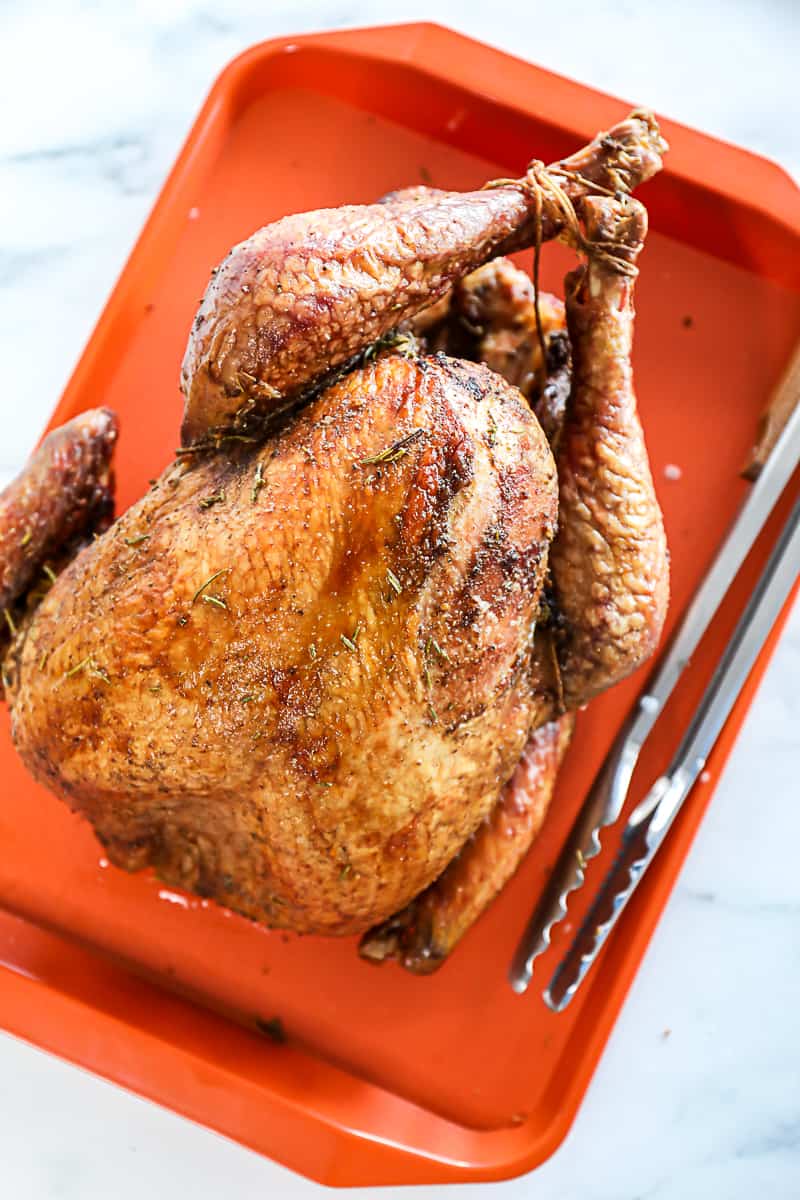 The pellets worked well for a variety of dishes, so I didn't have to keep changing out the pellet flavor while cooking the thanksgiving meal.
Below you'll see a list of my favorite pellet grill Thanksgiving recipes.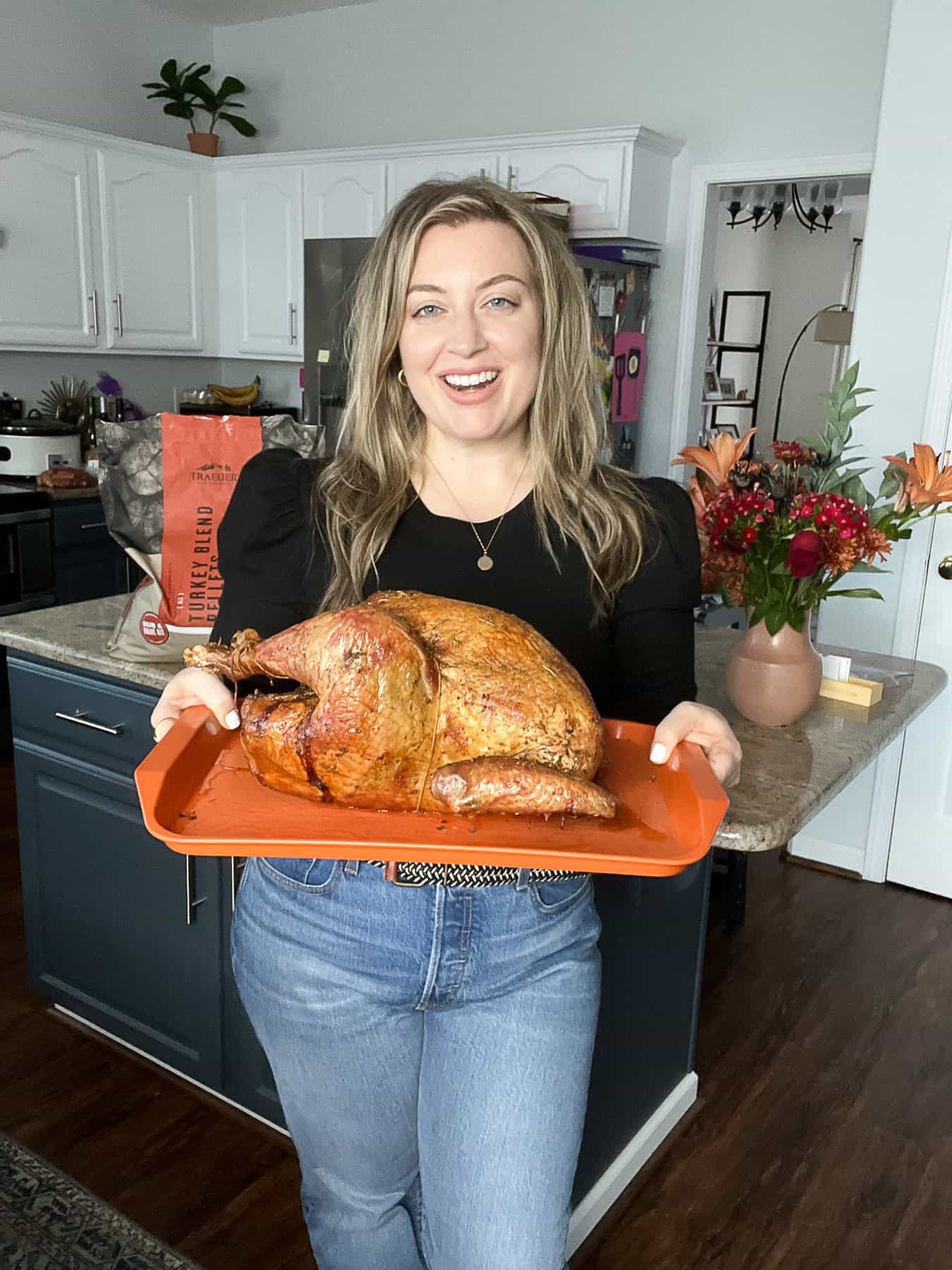 Where to buy Thanksgiving smoker pellets
I found they sold out of stores like Ace fast last year. And I didn't see them at Costco at all. So there are places online where you can buy turkey pellets for smoking Thanksgiving foods…
See this Traeger Provisions review…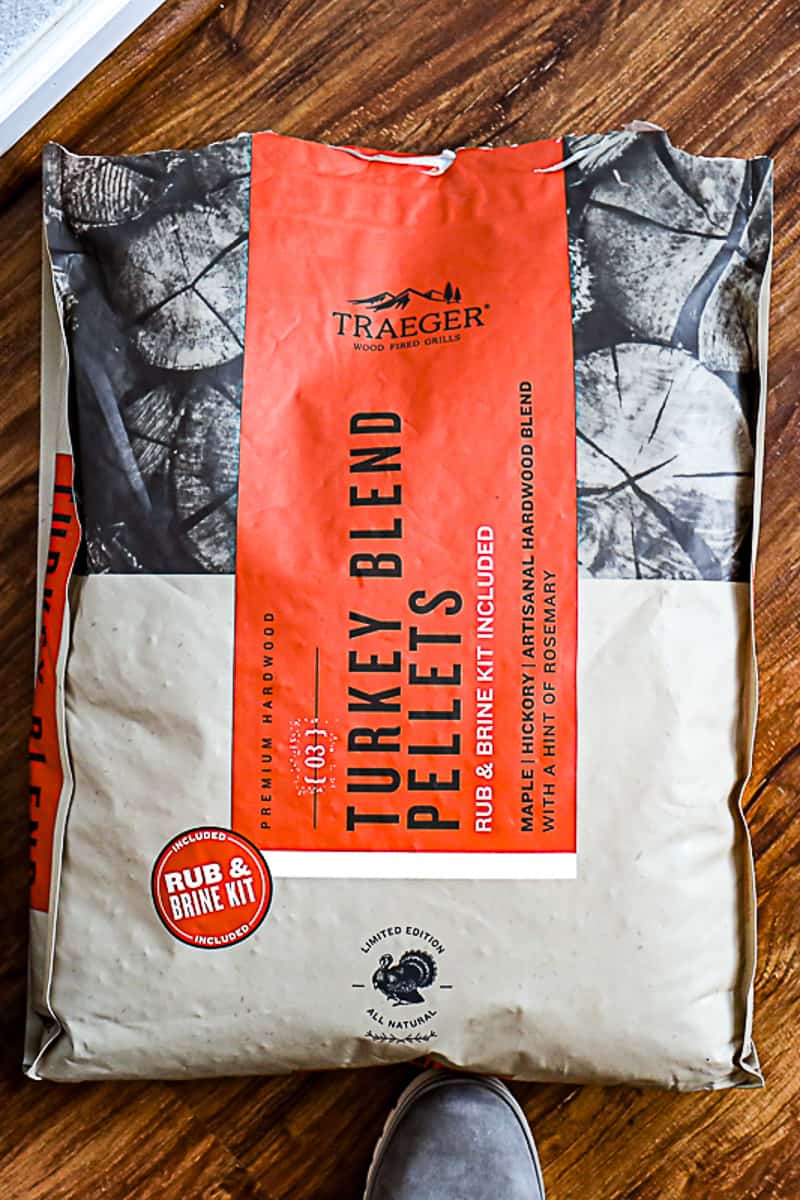 Loading up our Traeger pellet grill with Thanksgiving pellets
Above we are loading up our Traeger Pellet Grill Ironwood 650 and firing it up to smoke corn on the cob.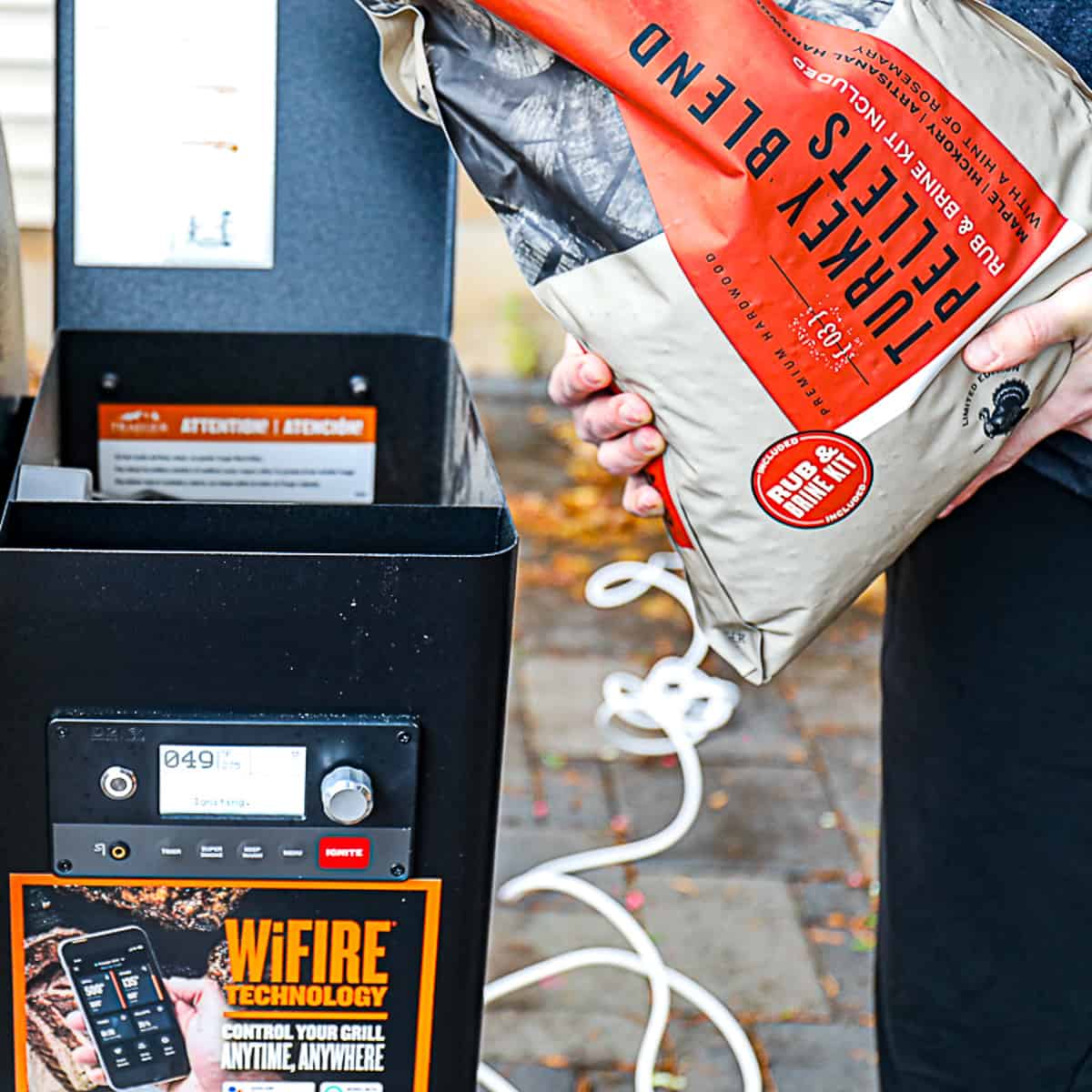 Pop in the Traeger Turkey blend pellets and make sure to keep refilling them if you're smoking for a long time using the smoker.
The Traeger WiFire technology can keep you updated on how full of pellets your hopper is.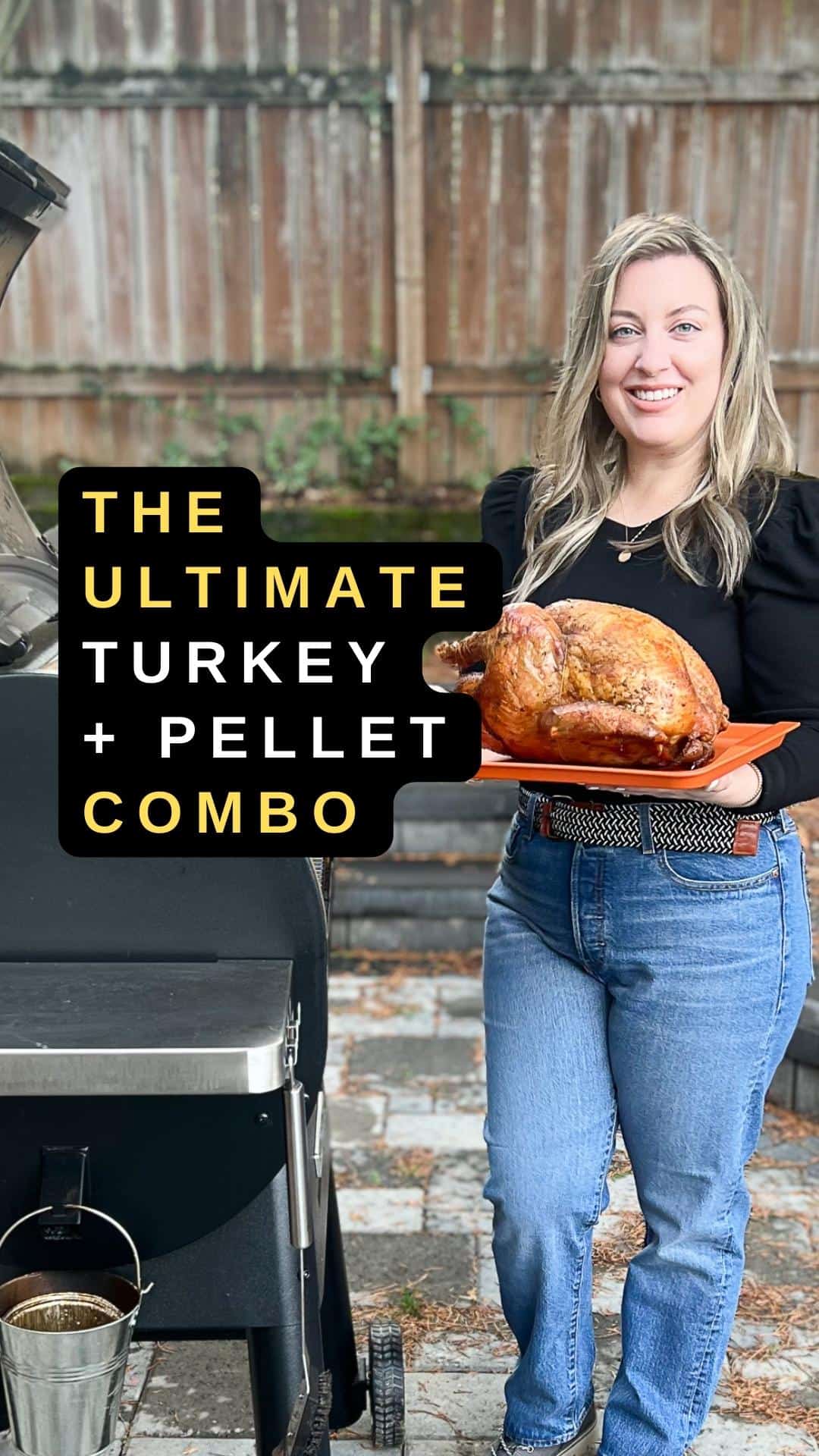 See how to get more smoke flavor from your favorite Traeger dishes…
Recipes to use with Traeger turkey blend pellets
Here are some of my favorite traeger Thanksgiving dishes…
Traeger smoked Thanksgiving turkey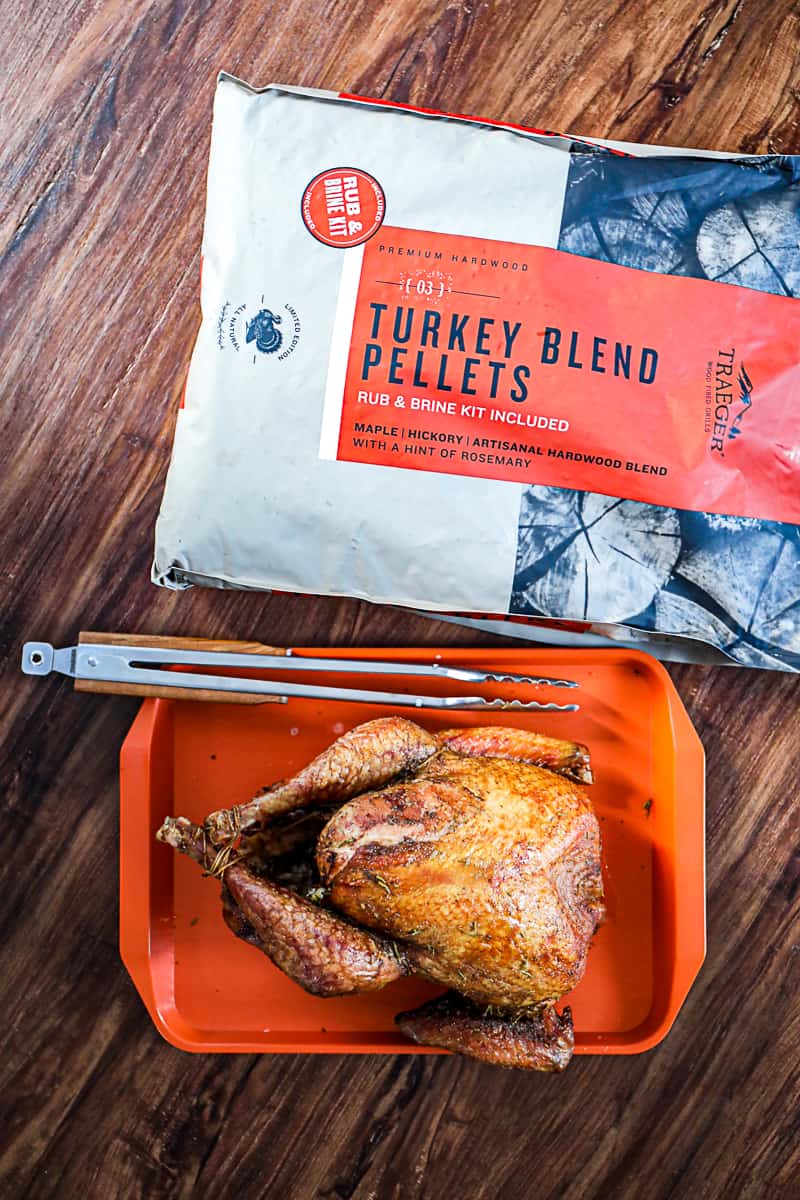 You can make a traditional whole bird smoked turkey, or serve it another way, as a smoked spatchcock turkey.
Both options are delicious and are ready in less than half a day.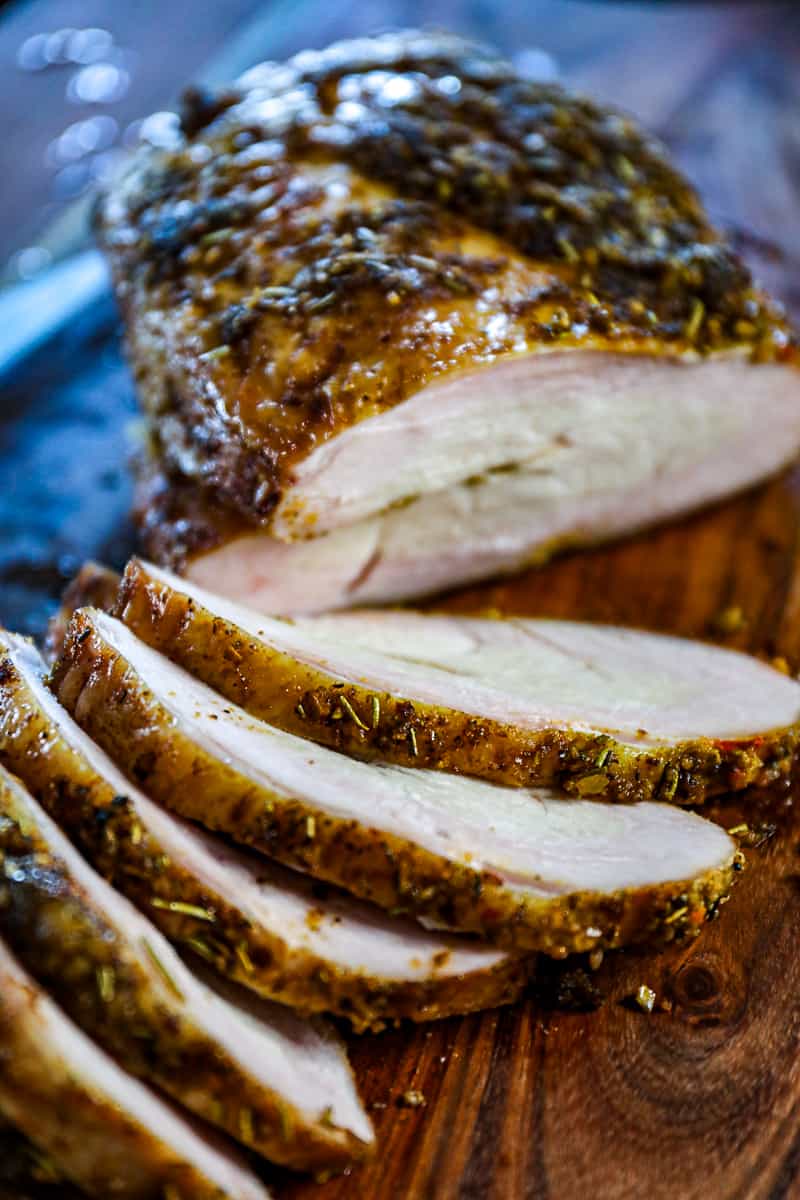 For a smaller crowd, serve smoked turkey breast. And soon, I'll share my version of stuffed turkey on the Traeger.
See my list of beginner-friendly Traeger recipes…
Smoked mashed potatoes side dish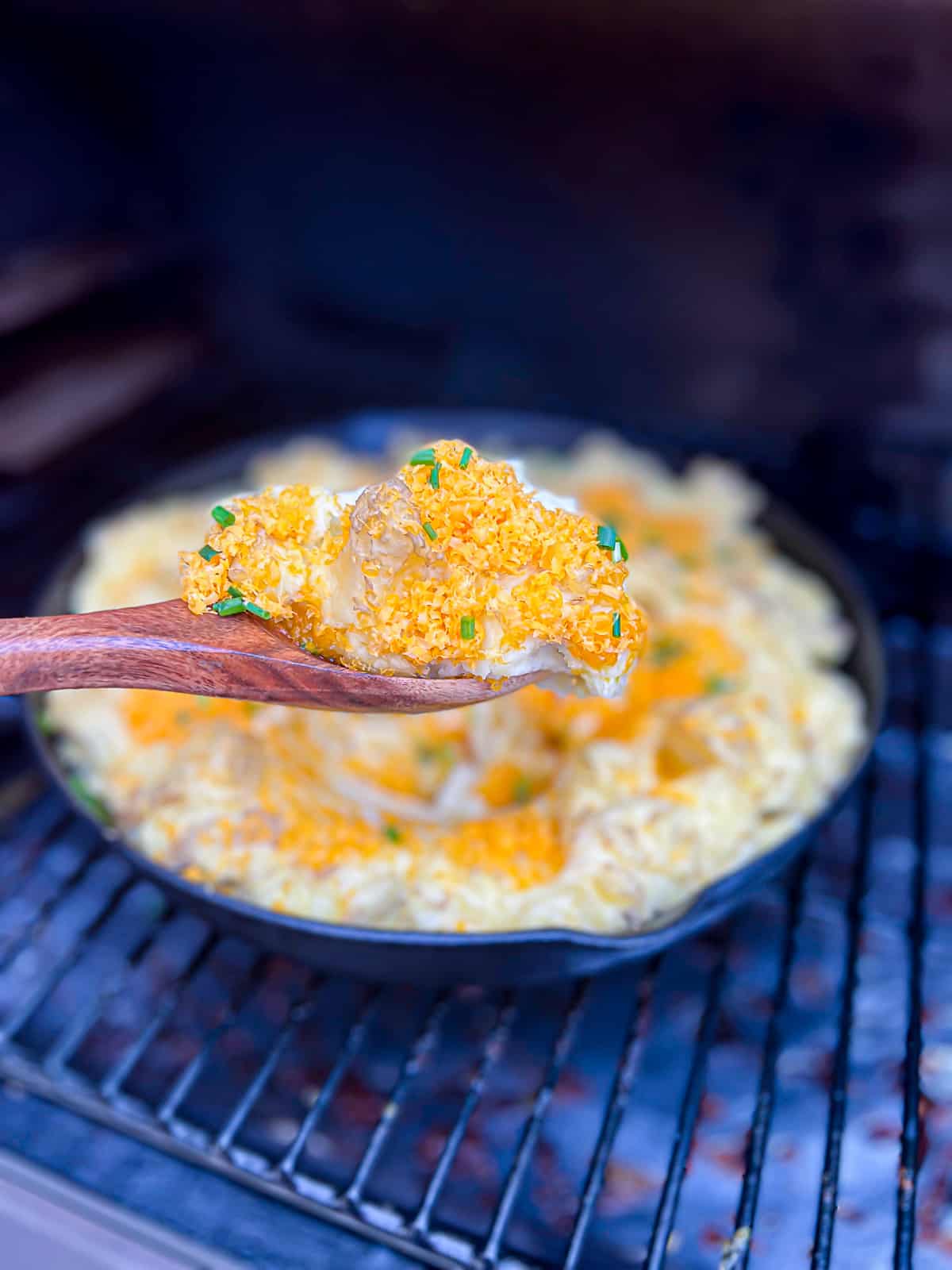 I find the flavor of the Traeger turkey pellets are great for smoked side dishes like the smoked mashed potatoes in the photo above, smoked asparagus, smoked cornbread…
And smoked butternut squash.
Check out new smoked food recipes…
Smoked desserts
You just can't go wrong with smoked peach cobbler and pie…
You have to see this smoked apple pie recipe.
The secret for tasty Traeger smoked apple pie is to cook down the apples on the stove first and make a yummy caramel sauce with the flavorful brown sugar / butter / cinnamon / lemon goodness that's left after cooking the apples.
Smoke pie with Turkey pellets at 350 degrees Fahrenheit for about an hour.
Another great option is my simple smoked cake recipe. You can top it with any fruit you'd like, my favorite is smoked pineapple.
How to add turkey blend pellets to the Traeger
To add the turkey blend pellets, open up the hopper and pour them in.
Make sure to seal the Traeger pellet bag tightly so no moisture gets in and store it in a cool, dry place in between smoking chicken breast and all the other good things you're cooking up next!
See the best game day smoker recipes…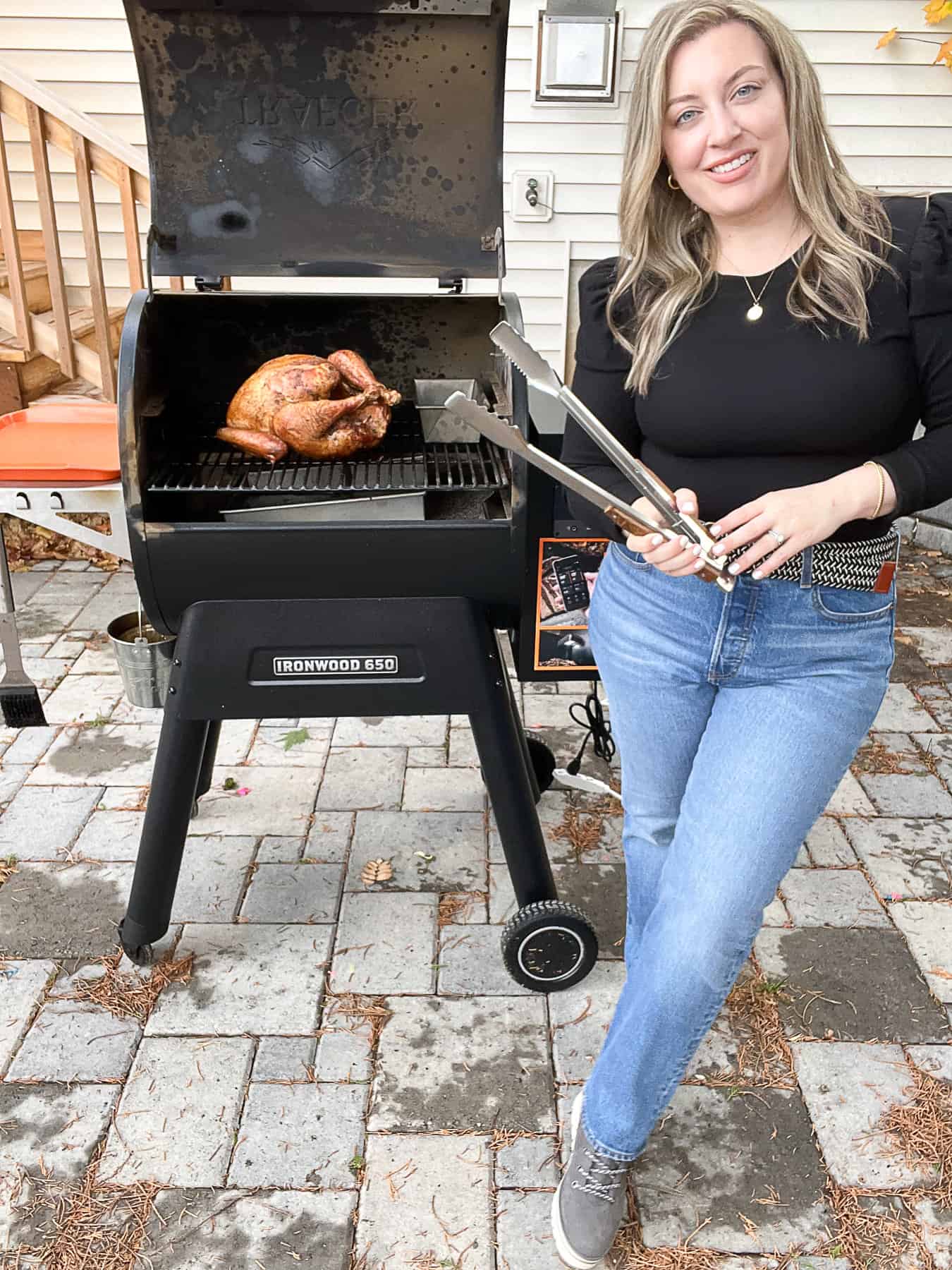 Shop the Traeger turkey pellet blend with brine kit.
Shop just the Traeger Smoked Turkey Pellets.
Check out this video of smoking turkey with Traeger Thanksgiving pellets
See more on smoked foods for the holidays
1 – See the Sip Bite Go review of Traeger Turkey pellets.
2 – See what's in the turkey brine kit.
3 – Check out these tasty holiday dishes to smoke on the pellet grill…
Are you a foodie, too?
Connect for more smoked food tips on Instagram / TikTok / YouTube.
And find something good to smoke next from the Sip Bite Go recipe collection.
More Tasty Grill + Smoker Recipes
See this Traeger Flatrock grill review.
See my favorite smoker tools and seasonings in my Amazon Storefront.
Meat thermometer recommendations
Every home chef needs a reliable meat thermometer to cook food perfectly.
On Sip Bite Go, you'll often see me using:
Meater thermometer – a fancy wireless thermometer that connects to a phone app – gifted to me from a Traeger partnership.
ThermoPro digital thermometer – which has a wire that connects the thermometer to a display box outside the oven/grill.
It's like being psychic! The great thing about either of the thermometers above is that I don't have to take the food out of the oven to know the temperature.
How to use 'em… What I do is stick the digital thermometer in steak, pork, chicken, whatever… Then put the food in the oven, on the smoker, or grill.
While the meat cooks, it reads the temperature so I know exactly what temp meat is as it's cooking. Without having to take it out and check. It's really difficult to overcook food when you know exactly what temp it is inside!