See the Porchetta Box review, with a video and photos right here… This Traeger Provisions Box is great for people who want to try cooking a smoked porchetta for a crowd, complete with sides and all the fixins. Thanks to Traeger for sending this kit to smoke! All opinions are my own.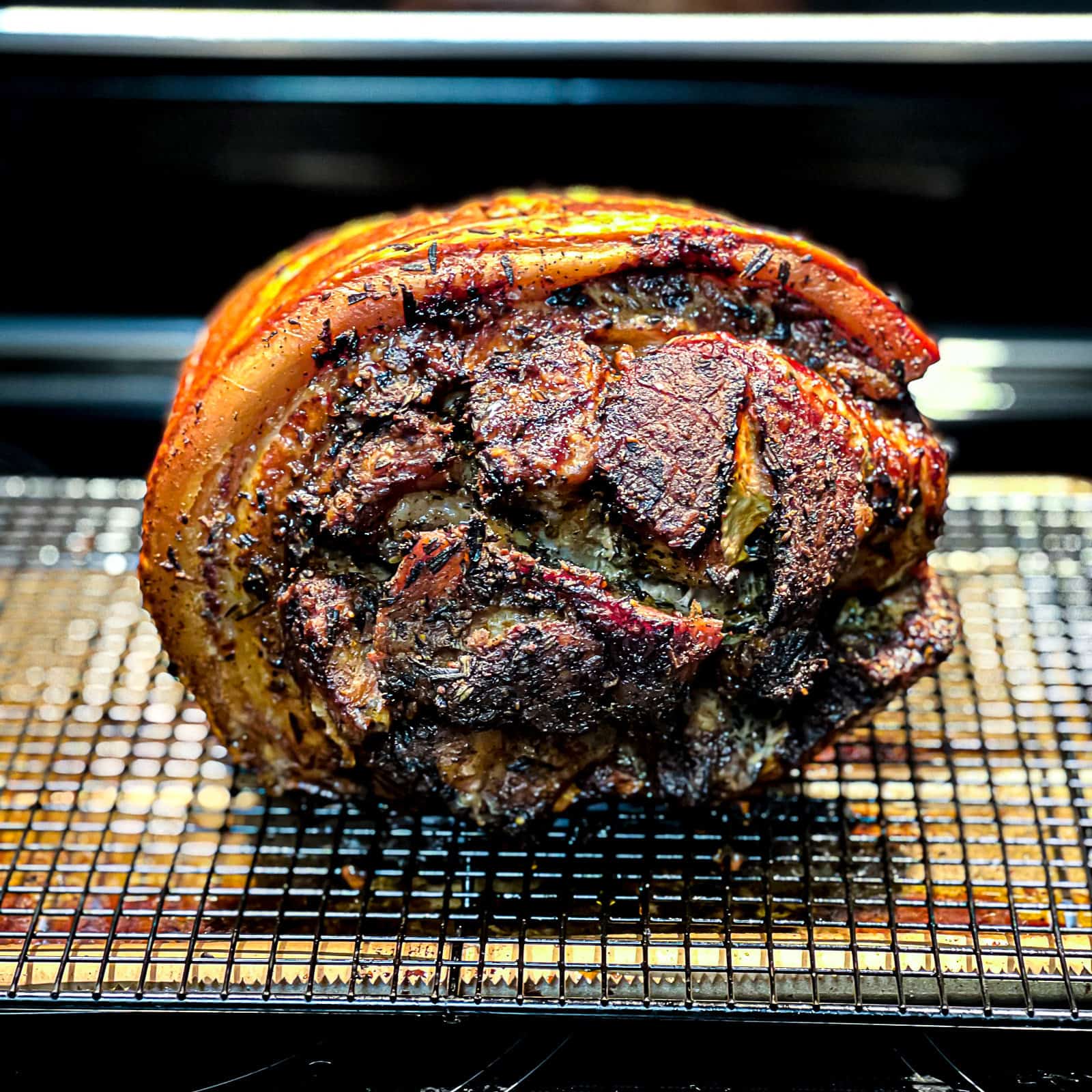 Today I'm sharing all the details on the Traeger Porchetta delivery box.
Follow SBG for new recipes on Instagram / TikTok…
What's in the Porchetta Traeger Provisions meal box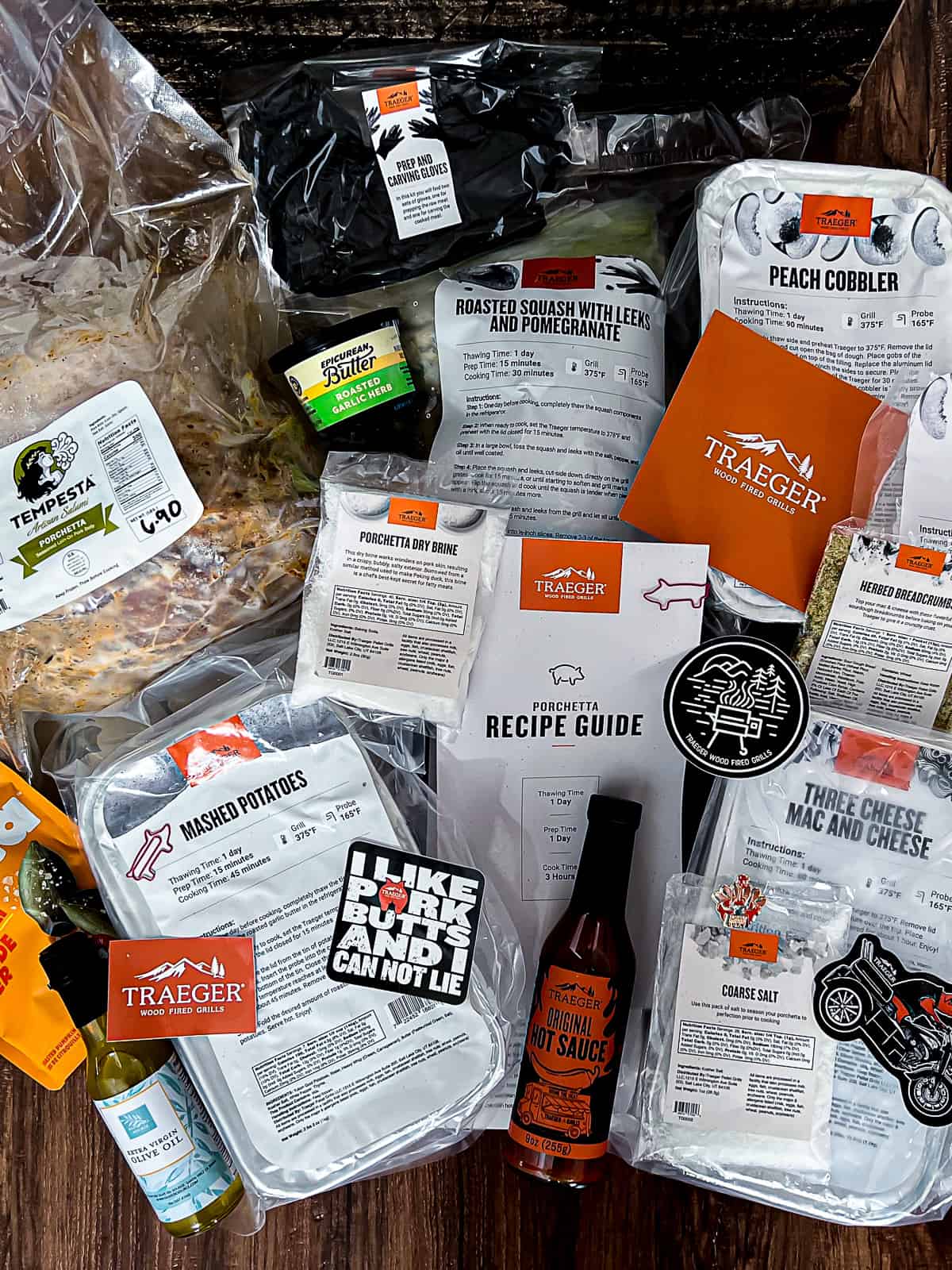 Italian-style porchetta (seasoned and ready to go!)
Side dishes (mac and cheese, mashed potatoes, squash salad)
Dessert (fruit cobbler
Accessories (gloves, swag)
Hot Sauce
Olive Oil
Butter
More Traeger gift items
Specific recipe instructions for smoking the meal kit for the Traeger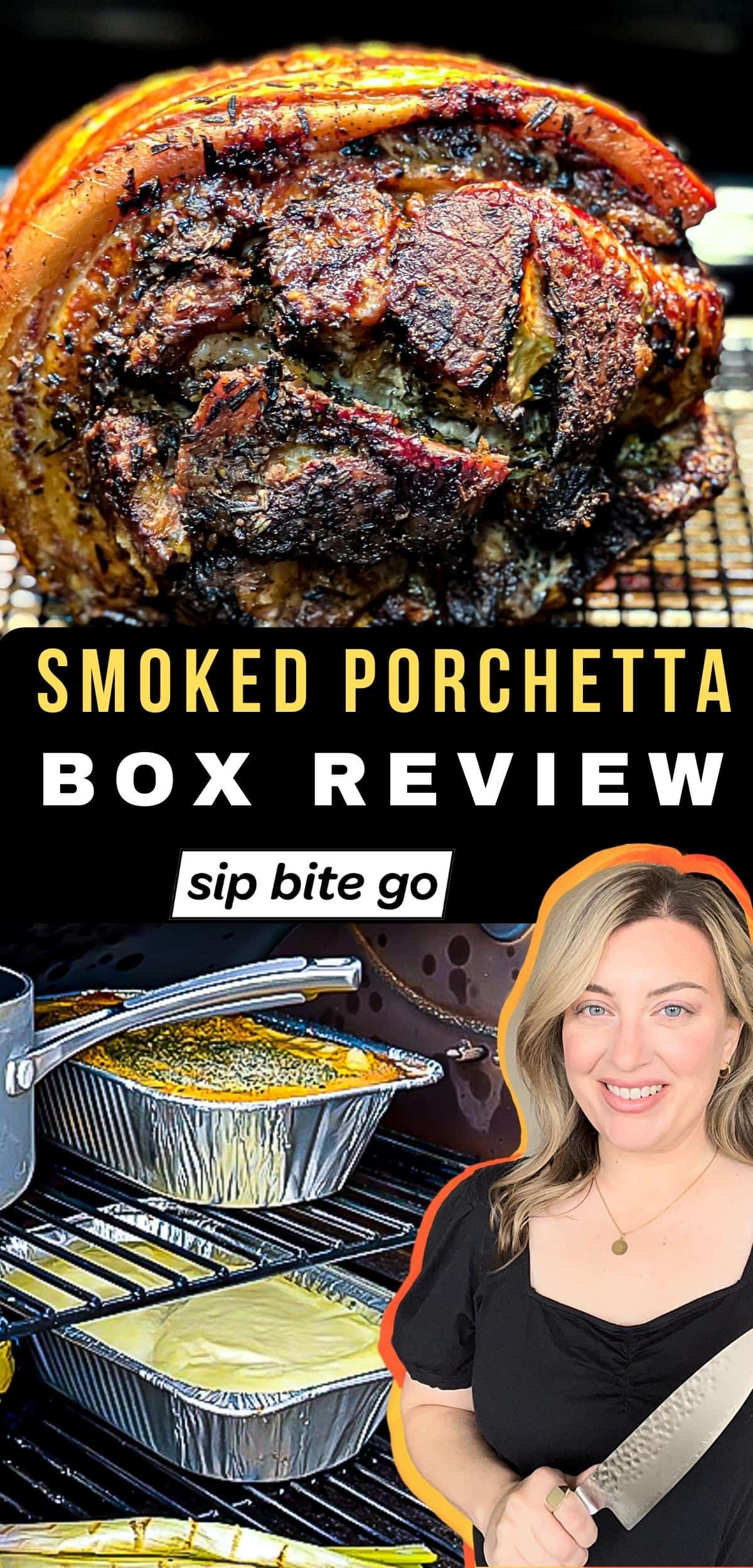 See yummy Traeger recipes…
How many people does a Traeger food box feed?
Plan for about 12 people, possibly more…
They have a variety of other Christmas holiday and Thanksgiving meal options like smoked brisket kits, too…
How much are Traeger Provisions boxes?
They're around $250 each.
See my reviews of the Traeger pork and poultry rub and Traeger turkey pellets…
See the Traeger Provisions Porchetta unboxing & review video
Tips for ordering and cooking this Traeger Provisions Box
Plan a few days of thaw time before smoking porchetta.
Check the recipe steps before smoking.
Note the porchetta cooking time and temp (they lay it all out for you in the recipe card, so you know when to pop what on the smoker).
Note the porchetta internal temp of ~168 degrees F when done.
You might be able to find a Traeger Provisions discount code online when you go to buy it.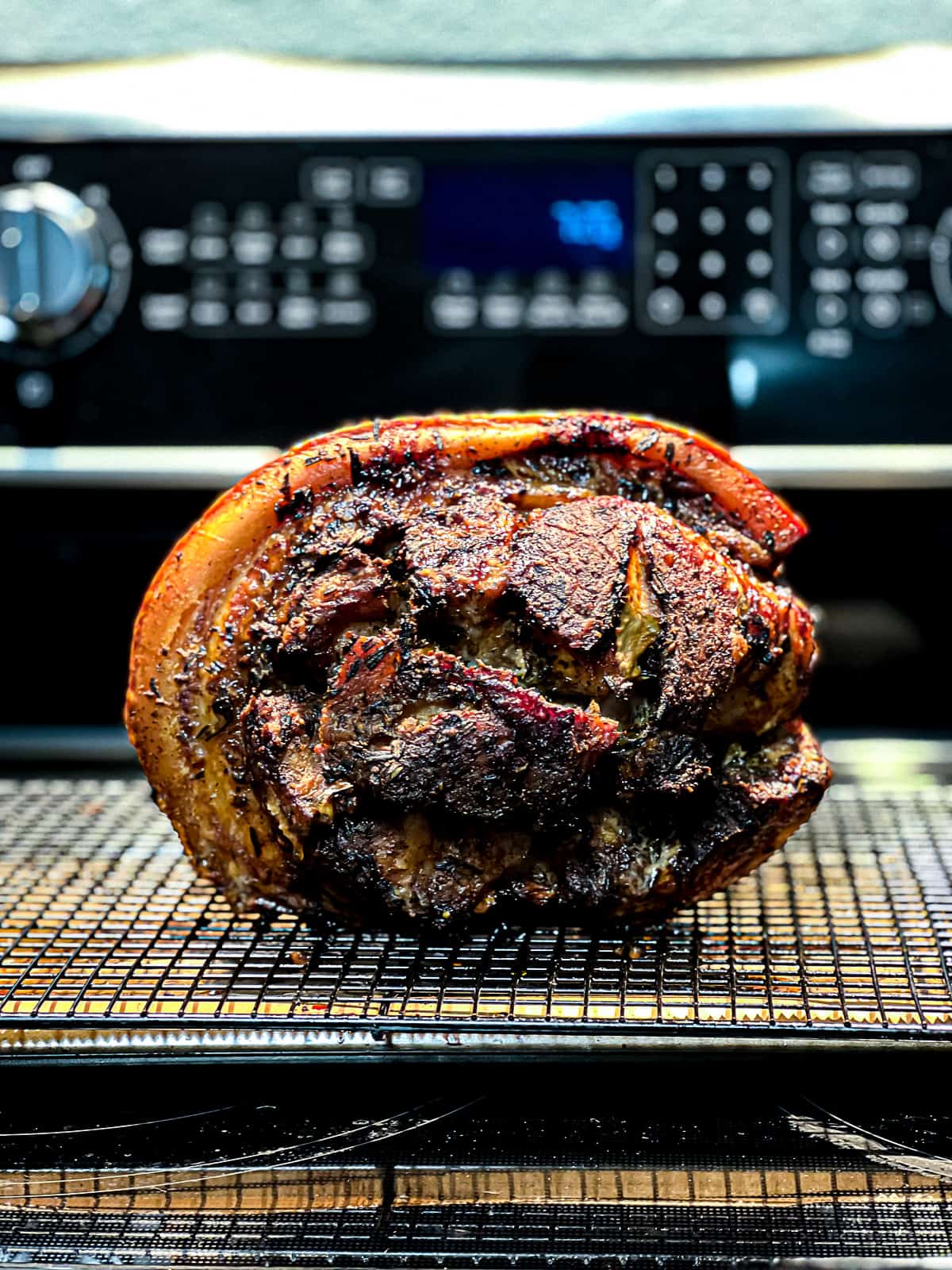 The smoked side dishes in this smoked meal kit
See inside the Traeger Provisions Porchetta Box side dishes…
Here's what came in this porchetta meal delivery box offering:
smoked mac and cheese
smoked squash salad
smoked mashed potatoes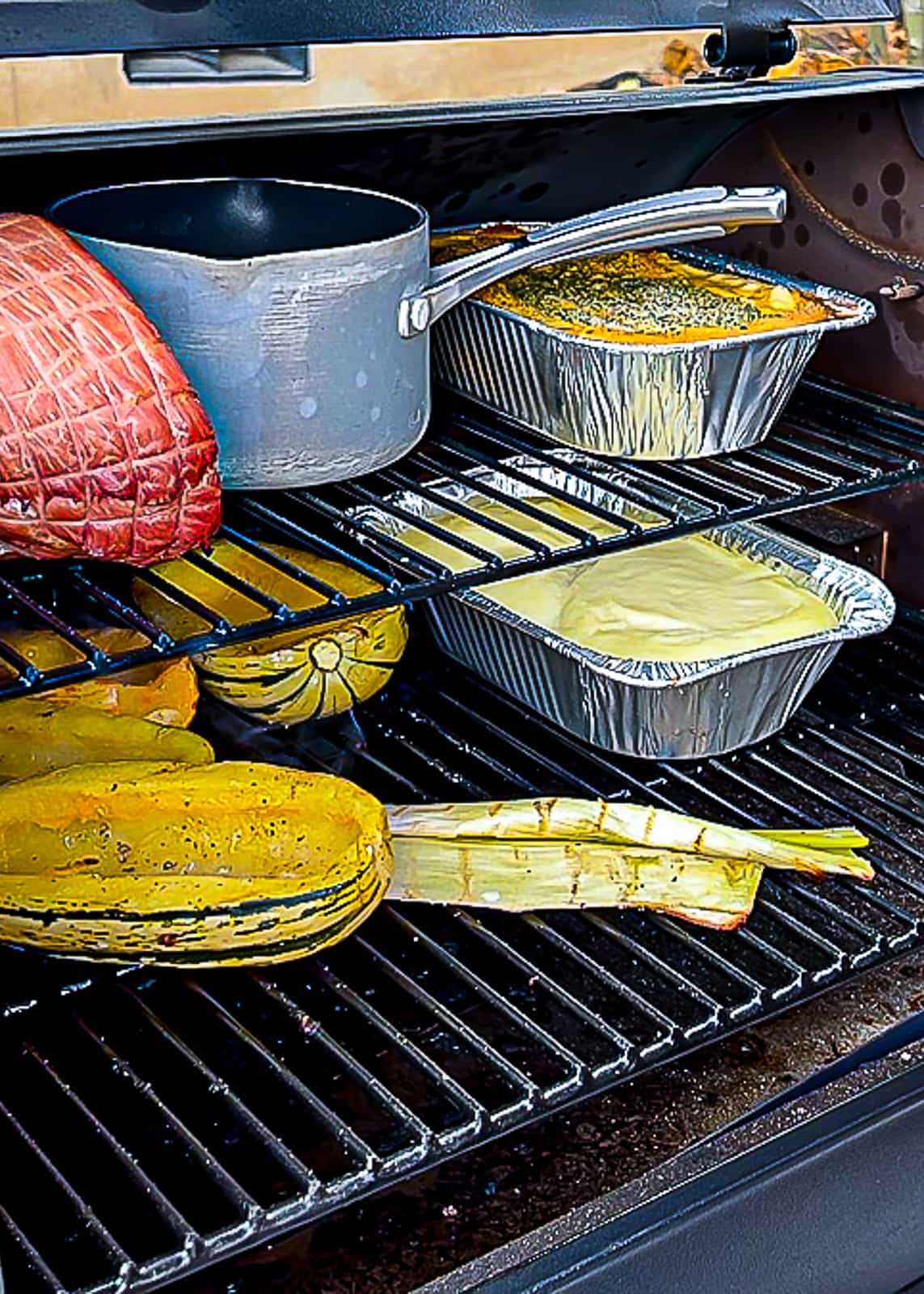 Review of the Traeger Provisions Box with porchetta, sides, dessert…
Smoked porchetta
The star of the show – it was SO TASTY!
Salty, juicy, full of flavor…
Porchetta is a great choice of meat to smoke, especially for beginners, because it is pretty difficult to dry out pork belly.
The outside crust of the smoked porchetta was nice and crispy – it was a joy to cut into.
See how to smoke pork belly burnt ends…
Smoked mac and cheese
This is a very rich, decadent mac and cheese – delish.
See how to make smoked mac and cheese…
Smoked squash with leeks and pomegranate
To be honest, I was a little surprised at how delicious the smoked squash salad turned out.
Reason being, I didn't know if I could expect great results from thawing frozen squash and smoking it…
I thought it might turn out mushy.
But that was not the case at all, and I loved the tangy dressing.
See how to make smoked butternut squash and smoked acorn squash…
Smoked mashed potatoes
Delicious and creamy, I was equally impressed by smoking frozen mashed potatoes from the Porchetta Traeger box.
They turned out light and fluffy.
See how to smoke mashed potatoes…
Peach cobbler
This was a treat!
What a great way to end a meal.
Smoked ham
This wasn't included in the box, but thought I'd share a link to my smoked ham since it's in some photos highlighting the smoked side dishes in the Provisions box.
We smoked the ham on a different day than the sides for logistical reasons, but I imagine smoking everything in the box at one time would be a lovely meal.
Also see how to make tasty smoked burgers and pulled pork Traeger style…
Pellets for smoking food in the Traeger Provisions Porchetta box
This smoked food delivery box does not include pellets.
I recommend stocking up on hickory and mesquite pellets for their strong flavor, or something fruity like these cherry and apple pellets.
More Tasty Grill + Smoker Recipes
See this Traeger Flatrock grill review.
See my favorite smoker tools and seasonings in my Amazon Storefront.
Meat thermometer recommendations
Every home chef needs a reliable meat thermometer to cook food perfectly.
On Sip Bite Go, you'll often see me using:
Meater thermometer – a fancy wireless thermometer that connects to a phone app – gifted to me from a Traeger partnership.
ThermoPro digital thermometer – which has a wire that connects the thermometer to a display box outside the oven/grill.
It's like being psychic! The great thing about either of the thermometers above is that I don't have to take the food out of the oven to know the temperature.
How to use 'em… What I do is stick the digital thermometer in steak, pork, chicken, whatever… Then put the food in the oven, on the smoker, or grill.
While the meat cooks, it reads the temperature so I know exactly what temp meat is as it's cooking. Without having to take it out and check. It's really difficult to overcook food when you know exactly what temp it is inside!
Are you a foodie, too?
Hey home chefs, hope that answers all your questions about trying this meal kit delivery box from Traeger.
I'll share a smoked porchetta recipe soon.
See how to get more smoke flavor from your favorite Traeger dishes and check out these game day smoker recipes.
Connect…
Browse the Sip Bite Go recipe collection