Looking for the best Traeger Thanksgiving dinner menu ideas? See exactly what to BBQ for a crowd… or get ideas for hosting a small family meal. Either way, here are the best pellet smoker recipes to feast on this holiday season…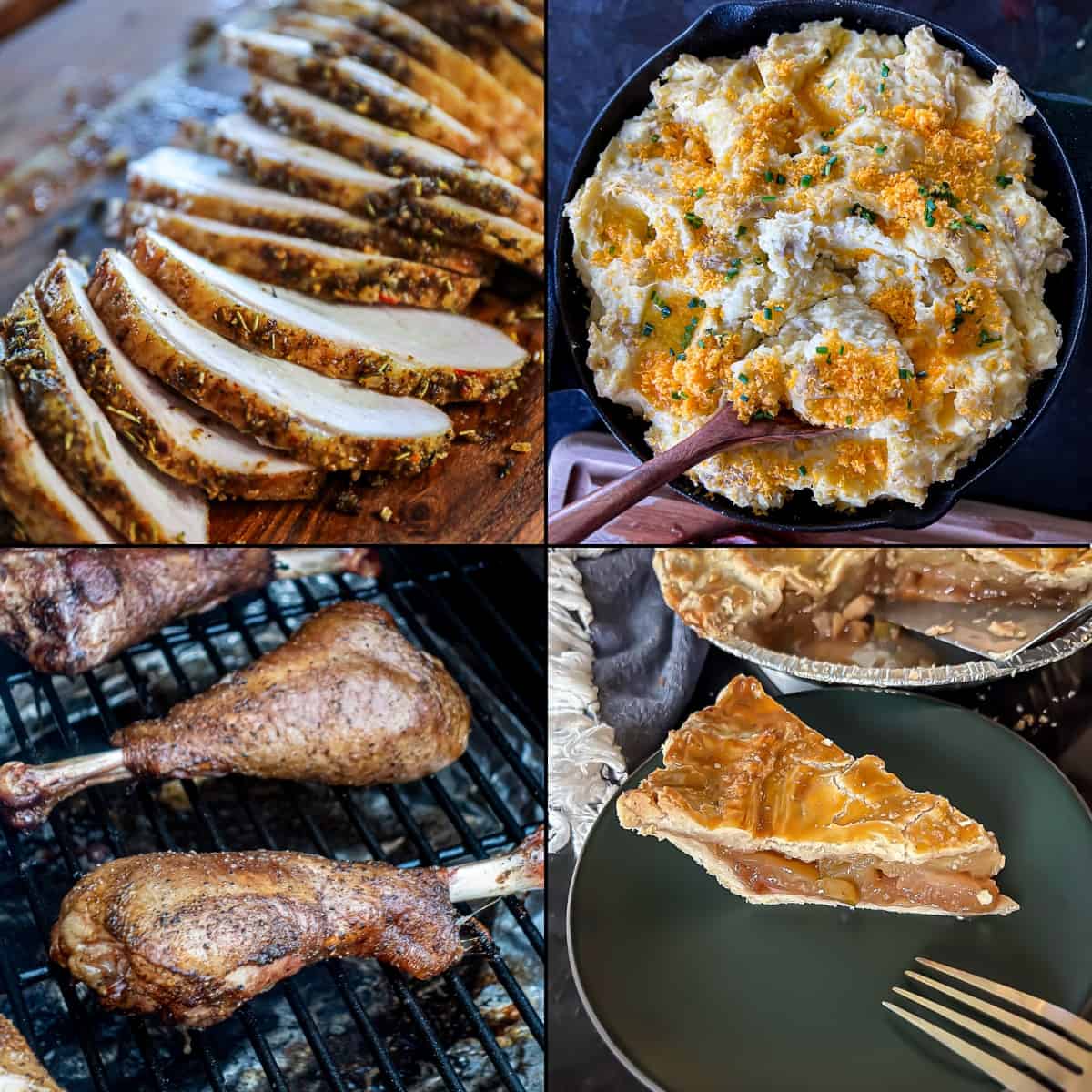 Want more holiday and Thanksgiving BBQ recipes?
Follow Sip Bite Go on Instagram and TikTok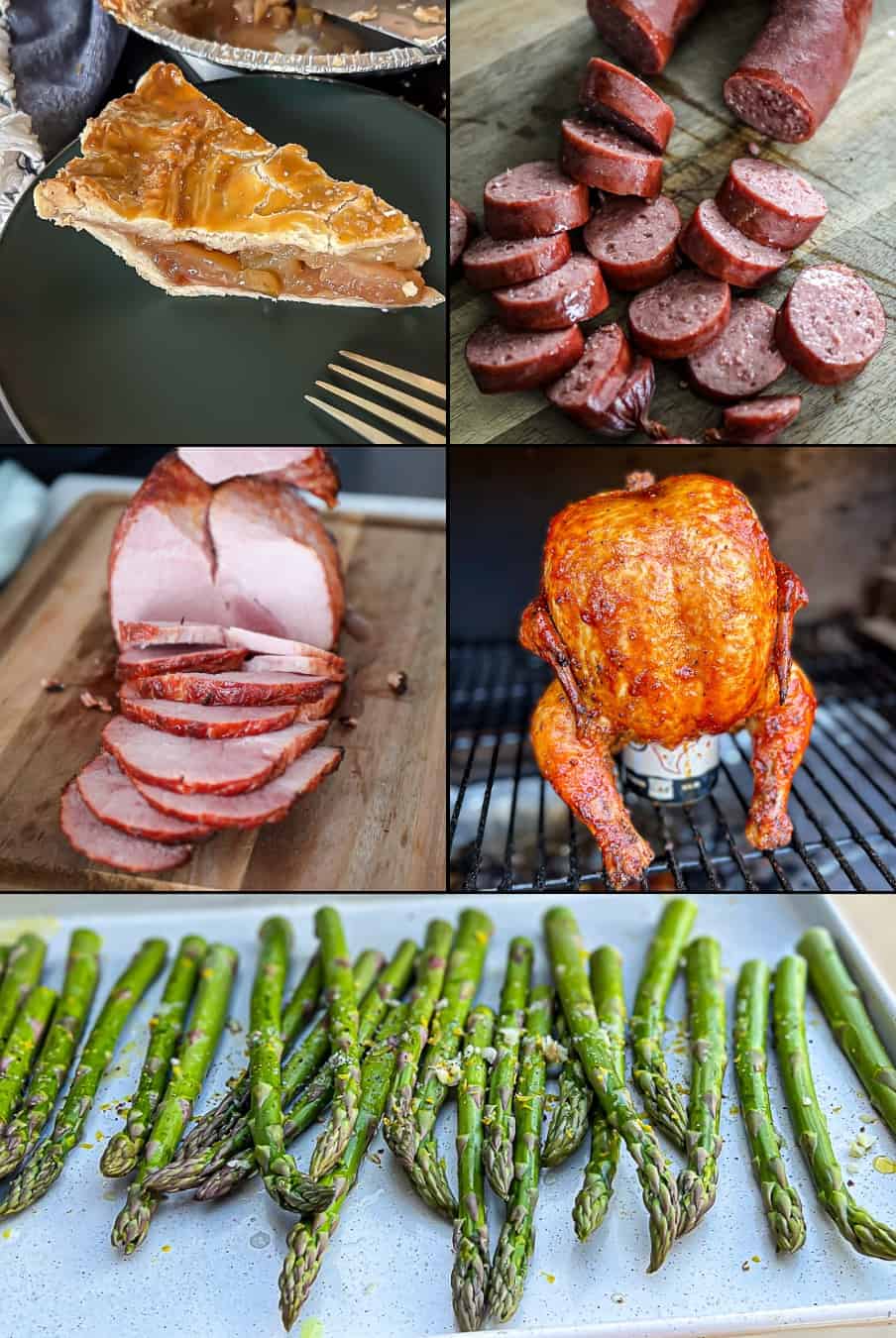 Traeger Thanksgiving turkey options
For a small gathering, or even to BBQ for Thanksgiving for a crowd, here are a handful of really delicious recipes to choose from…
Smoked whole turkey
Add this no-brine smoked turkey to your Thanksgiving BBQ menu.
Using the "water pan" method will help your bird stay juicy and delicious.
Smoked turkey breast for a smaller BBQ dinner
Load up the hopper with Traeger Thanksgiving pellets and make this smoked turkey breast recipe.
Having a small Thanksgiving dinner for two or three? This air fryer turkey breast is an easy meal to try.
Smoked Spatchcock Turkey
Check out this spatchcock turkey smoker recipe.
Why spatchcock your Thanksgiving turkey?
It picks up a ton of smoky flavor thanks to the bird having more surface area to pick up the smoke.
Try this easy way to spatchcock chicken…
Smoked turkey legs
I don't know if this is a "main dish" or something to file under Traeger Thanksgiving sides…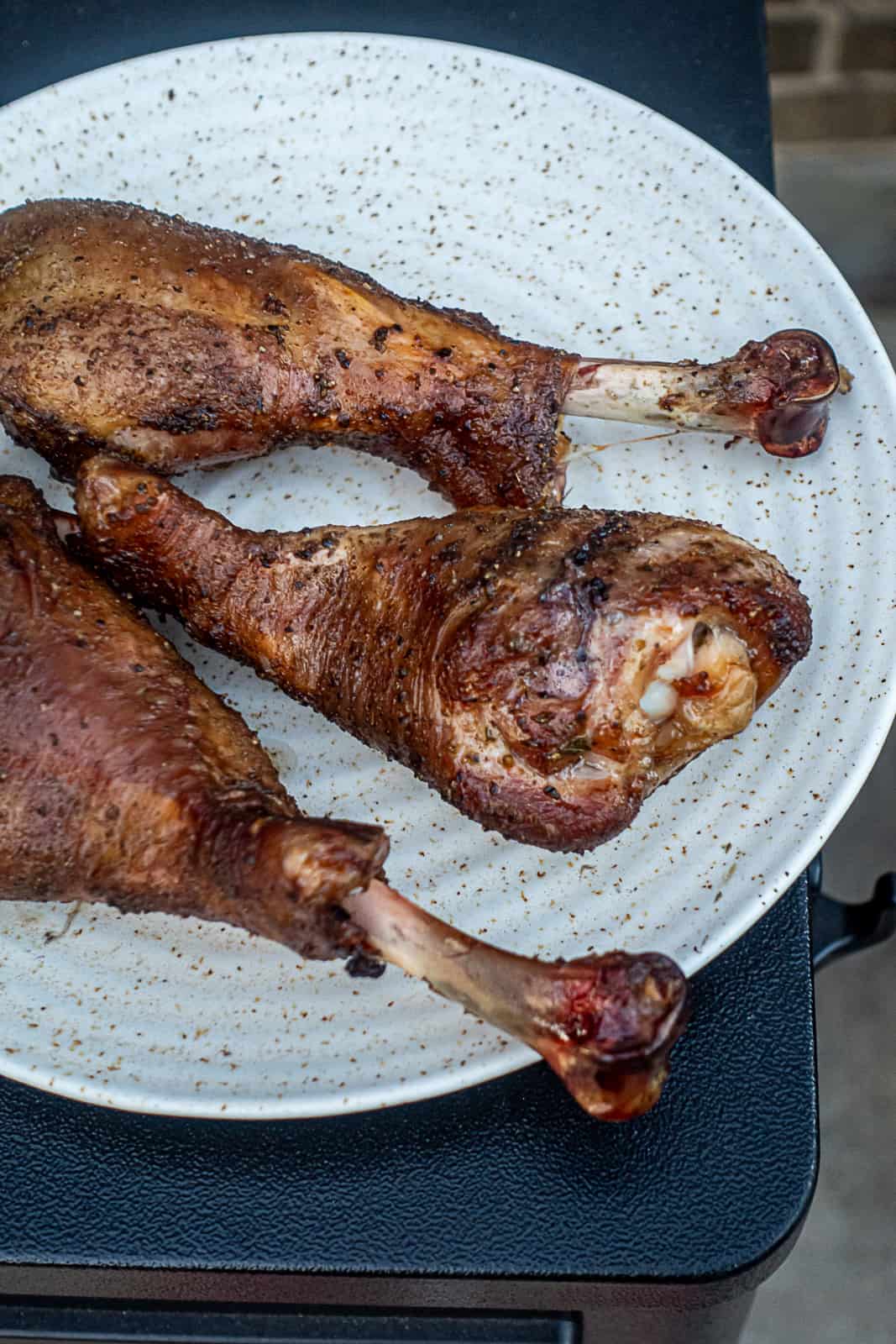 Whip up a few extra smoked turkey legs so everyone can enjoy some dark meat.
It's a Disney BBQ food copycat recipe everyone loves.
Also see sous vide turkey legs…
Smoked turkey wings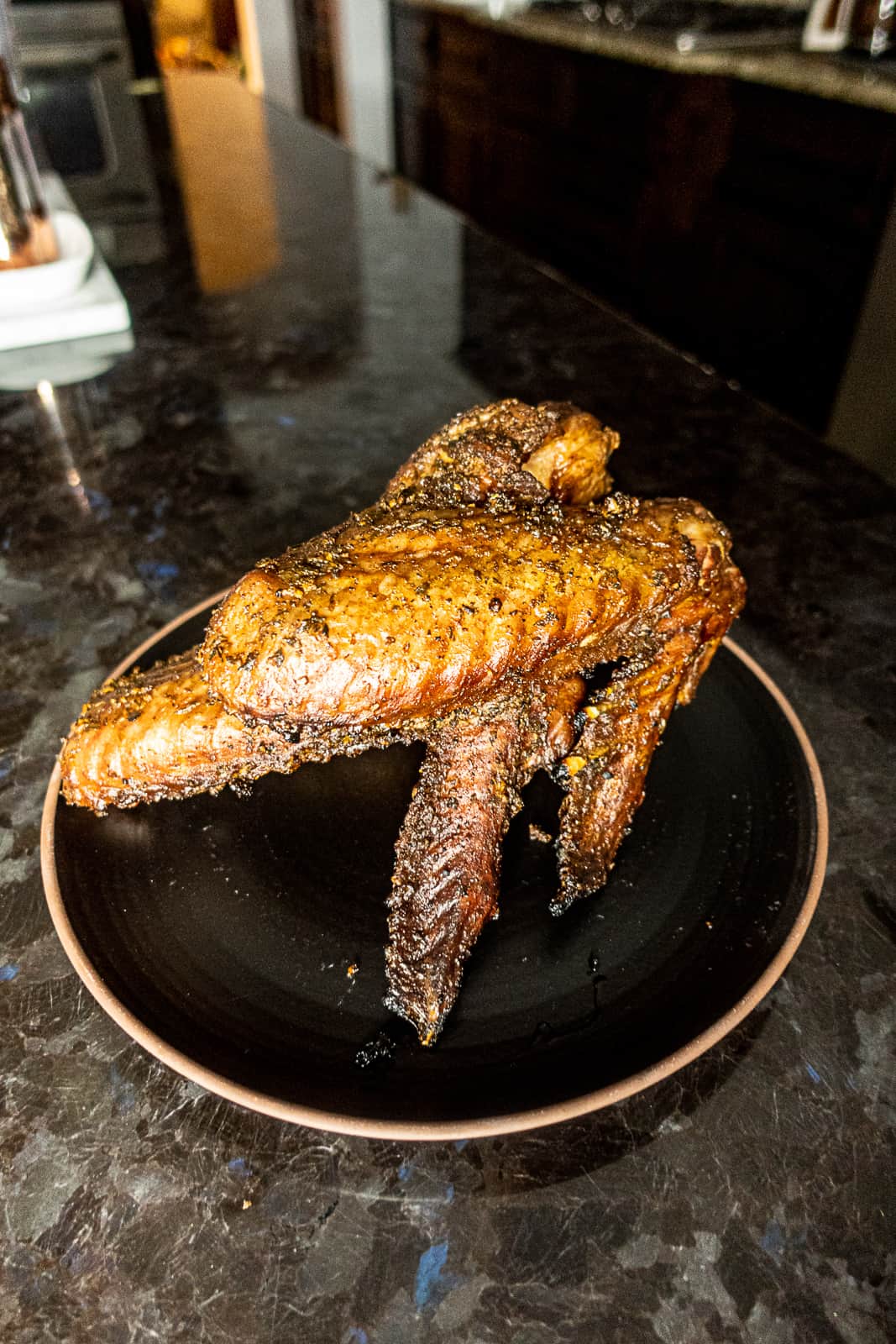 You can also make extra smoked turkey wings.
24 hour Thanksgiving brined smoked turkey
Coming soon to Sip Bite Go is a new brined smoked turkey recipe.
See more smoked food recipes…
Thanksgiving smoked cocktails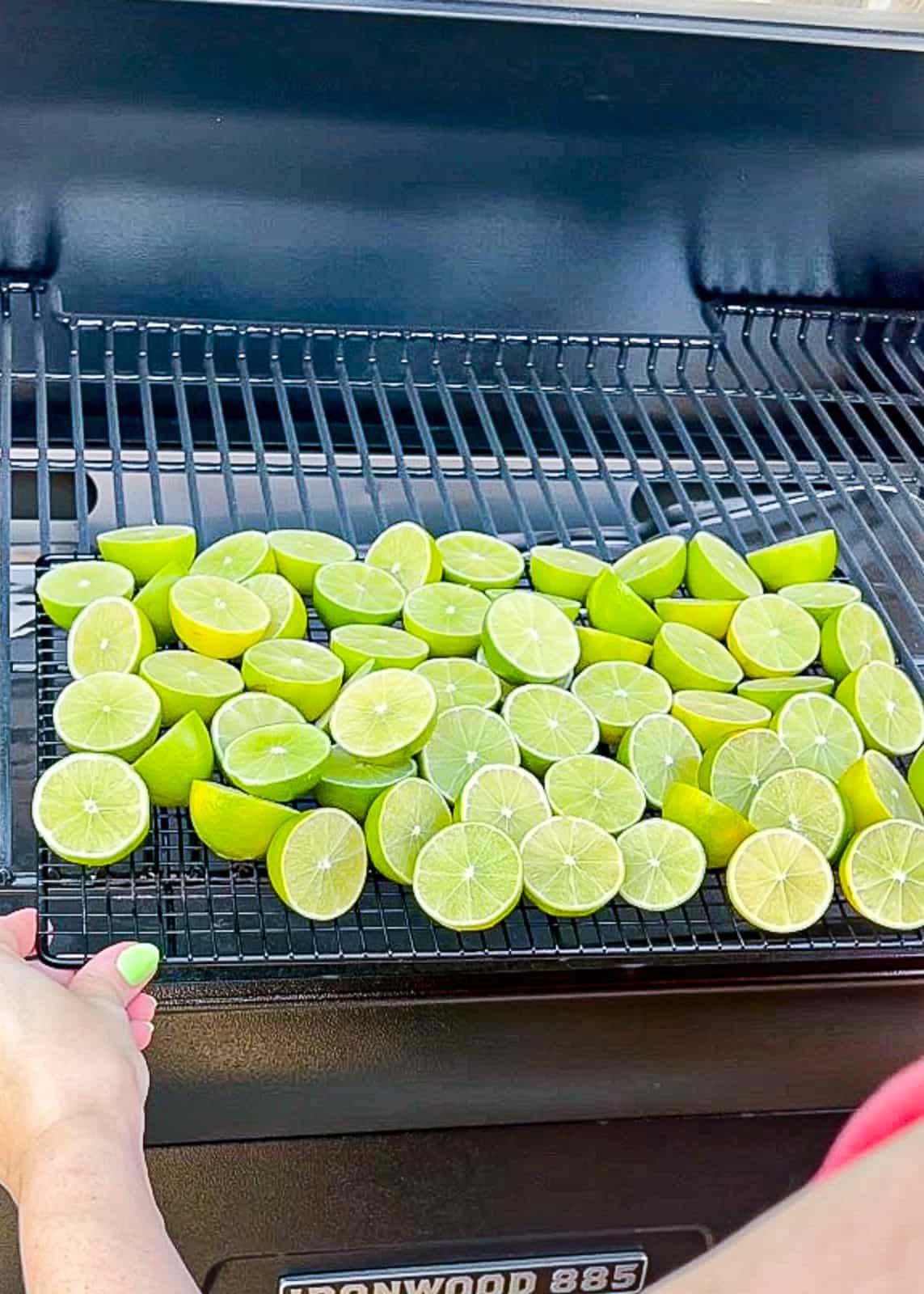 Try smoking limes to make a festive (?) Thanksgiving margarita. See this recipe for smoked margaritas.
See the best game day smoker recipes…
Smoked appetizers for Thanksgiving
Appetizer platter with smoked kielbasa
When it comes to lining up a menu of Traeger Thanksgiving recipes, add some really-simple-to-make options like this one…
Serve up some smoked kielbasa with toothpicks for an easy-to-graze BBQ appetizer for Thanksgiving.
Also see this recipe for smoked jalapeno poppers and this grilled chicken wings recipe…
Traeger smoked asparagus side dish
This is a super easy food to make for Thanksgiving on the Traeger…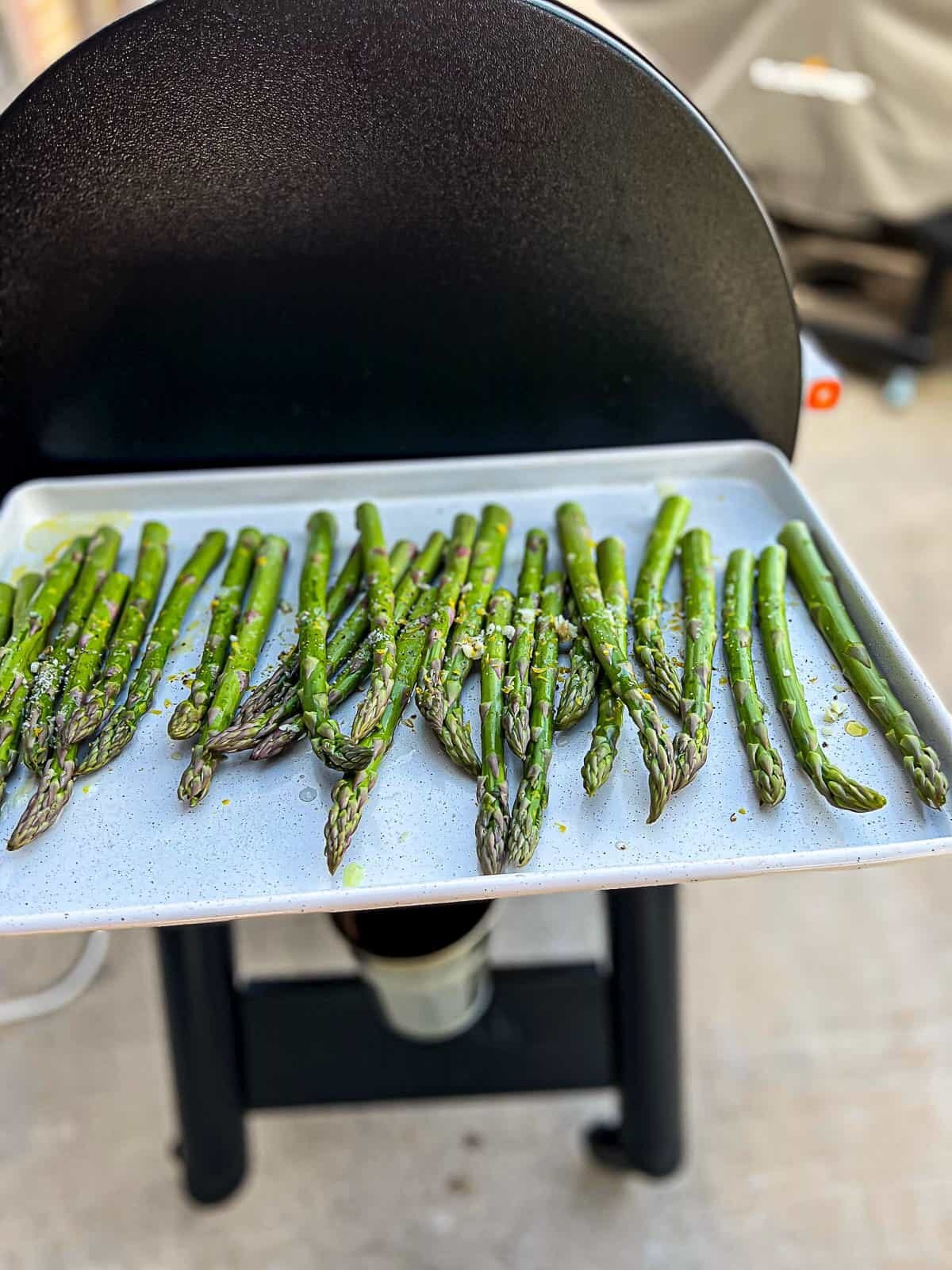 See how to make smoked asparagus on the pellet grill.
​​It's finished with parmesan cheese and almonds.
Also check out this smoked mac and cheese…
Smoked cream cheese appetizer dip
See how to make smoked cream cheese on the pellet grill.
This is a great smoked appetizer for Thanksgiving.
Serve it with crackers and veggies.
Traeger smoked side dishes for Thanksgiving
Smoked baked potatoes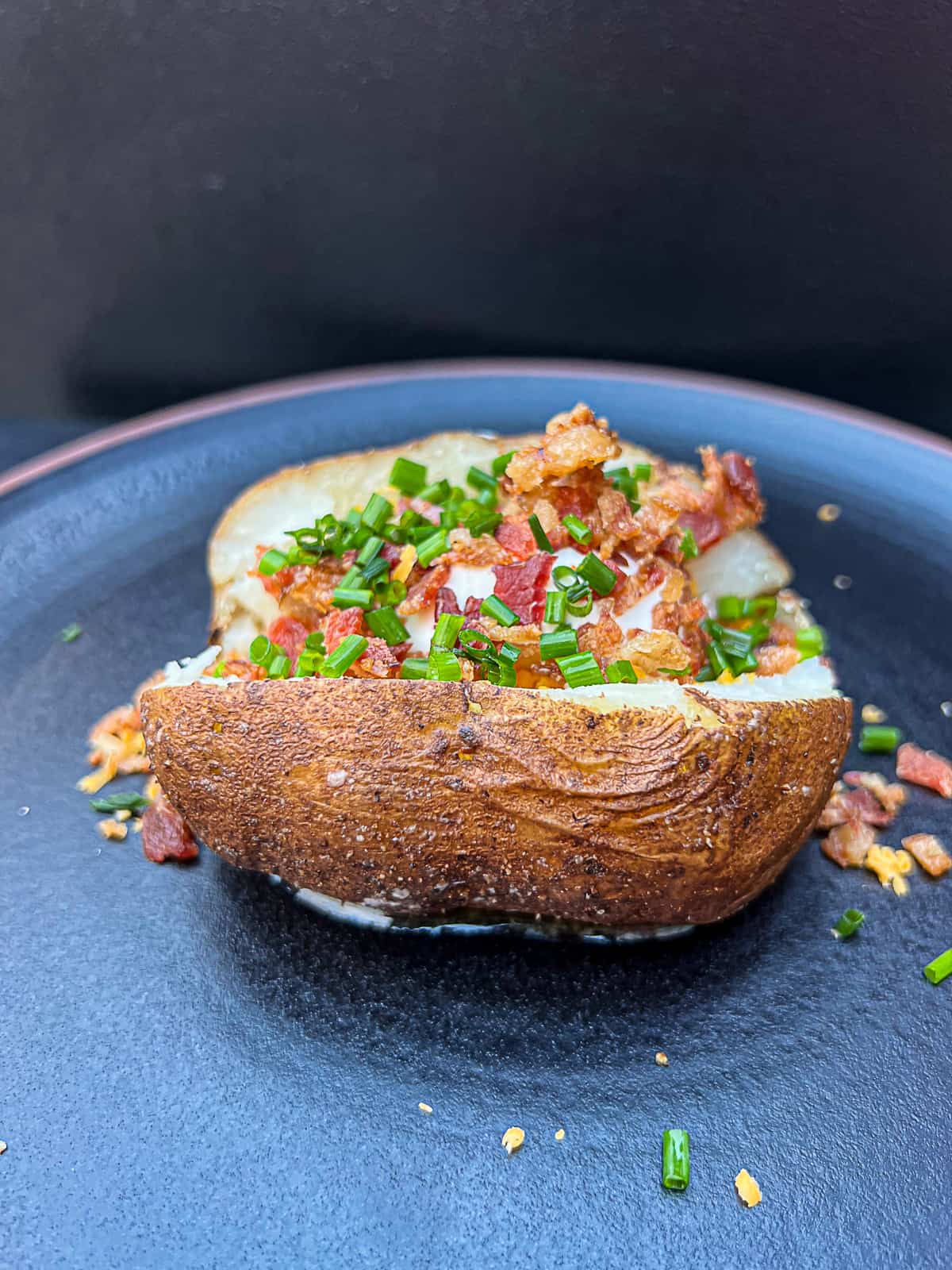 When it comes to BBQ ​​thanksgiving recipes for a crowd, something like this smoked baked potatoes side dish is a great option.
They take just a minute to prep, and are easy to make in bulk.
Smoked baked potato station ideas
Set up a smoked foods buffet table with these smoked potatoes and a variety of topping options:
Sea salt
Chopped chives
Cheddar cheese
Smoked acorn squash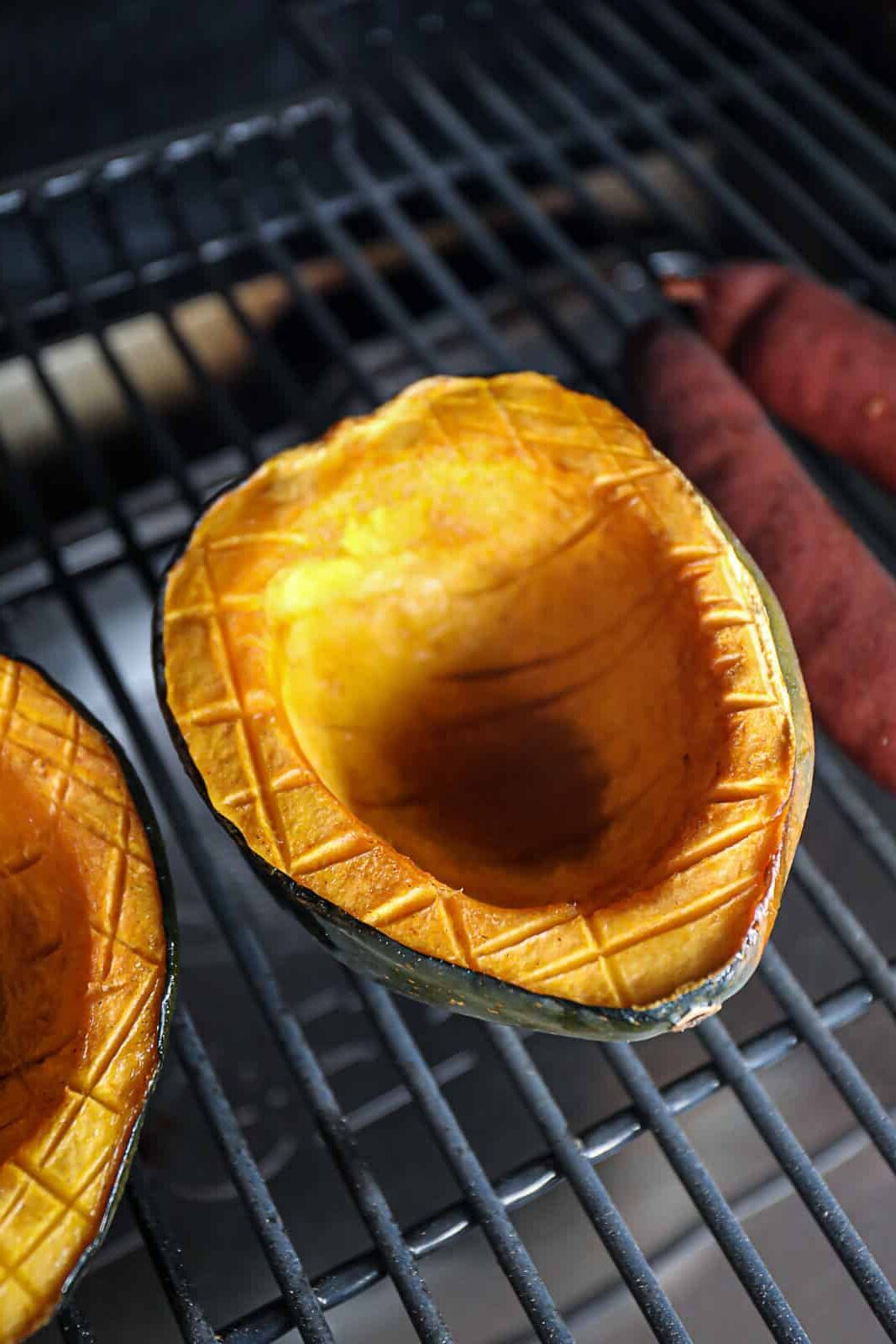 Try this smoked acorn squash for a BBQ thanksgiving dinner.
The gist is that you cut the acorn squash in half lengthwise, score it with a knife, season with syrup & spices like cinnamon and a little chipotle powder…
Then smoke at 225 degrees F for 1.5 – 2 hours.
Smoked side dish butternut squash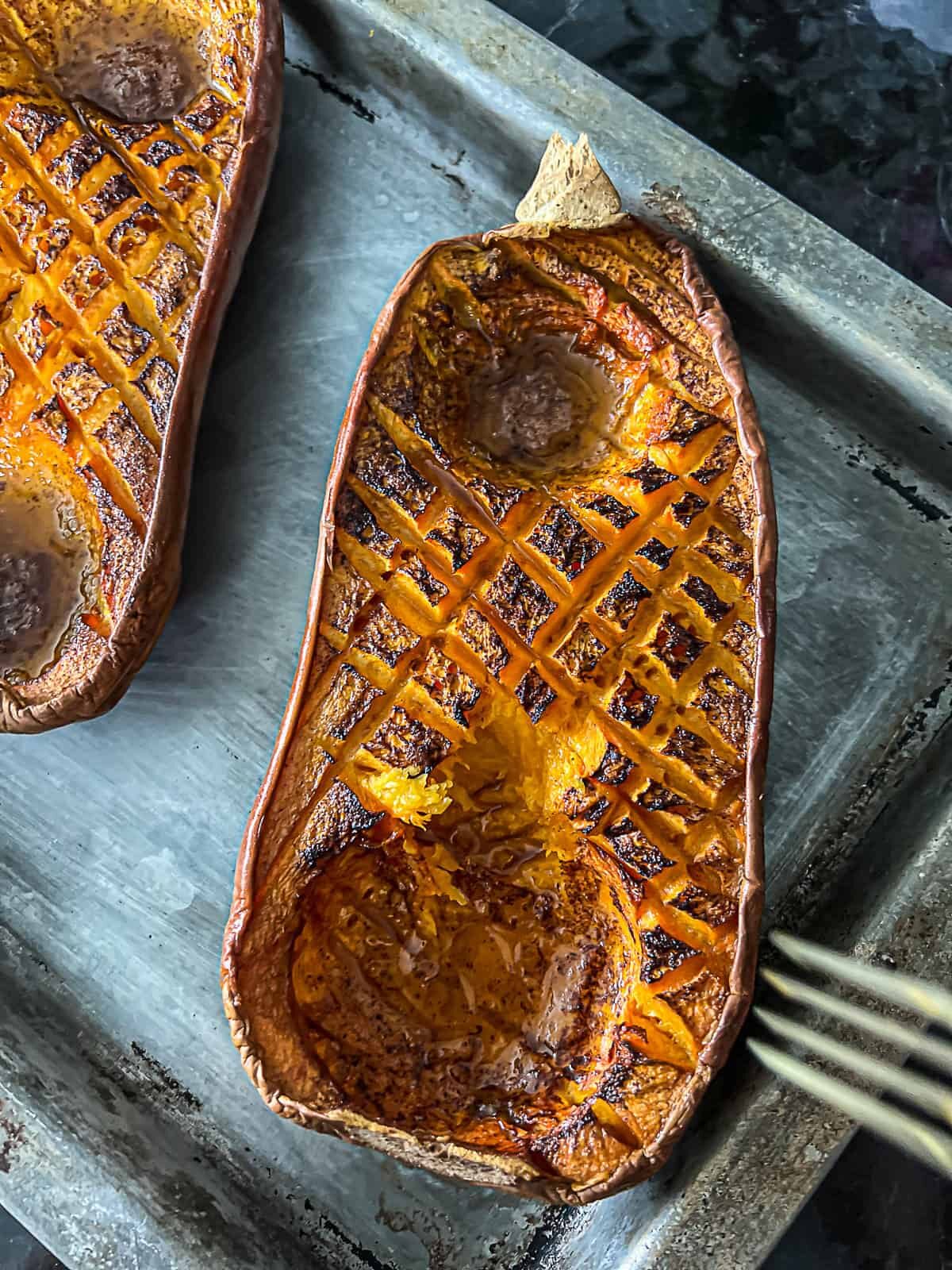 See how to make smoked butternut squash.
Prep your butternut squash by slicing it in half, remove the seeds, score it, then season it with oil, salt and cinnamon.
Place it in the smoker cut side facing up and smoke for 2-3 hours until tender.
Slice and serve as-is — or turn it into a butternut squash salad.
Also see how to make butternut squash soup…
Smoked garlic mashed potatoes
It's the smoked side dish that goes with every holiday meal…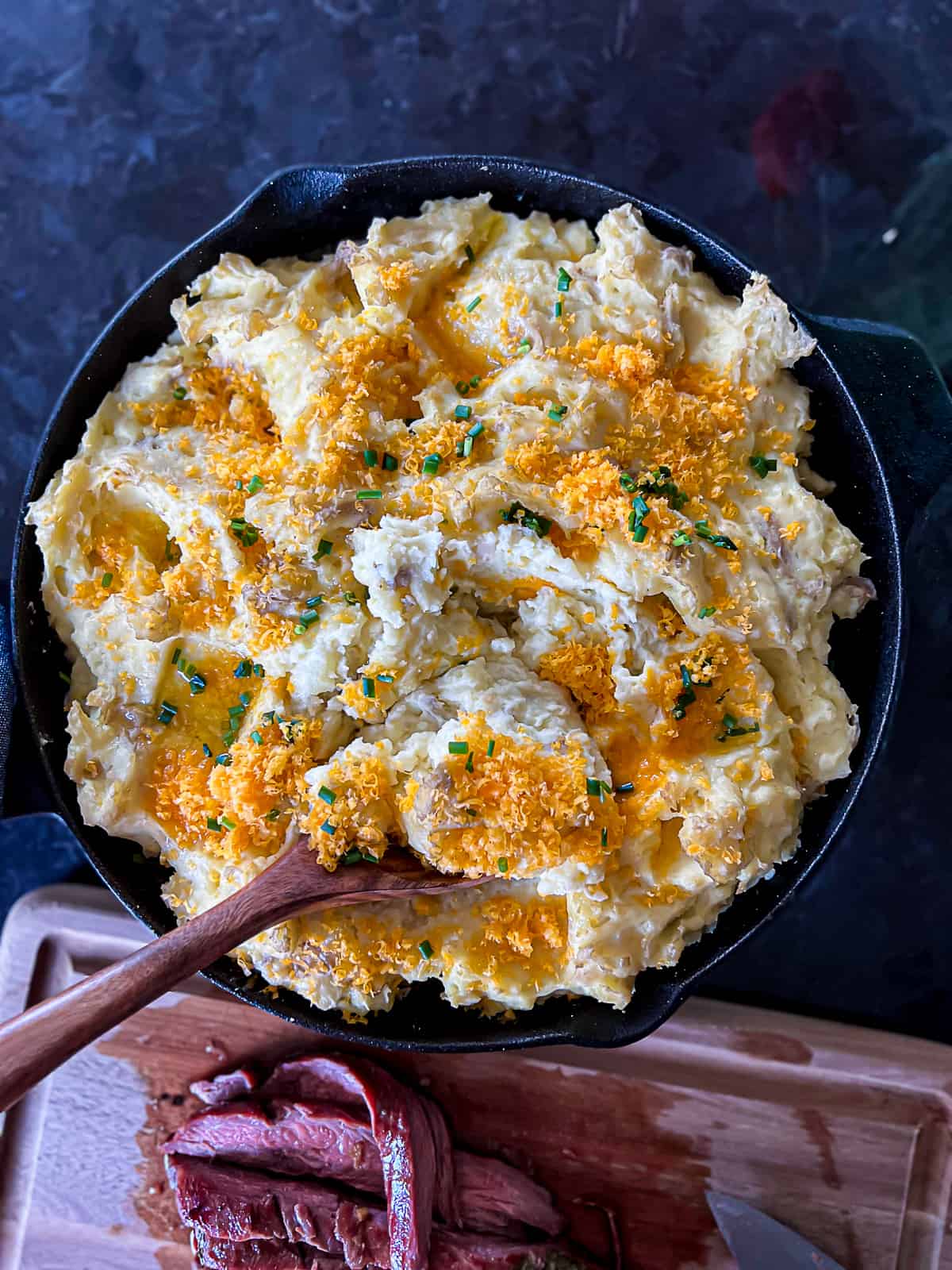 You'll definitely want a generous scoop of these smoked mashed potatoes next to your Traeger smoked turkey on Thanksgiving.
Non-turkey smoked main dishes for Thanksgiving
Smoked beer can chicken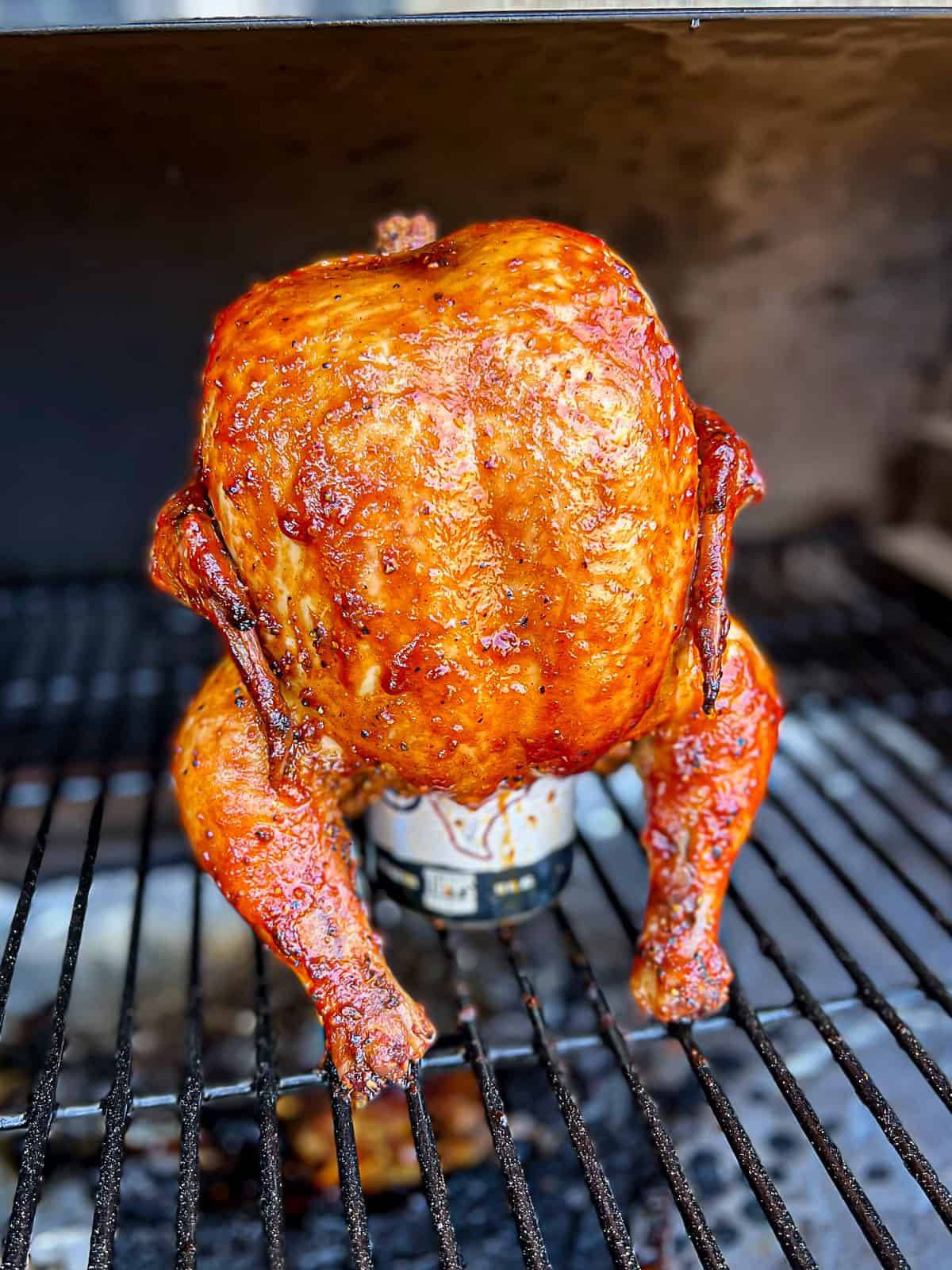 Feed up to 4 people with a tender Traeger beer can chicken that's ready in under 2 hours.
For a smaller gathering, see this smoked pork chop recipe or smoked leg of lamb.
Smoked ham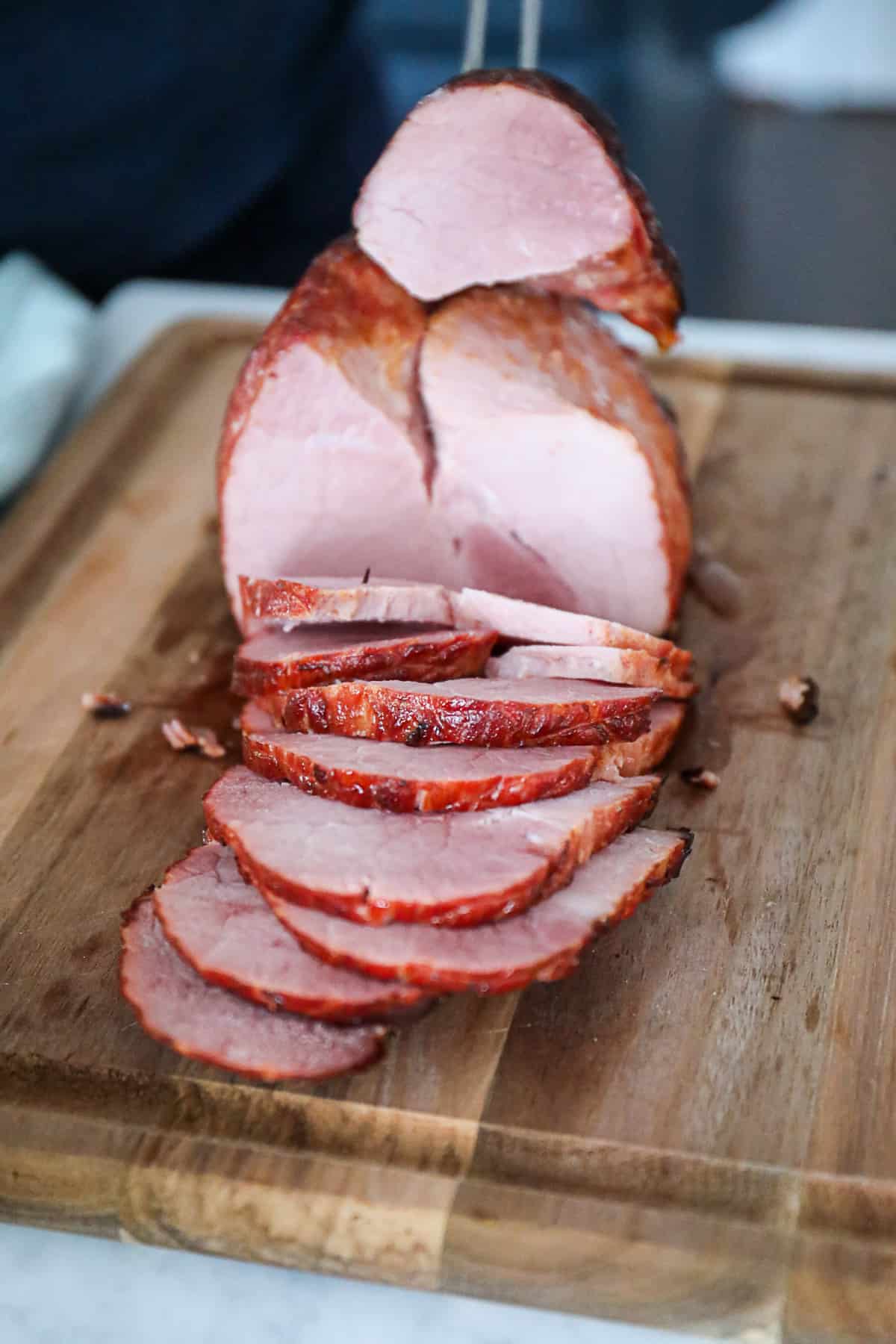 For a crowd, smoking ham is a great idea.
It's an easy alternative to cooking turkey for Thanksgiving.
Or, if you're feeding a crowd, make it as an extra main dish for your BBQ Thanksgiving menu.
Smoked Thanksgiving desserts
Classic smoked apple pie
There's one way to make this classic holiday dessert even better…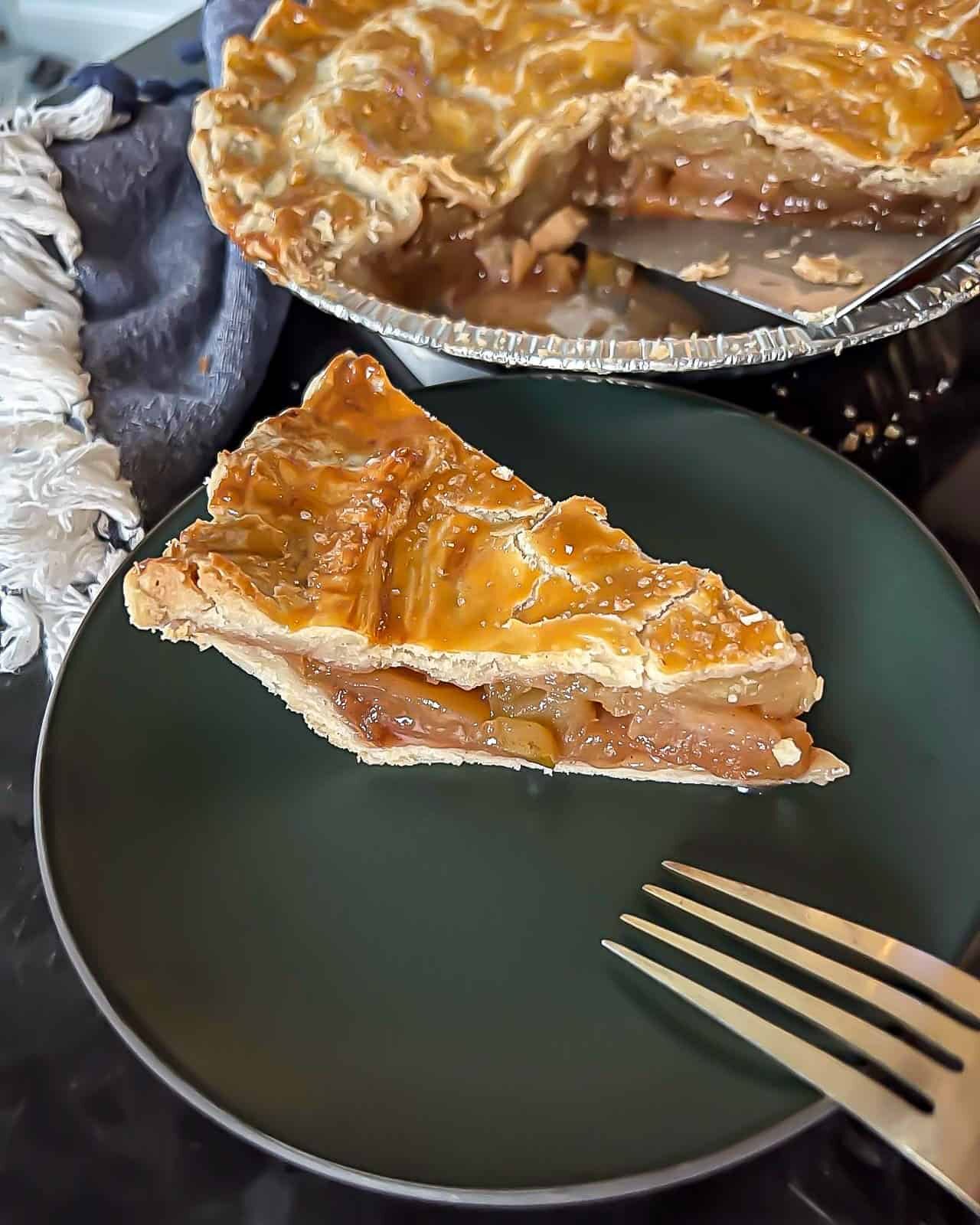 Try your hand at smoked apple pie on the Traeger or whatever pellet grill you have this year.
There's just a little prep work before you're filling the pie crust with smoked apple pie filling and caramel sauce.
Also see how to make smoked apples…
Pineapple smoked dessert cake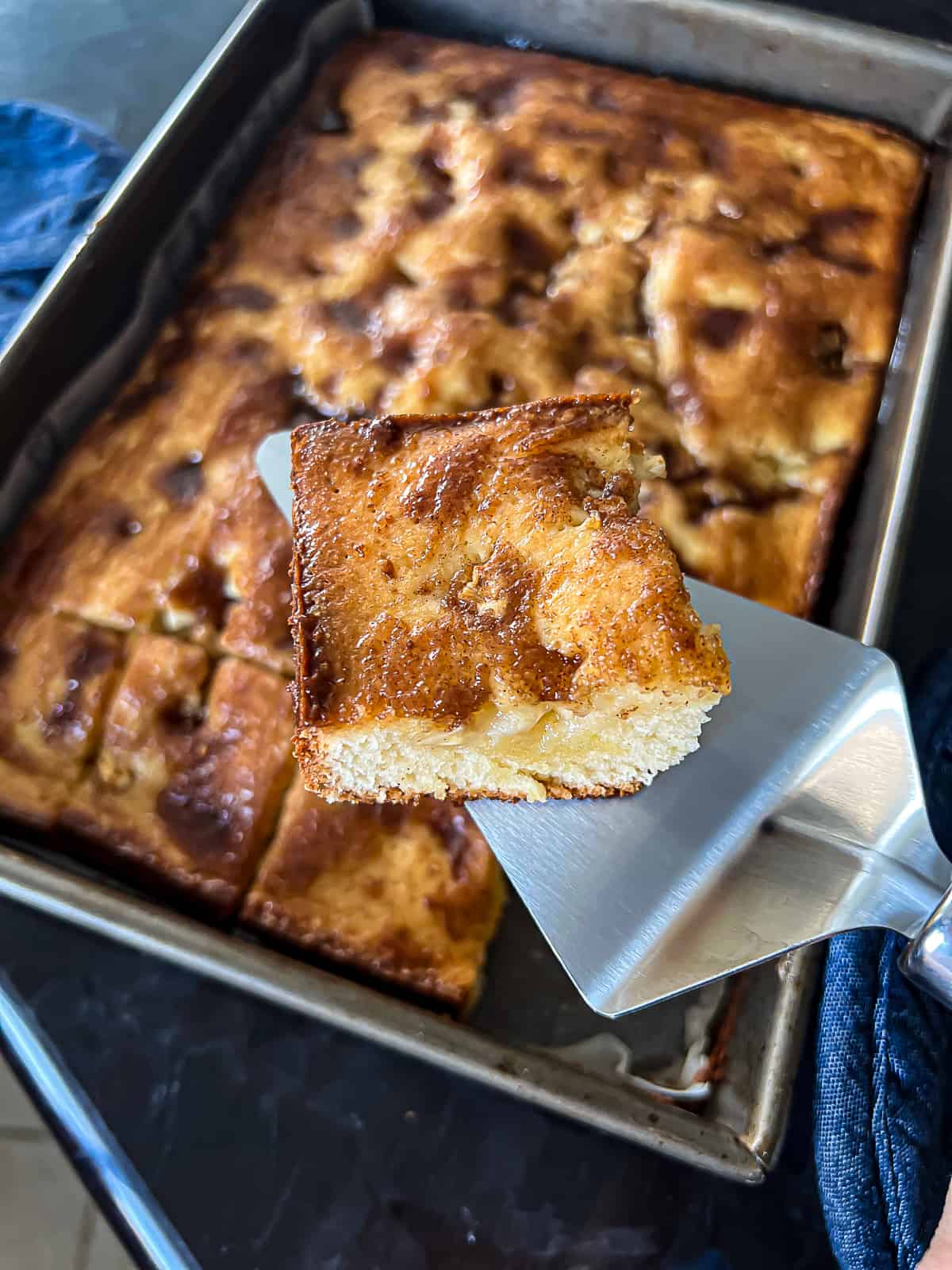 See how to smoke cake…
The buttery cinnamon topping on this Traeger smoked cake gives it all the upside down pineapple cake vibes, but it's easier to make.
What to do with smoked Thanksgiving meal leftovers?
Don't forget: nothing says Thanksgiving like leftovers!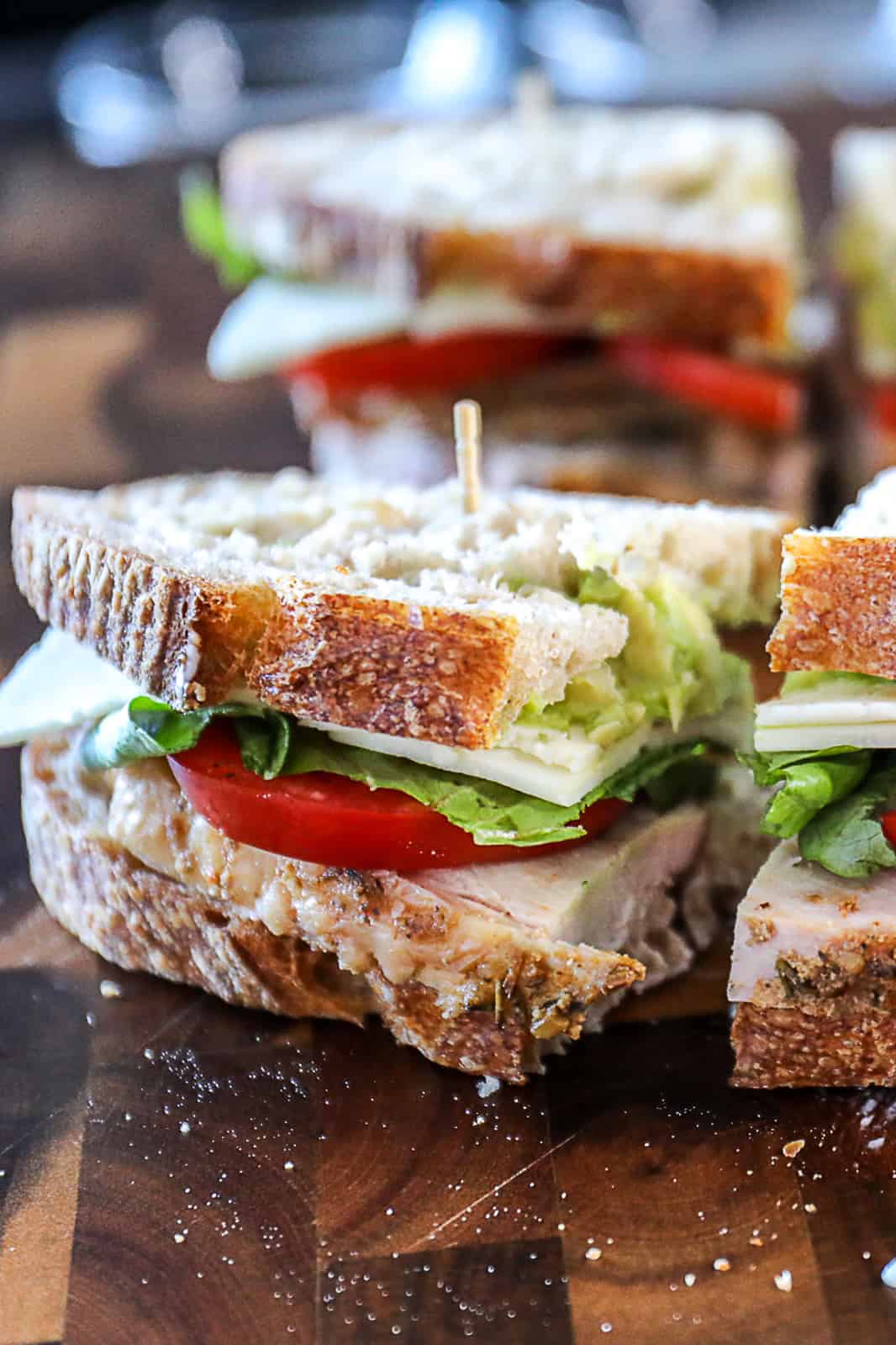 Making a smoked turkey avocado sandwich is a deliciously simple idea.
Slice up some sourdough bread and spread on some creamy dressing like my homemade blue cheese dressing or jalapeno ranch on one side and sliced avocado on the other.
Add leftover smoked turkey and enjoy.
More ideas for cooking Thanksgiving on the grill
Have a traditional gas or charcoal grill? Here are some grill recipes to try:
Bored? See my favorite grill costume…
See more on smoked foods for the holidays
1 – See the Sip Bite Go review of Traeger Turkey pellets.
2 – See what's in the turkey brine kit.
3 – Check out these tasty holiday dishes to smoke on the pellet grill…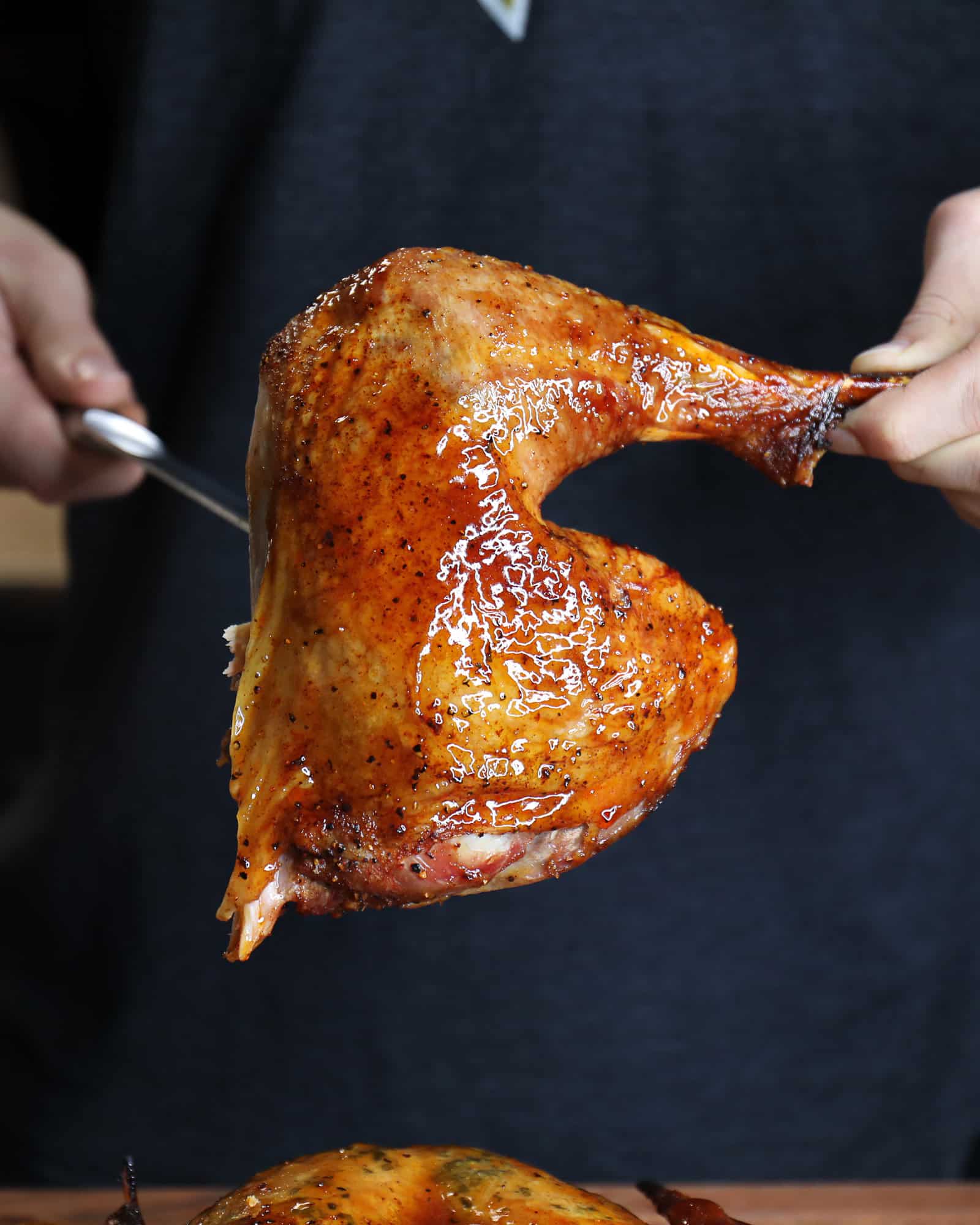 Are you a foodie, too?
Hey home chefs, I hope that answers all your questions about preparing a tasty BBQ menu for Thanksgiving.
Also see my favorite modern Thanksgiving menu ideas.
Connect…
More Tasty Grill + Smoker Recipes
See this Traeger Flatrock grill review.
See my favorite smoker tools and seasonings in my Amazon Storefront.
Meat thermometer recommendations
Every home chef needs a reliable meat thermometer to cook food perfectly.
On Sip Bite Go, you'll often see me using:
Meater thermometer – a fancy wireless thermometer that connects to a phone app – gifted to me from a Traeger partnership.
ThermoPro digital thermometer – which has a wire that connects the thermometer to a display box outside the oven/grill.
It's like being psychic! The great thing about either of the thermometers above is that I don't have to take the food out of the oven to know the temperature.
How to use 'em… What I do is stick the digital thermometer in steak, pork, chicken, whatever… Then put the food in the oven, on the smoker, or grill.
While the meat cooks, it reads the temperature so I know exactly what temp meat is as it's cooking. Without having to take it out and check. It's really difficult to overcook food when you know exactly what temp it is inside!