Missing people and good times, my mind has been wondering to food ideas for socially distanced gatherings. But, as a foodie who loves to entertain, when I think of social gatherings in small groups with food, many red flags come to mind. There's typically a lot of communal food to prepare when throwing a party – so what are the best recipes for social gathering events?
Well, here's my list for when we have the go-ahead to throw birthday parties, BBQs, cookouts, and family events in larger crowds with six feet between us. Here are some socially distant food ideas for gatherings I've been cooking up in my brain.
Serving Food While Social Distancing
Remember that Seinfeld episode – with the double-dip etiquette. Except double-dipping should no longer be debated – it shouldn't even be an option! So along with preparing socially distant friendly foods for parties, think about how you'll serve them.
Here I'll focus on my favorite meals to serve while social distancing. The type of make-ahead recipes that are easy to serve with low-contact individual portions. I'm still just a foodie and not a doctor, so obviously consult your best judgement if you party social distanced, k?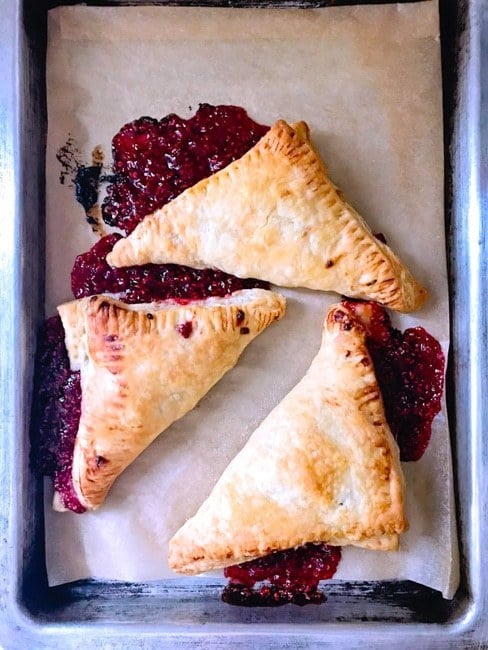 Raspberry Turnovers
Let's start with something sweet. Nothing says "you're special' better than this dessert – fresh raspberry puff pastry turnovers, right from the oven.
Prep on this is so simple it fits all the criteria for socially distant entertaining at my house. They're perfect for brunch, or dessert.
I often make my raspberry filling from scratch, but it honestly only takes about ten minutes. The puff pastry is from the store, and I put them together and do an initial bake sometimes when I'm in a meal prep mood.
Then they go to the freezer, to be pulled out, toasted, and served individually when I have guests I want to spoil.
If you like turnovers, check out these individual cherry pies with pie crust. These fresh blueberry and cherry cake bars are tasty, too.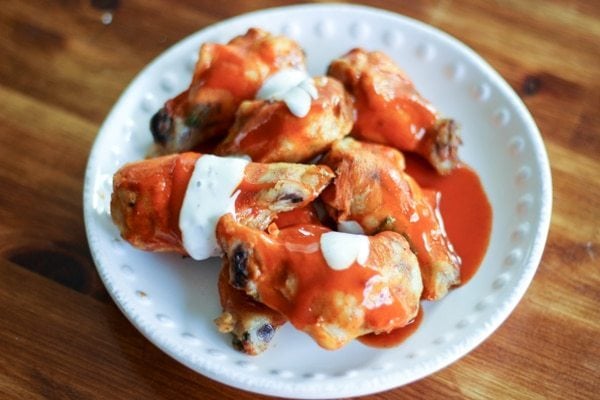 Sous Vide Wings
Sous vide chicken wings are sooo much better than chicken wings any other way—tender, juicy, and cooked to perfection in the sous vide bath before being finished in the air fryer, grill, or oven broiler.
But how can finger lickin' wings be on this list for food ideas for socially distanced gatherings?
Well – they're a party staple, so there has to be a way to prevent a germy dipping fiasco, right? I'd serve wings with plenty of buffalo sauce, blue cheese dressing, and some celery and carrot sticks.
Make sure everyone has their own station where they can enjoy their own plateful of wings without breaking any social distancing rules.
Sous Vide Egg Bites
Picture these eggs for socially distant block party food options. No socially distanced brunch party would be complete without these Starbuck's copycat egg bites recipe.
Why are egg bites an easy brunch idea for social distancing? You can make them as much a week in advance, reheat them when your guests arrive in the broiler with a little cheese on top and then serve them with sous vide bacon or some fresh fruit salad.
Appetizers On Toothpicks
Bake socially distant snack appetizers like this recipe for bacon wrapped stuffed Jalapeños on toothpicks. Toothpick appetizers are easier for people to eat without touching. They are baked in the oven with the toothpick, so they come out and are easy to slide onto a platter without touching. You can get fancy and make them with sous vide bacon.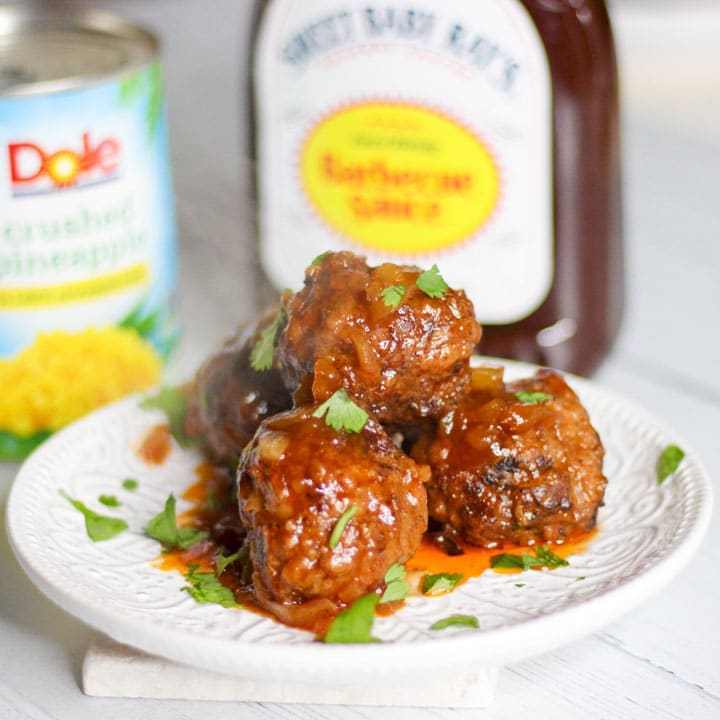 Hawaiian Pineapple BBQ Meatballs
This slow-cooked recipe can also be made in advance, with frozen meatballs from your last big shopping trip, and they're really good served on sub rolls.
All of the prep for pineapple BBQ meatballs is done way in advance, so all that's left to do before guests arrive is to assemble them on slider rolls or leave them out with toothpicks.
And possibly a shield guard so no one breathes on them, right? Seriously. People will drool on these so serve them individually or else everyone will swarm the table.
Pizza is always a good idea
This is not the end of pizza parties. There are ways to serve up tasty homemade pizza even though pizza is usually communal. Put a little thought into it and you can make a socially distanced birthday menu that's delicious and safer than usual – even with pizza!
I recommend dividing the dough up to make individual pizzas so everyone gets their own.
Or to use tongs to put the pizza on individual plates and pass them out. That way everyone isn't digging at the same pizza.
Pizza was one of my first "aha moment" food ideas for socially distant gatherings. You can read all about how to throw a socially distant pizza party.
Oven-Baked Zucchini Chips
I used to make a big batch of these and put them out in the middle of the table for everyone to snack on when we had people over. Now, I'll serve them in individual bowls so everyone can have their own socially distant snack.
Sliced with a mandolin and seasoned with olive oil, salt, pepper, and paprika, these are really good. The only real problem is whether or not you can prevent yourself from eating them all before guests arrive. Plan to make a ton of them.
Sous Vide NY Strip Steak
An all-day marinade is the secret to this recipe for NY strip sous vide steak, and I love that I can get my meat and seasonings vacuum-sealed in the morning for an evening meal.
That sealed package stays in the fridge all day, flavors melding, while I do whatever prep I need for my  guests. An hour and a half before dinner, it gets to go in the sous vide bath to turn into what is pretty much steak perfection.
For serious meal-prepping for socially distanced events, you could even sous vide steak from frozen, which is what I'm doing in this photo above. I'll sous vide everything from frozen.
Gourmet Hot Dogs
It might be a while till we get to enjoy a fancy hot dog from a food truck or concession stand at a game, but that's no reason you—or your friends—should have to skip out on this bbq fav. This makes my list of food ideas for socially distant gatherings because you can package them up in foil or plastic red solo cups and pass them out. No need for everyone to crowd a table.
I've got 17 fun ways to serve up hot dogs, and they're all super adaptable to a socially distanced day out with friends!
Have more food ideas for socially distanced gatherings?
Can't picture hosting a socially distanced food event quite yet, myself. But the foodie in me is up for thinking about it more seriously when we're approved for it here in Oregon.
If you've done it, tell me: What is your favorite meal to make when you're feeding guests, socially-distant style? I'd love to hear your ideas!
And if you try one of these recipes, let me know how it went. You could even share a pic! Find me @sipbitego on Instagram.