Want to throw a party with sous vide cooking? See the best sous vide recipes for entertaining a crowd. Because I'm asked this question all the time, here I'm sharing:
ideas for entertaining with sous vide BBQ recipes

my favorite sous vide dishes for cookouts

what to sous vide for brunches

sous vide dishes for birthdays, block parties and more
Are you ready to entertain with sous vide dishes?
There's plenty of chicken, beef, pork, seafood and veggies on my list… 
New to sous vide techniques? Learn why is sous vide so popular.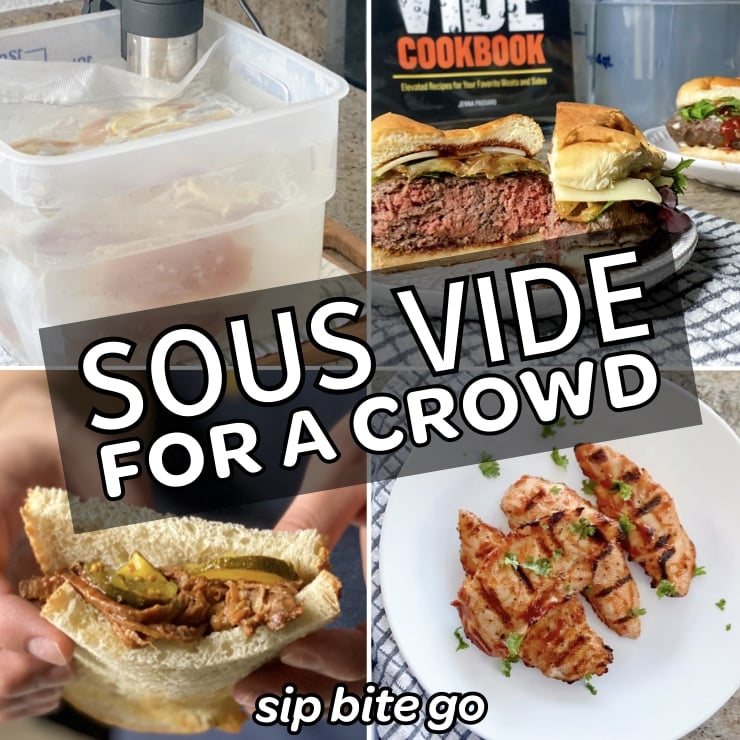 Sous vide food to serve while socially distancing
Just a quick note here. Remember when we used to put out a big bowl of dip and all go for it?
Yes, not a good idea anymore for the summer of 2020.
It's hard to tell what the future holds, but if you're hosting a food-related get together while socially distancing, there are still plenty of responsible ways to do it.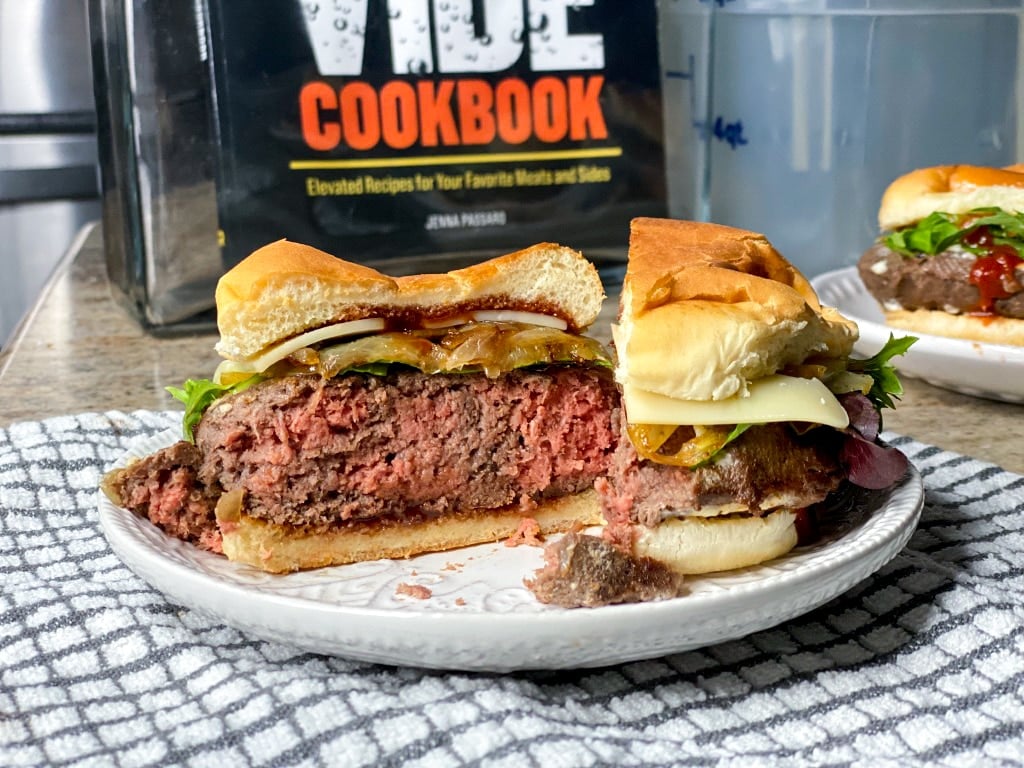 Sous vide cooking lends itself super well to this kind of entertaining: you get to do so much in advance and most of the cooking time is hands-off. There are plenty of socially distanced event foods on the list that we can share with friends without sharing (as many) germs on this list.
New to cooking food under water? Check out the sous vide for beginners guide.
The best sous vide recipes for entertaining
And now, here are over ten of my favorite sous vide recipes for entertaining a crowd.
Use these ideas for sous vide dinner parties, BBQs, cookouts and brunches. I had to include sous vide brunches on the list because everyone needs to try overnight sous vide bacon. Seriously, it deserves a party just for the sake of eating bacon with friends.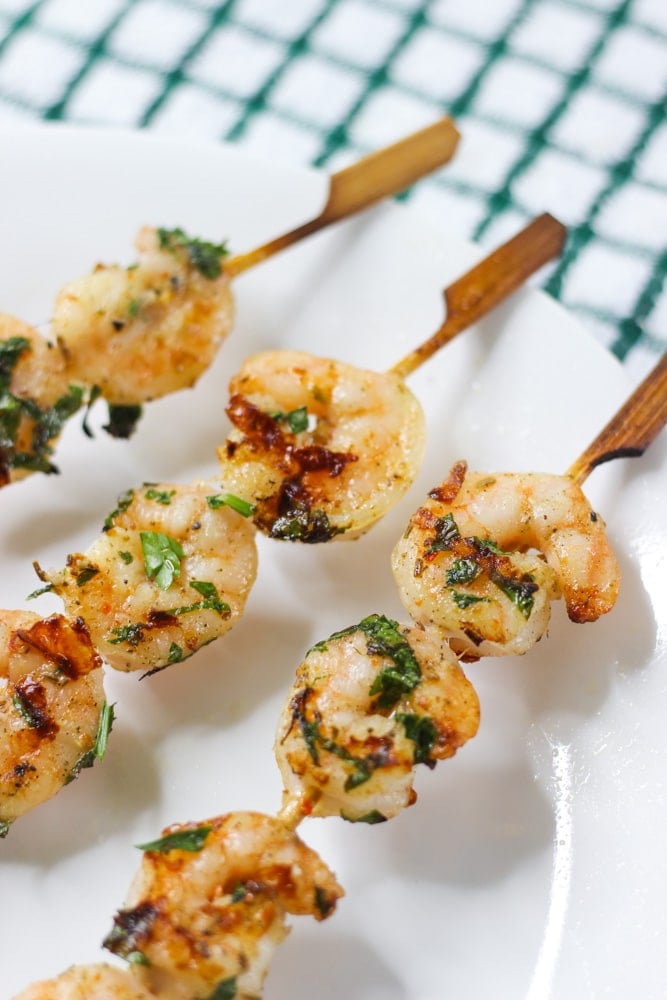 1. Sous Vide Shrimp Kebabs
Sous vide shrimp kebabs are a way to get everyone at my house in a good mood, fast—hubs is a big fan of seafood, and this simple but delicious recipe is seafood done right.
For serving sous vide shrimp kebabs at a bbq, prepare two skewers per person, and serve with creamy pesto pasta salad, grits, or sous vide corn on the cob (see details on corn below).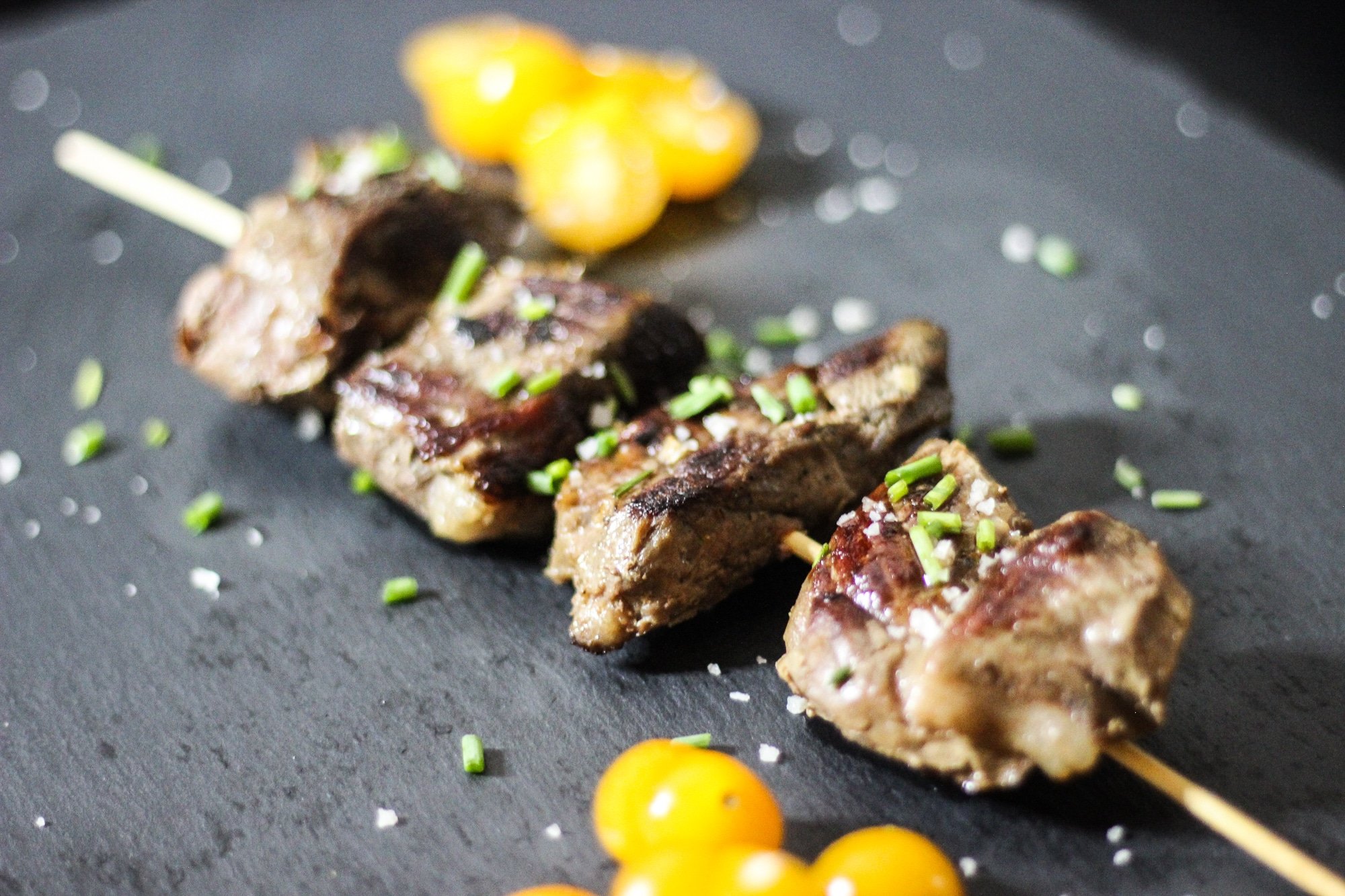 2. Sous Vide Beef Kebabs
The grill is fun, but when hosting a group, it's not something you want to be standing there doing for hours. Or else you'd never socialize because you'll always be in cook mode. So that's why this recipe is perfect.
When the sous vide beef kebabs are cooked in advance, they come together super fast on the grill—seriously 1-2 minutes on each side to get a little char.
Beef sous vide recipes that are a great choice when entertaining guests with sous vide cooking. I serve them for all sorts of holidays like get togethers around Christmas or Easter, for cookouts in the summer, and for a date night in on Valentines Day.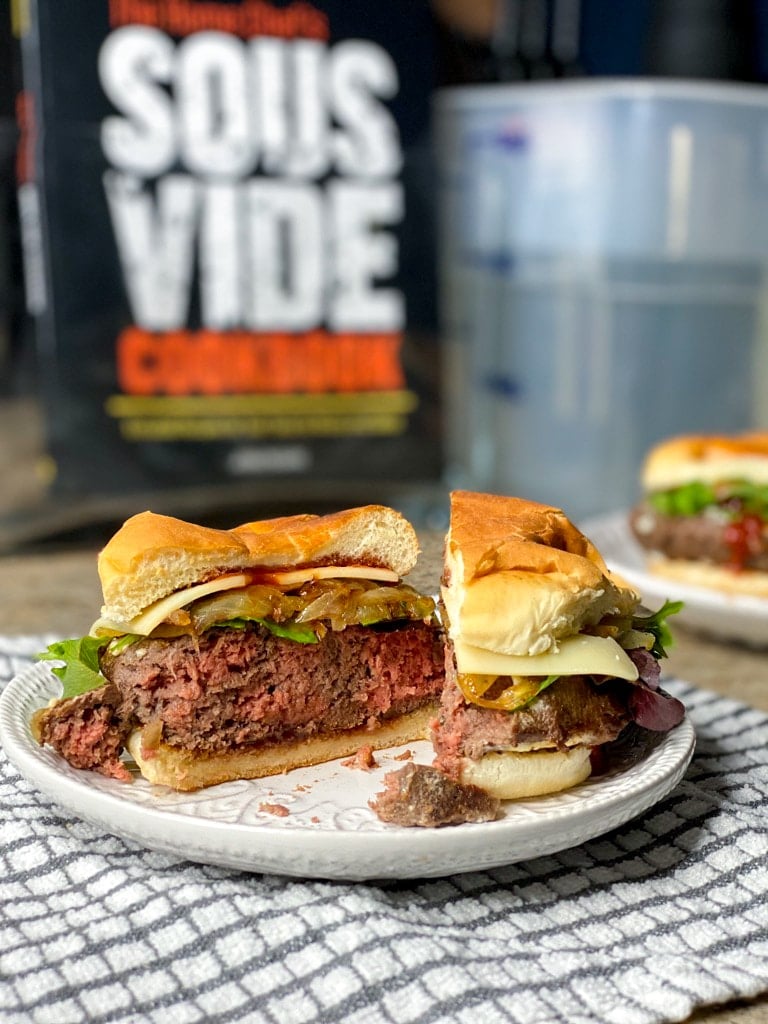 3. Sous Vide Burgers
Make these ahead and assemble before guests arrive for another easy, low cook time sous vide recipe for entertaining a crowd. Sous vide meat recipes like this are so easy.
Since the meat is cooked in the precisely regulated water of the sous vide cooker, it turns out wonderfully juicy and flavorful.
You'll have to finish sous vide burgers in cast iron on the stove, or on the grill for a crisp, smokey finish. Recipe for sous vide burgers from frozen or fresh is in The Home Chef's Sous Vide Cookbook.
Serve sous vide burgers for a bbq party with tasty sides like these red wine caramelized red onions and these very tasty sauteed mushrooms with thyme and red wine.
4. BBQ Sous Vide Chicken Breast
Serving sous vide chicken tenderloins couldn't be any easier for a socially distant bbq. The chicken can be cooked in advance in as little as an hour. Then slathered with BBQ or buffalo sauce and grilled.
Chicken is easy to sous vide in batches for a party. Use a big bucket to cook a dozen chicken breasts sous vide at the same time. You'll just want to make sure there is space for water to flow between the chicken.  
See my list of the best sous vide chicken recipes and don't miss this trick for making chicken sous vide from frozen.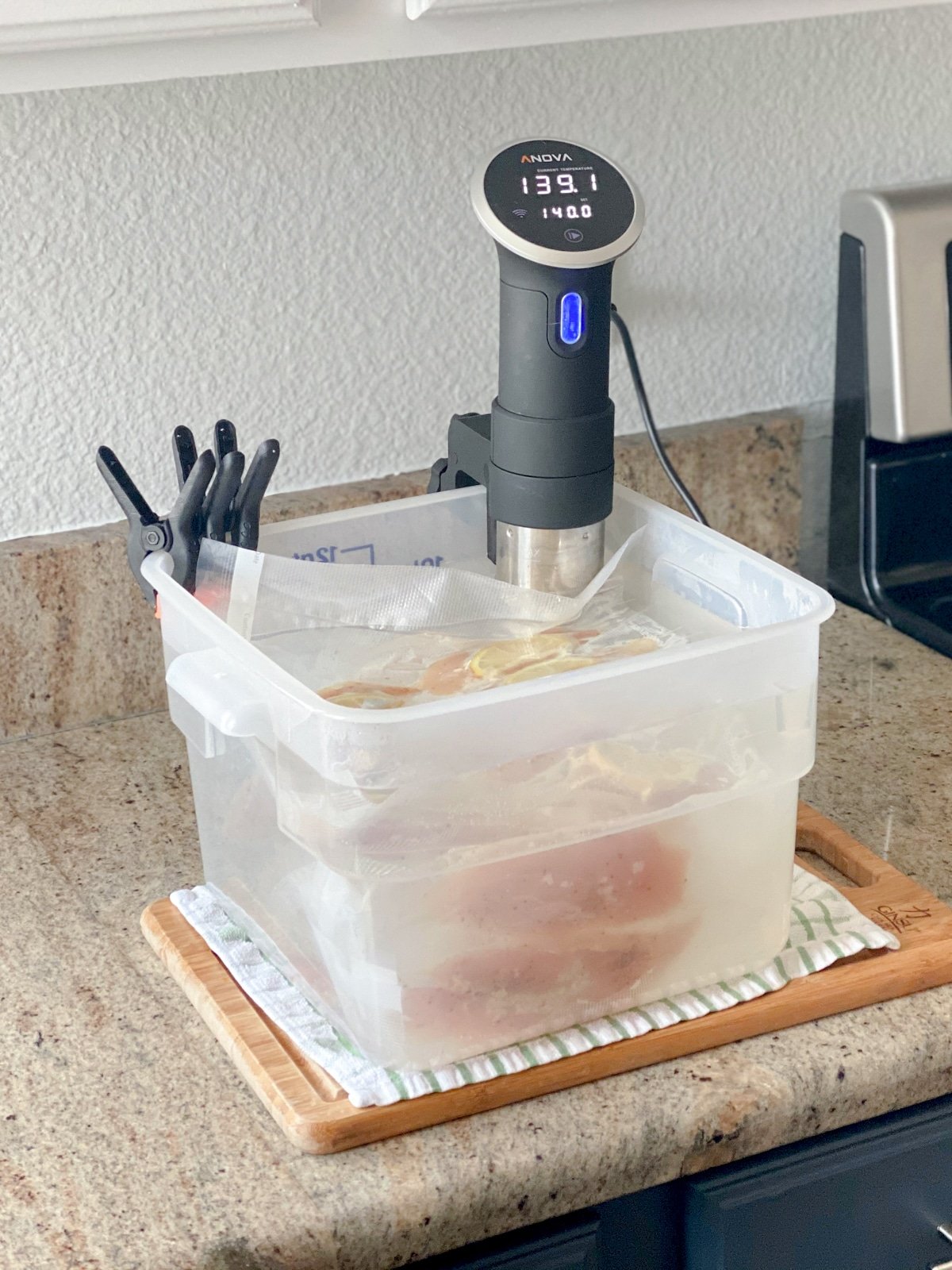 You definitely want some sauce on the sous vide bbq chicken because sous vide chicken looks weird right after cooking in the water bath.
Skip to the rest of the sous vide entertaining ideas before I go into details on how to serve sous vide chicken for a crowd…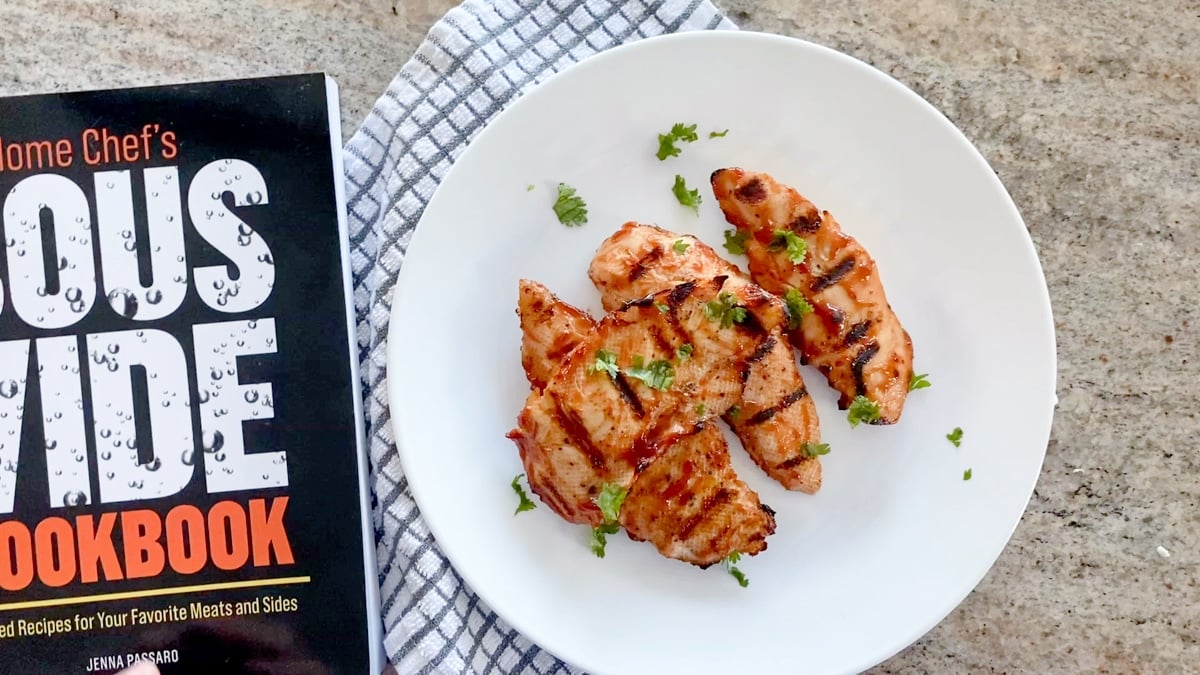 Chicken is one of the most easy sous vide party dishes to prep ahead. Usually, I'll make the sous vide chicken in the morning. Then it will go in the fridge until it's time to quickly finish and serve guests.
The fastest way to finish sous vide chicken for a party is to sear it in a pan on the stove. While this way of finishing sous vide chicken is fast when cooking for a few people, it isn't my favorite method when serving sous vide food for a big crowd.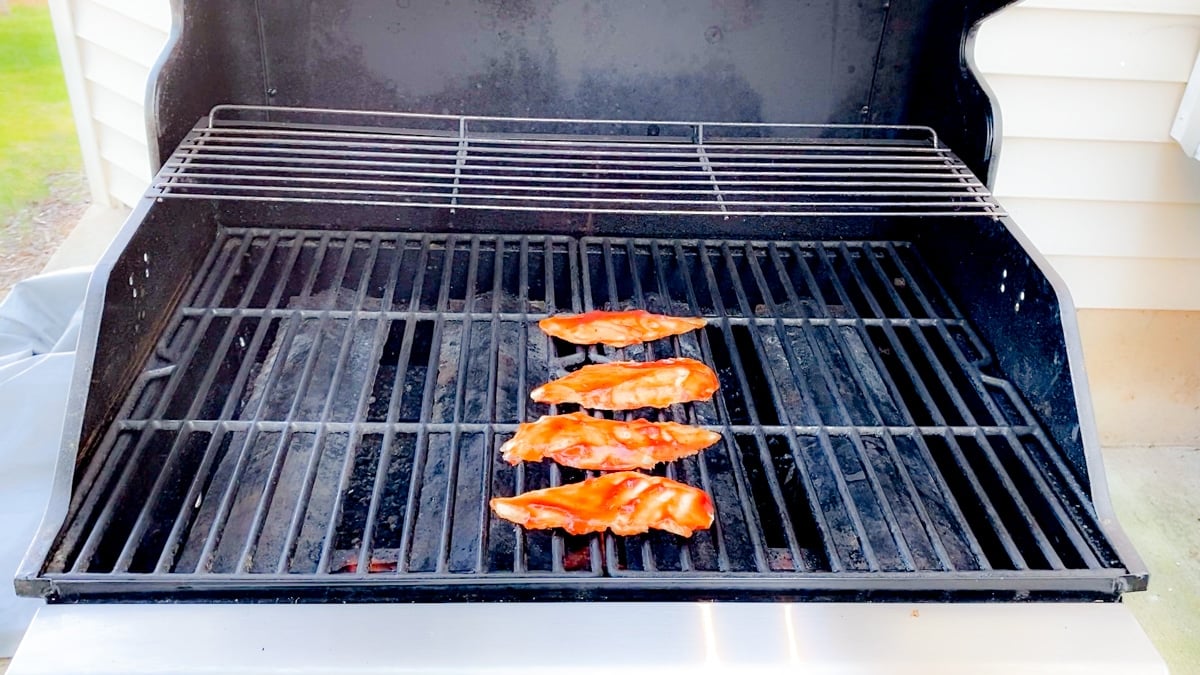 For a sous vide cookout, we will grill sous vide chicken to finish it with BBQ sauce. It just takes a couple minutes.
Want more chicken? These sous vide wings are very tasty to serve at a bbq, when camping, or for a sous vide appetizer.
And because I'm always recommending fun sous vide brunch party ideas… You have to try making sous vide fried chicken and waffles for a sous vide breakfast. It's a fun way to entertain guests with the sous vide machine.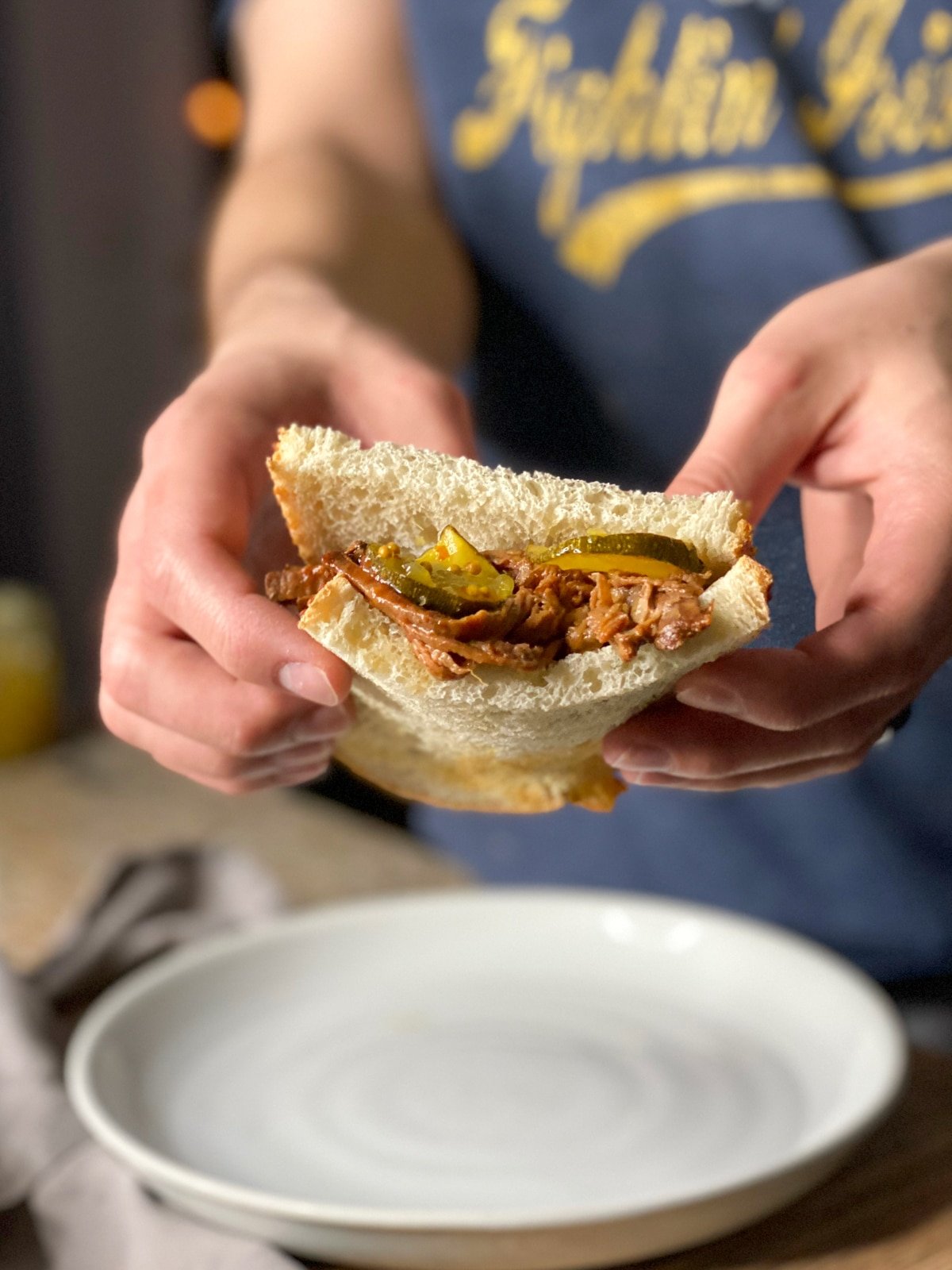 5. Juicy Sous Vide Beef Brisket Sliders
A sous vide beef brisket is a beautiful thing to behold— and, sliced up in beef sliders, with lettuce, tomato, and maybe a little onion, it tastes positively delicious. I'll make these up an hour or so before expected lunchtime and get them in their own individual baggies for a simple but unique socially distant lunch.
Add some extra crunch and tastiness to sous vide brisket sliders with my favorite red cabbage carrot slaw.
Want to switch it up and serve multiple kinds of sliders? Check out my recipe for sous vide pulled pork!
6. Brunch-ready Sous Vide Egg Bites
Here's one of my favorite brunch sous vide recipes for entertaining.
Make tasty Starbucks sous vide egg bites, but better because you're the cook! My favorite thing about these is that you can make them as much as a week in advance — just reheat before serving.
The individual portions lend themselves well to grab and go sous vide brunches. Everyone who has eaten one comes back and asks for the recipe once they get sous vide setup.
To make egg bites the right way, use these small mason jars – they're my favorite because the sides are flat instead of curved. Which means it's easier to pop the sous vide egg bites out of the jars.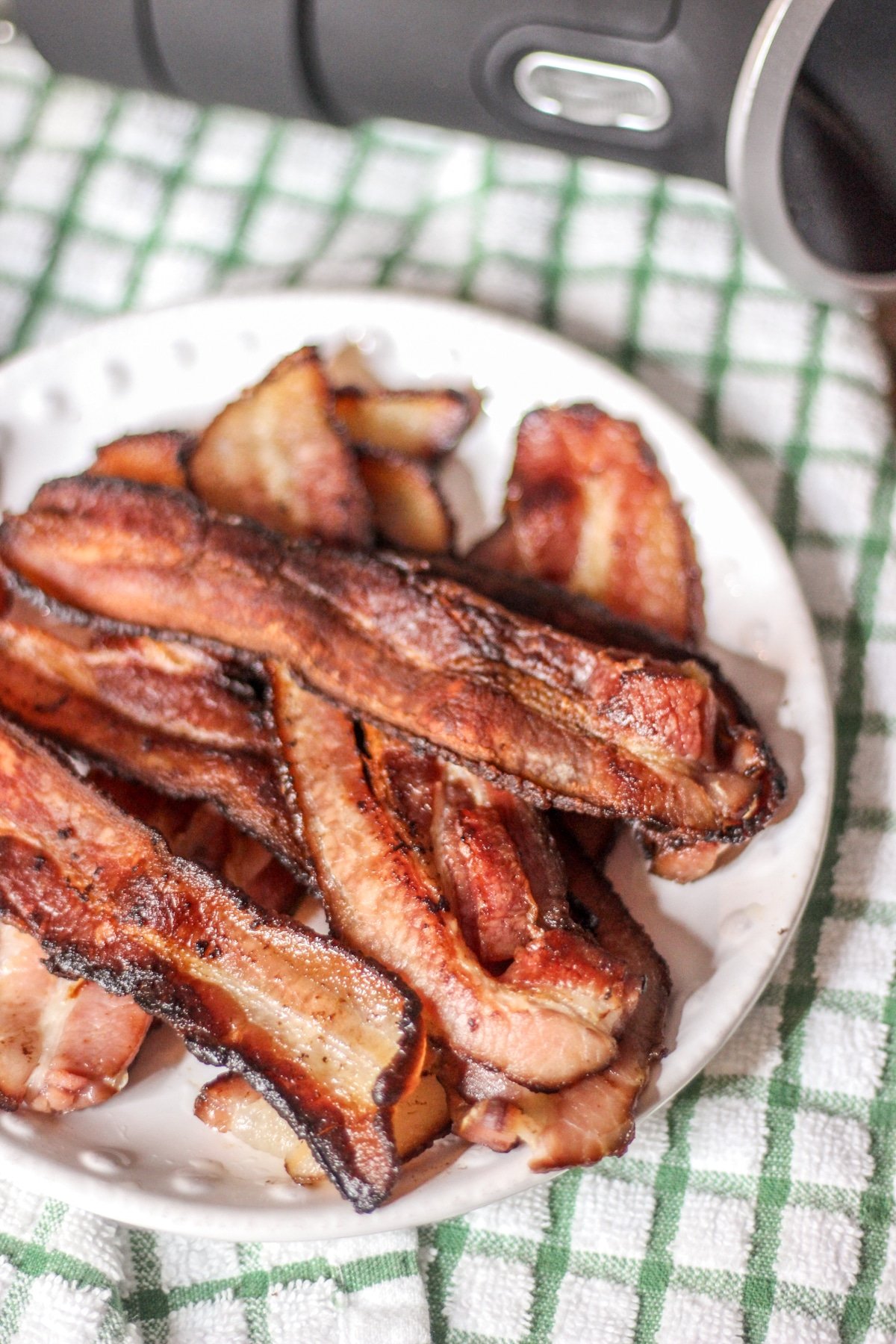 7. Sous Vide Bacon
This overnight sous vide bacon recipe lends itself well to a socially distant brunch—sous vide bacon is cooked to perfection in the sous vide bath then crisped in a pan before serving.
Serve this sous vide brunch dish with your sous vide egg bites, also made in advance, and a selection of fresh fruit.
8. Sous Vide Short Ribs in Red Wine
The twenty-four-hour cook time sous vide short ribs makes it sound like you've been camping out in the kitchen to bring your guests something super special—but in all honesty, there's hardly a recipe anywhere that's less work.
9. Sous Vide Sausage and Onions Hoagie
Here's a favorite sous vide dish for camping or picnics – sous vide sausage sandwiches can be made ahead in bulk and packaged in tin foil, ready for everyone to take their own. You'll sous vide the sausage with onions and beer for some incomparable flavor. Sausages cooked this way come out super juicy.
A crunchy vegetable-packed dish, like my best Caprese salad, is a perfect companion to these hoagies.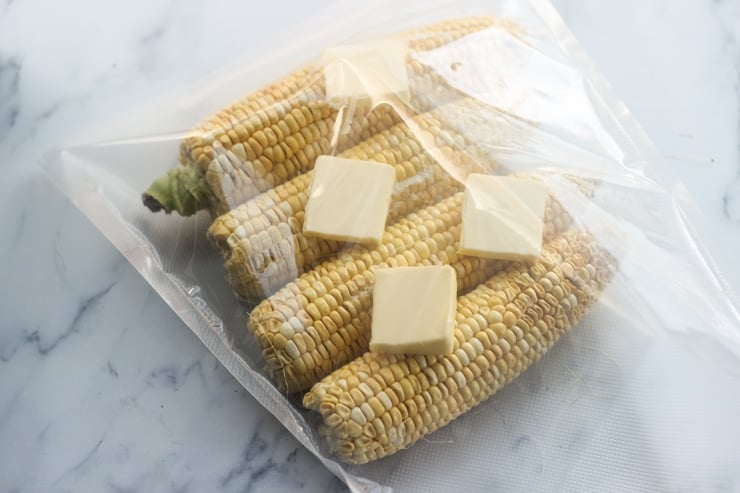 10. Sous Vide Butter Poached Corn
For a delicious vegetable side, make up butter poached corn on the cob for all of your guests.  Unlike boiled corn, you lose none of the flavors when you sous vide corn on the cobs, and everyone will be impressed by the creamy, buttery goodness.
The highlight of this sous vide vegetable dish? It may sound weird, but sous vide poached corn keeps the corny flavor. It doesn't get lost to boiling water (which happens from stovetop cooking corn) when it's cooked inside a bag.
Just a heads up though – corn usually floats in the sous vide bath so you'll need little sous vide weights or something to weigh the corn down.
A very short cook! So worth trying this easy sous vide party side dish.
If you want to go all out in the flavor department, see this new recipe for sous vide sweet corn on the cob. It's served with a tasty jalapeno sauce. You have to try it.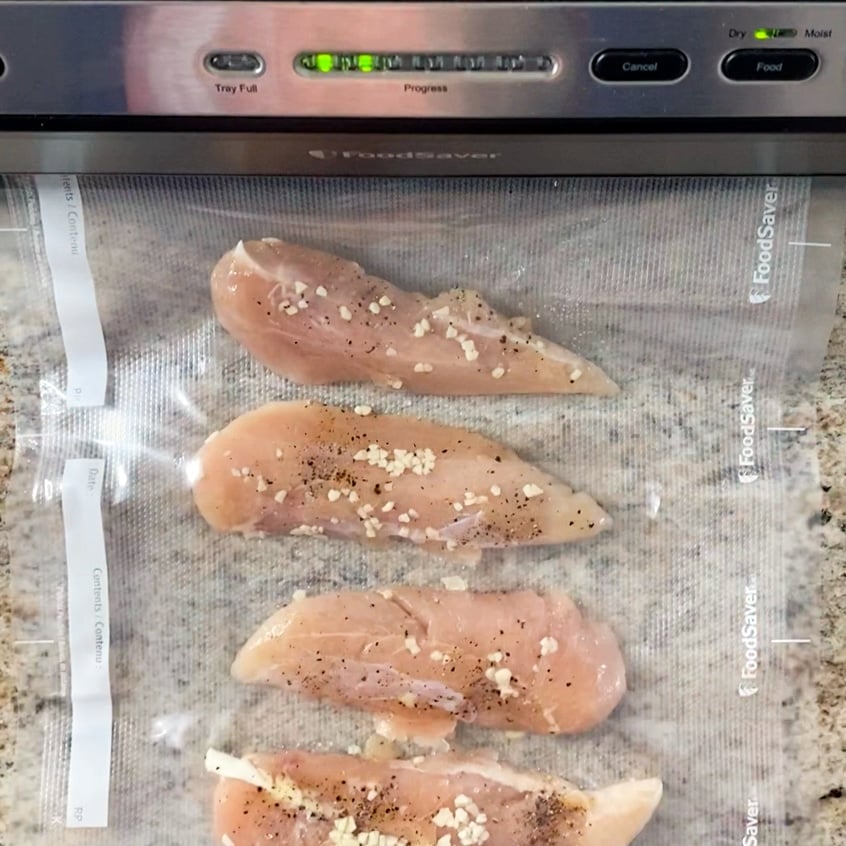 11. Sous Vide Nashville Fried Chicken
Smokey, crisp and oh-so-very-hot, this Nashville style sous vide fried chicken recipe is everything you ever wanted in fried chicken. The sous vide cooking means you get to prepare ahead of time and don't have to close yourself up in the kitchen when your sous vide party guests arrive.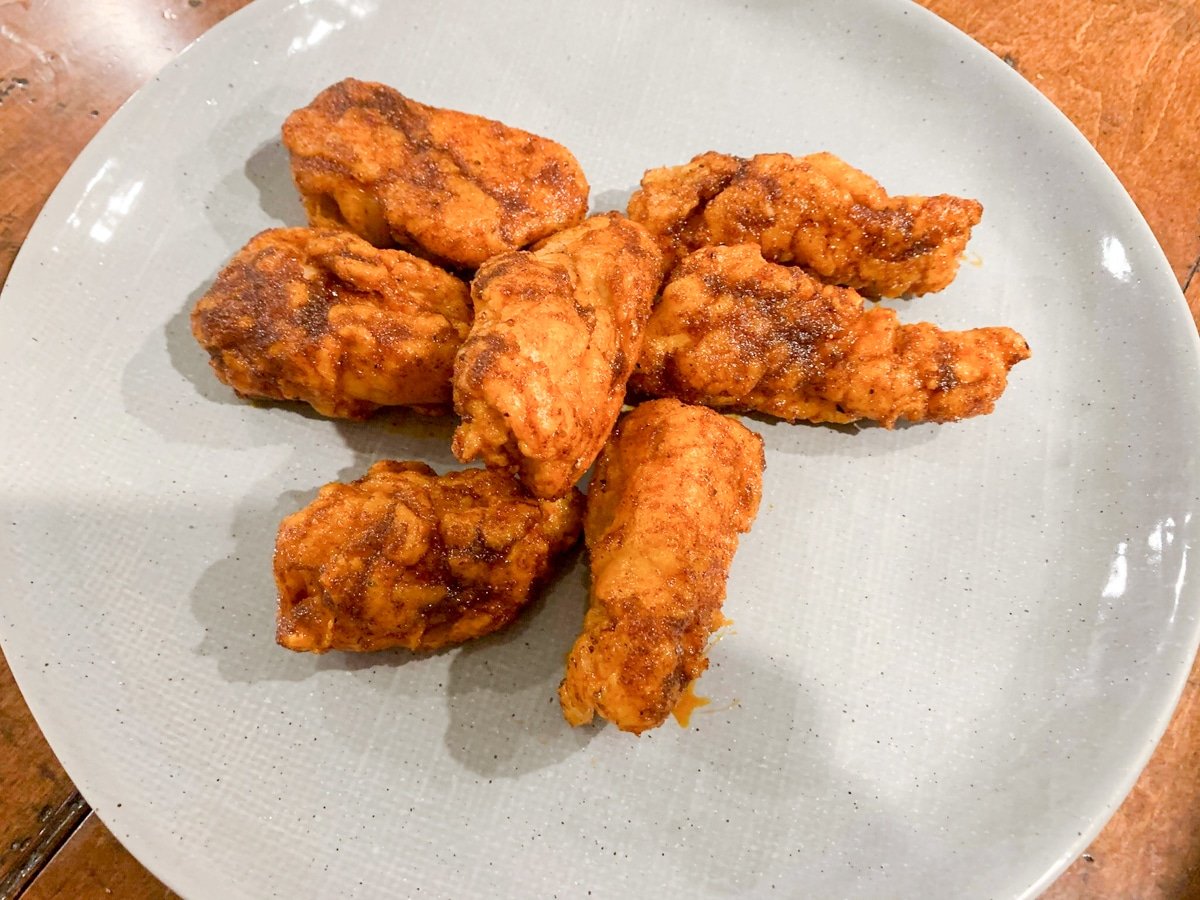 Serve these with my make-ahead Mexican salad for a complete meal. My big tip: get everything plated up before your guests get there, so you won't be left scrambling.
12. Sous Vide Pork Chops
Here's another tasty and easy sous vide entertaining idea: sous vide bone in pork chops. See how to meal prep them and finish them in a cast iron skillet. It also comes with one of the most delicious sauces you'll ever try.
13. Sous Vide Whole Chicken
This dish is a show stopper.
Since it's sous vide cooked, it's completely tender inside. The outside skin is super crispy, though, because it's finished in the broiler. Sometimes I'll spatchcock and sous vide two chickens at once if I'm on a sous vide meal prep kick.
See the recipe for sous vide whole roast chicken.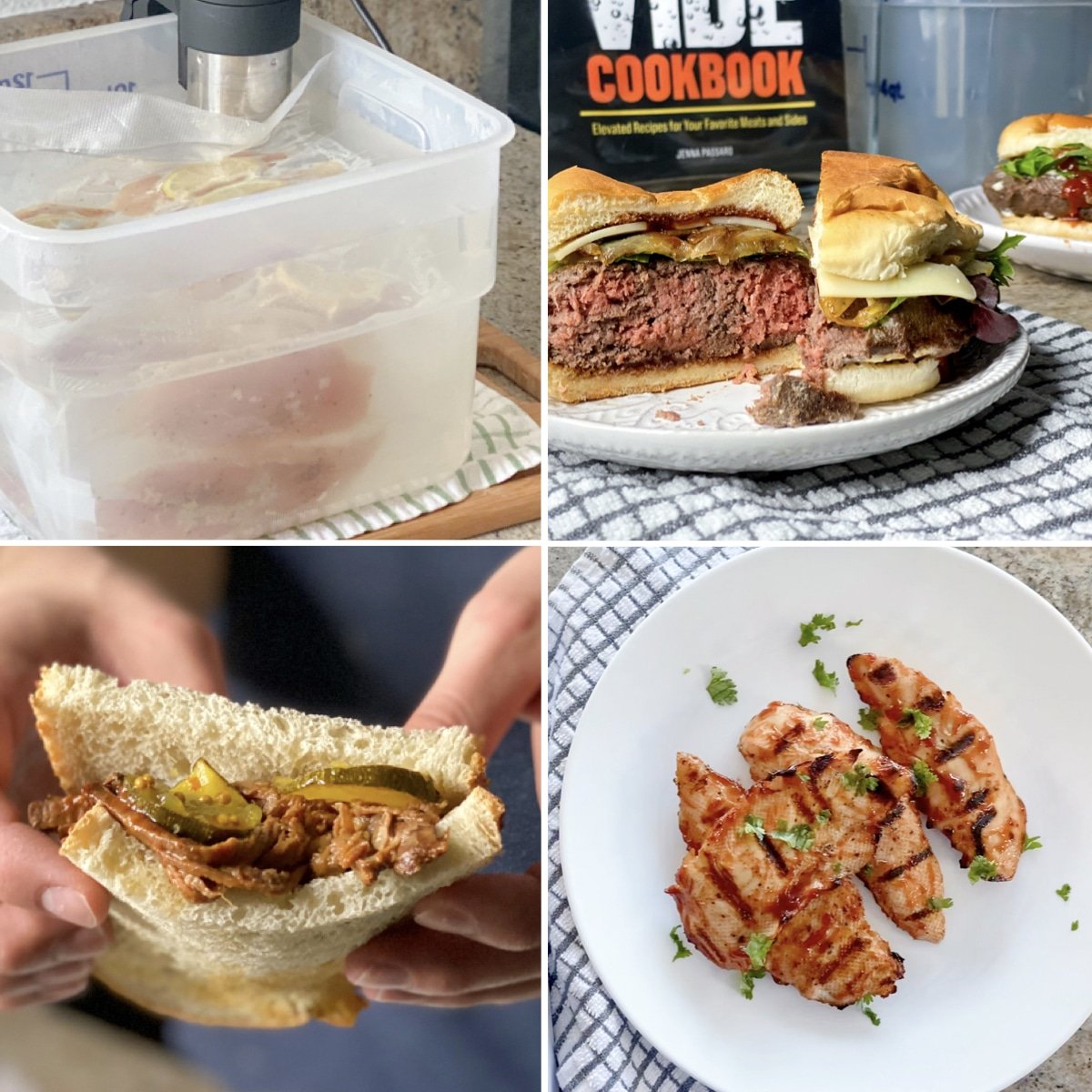 Logistics for serving food socially distanced
I'll use my food service gloves and a mask when preparing food for a crowd, and make sure everything is dished up in advance so there are no serving fiascos. Since having a baby, we keep a stock of gloves in the house and it's great for prepping food.
I'd spread out a bunch of lawn chairs, or ask people to bring their own. If it's a smaller group, perhaps set up tables for family groups to sit in (instead of mingling very much) so everyone can dig in comfortably, just as if they were at home…. and still enjoy my good cooking and the shared company.
Putting this together was kind of surreal. I really miss meeting my baby's parents group monthly. And inviting friends over for cookouts.
Never thought I'd be writing a post that includes thought on sous vide recipes for social distancing. But here we are, and sous vide cooking is here to help. These are just some of my ideas like I said – we're all rolling with this together.
Entertaining with sous vide cooking?
Find me @sipbitego on Instagram and tell me how sous vide cooking for a crowd went. I'd love to hear what worked for you.