Wondering ​​what to do in Puerto Rico with kids? I've got you covered with family vacation travel tips for making the most of visiting San Juan and surrounding areas with children. See where to stay, eat, and play to have a fun island trip for the entire family… let's go!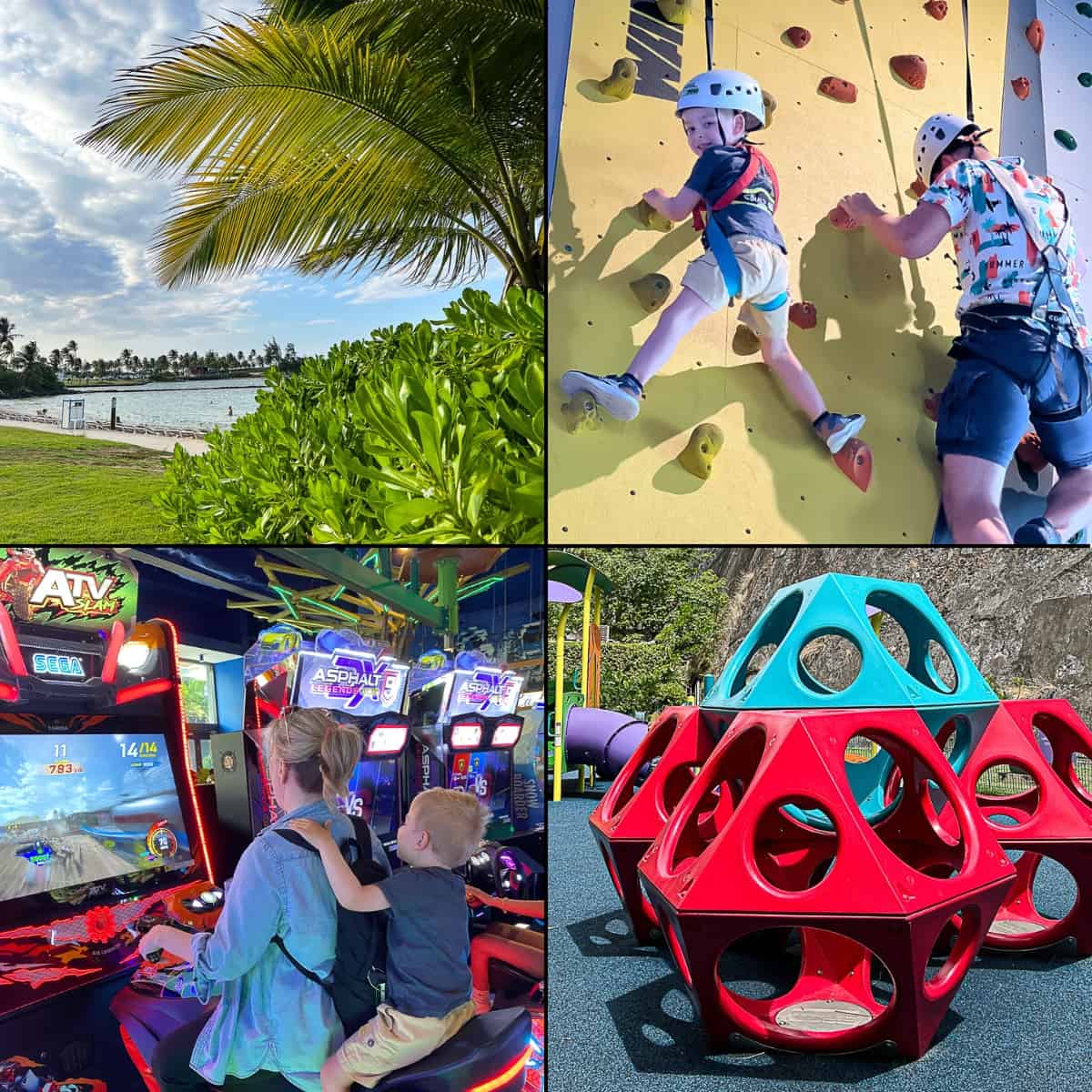 Get tips for traveling to San Juan, Puerto Rico in this new series of NEW Sip Bite Go travel blogger guides. Thanks to Puerto Rico for providing some of the activities in this guide for review. All options are my own.
Let's get into my favorite family-centered things to do on the island…
Some of my favorite family things to do in Puerto Rico…
Enjoy the yummy cuisine at family-friendly Puerto Rico restaurants.
See nature – beaches, light rainforest hikes, swimming in natural water.
Try a San Juan playground (awesome recommendation below)
Have a little adventure – ATV or catamaran rides are very popular.
Visit an arcade.
Avoid areas that aren't so family-friendly (more on that below).
Tour a fort for some San Juan history.
Follow Sip Bite Go on Instagram and TikTok for travel and food inspiration…
Is Puerto Rico good for a family trip?
My answer is yes, for so many reasons…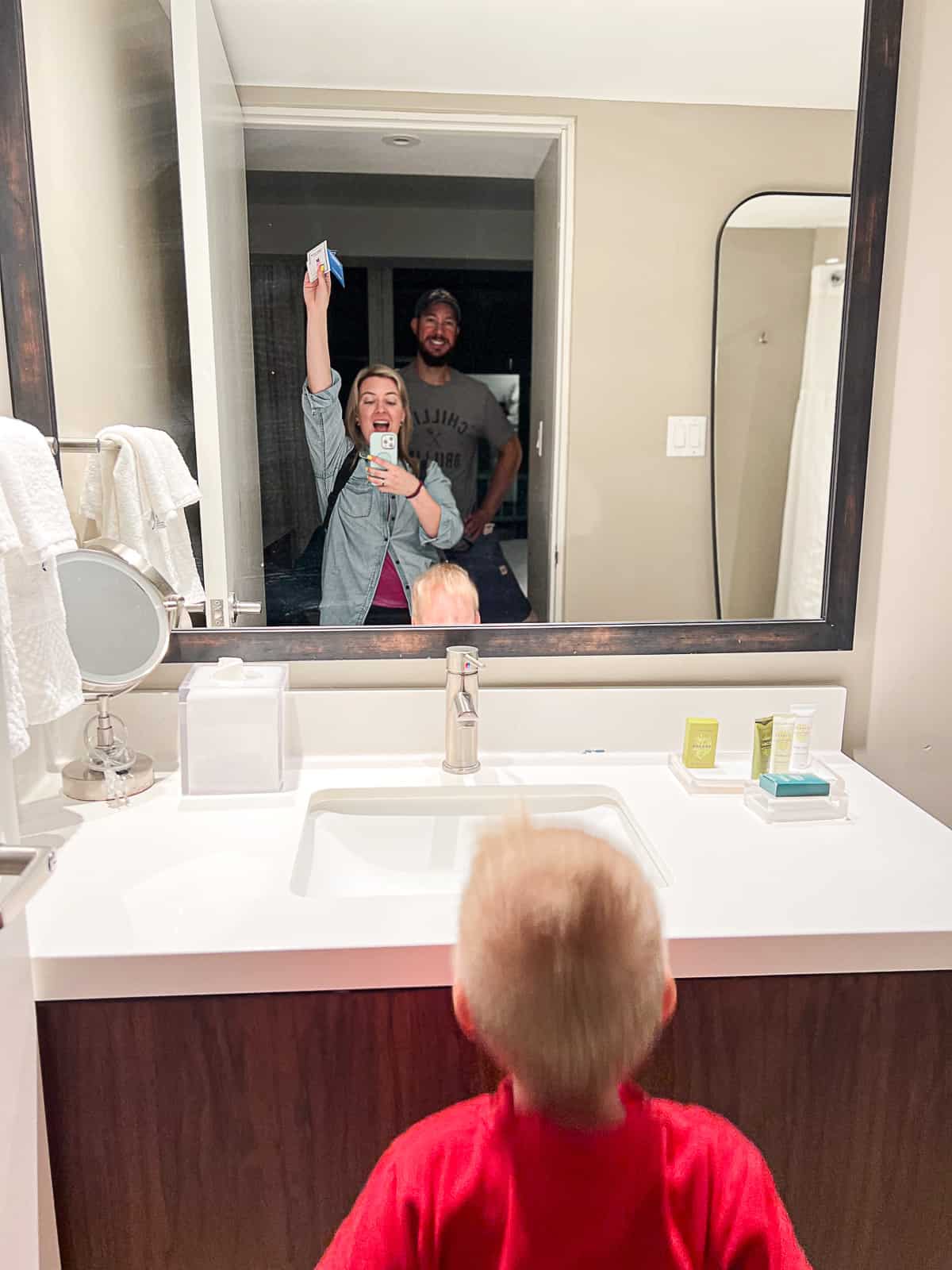 Puerto Rico has many activities that are perfect for families, from exploring tropical rainforest to discovering the ancient culture and enjoying local cuisine.
Things for active families to do in Puerto Rico
Families can bond over many activities like
A nature hike – El Yunque National Forest is a great spot
Soak up the vibrant culture of Old San Juan by strolling the streets downtown.
Kayak a bioluminescent bay
Tour historic sites that involve climbing interesting tunnels and rustic forts like the San Felipe Del Morro Castle.
Enjoy delicious local cuisine at Deaverdura when you're hungry at the end!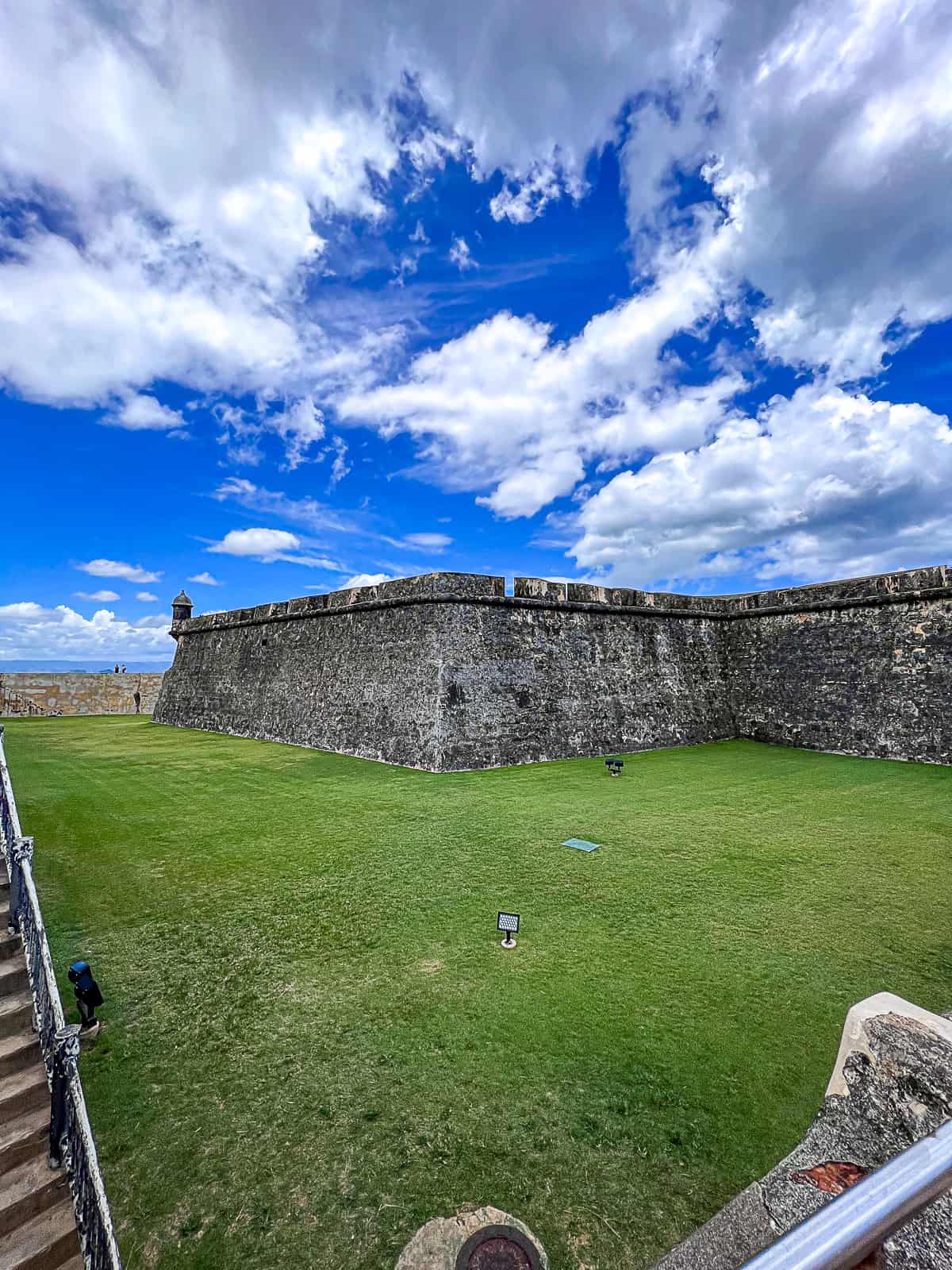 Visit a playground near a historical site
The background of Parque Del Nino – a kids playground in San Juan is so beautiful.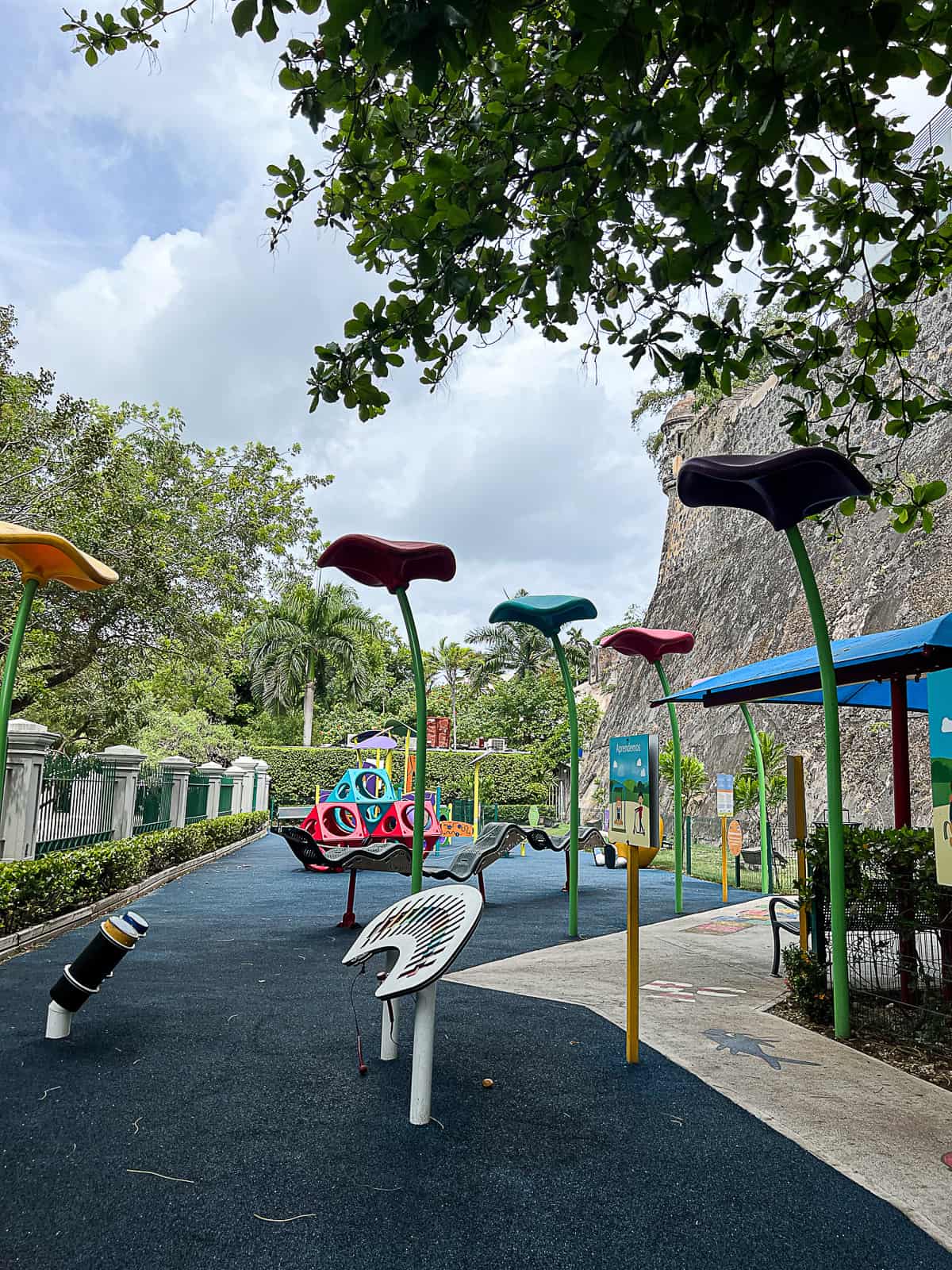 It's near the cruise terminal down by the water…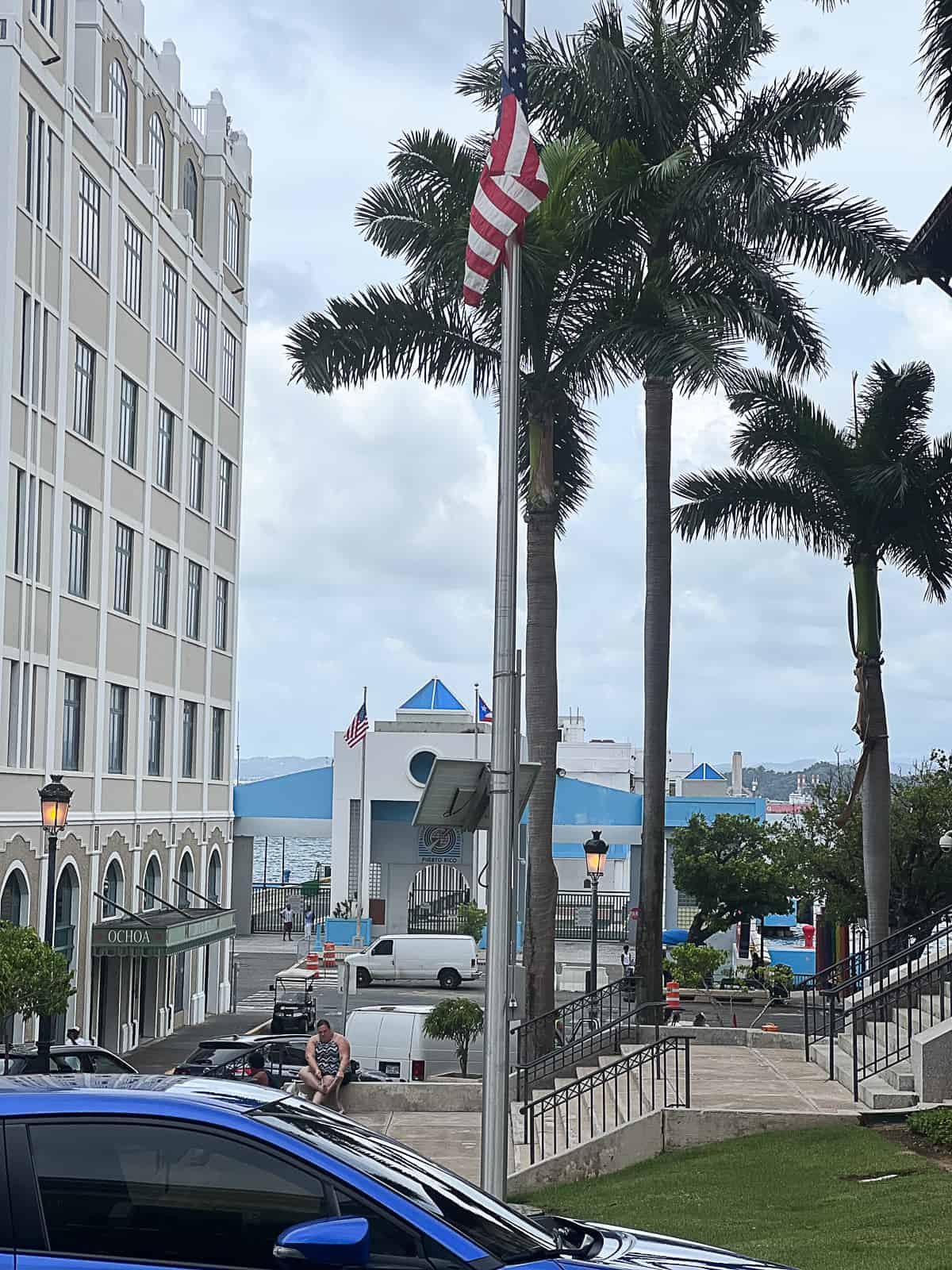 Near it you will find an open-air market, and one of my favorite restaurants in Puerto Rico – Princesa Gastrobar.
And it's right next to an outdoor gym…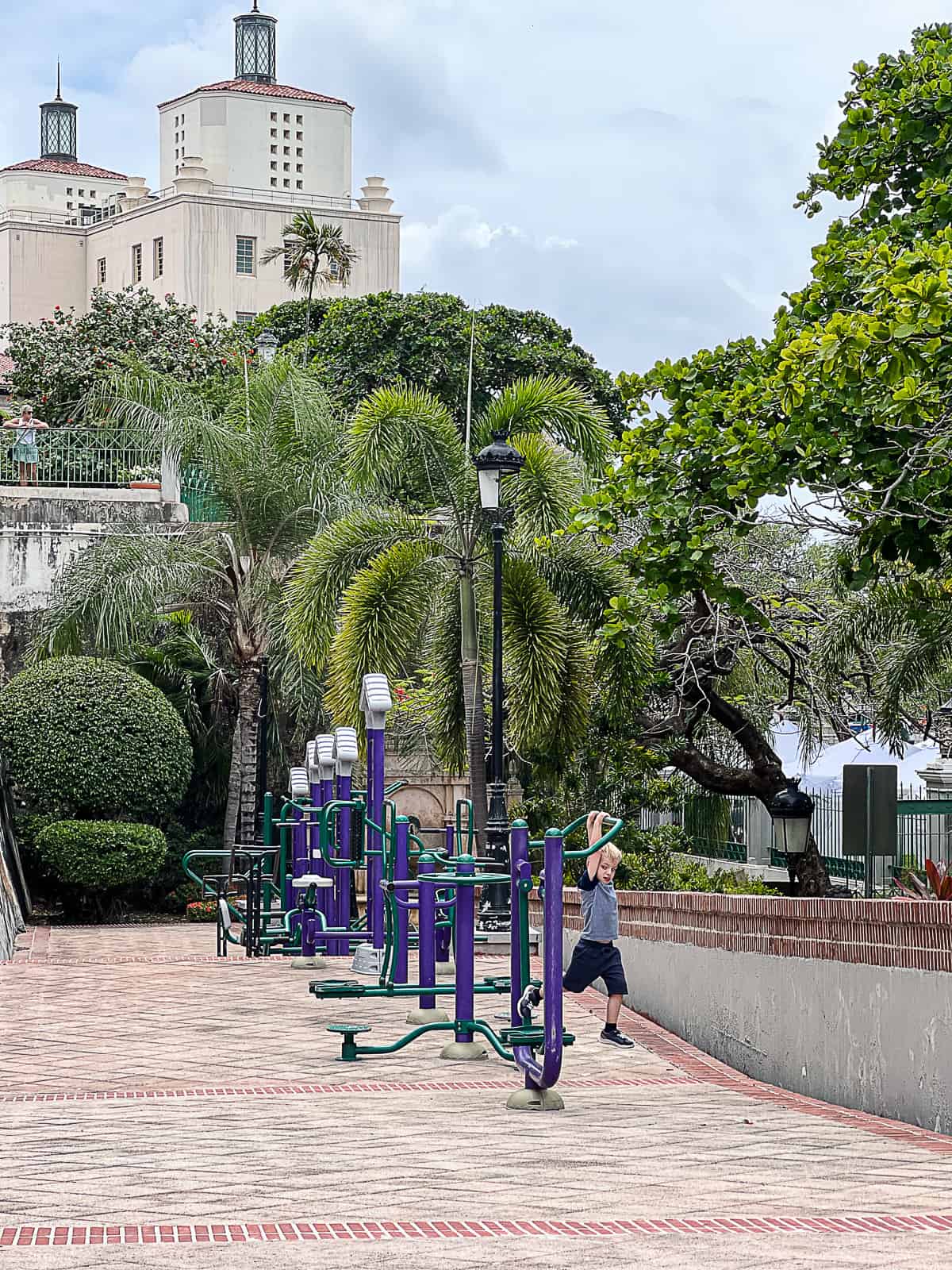 Here's a video…
See more about this great Old San Juan playground…
Fun Box
You'll find this indoor climbing gym (with a great option that's good for smaller kids that is low to the ground) in Outlet 66 mall in Canovańas, about 30 minutes east of San Juan.
We were able to take an uber there, but the wait time was a bit longer than if you're trying to get around downtown Old San Juan.
Visit Districto T Mobile for family activities
This area of San Juan is especially good in the rain, or in extreme heat, because you can duck inside a cool AC building…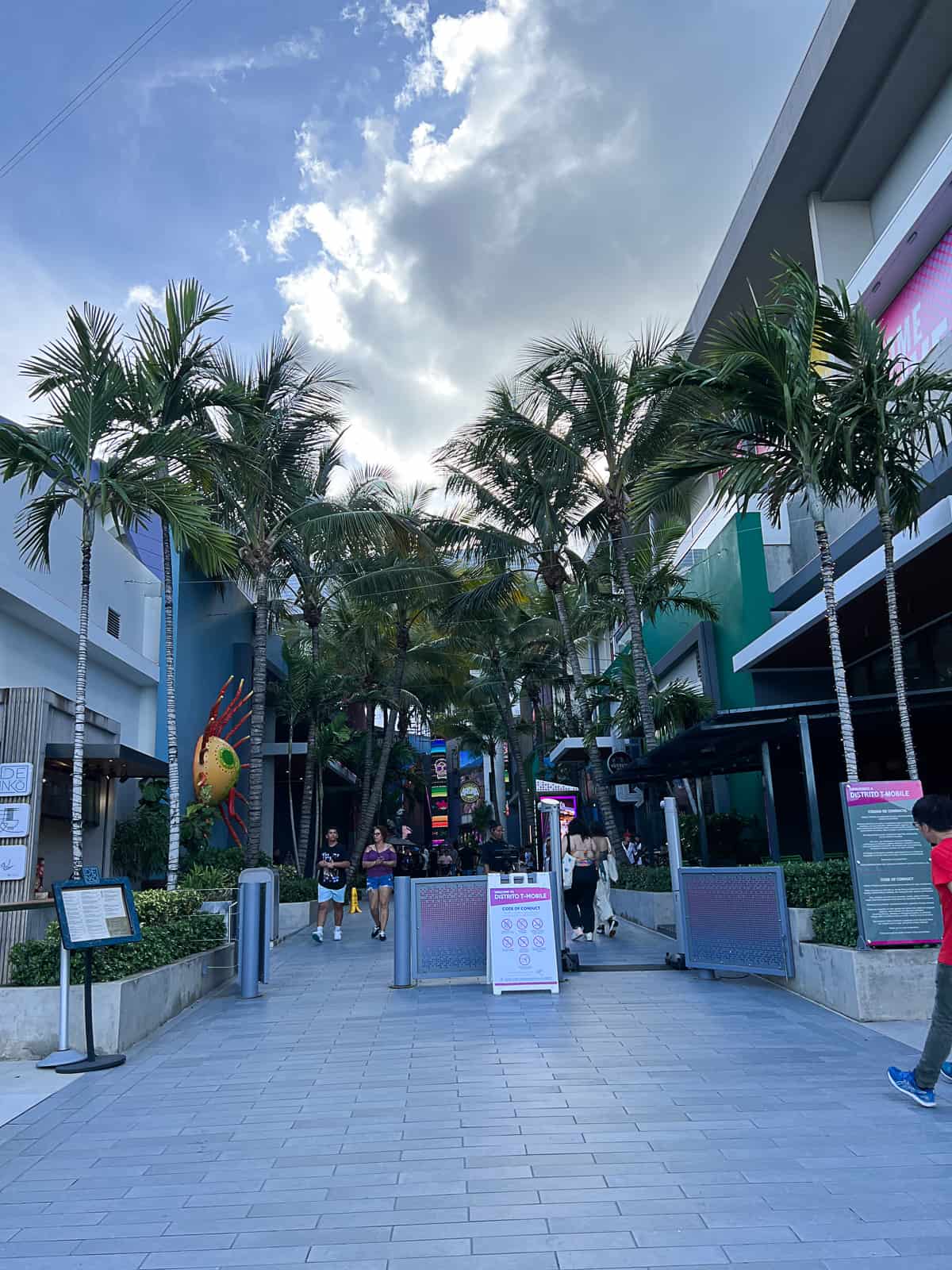 One thing we love doing in this area is visiting this arcade / rock climbing activity at a place – it's called TORO VERDE Urban Park…
See this video of TORO VERDE Urban Park in the T Mobile District
Inside the gates of the T Mobile District, you'll also find restaurants, bars, and live music.
See more about TORO VERDE Urban Park…
See family-friendly restaurants in Old San Juan
As a foodie traveler before and a mom, it's important for me to get out and taste the best food the city has to offer.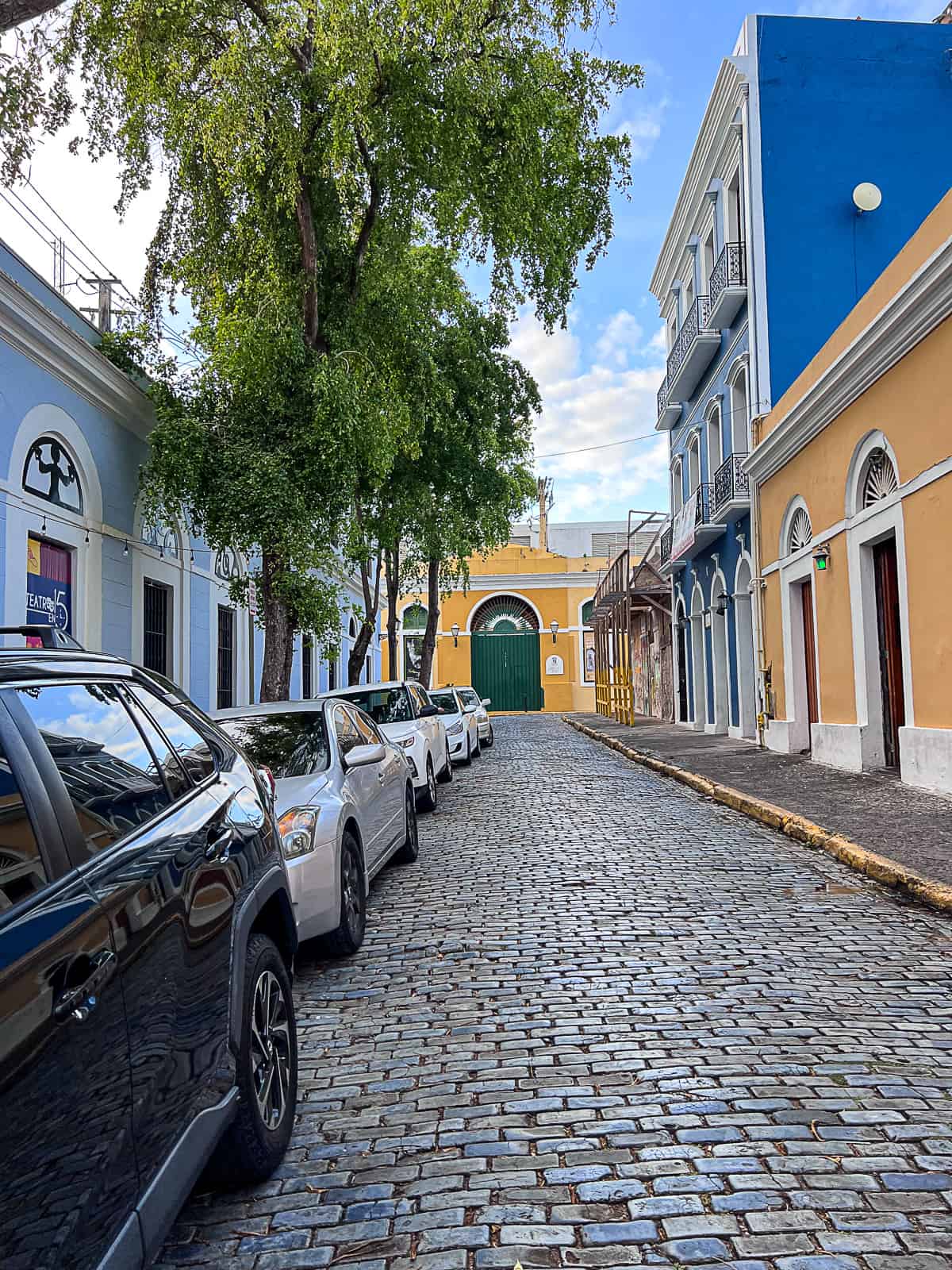 It doesn't need to be fancy, but it does need to be delicious!
Above is a tasty spot for an afternoon snack… it's Triana Tapas & Flamenco.
I've also listed some of my favorite places to eat near destinations for family activities in San Juan around this article.
See the best restaurants in San Juan, Puerto Rico…
Stay at the best family friendly resorts in Puerto Rico
One of the keys to enjoying a vacation with family friendly activities in Puerto Rico is to stay somewhere the whole family will love.
Why I love the Caribe Hilton San Juan resort for families
Known as the place of invention for the piña colada, there's plenty for both adults and kids to enjoy when staying at the Caribe Hilton.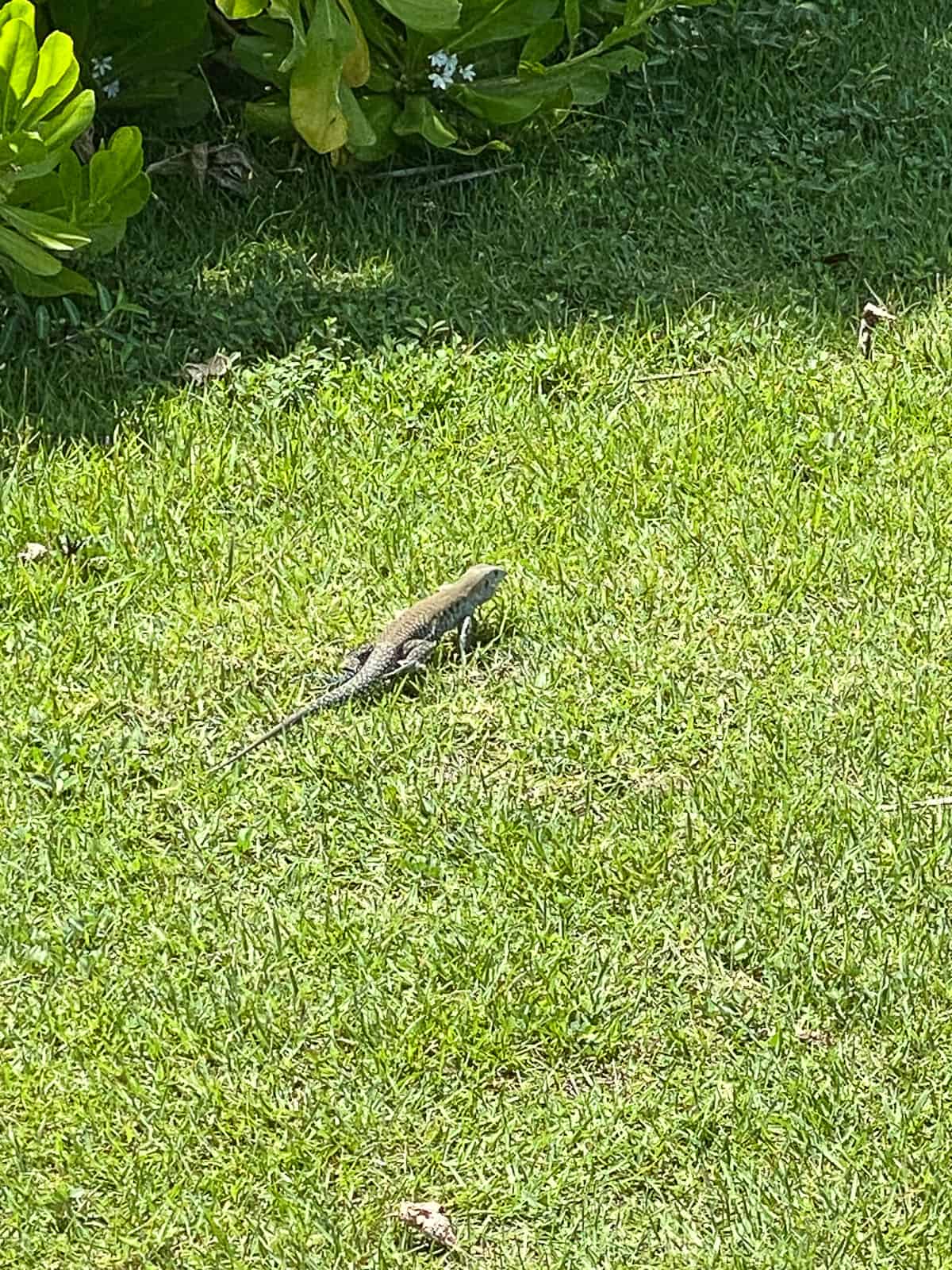 It's a resort loaded with all the amenities that make it easy to find a home-away-from-home during your San Juan trip…
The on-site dining includes Starbucks, an ice cream shop, a breakfast buffet included if you're a certain level of Hilton guest, a sit-down Italian restaurant, and Morten's Steakhouse which I ordered to-go and enjoyed multiple nights of our recent visit.
The location is incredible.
Just a 10 minute drive to downtown Old San Juan, where you can eat and enjoy playgrounds for kids.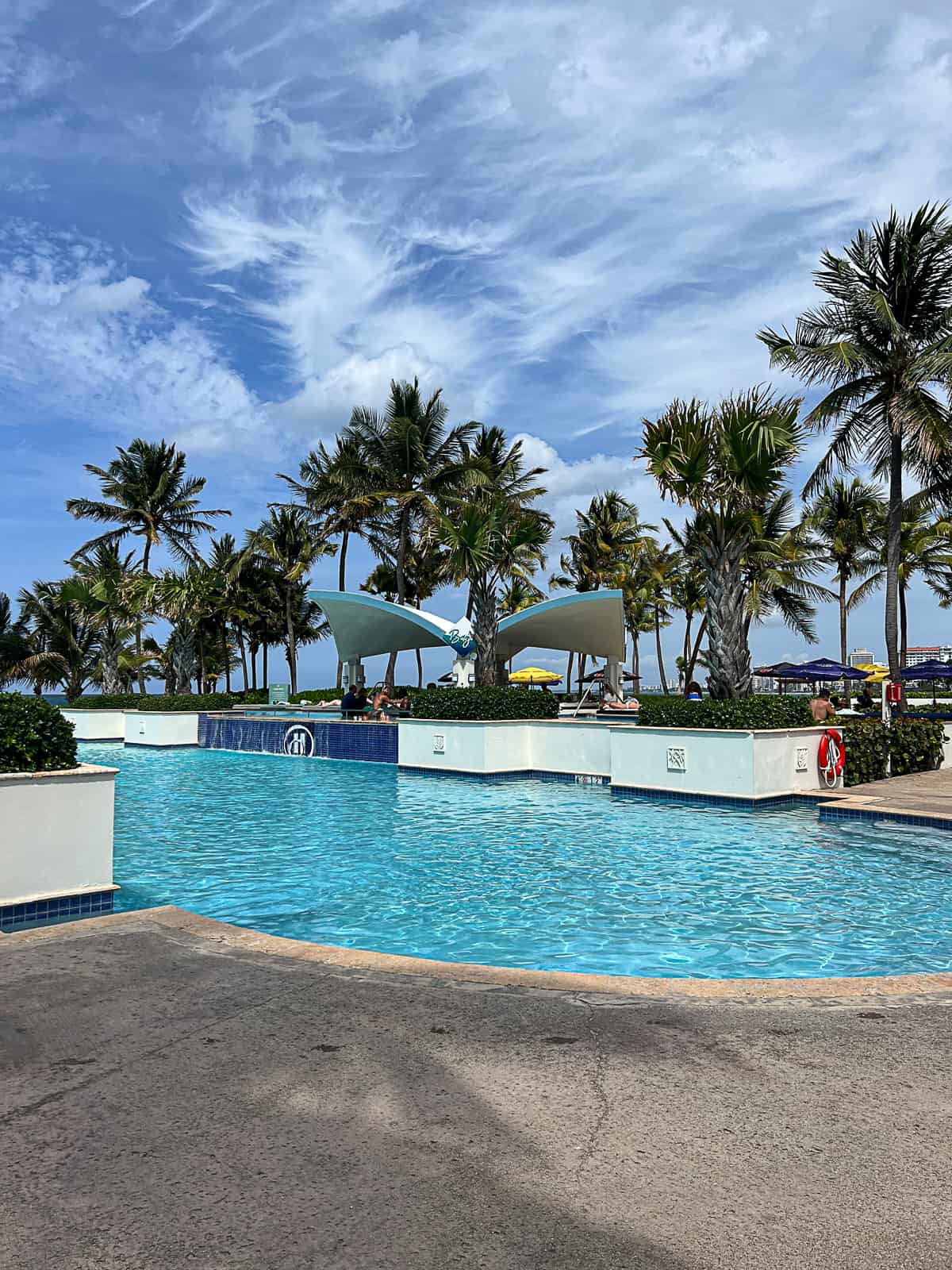 This property has beautiful pools but is also on the beach, which has a doc to swim to and is known for snorkeling.
Plus, it's close to other things like the T Mobile District, a family friendly attraction in San Juan, which has one of our favorite arcades (see more on that above).
AND there is a playground on site!
Anyways, I think making a family trip to Puerto Rico successful will depend on where you stay.
And staying at a resort which offers so much for kids and has tasty food options and convenience for adults will get your trip off to a good start.
Tour our Caribe Hilton family suite…
I have more on the Sip Bite Go youtube channel, featuring this family friendly resort in PR.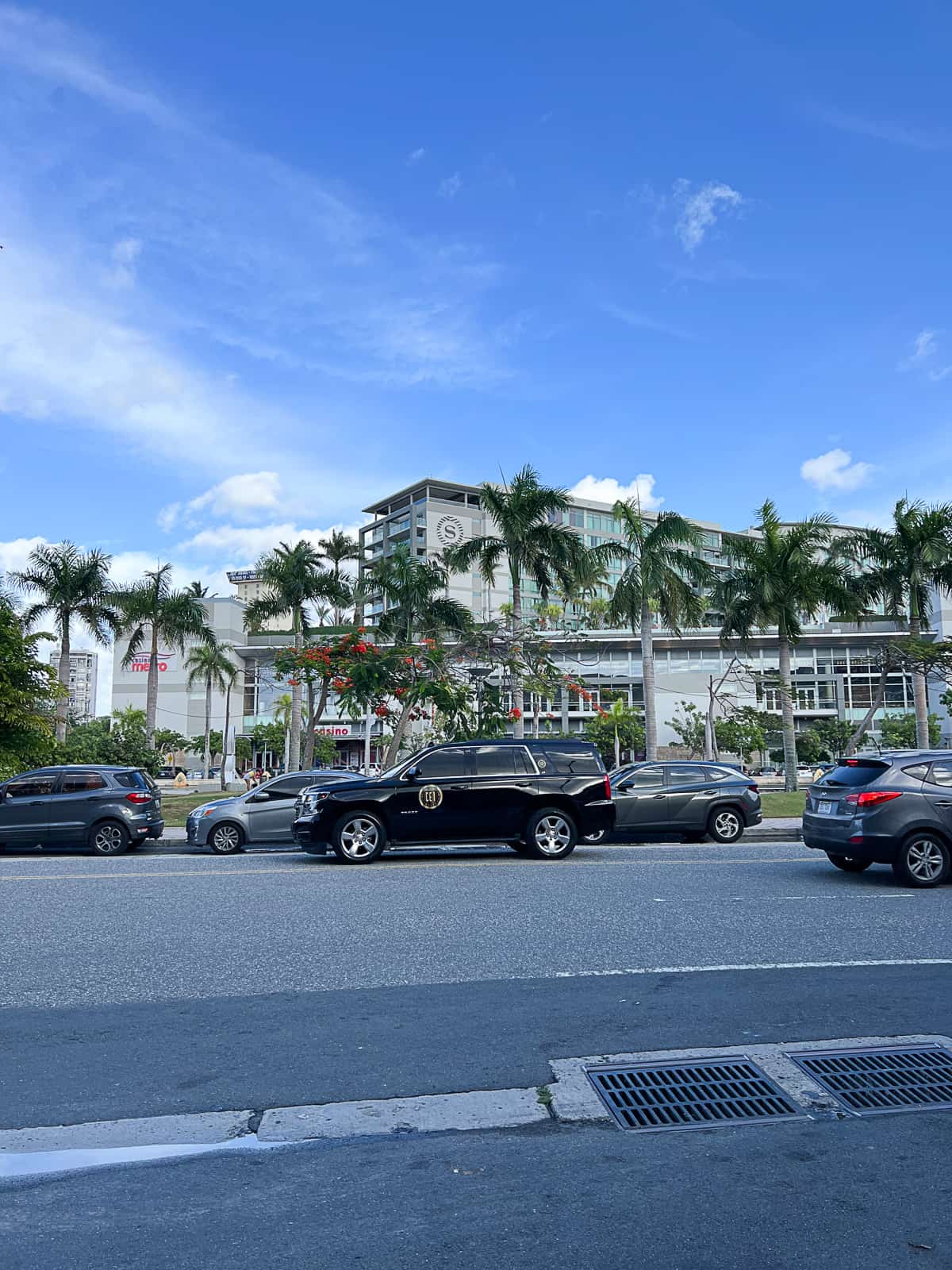 There are other big name family friendly hotels in San Juan, including the Marriott and Sheraton.
Visit Bacardi to eat some yummy food!
I debated putting a visit to Casa Bacardi on my family-friendly Puerto Rico activities list, but here it is!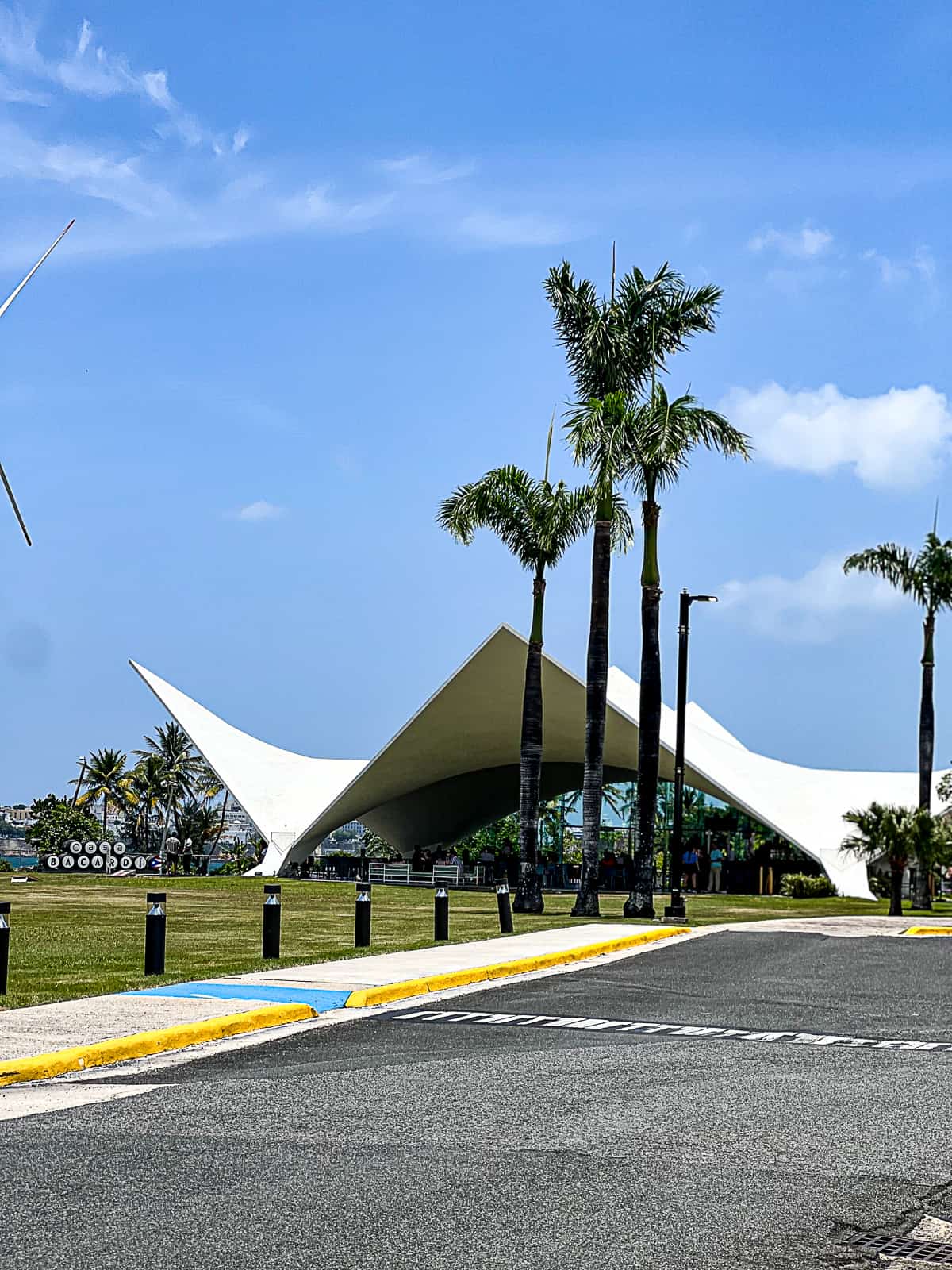 So just to say it: don't give alcohol to kids, obviously, but this rum tour destination in ​​Cataño (about 30 minutes from San Juan) can be turned into a family foodie adventure…
And the grounds are beautiful for running around and enjoying the scenery.
It's a great stop on the way back from another excursion if you're hungry….
One of my favorite places to get empanadas near San Juan is at Casa Bacardi…
You can tour the grounds of Bacardi, learn some history of producing rum, and enjoy some cocktails while you eat on-site at ​​El Cuchifrito Comido de Barrio.
El Cuchifrito Comido de Barrio
Check out this video…
The tour there is lovely, too!
Mine was provided by the lovely people from Casa Bacardi to feature if I enjoyed it, and guess what: I sure loved the entire day!
Love good food? See popular smoked food recipes on Sip Bite Go…
Check out the local art and murals
After a Bacardi factory tour during a recent visit, we checked out local murals all over.
I recommend doing this as part of a tour group to really understand the history and evolution of Puerto Rican art.
See more on the Santurce Murals…
Go on a rainforest excursion to El Yunque
This is something I never really pictured myself doing in Puerto Rico: going to a rainforest.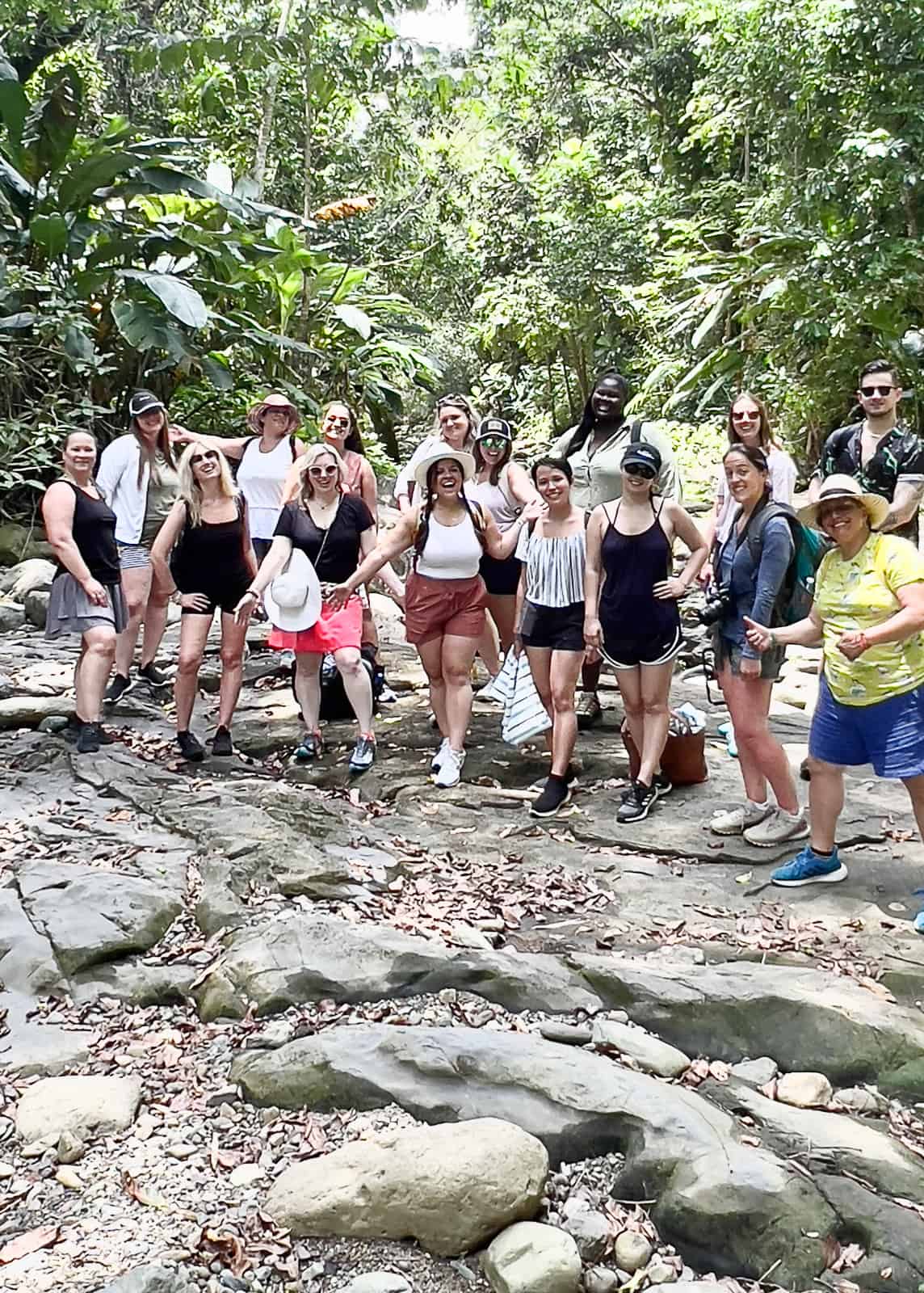 Which *now* sounds silly to say, because obviously if you see the video below, this was the most chill day ever… but going into it, I didn't know how I'd survive… seriously.
See what it's like to visit ​​El Yunque Puerto Rico…
Try mofongo
Don't miss out on trying one of the most popularly known foods on the island.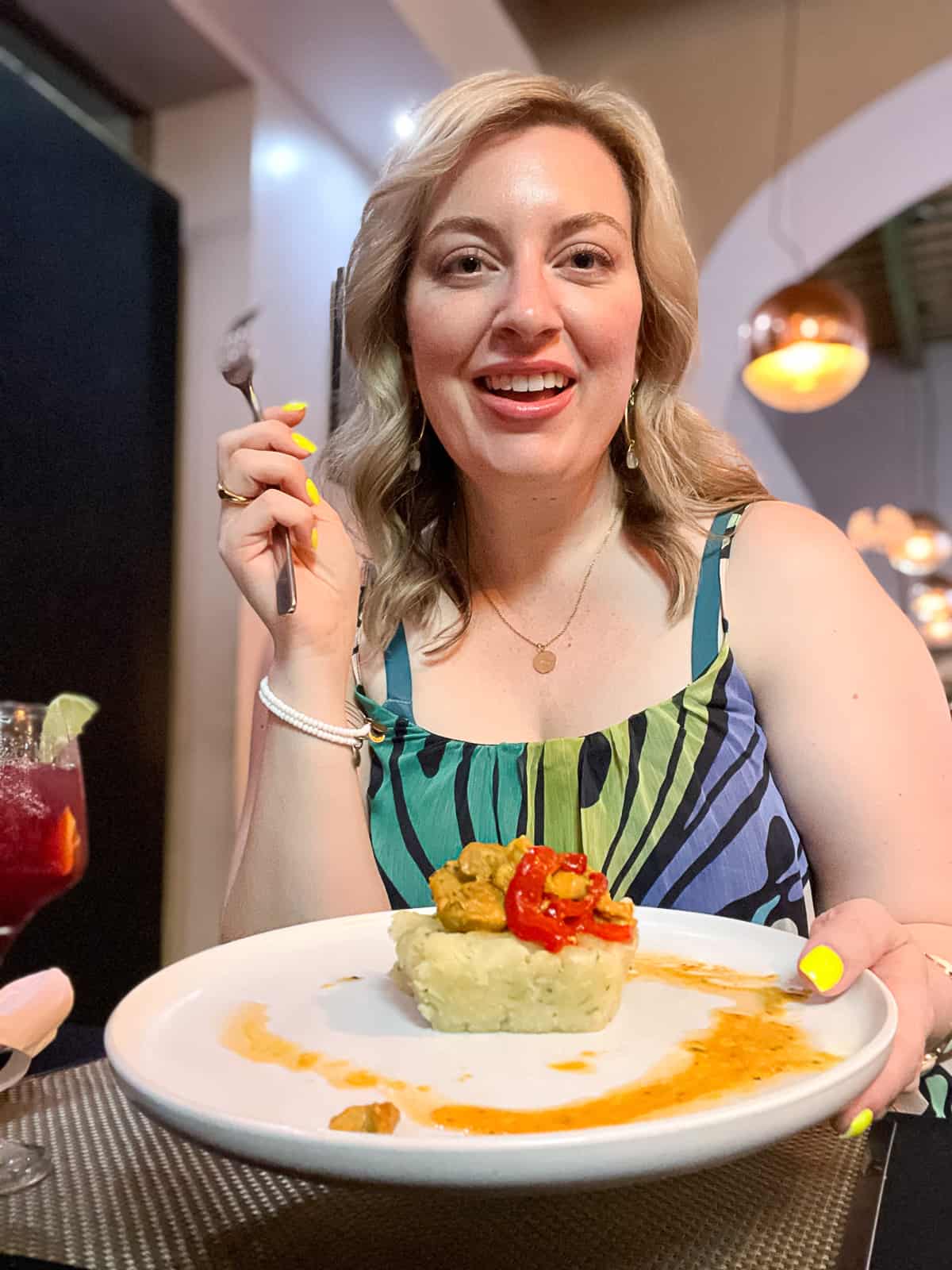 Try mofongo – a plantain dish at Rincon Ibérico.
See a Bioluminescent Bay in Puerto Rico (Laguna Grande)
If your family is feeling adventurous, check out Laguna Grande for a nighttime kayak tour.
It's 60-90 minutes from San Juan, and a great night time activity for a family visiting Puerto Rico with somewhat older children.
This coastal lagoon you'll want to rent a car to drive to, or be ready to spend some cash on a taxi (and make the taxi available to provide round-trip service as it might be hard to find a return ride easily).
But once you figure out the logistics of getting there.
You can enjoy this bay that is known for its bioluminescent microorganisms.
Visit Flamenco Beach
Famous for beautiful ocean views, Flamenco Beach is a public beach with stunning turquoise color water and white sand.
It's actually NOT located in Puerto Rico, but in a neighboring island called Culebra.
Culebra Island does NOT require a passport for U.S. citizens at the time of writing this guide.
To get there, you'll need to snag tickets a few weeks in advance for the ferry.
You'll take the Ferry from Puerto Rico's Ceiba ferry terminal (about an hour drive from San Juan).
Prefer to visit a local beach in San Juan with the family? Then check out something like the typically-quiet Ocean Park Beach.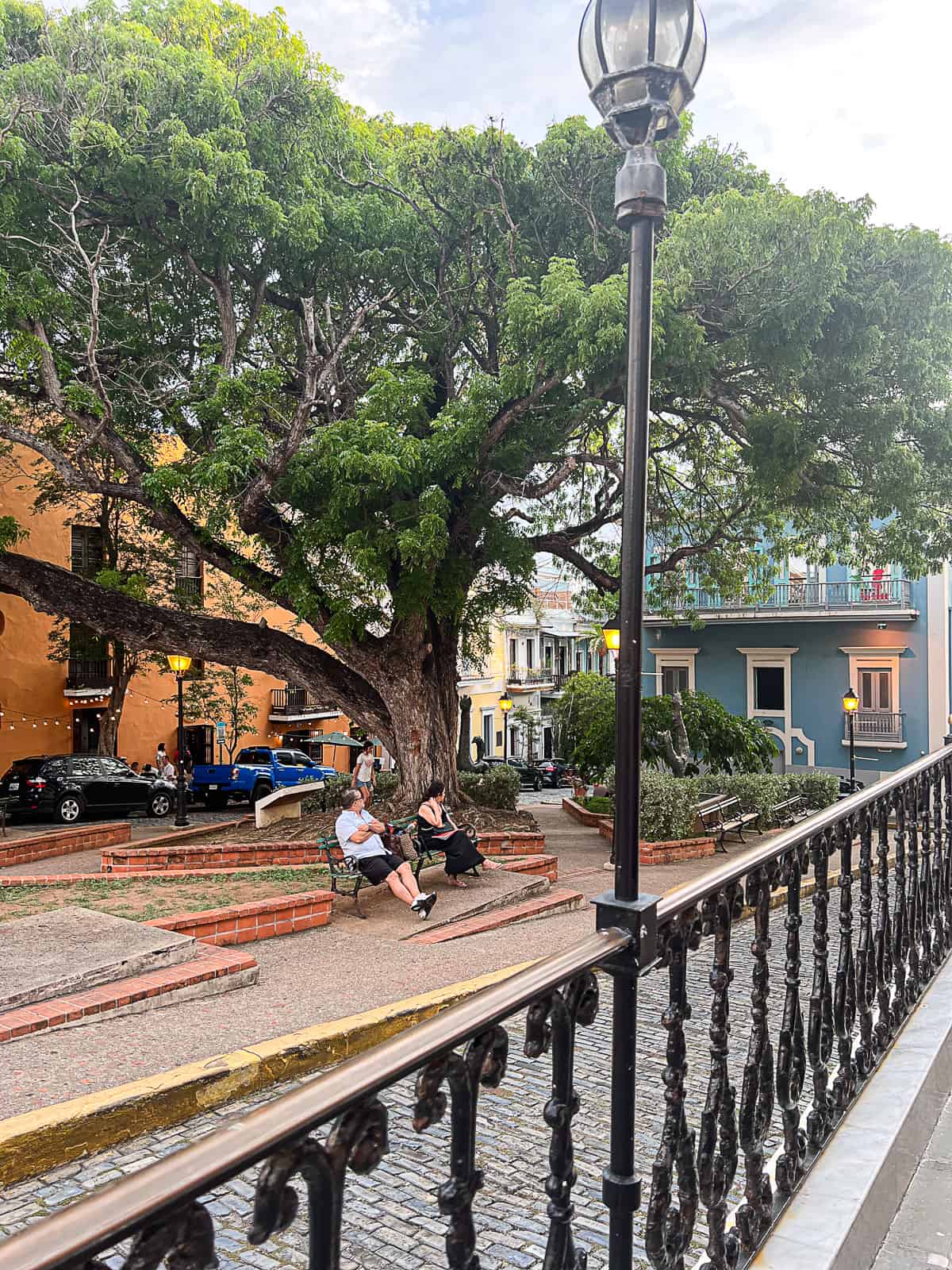 Best Puerto Rico travel guides on Sip Bite Go…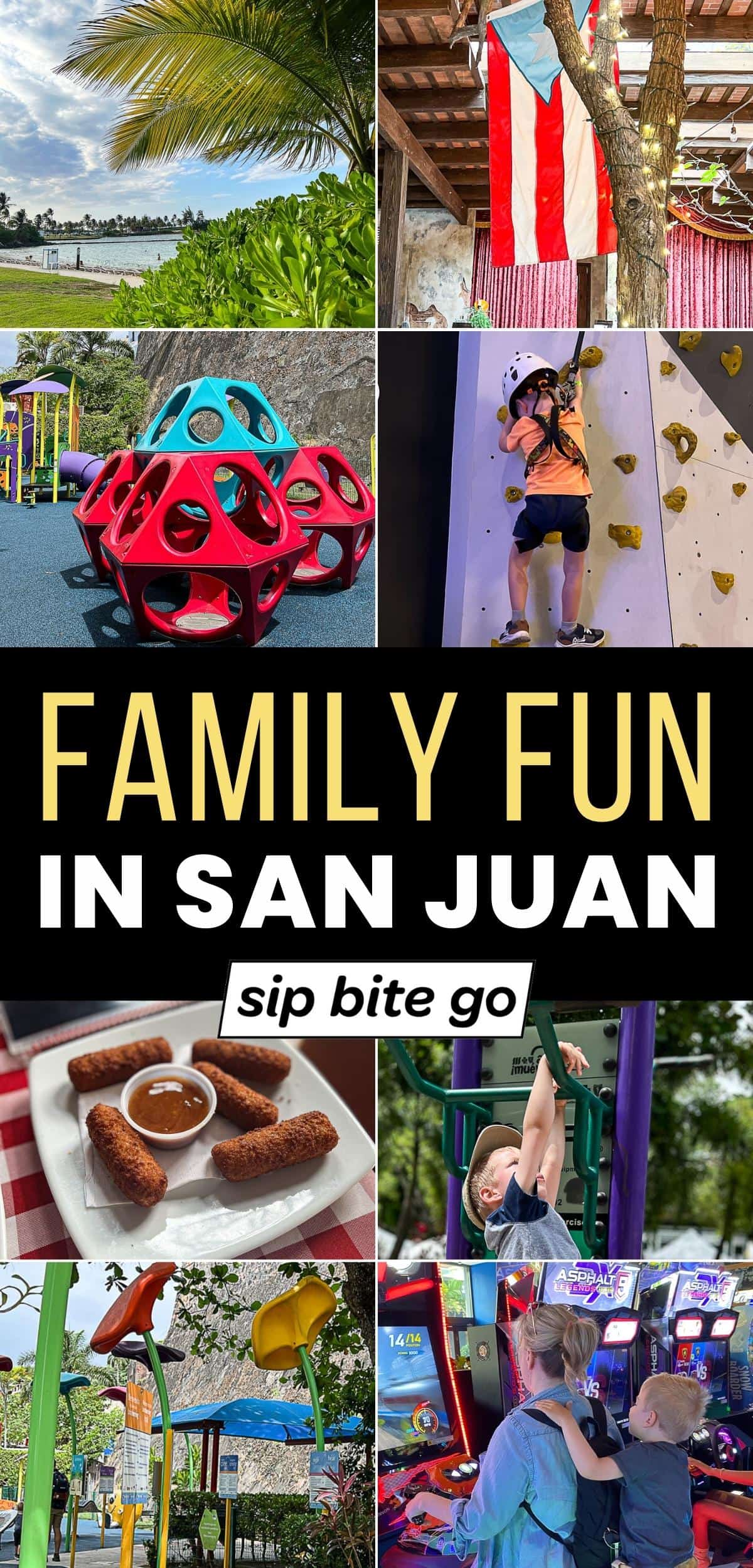 Are you a foodie who loves to travel, too?
Hope that answers all your questions about what to see and do when it comes to family vacation activities in Puerto Rico.
Enjoy your travels, have good food, and chat soon on Instagram / TikTok / YouTube.
– Jenna
Next, browse the Sip Bite Go recipe collection…