Looking for the best sous vide pork recipes to try? From bacon to pork belly, ribs, and sausage, I've discovered that sous vide is the ideal way to cook pork: it locks in all the juices and flavors, and leaves the meat tender, flavorful, well-pasteurized but not overcooked.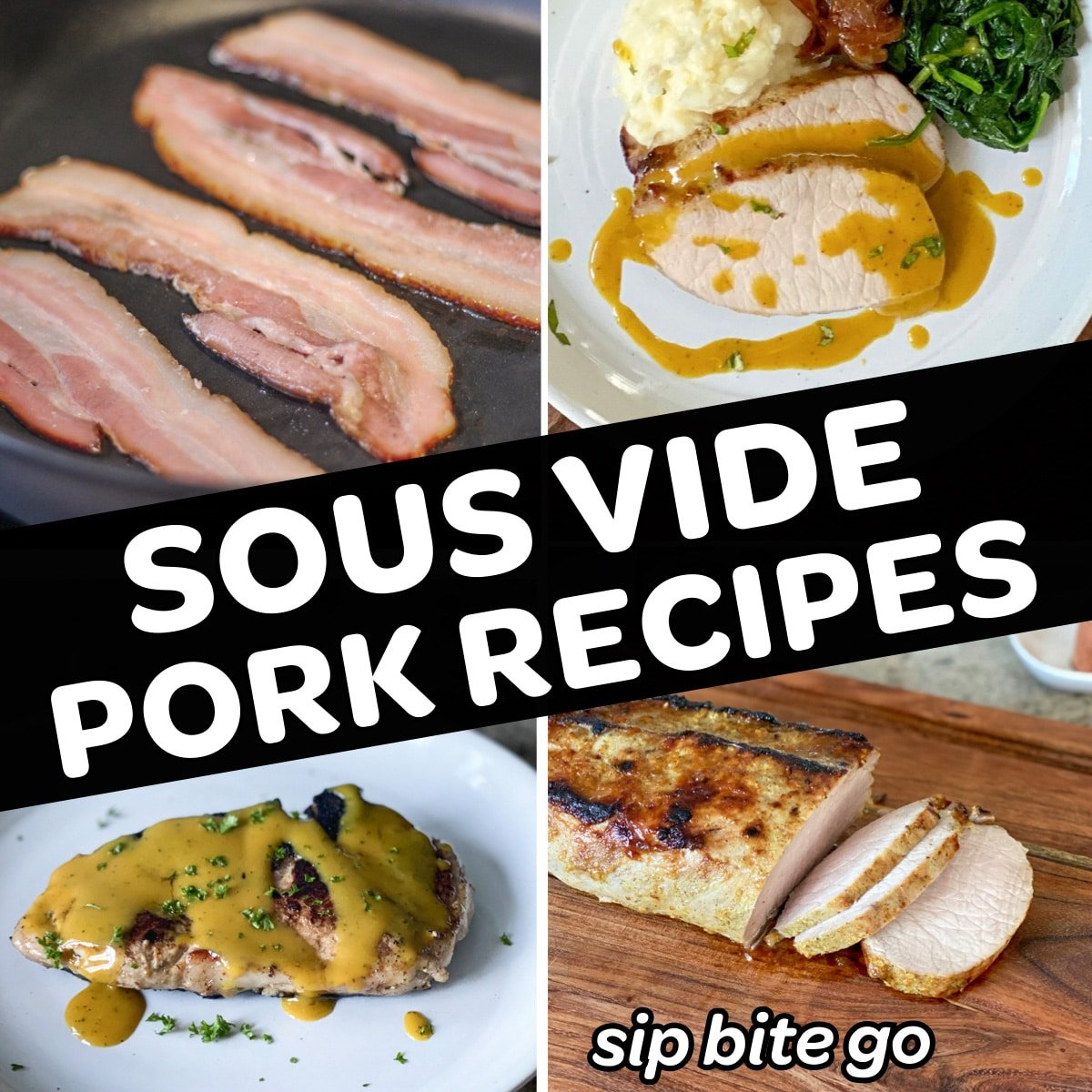 Today you'll learn a rundown of all my favorite pork sous vide recipes for beginners.
My absolute favorite sous vide pork dishes
Before I get into all the tasty details about how I sous vide everything pork, steak, and chicken these days – – let me tell you a couple of my favorites.
First – Sous vide pork chops are the only way I cook pork chops anymore.
Next – Sous vide pulled pork is incredibly tender, and perfect for BBQ tacos. (also see this guide to smoked pulled pork)
None of these recipes for pork cooked sous vide style take much effort—and remember, when your pork is in the sous vide cooker you don't have to be there babysitting. Just turn on the timer and go relax.
All of these recipes—my personal favorites—are either in the sous vide recipe index on this website or in my new sous vide cookbook. Testing out recipes for the new cookbook meant my family has been treated to sous vide prepared meals galore, and we've enjoyed so many sous vide pork recipes along the way.
This sous vide blog is one of the outlets to share my joy of sous vide cooking with other people into this unique food hobby.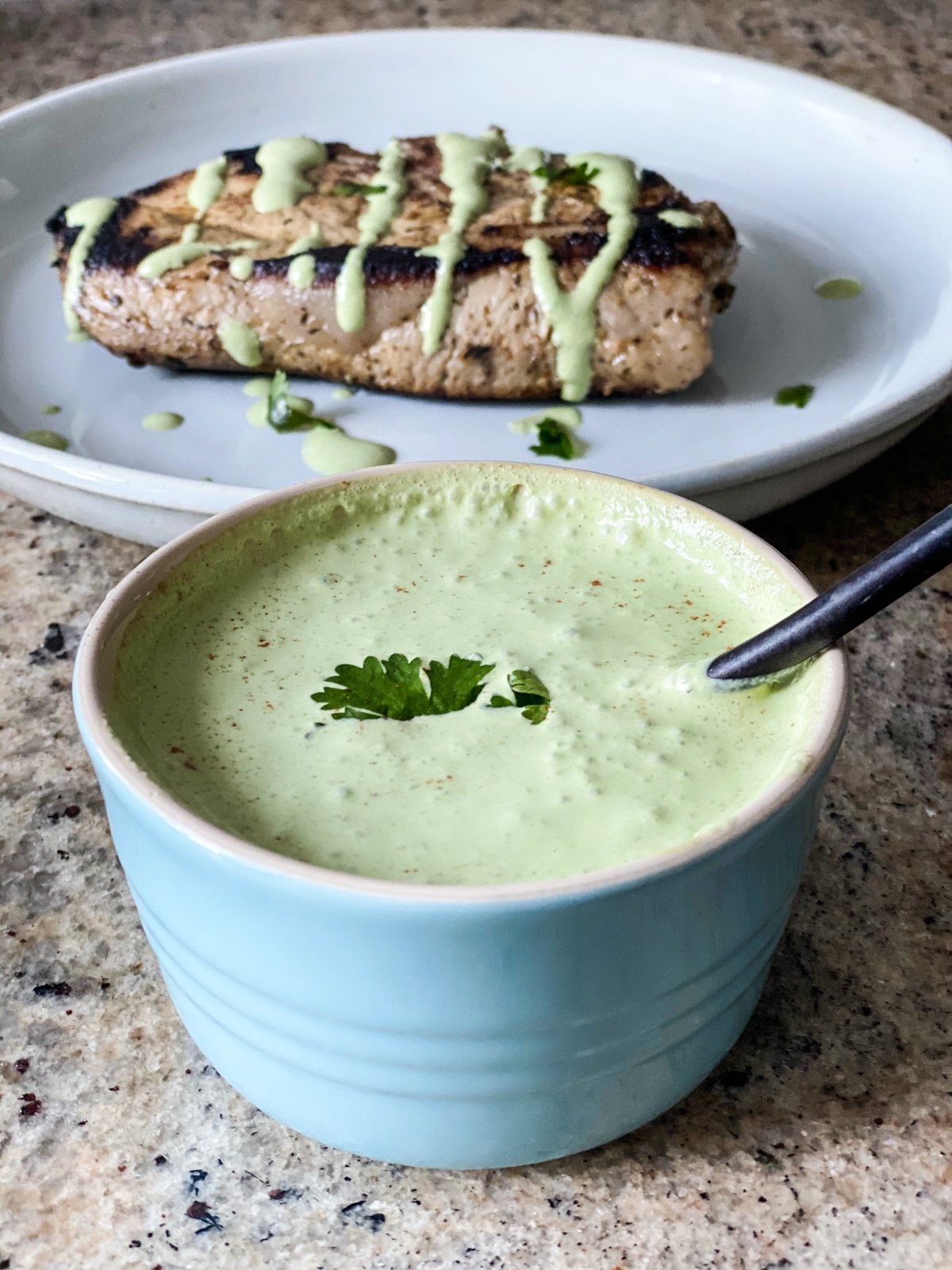 The basics of sous vide pork recipes
There aren't many rules for sous viding pork—use the time and temp given in each recipe, and you'll find you end up with succulent, juicy pork cuts every single time.
In many of my recipes, you'll also see I add seasoning during the vacuum seal stage- having everything cook together in the sous vide water bath means that the flavors meld and intensify, leading to some wonderfully delicious sous vide meats.
Sous vide pork chops with tasty sauces
Sous vide pork chops is often recommended as sous vide for beginners because you get relatively quick, consistently delicious results. You don't have to season them with much beyond just salt and pepper, but my favorite trick is to add a delicious sauce to the dish.
Two of my favorite variations are sous vide pork chops with Carolina yellow mustard BBQ sauce, and this bone in sous vide pork chops recipe with a jalapeno ranch dressing.
It's super easy to sous vide frozen pork, too. Learn more about sous vide cooking from frozen.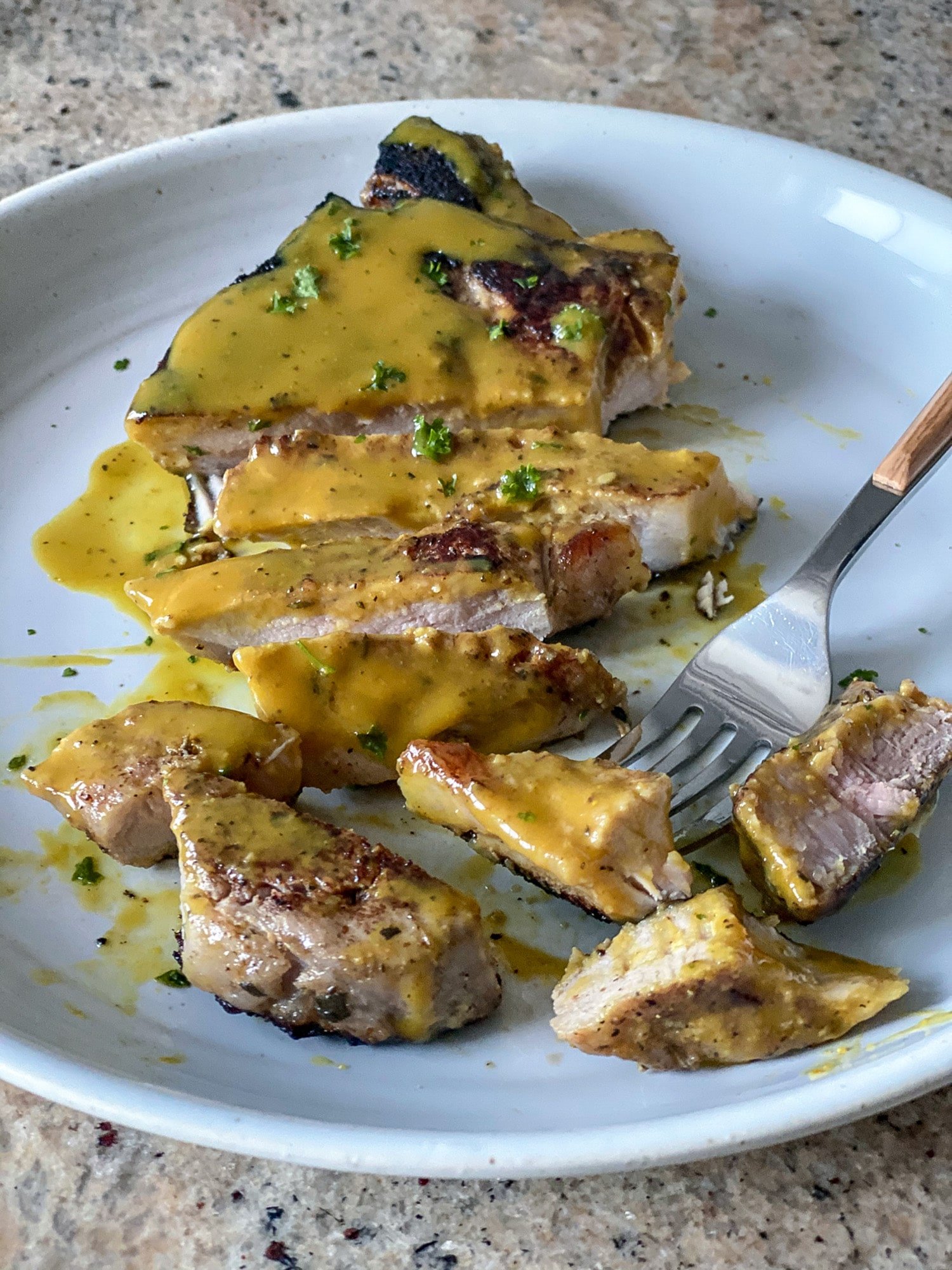 Sous vide pork sandwiches
I keep a running list of all my sous vide recipes for entertaining, and one that I particularly like to make for game day gatherings is my Tailgate-ready sous vide sausage, peppers, and onion sandwich.
If you were looking for one bag sous vide meals with pork, this recipe qualifies— the sous vide pork is processed in the vacuum-seal bag along with onion, red pepper, garlic, and beer, along with seasonings.
In fact, the only part of this delicious lunch that doesn't come out of the bag are your hoagie rolls—and the slices of provolone cheese you add as you assemble the sandwiches.
BLT with sous vide bacon
If you're a fan of BLT sandwiches you have to try my OMG sous vide bacon BLT recipe. The sous vide cooker will suddenly join your list of absolutely essential kitchen equipment, things you can't do without. Bacon cooked sous vide is just so much better than bacon cooked any other way—firmer, meatier, and with so much flavor. Get my recipe for sous vide overnight bacon.
A quick fry in cast iron ensures you still get that crisp exterior we couldn't do without. You can use the method of sous viding bacon I share in this recipe to make many other sous vide breakfast recipes.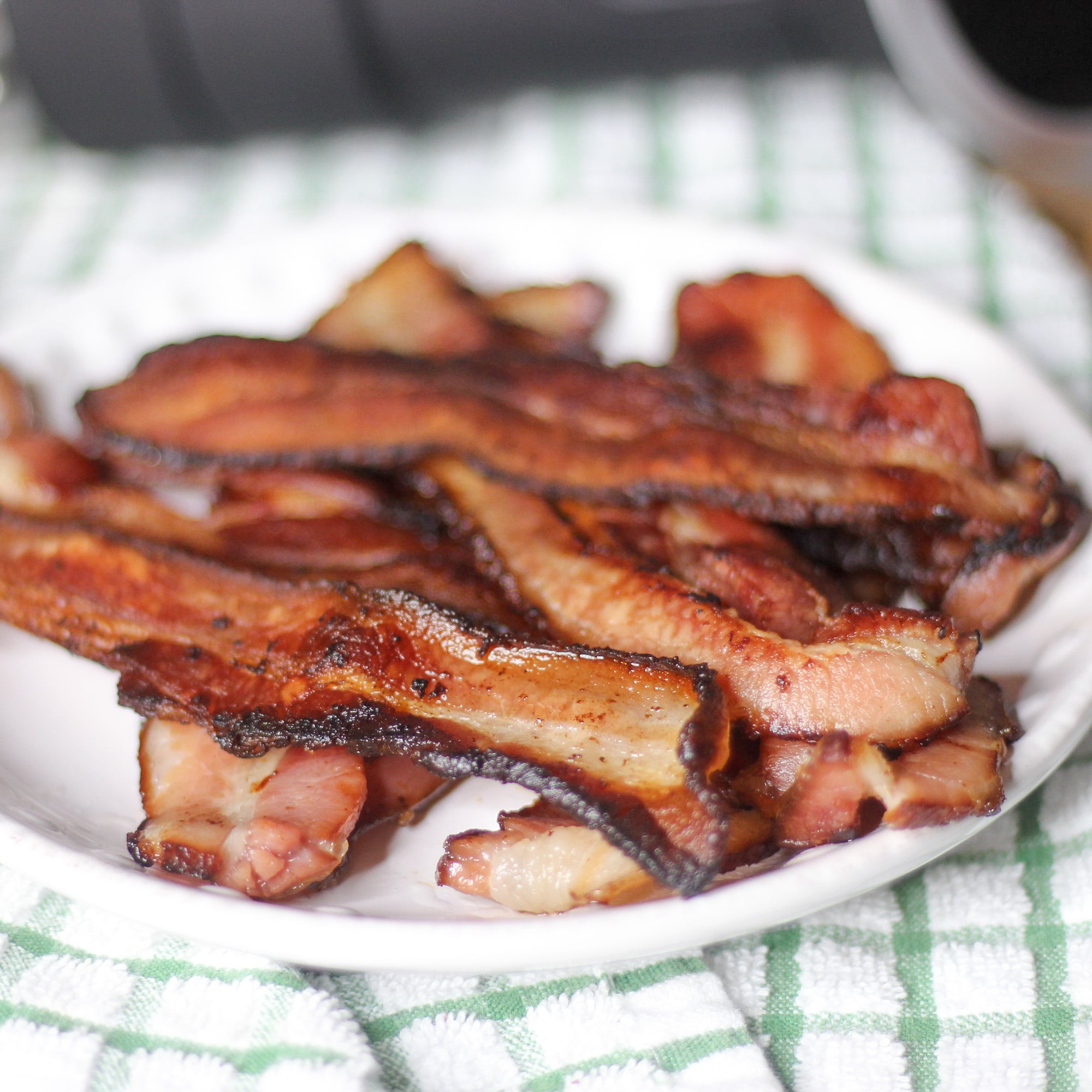 Cuban pork sous vide sandwiches
My husband proposed to me in Miami where we had delicious Cuban pork sandwiches, so I'll always love them! But, sous vide style pork is definitely better because it's so tender.
These are great to make ahead when you know you're going to be busy come lunchtime—all you'll have to do before you ready to eat is stick them in the oven to let the cheese melt. With pork, cheese, mojo sauce, and pickles, these sandwiches will leave you feeling you are on an idyllic vacation in the Caribbean.
Sous vide sausage breakfast patties
Did you know that sous vide sausage patties are a thing? I love these yummy breakfast sandwiches when served on English muffins or fresh seeded focaccia bread. This is another meal-prep staple at my house: made in bulk and frozen, they provide an easy breakfast and they're really easy to make in bulk and freeze. They're also really good made into homemade pizza with a little mozzarella.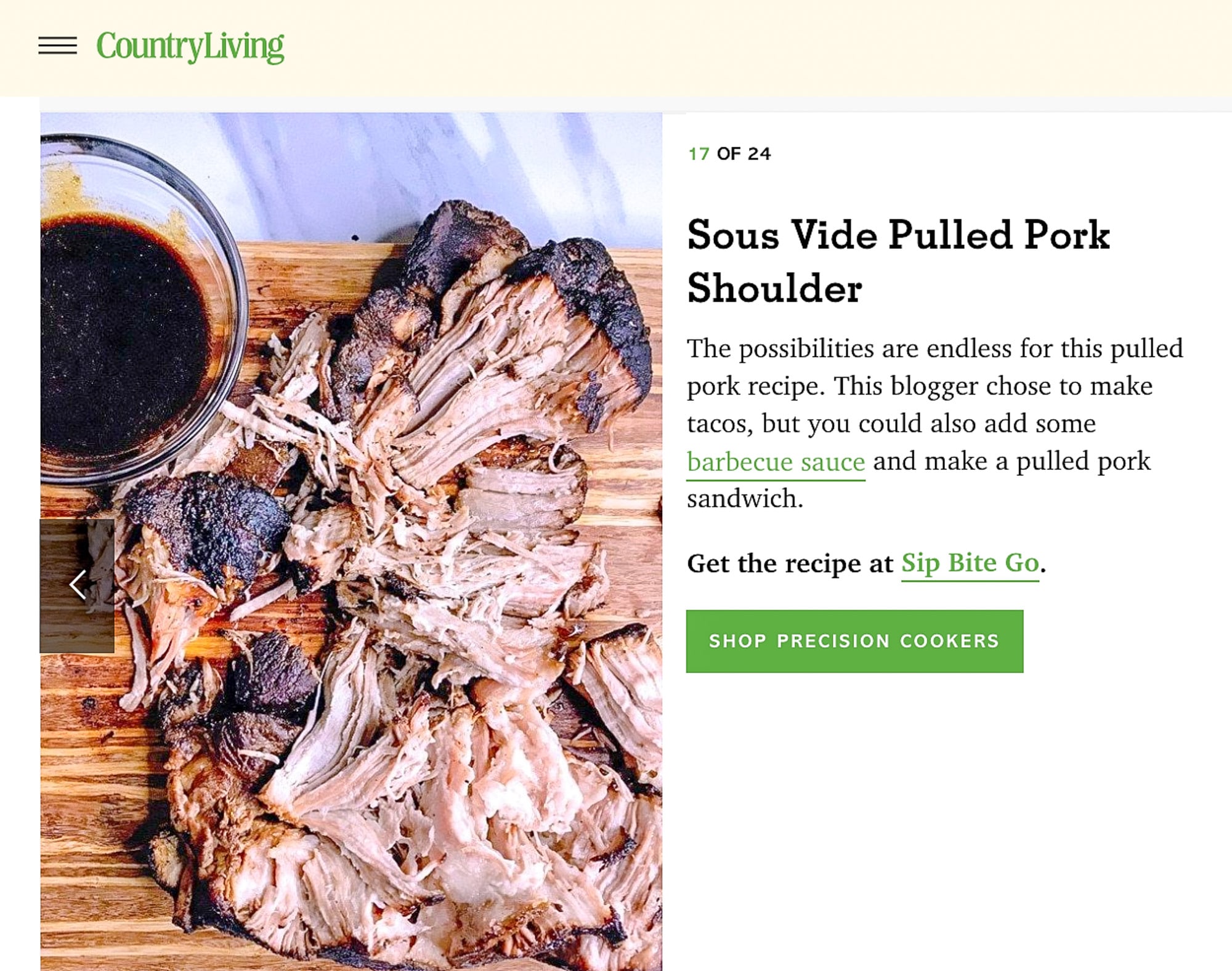 Sous vide pork shoulder
Imagine what kind of flavor you get if you cook a pork shoulder for two days in the immersion circulator. Something worth planning ahead for, that's for sure!
My sous vide pork shoulder and pineapple quesadillas have a 49 hour cook time, but the results are nothing short of amazing. Tender, fall apart meat for a sweet and savory quesadilla that my family can't get enough of.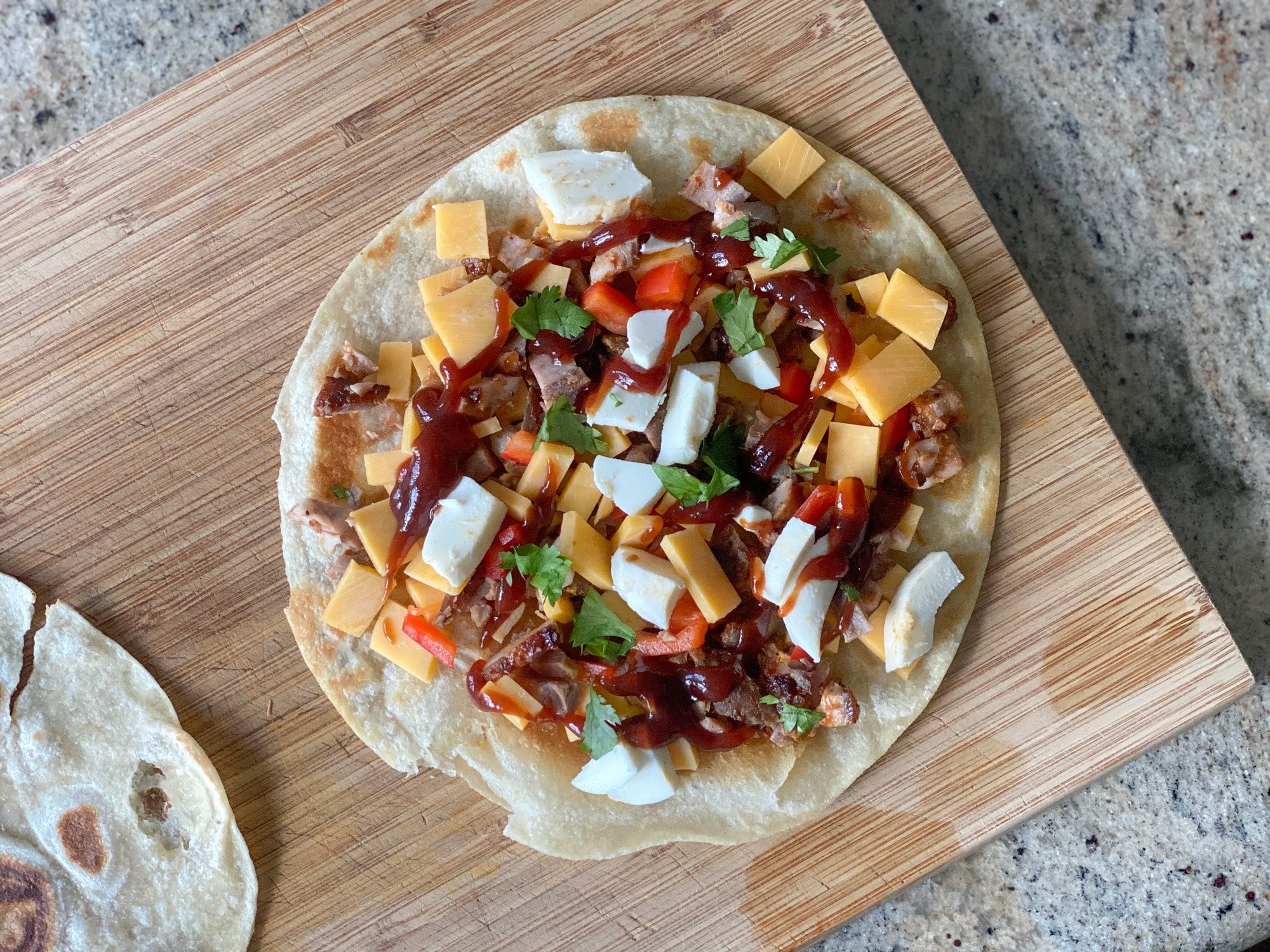 Like what you see above? See my guide on how to make leftover pork quesadillas.
Sous vide pulled pork tacos
We're huge quesadilla, burrito, and taco fans at my house and love making them with sous vide pork tacos. That was actually one of the first sous vide recipes I mastered when we were gifted an Anova sous vide machine years ago.
In our house we always make enough pulled pork for two meals at once: street tacos one day, barbecue pork sandwiches the next.
You can also make these tacos with sous vide pork butt (aka Boston butt) or cheek.
Slow-cooked sous vide baby back ribs
For a Sunday night dinner, I like to make sous vide baby back ribs…. although it takes some advance planning.
This is one of those sous vide recipes for pork that takes a long time but is 100% worth it. They turn out tangy, sweet, and fall of the bone tender. I used to have to go to a steakhouse to enjoy these: now, I eat them this way whenever my husband brings them home from the grocery store.
See how to smoke baby back pork with the 321 ribs recipe.
Sous vide pork hot dogs
For a game day gathering, try my spicy bacon-wrapped hot dogs. This recipe from The Home Chef's Sous Vide Cookbook is an example of the fact that sous vide cooking doesn't have to be fancy gourmet stuff—although the bacon and jalapeno cooked with these hotdogs do add a definite gourmet vibe to this otherwise simple sous vide dish.
To make this, you wrap the hot dog in bacon and jalapenos, sous vide, then finish in the oven to make the bacon crispy.
See how to make gourmet hot dogs like my air fryer hot dogs, bacon wrapped hot dogs, and hot dog taquitos.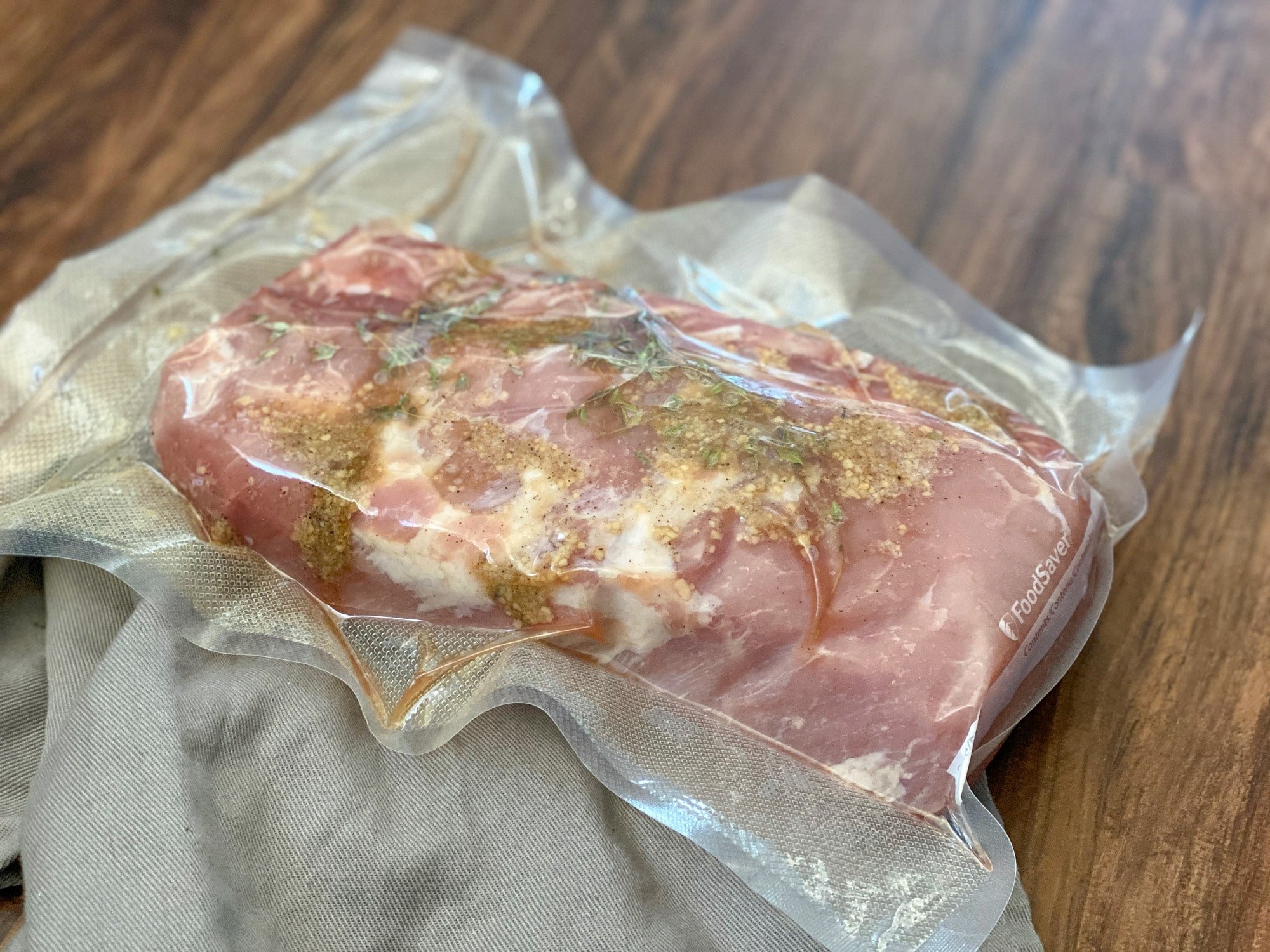 Ground pork sous vide style
Once discovering how delicious sous vide burgers made from homemade hamburger patties are (especially with the mayo sear), I had to try using this method to cook ground pork.
For summertime work lunches I like to make sous vide ground pork lettuce wraps. The Sriracha sauce I serve them with adds a wonderful dose of heat. If we're eating them family-style, I'll serve them warm and let everyone choose their own add-ins like caramelized onions or homemade pickles. They're greatly chilled, too.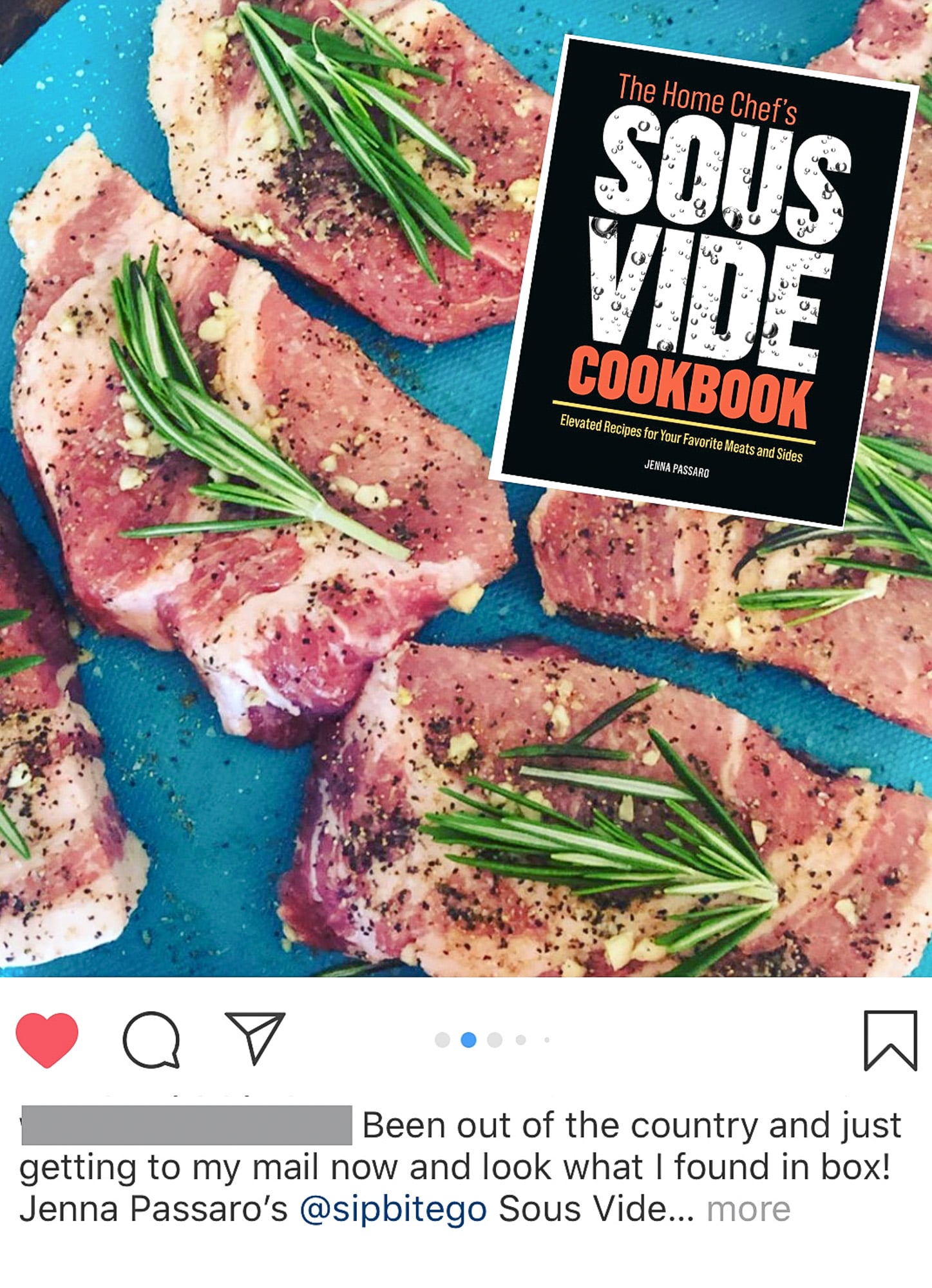 Pork belly sous vide style
Sous vide pork belly pasta is cooked in the immersion circulator all day or overnight and comes out with a delicious smoky flavor. The secret to that: smoked salt, which is cooked with the pork from the beginning of the process and imparts its full flavor during the extended cooking time.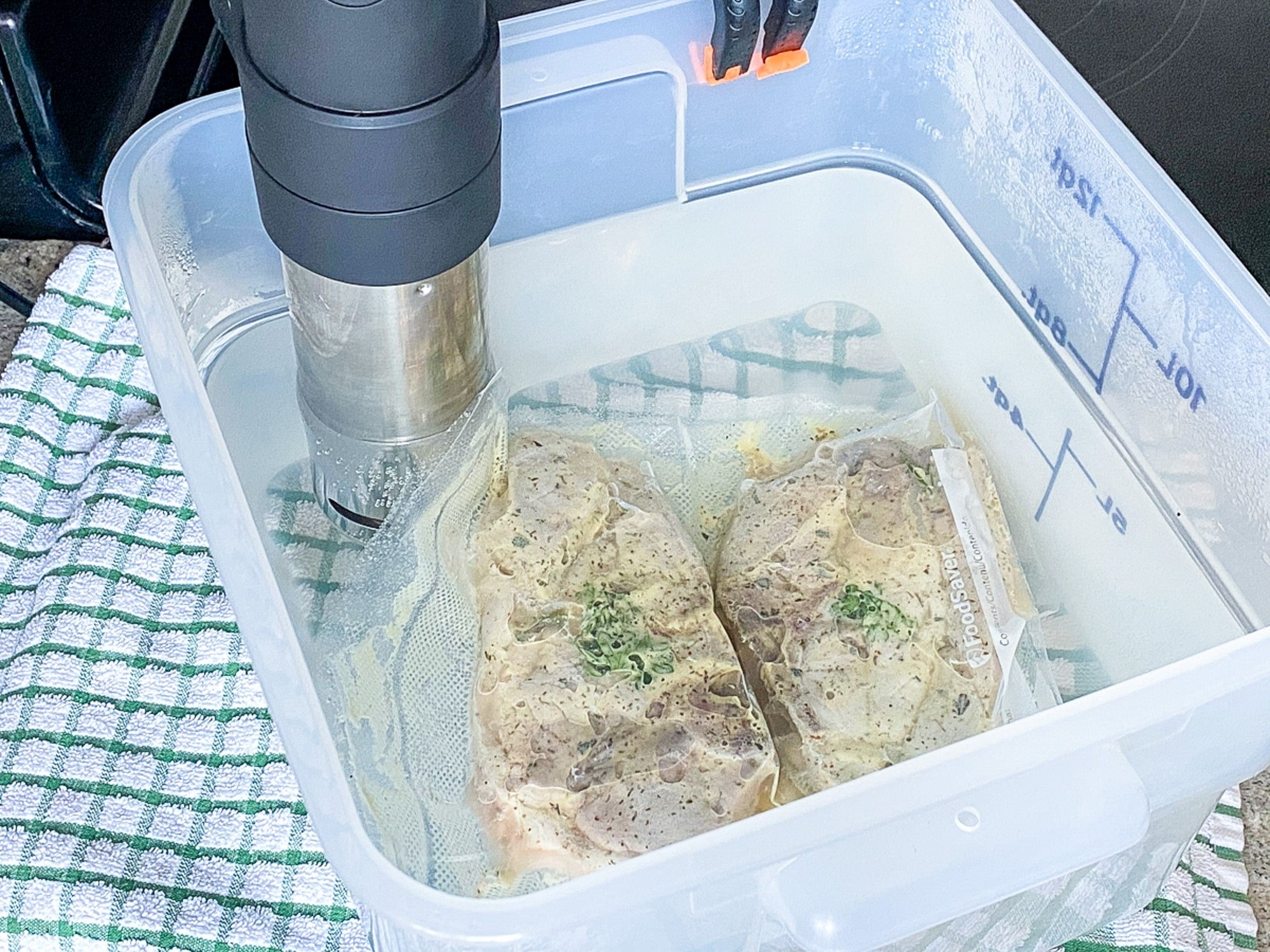 Sous vide pork dishes for the holidays
Free up room in the oven by using the sous vide precision cooker. Here are some of my favorite ways to utilize sous vide pork recipes for the holidays.Want to go the extra mile to make your meal delicious? Smoke sous vide pork recipes to add even more flavor.
Sous vide ham nugget with bourbon glaze
If you'd like to do a sous vide Christmas dinner and keep the oven free for pies and desserts try sous vide ham nugget with a pineapple bourbon glaze. This festive meal comes together in under six hours, and it pairs well with sous vide corn on the cob or sous vide Brussel sprouts.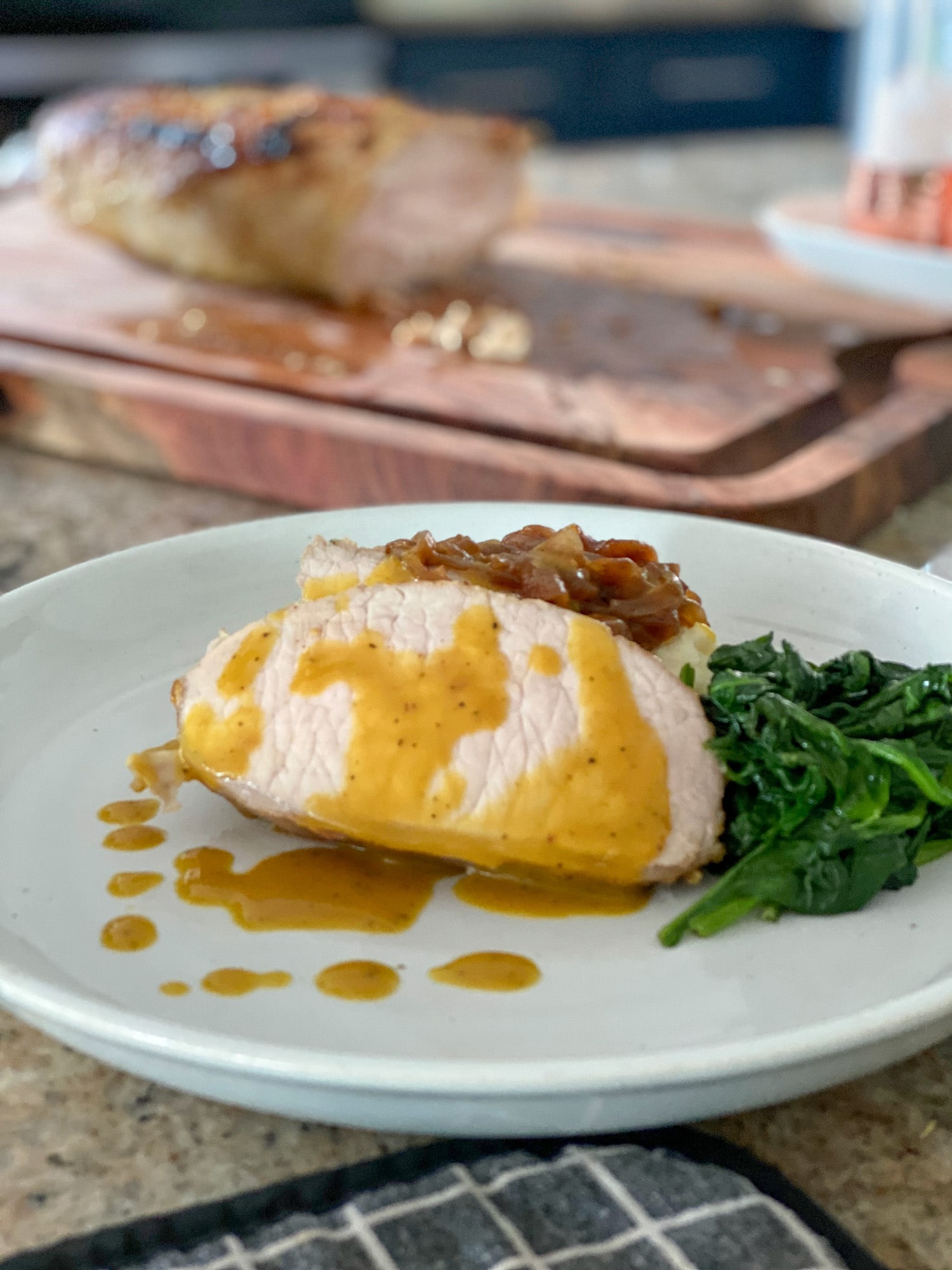 Sous vide pork loin roast
Another wonderful holiday option is smoky brown sugar sous vide pork loin. While this has a three hour sous vide cook time, I like to season and vacuum seal it the day before so it has some extra time for the flavors to meld.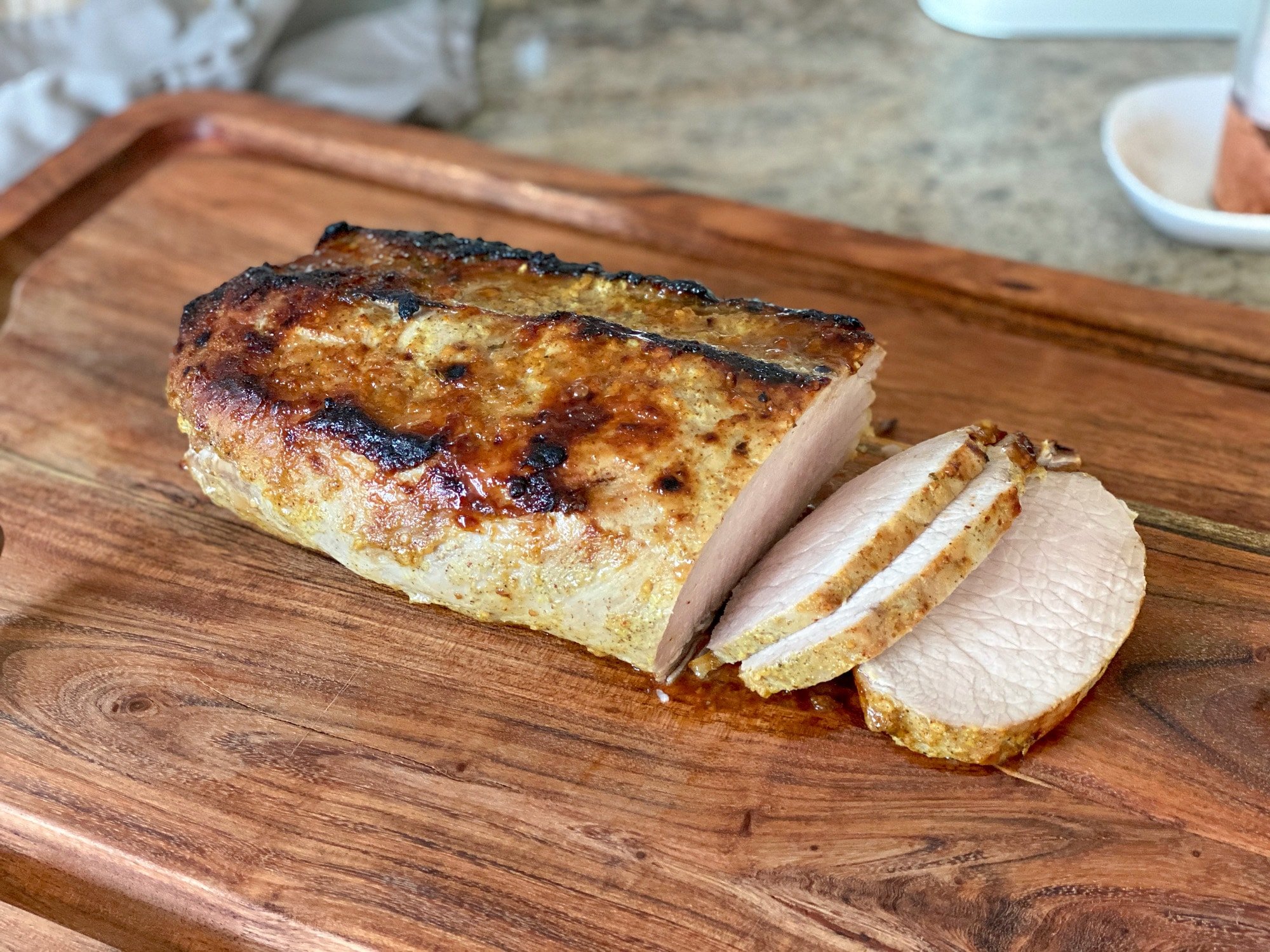 Sous vide pork tenderloin with a BBQ glaze
A thanksgiving recipe I can't help but make throughout the year is honey cranberry BBQ glazed sous vide pork tenderloin. Flavored with garlic, rosemary, and sage and served with home-made honey cranberry BBQ sauce, this pork loin recipe is one you'll keep going back to.
Need more sous vide pork loin ideas? Check out this recipe with a delicious honey mustard sauce!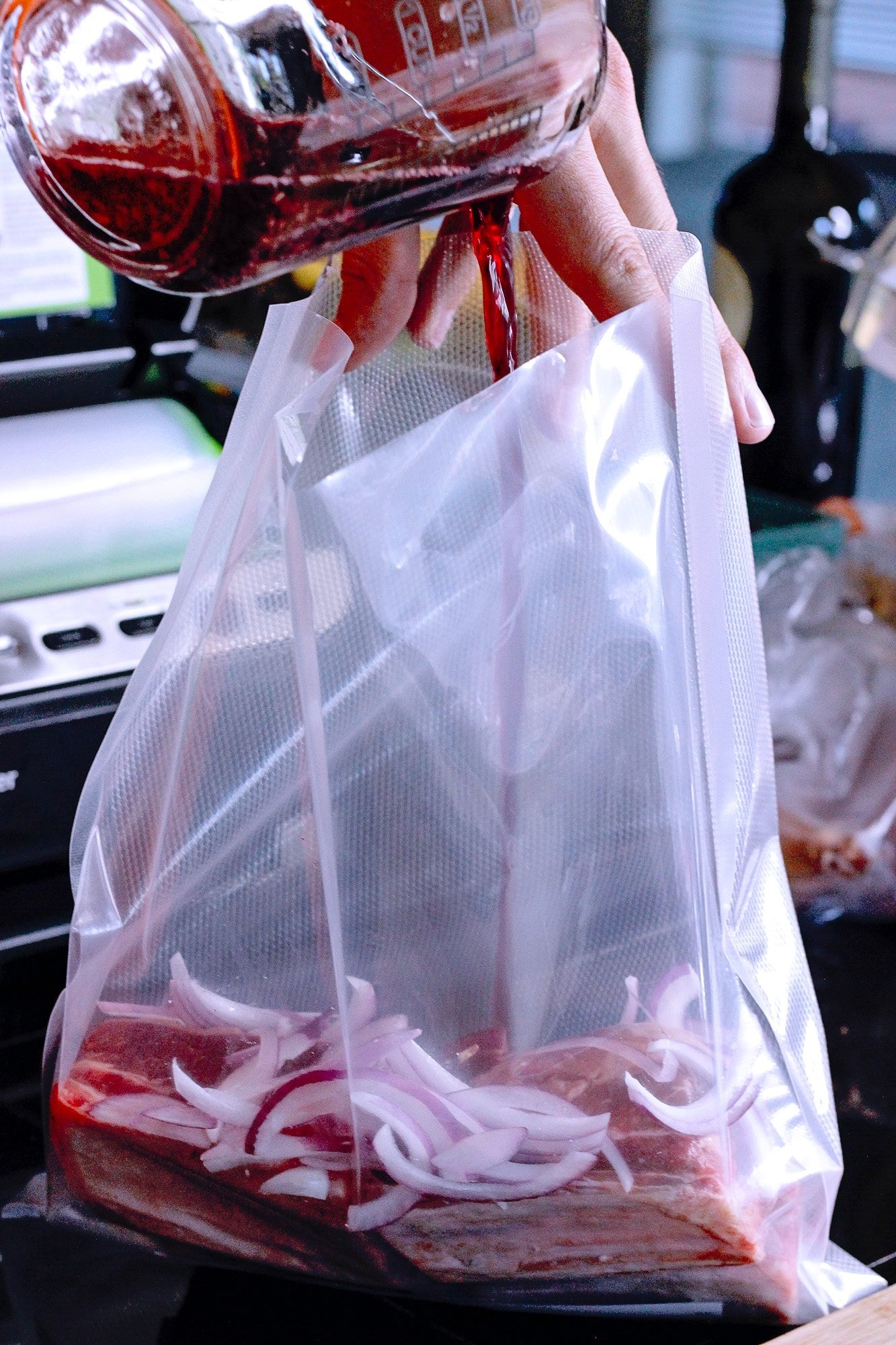 Sous vide short ribs in red wine sauce
Okay, so actually these are beef ribs but they're so delicious I had to throw them in. If you're looking to impress, sous vide short ribs are another easy alternative.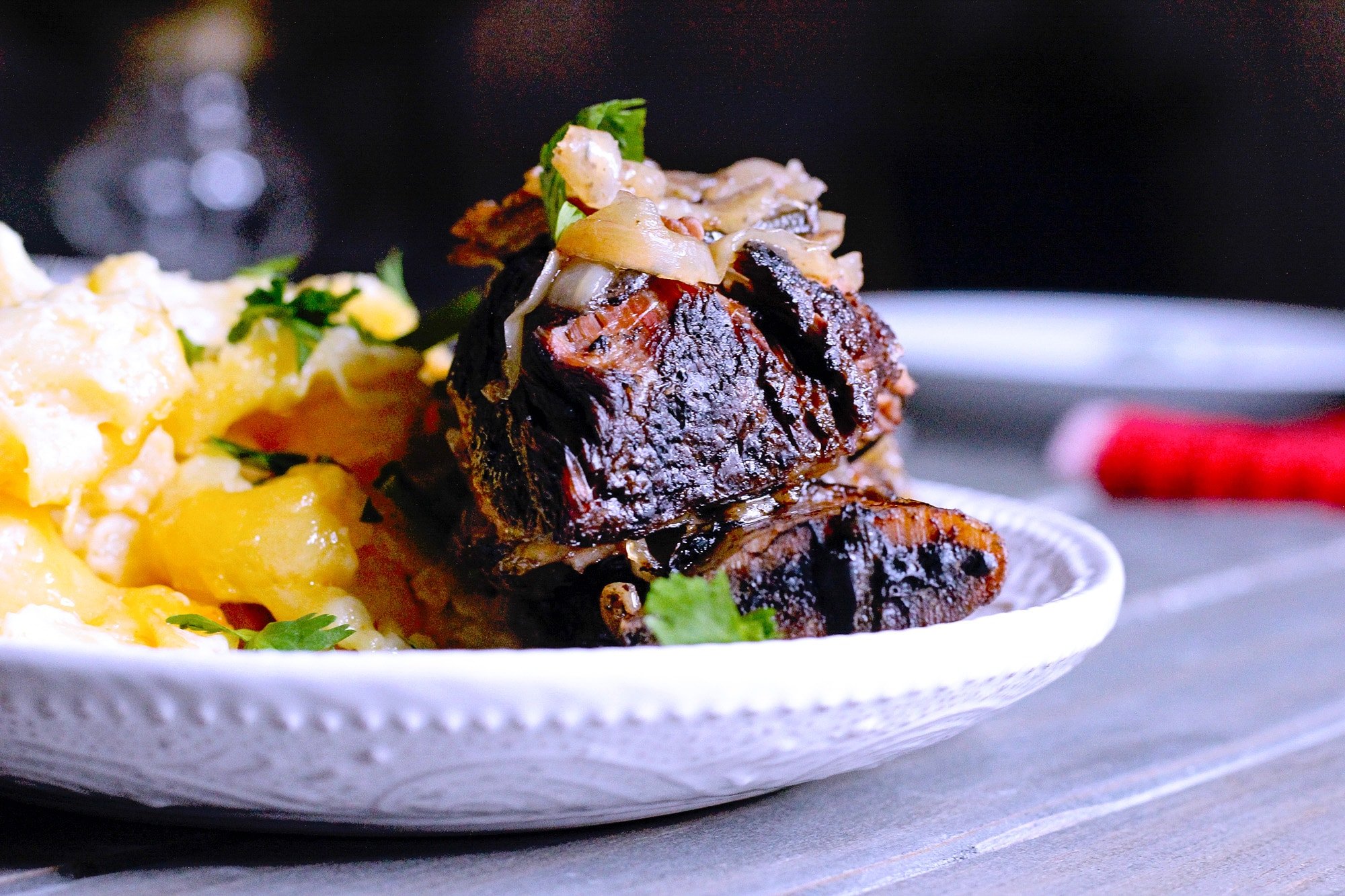 Each of my recipes here on my popular sous vide blog Sip Bite Go, and in my new book, also comes with detailed directions on how to finish your sous vide pork. I share with you tips on what companion foods pair well and how you can plate up your masterpiece for a restaurant-level eating experience at home.
Want to try out using your Instant Pot for sous vide? Check out these Instant Pot sous vide recipes!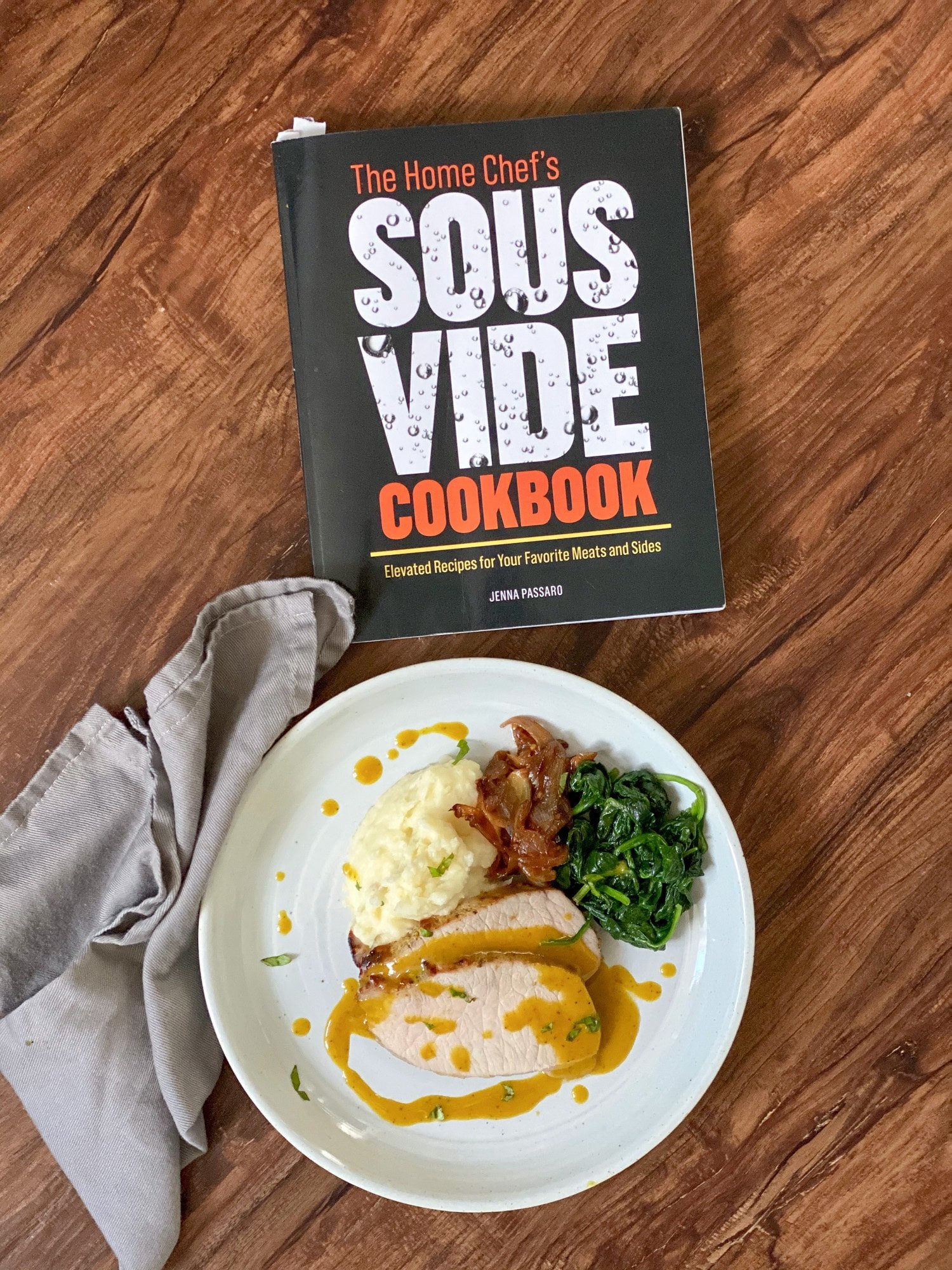 The Home Chef's Sous Vide Cookbook will help you get creative in the kitchen with easy sous vide pork dishes – there's an entire chapter on pork.
The Perfect Sous Vide Setup
Everyday I'm asked, "what do you need to sous vide food?". Here's my answer.
Try a new sous vide recipe…
What is your favorite sous vide pork recipe?
I'd love to hear about—and see a picture of your creation! Tag me on Instagram so I don't miss it @sipbitego.
I'm always experimenting with new recipes— see my latest sous vide recipe videos on the Sip Bite Go channel.