Low and slow sous vide pork butt is so tender because it cooks in it's own pork juices for an entire day. Learn how to cook pork butt with the sous vide machine overnight plus tips for serving it. My favorite way to enjoy a big Boston Butt (as it's sometimes called) cook like this is to make enough for leftovers. This pork becomes tacos, quesadillas, breakfast tacos, and bbq pulled pork sandwiches for the week. Or, for like, the two days it takes us to devour it.
I'm getting hungry just thinking about it. Let's sous vide!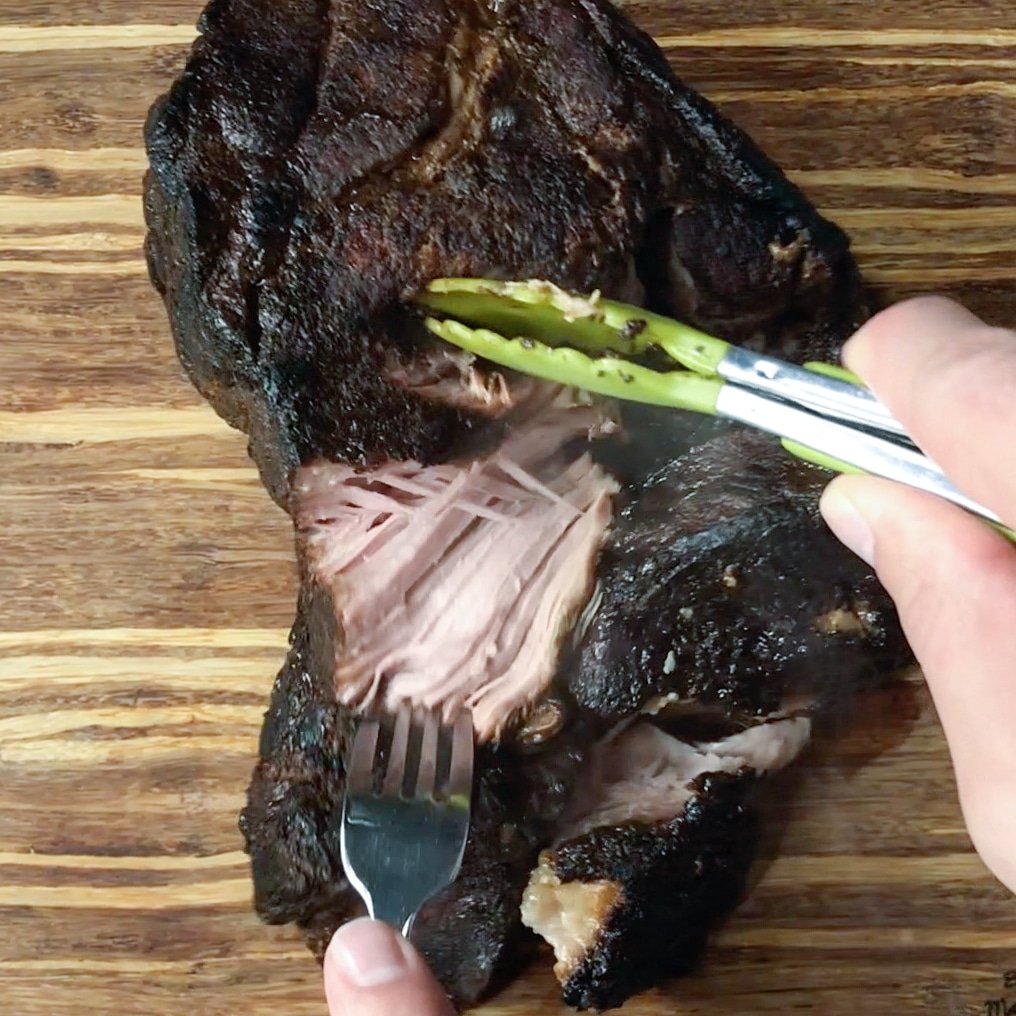 Before we get into it, let's do a quick recap on what is sous vide cooking.
New to sous viding pork butt? Learn why is sous vide so popular.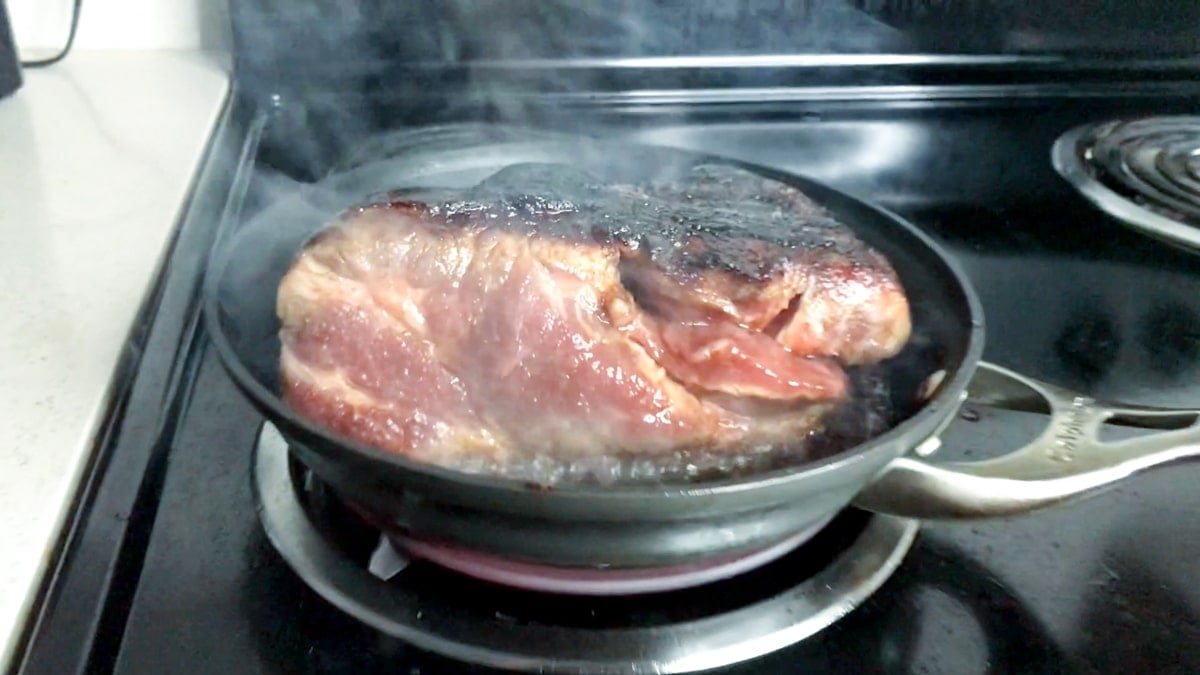 Sous vide cooking pork butt steps
Step 1. Season the pork butt, sear the outside on the stove, then seal it in a vacuum sealed bag. Technically you can also use a ziplock bag, but for long cooks I like to vacuum seal. 
Plus, port butt is a big hunk of meat. It sounds a little difficult to fit in a gallon ziplock. Learn more about whether you should use ziplock or vacuum sealed bags for sous vide recipes.
Step 2. The vacuum sealed pork butt sous vide cooks in a sous vide bath. The water is kept hot by a sous vide machine like the Anova, Joule, Instant Pot Slim.
See more on the new instant pot sous vide machines
Step 3. When the pork is done, it's then finished (often seared in a cast iron skillet) and is ready to serve!
Want to learn about finishing your sous vide meats in a smoker? Check out this post on smoking meat for beginners!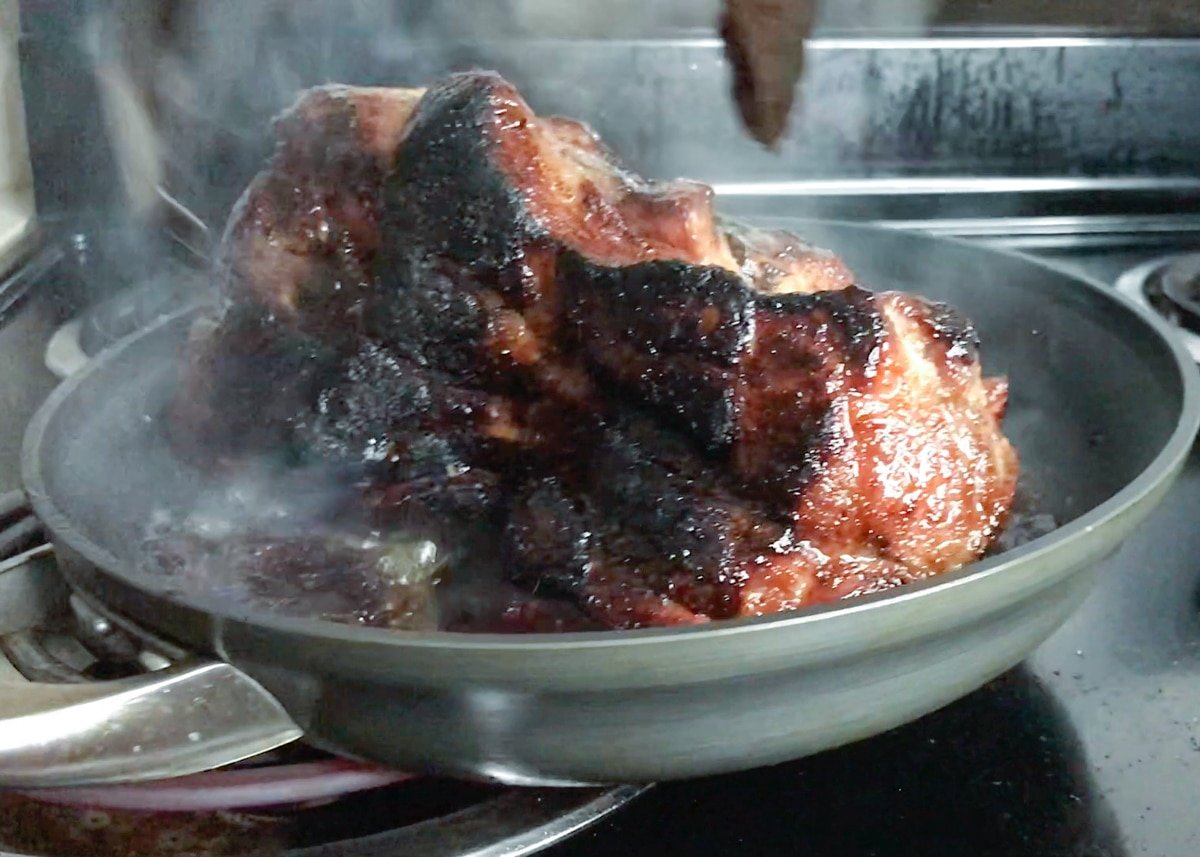 Okay, now that you have the basic recipe, on to tips for sous vide pork butt!
How long do you a sous vide pork butt?
Cook time will vary based on the thickness of the cut of pork you're working with, but generally you need to sous vide pork butt for 18-24 hours to ensure it's fully cooked and has reached ideal tenderness.
Want pork with a shorter cook time? Sous vide pork chops are a favorite at my house, too. 
What temperature should you cook a sous vide pork butt at?
Depending on how tender you want your pork to be, you may decide to vary your temperature.
For pork that is so tender it almost falls apart, you should opt for 165⁰F, while if you prefer your pork butt to still be sliceable after you've cooked it sous vide, then you should cook at 145⁰F.
Consult individual recipes like this one for pulled pork sous vide.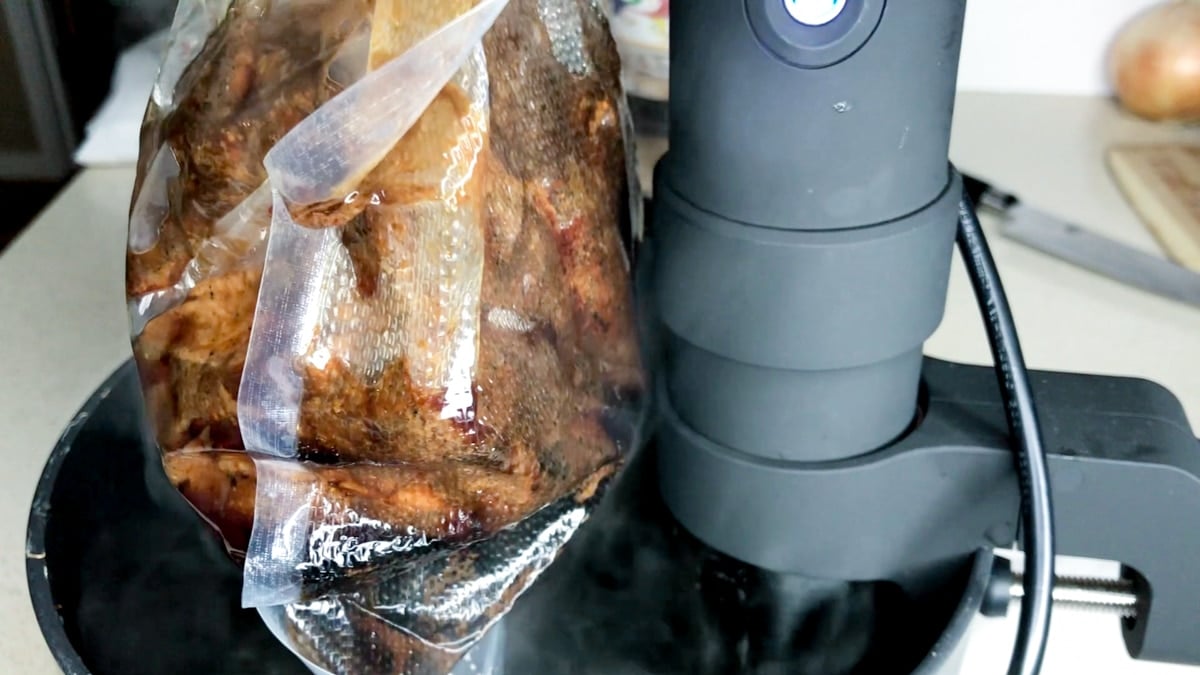 What's a good seasoning for pork?
Your favorite – either store bought or homemade barbecue – is a great choice for pork cooked sous vide style machine.
Garlic salt and bbq salt are excellent seasonings.
You can also use fresh or powdered garlic, freshly ground black pepper and fresh parsley to add an extra pop of flavor.
Take the flavor up a notch with some liquid smoke or finishing salt like this Jacobsen's Black Garlic Sea Salt.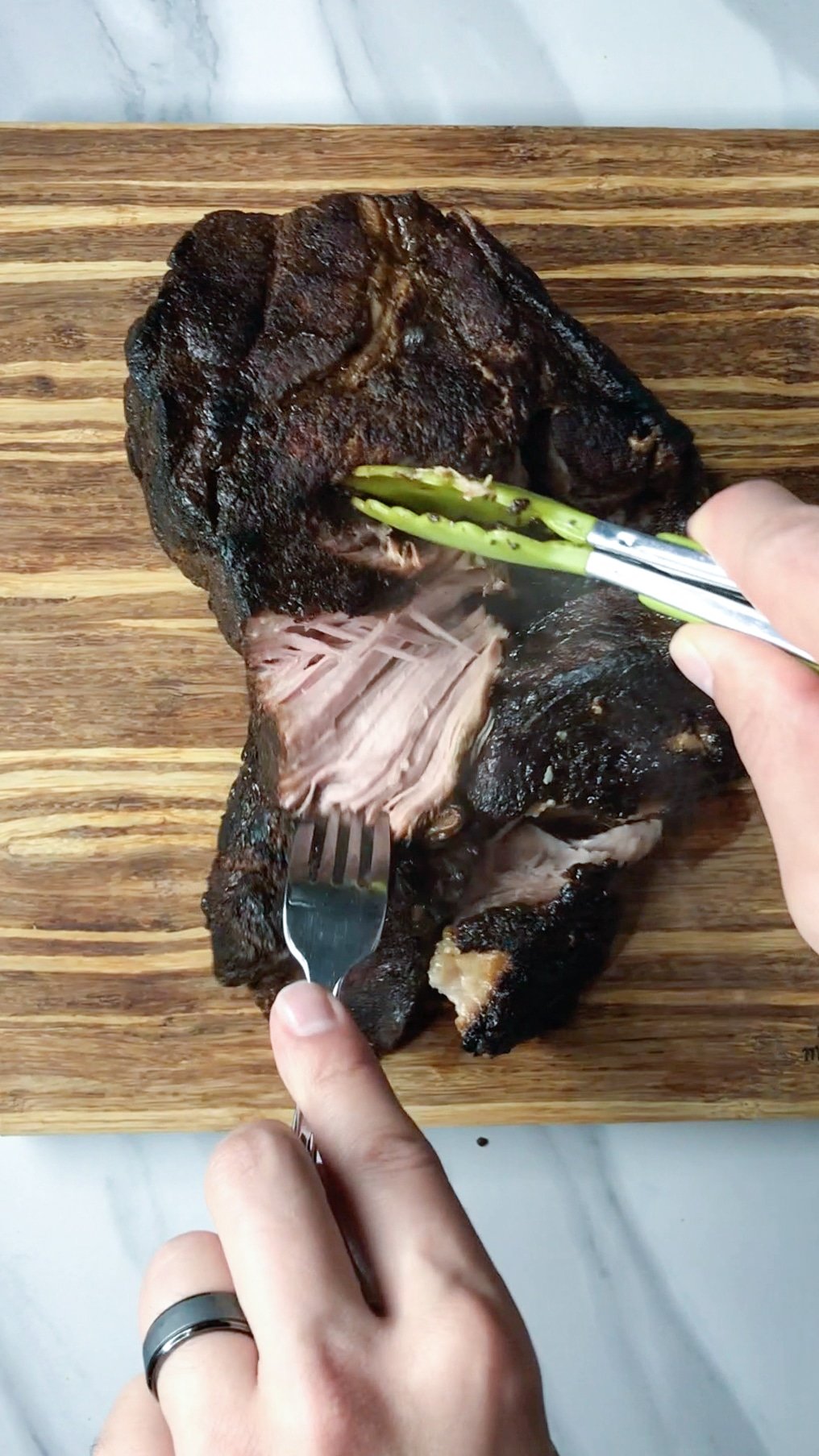 What sides go well with pork?
Comfort food like mac and cheese or coleslaw are classic sides for pork. 
For a veg, try green beans or collard greens to diversify the table.
Can you freeze sous vide pork butt?
Yes, you can freeze sous vide pork butt after it has been cooked for up to two months.
You can also freeze uncooked pork butt that you plan to cook sous vide in a vacuum sealed package for up to three months.
Learn more about techniques to sous vide from frozen.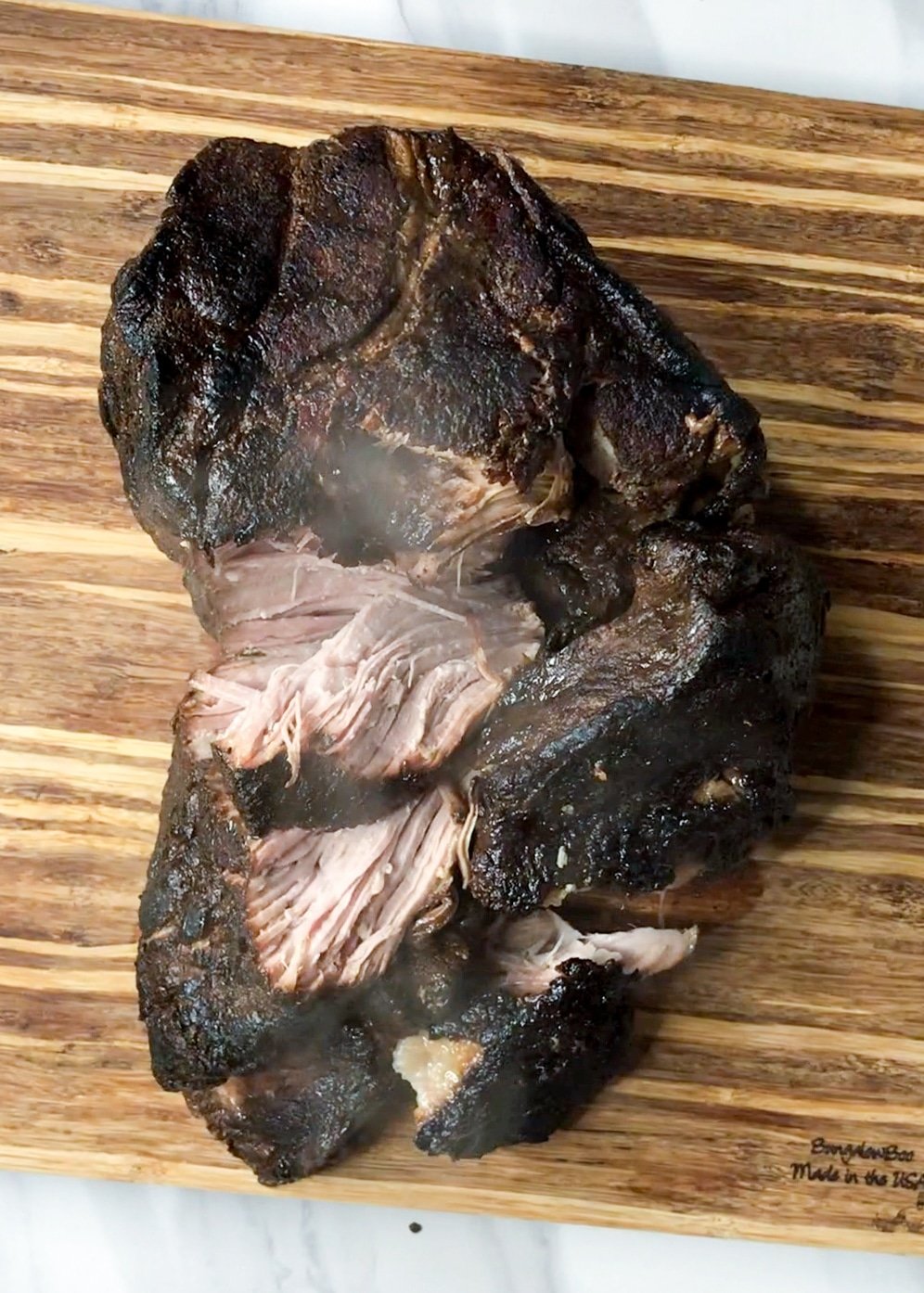 Can you cook sous vide pork from frozen?
Yes, you can sous vide pork butt from frozen; however, you will need to add additional time to your cooking time to compensate for the frozen meat. 
Add at a minimum 1-2 hours to your cooking time to ensure the pork butt is fully cooked and tender.
Check out this post for more sous vide pork recipes!
This technique is one of my favorites for meal prepping sous vide wings, bone in steak sous vide, and sous vide kebabs. Many of my sous vide recipes are seasoned, vacuum sealed, and frozen in advance. 
How long does sous vide pork stay good?
After you've pulled apart the pork, or sliced it, store sous vide pork in an air tight container in the refrigerator for 3-5 days.
Don't know what to make with your leftovers? Try this leftover pulled pork pizza!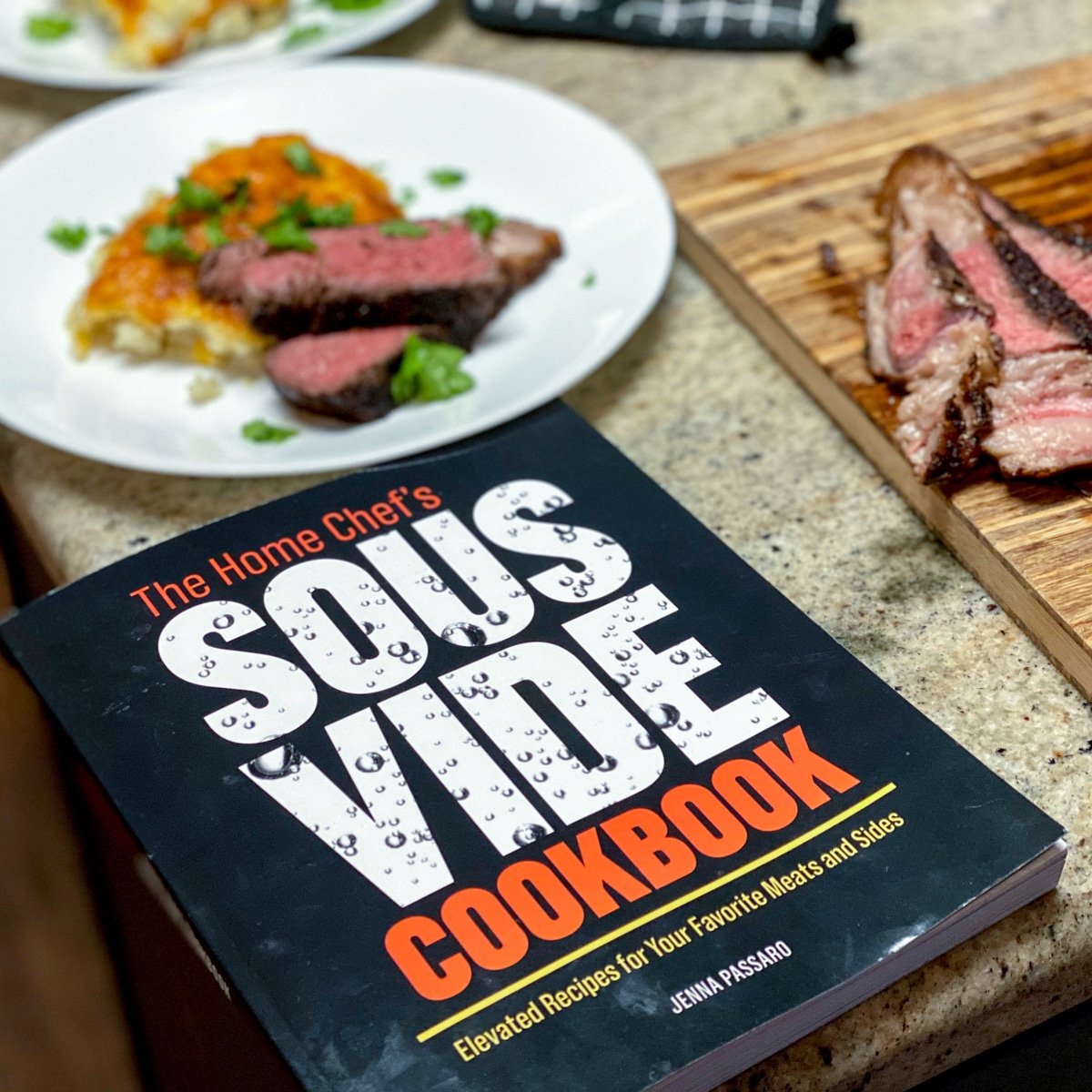 Check out 100+ of my favorite sous vide recipes in The Home Chef's Sous Vide Cookbook.
You'll find more popular long-cook sous vide meat dishes including brisket and bacon.
Try something completely different
Get my favorite tips for sous vide egg bites or check out how to sous vide corn. Corn is a great side dish for pork.
Share your sous vide cooking
Find me on Instagram @sipbitego. I love seeing photos of delicious food.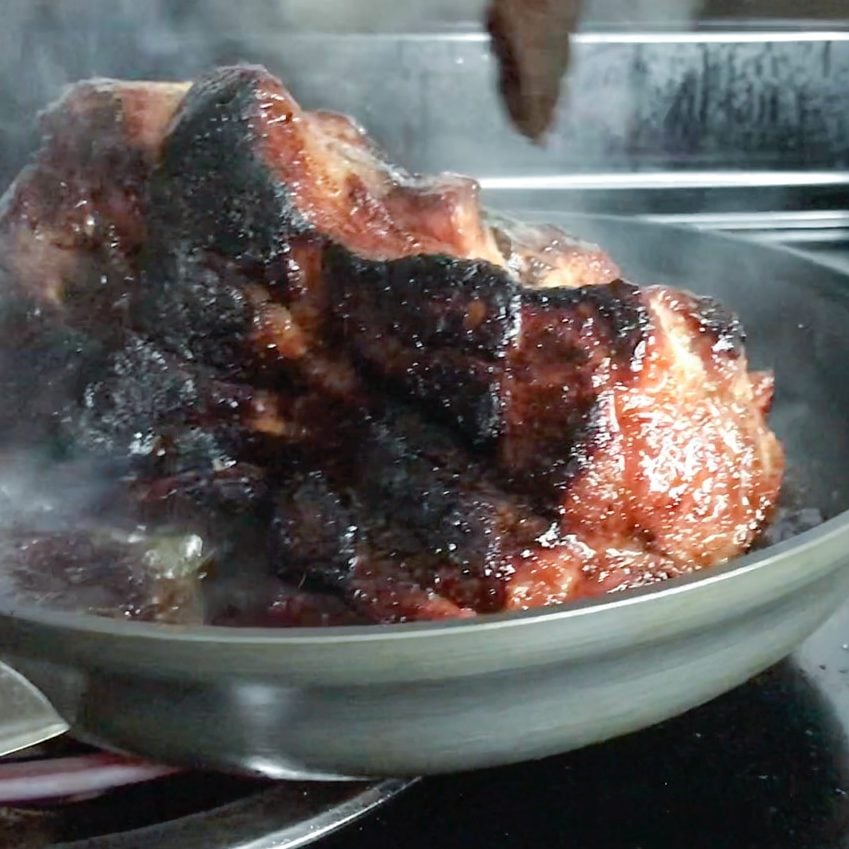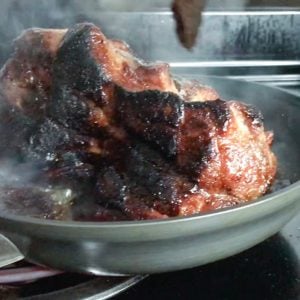 Sous Vide Pork Butt Recipe [Sip Bite Go]
Boston Butt - - have you tried it?? Sous vide pork butt - aka - Boston Butt is made with just a few ingredients in this 24 hour recipe.Finish sous vide pork butt in the smoker for 2-3 hours. Or in the broil it on high / grill it / or sear it in a cast iron skillet on high with a little olive oil until it browns. Alternatively, you can just pull it apart and turn it into tacos or sandwiches by mixing in some BBQ sauce.
Print
Pin
Rate
Ingredients
3-5

pounds

pork butt

1

teaspoon

smoked salt

½

teaspoon

pepper

½

teaspoon

chili powder

2

tablespoons

olive oil
Instructions
Preheat sous vide machine to 165ºF.

While the sous vide bath preheats, rub pork butt with seasonings.

Heat cast iron pan to medium-high and add olive oil.

Vacuum-seal pork and drop the bag in the sous vide bath at 165ºF for 24 hours.

When done, remove the pork from the hot water and transfer it to an ice bath to cool down and come to room temperature for 5-10 minutes. Once cooled, transfer pork to a cutting board and pat dry with paper towel. This will remove moisture on the outside of the pork, which will make it easier to finish.

To finish sous vide pork butt, there are a few options. The easiest is to slice it or pull it apart then serve it with bbq sauce for sandwiches.

Alternatively, sear it with a drizzle of olive oil in a cast iron pan on high for a few minutes on each side.

Grill it for a few minutes on each side.

Broil it in the oven on high for 5 minutes with BBQ sauce on top.

And last, but not lease - smoke it at 225 - 250 degrees F for 2-3 hours.
Notes
With a long cook like this one, check the water level and make sure the pork butt remains fully submerged during the cook. I use something to block the heat from escaping the water - like tin foil or a sous vide bath lid to keep the water contained.

Don't forget a cutting board underneath the sous vide bath to protect your counters for the long cook time as well.
Nutrition
Calories:
342
kcal
|
Carbohydrates:
1
g
|
Protein:
43
g
|
Fat:
18
g
|
Saturated Fat:
5
g
|
Cholesterol:
136
mg
|
Sodium:
538
mg
|
Potassium:
769
mg
|
Fiber:
1
g
|
Sugar:
1
g
|
Vitamin A:
49
IU
|
Calcium:
32
mg
|
Iron:
3
mg