Here's an example of a family packing list for Austin, TX for a toddler and two adults. It should be a good starting point for getting packed and organized for a weekend trip to Austin. See what to pack for your trip…
Toddler packing list for Austin
Packing tip
Lay out clothes divided by what you want to wear in Austin on particular days.
And pack all items (socks, underwear, clothes) together by day, so it's easier to get ready in the AM during your Austin trip.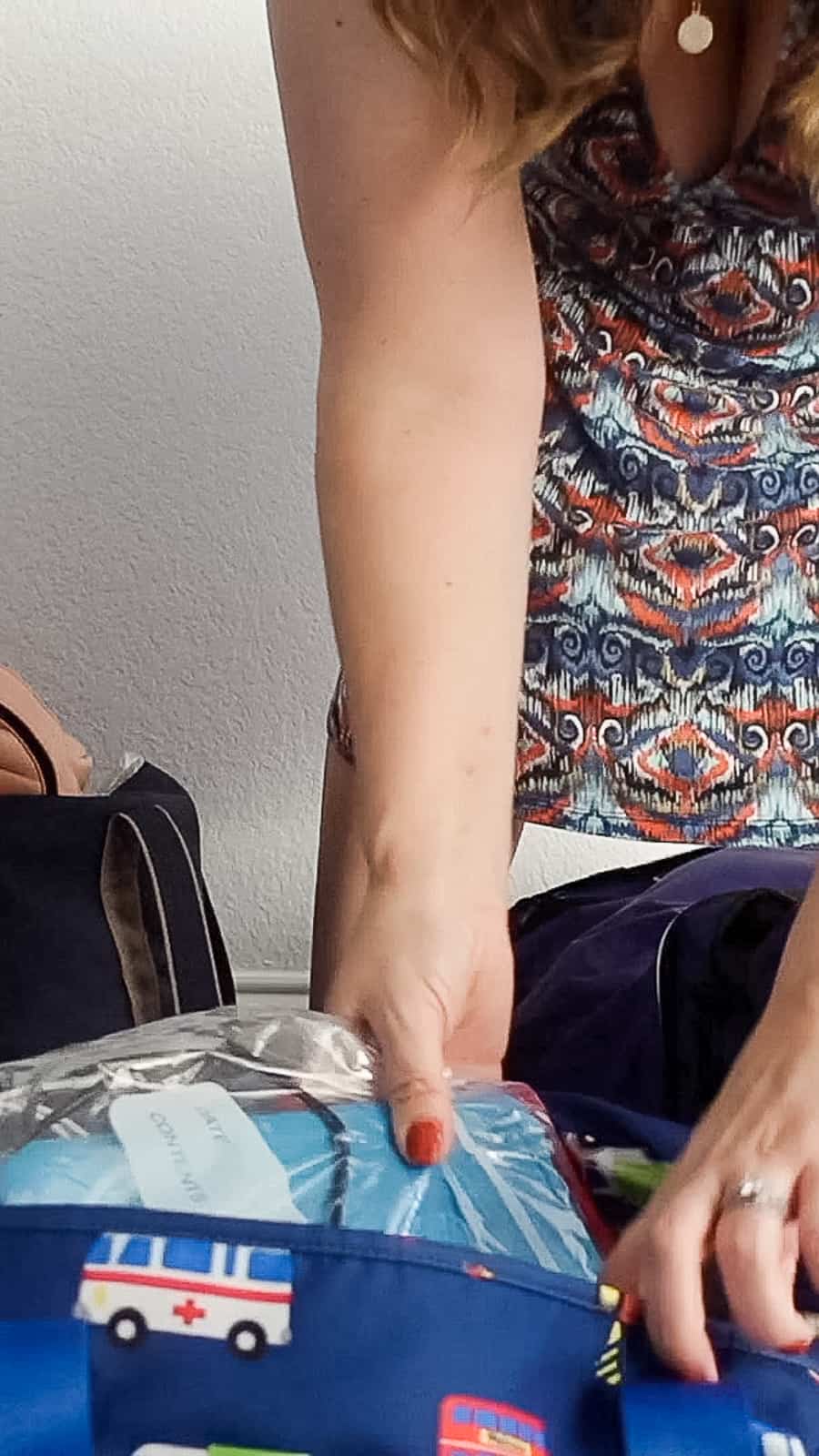 HEY THERE — Follow SBG for food and travel features on Instagram / TikTok
Personal kids items to start this Austin packing list
Monitors x 2 pieces
pillow
white noise
toys / stuffed animals / personal items
See what to plan during a weekend trip to Austin, TX…
Carryon / road trip car bag
tablet / charger / headphones
water bottle
toys / books / coloring
bathing suit / float / water shoes
blanket / pillow
snacks
diaper bag

hats / sunglass
snacks
Plastic bags for dirty stuff
wipes
extra clothes

stroller – put name on it
Toiletries
Potty (see this portable potty for car)
vitamins / medicine / allergy
tooth brush + paste
comb
nail clipper
stool for using sink in hotel
pull ups / diapers
hair shampoo / body wash
sippy cup? utensils? plastic covers for planes
shoes / sneakers / rain boots / water shoes / sandals
night light
socks (many extra socks (2x a day) because when it rains, you may want to change daily
tops
bottoms
underwear
pjs
extra hats / sunglasses
hoodie
rain jacket / winter coat depending on weather and time of year (it can get cold in the Fall and Winter, but is pretty moderate in the Spring and Summer)
Adult women's packing list
For in hotel
Dishwasher soap and sponge
extra plastic gallon and sandwich bags
Clothes / accessories
socks 2 pairs / day
bags for park / out to dinner / backpack
dress / skirts for dinner or daytime
Pants / leggings / skinny jeans
scarf / coverup
sunglasses
swimsuits / cover-ups / UV blocker / hat for hotel pool and possibly visiting Barton Springs.
underwear / bras
pjs
belts
poncho / rain jacket / light jacket
tops
sweater / hoodie
Sleep
pillow / pillowcases
white noise / earplugs
Toiletries
toothbrush / toothpaste / floss
makeup and brushes / makeup mirror
Retainer
hair products / extensions / curling iron / straightening iron / hair ties
after shower: deodorant / q-tips / almond oil / lotion / chapstick
shampoo / rinse / conditioner
soap / razor / shaving cream
face wash / makeup remover
pumice
Carry on / car bag
glasses
contact solution / contact case / eyedrops
jewelry
Devices / tech equipment

phone / headphones / charger / usb / adapter (for car?)
external battery packs for devices
camera / batteries and chargers / tripod / video holder / extra cards / accessories (to take photos of all those tasty Austin restaurants and food trucks)
laptop / tablet / drive / power cord

Cooler w/ milk, soda water?
neck pillow
license / passport or extra copy of it
sunglasses / sunscreen
water bottle
feminine products
extra outfit
Shoes
sandals / dinner shoes / flip flops for hotel room
sneakers 2 pairs
Other
sunscreen
medicine

feminine products
prescription meds
eye drops / backup contacts
tums / aspirin / nasal spray / allergy medicine / cepacol / cough drops

Water bottle
Scissors
Men's packing list for Austin TX
Well, it's basically the women's packing list for Austin, minus a few personal items.
And with the addition of some button down shirts for nights out enjoying live music or Austin bars.
Love a good packing list?
Well, I hope this Austin TX packing list helps you with your travel plans.
I'm a packing lists queen and soon will have a Disney family packing list to check out on Sip Bite Go, too.
Guides for visiting Austin, Texas on Sip Bite Go
More travel tips