Seasoning a Blackstone griddle is 100% necessary, but it is super easy to complete. You must do this before your first cook. I'll show you the steps to seasoning your new Blackstone griddle from the first coat of oil to the end. Get ready…it's time to start griddling.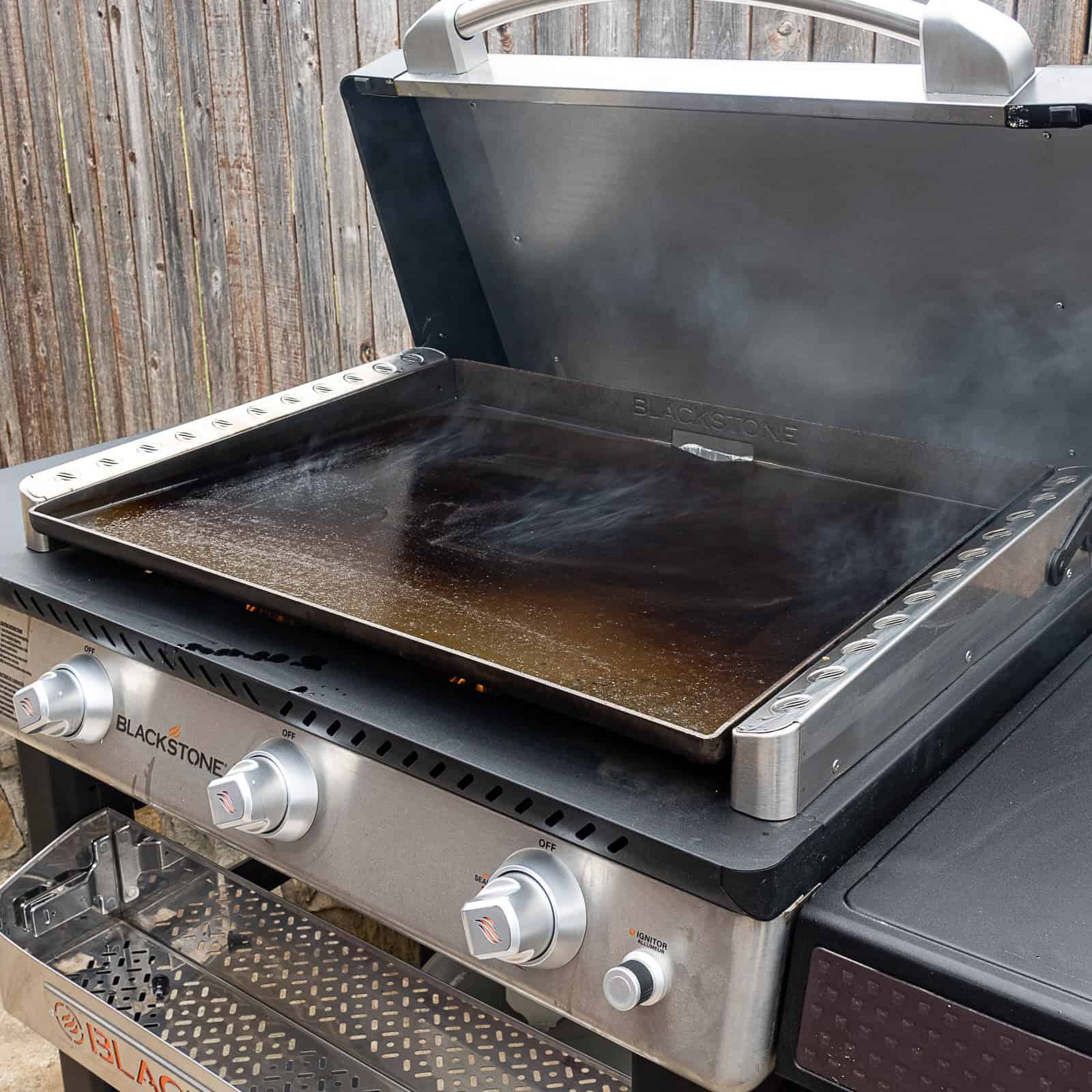 See the Blackstone Grill seasoning video demonstration…
Follow Sip Bite Go on Instagram and TikTok for easy griddle cooking tips…
Why Season your Blackstone Griddle…
1. Create a non stick surface.
When you purchase a new griddle, the flat top is not seasoned.
You need to burn off the manufactured griddle surface and coat it with oil to create a non-stick surface.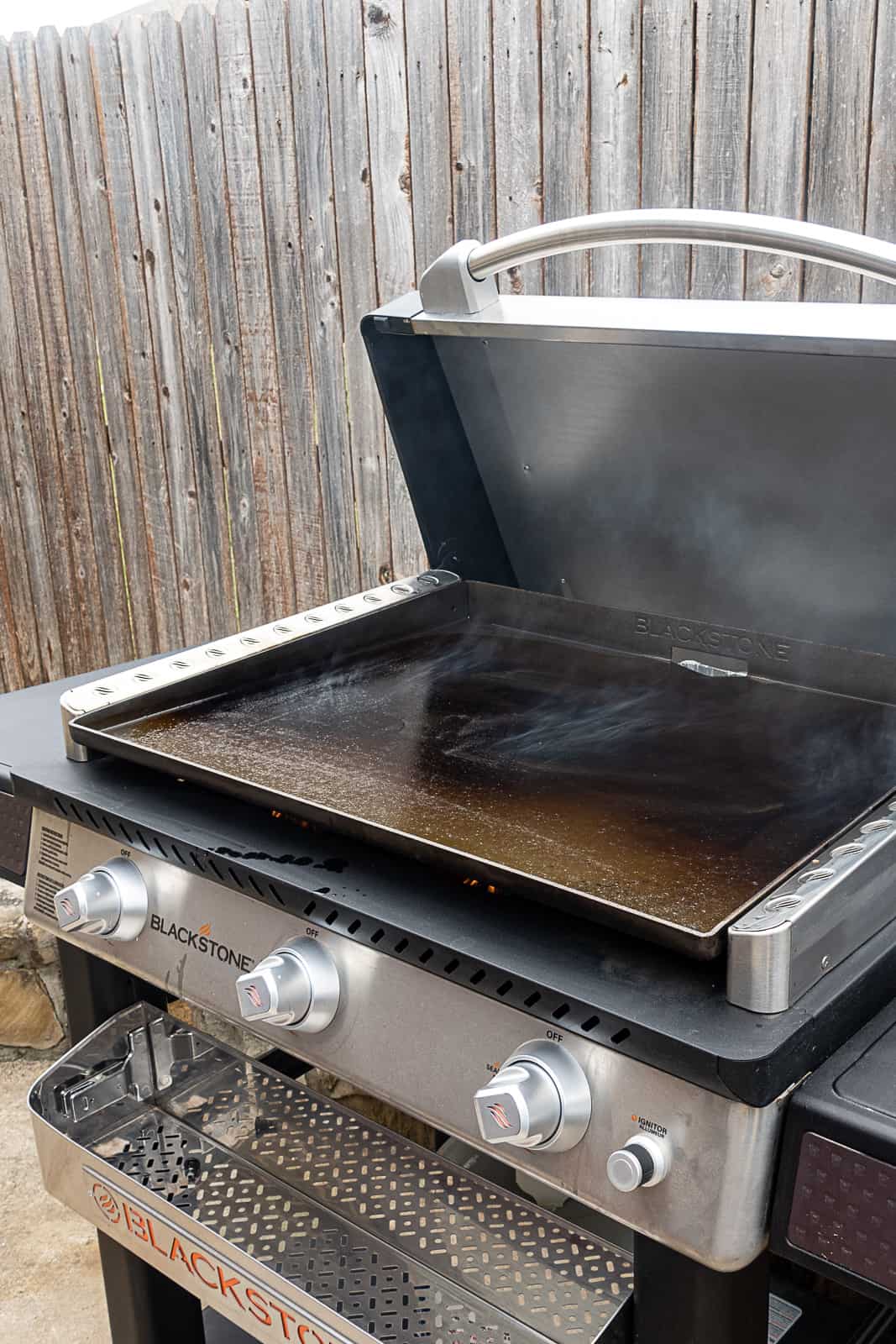 2. Clean your Blackstone.
By seasoning your griddle, you are actually cleaning the surface.
There might be dirt, dust and other things on top of your flat top, so seasoning it will burn off anything you don't want on the griddle top.
New to flat top cooking?
See my favorite Blackstone recipes for beginners…
Equipment
Here's what you need to season a Blackstone Griddle for the initial seasoning process.
Vegetable oil or Blackstone conditioning oil (any fat with a high smoke point will work)
Paper towels or cloth towels
Pair of tongs
Warm soapy water
Heat resistant gloves (optional)
See popular smoked food recipes on Sip Bite Go…
How to season a Blackstone Griddle
Now I'll walk you through it…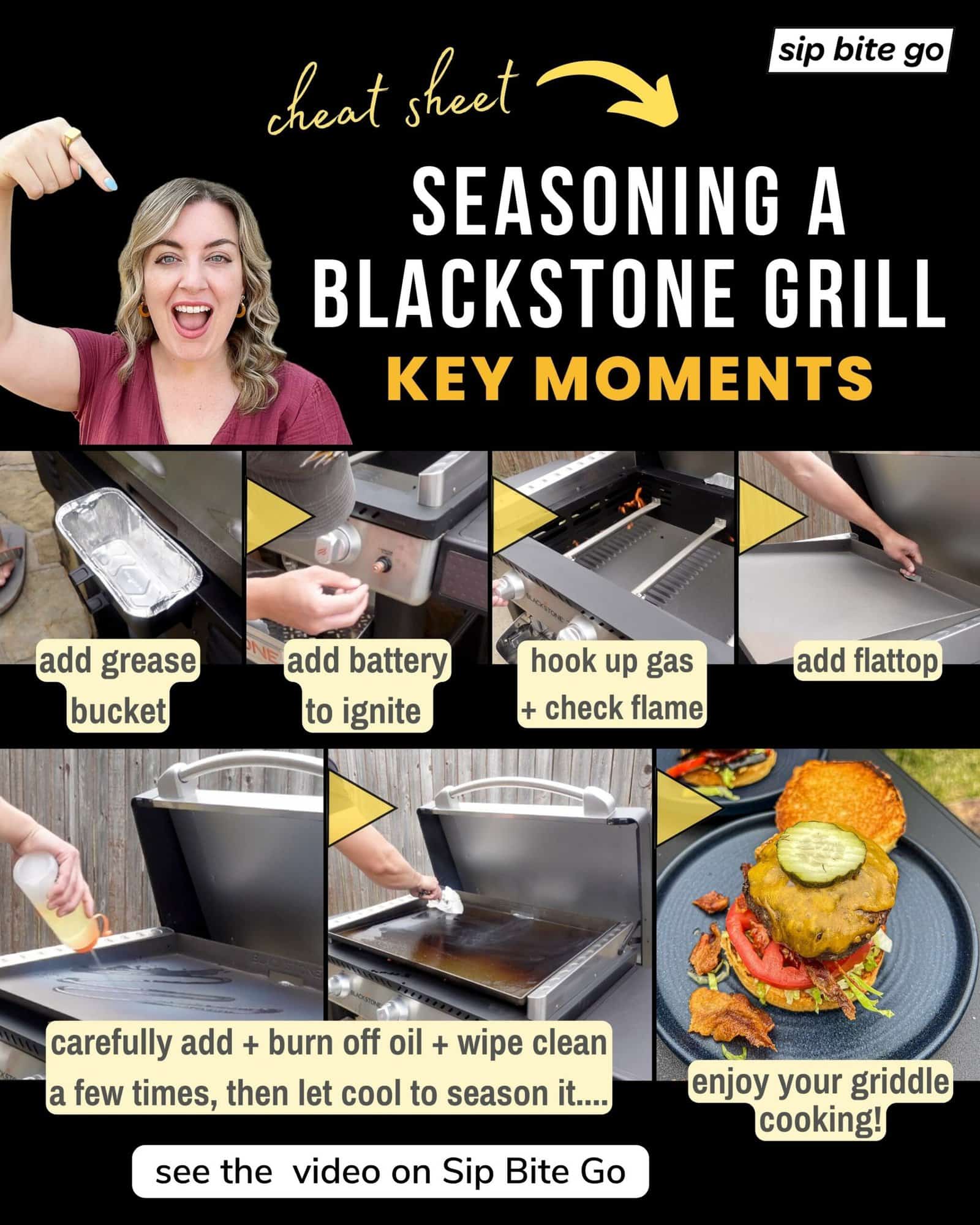 Quick look at seasoning a Blackstone
Once assembled, wipe down the griddle surface with warm soapy water to wipe off any dust particles on top. Then turn on the burners too high.
When the flattop begins to discolor (10 – 15 minutes), add 2 – 4 tbsp of vegetable oil and using paper towels or a clean cloth, spread the oil all over the flat top.
Let the Blackstone burn the oil off until it stops smoking (~10 minutes)
Repeat steps 2 & 3 for 4 – 6 mors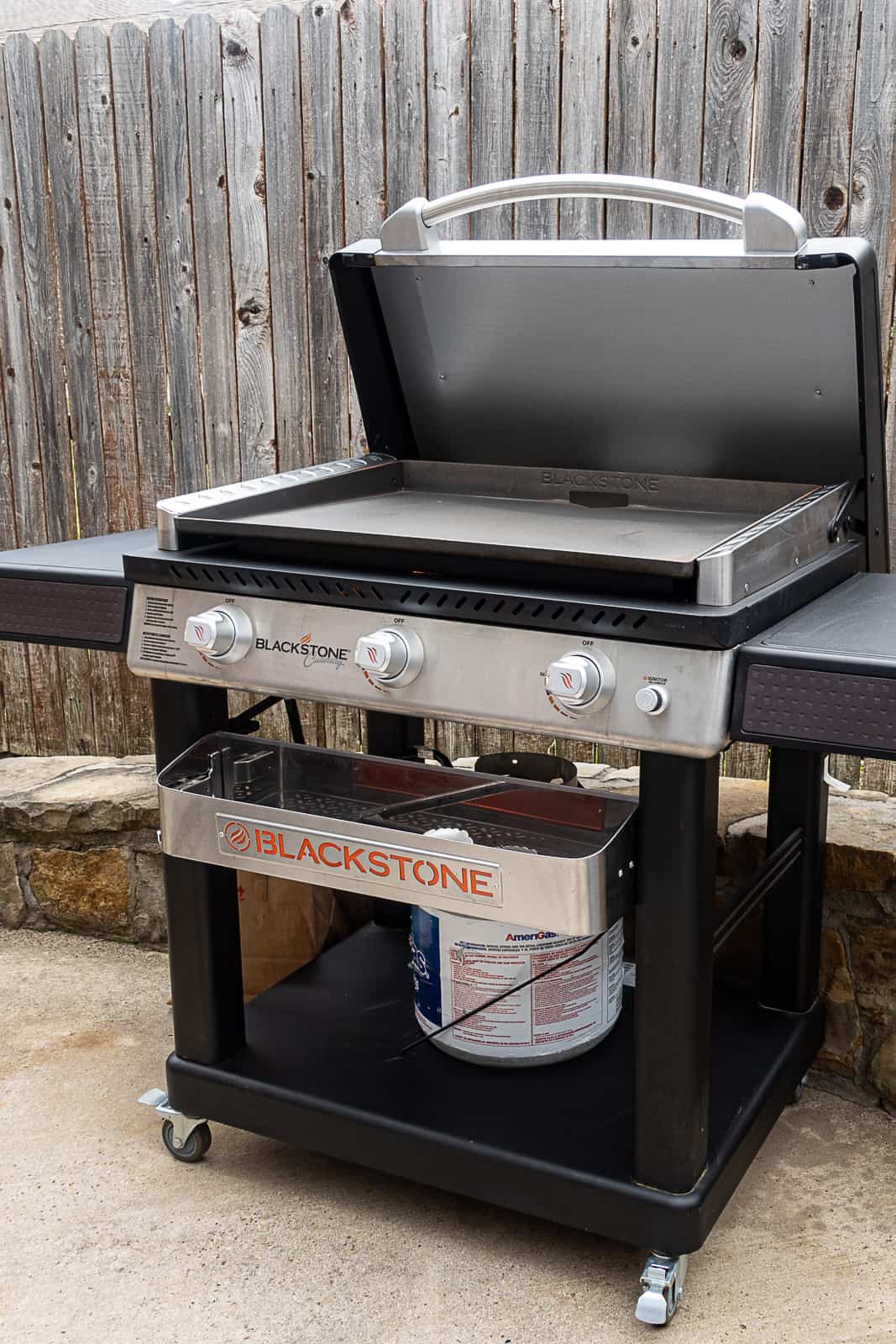 Try this recipe to make outdoor scrambled eggs on griddle flattops…
Detailed Blackstone Griddle seasoning steps…
Gather all equipment before beginning to season a Blackstone flat top.
Wipe the griddle surface with warm soapy water to clean off any particles.
Turn the burners on high. The flattop will begin to discolor and smoke after 10 – 15 minutes.
Add 2 – 4 tbsp of vegetable oil or any type of fat or conditioning oil. Using paper towels or a clean cloth, spread the oil all over the flat top surface to make a thin layer. Completely cover the flat top including the sides of the griddle.
Let the Blackstone burn the oil off. This will take around 10 minutes to completely burn off the oil.
After that, repeat steps 2 & 3 for 4 – 6 more times. The more you season the Blackstone griddle, the better. If you want to complete 10 rounds of seasoning, do it. What you are creating by seasoning the griddle is that you are building a thin non-stick surface for you to cook food on. Seasoning the griddle will also help protect the cooking surface against the outdoor elements.
After 4 – 6 more rounds of seasoning you should be left with a highly blackened griddle that's ready to cook.
Turn off the burners and allow to cool before re-firing it up for your first cook.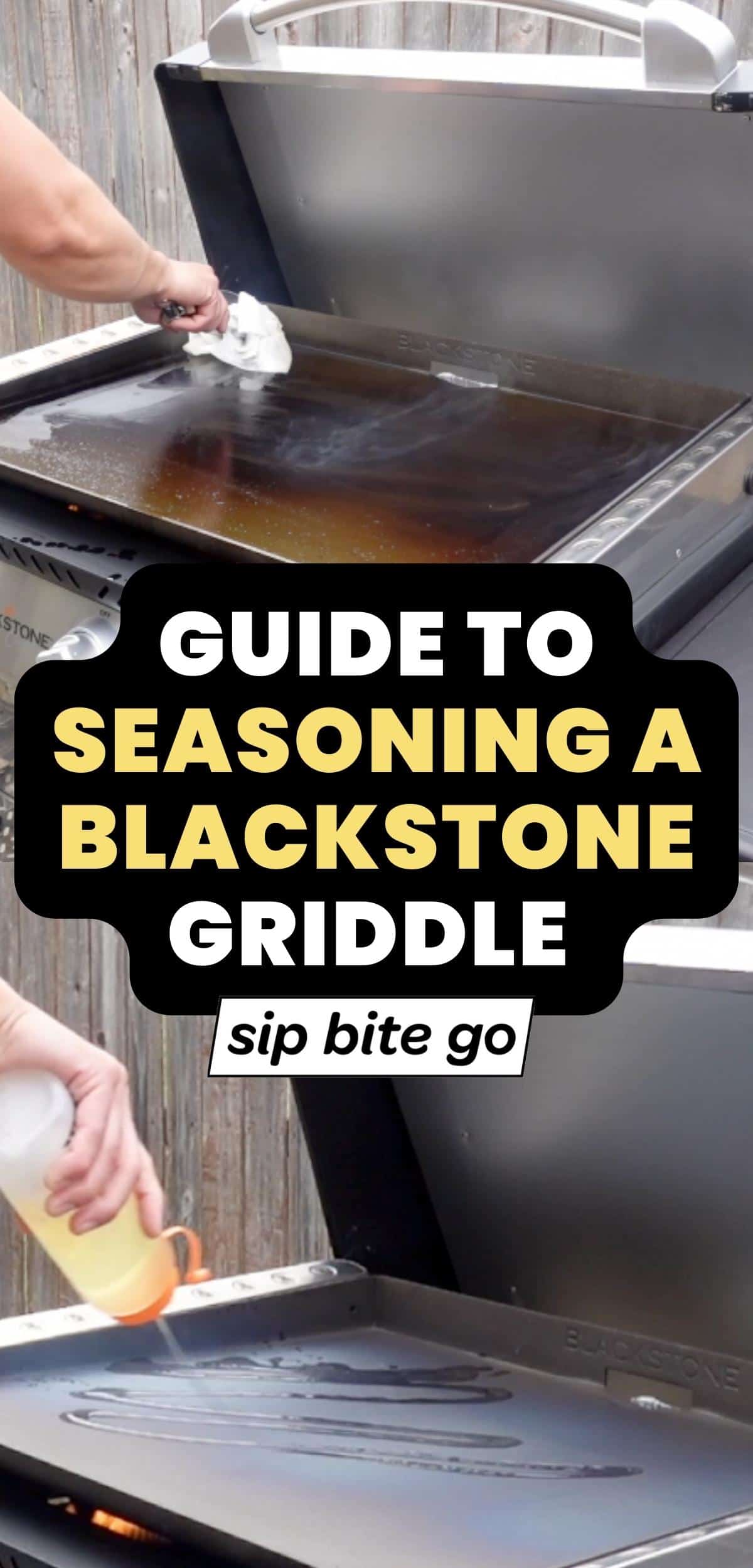 FAQs
Can I use vegetable oil to season my Blackstone griddle?
Yes, you can use vegetable oil to season your griddle. You can use any type of cooking oils or fat that have a high smoke point. PRO TIP – Do NOT use extra virgin olive oil because it can't take the high heat and will burn. 
How often to season Blackstone griddle?
Ideally, you should be seasoning your griddle after every use. What you'll want to do is turn the burners on high and add a thin layer of oil or griddle seasoning cast iron conditioner to the flat top surface. Allow the oil to burn off then turn the griddle off. 
How long does it take to season a Blackstone griddle?
You will spend anywhere from 40 – 60 minutes to properly season your griddle.
Try these easy griddle recipes…
See new griddle recipes for beginners…
Griddle cooking tools in the SBG setup…
Main griddle equipment
Other helpful grilling tools, accessories, ingredients…
Traeger Flatrock guides
Meat thermometer recommendations
Every home chef needs a reliable meat thermometer to cook food perfectly.
On Sip Bite Go, you'll often see me using:
Meater thermometer – a fancy wireless thermometer that connects to a phone app – gifted to me from a Traeger partnership.
ThermoPro digital thermometer – which has a wire that connects the thermometer to a display box outside the oven/grill.
It's like being psychic! The great thing about either of the thermometers above is that I don't have to take the food out of the oven to know the temperature.
How to use 'em… What I do is stick the digital thermometer in steak, pork, chicken, whatever… Then put the food in the oven, on the smoker, or grill.
While the meat cooks, it reads the temperature so I know exactly what temp meat is as it's cooking. Without having to take it out and check. It's really difficult to overcook food when you know exactly what temp it is inside!
Are you a foodie, too?
Hey home chef, hope that answers all your questions about seasoning your Blackstone Griddle.
I'll have more easy Blackstone griddle recipes coming your way soon.
Enjoy cooking and chat soon on Instagram / TikTok / YouTube.
– Jenna
Next, browse the Sip Bite Go recipe collection…