Sweet fried plantains, made with ripe yellow plantains, are a treat *and* a healthy snack! In just a couple minutes and with only three ingredients, you'll be able to cook sweet fried plantains in a pan on the stove.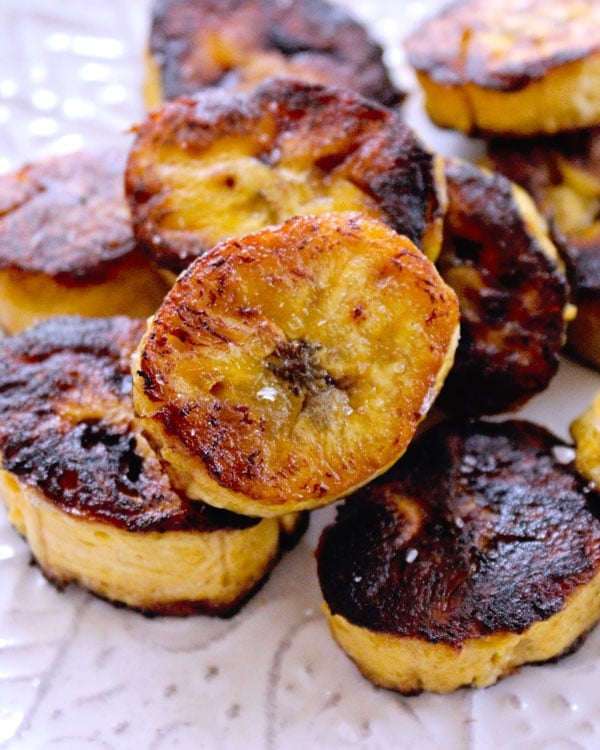 Whip up these fried sweet plantains to eat in salad bowls. Serve sweet fried plantains as a dessert over ice cream. Or make a batch to calm sweet tooth cravings as a healthy fruit snack.
Green plantains won't work for this recipe. If your plantains are green, store them in a paper bag for a couple days to turn them yellow-brown. The more ripe plantains are, the sweeter this recipe will be, without any added sugar.
Surprisingly, ripened plantains aren't easy to peel. To remove the skin of the plantain, cut off the ends, then make a slice down the middle of the plantain.
Peel the plantain skin off, then dice the fruit into 1″ discs.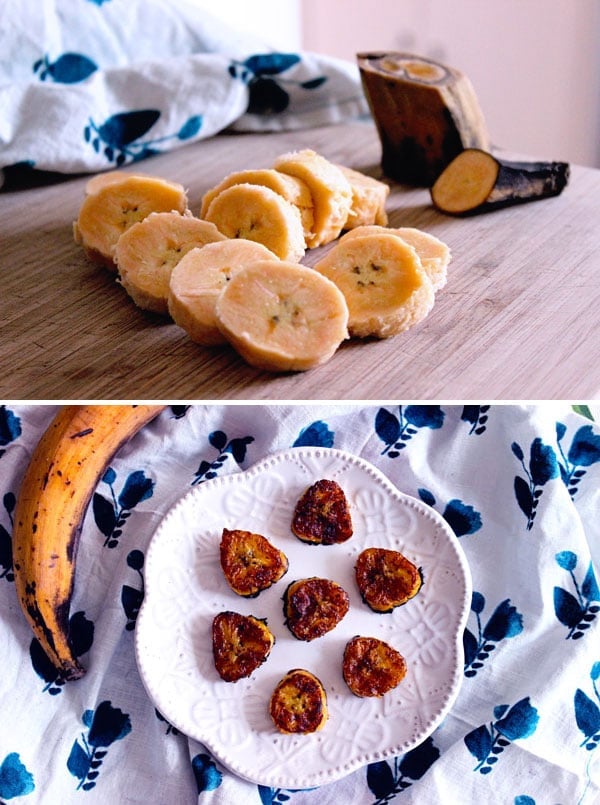 All you need for this recipe is a ripe yellow plantain, butter and salt.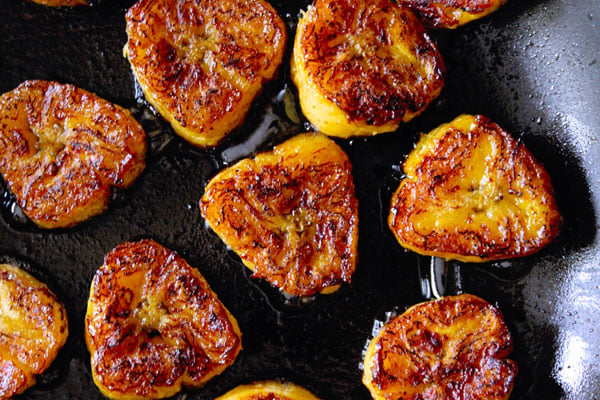 To make these fried sweet plantains, grab a medium sized frying pan and set the burner to medium-high. The high heat helps caramelize the plantains.
Warning: fried plantains cook super fast!
You might think they are burned, but they are caramelizing. Dark brown edges usually taste great, so don't ditch them if they seem a little over-done. Once they've caramelized on one side, flip them to fry the other side.
Sprinkle them with salt and serve.
If you make these ahead, you can create delicious plantain salad bowls. Try mixing them with ingredients in Brazilian, Cuban and Caribbean salad bowls. Plantains + avocados are a match made in heaven.
Your wanting to be whisked-away to a tropical destination, but will settle for eating sweet fried plantains in the comfort of my own home friend, Jenna.
Sweet fried plantains (Sip Bite Go)
This 10 minute sweet fried ripe plantains recipe (Platanos Maduros Fritos) is made with just 3 ingredients! It's a great fruit dessert, an easy healthy snack idea, and a delicious ingredient for healthy salad bowls!
Print
Pin
Rate
Ingredients
1

plantain

ripe

1

tbsp

butter or ghee (for Whole30)

Salt
Instructions
Cut ripe plantain into 1" chunks. Heat butter in a frying pan on medium-high and add fry plantains. Flip when plantains turn brown, and cook on the other side. To serve, sprinkle with salt and enjoy.
Notes
I'd love to see your recipe! Share your sweet fried plantains with #sipbitego on Instagram.
Nutrition