This extensive list of gourmet grilled cheese ideas will ensure you never have a boring ol' grilled cheese again. Learn how to make a 10 minute grilled cheese that becomes a meal with tips from dozens of food bloggers. Prepare to have the best sandwiches of your life with these 50+ gourmet grilled cheese ideas!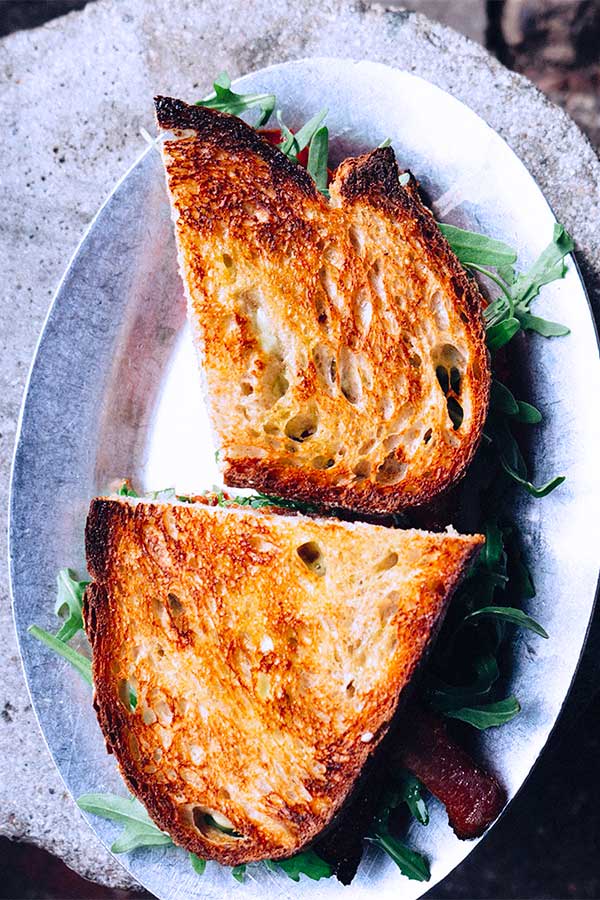 Types of gourmet grilled cheese ideas you'll learn:
Bread and condiment secrets
New twists on grilled cheeses with tomato
Seasonal fruit grilled cheeses
Grilled cheeses with bacon
Veggie-packed pesto grilled cheese ideas
Keto friendly grilled cheeses
Vegan grilled cheese ideas
…and more!
So let's get started…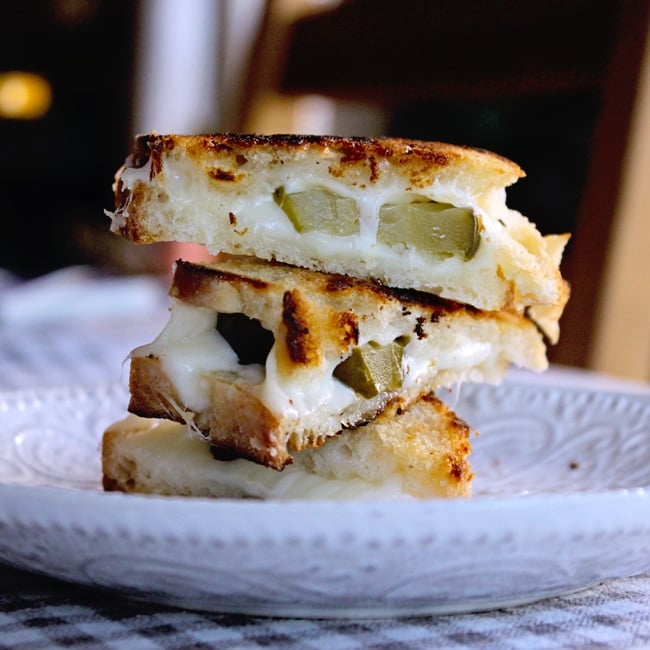 Grilled cheese with pickles
"I love to add sliced pickle to my grilled cheese sandwich! After I'm done grilling the bread and all the cheese is melted, I add two slices of pickle in between the bread slices for an added tangy flavor. It really gives it a fun zip!" – www.genniferrose.com
"Here's one of my favorite gourmet grilled cheese sandwich ideas. Use crisp bread and butter pickles, or spread sweet relish on the inside of the bread. It's important the pickles are sandwiched with cheese on both sides. The last time I made grilled cheese with pickles, I used a soft fontina cheese and sour dough bread. It's so good!" – www.sipbitego.com
How about pickled onions? Promising a kiss from France in every bite, Delicious Table has one of the most fancy gourmet grilled cheese ideas: French Cafe Grilled Cheese Sandwich. It's served on parmesan bread and is loaded with drool-worthy ingredients: Dijon mustard, creamy melted brie, crunchy cornichons, pickled red onions (I show you how to make these in minutes! no canning required), topped with salad.
Grilled cheese with onions (fried + caramelized)
"I always add a few French's Fried Onions when I make a grilled cheese! They add a little sweetness and crunch, and can turn an otherwise boring grilled cheese amazing!" – lovelifelaughmotherhood.com
"My tip for making a gourmet grilled cheese sandwich is to add caramelized onions. It adds just enough extra flavor to really step up your grilled cheese game." – www.momwithcookies.com
Love onions? Try these caramelized red onions on your next grilled cheese.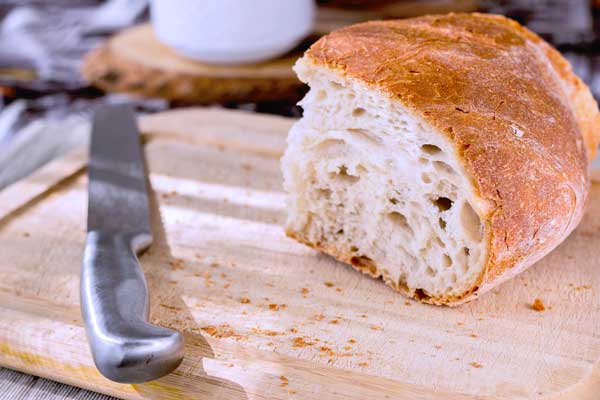 Grilled cheese with mayo on the bread
Peter's Foodie Adventures swears the Secret to Easy Crispy Grilled Cheese Sandwich is mayo.
"About a year ago I used to work in the Thomas Keller Bouchon bakery, and there we sold this amazing grilled cheese which was even better when my friend grilled it. After trying it a couple of times I had to ask him for the secret. He simply laughed a little and told me that to make the PERFECT GRILLED cheese you have to mix a little mayo with a little room temperature salted butter and spread that on the outside before toasting. Try it the results will amaze you!" – thedisciplinedfoodie.wordpress.com
Another crazy thing to do with mayo? Make hamburgers seared with mayo. It's weirdly delicious!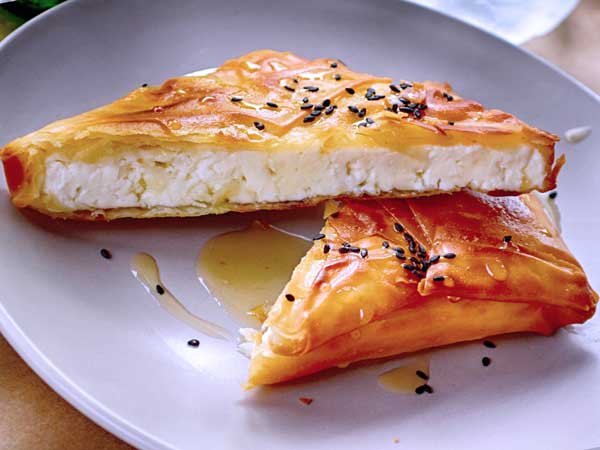 Use cinnamon raisin bread for grilled cheese sandwiches
"Use white cheddar cheese on cinnamon raisin toast, it's the perfect combo of sweet and savory gooey goodness!!" – www.tarametblog.com
"We love making grilled cheese on cinnamon raisin bread. It provides a unique flavor combination with the cheese and the cinnamon and raisins – the perfect salty/sweet combo!" – www.madeinapinch.com
Make it on fresh focaccia
Thinly slice this focaccia bread for beginners recipe to make it an Italian inspired recipe. Focaccia bread is one of my favorite ways to use Everything Bagel Seasoning – and sandwiches made with it taste SO delicious.
Use Hawaiian rolls for grilled cheeses
"My gourmet grilled cheese ideas always seem to be a hit with the family and friends and I always have people ask for the recipe. My secret is that I use Kings Hawaiian Bread Rolls (they turn out like little sliders) and Cabot's Seriously Sharp Cheddar Cheese. Despite it being called 'Cheddar Cheese', it is actually a white cheese that is sold in a block so it is very easy to slice for the rolls. I then melt some butter (I happen to make my own – but regular salted butter will do) in the pan and place the little sandwiches in and cook until it is nicely brown on each side. Enjoy!" – www.handmadejewelryhaven.com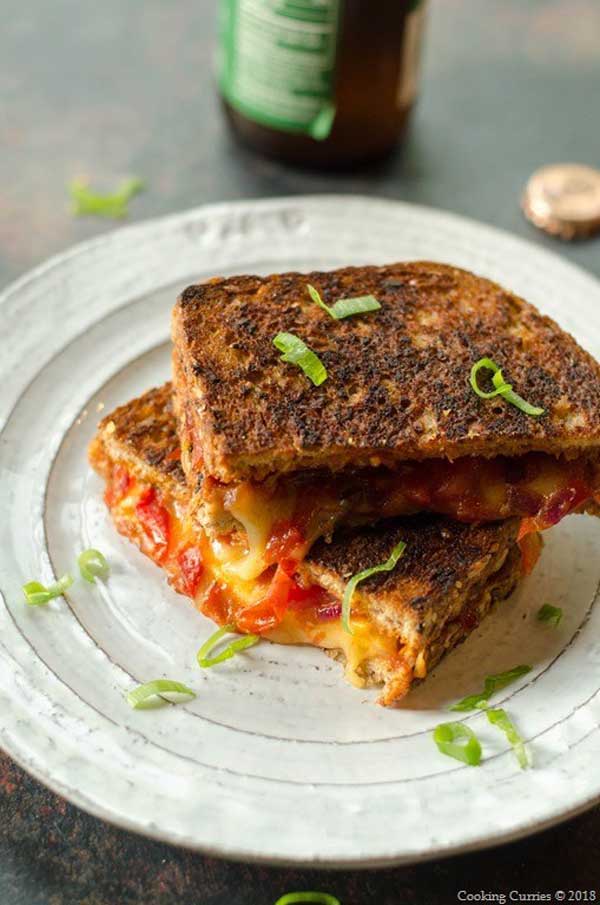 Grilled cheese with tomato
Think you know the classic tomato and grilled cheese recipe? Bet you haven't tried some of these!!
Heat lovers: add this Spicy Tomato Grilled Cheese Sandwich from Cooking Curries to your to-do list. Pictured above.
"Pair your grilled cheese with something acidic! Grilled cheese sandwiches are VERY high in fat (hello cheese and butter), and acidity helps give new dimension to the meal. This is one reason tomato soup is such a common partner to grilled cheese. Alternatively, try dipping your grilled cheese in hot sauce, drizzle it with a balsamic reduction, or dip it in your favorite vinaigrette dressing." – spicyexchange.com/blogs/spicy
Make a batch of this Balsamic Tomato Jam to add to your cheddar grilled cheese, by Kelly Lenihan.
"I know only one way to make a grilled cheese sandwich: with tomato! A list of the best gourmet grilled cheese sandwich ideas isn't complete without a little fresh tomato, sun-dried tomato, or best of all a side of tomato bisque! However, adding any veggies to a grilled cheese could potentially compromise the sandwich. So I will add a layer of cheese, the sautéed vegetables and then a second layer of cheese. That way the vegetables don't overpower the cheese. It's also easier to eat as the veggies are wedged between melted cheese. Another bonus is that any hot veggies will start to soften the cheese, speeding up the process and allowing me to focus on getting the bread that prefect golden brown." – rosyremedy.com
This Caprese Grilled Cheese sandwich includes kale pesto by Drugstore Divas.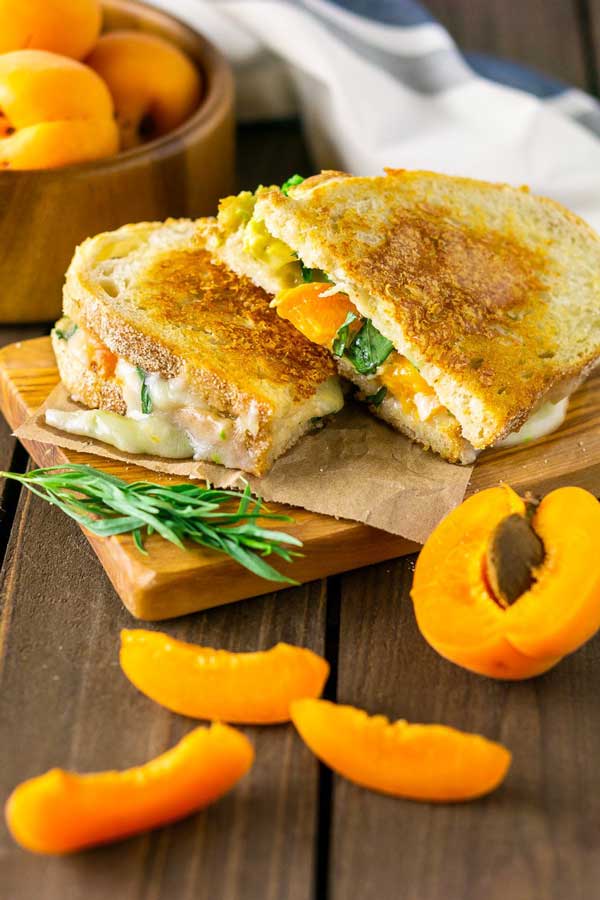 Ideas for grilled cheese with fruit
Holy decadence. Run, don't walk to this recipe for Parmesan-crusted Brie Grilled Cheese with apricot, avocado and fresh herbs by Burrata and Bubbles. Pictured above.
And here's another vote for brie and fruit: Brie, Prosciutto, and Pear Grilled Cheese by My Kitchen Love.
"Take your basic grilled cheese to the next level by adding gouda, fig jam and sliced green apples in challah bread. A huge crowd pleaser and gourmet with little effort!" – www.spoonfulofeasy.com
Try this recipe for fig and prosciutto pizza…
Make a Thanksgiving-style grilled cheese by adding dried cranberries to these Turkey Grilled Cheese Sliders by Cooking with Carlee.
Love blueberries? This Blueberry Basil Grilled Cheese by Lemon and Zest is perfect for Summer.
Air Fryer Grilled Cheese with Pear gives grilled cheese sandwiches an extra sweet bite, from Recipes from a Pantry. Pictured below.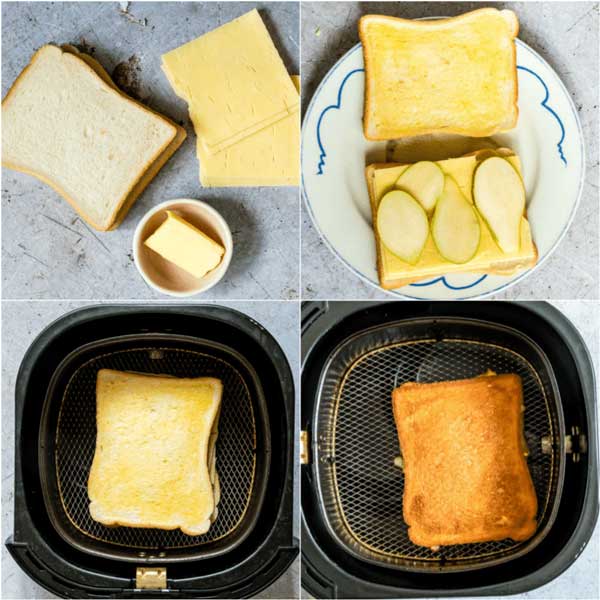 Grilled cheeses with bacon
"If you are a cheese and bacon lover like my hubby, you will LOVE this creative grilled cheese sandwich idea. I make a grilled cheese for my husband that he loves! I combined three of his favorite things bacon, brie, and caramelized onions and it's a winner each time I make it. I use whole wheat bread, brie cheese, bacon, and caramelized onions. The key is to lightly toast the bread in the toaster before putting it in the pan to cook it. After the bread is toasted, I spread a bit of butter on each slice, add the brie, pre-cooked caramelized onions, and bacon then a cook it on each side until the cheese is fully melted." – www.jzpthomas.com
This Gourmet Grilled Cheese Sandwich with bacon, tomato & a rub of roasted garlic by 2 Cookin Mamas is packed with flavor. Pictured above.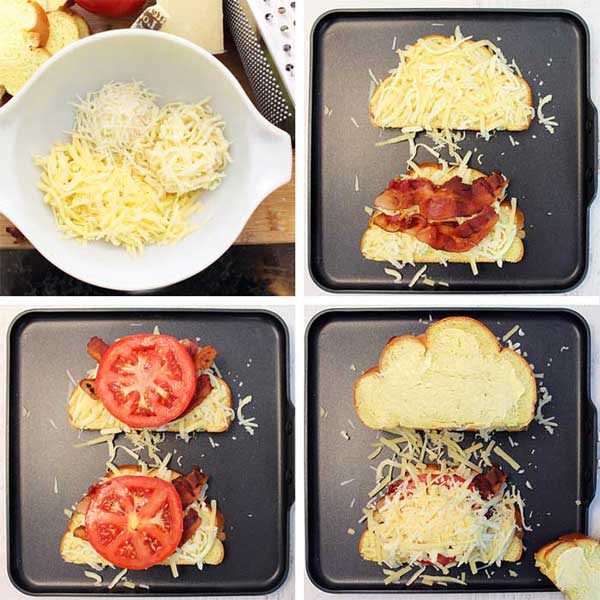 Add cheese to the outside
"Once it's cooked, sprinkle a little extra cheese on top and grill it for about 30-60 seconds so it's got an extra cheesy crunch on top." – www.thetravelfairiesblog.com
"Sprinkle with grated Parmesan on the outside and gently press it into the bread after buttering. It makes for a wonderfully crunchy, flavorful crust!" – thewickednoodle.com
Gourmet grilled cheese ideas with pesto
Try your hand at a new pesto recipe with this Kale Pesto Grilled Cheese by Cooking Chat Food. Pictured above.
Eat more greens with this Spinach, Artichoke and Pesto Grilled Cheese by Supper in the Suburbs.
Combine two comfort food favs with this Spinach-Artichoke Grilled Cheese by Mary Ellens Cooking Creations.
Find another excuse to eat more avocado with this Three Cheese Pesto Avocado Grilled Cheese by Life Currents Blog. Pictured below.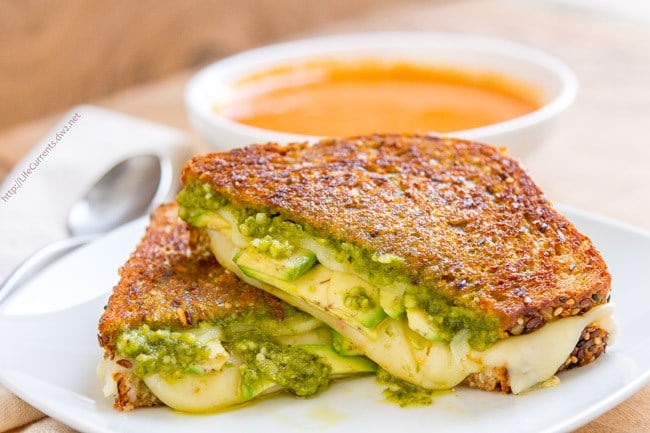 More gourmet grilled cheese ingredients to try
"Take your basic grilled cheese to the next level by adding gouda, fig jam and sliced green apples in challah bread. A huge crowd pleaser and gourmet with little effort!" – www.spoonfulofeasy.com
"Get creative! You can kick a normal grilled cheese sandwich up a notch by adding simple ingredients like avocado, bacon, jalapeños, or tomato slices!" – www.fivestepsarah.com
"For a truly great, rock-your-tastebuds kind of grilled cheese, the secret is real ingredients! I always use real butter (aka not margarine, not "I can't believe it's not butter", etc) and real cheese. No cheese slices here! Gone are the childhood days of cheese slices and white bread! My favourite cheese is a 5-year white cheddar. Try it on sour dough bread, and for utter grilled cheese perfection, make it on a panini press. Never hurts to add bacon too 😉 I started thinking, at what point does a grilled cheese become a sandwich? I think if you make the grilled cheese first and add from there, then it's still technically a grilled cheese. I once made a grilled cheese and then added chicken, bacon and thin apple slices. Now that's perfection!" – hey-mommy.com/category/recipes
"I use a gourmet mustard to make my grilled cheese more flavorful." – www.living4youboutique.com
Make your grilled cheese party-ready with these Truffle Grilled Cheese Sandwich Bites by Cookin Curries.
Nothing says "high class" like this Stinky Cheese Recipe on pumpernickel by Champagne Tastes.
Like a little spice? Check out this Candied Jalapeno Grilled Cheese Sandwich by Binkys Culinary Carnival.
Wondering what kind of cheese is best for grilled cheese? The Anthony Kitchen suggests mixing cheeses with this Havarti and Cheddar Grilled Cheese Sandwich. Pictured below.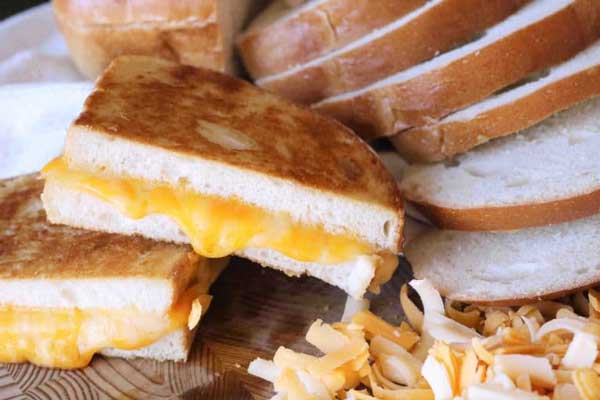 Keto friendly gourmet grilled cheese ideas without bread
Skip the bread and get right to the good part, the cheese, with these Crispy Melted Cheese Bites by Fuss Free Flavours.
On the Keto diet? Try this low carb Cauliflower Grilled Cheese by APPLES FOR CJ. And try these gluten-free grilled cheese kabobs by My Gluten-free Kitchen.
"First, choose the best type of cheese for grilling which, in my opinion, has to be a hard and well matured one. My personal favorites are Greek kefalotiri and parmesan. If you do not have these, just cut a yellow cheese beforehand and freeze it. Then, I whisk an egg, I dip the dairy product chunks in it and cover with some ground sesame seeds. The sesame really develops its taste when cooked. I usually use a ribbed non-stick pan to grill the cheese – as the Greeks call this "tyri saganaki". Tastes amazing! :)" – http://mindbodyandspiritwellbeing.com
This grilled cheese could fit in almost every category above. Breakfast Grilled Cheese Sandwich with ham, egg & apple butter by Boulder Locavore brings the grilled cheese experience to the first meal of the day.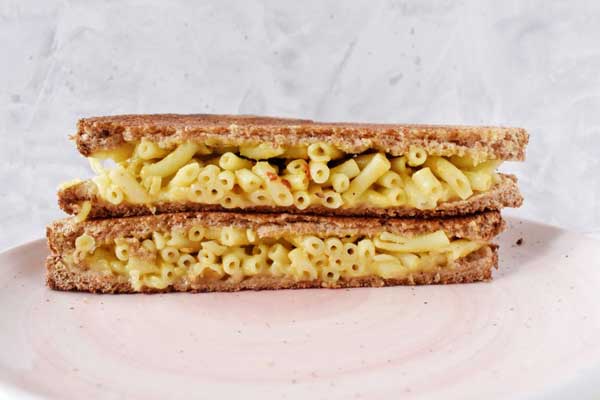 Vegan grilled cheese ideas
Mac and cheese inside a grilled cheese? Yes please! If that sounds dreamy to you, too, then check out this Vegan Grilled Mac and Cheese by Shivani Loves Food.
Use white beans or potatoes to make this Vegan Stretchy Melty Grilled Cheese by Rhians Recipes.
Okay, so now you have enough grilled cheese ideas to last a couple of years!
Special thanks to all the food bloggers who shared gourmet grilled cheese sandwich ideas.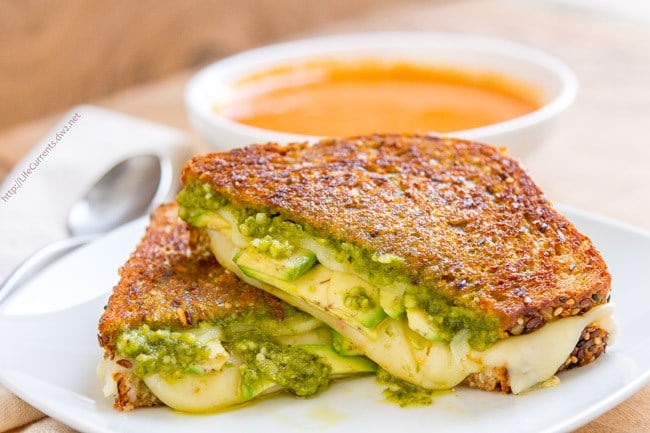 What goes good with gourmet grilled cheese?
More recipes with cheese you might like…
Let me know when you make your gourmet grilled cheese. It means so much to hear from Sip Bite Go readers and I love seeing photos of your food! Don't forget to tag me @sipbitego on Instagram so I can see how the recipe turned out. For more ideas you'll love, sign up for the Sip Bite Go newsletter.