See where to eat in New York City with kids. This travel guide included hidden gems that are also kid friendly restaurants in NYC. From Central Park food carts, to Chelsea Market, Eataly, and dine in restaurants with tasty desserts, I am here to help my fellow foodie parents eat well in the Big Apple!
Get tips for traveling to NYC in this series of new Sip Bite Go travel blog and vlog guides. Thanks to YouTube for inviting me out to NYC for inspiration! All options are my own.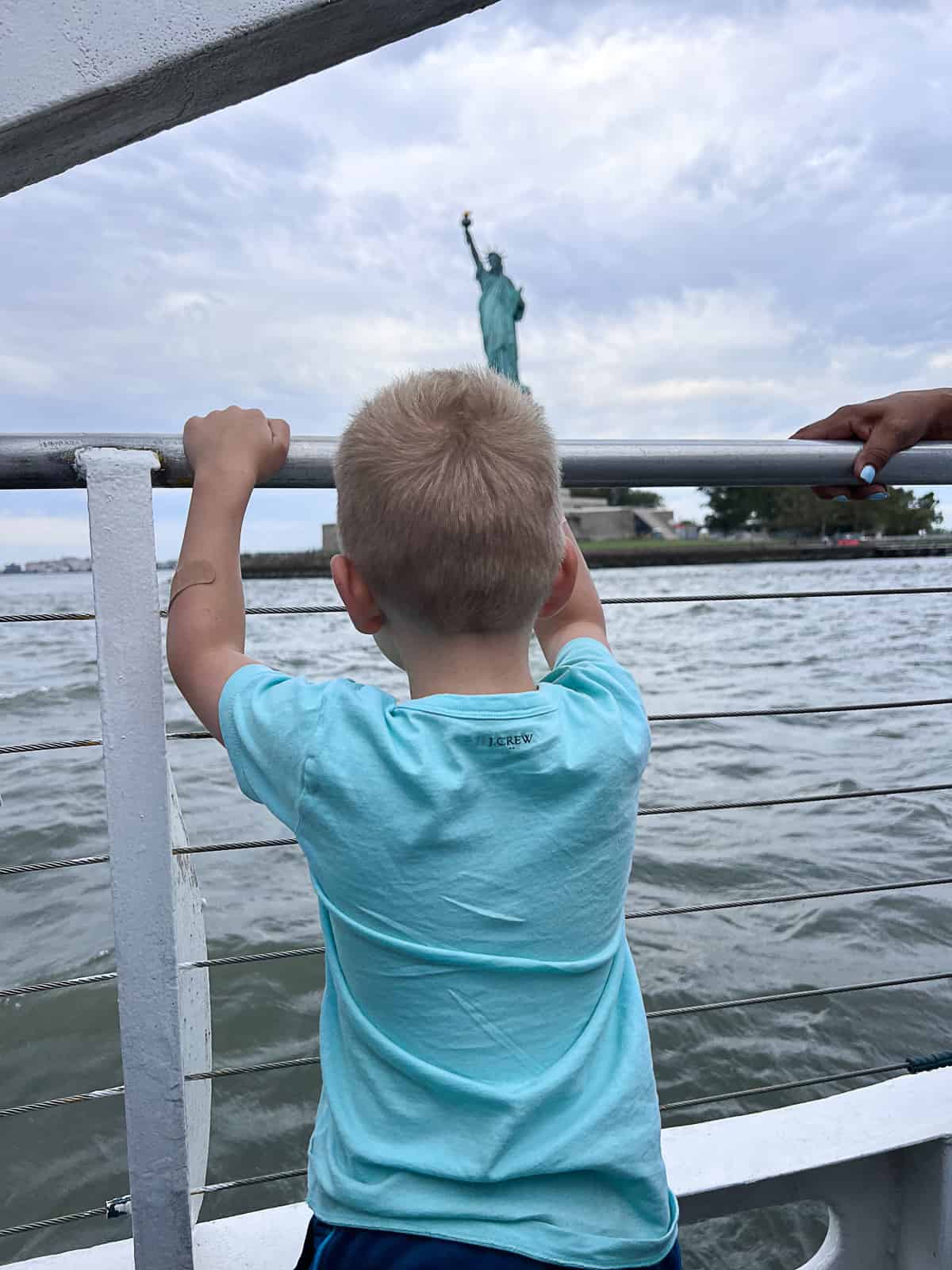 Why I wrote this guide to eating in NYC with kids…
You better go to NYC ready to EAT!
In previous trips to NYC, I was a foodie, but I was also a bit younger, single, and usually there for a conference since I was an event manager.
They were quick trips with dinner out at a nice NYC restaurant one or two nights, and then they were over.
Well when YouTube invited me for a YouTube creator training session in their NYC Chelsea office, I made a weekend out of it…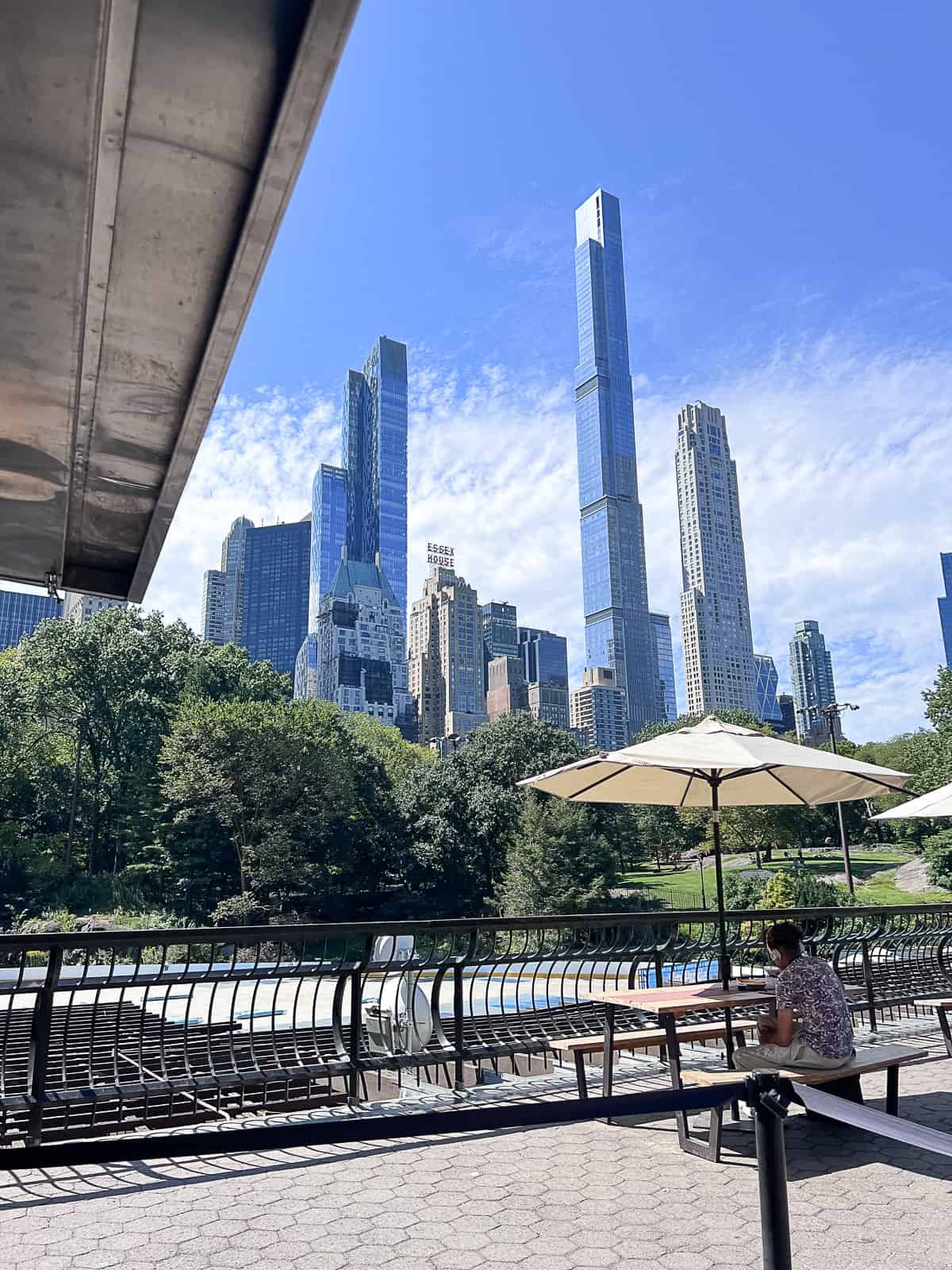 Because there is plenty for a food and travel blogger to check out in the Big Apple!
But these days I'm a mom, and quite honestly didn't know how a NYC trip as a foodie with a kiddo was going to go…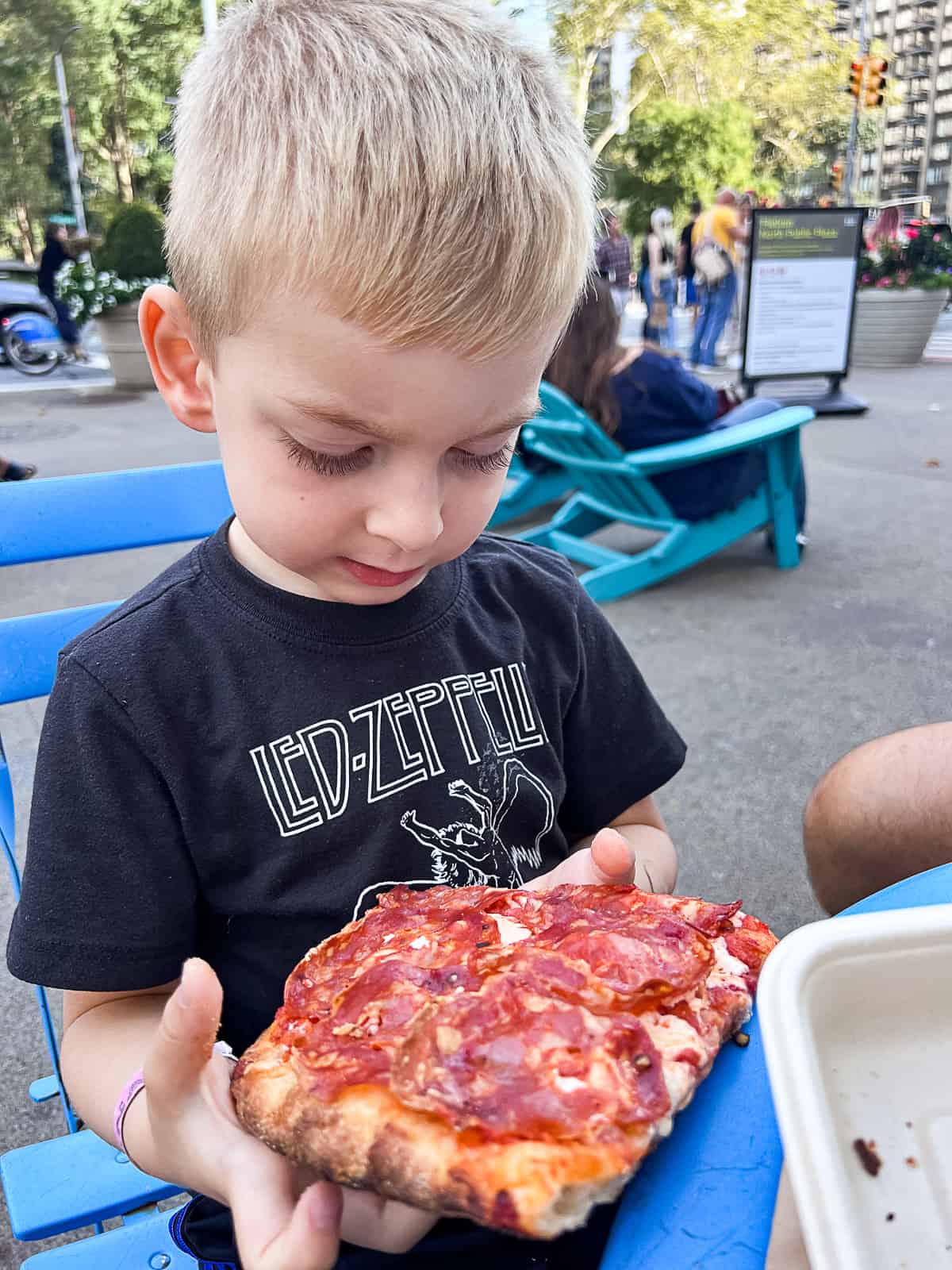 The short of it –
It went GREAT! Eating out with a kiddo in New York City went smoother than imagined.
Instead of a long leisurely dinner out with a bottle of wine like I did in my 20's, this trip was full of quick-and-easy food choices and a couple of nice meals at our super-lovely hotel, Martinique New York on Broadway (Curio Collection by Hilton).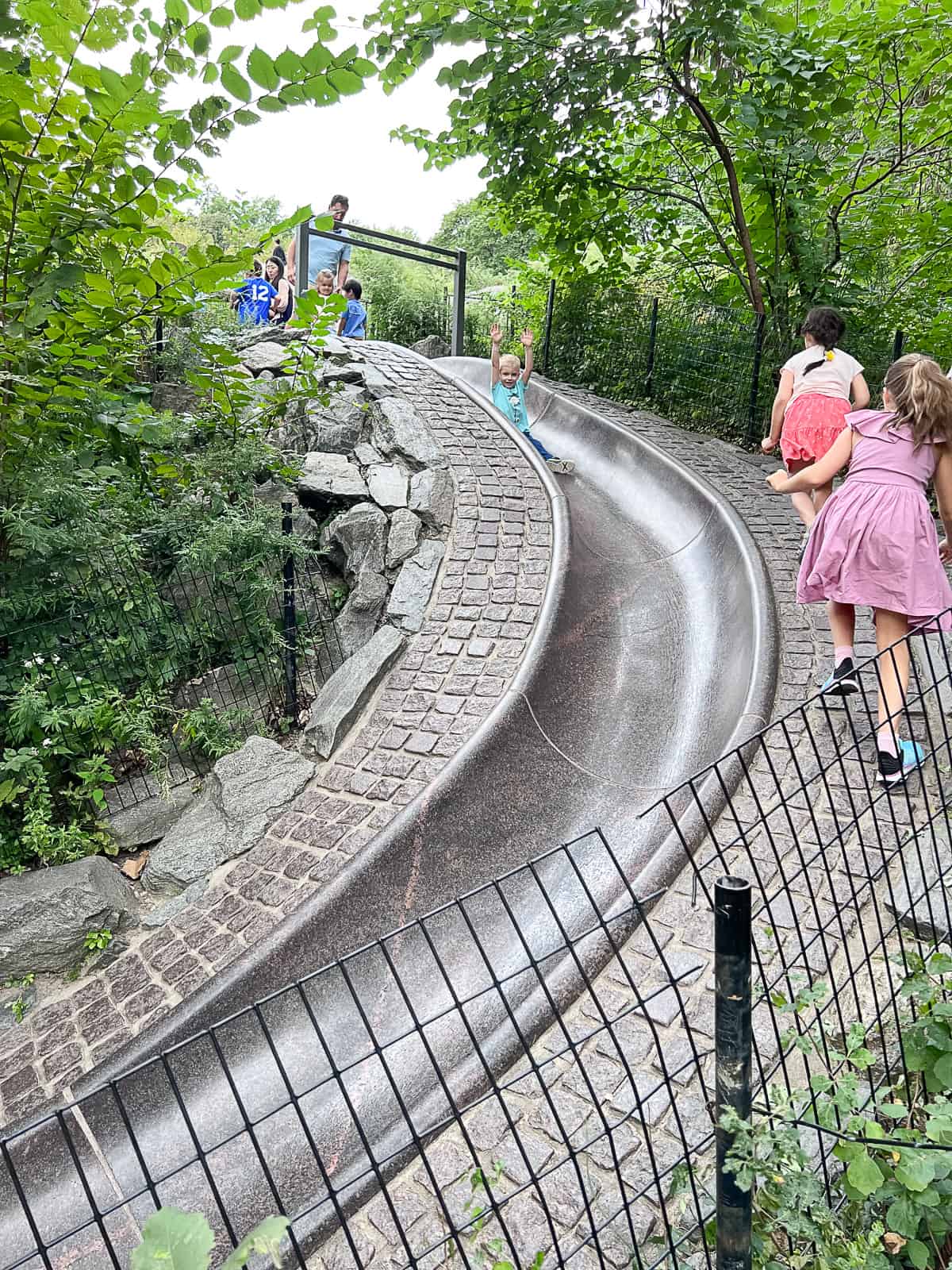 I will be sharing more tips soon, but here are some favorite foodie spots for you to save…
Follow Sip Bite Go on Instagram and TikTok for more food and Puerto Rico travel tips…
First, NYC bagel shops
When it comes to starting your day with tasty restaurants in NYC that kids will love, I have a couple recommendations for NYC bagels.
It's a bucket list foodie item in NYC, and one that kids can usually get on board with.
Liberty Bagels Midtown
Breakfast in NYC at Liberty Bagels Midtown was special because included in their perfectly-made ​​housemade bagel lineup is a "rainbow bagel"…
– Which my kiddo noticed immediately and had to have…
Before stealing bites out of my everything bagel with egg bacon and cheese.
It's a tight squeeze in this NYC restaurant, as it is with many bagel shops in NYC…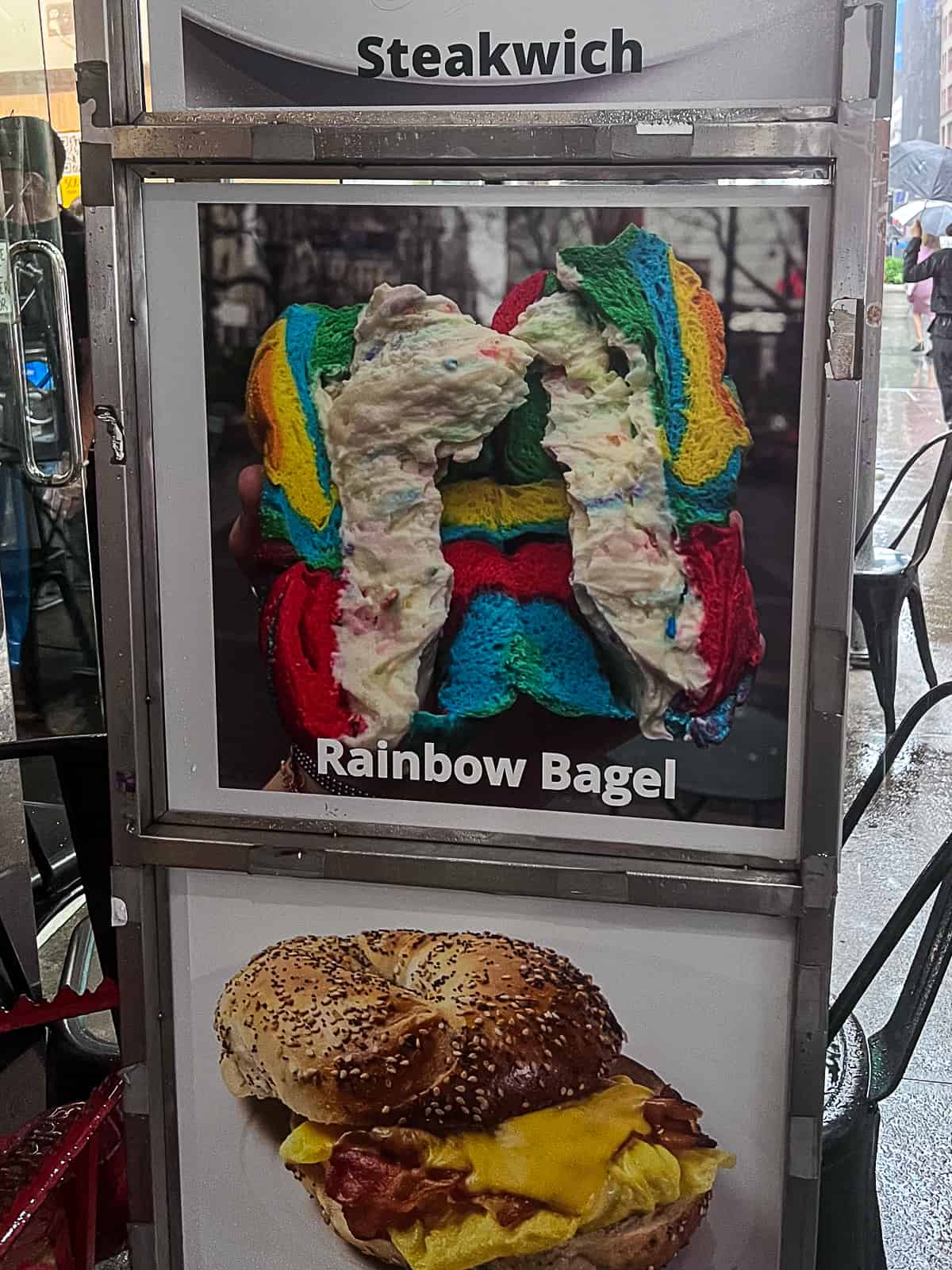 So you'll want to grab a high-demand seat by the window inside, or eat outside where the patio is blocked for a few tables, or head to a park.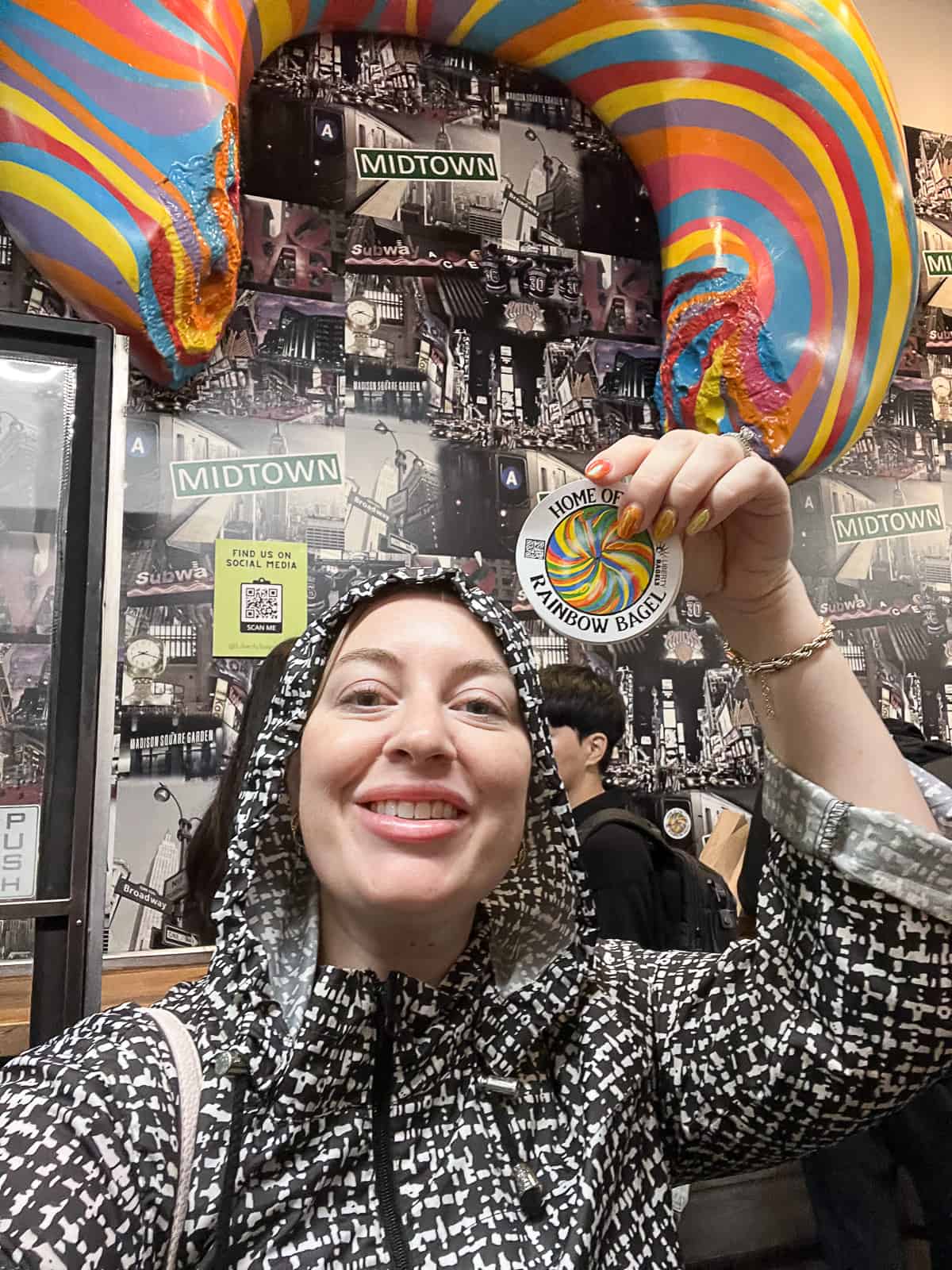 Luckily, bagels are pretty easy to transport!
Simple counter-serve offering homemade bagels with cream cheese, eggs or lunchtime sandwich meats.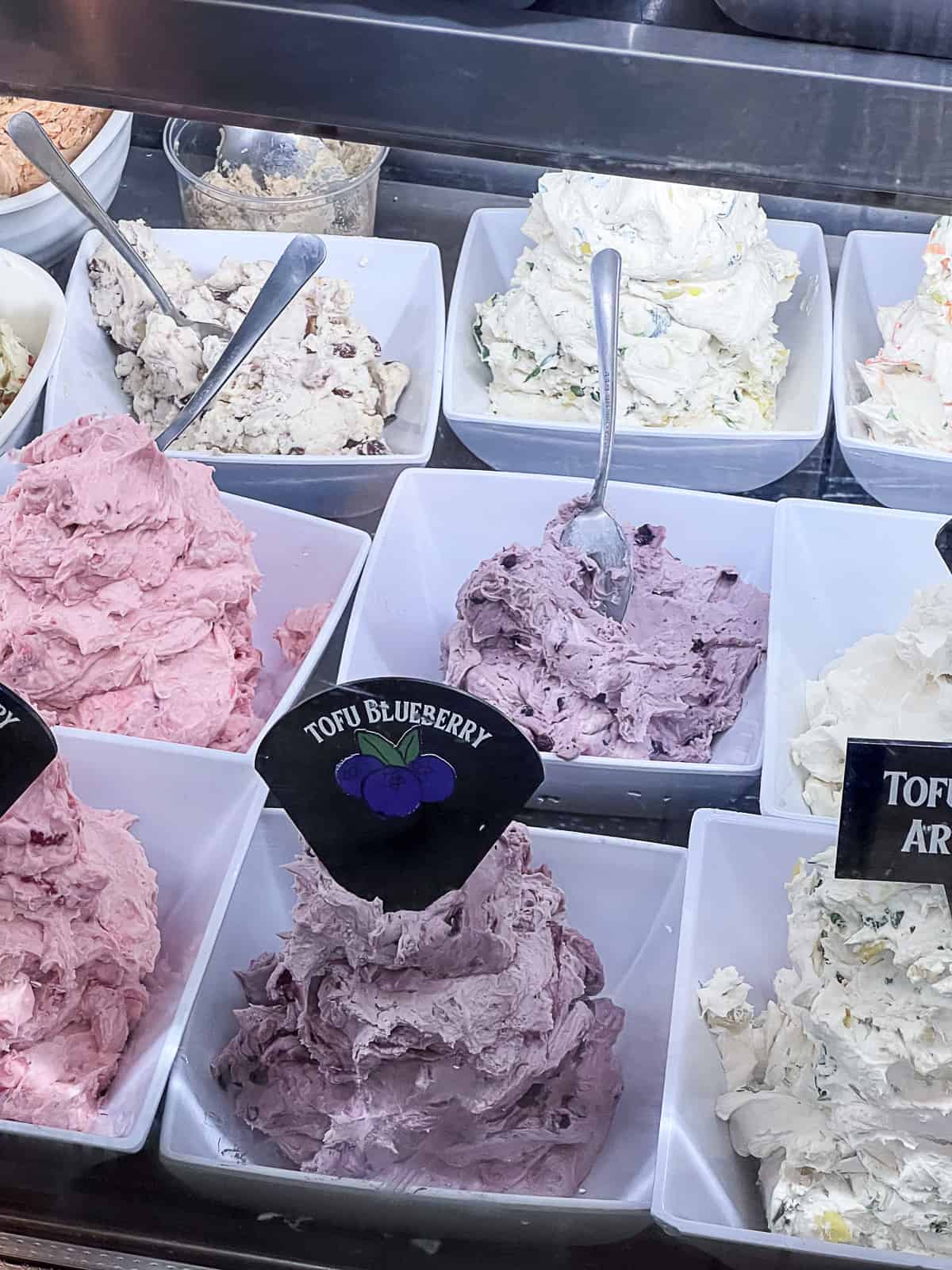 I was so surprised by the variety of cream cheese available, and my kiddo thought they were ice creams lined up (they did look like gelato in the case!).
There were plenty of options to choose from, like savory chive or even sweet oreo cream cheese!
@libertybagelsny is their Instagram
"Best Bagel And Coffee" Shop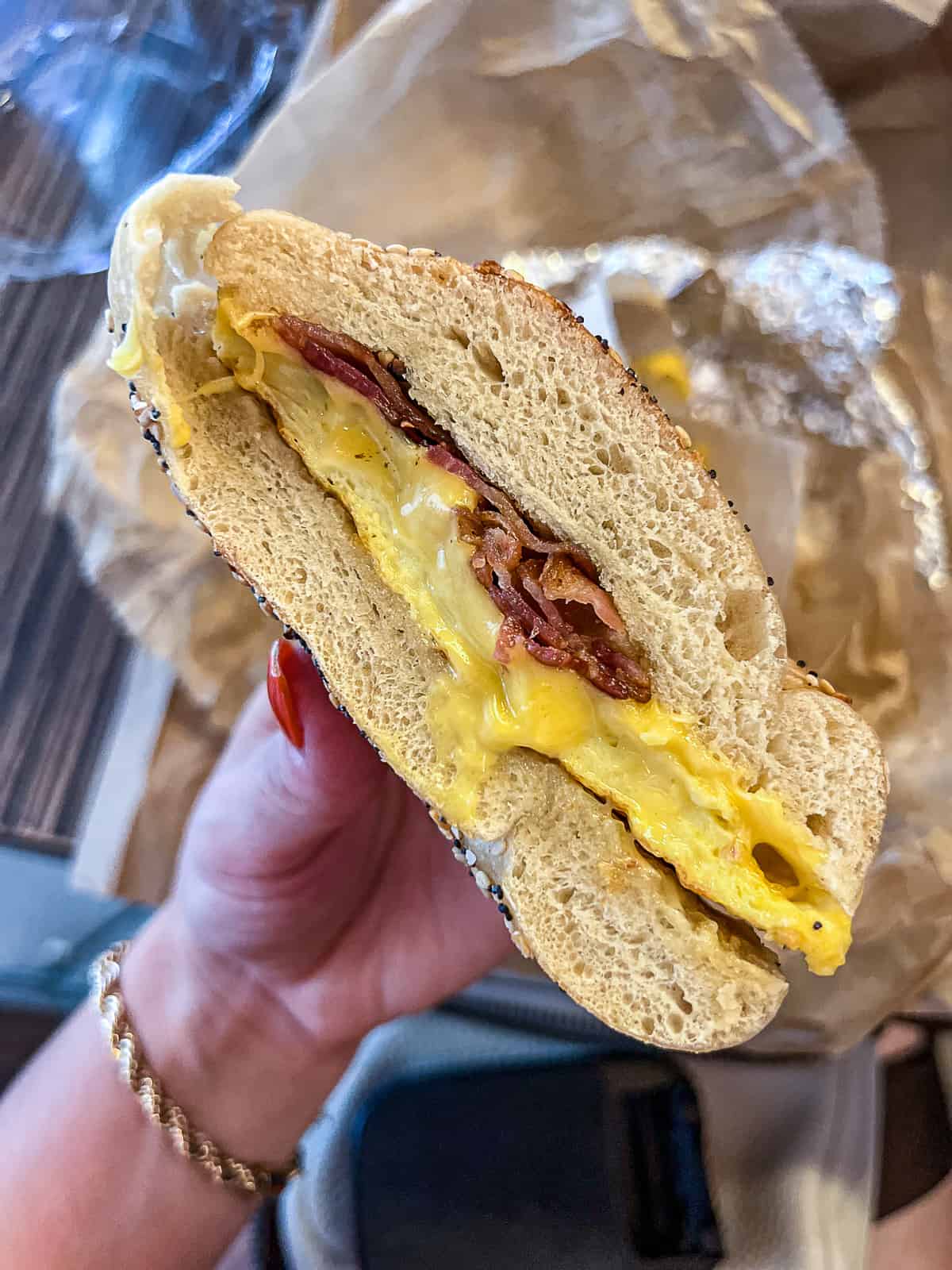 Across the street from Liberty Bagels is another really good bagel shop…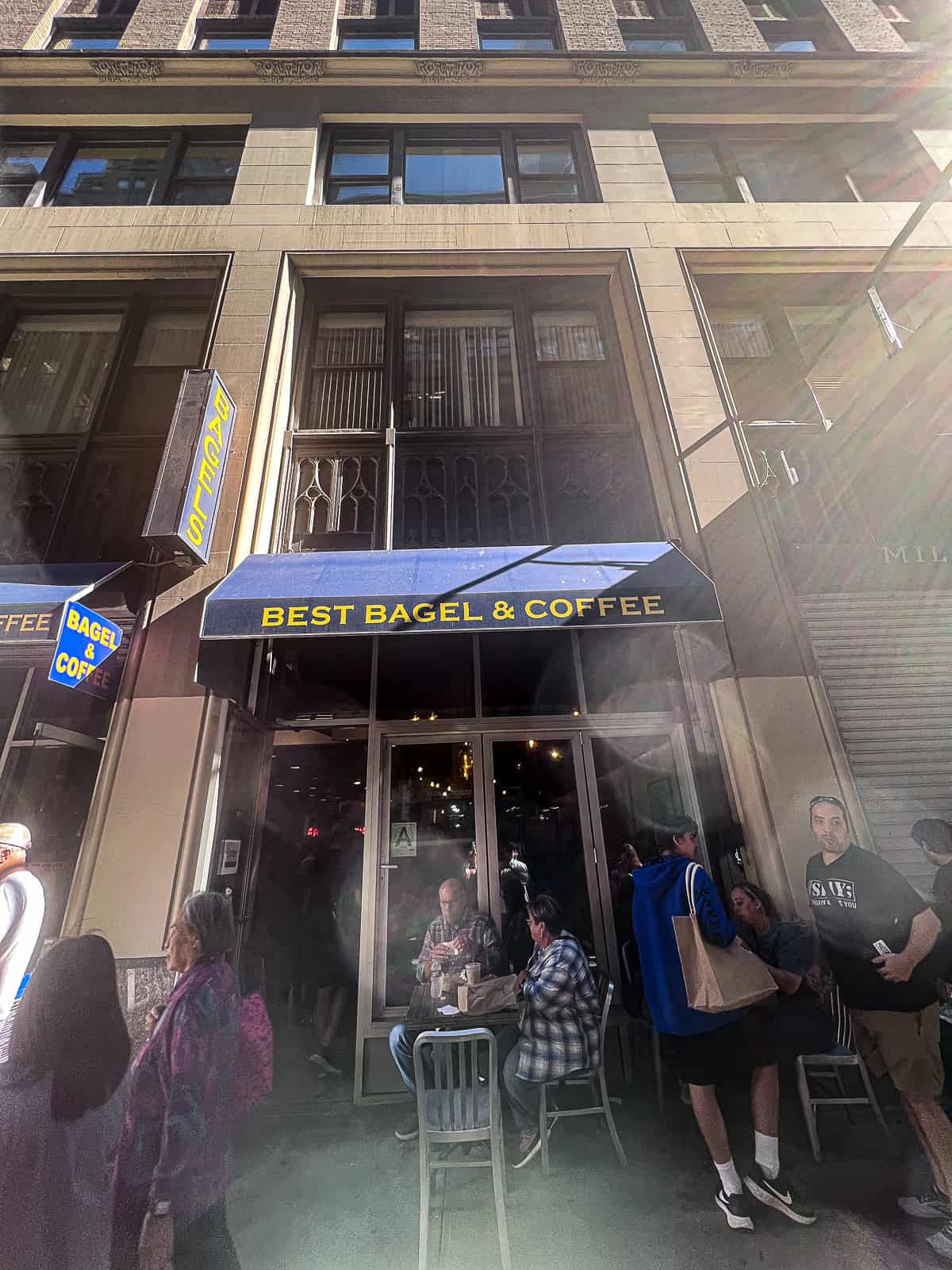 It's called "Best Bagel And Coffee" Shop (that's actually the name!) and I really enjoyed the crisp-ness of the outside of the bagel, which was still lightly steamed and fluffy inside.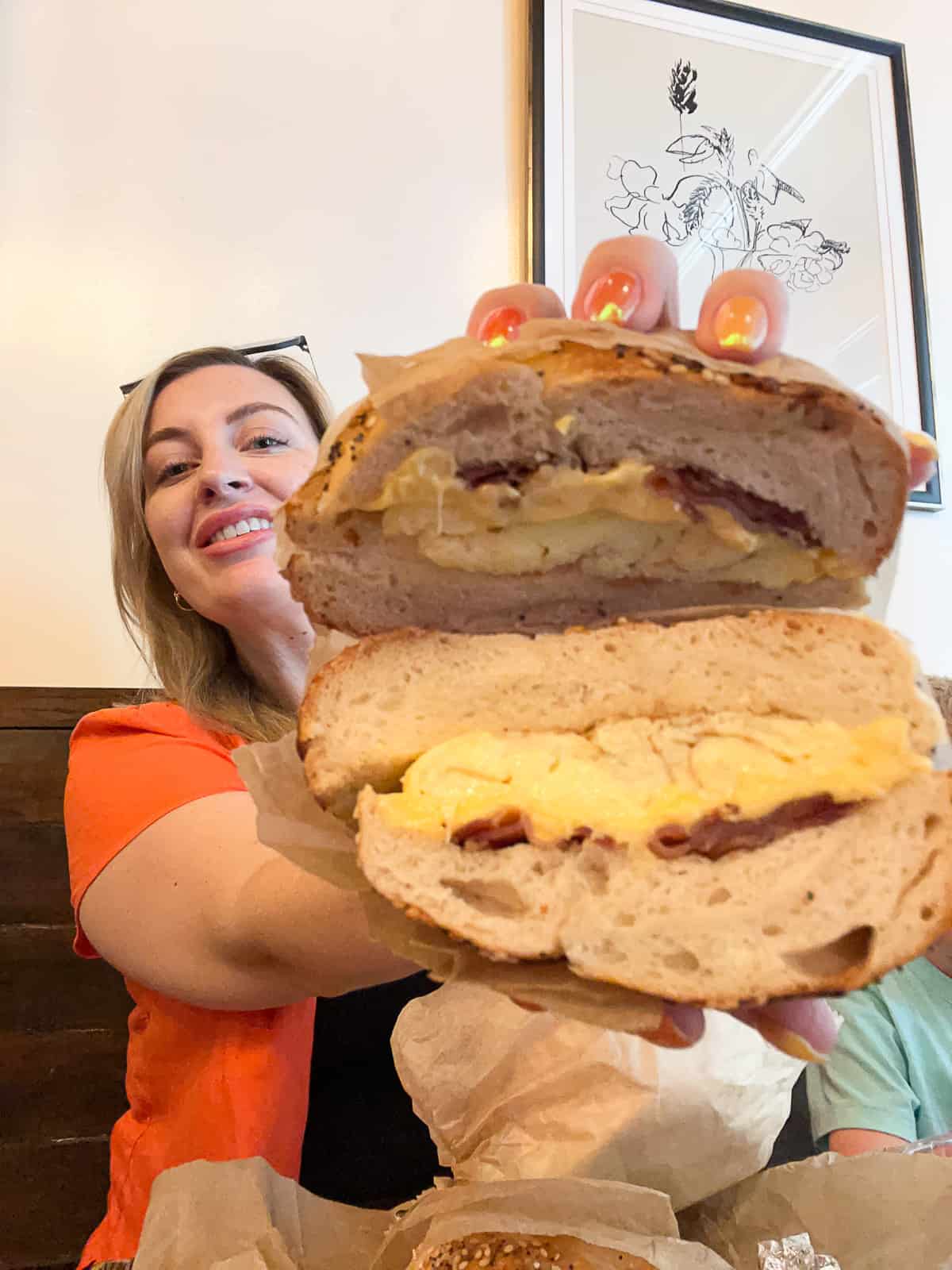 The quality of the iced coffee was also particularly notable at this bagel shop in Midtown.
You can see the bagels steaming as you order in line at the counter.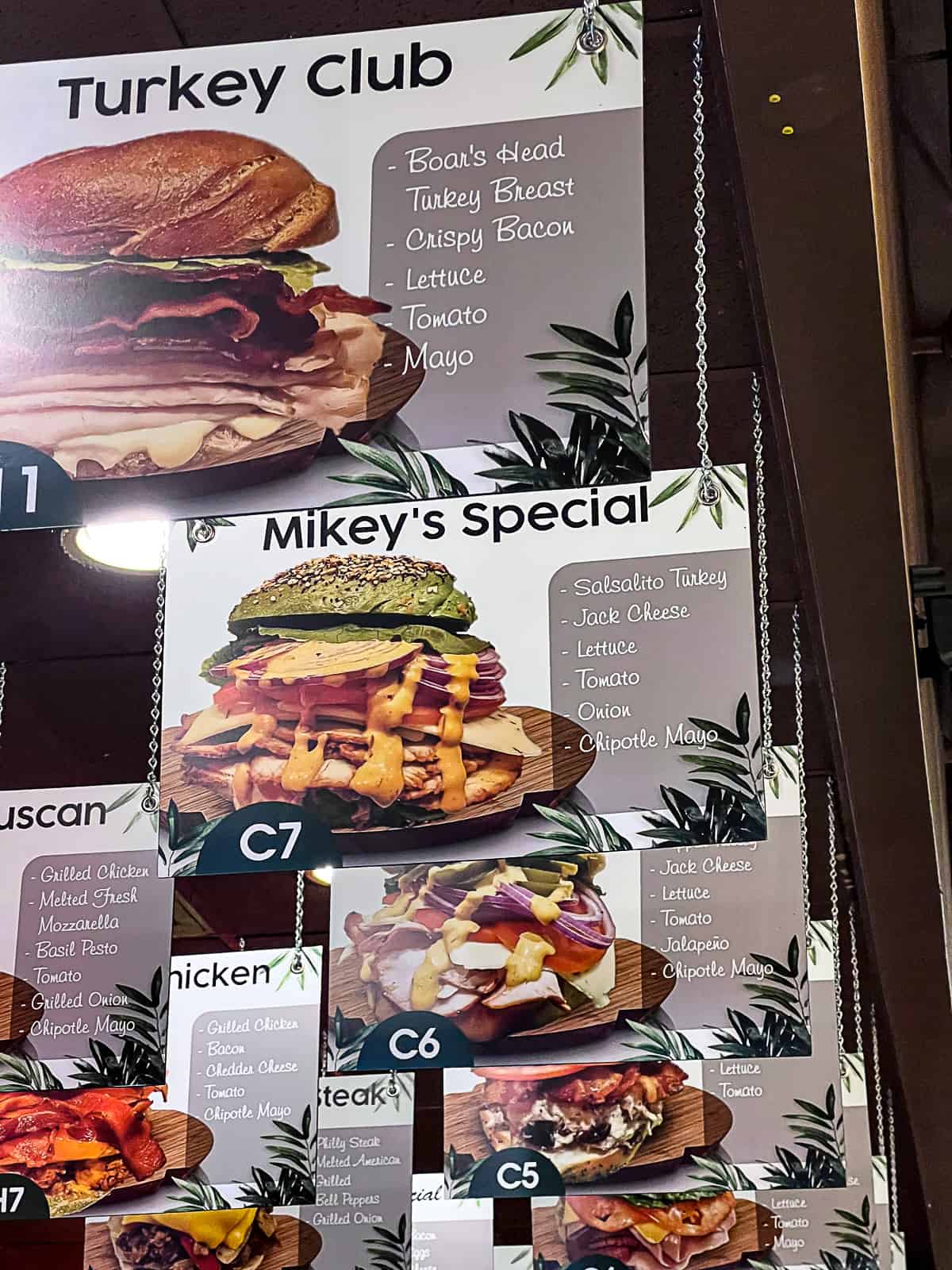 Here I got a bacon, egg, and cheese sandwich on an everything bagel (my go-to if you haven't noticed).
Though when I go back, I will try one of their seemingly-millions of smears (cream cheese)
@bestbagelnyc is their Instagram handle.
Eataly NYC is perfect for a quick, delicious meal
You have to try this FOODIE FIND…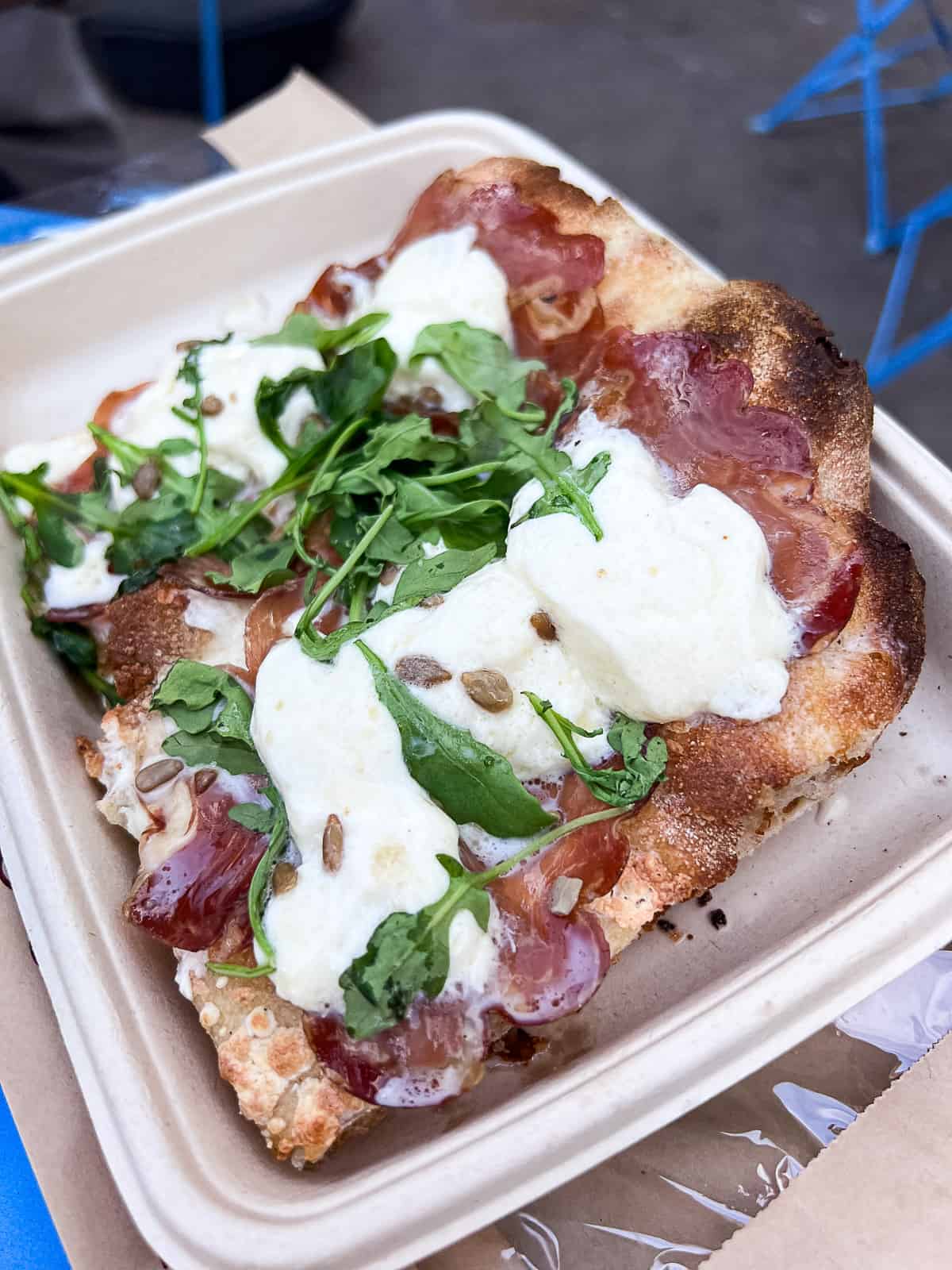 Eataly NYC is more than a restaurant, but I'll get to that in a second…
If you're looking for a place to eat a quick dinner in NYC with kids and casual sounds good, I recommend you stop here..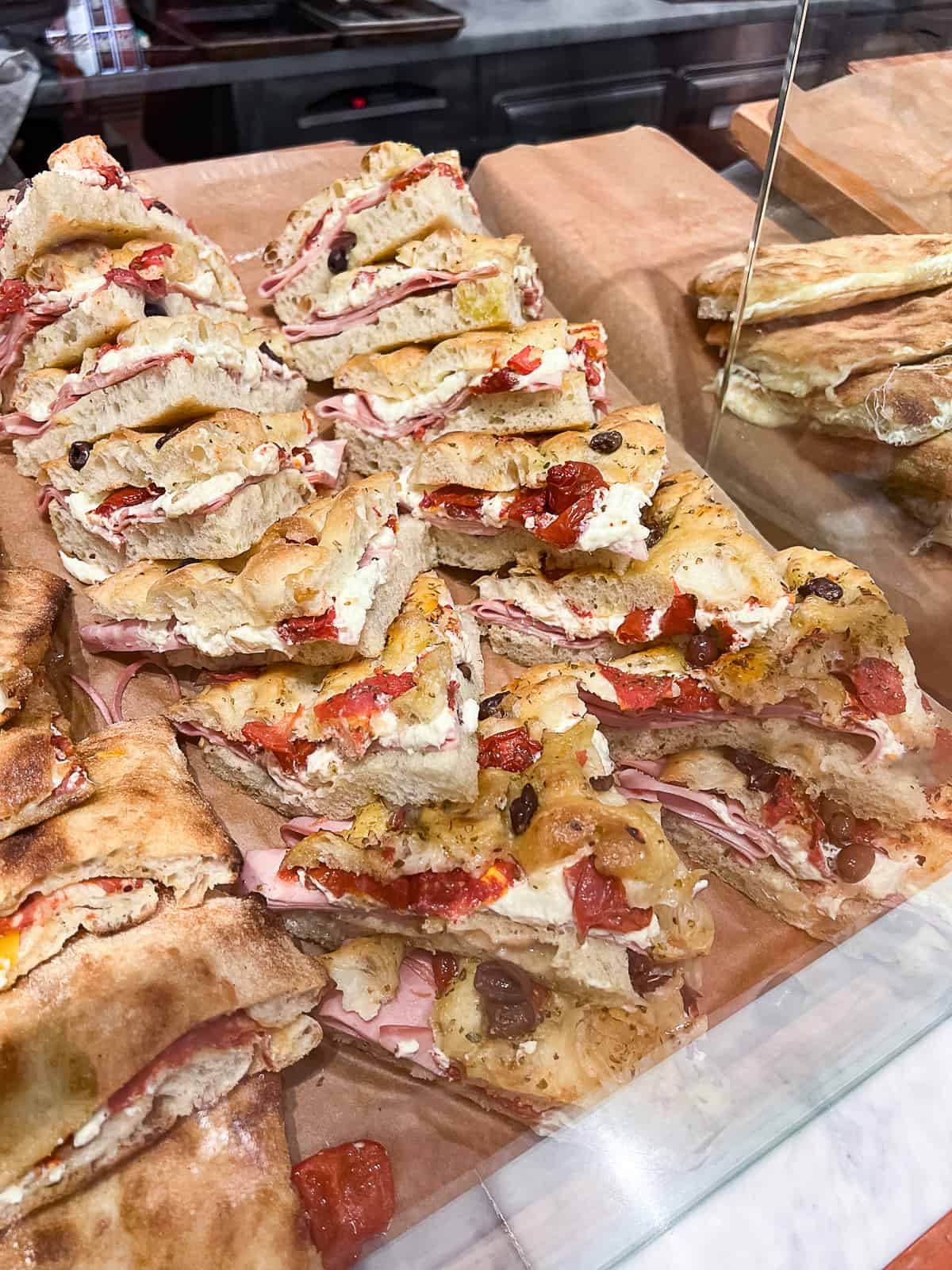 I can't recommend their oversized square pizzas (loaded up with gourmet toppings) and thick Italian sandwiches enough!
This place is a foodie heaven, so if you have time you should definitely peruse the many sit down restaurants inside, along with the gourmet Italian food items you can shop from cookies to chocolate to coffee…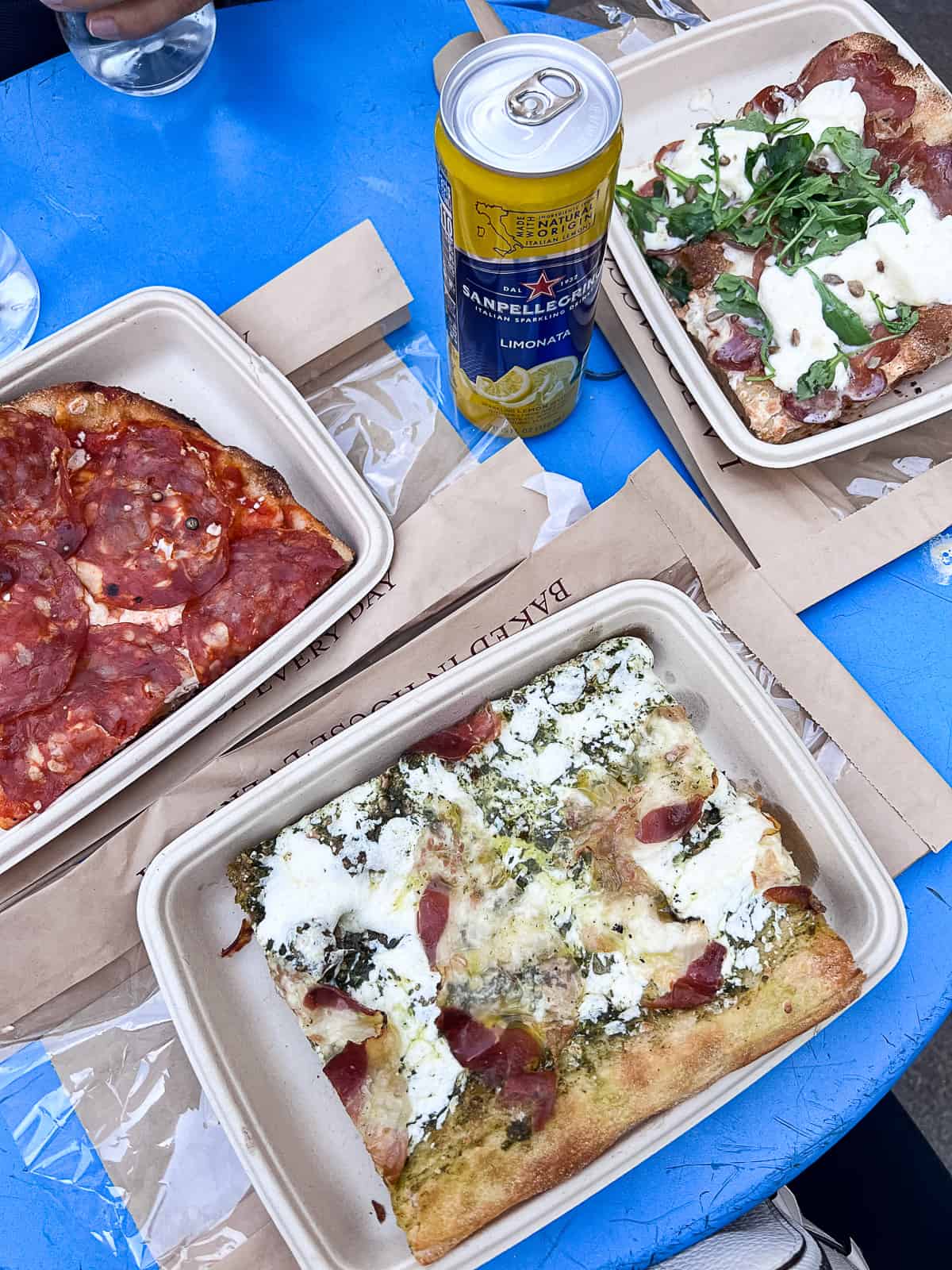 But may I suggest that if you're traveling with kids to NYC and trying to eat good food, you plan to go in…
Find the counter you want to order from, and then take the food outside to eat by Union Square park (which also has a playground which is convenient with kids!) or the tables out front.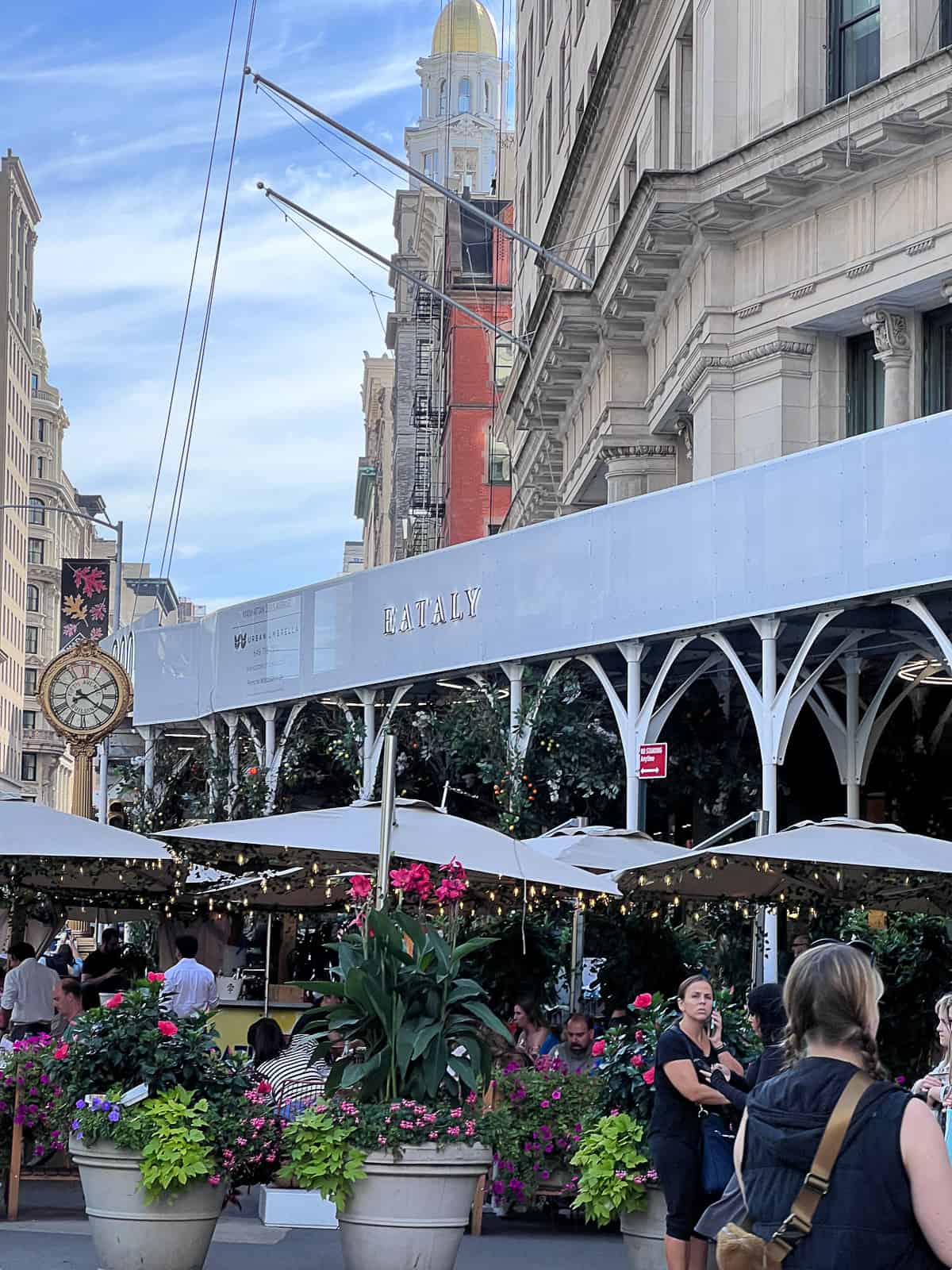 Even if you're not heading to NYC soon, take note — because they have locations in Dallas and Boston *i've been to both* and a few more. Look 'em up!
You can find them on a couple different instagram profiles @eatalynewyorkcity @eatalyflatiron
Dine in dinner at The Press Club Grill
When it comes to the best kid friendly restaurants NYC has to offer that are dine-in, my next recommendation may be a little fancy…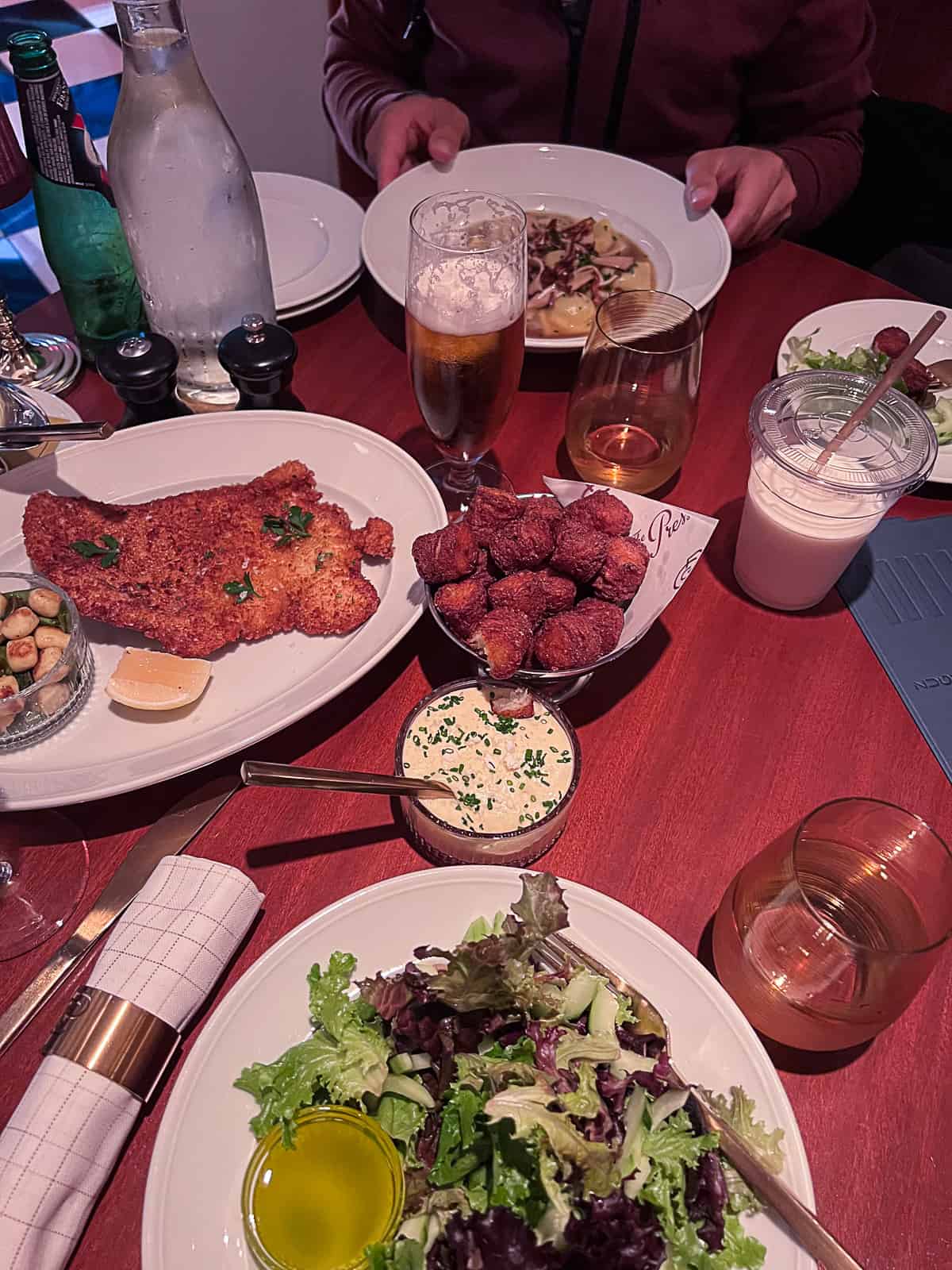 On a recent trip to NYC, we stayed on the edge of Koreatown and Chelsea, which was right in the middle of all the action – and just a couple blocks from Madison Square Garden…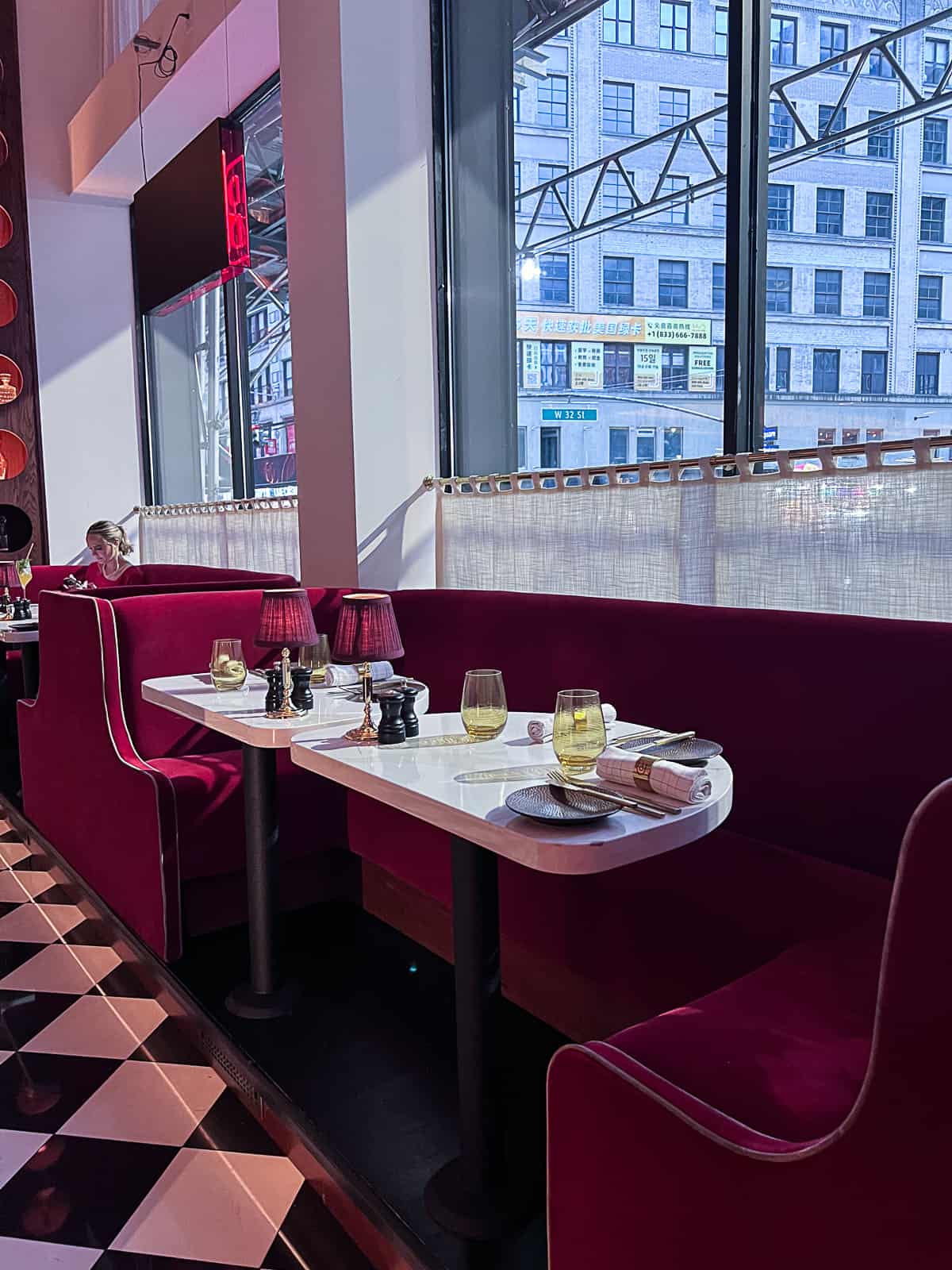 I love when a hotel actually has a delicious restaurant (some don't), and during this stay we got a $40 credit a day (offered by the hotel) PLUS $36 credit a day (for being a Hilton Honors member) to dine on-site at the Hilton Curio Collection Martinique hotel restaurant, The Press Club Grill.
That is $76 a day in free dining credit, so as you could imagine, I was very happy this restaurant is so good!
Over the days of our stay, we ordered Boneless NY Strip with grilled asparagus for room service, which was delicious but I didn't get a good photo – sorry!
The "Buffalo" Carrots with Celery, Maytag Blue, Ranch Dressing were so different, perfectly fried, and tasty….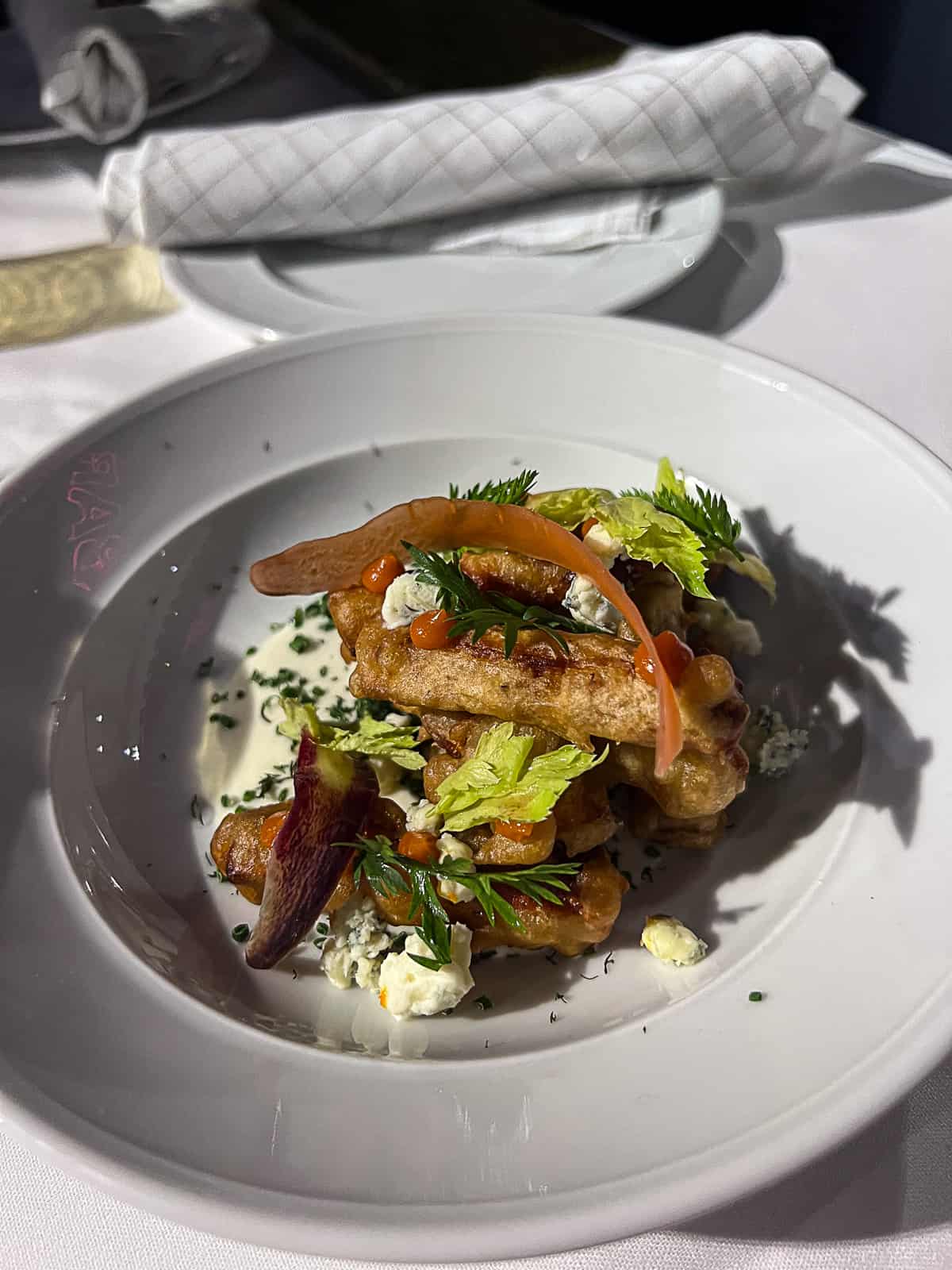 As were the homemade Tater Tots with Bacon-Onion Marmalade, Whipped Cheddar…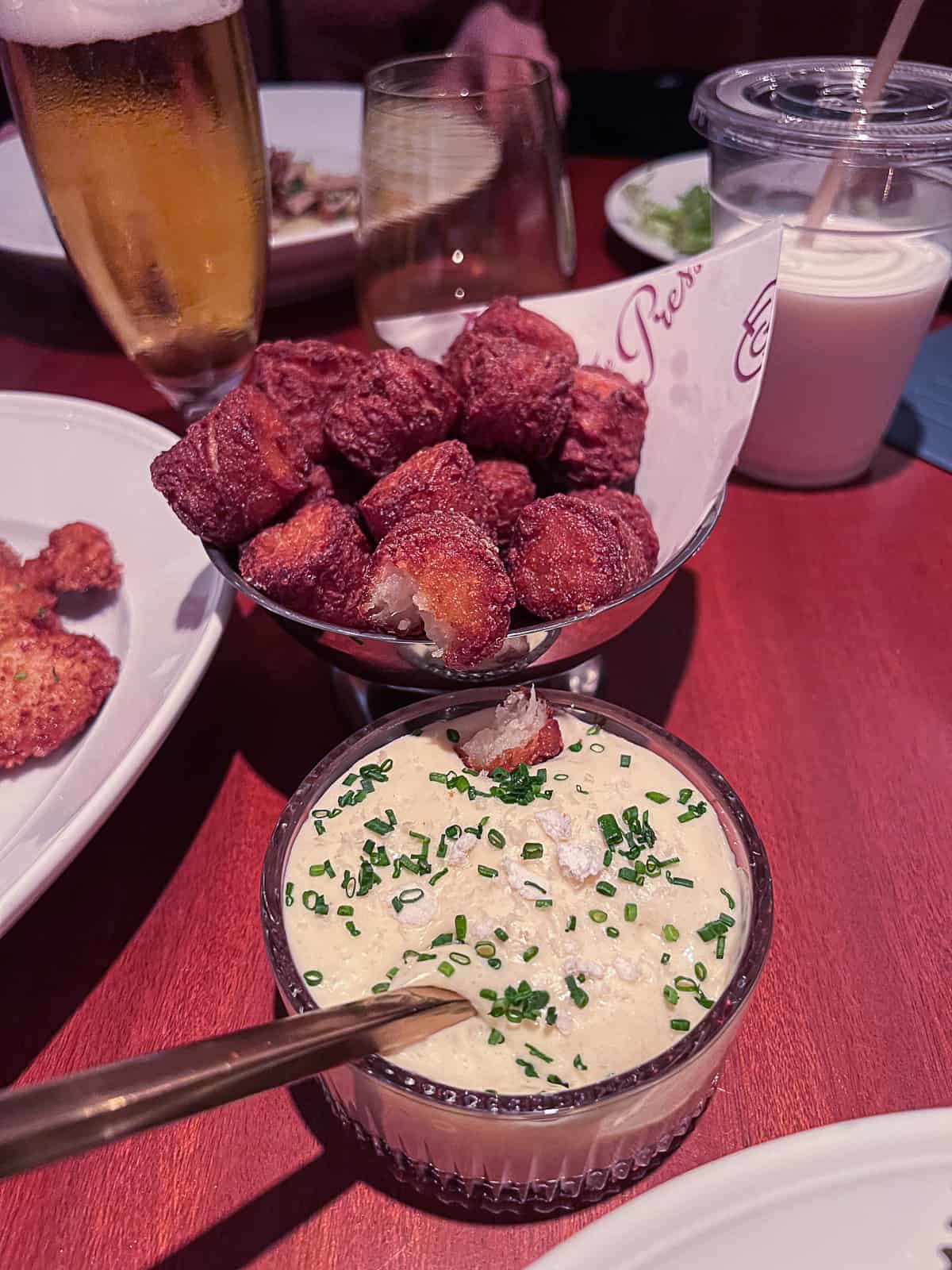 And multiple nights, we enjoyed the Chicken Schnitzel "Kyiv" with the most-tasty Parisienne Gnocchi and lemon caper sauce..
I wish I could eat it again right now!
They have a kids menu with staples like hot dogs and grilled or fried chicken – but my kiddo loved sharing the chicken schnitzel.
The chicken was perfectly crispy and unlike some fine dining places we've eaten at (cough cough Jose Andres restaurants) – they actually had ketchup! And I appreciate that!
Last but not least, the big oreo-cookie ice cream sandwich dessert was a winner!
More on the food and hotel on Instagram @martiniquenyc @thepressclubgrill @curiocollection
Central Park NYC food places for kids
Central Park is great to stroll when the weather is lovely…
In the park, you'll find a bunch of playgrounds, rocks to climb, plenty of trails to walk…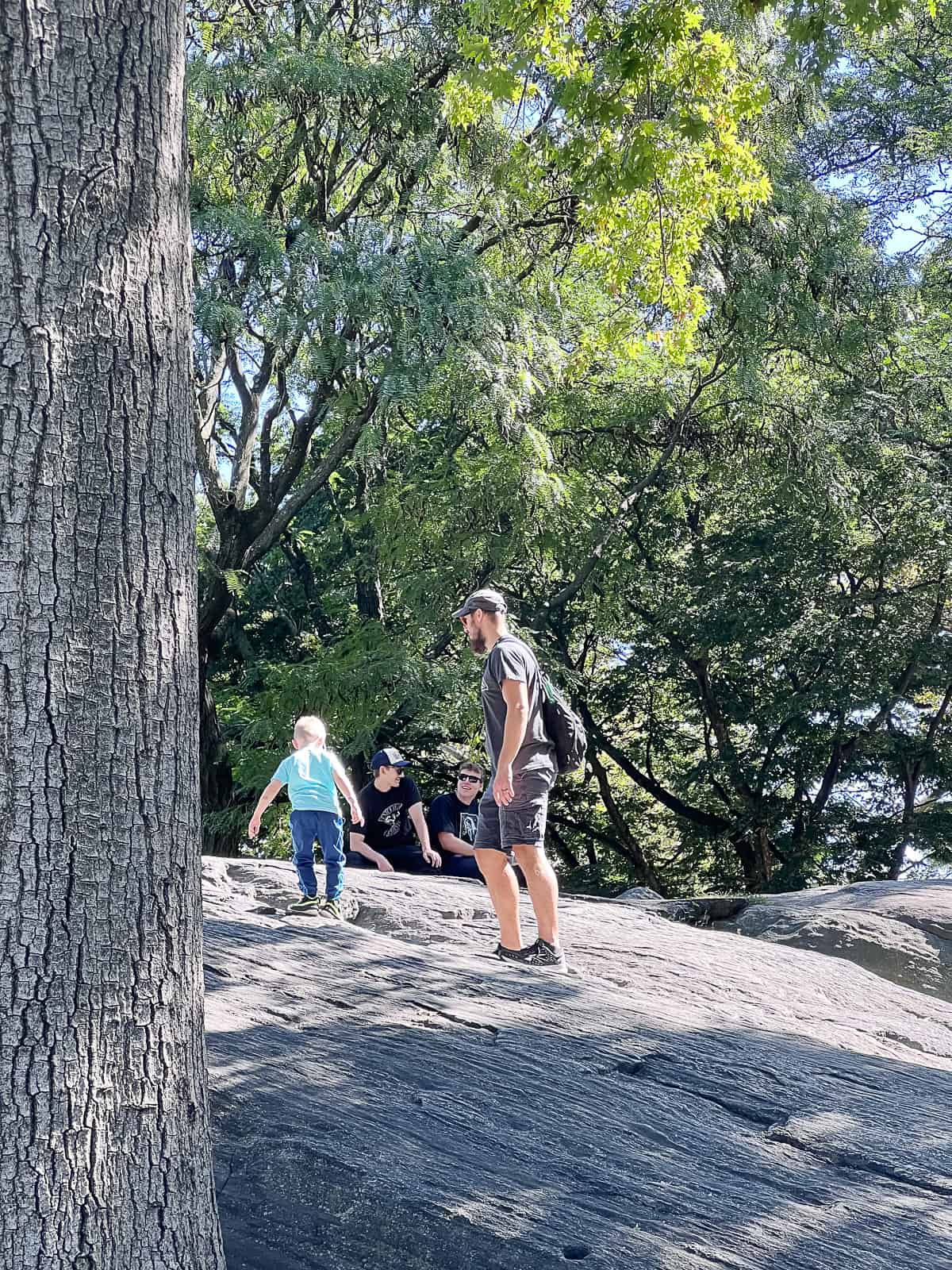 A couple of great zoos to explore (including a petting zoo with goats you can feed), and more…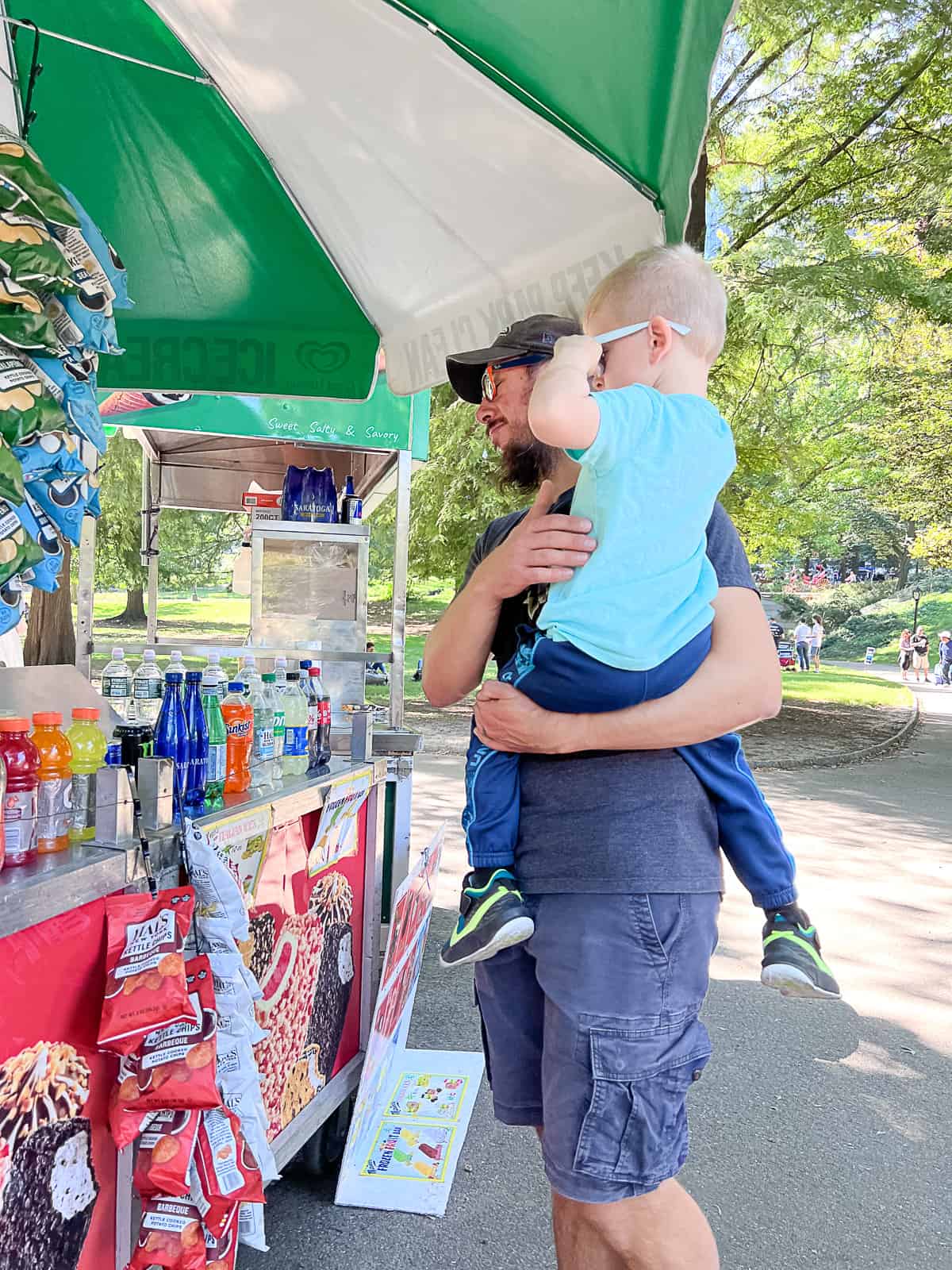 There are plenty of food carts with ice cream and cold drinks…
And on our way to the zoo (which was wonderful – compact, with great animals), we enjoyed Melba's snack stand for the perfect refreshing drinks like lemonade and sweet tea as we made our way to Central Park Zoo.
You can find them on Instagram @melbasrestaurants
There were also fresh fruit stands with people cutting the fruit right there on the spot, in the park…
And you just can't pass up a hot dog when visiting NYC, right?
(I did get a cheese stuffed pretzel, though and it was really gross, despite sounding delicious).
Mall food during a day trip to Nickelodeon Universe
I'm going to share with you the food we found on our day trip to Nickelodeon Universe in American Dream Mall (in NJ, about 25 min outside NYC).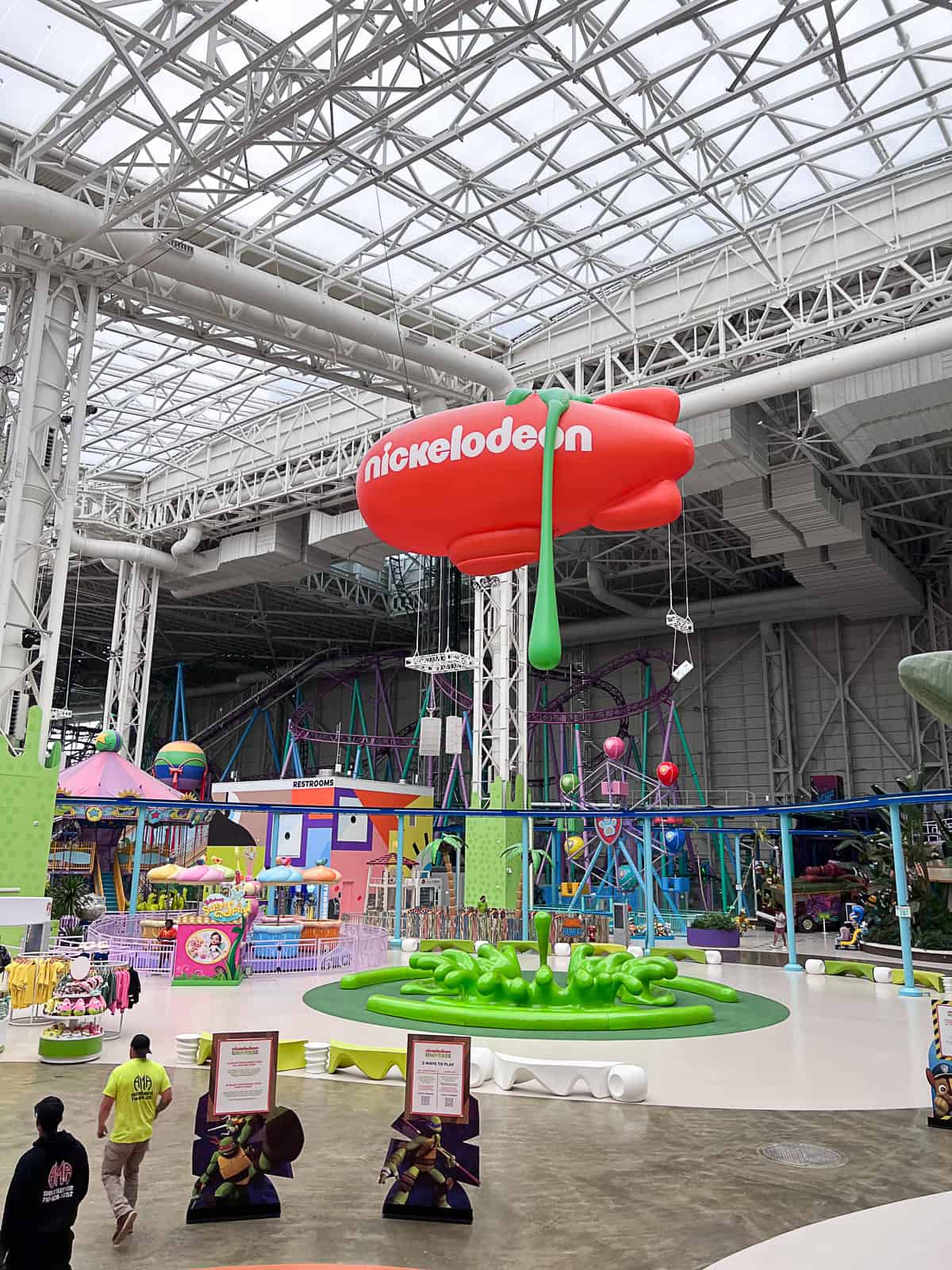 We had a food court lunch during the day at the amusement park…
This is a great idea when the weather is too cold, or if it's raining in NYC because this theme park is inside a mall – it's covered and even has play spaces for kids to climb and burn some energy.
We visited for filming content for @jennalovesmagic – a theme park tips project we are working on.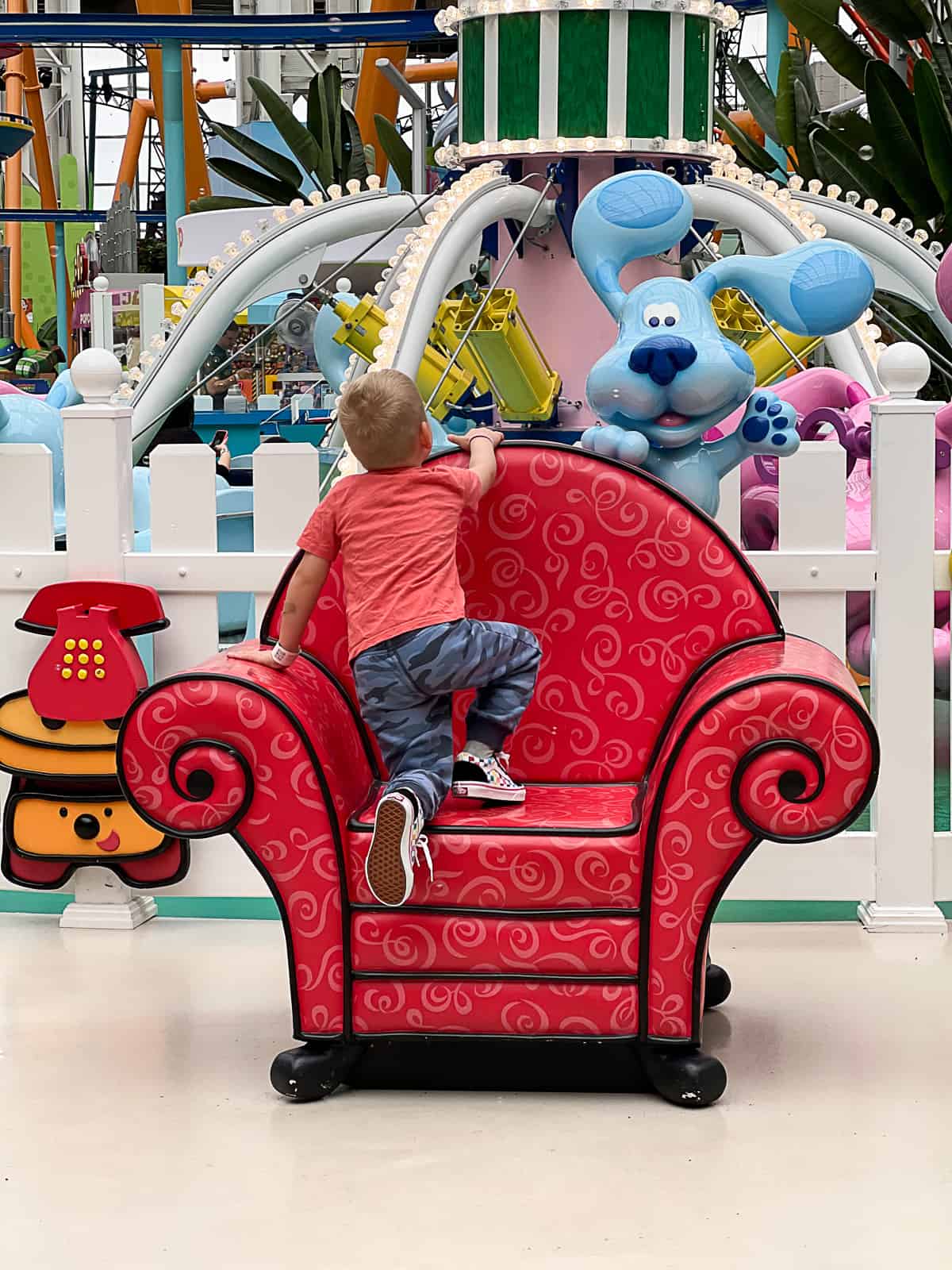 There you can find Pora Ramen Restaurant…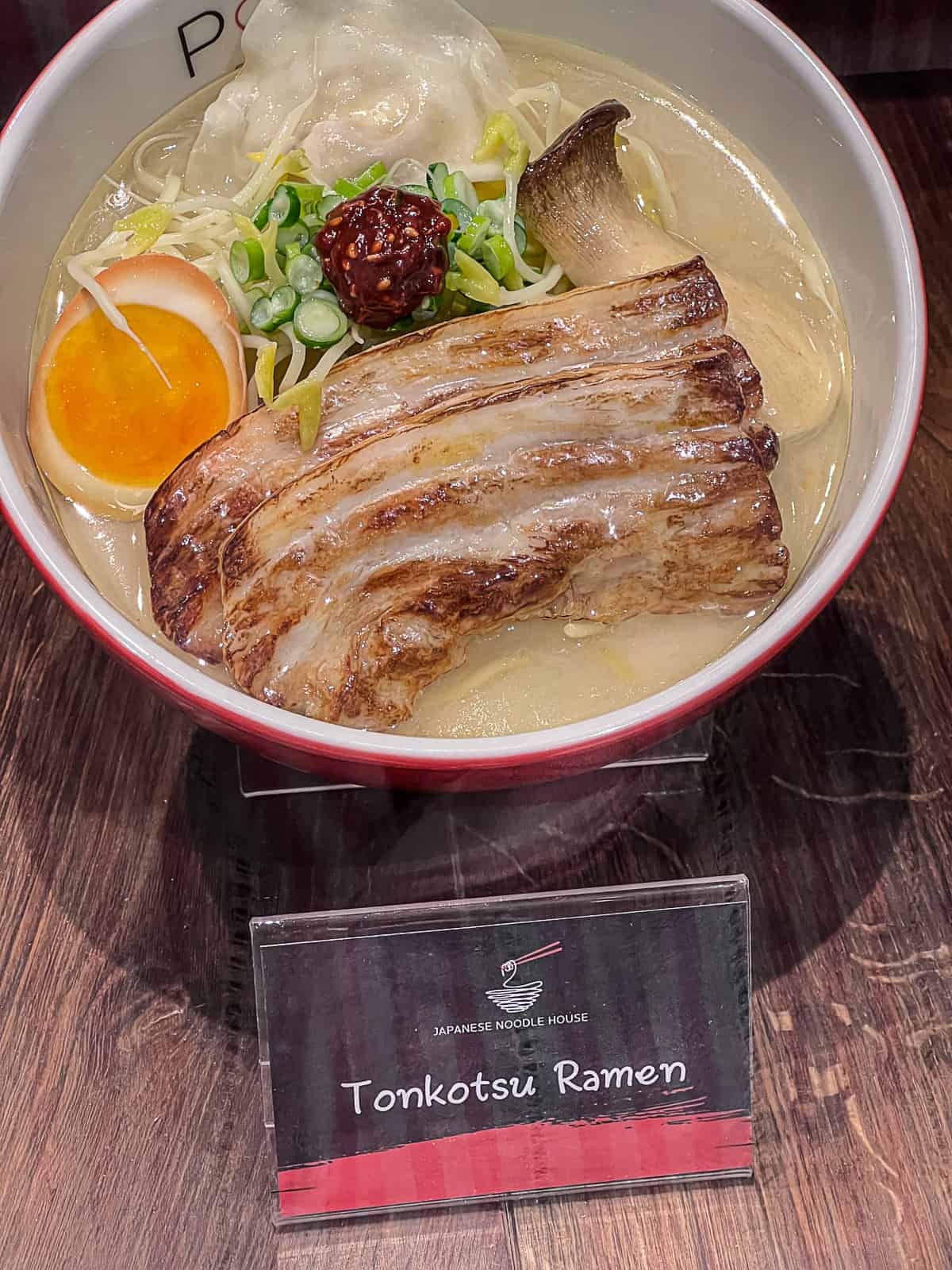 A fantastic Laderach Chocolate Store (yummy chocolate barks with hazelnuts and fruits and more)…
Italian food at Rosetta Restaurant…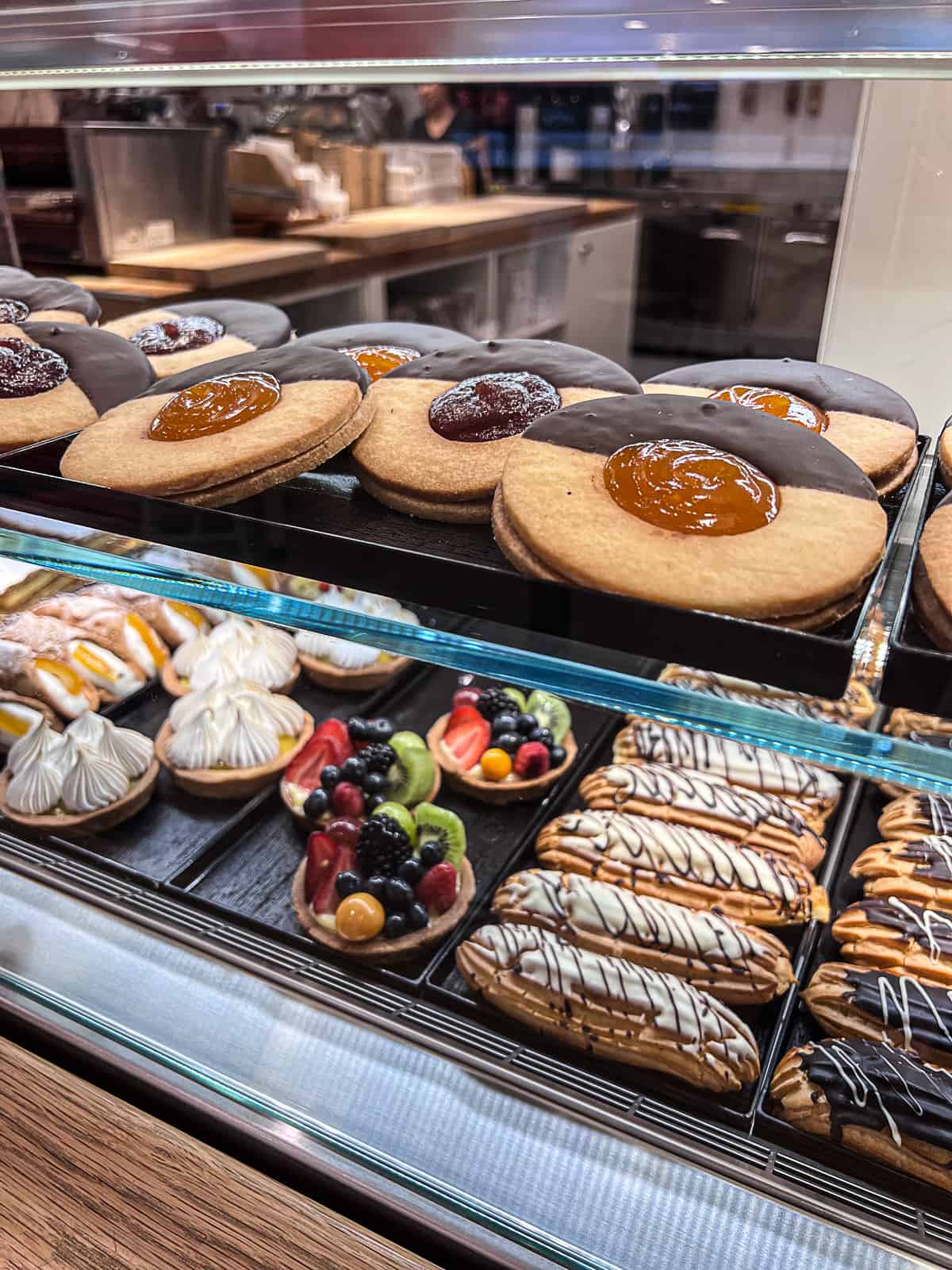 And the famous "It's Sugar" Candy Store – where we scored lots of unique flavors of our favorite sour gummies and more…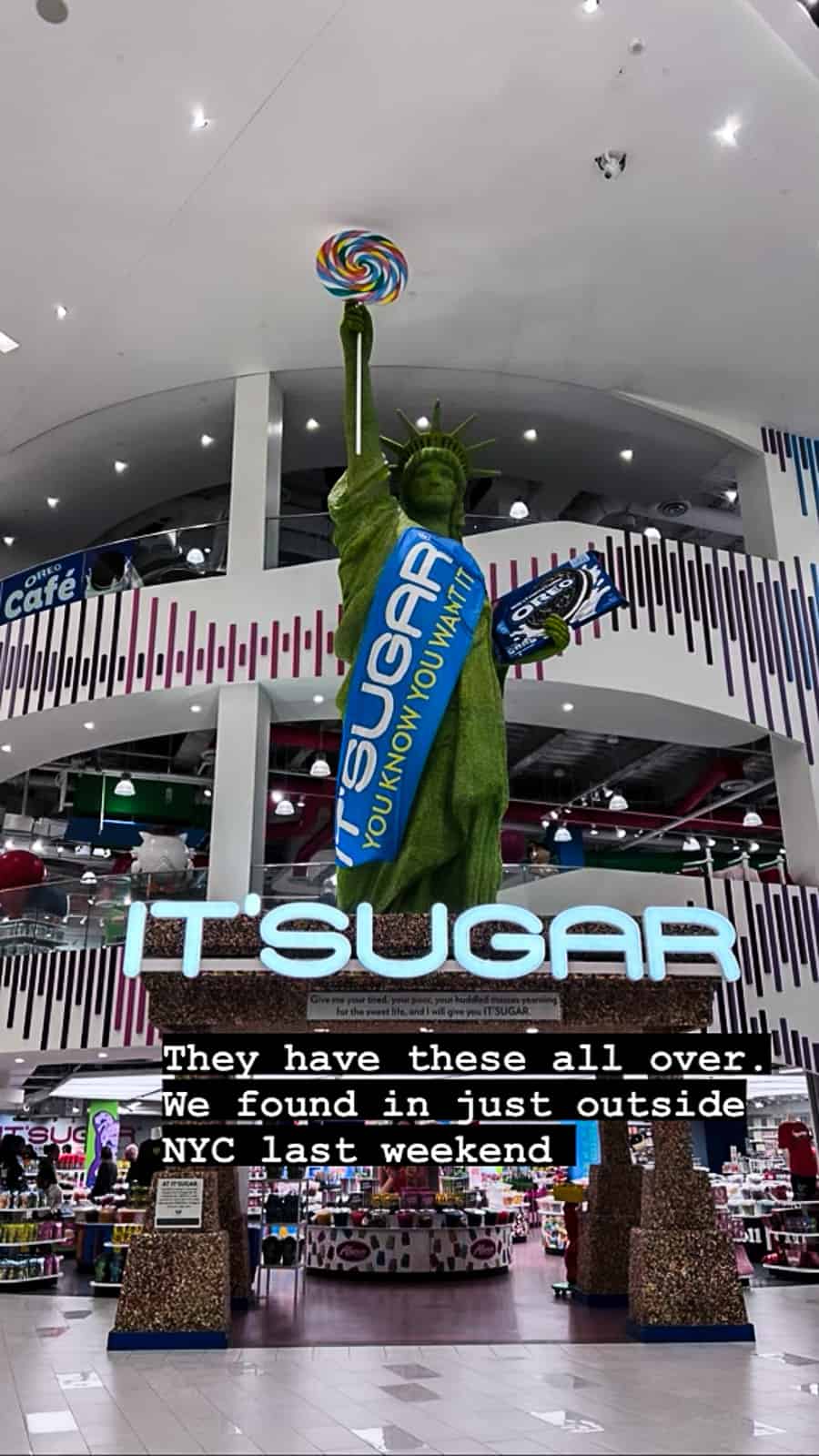 Venchi Gelato Shop
Mmm – am I in Italy or NYC??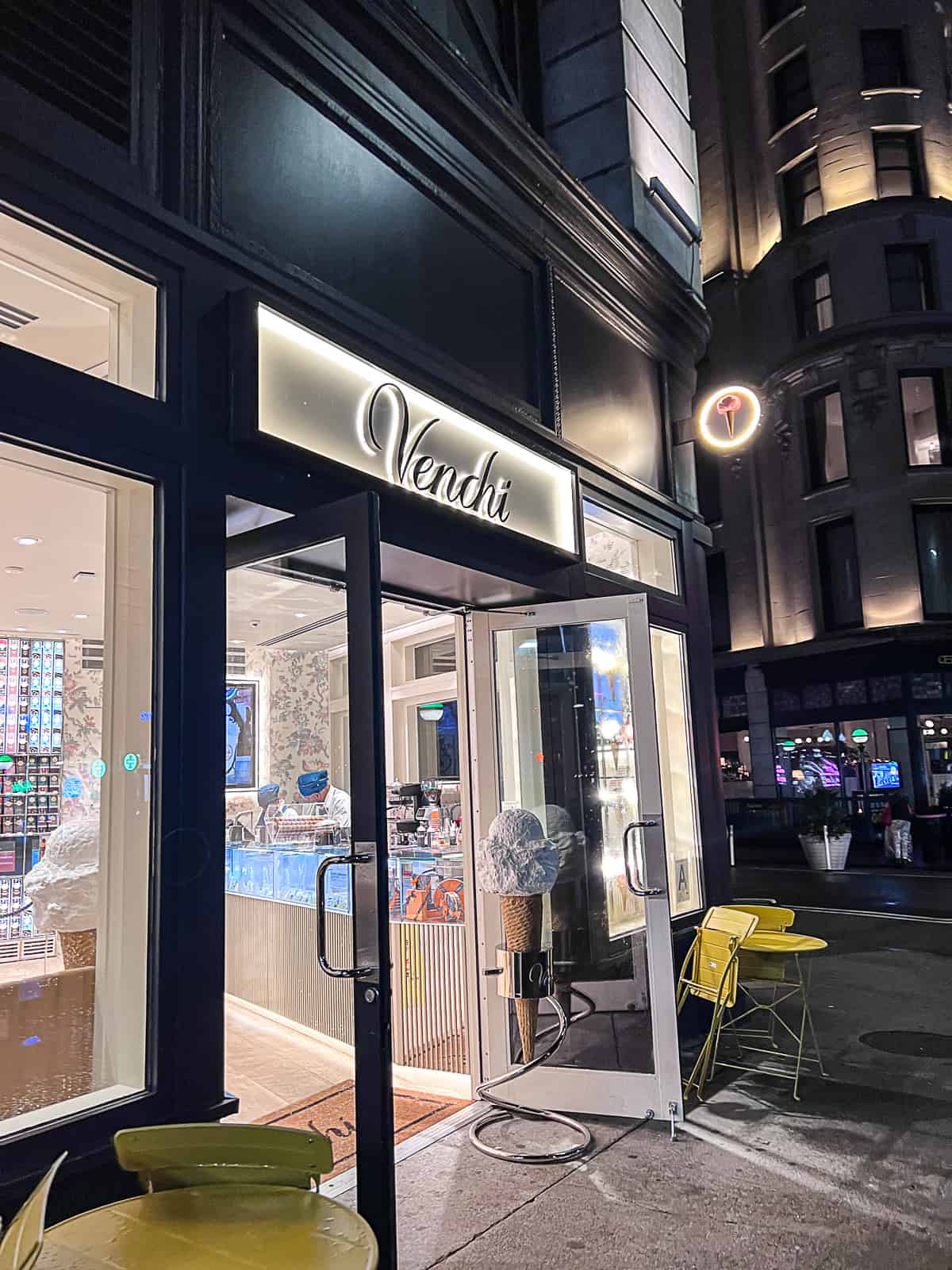 Venchi Gelato Shop near the Martinique hotel was wonderful…
I know them from the chocolates I find at places like Eataly, but the gelato finished with chocolate on top was a treat, for sure.
Chelsea Market restaurants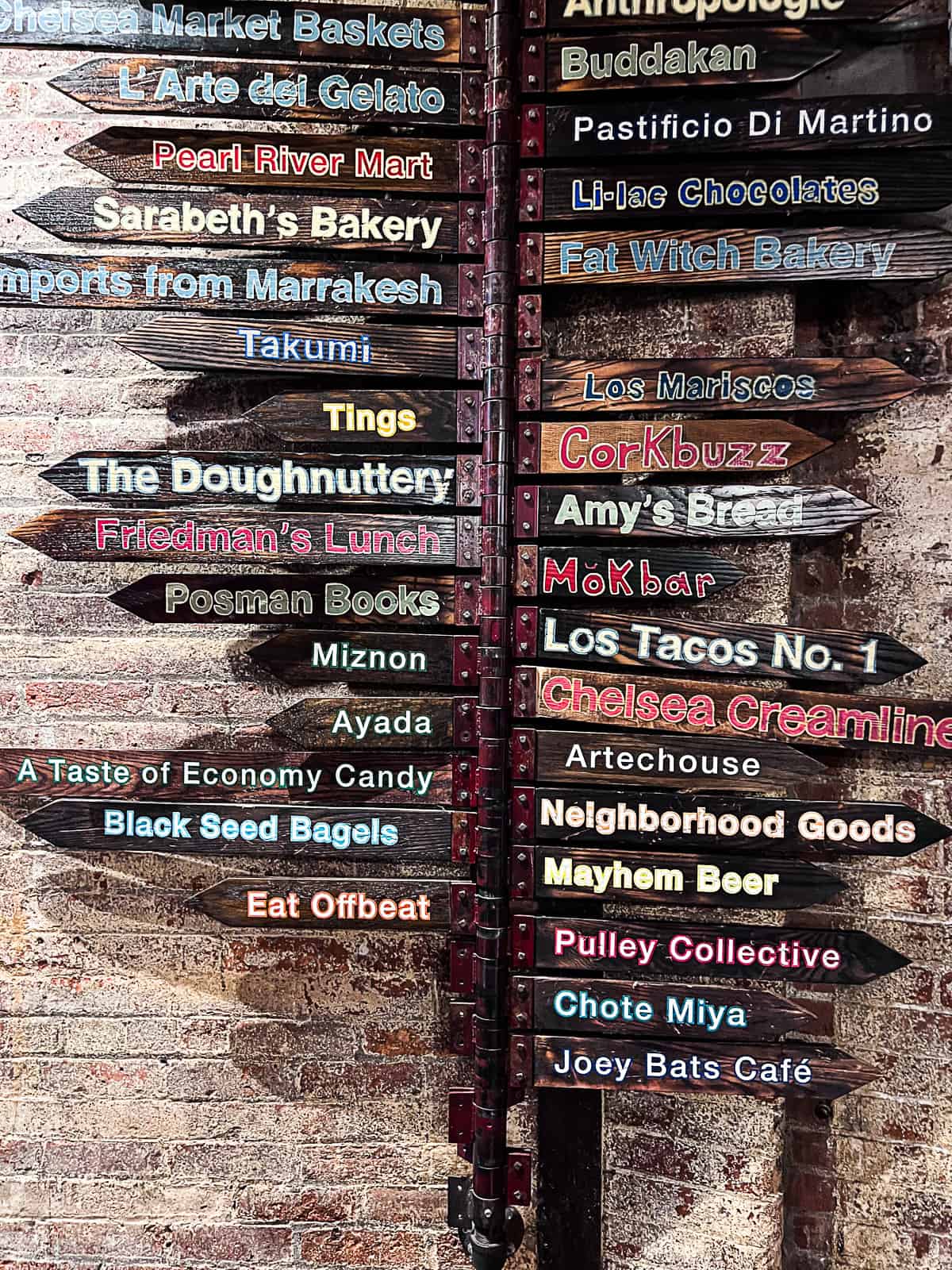 You'd have to stay in NYC for a month to enjoy all the restaurants in Chelsea Market…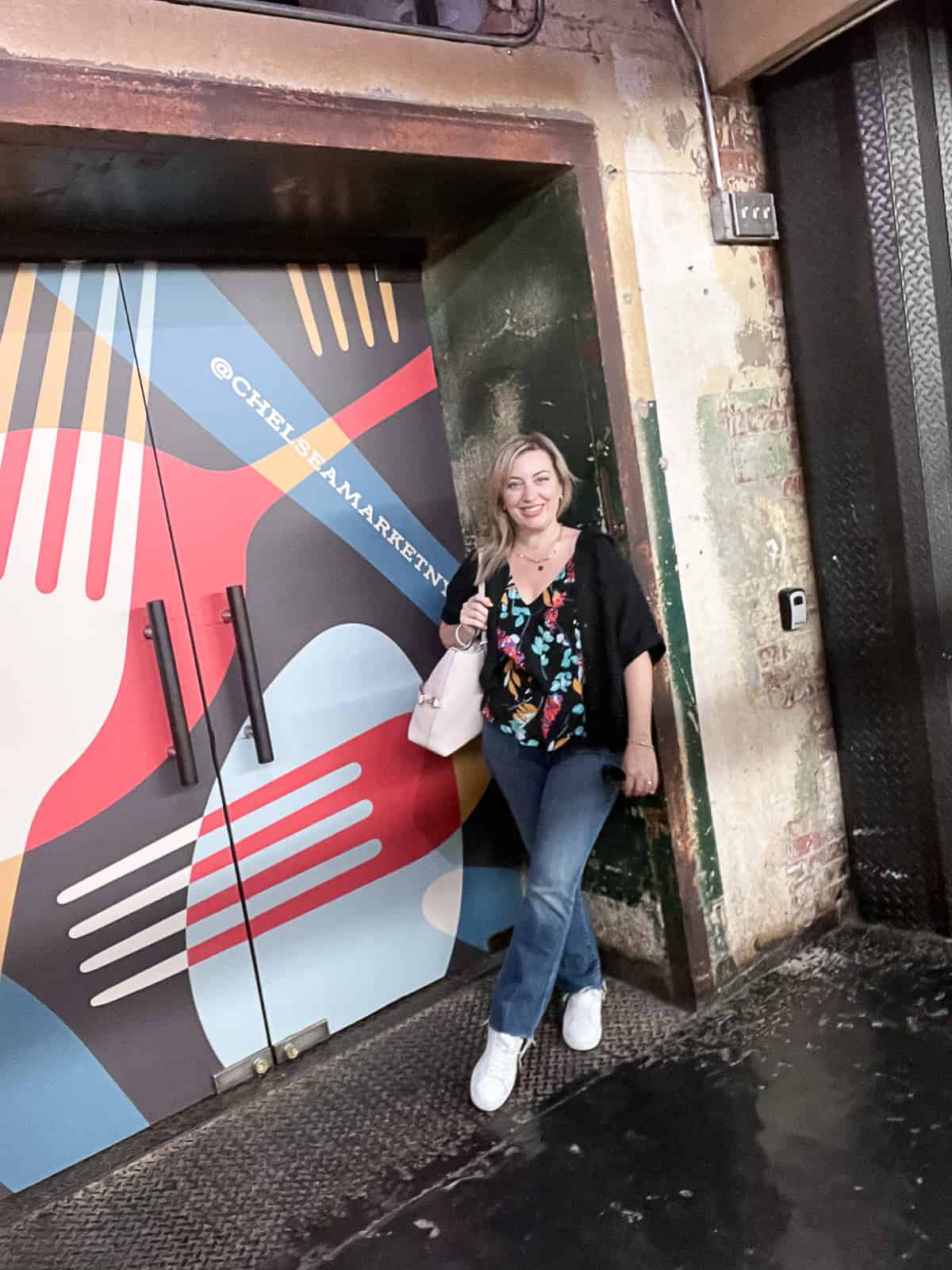 Here there are some "closed-off" restaurants and some sit-at-the-counter food stalls…
Everything from Italian pizza at Figala…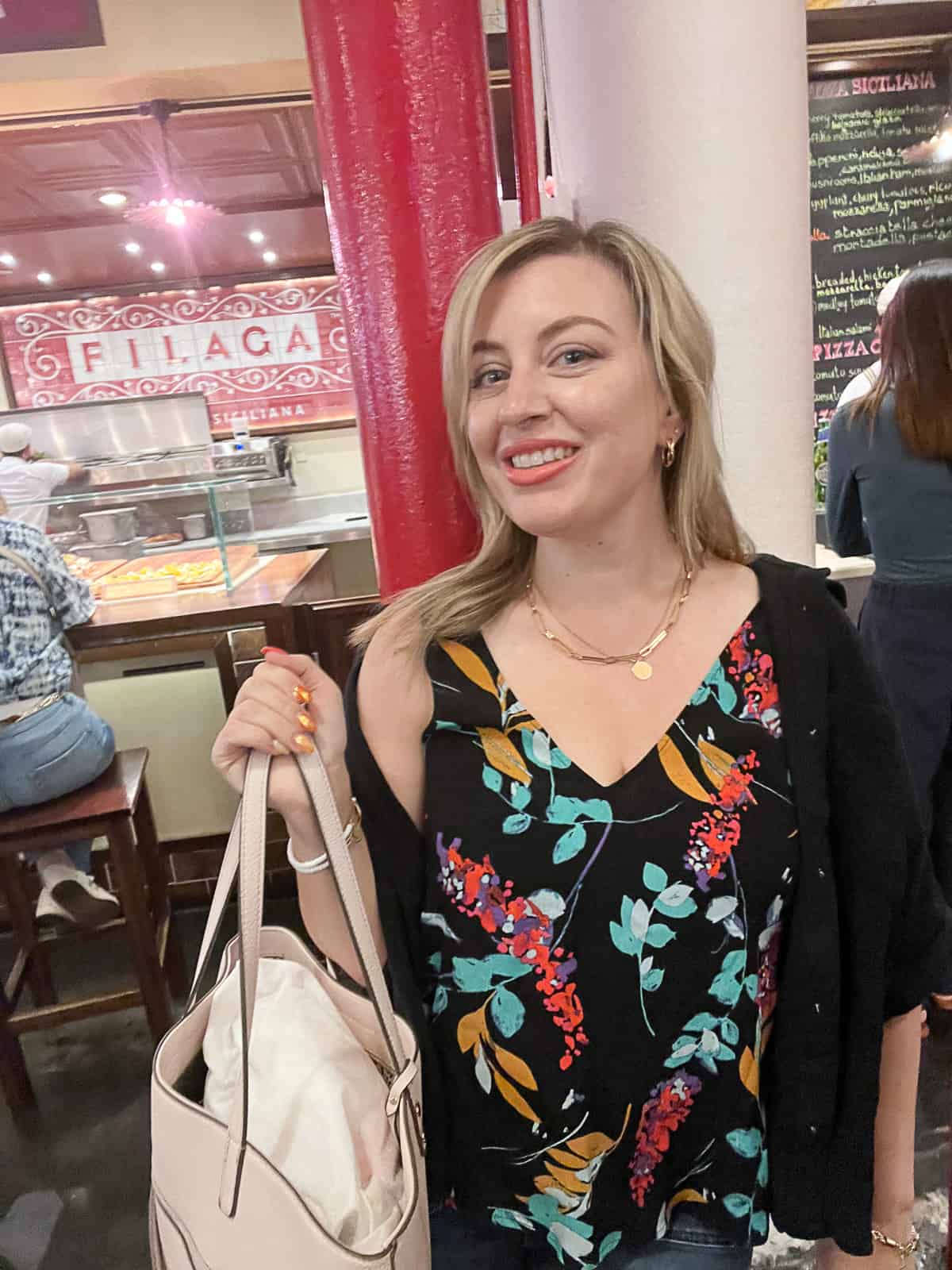 To Very Fresh Noodles, where kids can watch hand-made noodles show right in front of them while you eat at the counter.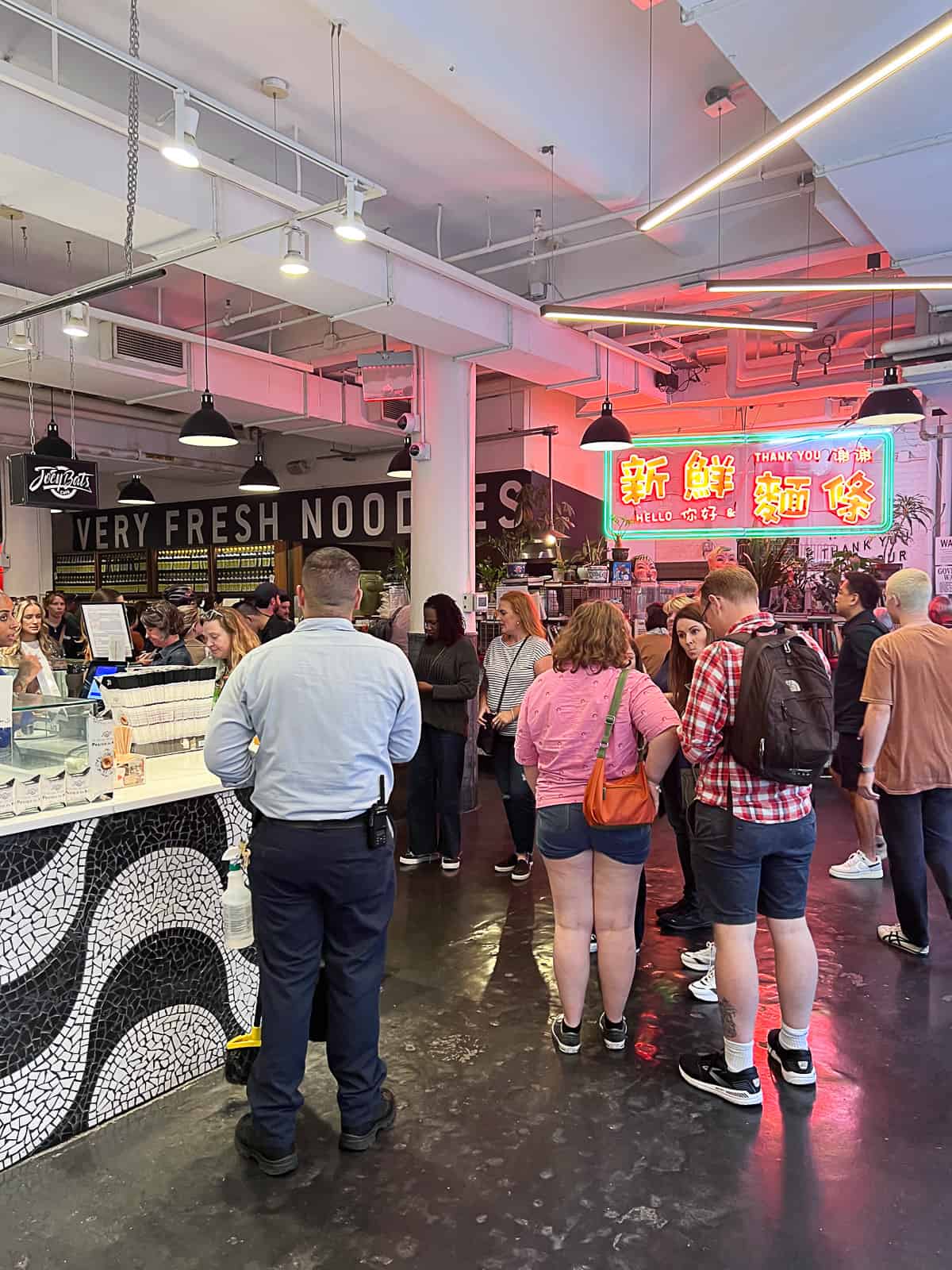 On my way to the YouTube Creators event, I stopped and enjoyed some yummy food at Miznon Restaurant (Israeli food with fabulous pita).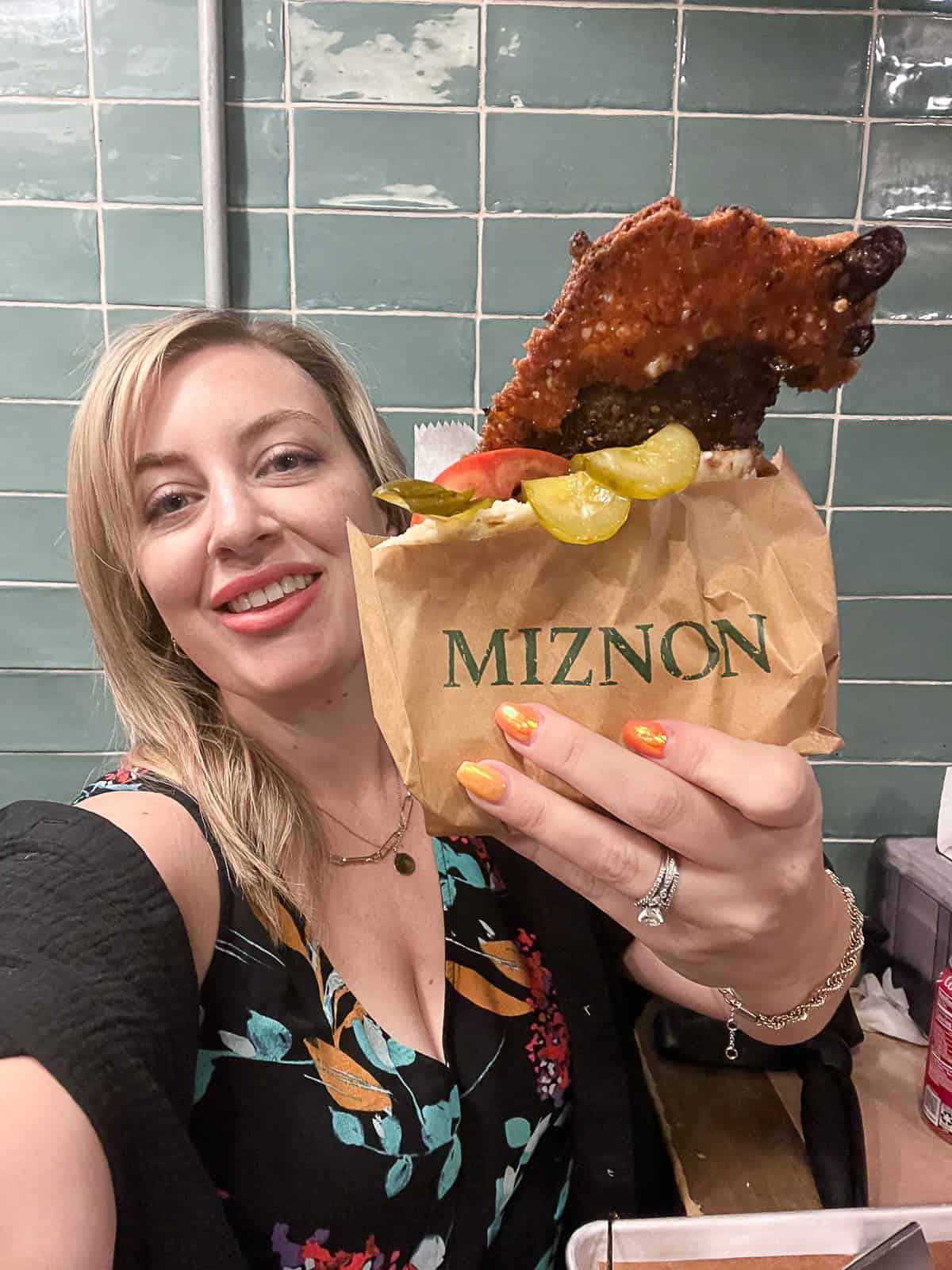 My favorite thing there was the burger pita I split with a YouTube creator friend…
Inside a super soft and messy-in-a-good-way pita pocket is a cheese-stuffed burger that's perfectly salty, served with a tomato, pickles, and fried cheese on top. YUM!
You can find them on Instagram @miznonusa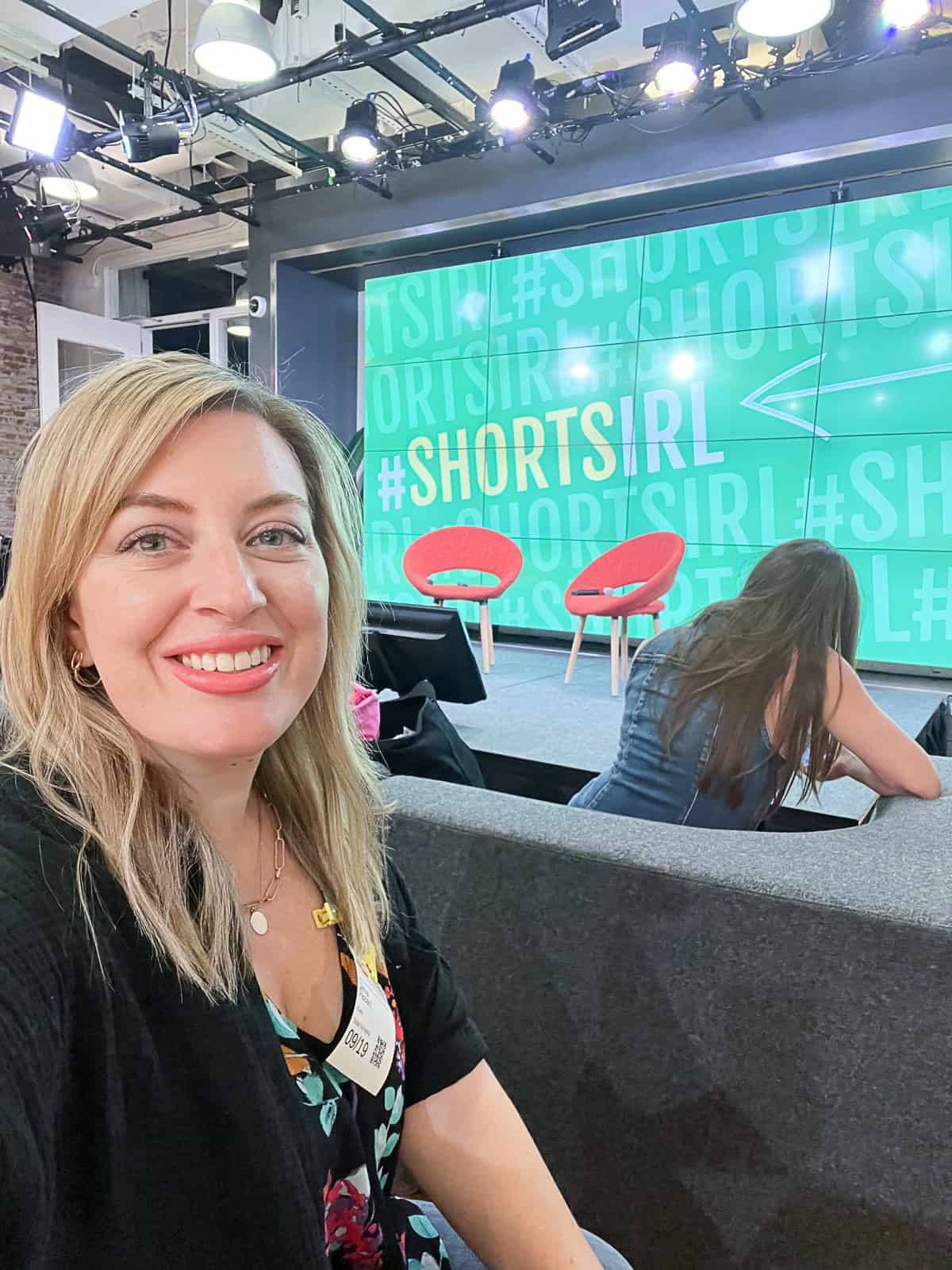 YouTube actually has an office at the top of the Chelsea Market building, which is pretty cool!
Find more restaurants that are good for kids at Chelsea Market on Instagram ​​@chelseamarketny
La Pecora Bianca Italian restaurant for a nice family meal
To top off a delicious foodie trip to NYC, a YouTuber friend recommended La Pecora Bianca Italian Restaurant… (thanks to @flavorsbyale)
This restaurant is a chain with a few locations, and I visited the one in the Meat Packing area.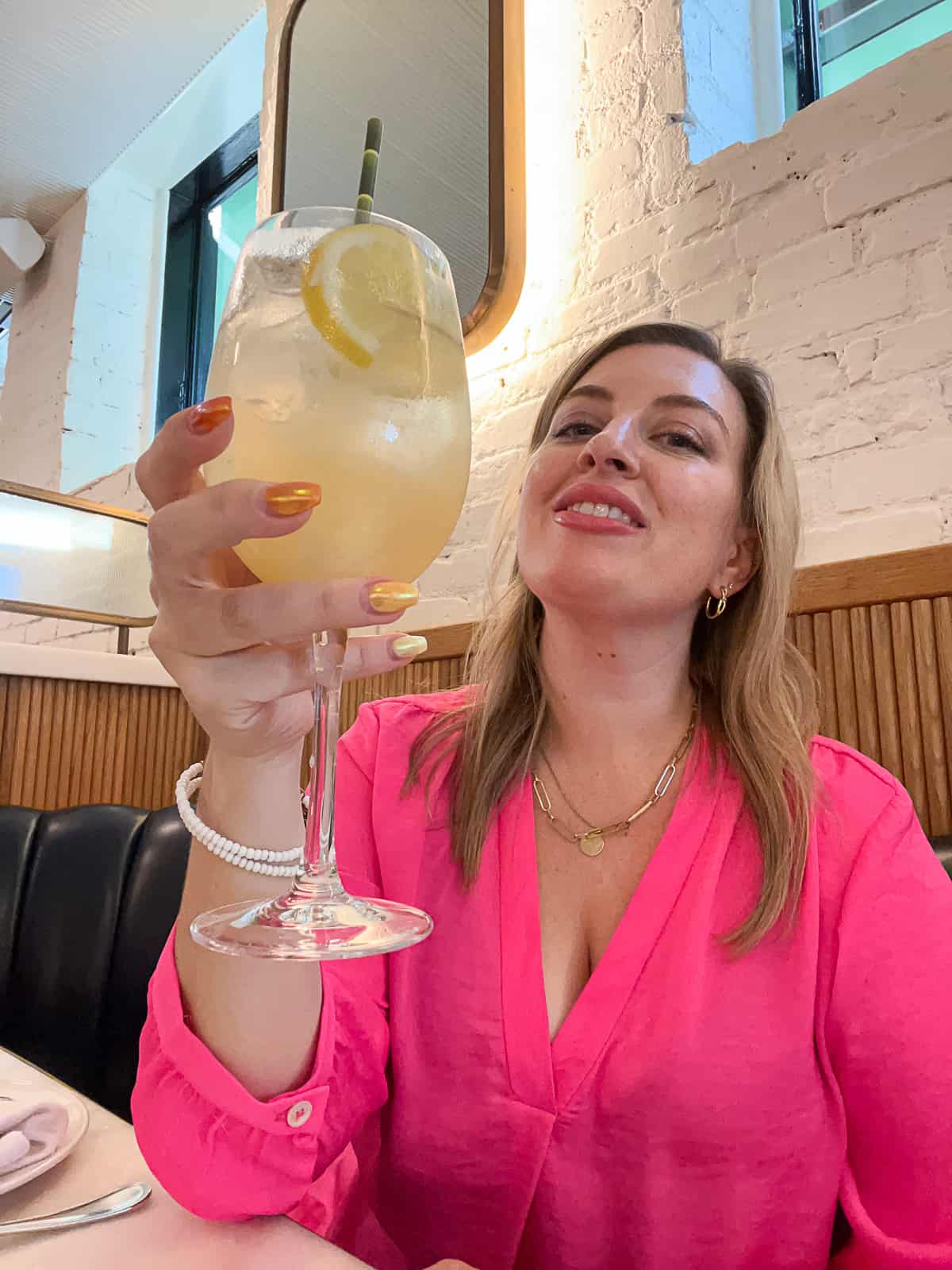 This Italian restaurant in NYC is on the "nicer side" type of dine-in restaurant – but usually kids can get on board with pasta…
And so our kiddo even enjoyed the broccoli and steak, too, so this was a good stop for a family trip… and now I hope he eats some of my own steak dish recipes, like my go-to Sip Bite Go tri tip, at home!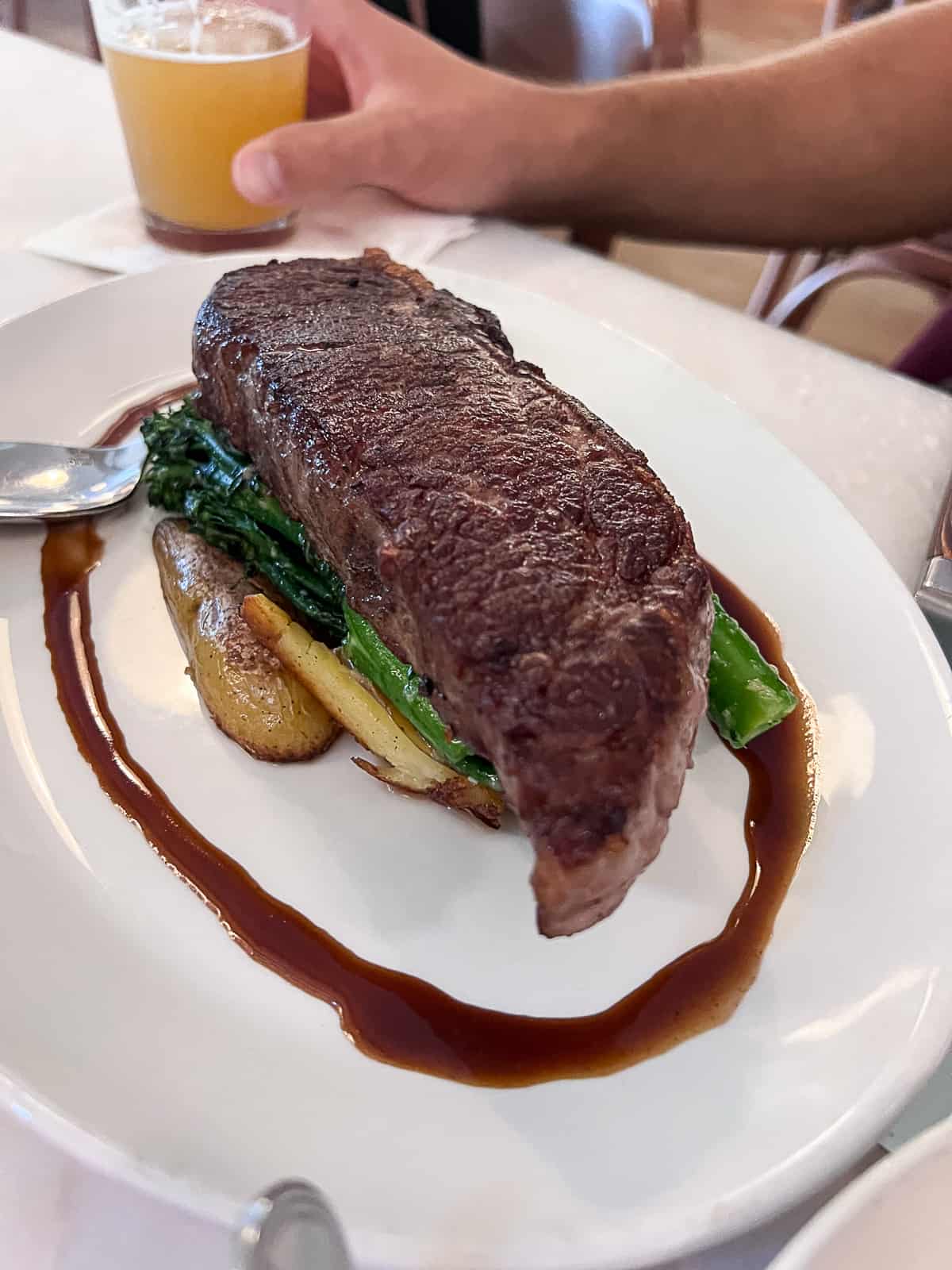 And everything was perfectly-cooked – from the steaks…
To the tomato and peach stone fruit salad….
And the vodka sauce pasta we shared – it was all perfect.
You can find them on Instagram @lapecorabianca
SIDE NOTE –
After La Pecora Bianca, we walked to Little Island NYC…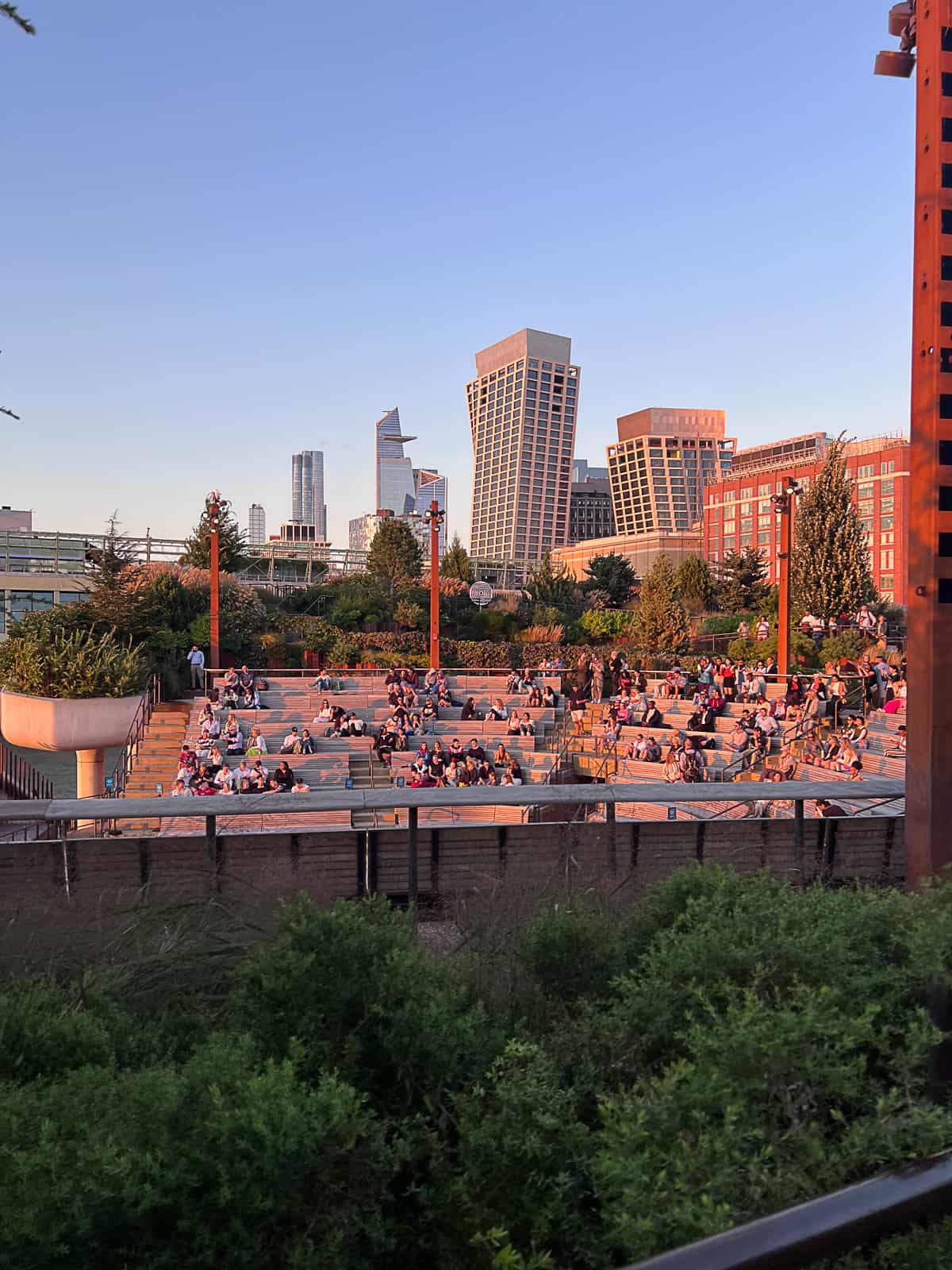 I really recommend visiting this beautiful park that is a tiny island (as you could imagine from the name) – the sunset sky view from Little Island is incredible!
There are trails to walk and a theater-style seating arrangement to sit down and enjoy the beautiful NYC sunset views…
You can find Little Island on Instagram @littleislandpark and @littleislandnyc
Whew!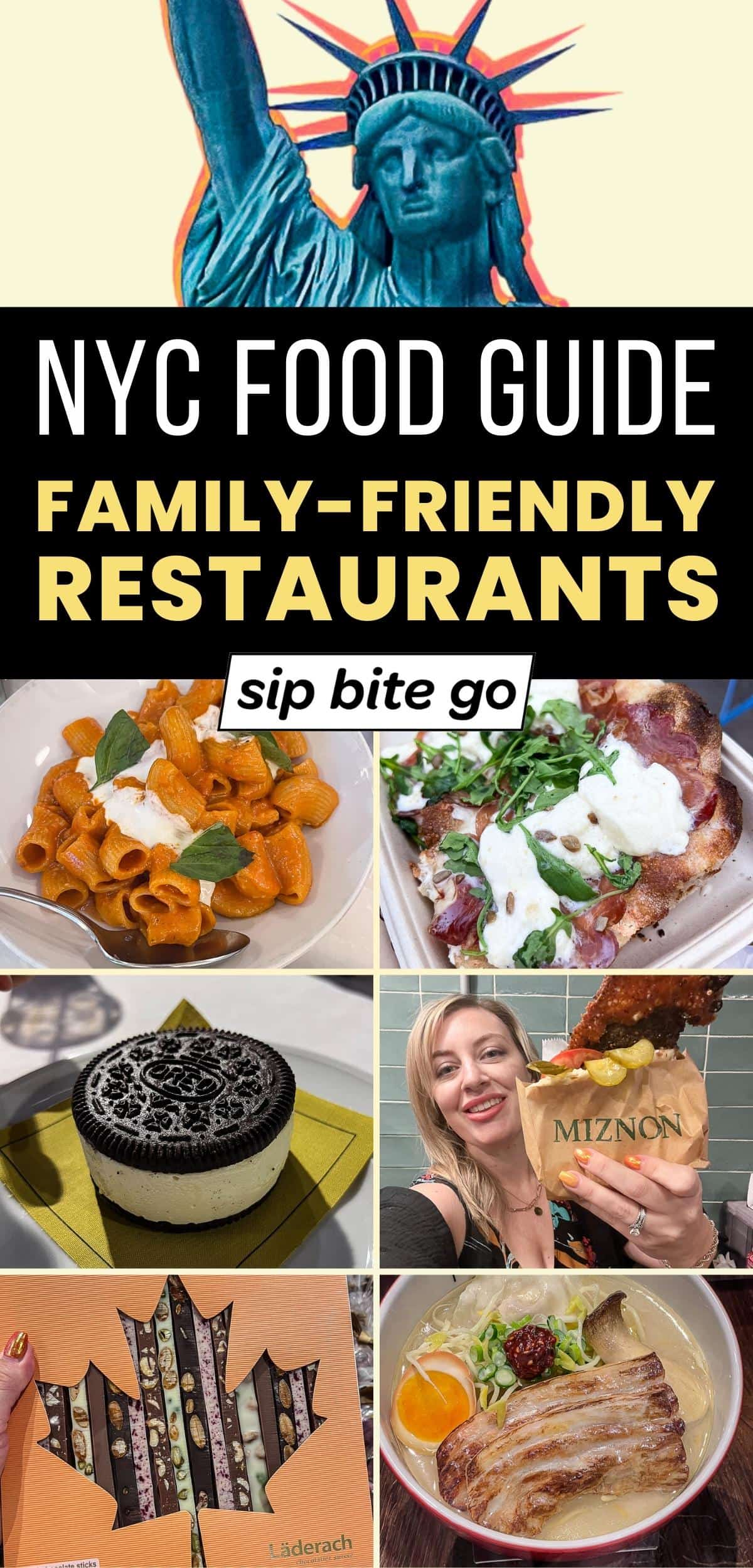 That was a long list, but I hope you found some hidden gems to enjoy!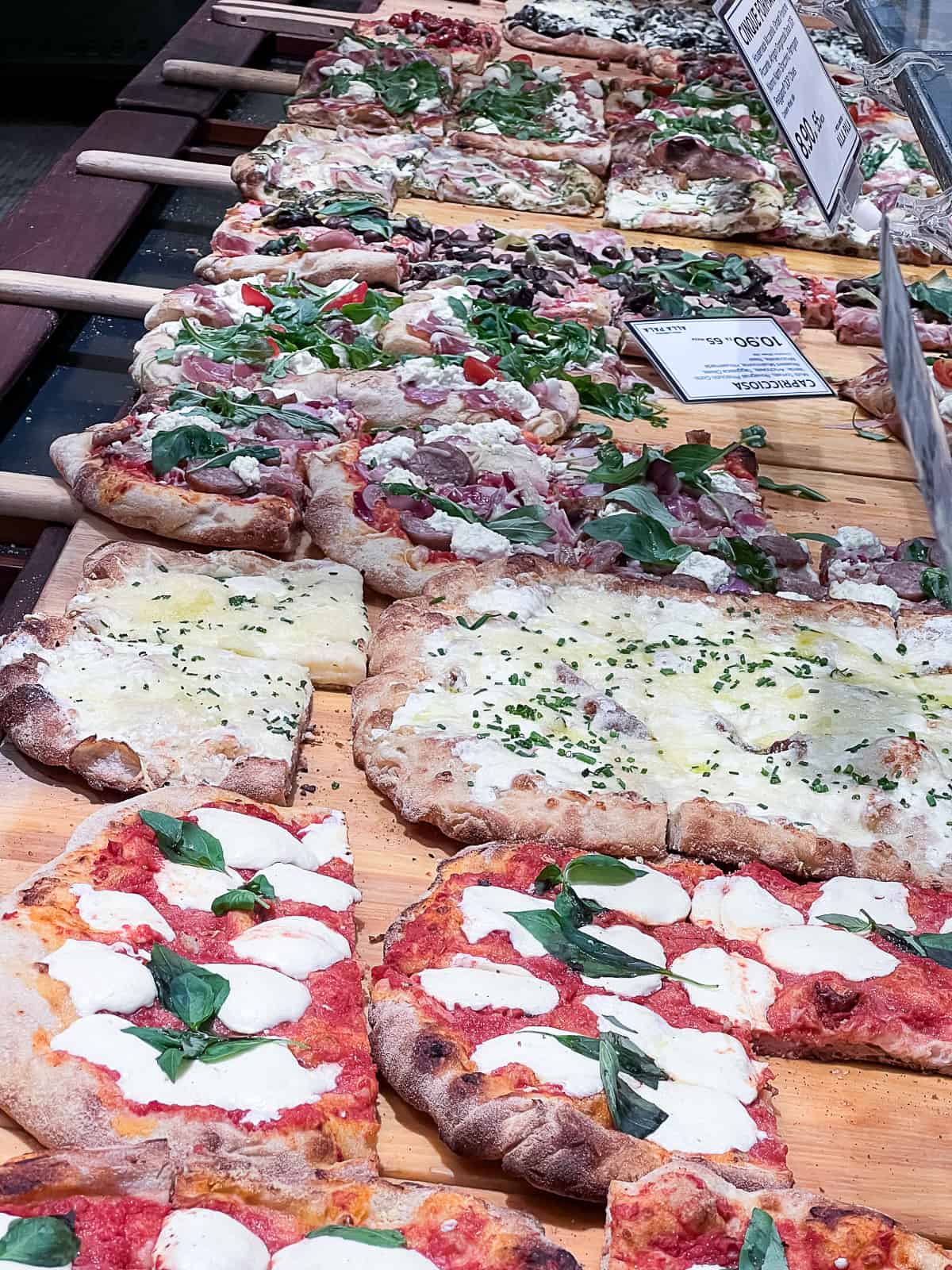 Enjoy your time eating in NYC!
Hey foodies traveling with kids, hope that answers all your questions about having a delicious trip to NYC.
Enjoy eating, cooking, and chat soon on Instagram / TikTok / YouTube.
– Jenna
Next, browse the Sip Bite Go recipe collection…