If you're looking for adventure in Hawaii, here's an excursion for you. Night snorkeling with the Manta Rays in Kona is something you'll remember for a long time. Snorkel and dive groups could care less about fish and turtles during this tour. What are they searching for? Everyone has their eyes peeled. They're waiting to see 12-foot wide Manta Rays.
See this majestic Manta Ray clip…
<center><iframe width="560″ height="315″ src="https://www.youtube.com/embed/WY4n5hVkNjA?rel=0&autoplay=1;&controls=0&showinfo=0″ frameborder="0″ allowfullscreen></iframe></center>
Snorkel with the Manta Rays at night
The tour boat sets out for one of two locations, based on recent Manta sighting reports. Manta rays hang out at the Sheraton or near the airport.
Up to 30 manta rays may be seen in a 1-2 hour trip. Dolphins and seals have been known to appear on the tour as well.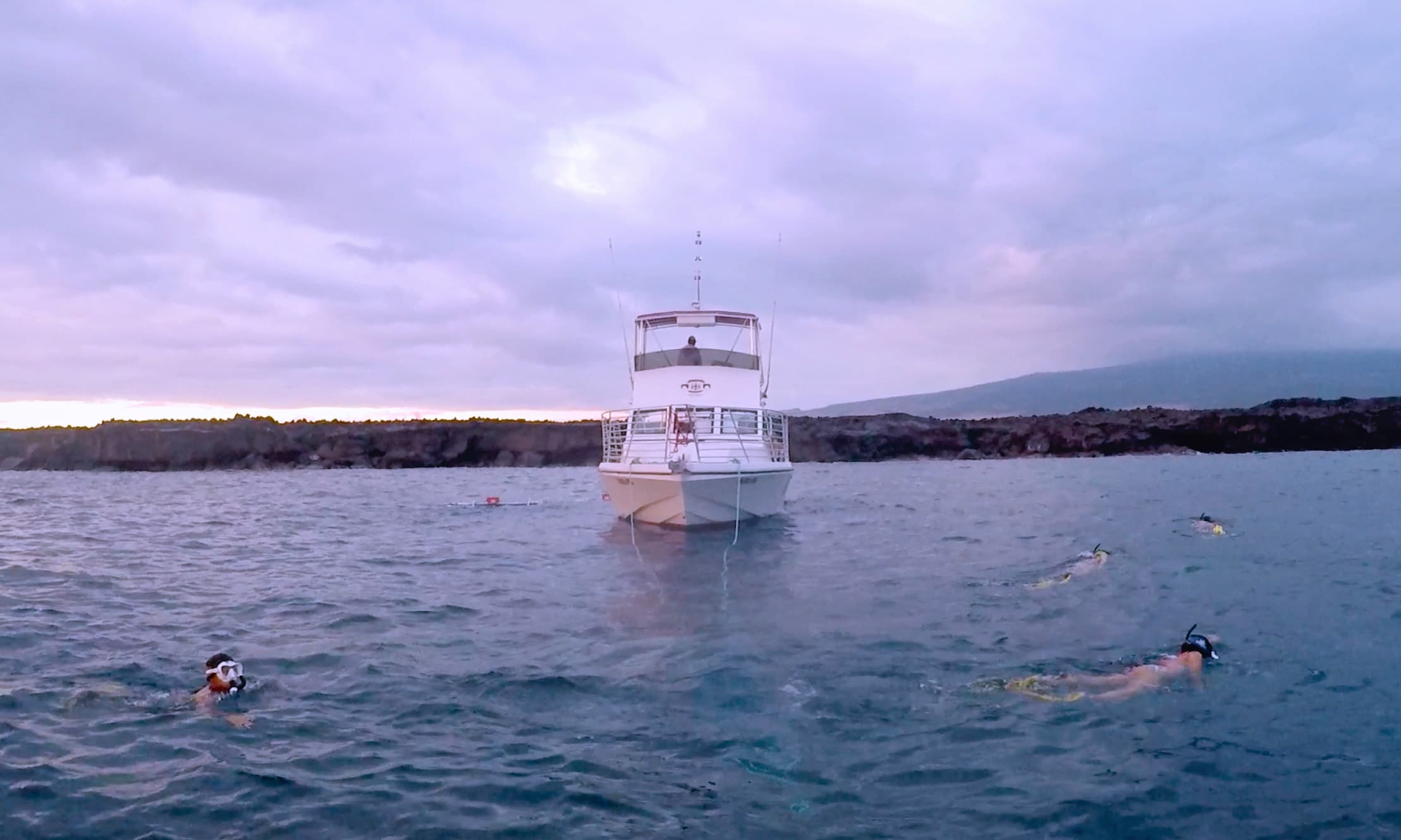 Snorkelers meet the crew in Kailua-Kona. In addition to transportation and snorkel gear, the crew provides a surfboard for everyone to hold on to, so the snorkeling group floats together. The surfboard has a light on the bottom, which attracts plankton. The Manta Rays come out to feed on the plankton, and the snorkel group gets a show.
The Mantas on this trip were shy at first, but there were plenty of fish and eel to enjoy during the wait.
At first, the manta rays were gliding on the bottom of the ocean floor. This was very close to the divers hanging out in a circle formation on the ground. They call this the flashlight "campsite" because they shine light on the mantas from below.
The mantas came closer to the surface of the water. They ate Plankton and did somersaults near snorkelers. One did a few backflips within inches of the group. It was stunning and peaceful.
This experience is based on Big Island Divers night manta ray snorkel. They provided snacks and hot chocolate on the way back. If you're looking for dinner, Kona Brewery is a crowd-pleaser nearby.