Ready for my DIY blinds installation story? A bright, modern kitchen is super important to me, and one of the top home improvement projects on my to-do list was putting in blinds.
Ordering blinds made to order online seemed a promising way to do that: I'd get to choose exactly what I wanted, get it customized to fit our needs, and my husband and I could install them in the kitchen ourselves. The project was definitely fun and rewarding, and our kitchen looks so much more up to date!
Let me show you the self install kitchen blinds before and after.
For this post, I partnered a company that makes blinds made to order online DIY Easy Blinds. (affiliate link) Special thanks to them for providing the blinds.
This post will help you learn all you need to know before you buy blinds to install yourself.
Watch our DIY Easy Blinds self-install video
Details on the kitchen remodel
We bought a 2000's house and updated it for 2020 and beyond.
That's my newly published book on the table – The Home Chef's Sous Vide Cookbook
The space really fits our needs— the lighting, kitchen and family room were exactly what I wanted– but it was just so bland.
Everything was white, with warm tones.
The family room off the kitchen was a great layout for us, but the carpets were builder grade and 20 years old.
Like a blank slate.
We got to work updating. The orange wood floors, oak cabinets, and brown and beige paint were changed to cool tones with white and gray walls, white window trim, deep blue and white cabinets.
To finish it all off, I went shopping for fun accessories like new modern cabinet pulls and new light fixtures, and ordered custom made faux wood window blinds from DIY Easy Blinds.
Before I get into the details about DIY Easy Blinds and how we installed our own self installing window blinds, let me share my biggest question going into the project: does it really save any money?
The cost of installing DIY blinds yourself vs hiring installers
When you're doing a big remodel like we were, saving money anywhere you can is a big plus.
Blinds is one area where you don't necessarily get what you pay for when you buy the materials with installation.
If you're willing to purchase blinds to self install in windows, you can save yourself a fair amount of money and end up with a premium product.
One option is to order blinds and then hire a handyman – but honestly, with no blinds installation experience and the help of my husband, we put up our own blinds in 10-20 minutes a piece. And I'd do it again.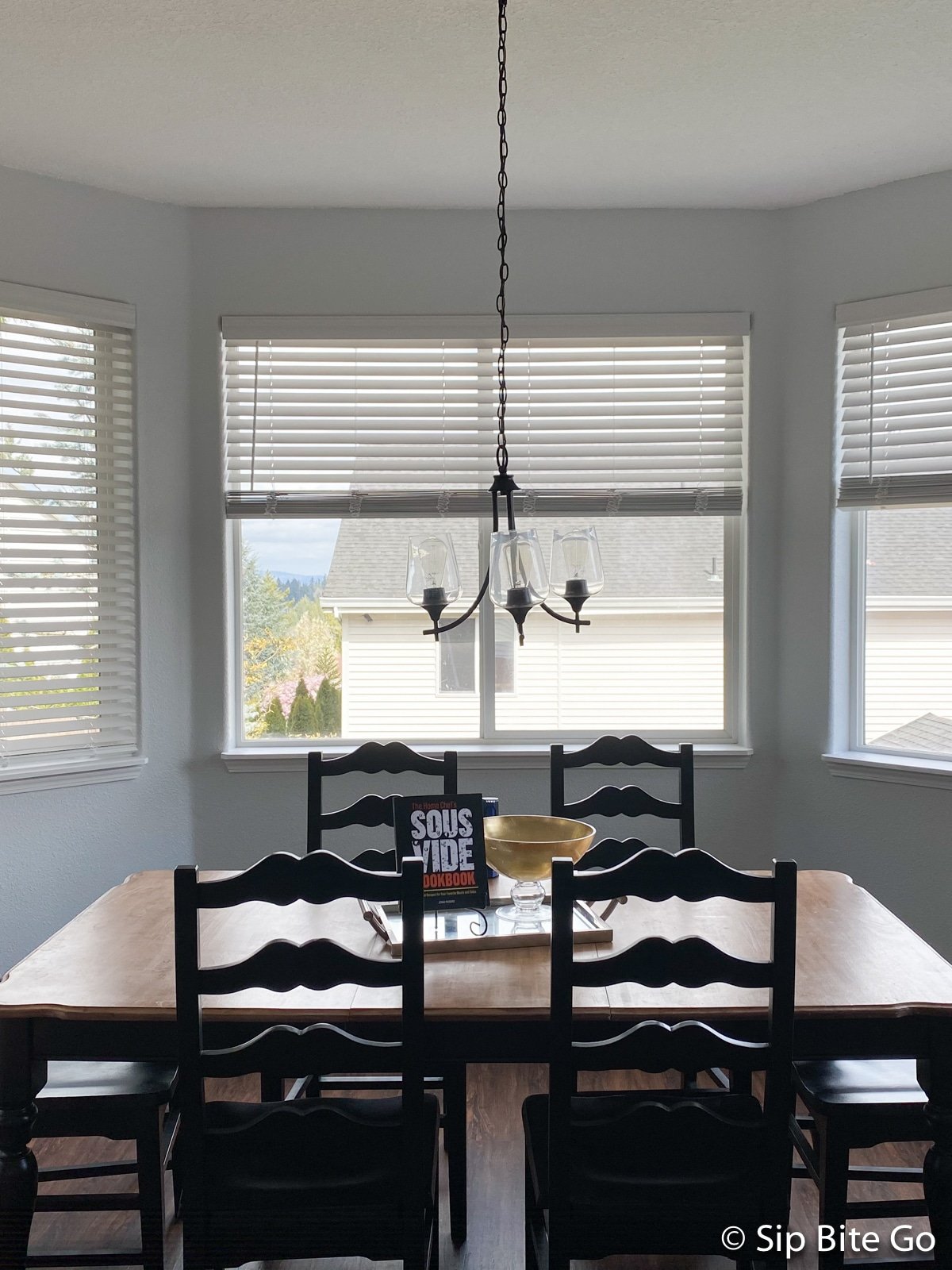 About my faux wood shades from DIY Easy Blinds
I spent some time browsing the DIY Easy Blinds website and decided that DIY 2 Cordless Faux Wood was the perfect choice for the kitchen: sturdy and easy to clean.
They fit our cool decor scheme and would give it a little extra atmosphere.
Karina Grinberg, founder of DIY Blinds, Inc, recommended these blinds specific to my window lined kitchen as well.
The way she put it: " If the window is above the sink, we recommend faux wood blinds that cannot be penetrated by humidity, steam, etc. They can easily be cleaned with a damp cloth and provide a timeless look."
The finishing touch: DIY Easy Blinds
I find that blinds give a minimalistic, modern look. Cordless blinds, which open and close by raising or lowering the bottom rail, are especially sleek, and I love that there are no extra cords that could be a hazard for baby when he gets to that stage.
Here are more of my kitchen remodel with DIY Easy Blinds – plus before + after shots.
The blinds transformed our kitchen space and gave it a sleek, finished look.
No more blank slate here: my eating room has personality.
Blinds for the kitchen nook
The cozy gray kitchen nook was where I really wanted blinds.
The windows here frame some beautiful sunsets at night, and I wanted to make sure the view wasn't obstructed by curtains or other bulky window dressings.
The kitchen remodel with white blinds was the perfect solution, and my favorite room in the house is more bright and sunny then ever.
Blinds for the family room
Next to the kitchen there is this window in the family room.
As we continue remodeling our home, I'm interested to continue adding more blinds.
Installing DIY blinds without experience
Installation was super easy.
I ordered free samples from DIY Easy Blinds, and that made it easy to compare with the kitchen paint scheme and decide what looked best.
I chose the cordless faux wood vertical blinds; it seemed designed just to match our kitchen decor.
Measuring the windows was easy too. There's a video tutorial on youtube to ensure you measure in such a way that the DIY blinds will fit,, but what it came down to was measuring the width and height of each window.
When I had my measurements, I sent them to DIY blinds.
It wasn't long till mail day, and we got our boxes in the mail with correct sized blinds for each window.
The actual installation took about 10-20 minutes, and after we figured out the first one together my husband was happy to do that while I had fun taking pictures and admiring his work! (he's used to all the photos I take by now!)

The results – the "after"
Kitchen blinds are in, and I'm enjoying them every time I walk into the kitchen!
So thankful to DIY Easy Blinds who provided these sleek blinds for my kitchen remodel.
So happy with how they turned out.
I'm really into white and gray right now, and these are a great addition to the space.
I love how I can close some windows that face neighbors and leave other ones open that face trees.
A lot of nice flowers and trees have started to bloom – like cherry blossoms that were here this past week.
I'm getting done a few more house projects and cooking more sous vide recipes than we would have these days with all this time inside.
What next?
Special thanks to DIY Easy Blinds for partnering with me on this post.
Stay tuned for more DIY kitchen remodel adventures
That's our DIY blinds installation; the latest home improvement project in my little household! Stay tuned here and on Instagram @sipbitego.