The mimosa… the brunch cocktail that made it socially acceptable to drink at 10:30am.
If you're getting bored of the standard OJ + champagne brunch cocktail, try pineapple juice instead.
But first, a pineapple mimosa quote…
The easy way to make a pineapple mimosa
To make a pineapple mimosa, use a 1:1 ratio of pineapple juice to bubbly. Serve in Champagne glasses and garnish with strawberries.
What type of Champagne?
Any kind! You don't have to buy a bottle with the label "Champagne". Only wines from Champagne, France carry the label "Champagne".
Choose any sparkling wine. It should have a cork and a wire cage.
Find mini champagne bottles
Instead of buying big bottles of Champagne, look for packs of mini bottles. They come in 3 or 4 to a pack. One mini is perfect for two mimosas.
A stock of mini bottles makes your fridge look classy. Plus, then they are on hand for "emergencies". (like rainy Saturday mornings)
What type of pineapple juice?
Freshly squeezed pineapple juice isn't widely available. Instead, find pineapple juice in cans or near the OJ bottles.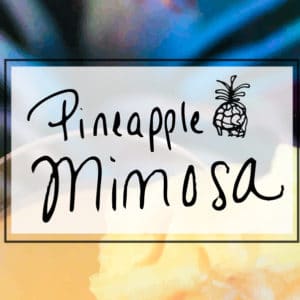 Ingredients
1

bottle

Pineapple juice

1

bottle

Champagne

1/2

cup

Fresh pineapple or strawberries to garnish
Instructions
Fill Champagne glasses half way with sparkling wine.

Add pineapple juice to fill the glass.

Garnish with fresh fruit, like strawberries or pineapples.