How to prevent a simple floral arrangement from looking cheap
Afraid a simple floral arrangement might look cheap? A tiny flower budget can still furnish an impressive centerpiece. All you need is a couple tricks up your sleeve. Yes, even if your perfect centerpiece includes pricy flowers. Even if you aren't Martha Stewart.
In this floral arrangement tutorial, I'll dig a little deeper and share visual tricks utilized by pros. Anyone can tackle this project. The simple floral arrangement with pink peonies and roses you see in this guide was created in minutes with easy-to-find flowers.
I'll teach you the basics of how to create a simple floral arrangement that doesn't look cheap. By the end of this post, you'll become a master illusionist. Creating bountiful floral centerpieces with little experience.

No smoke, just mirrors
I've seen this trick work in a range of venues, from an outdoor garden wedding to a rustic barn reception. It's a trick that makes rooms appear bigger. It's a photography tool to bounce light. What am I talking about? Mirrors. What's better than one floral arrangement? Two. No, a mirror can't clone your floral centerpiece. But it will make your wedding flowers appear bigger, while putting them on a "stage".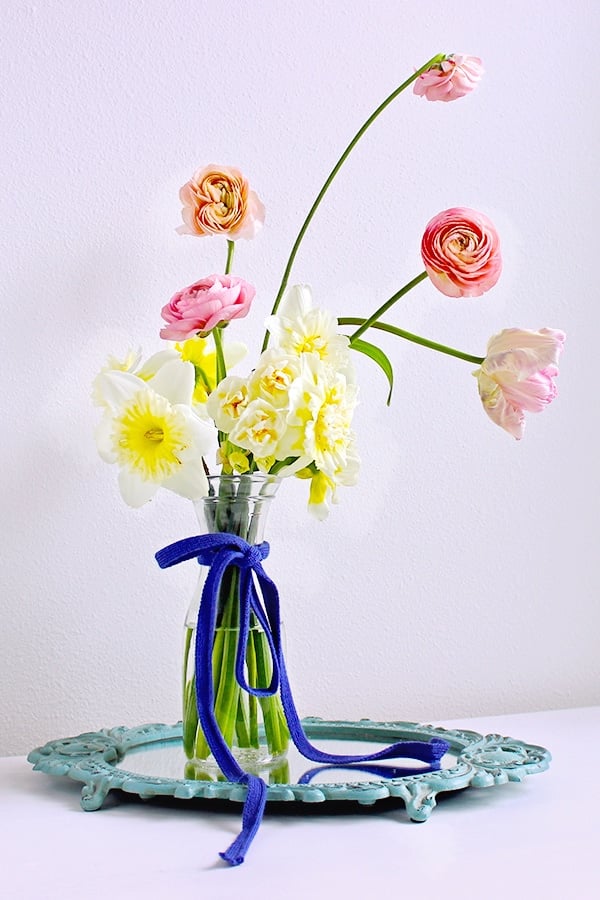 Use a simple vase
When working with simple floral arrangements, it's important to choose a vase that won't overshadow the centerpiece. Flowers look more impressive when the vase "fits". Try a slender vase that is half the height of the tallest flowers. Before cutting the flowers, hold them next to the vase to determine the length.

Keep flowers tall to create the illusion of height
Make a centerpiece look more expensive by filling up space with flowers. Choose flowers with straight stems like peonies and garden roses that will stand up straight. Roses have beautiful leaves that take up room from the bottom of the stem to the top. Because there appears to be a lot of flowers, your centerpiece won't appear cheap.
Create a DIY floral arrangement that fits a variety of wedding types with these tricks.
Save simple floral centerpieces from feeling boring by adding shine. Try staging flower arrangements, table numbers, and candles on centerpiece mirrors.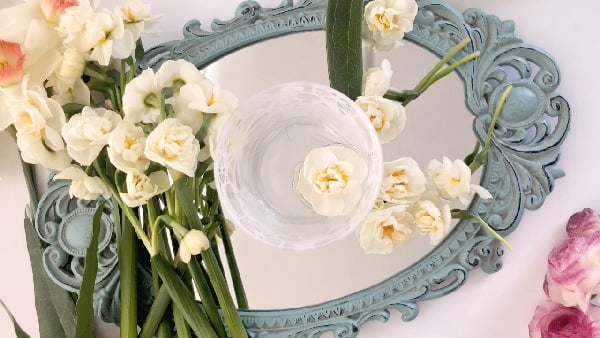 Where to buy mirror centerpieces for a garden wedding reception
One of the easiest ways to use fewer flowers while creating a big impact is to include a mirror. Craft stores sell basic mirrors in circle and square shapes. But, standard mirror bases aren't the only option. For a more ornate feel, use mirrored vanity trays.
The moss green / blue mirror tray in the photos is from Homegoods. The rounded, ornate edges, fit right in an antique garden wedding theme. It almost looks vintage, but it was under $15.
If you don't see the mirror base you envision in stores, why not make your own centerpiece base? You can even make them out of frames. Peruse this DIY mirror tray on Pinterest for inspiration.
Ready to try a few tricks? Learn how to make a floral arrangement with pink peonies.