With so many baby sleep outfits available on the market to choose from, it may be overwhelming to know how to dress a baby for sleep. This guide has a ton of different baby sleep outfit ideas for new moms. Learn how to dress baby for sleep in summer. How to cover a newborn baby at night in winter. And what your baby should wear for bed year round.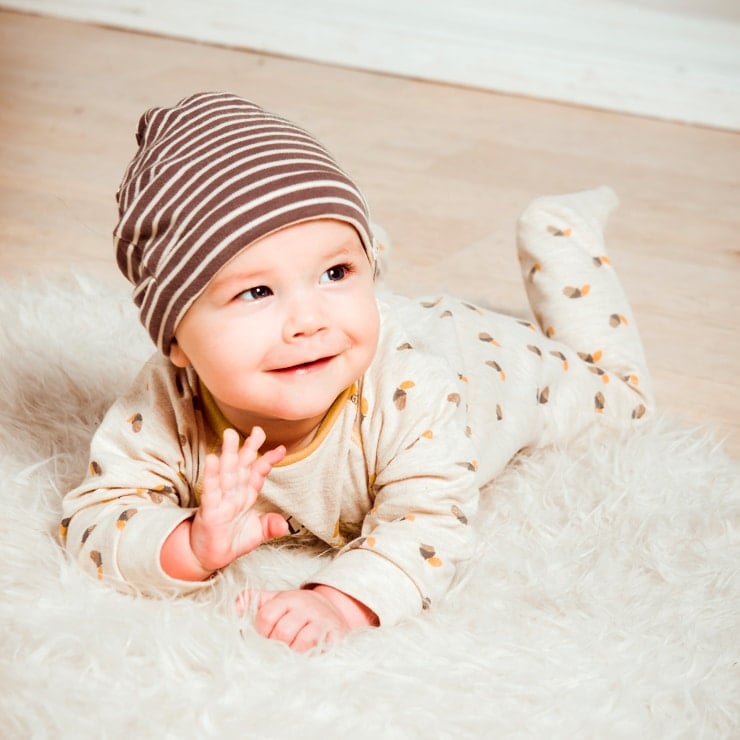 How do you decide how to dress a baby for sleep?
Some of it comes down to the temperature of the baby's room at night. Unless your house stays a consistent temperature year-round, you'll find you need a set of baby clothes for the winter and another set for the summer.
It's recommended to dress a baby in one extra layer than you need in that room at night. So if you sleep with a tshirt + a blanket, you need to dress the baby in two similar layers.
Some of it comes down to your personal preference (usually depending on how easy it is to change the baby at night or get the baby in and out of clothing).
And some of it comes down to what makes the baby feel comfortable and sleep well at night. It does require some trial and error, so it's good to have a few options on hand for dressing your baby at night. In this post, you'll learn a bunch of different ways to dress baby for sleep.
But first, I'm going to share with you how we dress our baby at night, then I'll share a list of the best ways to dress your baby at night, so you can experiment and find what works best for your family.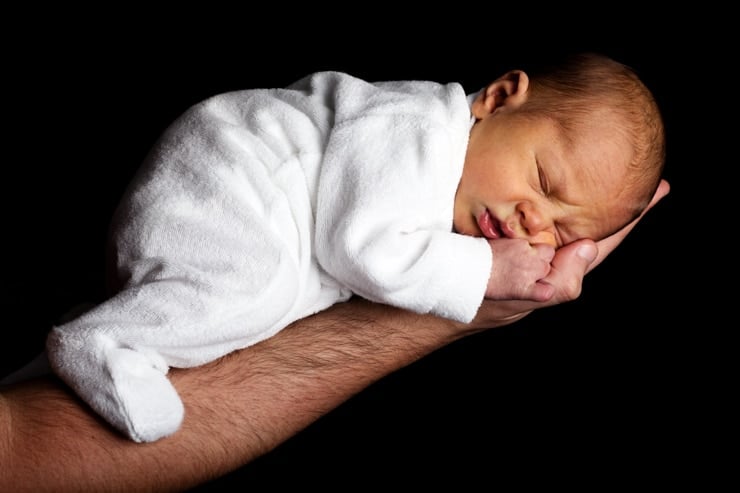 What my baby slept in at night from 0-4 months
I tried many, many baby sleep outfits and found a couple favorite sleep outfit solutions for my baby.
For the first few weeks, he loved to be swaddled, but would bust out of the swaddle. So we swaddled our little peanut in a thick flannel receiving blanket (the kind the hospital uses, NOT the thin muslin kind of swaddle, which babies like to escape from). Then used a thin velcro swaddle on top of the flannel receiving blanket, to keep the first swaddle in place. It may sound crazy to double swaddle, but it's needed with a little escape artist suffering from startle reflex. We had a baby who liked to wiggle his way out of the swaddle and double-swaddling helped him feel safe and secure enough to fall asleep.
At about two months or eight weeks, my baby was groaning a lot at night and wouldn't stop until I released him from the swaddles. He wanted to break free! So we moved on to clothing him in a short sleeved onesie layered with a one-piece fleece sleepbag.
The bottom of the fleece sleepbag is closed, like a sleeping bag. It kept my little peanut nice and toasty at night. While allowing his arms and legs to move freely. We keep our bedroom around 70 degrees year-round (we love this portable AC unit and keep it in year-round, even in the winter). So we bought our baby the next size up fleece sleepbag for the Spring/Summer, at about three months, when he outgrew the size Small sleepers.
Now, at four months old as I write this post, my baby loves getting dressed in the fleece sleeper as part of his bedtime routine.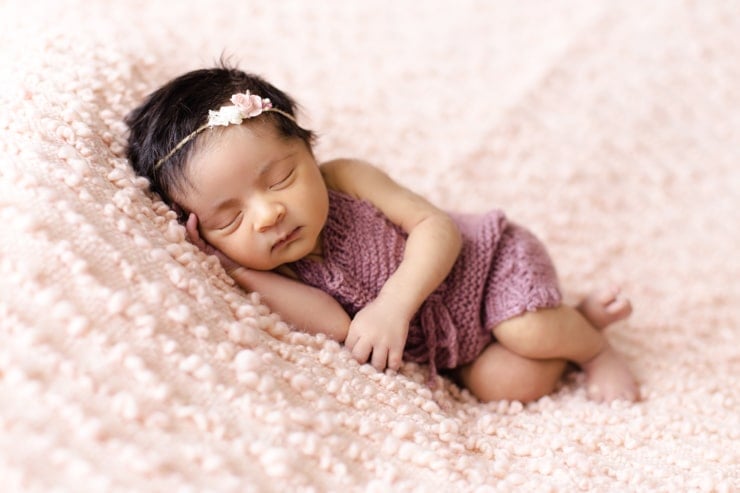 How to dress baby for sleep in a 70 degree room
I consider a 68-70 degree room to be mild and comfortable for a newborn to sleep in. Here are ideas for dressing baby at night to sleep in a 70 degree room.
How to dress baby for sleep in summer
You'll find the combination of clothing and sleeping outfits that are best for baby in the Summer. Here are a few ideas to help get your brain wheels spinning…
A short sleeve onesie and a

sleeveless sleep sack

Naked with a blanket, but you might want to still put a pair of socks on your little

Short sleeve onesie without any pants

Long sleeve cotton PJs that are breathable

Only a diaper is a good option for helping a baby sleep on a hot summer night

A t-shirt would also do just fine in the summer with a diaper or underwear to go with it

Onesie and fleece pajamas or thick cotton pajamas
How to dress a baby in winter
Having a January baby, I was wondering, what should baby wear to sleep in winter? As you read above, I had to go with what the baby wanted as well – transitioning from a double swaddle to a fleece sleep sack. Below are other ideas on how to dress a baby in winter.
A couple other things that can help baby sleep well at night
Salt lamp – Since you can count on nighttime changings for your baby, it's important to make sure the baby changing area is ready for diaper changes. Using a bright overhead light is not a good idea for night changes, as it will wake the baby up. It's smart to get a low-glow light, like one of these calming salt lamps, to turn on near the changing table at night.
White noise machine – These are getting really popular for helping babies sleep at night. Apparently the sound of the white noise machine is similar to the sound the baby hears of the blood in your body when you are pregnant, and therefore white noise helps the baby sleep. I actually got one white noise machine for upstairs and downstairs, making it easier for my baby to fall asleep in a couple different places in my house. When I travel with my baby, this machine is always coming with me!
Night lights – Similar to the salt lamp, I found it important to set up a few night lights around my house. First, it makes it safer to carry a baby when the house has night lights. And second, turning on bright lights at night will confuse a baby that is trying to grasp the concept of day and night. If you can help your baby avoid bright lights at night, they'll be able to sleep better at night. I definitely recommend strategically placing these little lights in hallways and bathrooms around the house so the baby doesn't encounter bright lights at night.
Let me know how you decide to dress baby at night and set up your sleep-friendly environment for baby. Be sure to leave a comment if you have any questions. It means so much to hear from Sip Bite Go readers and I love seeing photos of your little ones! Don't forget to tag me @sipbitego on Instagram and sign up for the Sip Bite Go newsletter.
Your getting all the sleep I can get baby momma, Jenna.