Listen to My Weird Food Obsession Podcast – episode 9 on Apple, Spotify, or wherever you get podcasts
Food blogging tips from a 10+ year food blogger? Yes please!! In today's episode, you'll meet Sarah Cook from Sustainable Cooks. One of the wildest things from this interview is learning that she almost made the decision to walk away from food blogging a few years ago.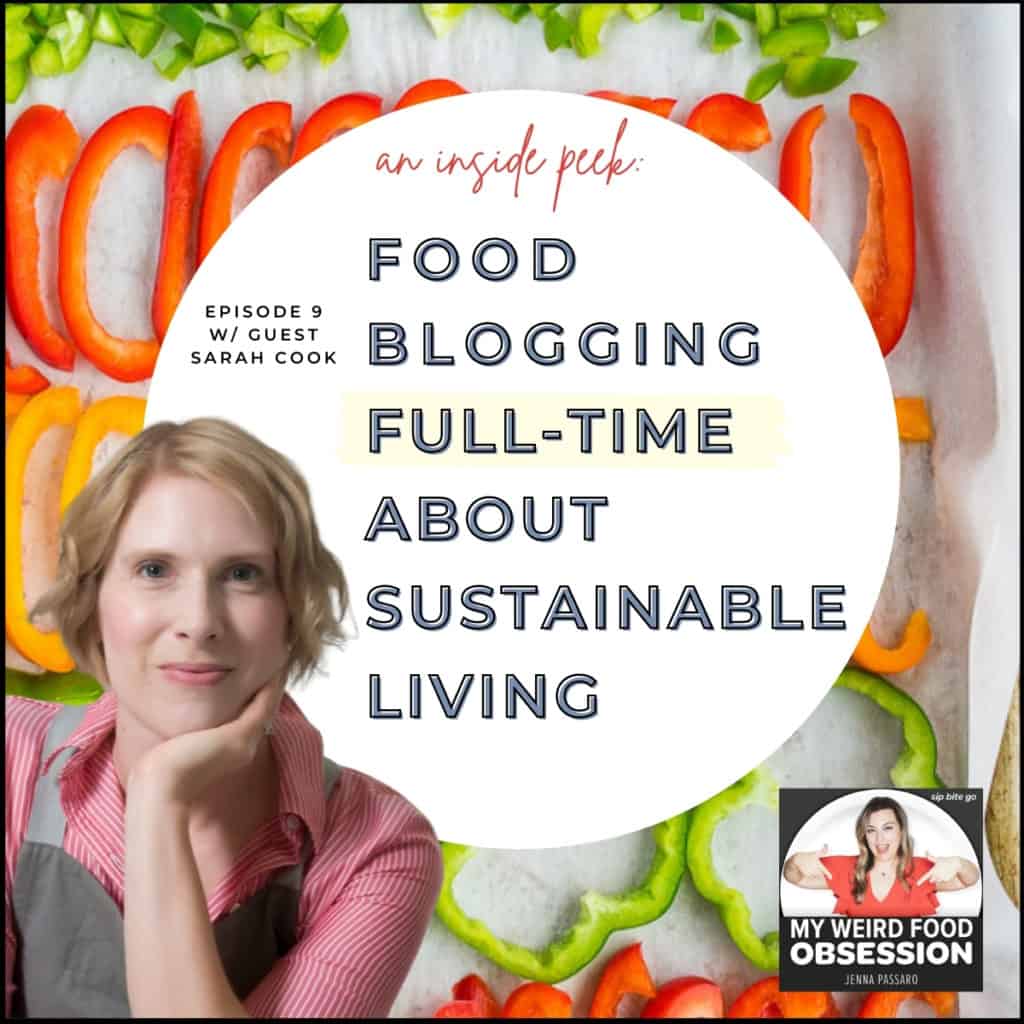 Instead, Sarah decided to level-up her skills and learn food blog SEO techniques to take her sustainable living blog to the next level. Thousands of readers are grateful she stuck with it.
So join today as we chat with Sarah about canning food, gardening, chickens, and how all her food hobbies led to blogging as a career. We dive deep into how she started her food blog under a different name and transitioned to the current name, Sustainable Cooks. How she stayed somewhat anonymous online so her coworkers didn't know she was developing a blog outside of work. And what finally pushed her to pursue food blogging full time. There's a ton of good stuff packed in this episode.
A sustainable living blog for anyone
Sarah's blog is a combination of cooking, canning, gardening, and down-to-earth life stories and advice. A sustainable living blog with a difference, it's loved for its real-life, low-glamour foodie posts that are accessible to anyone.
Life with two little boys is never boring, and she invites you right into her kitchen and shares her messes as she cooks up healthy, sustainable food and fills her pantry shelves with preserves.
But her blog wasn't always the powerhouse it is now. She started it as a side project; an outlet for creative energies when her off-the-job time was more boring than it is now. For seven years she kept it up as a just that: a fun side-gig that grew just a little more every year.
As she explained in the podcast:
"We got impacted by the recession…I couldn't afford therapy. And so it was my way of doing therapy just writing online."
Jam and quarantine: beginning a canning hobby
Maybe her blog has turned into therapy for hundreds of Americans who found themselves quarantined at home after COVID. It was the summer of 2020 that the slow growth she'd experienced suddenly exploded. 'I felt like okay…that slow burn hit a powder keg".
As store shelves emptied out, people began wondering about sustainable cooking at home, making their own preserves, and living off their gardens as much as possible. And when they searched for how-tos and recipes, Sarah's blog began coming up first. It was her moment to finally come into her own.
Sarah advises those new to canning to start with freezer jam: a simple recipe that doesn't require the careful attention to sterilization and pasteurization that other recipes call for. You don't even need a canner. That's because, after it's made, you stick it in the freezer—or in the fridge, if you plan to finish it up within three weeks.
The recipe is so easy her four year old can make it, and when you taste it, you'll be hooked: all the freshness of summertime is wrapped up in those berries. If you've got raspberries to work with, the link you want is no cook raspberry freezer jam.
Once you've got freezer jam down, move into canning jam: then you can fill up your pantry shelves and not just your freezer. And if you've conquered that, you'll be ready for everything else: canning pears to canning peaches to canning tomatoes.
Glimpses of the journey to full time food blogging
Two years with no blog income. Seven years. More than ten years in, a breakthrough that finally brought the salary of her full-time work-at-home gig to a level comparable to her husband's, and to what she might have been making had she stayed in the office.
Sarah blames a little of her slow start on beginning with a name she soon outgrows. Frugal by choice, cheap by necessity, the original name of the blog, certainly worked, but it wasn't the kind of quick-to-type, easy-to-remember name that could easily become a household word.
It didn't help that she quickly came to dislike and even was embarrassed by the tagline—it wasn't something she necessarily wanted her friends and co-workers to connect her with. After a rebranding, with a new name she could be proud of—Sustainable Cooks, a play on her own last name—the blog turned into something she was comfortable being associated with, both in real life and on the virtual playing field.
In her words:
"No one tells you that you have to be an incredible photographer, you need to be a social media manager, videographer, tech genius, your own PR company, and email marketing genius." – Sarah Cook
When I interviewed her earlier in the year for my article on reasons bloggers fail, she emphasized the long road ahead for anyone wanting to get into monetized blogging—and the intense work needed to make a success of it.
"New bloggers are not prepared for how you have to be everything to everyone and then no matter how hard you work, people are going to be nasty online. It's a shock to the system and if you don't truly love it, you'll quit. Never have I worked so hard to make so little money.
How to combat all of these things: go into blogging with open eyes. You're not going to be an overnight success. Join educational Facebook groups or blogging communities. Talk to other bloggers. And determine if you are willing to do this simply because you love it."
I'm still at the dabbling stage when it comes to gardening—though my little windowsill herb garden is flavoring many of the delicious meals taking form in my kitchen. Especially after chatting with Sarah, canning is something I want to explore more fully when I take a break from one of my other food hobbies.
As a food blogger myself, I especially enjoyed hearing how she slowly morphed from a hobbyist to a full-time food writer, and all the side-roads along the way. Blogging for a living isn't for everyone, that's for sure, but for those of us who love what we do, it definitely has its rewards!
Learn more about canning as a hobby
Listen to My Weird Food Obsession Podcast – episode 9 on Apple, Spotify, or wherever you get podcasts to hear more about…
The transition from recruitment to food blogging.
Learning blogging tools from scratch.
Finding balance in a hectic life – blogging, gardening, parenting and more.
The process of canning and how to get started.
How she turned blogging into a full-time job.
Advice on getting into the food blogging business.
Links mentioned
More from My Weird Food Obsession