Looking for examples of winter Stitch Fix outfits? Then this post is for you! Here you'll find some of the most popular Stitch Fix winter looks, and a bunch of alternative outfit ideas you can buy now, if you don't want to wait to request them. These are some of the most popular winter Stitch fix styles and Stitch Fix accessories for cold weather. Let's get styling!

PAPERMOON, Biosca Satin Scallop Detail Cami $36
Great date night shirt from Stitch Fix. Perfect to pair this with a cami. The adjustable straps are perfect.
DIBA sandals, Canopy Suede Peep Toe Bootie $89
These are super comfortable because of the chunky heel and the soft fabric. It doesn't seem like they would need any time to break in since they are so soft.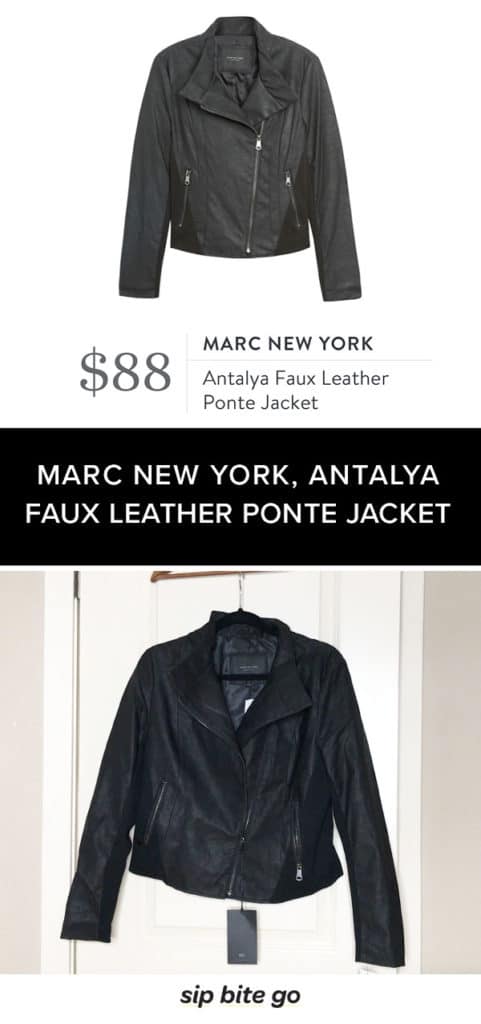 MARC NEW YORK, Antalya Faux Leather Ponte Jacket in black $88
I have another faux leather jacket from Stitch Fix from the Fall that I LOVE and wear all the time.

Q&A, Marison Layered Blouse in olive $54
In this Stitch Fix box, I was looking for more date night outfits. This one just missed the mark. It looks so cute in the photos, and maybe someone else would love it, but when you lift up the top ruffle part, it is a tank top underneath. The sleeves aren't really sleeves. Stretchy bands hold the fabric (I'd consider it a shawl)  in place at the wrists, but the underside of the arm is completely open. Imagine this pick from the Winter Stitch Fix outfits would be great for someone super edgy, but it was too involved for me. Although, I'm really sad because in the photos I imagined it to be a cute ruffle sweater.
PISTOLA, Mel Skinny Jeans with zippers $88
Love these jeans! This pair from my Winter Stitch Fix box opening 2018 is plenty for me, though. I don't need a ton of zipper pants in my wardrobe… but I do like the edgier jean look and have already worn these out for date night. The fit is great with Pistola jeans, something I can't say often as a petite, and I like that the jeans are soft and thin. Looking forward to wearing them in the Spring and Summer too.
Follow my Stitch Fix Pinterest Board
Here is my Stitch Fix board to follow for fashion inspiration on Pinterest.
Happy shopping for Winter Stitch Fix Outfits!
Don't hesitate to reach out if you have any questions about putting together cute Stitch Fix Summer Outfits! Tag me @sipbitego on Instagram so I can see how you put together your outfits. Plus, sign up for the Sip Bite Go newsletter for future tips and giveaway announcements.
See more outfits…