Looking for a gift idea for a wine lover? More wine is probably the answer! There are so many unique and small production wineries that ship gifts – why not choose to get wine gift sets delivered? On this list of wineries that ship, you'll find wines from around the world gift. There are a few of my favorite Oregon and Pacific Northwest varietals on here. Along with California wines and amber wine from Georgia. Use this list to ship directly or to make a unique wine sampler gift set for your friends and family to enjoy.
Disclosure: Some links in this post are affiliate links and items have been provided free for review. All thoughts and opinions are my own.
Everyone loves Oregon Pinot Noir!
If you don't love Pinot Noir, you probably haven't had the right one! Bryn Mawr Vineyards is located in the heart of the Willamette Valley (an hour outside of Portland). They are one of Oregon's wineries that ship wine gifts – including the highly sought after Oregon Pinot Noir. I love to crack open a few bottles of different years of the same wine (Pinot 2016 / Pinot 2017 / Pinot Estate Select) to do wine flight tastings at home.
So which of Bryn Mawr wines make great gifts beyond Pinot? The 2015 Tempranillo is a red wine with deep roasted coffee, wood spice, and vanilla flavors along with a touch of sweet red fruit. The finish is long and lingering, with notes of cherry and spice. And the 2017 Dolcetto makes a great wine gift. It has aromas of blueberry and cedar wood – an earthy "old world" throwback.
Shop Bryn Mawr Vineyards.
Best of Oregon Wine Club
Haven't tried Oregon wine? You're missing out. This Oregon wine gift bundle ranks high on my list. It is from an Oregon-only wine club called Cellar 503. They offer a one-time, monthly or quarterly wine club membership. CEO and founder, Carrie Wynkoop, personally handpicks and selects each wine she sends out her to members, showcasing the wide array of boutique producers across the 19 wine regions of Oregon. This vineyard that ships wine lets you choose from red-only, white-only, or a mixed club.
Shop Cellar 503.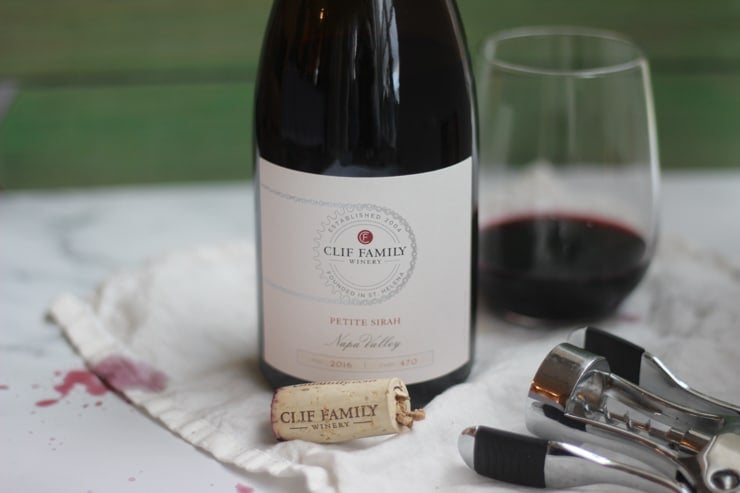 Sustainable California wines with snacks!
Send your lucky gift recipients a tour-de-California-wine box! Clif Family Wines (who you know from Clif Bar foods) make small production, sustainable wines from Napa Valley, Howell Mountain, and Mendicino. One of my favorite things about Clif Family Wines wine gifts is the delectable snacks to enjoy with the wine…
I've tried all sorts of "extras" from this vineyard – from spice blends, to solar bee honey, and spiced almonds. They send a recipe along with the wine of the month subscription, with goodies to make something with.
Shop Clif Family Wines.
You might also like The Best Gifts For Foodies
East Coast wine with pizzazz
This vineyard wants to help more people drink tasty wine and be happy. Fox Run Vineyards from New York has an approachable attitude towards wine. They offer delicious varieties that thrive in their region. For a white, consider the dry Riesling – it's bright and lively, and is the perfect accompaniment to fish tacos, sous vide lobster tails, and cheese boards. For a red, try the Cabernet Franc…
It's lush and smoky, packed with vivacious spice and well-balanced tannins.
Shop Fox Run Vineyards wine.
A variety wine gift pack tailored to them
All reds. All whites. Or a mix. Choose the type of wine and the region and the people at Wine Insiders will hook you up with something your recipient will love. The variety above is the California wine pack with:
Monarch Glen Sauvignon Blanc

Fair Oaks Cabernet Sauvignon
River's End Syrah
Lone Cardinal Chardonnay
Fair Oaks Ranch Merlot
Hayton Family Reserve White Bend.
I like to stock up and order myself a large shipment of wine for holidays like Thanksgiving so guests have options they love. You can choose a single wine bottle starting at $9.99 to curated packs of award winning wines.
Shop Wine Insiders.
On everyone's "wish to try" list: Amber wine
This breathtaking wine from Tchotiashvili Vineyards is a Dry Amber Wine. It's been on my bucket list forever, and now that I've branched into orange wines, I'm recommending them to everyone! This varietal is from the country of Georgia and is a great gift for anyone who thinks they've tried all the wines! They have about 13% alcohol. Find Tchotiashvili Vineyards Dry Amber Wine.
A wine-saving accessory to go with the wine
Caroline at Lyon Wine Tastings says, "I think every wine lover needs a Coravin. This awesome little tool allows you to crack open a bottle of wine without actually opening it. You stab the cork with the needle, then suck the wine out and the device pumps argon back into the bottle, keeping it good hypothetically forever. This way you can relax with a glass of the good stuff without feeling pressured to finish the bottle." Shop Coravin.
Know what goes great with fine wine? Restaurant-worthy sous vide recipes! A couple of my favorite sous vide recipes here on Sip Bite Go are sous vide turkey, sous vide chicken wings, and sous vide Brussels sprouts. If you're really into this type of cooking, check out my sous vide cookbook.
Have suggestions for tasty wines that ship? Send them my way! And don't forget to sign up for the Sip Bite Go newsletter.