Listen to My Weird Food Obsession Podcast wherever you get podcasts – episode 2
My life is forever changed from this conversation about the birds and the bees with hobby farmer Nicole Gennetta from Colorado.
In today's chat, we're covering all the details… exactly what is a hobby farm? What do you need to know about how to start a hobby farm before diving in? What is it like to raise chickens in your backyard? Why bee's die after stinging you — yea, you don't want to miss that grossness!
There's more, too: take, for example, the cringe-worthy details about buying eggs at a grocery store vs. a farm that raises chickens for eggs.
Nicole from Heritage Acres Market takes us from her curiosity about farming as a child, to the transition from being a medic to running a farm filled with chickens, quail, ducks, turkeys, honey bees and more.
About halfway through this interview I started craving cheese boards with honey and sous vide soft boiled eggs. So apologies in advance if you can hear me drooling through the audio.
Turning A Hobby Farm Into A Career
If there was one thing that came through clearly throughout the whole interview, it would be that hobby farming is open to anyone: you don't need a specialist background to choose yourself a specialty. Once you've found your passion, you'll have all the energy you need to really delve in and find out everything that can be found about it.
Nicole's one connection with bees was a childhood longing to visit her mother's coworkers bee farm—a wish that, incidentally, was never granted. But now, she has a Masters Beekeeper certification from Cornell University and can tell you anything you want to know on the subject.
She also enjoys her own honey from the beehives in her backyard, along with fresh laid eggs from her flocks of chickens and other fowl. Not content to simply learn everything possible about her hobbies, Nicole goes further: her passion is to share this knowledge with others.
Through her website (Heritage Acres Market) and the Backyard Bounty podcast, she shares information on how to start a hobby farm with everyone who wants to find out more. Her own two acre place, Heritage Acres, is a beautiful example for those who are wondering just what's a hobby farm.
"It's so neat that people are returning to these really fulfilling hobbies, now that they have the time to do it." – Jenna Passaro
Getting started with beekeeping as a hobby
The bee farm began with a Christmas gift she'd requested: a wooden beehive from her husband. The bees, Nicole's first, were adopted that spring: a wild swarm that was out looking for a new home.
But though her bees are, in a sense, native to her Colorado home, Nicole shared with me that they are, in fact, managed livestock rather than wild animals. Brought over by the Pilgrims, honeybees are an introduced species and do best with active management and thoughtful care.
This extends to checking the hive for mites, dealing with any outbreaks, and making sure that there is plenty of honey stored up in the hive for winter before the real cold weather hits.
A beehive setup is a bit of an investment— getting everything you need may cost as much as 500 dollars— and education is important too, so Nicole recommends you only dive right in if you are absolutely sure this is something you want to do.
If your interest is more casual, she suggested you get involved with your local beekeeping group or look into hive hosting in your area. If you do hive hosting, a seasoned beekeeper would put a hive on your property for you to enjoy, while still holding ownership and keeping the responsibility for the bees. It's a great way to get your feet wet and exploring beekeeping without breaking the bank!
Raising backyard chickens for eggs
Backyard chickens is Nicole's other passion, and a hobby she began following even before she started with bees. Birds had fascinated her from childhood. Now she has three different bird pens, and keeps chickens, red golden pheasants, Coturnix quail, German owl pigeons, French guinea fowl, Narragansett turkeys, and a peahen all living with her and the bees on her two acre hobby farm.
If you're interested in keeping chickens, start by looking up the rules of your town, municipality, and local Home Owners Association. When Nicole built an enclosure in her yard, it was originally meant for goats. But goats were not permitted in her neighborhood, and so she changed gears and bought her first chickens.
Rules are complex, and some areas allow chickens, but only a certain number—say, five or six. Some places allow hens, but no roosters. Check the rules before you start building or buying, and you won't be left with a henhouse you can't use or animals you need to rehome. Spend some time educating yourself, too, on what your animal of choice needs—browsing Nicole's website is a good place to start.
If you get to keep chickens, you'll be able to enjoy one wonderful culinary delight: fresh, free-range eggs. Backyard chickens' diverse diet leads to healthier, more flavorful eggs. They even look different: their yolk is usually a nice bright color, and scrambled eggs made with backyard eggs will have a beautiful shade of yellow.
In comparison, grocery store eggs seem pale, flavorless, and Nicole would even go so far as to say—yucky. She explained how the processing necessary to get eggs on a supermarket shelf was so involved most eggs are months old before they even are available for purchase.
If you aren't ready to start a flock of backyard chickens but would like to find farm fresh eggs that taste like Nicole's, you'll need to do some hunting. Local health food stores and co-ops are a good place to start. You can also research local farmers (Google may help you here!). It's not always easy, but the flavor makes it worth it!
Want to start a goat cheese farm? Goat expert Deborah Niemann from Thrifty Homesteader shares how to farm goats, sustainable foods, and country life in this interview.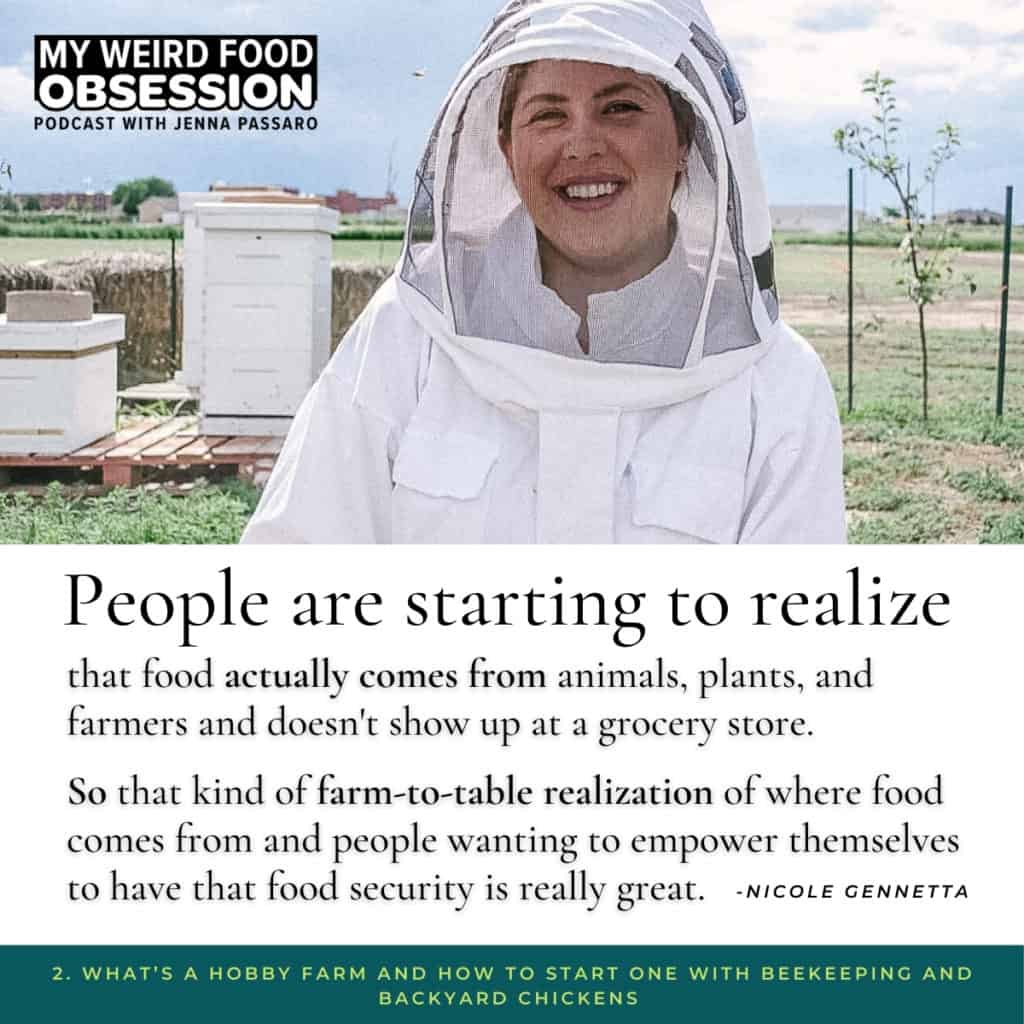 "People are starting to realize that food actually comes from animals, plants, and farmers and doesn't show up at a grocery store. So that kind of farm-to-table realization of where food comes from and people wanting to empower themselves to have that food security is really great." – Nicole Gennetta
I don't know about you, but I am amazed at how complex this chat with Nicole was and how much I'm taking away from it. There were some seriously interesting factoids on raising bees and backyard chickens for eggs.
I'm not sure I'll start a hobby farm of my own, I have enough food hobbies going on at the moment, but I can guarantee things we discussed will be popping up in many conversations to come whenever a bee, chicken or egg is brought up.
And next time we take my toddler berry picking and there is a farm with goats and chickens, I'll have so much more of an appreciation and I'll be checkin' out the coops!
Learn more about Hobby Farming
Listen to My Weird Food Obsession Podcast wherever you get podcasts – episode 2
The (misplaced) fear of bees.
From firefighter to beekeeper: Nicole's career transition
How to get started on Beekeeping and Backyard Chickens.
The inner workings of a bee colony.
The relationship between the bee and the beekeeper.
How to support the bees (Hint: it's not by beekeeping!)
The difference between backyard chicken eggs and store-bought eggs.
Food safety and chicken eggs.
Links mentioned
More from My Weird Food Obsession