Planning on visiting Seattle Mariners T-Mobile Park with a baby or little kids? This guide has everything you need to prepare! Learn tips for choosing baby friendly seats, where to nurse, where kids can let out energy during the game, and other ideas to make a trip to a Mariners game with a baby or little kid fun and memorable.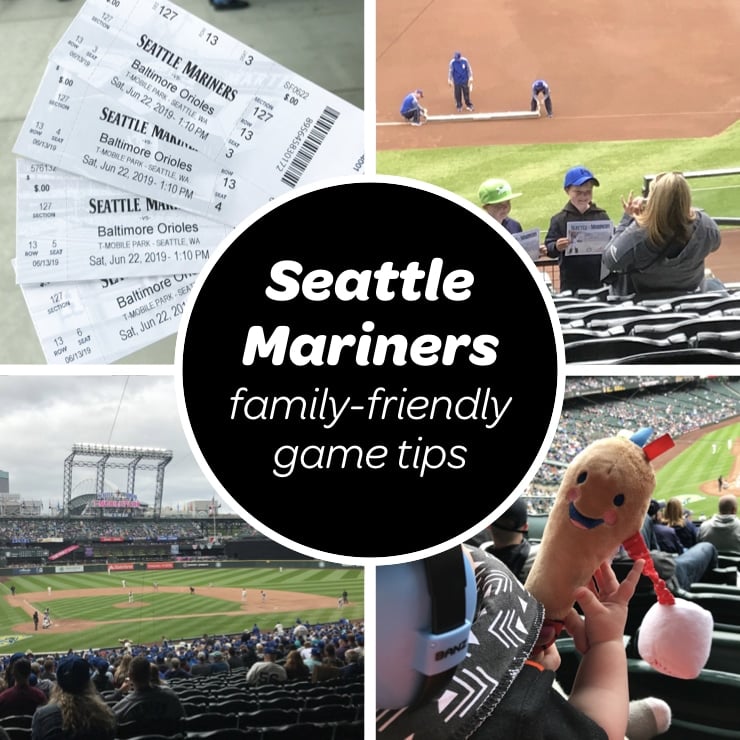 Staying near T Mobile Park with kids
The Embassy Suites by Hilton was a wonderful hotel selection for our first trip with the baby. It is within walking distance to T Mobile park, breweries, coffee shops, and restaurants. Tons of families stayed at the hotel and many kids enjoyed the indoor pool.
The hotel rooms include a small kitchenette. We used the extra sink to clean bottles and enjoyed the convenience of having a fridge and microwave available.
Another of the hotel was the free breakfast and happy hours daily. Check out my post on how to make a hotel room baby friendly featuring this stay.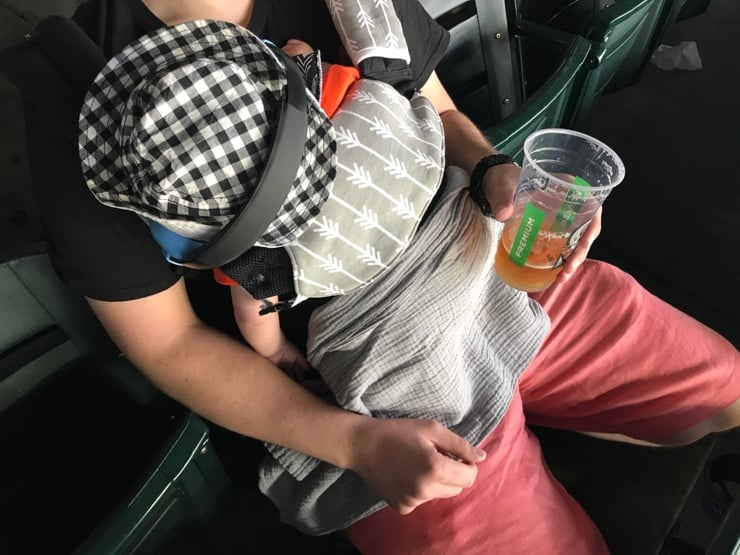 Baby carrying VS bringing a stroller to T Mobile Park
We didn't see one person with a stroller at T Mobile Park. Check the Mariner's site for the latest guidelines on bringing one if you'd like to have one. It would be necessary to find a place to check the stroller and it would be cumbersome to bring one amongst the crowds.
The game was a great opportunity for our five month old baby to get used to our Lillebaby carrier for longer periods of time. If you don't already have suck pads for your carrier, I highly recommend them, especially for teething babies!
The baby loved people watching from in the baby carrier and even took a few naps.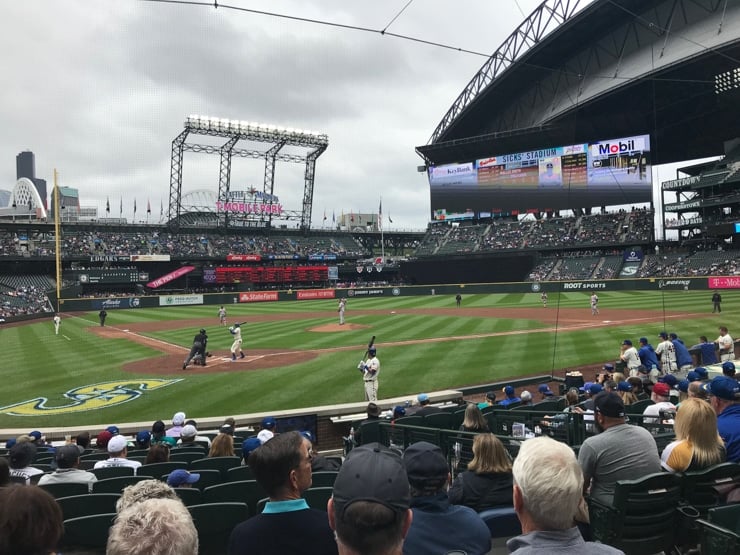 Bringing a diaper bag to T Mobile Park
Instead of bringing my somewhat bulky over the shoulder diaper bag, I transferred my diaper bag essentials to a backpack. I also brought a foldable reusable bag to put our Lillebaby carrier in when we weren't using it, to keep it clean and off the ground.
There are restrictions for the type of bags, snacks and drinks you can bring to T Mobile park, so check their website for the latest. We told the security gate attendants we had a baby when presenting the backpack filled with all sorts of things, and they were very helpful to get us through easily and efficiently. Again, don't forget to check the latest T Mobile park bag policy for 2019.
Changing diapers at T Mobile Park
Changing diapers was easy for both myself and my husband. There was space in both the mens and womens bathrooms to change diapers.
We were happy to have our fold up changing pad on hand.It's always so helpful for a comfortable spot to change the baby.
After the game, we needed the foldable changing pad for impromptu diaper changes on the floors of restaurant bathrooms (yup, unfortunately not every public bathroom in Seattle is baby friendly…).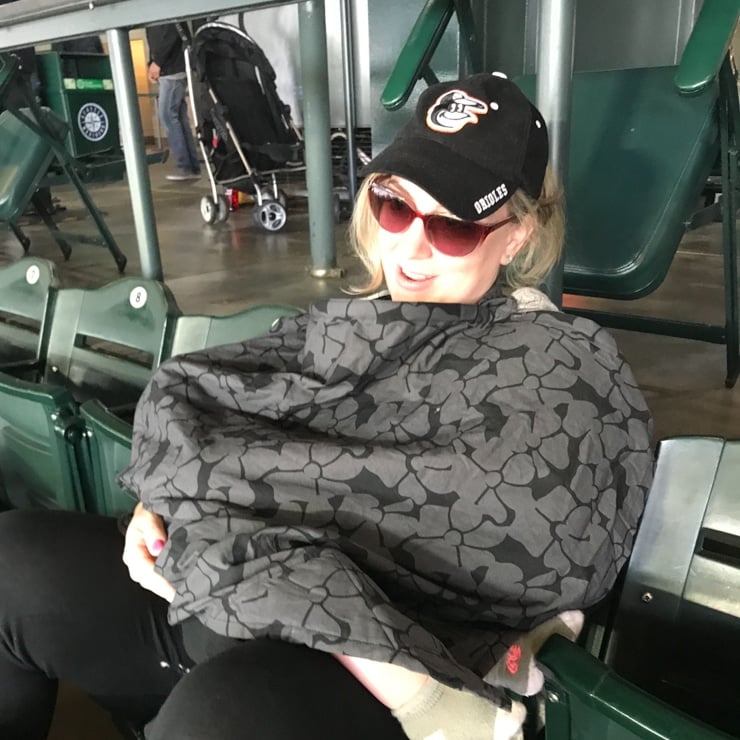 Breastfeeding & bringing bottles with coolers to T Mobile Park
For breastfeeding moms, there's a nursing room available inside T Mobile stadium, on the first level near home plate and the area where kids can get their certificate for attending their first Mariners game.
The first game, I brought a bottle of milk in a small soft cooler that fit inside my diaper bag. We had no problem going through security with it.
The second game I was out of bottled milk, so I breastfed in the stands. I don't usually need to breastfeed in public, but I felt comfortable amongst other moms were doing it and there was plenty of room in the stands. We went to the back of the section where there was an empty row, and it was easy to feed the little guy under my breastfeeding cover. I love mine because it has a lot of fabric and the opening at the top makes it easy to watch baby.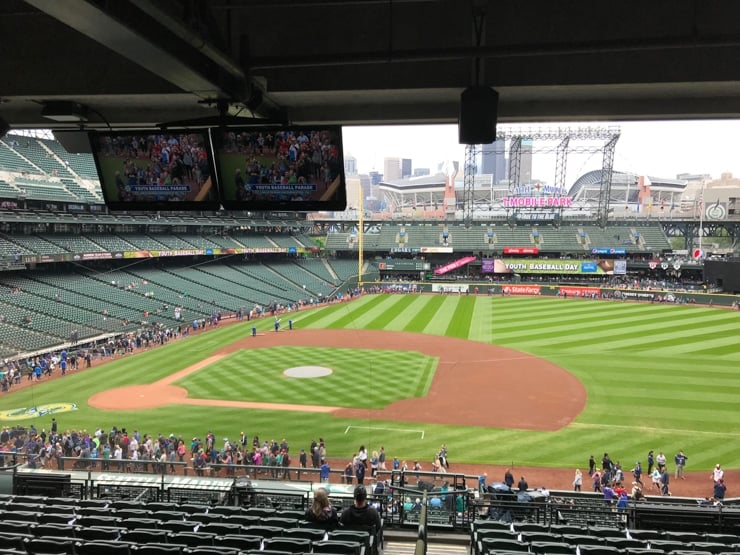 The best seats for bringing a baby to Mariners games
We attended two games. The first was a dozen rows behind home plate (wonderful seats!) and the second was one level up, in the Terrace Club level. If I had to choose seats again with the baby, I'd choose the club level.
The indoor bar area on the club level has plenty of room to watch the game from inside. This came in handy when the baby got fussy and wanted us to stand and bounce him in the carrier. The back few rows of the club level section are covered, which is great for light showers or a very sunny day.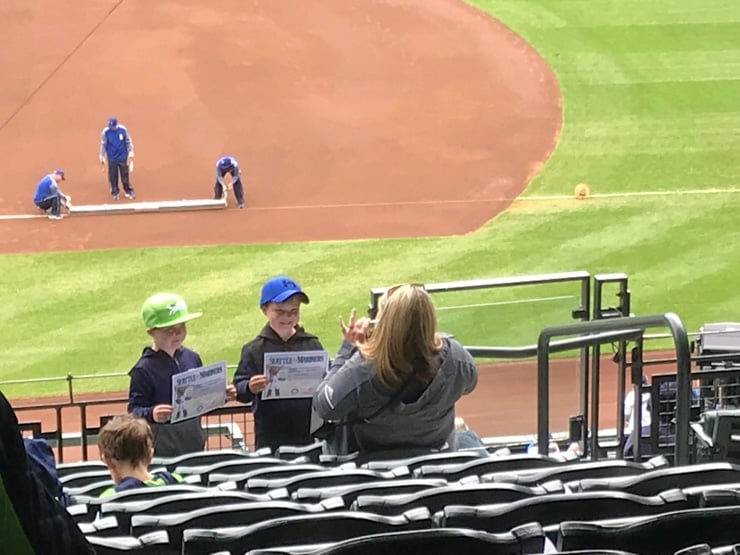 Don't miss getting your baby a first Mariners game certificate
Get your baby their first Mariners game certificate at Guest Services section 128 near home base (and near the nursing room).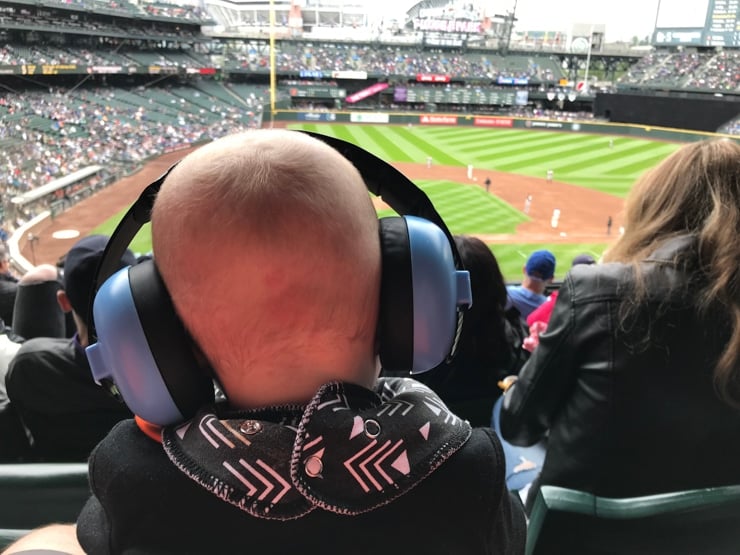 Noise safety for baby at a baseball game
We bought little baby protective ear muffs which were great for our little guy. The baseball stadium is pretty quiet, but there are times the MC yells "make noise" or the crowd cheers, and without the muffs, the baby was getting upset. Having the ear muffs made it easier for baby to take a nap, too.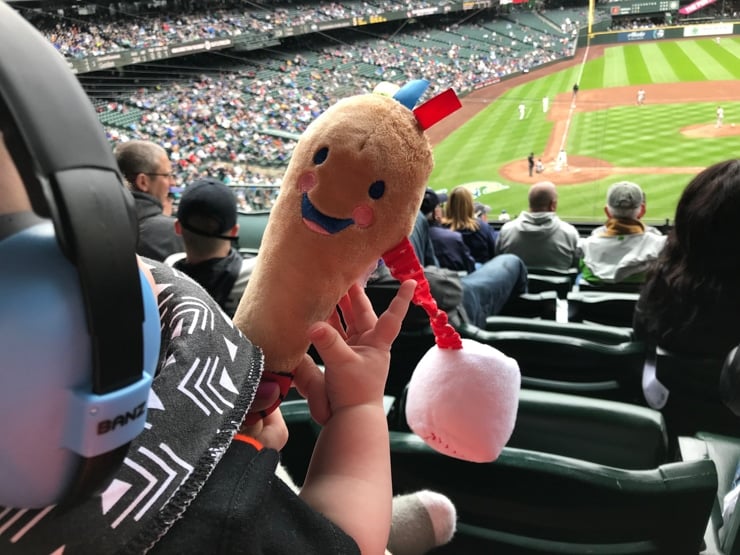 Things for the baby to do
Our five month old baby loves toys these days. It was fun to bring baseball toys for our little guy to play with in the stands.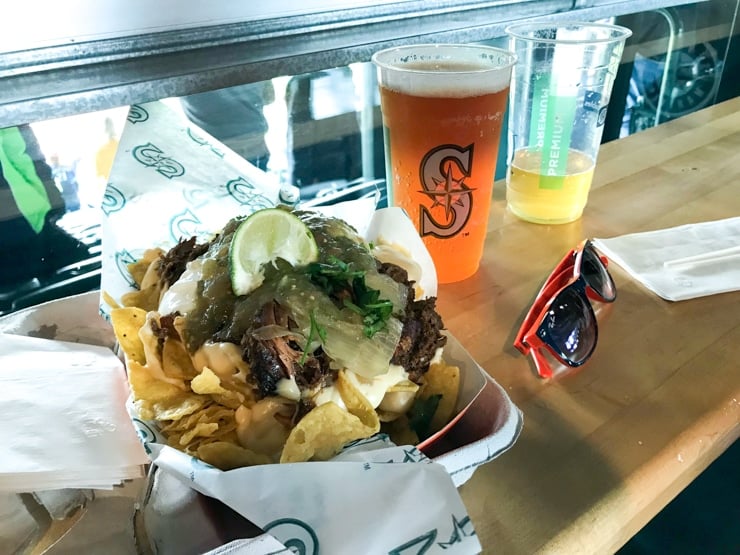 Eating at T Mobile park food stands
T Mobile Park concessions have plenty of options – my favorite find was Edgars Cantina.
I ate their delicious nachos with grilled onions and barbacoa beef. The nacho cheese was amazing – not the typical bright orange nacho sauce! Find Edgars in the club level. Or check out other great food concessions throughout the park, including Din Tai Fung.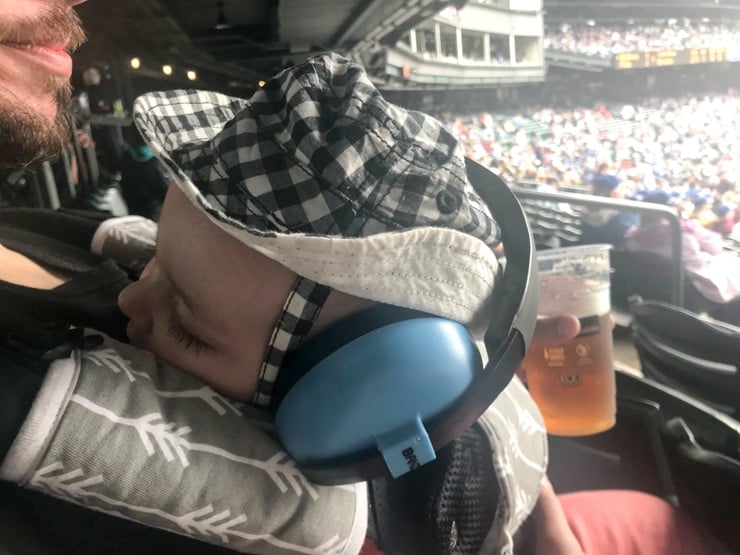 Extra tips for bringing a baby or little kids to a Mariners game
Bring sunscreen + warm clothes. You never know which you'll need in Seattle! It's usually chillier than expected.
There's a Kids Play Area on the main (100) level of the Mariners Stadium. TVs by the playground allow parents to keep up with the game.
Gates open two hours before the game.
Go early to see workers setting up the park. You'll see them paint lines on the field and any special pre-game activities for the day. It's also a great time to get food before the game starts so you don't have to juggle eating in the stands with a little one.
Check the freebie of the day to see if they are giving away anything fun for adults or kids at the entrance to the park. If there are only 10,000 available of an item, it usually goes within a half hour of the gates opening. We attended two games and got Mariners baseball hats, kids socks, and a talking bottle opener.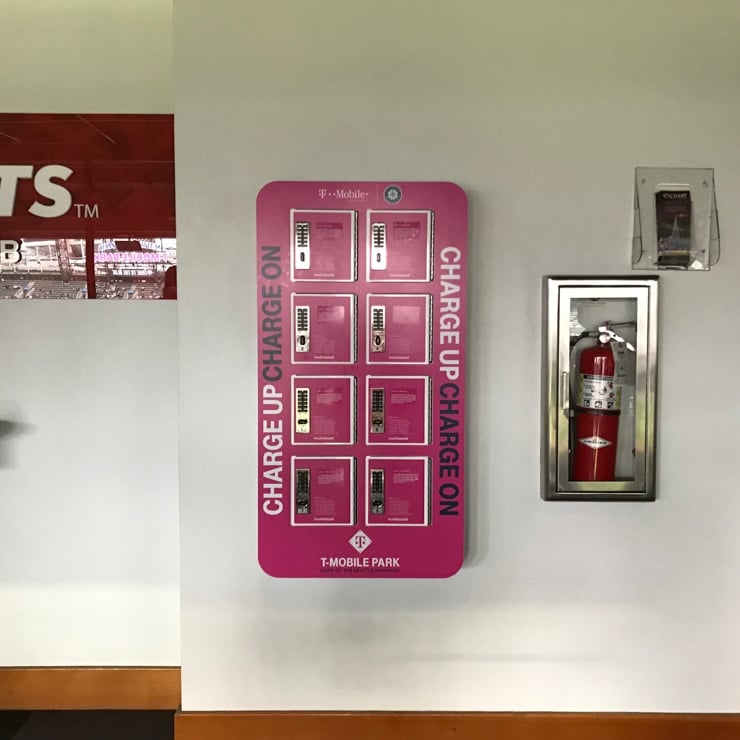 Conveniently, there are phone charging stations all over the park! One Mariners fan told me that since T Mobile took over what was once Safeco Field, they installed a ton of charging stations.
It's great to not worry about running out of juice!
Going to watch the Mariners play baseball?
Let me know if you need any help planning a trip to T Mobile Park with a baby or little one. Be sure to leave a comment if you have any advice for other readers. It means so much to hear from Sip Bite Go readers and I love seeing photos of your travels! Don't forget to tag me @sipbitego on Instagram so I can see how your trip went. And sign up for the Sip Bite Go newsletter.