Vacuum sealing filet mignon and other steaks for sous vide cooking has become part of my monthly routine. Today I'm sharing tips on how to vacuum seal filet mignon to freeze it for sous vide cooking later. Let me show you my vacuum sealing tricks.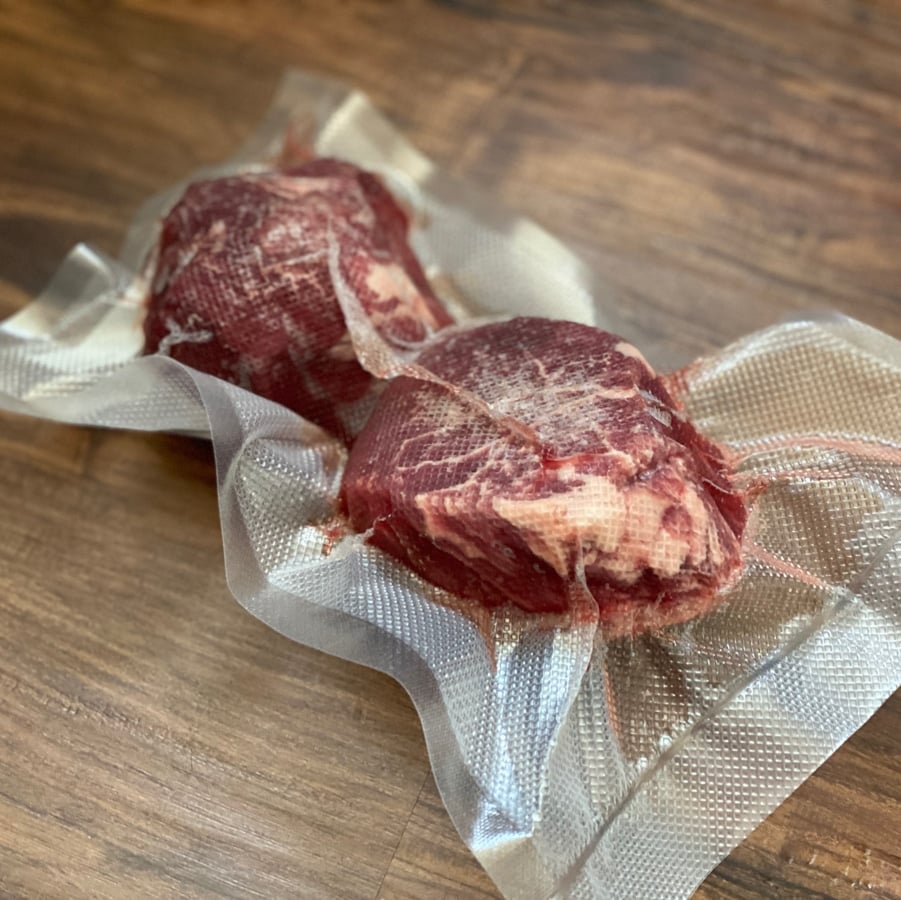 Here's the step by step vacuum sealing demonstration video for filet mignon. In it, I'm vacuum sealing two steaks in the same bag to make a sous vide filet mignon dinner for two for my husband and myself on my night to cook.
Video demo on vacuum sealing filets
Tools for vacuum sealing
Vacuum sealer – in this post is the Foodsaver 4400
Bags – either vacuum seal roll you cut to size as needed or a stash of vacuum sealer bags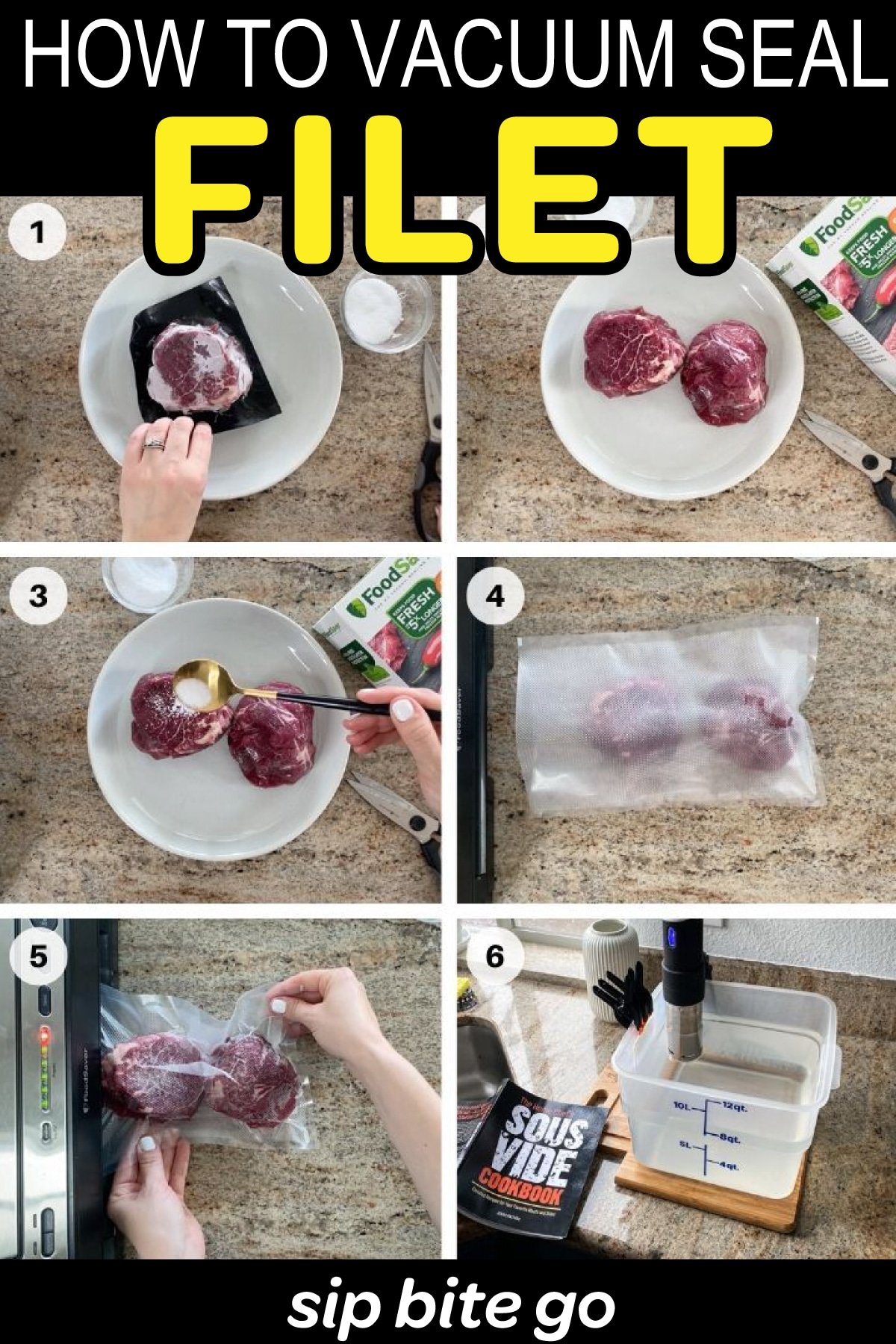 How to vacuum seal filet mignon frozen or fresh
This demonstration is with frozen filet mignon, but you can vacuum seal fresh filet mignon the same way. Either way, you'll season filet before vacuum sealing it, just like you see in this guide for vacuum sealing beginners.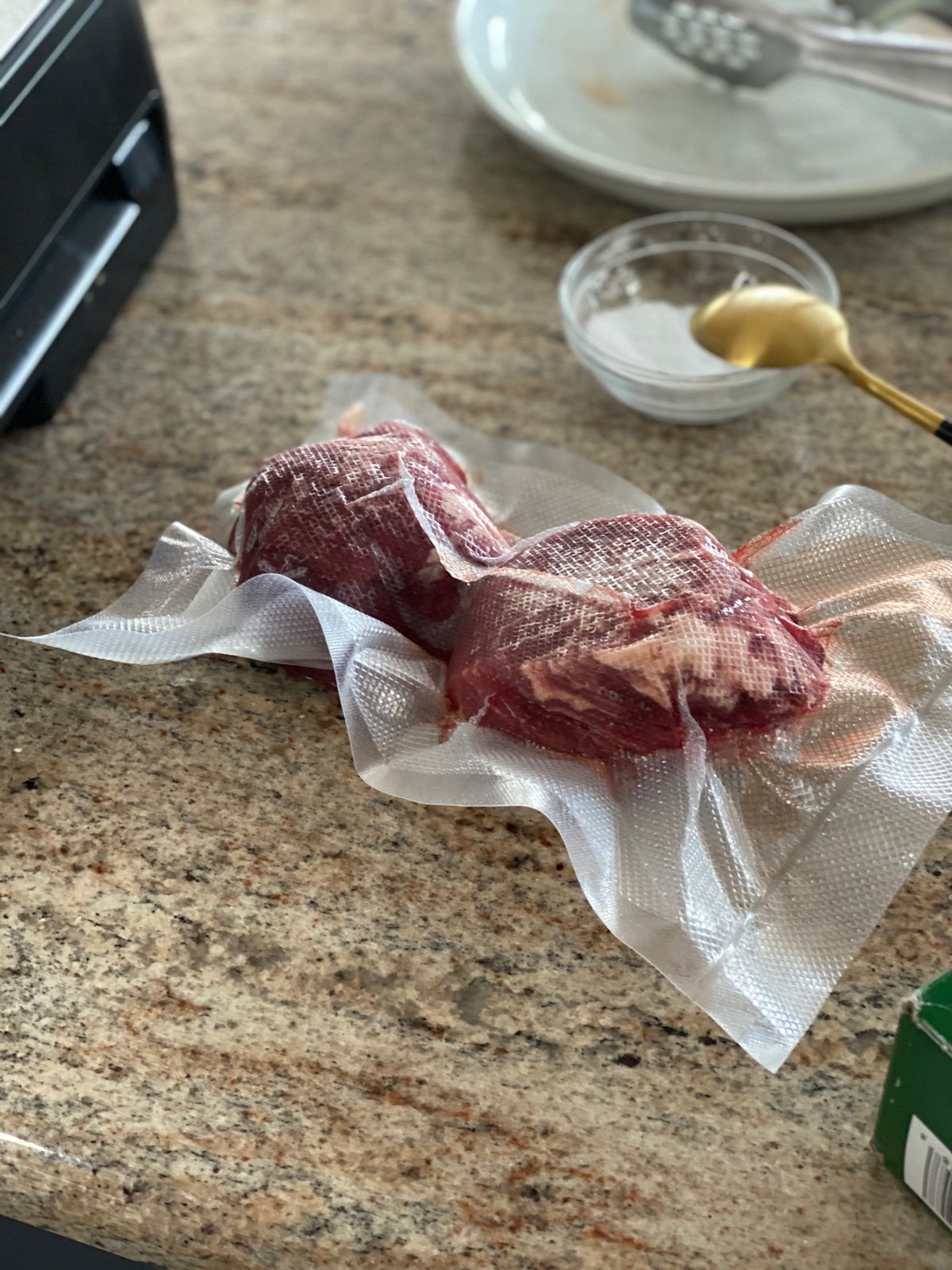 Step 1. Remove filet mignon from freezer packaging to vacuum seal it. You don't want to vacuum seal filet mignon in store-bought packaging.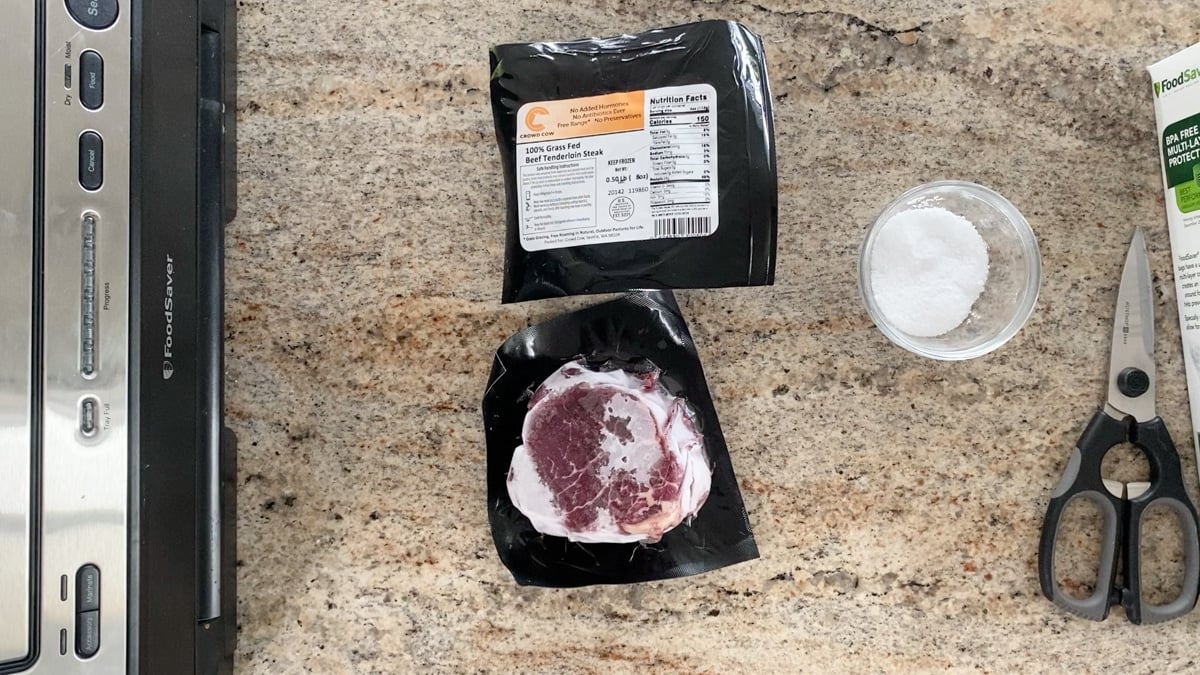 More details on the safety behind repackaging filet mignon before vacuum sealing and sous vide cooking can be found in this post about vacuum sealing meat.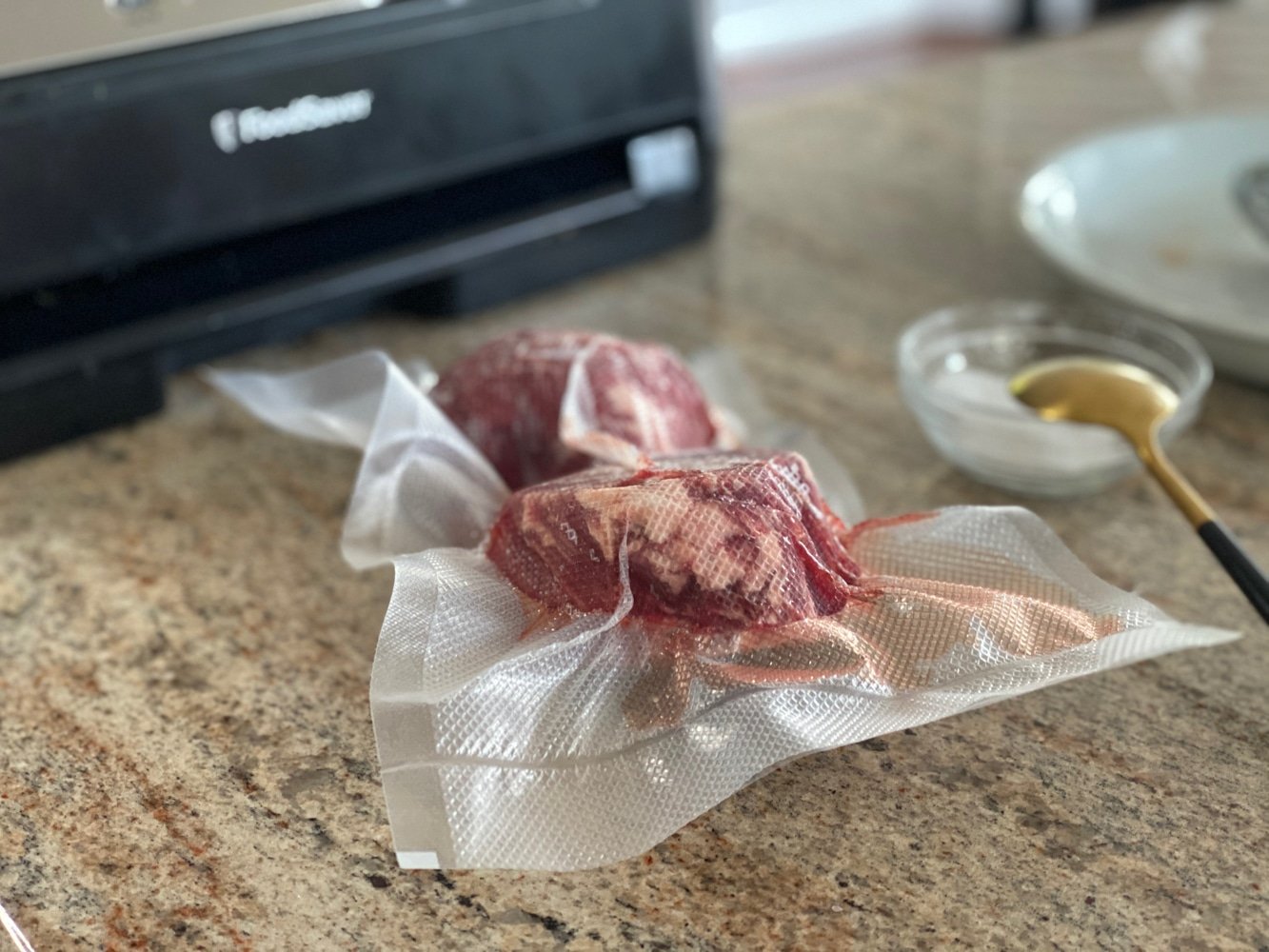 Step 2. Transfer filet mignon to a plate or cutting board.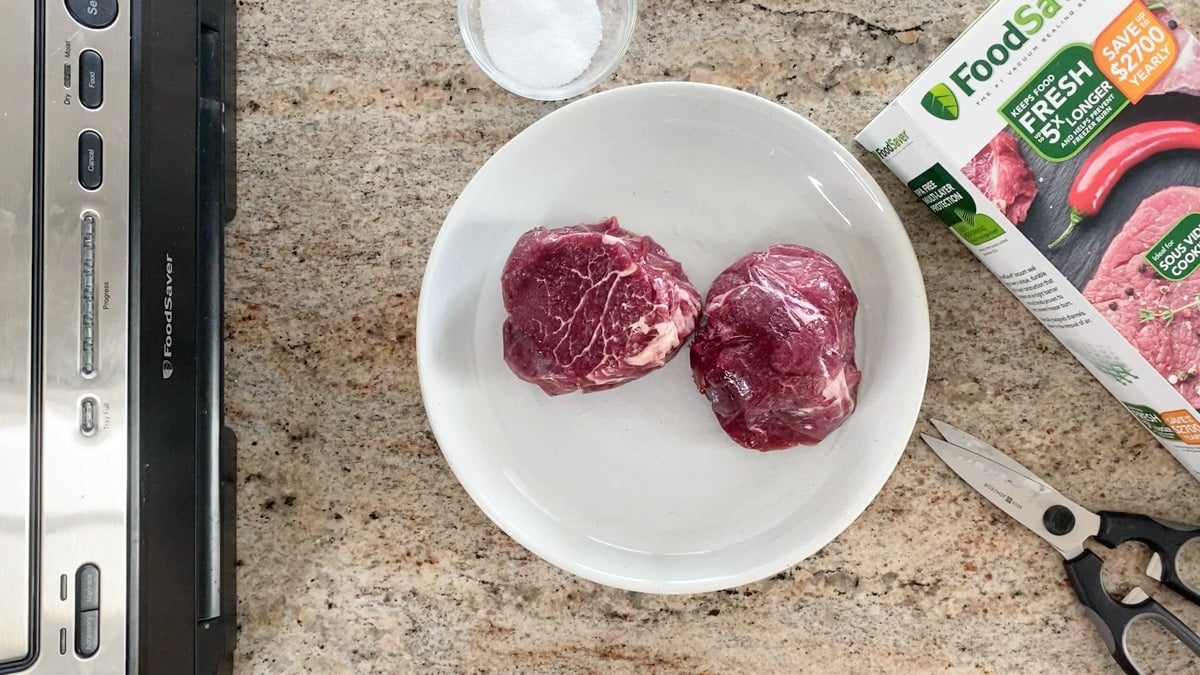 Step 3. Season filets before freezing them in the vacuum-sealed bag.
Keep it simple with just a little salt, or add fresh herbs.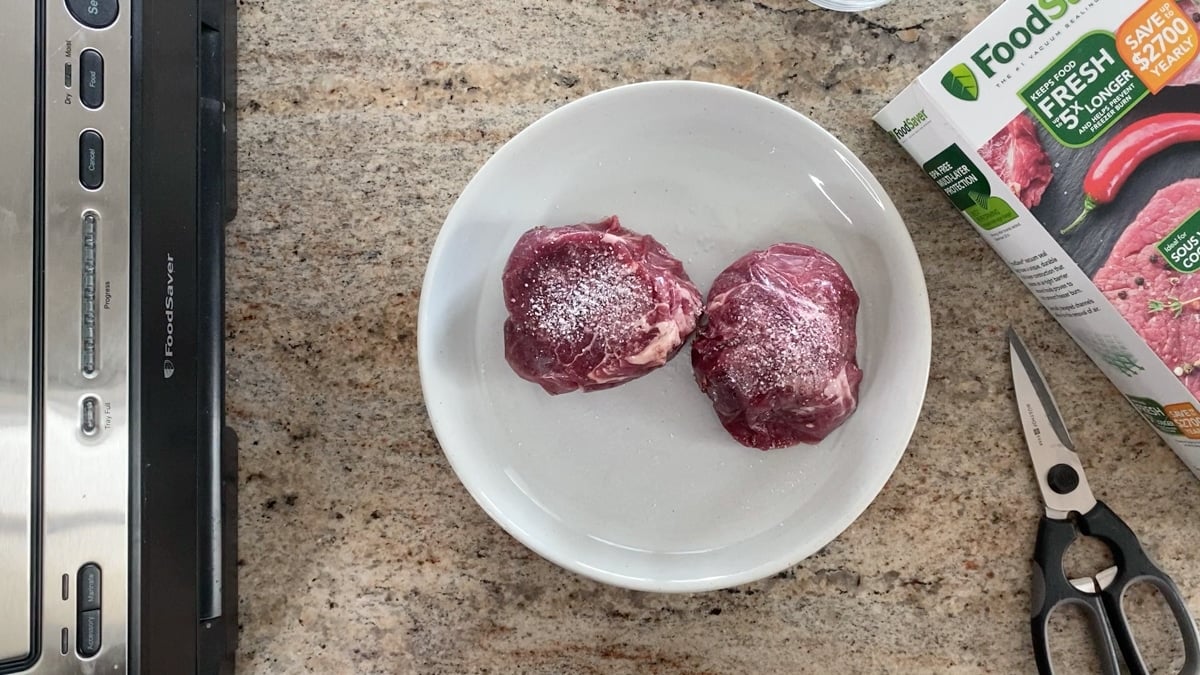 Having an indoor herb garden on hand to add some rosemary or thyme to the bag is super convenient.
Step 4. Add filet mignon to a vacuum sealer bag.
In this demo, you'll see I found a small Foodsaver vacuum seal bag that was the perfect fit for filet dinner for two.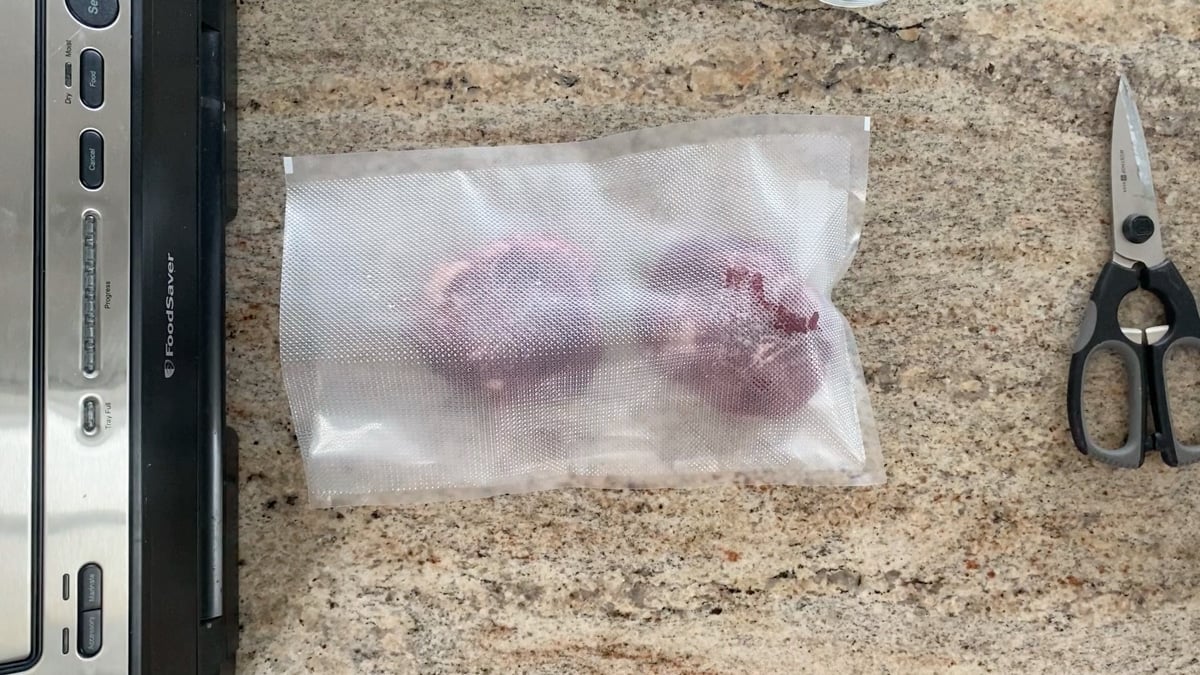 The bags came with a kit, which came with my machine, which was a gift from Foodsaver. Check out this demonstration video for Foodsaver v4400.
So when choosing a vacuum seal bag, it needs to be a little bigger than the beef with 3-4 inches of room space where the vacuum machine will seal the bag. You don't want the steaks to squish together or overlap when vacuum sealing them.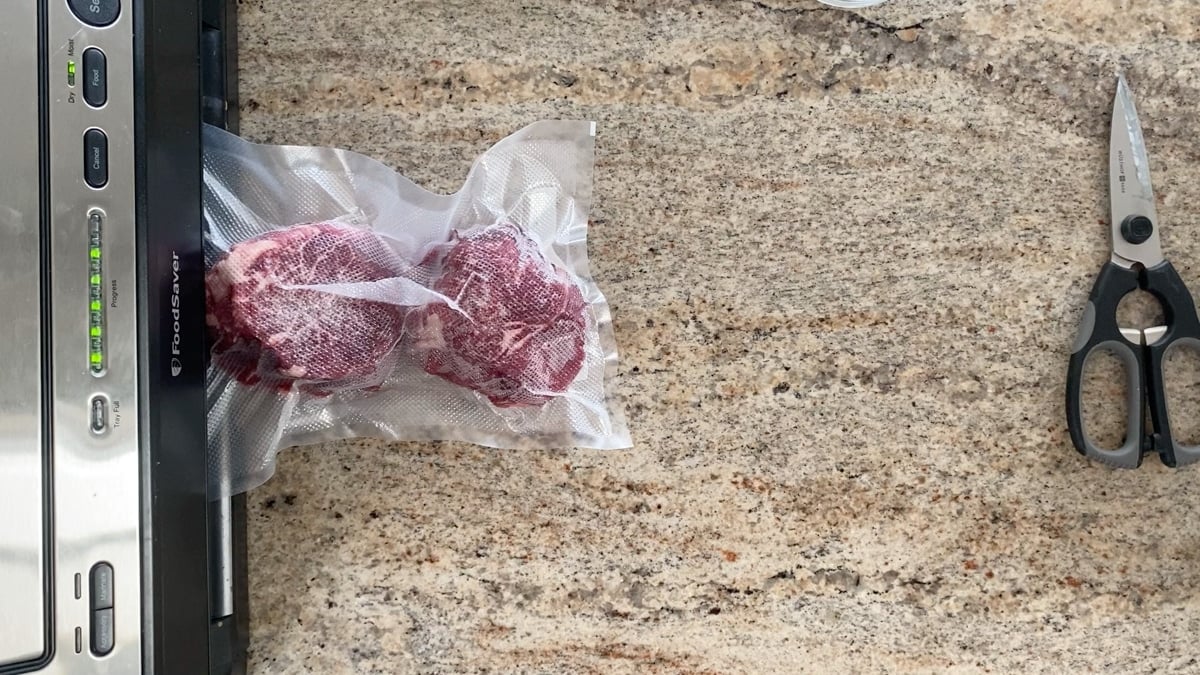 Step 5. Vacuum seal filet mignon with Foodsaver bag (or whichever vacuum seal bag brand you're using). This model automatically senses the vacuum seal bag and begins working. It's pretty straightforward to use.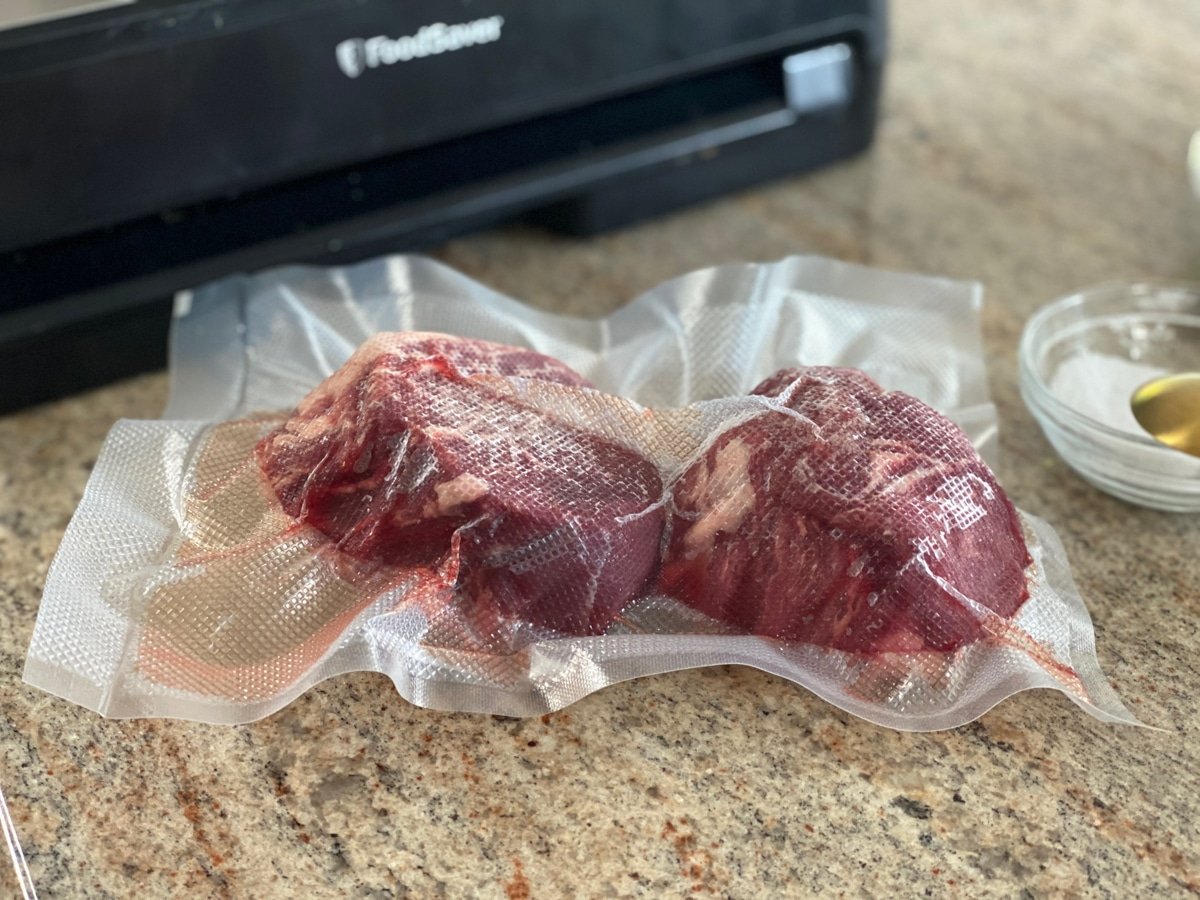 Step 6. Freeze filet mignon steaks for up to 3 years. But, please don't wait 3 years to eat your filet. That's crazy.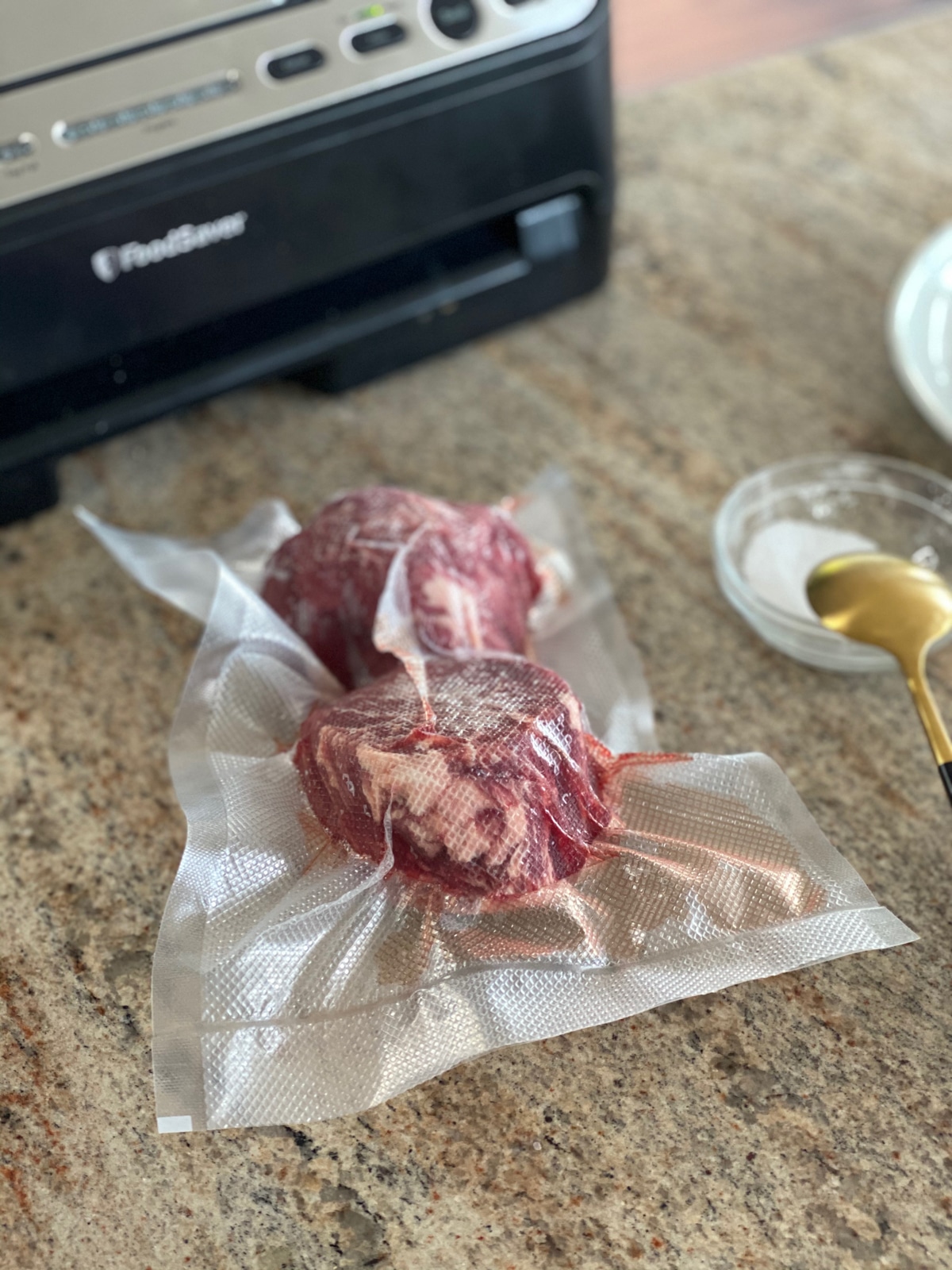 As busy new parents, vacuum seal tricks like this one have become a way of life.
We sous vide steak from frozen to make meal prep with sous vide a breeze.
How long does vacuum sealed filet last in the freezer?
You can store frozen filet in vacuum-sealed bags for up to 3 years. But, instead of doing that, why not just make a delicious sous vide filet mignon recipe?
See more on how to sous vide from frozen.
See how to make petite filet mignon with a potato hash, right on the stove.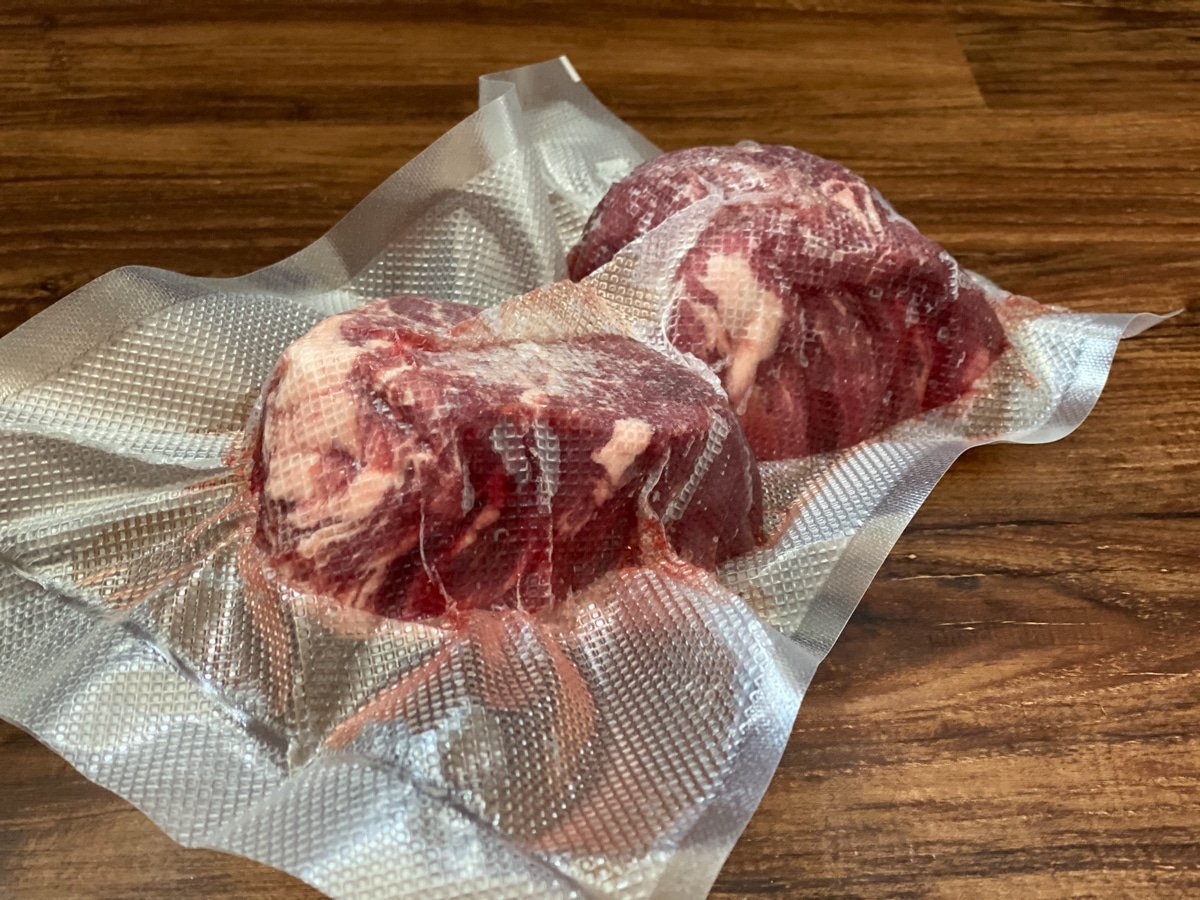 The Perfect Sous Vide Setup
Everyday I'm asked, "what do you need to sous vide food?". Here's my answer.
Try a new sous vide recipe…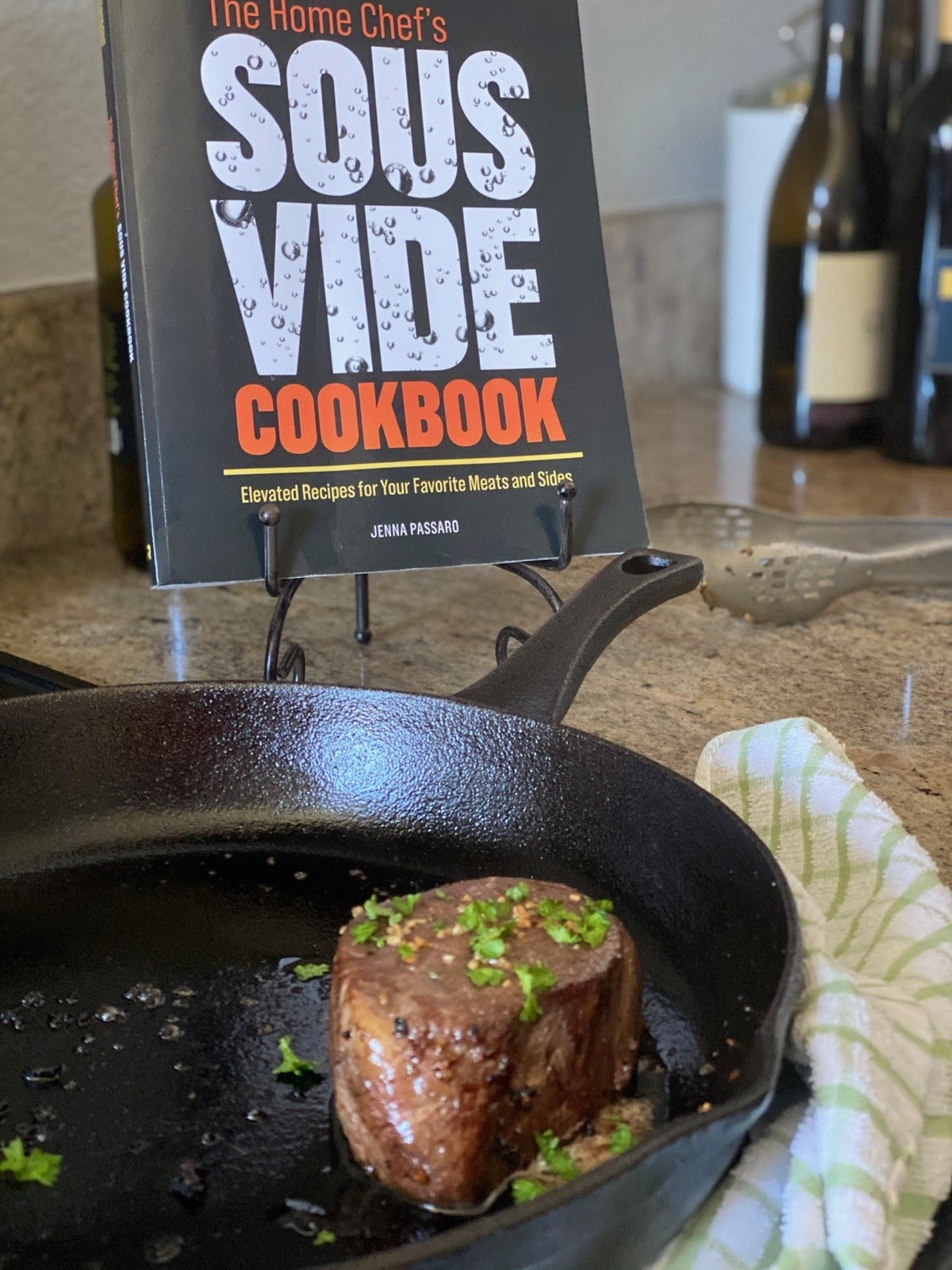 Find the most extensive collection of my sous vide recipes in The Home Chef's Sous Vide Cookbook. Check it out if you're serious about sous vide cooking.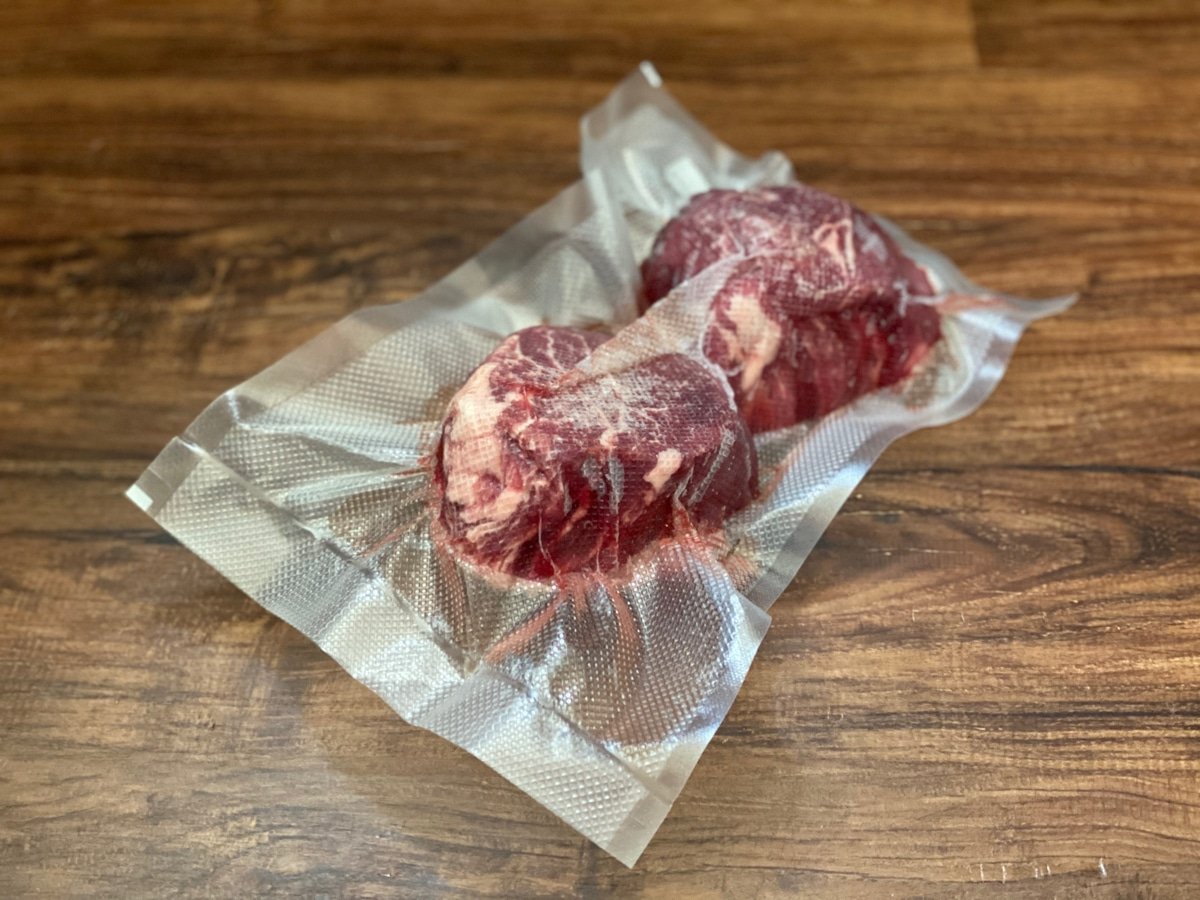 Ready to vacuum seal filet steaks?
Filets cooked sous vide style from frozen couldn't be any more amazing. They taste just like making steakhouse filet mignon at home.
We made these the other day for lunch the other day and they turned out so juicy and tender.
For more delicious ideas, find me on Instagram @sipbitego and subscribe to the Sip Bite Go channel for my best recipes.