Making a smoked Thanksgiving dinner this year? See a review of the Amazon traeger orange brine and turkey rub kit you can buy online for smoking a whole turkey.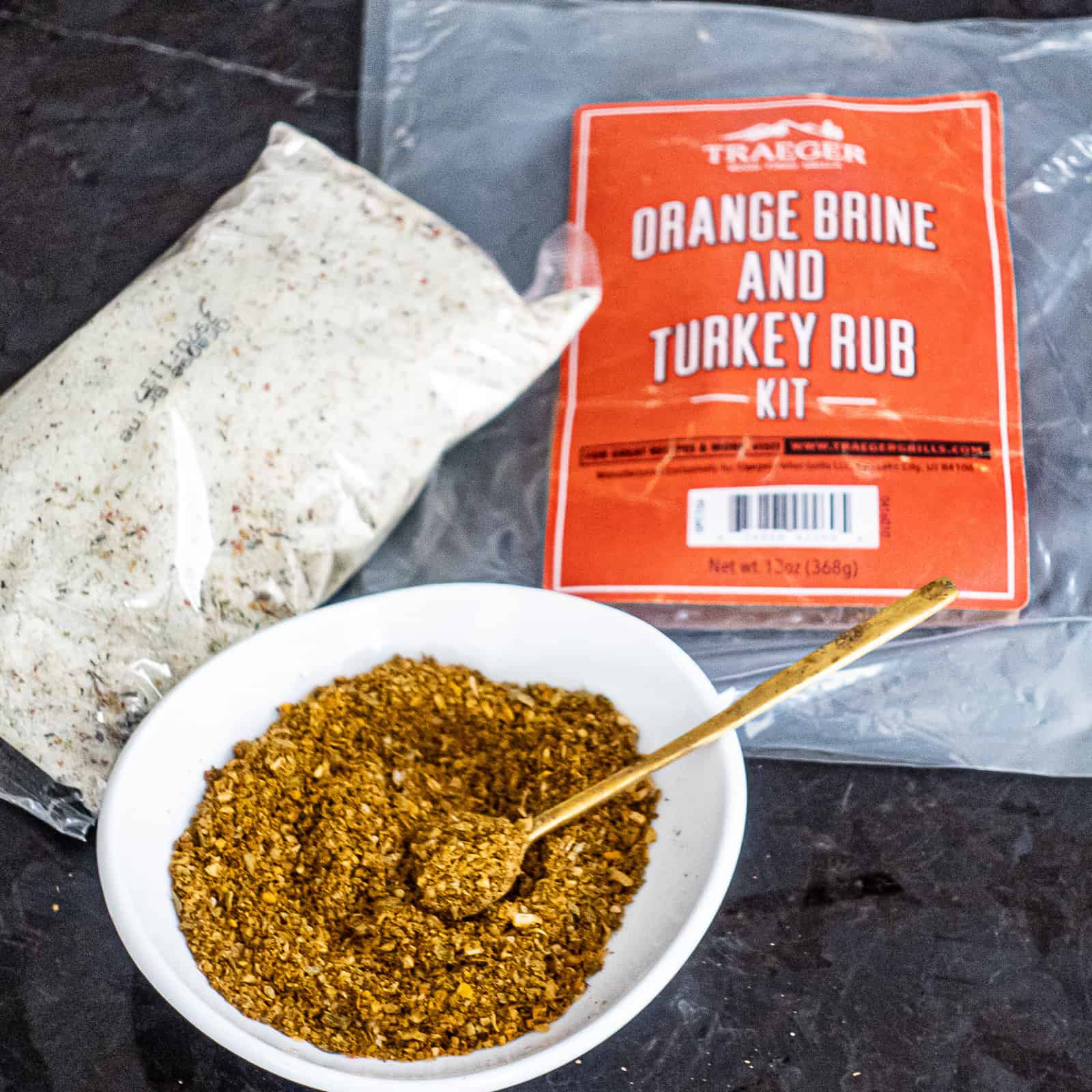 Disclosure: sometimes Traeger or other smoked food companies sends me things to try, other times I buy it. All opinions are my own.
Why Traeger orange brine and turkey rub kit is fantastic to use…
It's super simple! Traeger provides all the necessary instructions, which are easy to follow to help fill your bird with flavor.
It's all there, you just need a bag or cooler to brine your turkey.
Ensures a juicy tender final product! Just follow the included instructions and you'll be good to go.
Adds an extra layer of flavor!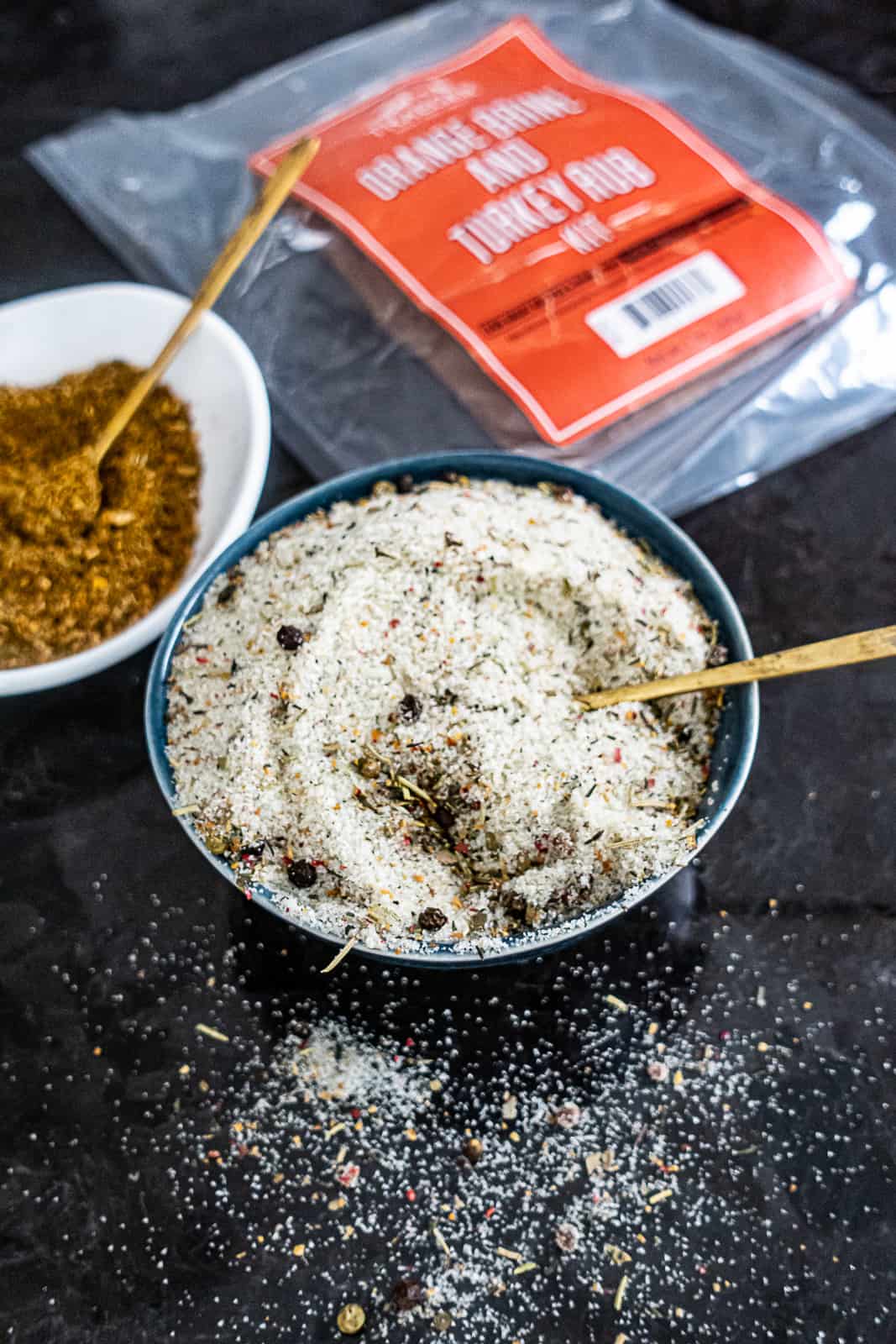 For tasty smoker recipes follow Sip Bite Go on Instagram and TikTok
See what's in the Traeger Turkey Brine Kit
Watch this video for a box unopening product demonstration of this Traeger bringing seasoning kit…
Buy the kit – here's a link to the Traeger Smoked Turkey Rub And Brine
What are the ingredients in this brine & rub kit?
Traeger orange brine turkey kit contains flavors including
Orange peel
Cane sugar
Salt
Peppercorns
Sunflower oil
A combination of poultry spices like rosemary, thyme, and dry bay leaf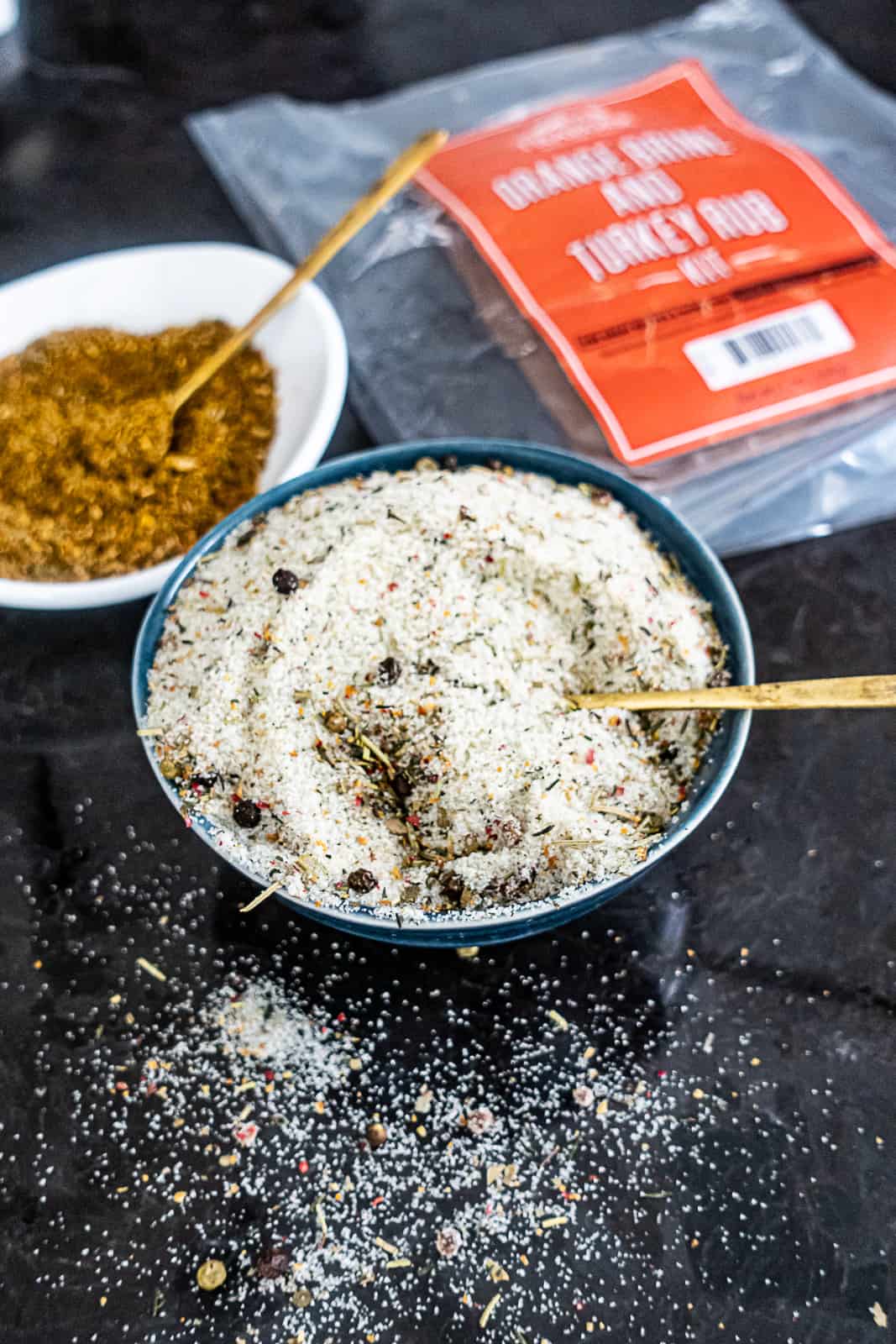 Ingredients for the turkey dry rub in the brining kit includes
Salt
Onion
Poultry spices
Garlic
Paprika
Sunflower oil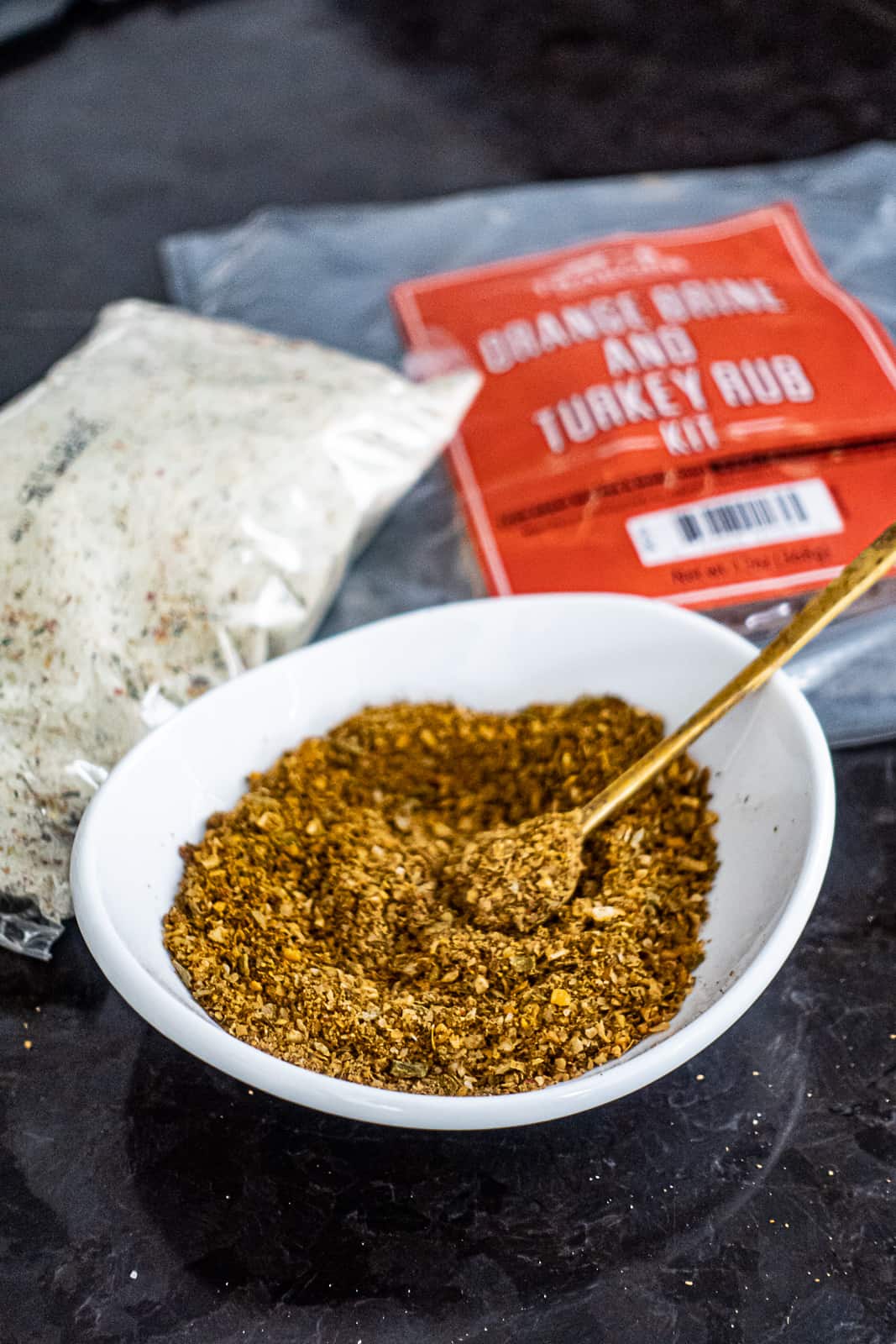 Does this kit come with a brine bag?
No, this brine turkey rub kit does not come with a bag.
I recommend that you either purchase one separately or you could use a large cooler like a Yeti cooler.
Just make sure that your turkey can fit in your cooler.
Buy Traeger bringing kit on Amazon: see the Traeger Smoked Turkey Rub And Brine
Would it be good for a baked turkey?
Yes, you can use the brine and then bake your turkey if you do not have a smoker.
The idea behind any brine is to add an extra layer of tastiness and juiciness to your turkey.
See how to roast bone in turkey breast in the oven…
Can I use this brine kit to deep fry a turkey?
Yes, of course.
Same as baking a turkey, first brine infuses your bird, which is why you should brine your turkey regardless of how you actually cook it. (ie, smoking, baking or deep frying)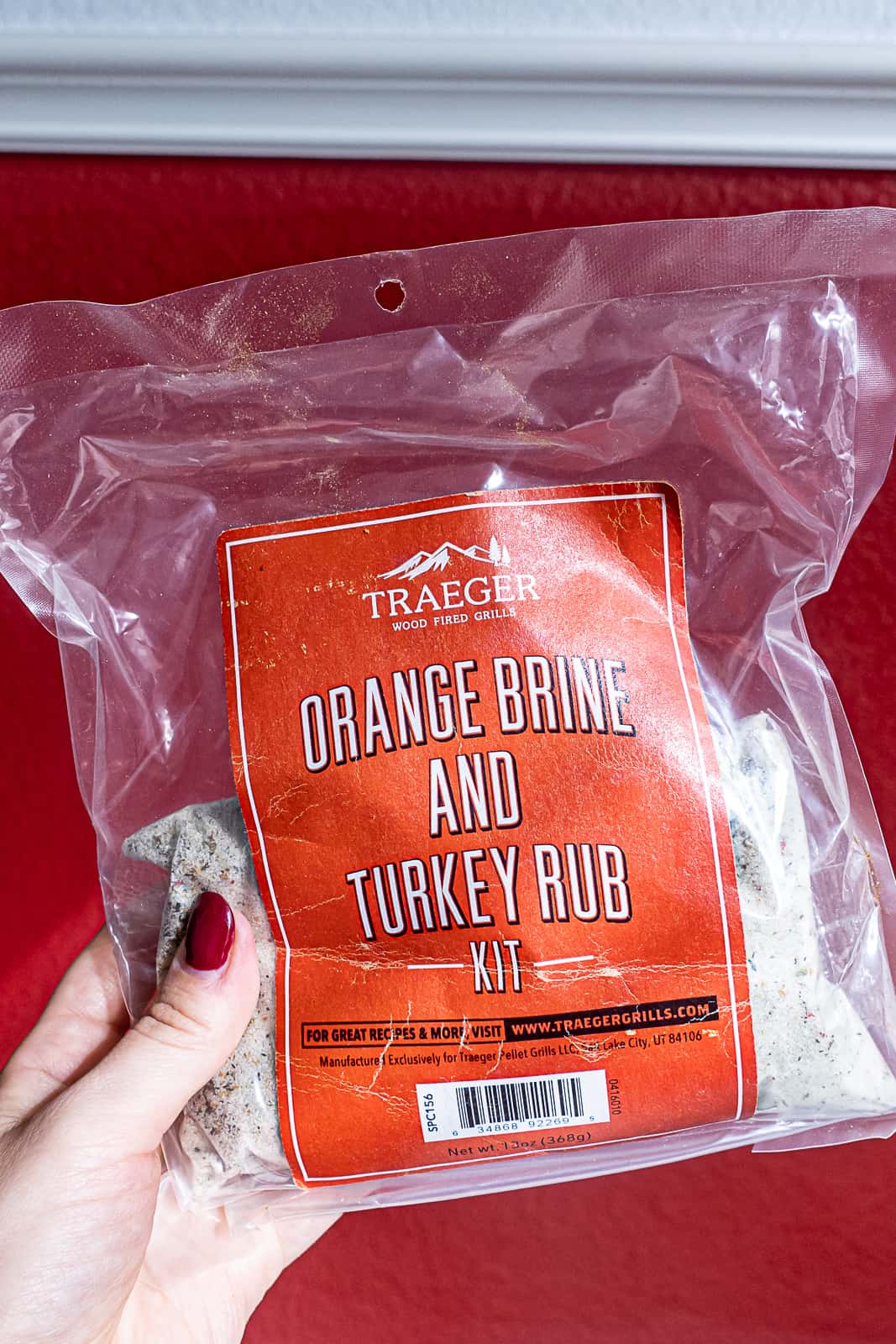 What are the Traeger orange brine and turkey rub kit instructions?
Steps for starting with Traeger brine from the kit…
Mix brine seasoning with one quart of water
Boil for 5 mins
Remove from the heat and add 1 gallon of cold water (Optional – add 1 cup of bourbon)
Refrigerate until completely cooled
Place in turkey breast side down
Pour the cooled brine mix over the turkey
Add enough cold water until the entire turkey is submerged
Refrigerate for 24 hours
Browse Sip Bite Go's smoked food recipes…
How do you dry brine a turkey?
Here are the Traeger kit instructions for dry brining a turkey…
Remove the turkey and toss the brine
Blot the turkey dry with paper towels
Optional – Combine butter and Grand Marnier and coat the outside of the turkey. If you're not using Grand Marnier, just coat the outside of the turkey with butter so the dry rub sticks
Season the outside of the turkey skin with the rub (included). The turkey rub adds a ton of awesome flavor.
Get it on Amazon – here's a link to get the Traeger Smoked Turkey Rub And Brine
See easy Traeger recipes for beginners…
What pellets to use with the Traeger turkey kit?
Check out these Traeger smoked turkey pellets.
Already stocked up on pellets?
Check your pellet pantry for a fruity, light smoky flavor choice… try apple or cherry pellets for smoking Thanksgiving turkey.
Keep them in the hopper to make smoked peaches for dessert.
Or, go for something a bit heavier like hickory or mesquite pellets. In anycase, hardwood pellets & rubs are a pairing, so put some thought behind what you use.
See recipes to smoke for a tasty Traeger Thanksgiving.
What are good things to pair with this brine & rub kit?
For smoking your turkey, this rub kit especially pairs well with Traeger's turkey brand pellets. You can only get these pellets the month leading up to Thanksgiving, so if you're using their brine and rub, you should use the turkey pellets for actual smoking.
Orange brine infuses well with bourbon and Grand Marnier. These are optional to include when you brine and season, but they pair brilliantly and the rub adds an extra level of deliciousness.
When you're thinking about seasoning this Thanksgiving, rubs and sauces pair just like wine and cheese. Keep that in mind when you choose your dry rub. To take it the extra mile, pellets rubs and sauces all pair together. Choose pairable things to have consistency with your meal flavor.
See my review of the Traeger Fin And Feather Rub…
See more on smoked foods for the holidays
1 – See the Sip Bite Go review of Traeger Turkey pellets.
2 – See what's in the turkey brine kit.
3 – Check out these tasty holiday dishes to smoke on the pellet grill…
Are you a foodie, too?
Hey home chefs, hope that answers all your questions about the Traeger orange brine and turkey rub kit review. 
See this Traeger Provisions review…
Check out these game day smoker recipes.
Connect…
More Tasty Grill + Smoker Recipes
See this Traeger Flatrock grill review.
See my favorite smoker tools and seasonings in my Amazon Storefront.
Meat thermometer recommendations
Every home chef needs a reliable meat thermometer to cook food perfectly.
On Sip Bite Go, you'll often see me using:
Meater thermometer – a fancy wireless thermometer that connects to a phone app – gifted to me from a Traeger partnership.
ThermoPro digital thermometer – which has a wire that connects the thermometer to a display box outside the oven/grill.
It's like being psychic! The great thing about either of the thermometers above is that I don't have to take the food out of the oven to know the temperature.
How to use 'em… What I do is stick the digital thermometer in steak, pork, chicken, whatever… Then put the food in the oven, on the smoker, or grill.
While the meat cooks, it reads the temperature so I know exactly what temp meat is as it's cooking. Without having to take it out and check. It's really difficult to overcook food when you know exactly what temp it is inside!