Here's my Trader Joe's dolmas review, complete with photos, recipe serving suggestions, nutrition info and a video product demonstration. By the end of this guide, you'll be a TJ's stuffed grape leaves pro. Let's crack open a can and take a look…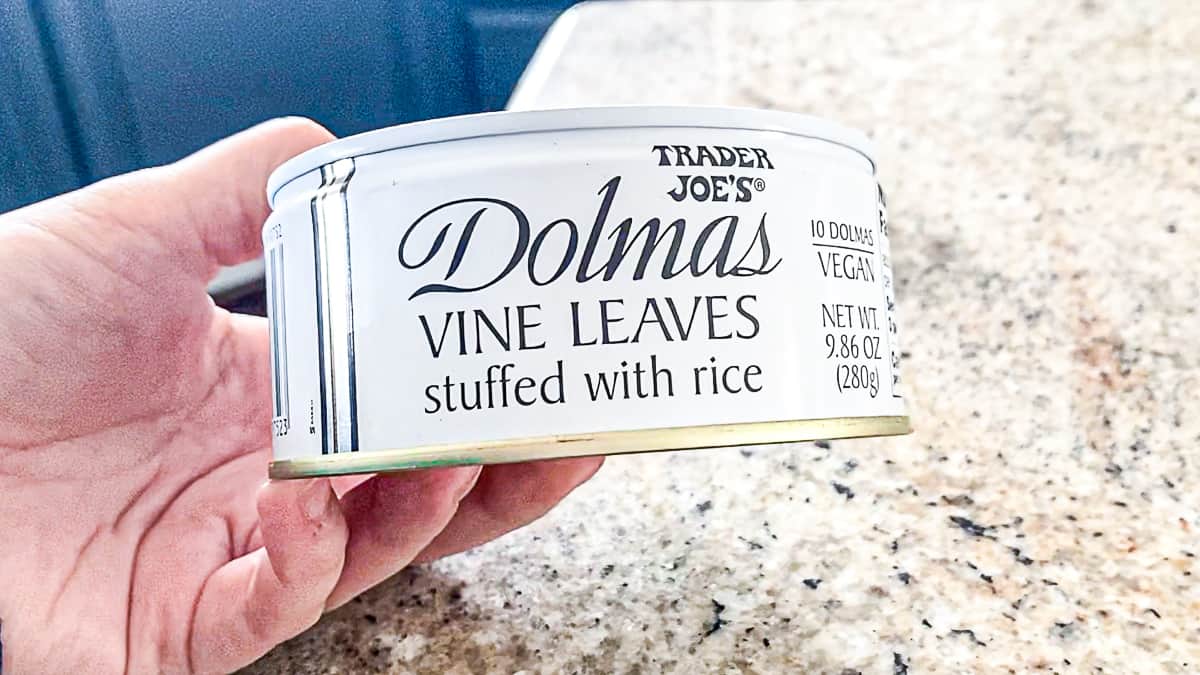 Why people love these dolmas from TJ's
They're gluten free.
The canned dolmas Trader Joe's sells has a long shelf life.
One of the best prices for canned stuffed grape leaves.
If you're thinking about these TJ's stuffed grape leaves, you have to give them a try next time you run a Trader Joe's haul. Add them to your Trader Joe's must haves list.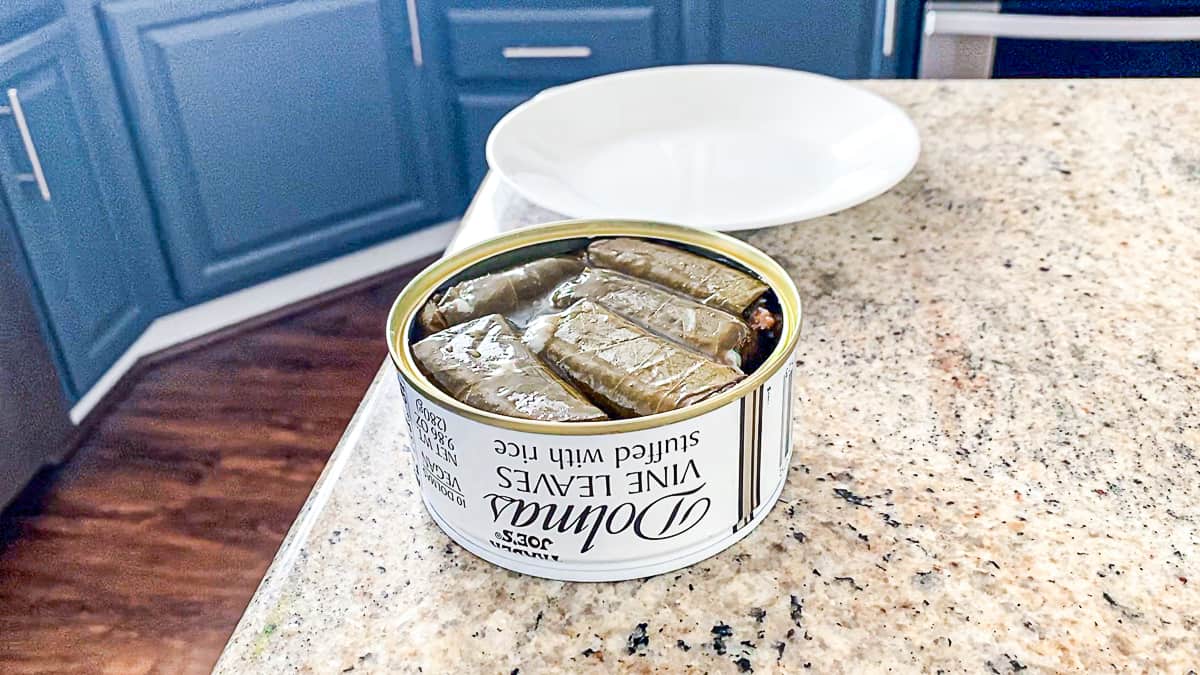 What are dolmas?
Many people in the US refer to dolmas as rice stuffed grape leaves. Though the term "dolma" actually refers to the Turkish verb "dolmak" which refers to "filling" any sort of stuffed food.
The dolmas at Trader Joe's are grape leaves stuffed with rice / quinoa and spices. In my stores, I haven't seen them stuffed with meat, although I've heard some brands make meat dolmas.
They sit in a liquid that preserves them and to me, tastes like vinegar or a type of pickling liquid. I've heard it's a soy based liquid and not olive oil like traditional domas may be served in. See nutrition info below for more details.
Here's a video you can see of my inside look at the Trader Joe's dolmas review. Or, scroll on to read about it.
Varieties of dolmas at Trader Joe's
TJ's has two varieties of dolmas sold in the stores near me:
Stuffed with rice
Stuffed with quinoa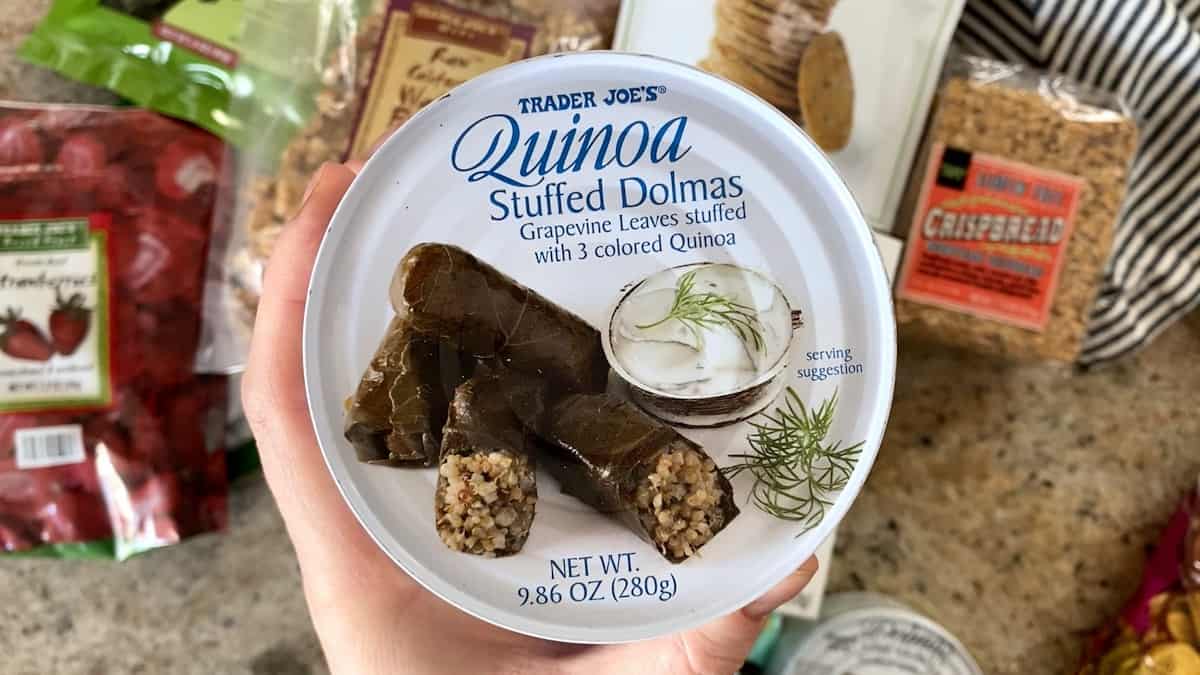 How to serve dolmas
You heard it here, first, friends: I love eating cold dolmas.
The can is sold on the shelf and is not chilled, but once I get home, I pop them in the fridge. I love serving dolmas as a complete meal — they're an easy add on to one of these side dishes for steak or these pasta sides and a sous vide porterhouse or sous vide chicken dinner.
For an easy work from home lunch, when I'm not making stir fry with frozen vegetables or frozen Trader Joe's gyozas, or these Trader Joe's cauliflower rice meatballs, I usually have a salad.
Dolmas are fantastic paired on the side of a sous vide beet salad, or strawberry salad. Strawberries and the vinegar flavor of these dolmas just completely work!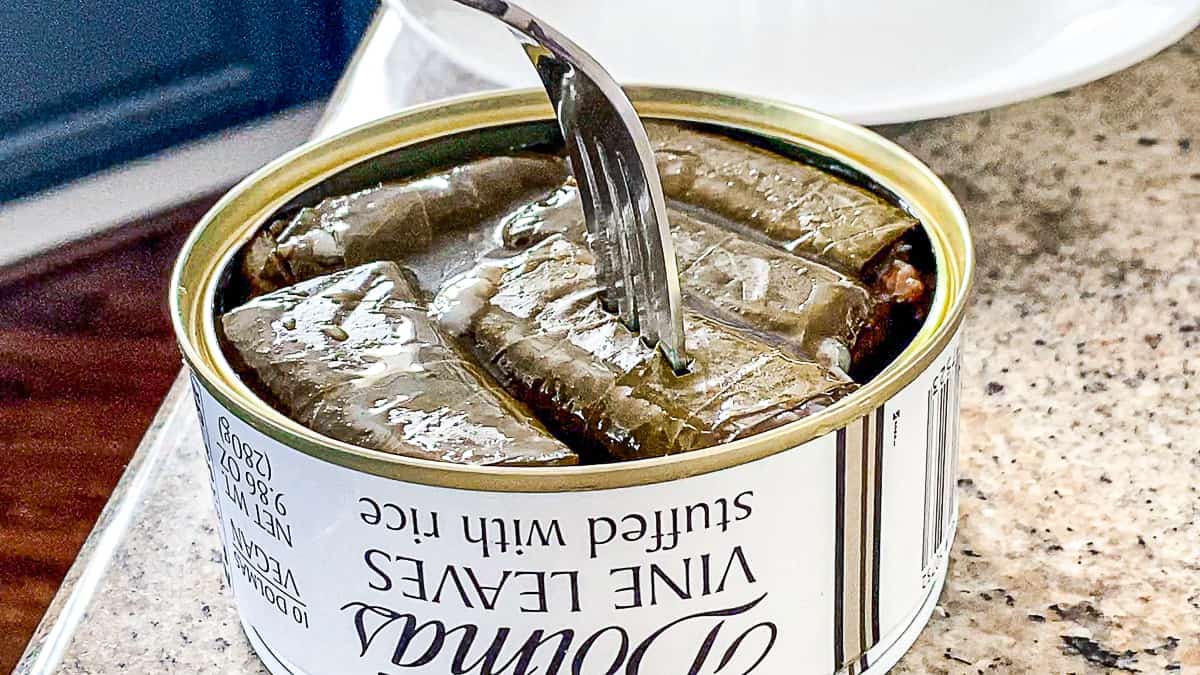 My Trader Joe's dolmas review
Rice dolmas from Trader Joe's
Overall, I'm so happy there are good price dolmas in a can from Trader Joe's. They do have a lot of great items from different cuisines around the world, and I think these are pretty freakin 'delicious for canned dolmas.
Quinoa dolmas from Trader Joe's
I'm not as huge of a fan of the quinoa dolmas, I prefer the texture of rice over the texture of quinoas for stuffed grape leaves. They aren't bad, just not my preference. I still finished the whole can!
Compared to Divina dolmas and Palirria Stuffed Vine Leaves
I really love these delicious Divina Dolmas Stuffed Grape Leaves and
which you can buy on Amazon. I find they are a bit "less mushy" inside than the Trader Joe's product. It's just a texture thing, but worth a try. It's like I can feel each grain of rice inside my mouth a little more.
And I'm not sure what the difference is for how they're made. Imagine if they are made by the same company and just white labeled for TJ's. That would be interesting!
How I found these Divina dolmas was that I received them from a Greek specialty store a while ago and have been buying them for gifts for foodie friends' birthdays ever since. Oh, and always getting myself a can of dolmas at the same time, obviously.
I wasn't a fan of the sweet and spicy dolmas from Palirria, but LOVE the original vinegar tasting flavor in these Palirria dolmas. It hits the spot and is perfect paired with a strawberry salad and easy chicken breast dinner or flank steak recipe.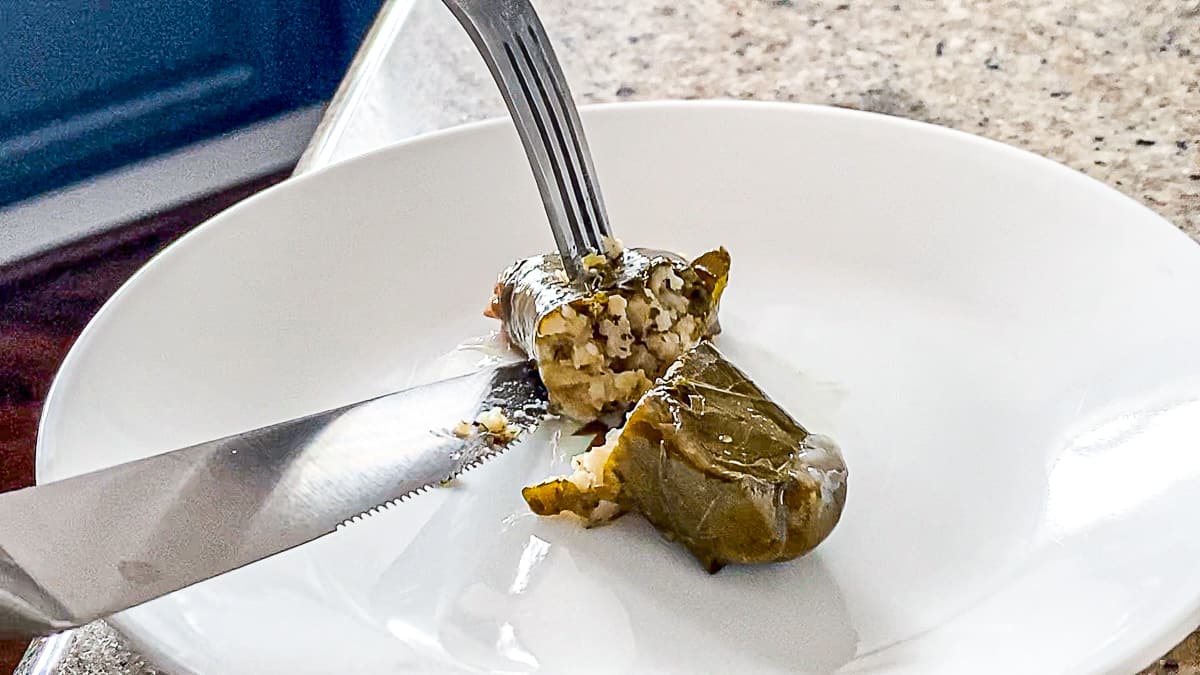 Trader Joe's dolmas nutrition information
Dolmas ingredients
One of my favorite Mediterranean food products at Trader Joe's are these vegan dolmas. They are made with either white rice or quinoa, and seasonings.
Here's the ingredients list: cooked rice (water, rice), water vine leaves, soybean oil, onions, dill, salt, citric acid (acidulant), spearmint, black pepper
Dolmas calories
There are 120 calories in Trader Joe's dolmas (3 of them, about half the can) according to My Fitness Pal.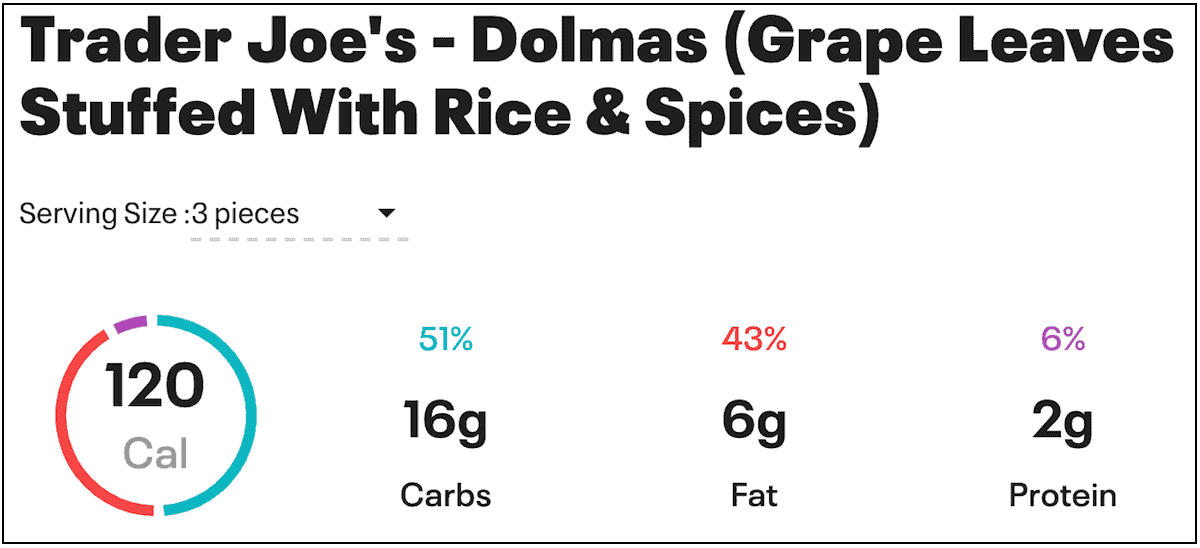 Price of Trader Joe's dolmas
The TJ's dolma price is ~4-5 dollars in my stores here in Portland, Oregon. They go for more than double than that when bought on Amazon. But, maybe it's worth it if you don't live close to a TJ's.
Where to buy Trader Joe's dolmas
In store
I nearly had a panic attack when I heard the news, "Trader Joe's dolmas discontinued" when shopping in the grocery store. Luckily, the employee just didn't know they were moved to a different location to make room for the seasonal TJ's products.
You won't find them in the refrigerator section, though as mentioned, I think chilled is the best way to enjoy them. Find these dolmas in the grocery aisle near other preserved Mediterranean food like the olives and artichoke hearts and marinated red peppers.
Online
You can actually buy TJ's dolmas on Amazon. While you're looking, check out my other favorite makers of dolmas, these Divina Dolmas Stuffed Grape Leaves and Palirria dolmas. You can do a taste test to see for yourself.
More recipes using Trader Joe's ingredients
Are you a Trader Joe's enthusiast, too? I love planning grocery trips to Trader Joe's. It's almost like a vacation… strolling up and down the aisles to discover new things. When I come home, I'm inspired to develop new recipes.
My best recipes using Trader Joe's products end up here on Sip Bite Go…
See more of the best meals to make with Trader Joe's ingredients and my full list of Trader Joe's must haves.
Are you a foodie, too?
Hey home chefs, I want to know… what do you think about Trader Joe's dolmas? Have you tried their stuffed grape leaves yet?
Find me on Instagram @sipbitego to let me know and connect. People message me photos of their food all the time, so don't be shy!
Make restaurant-style food at home with my video guides on the Sip Bite Go channel.
To find more delicious recipes to try on your culinary journey, scroll through the Sip Bite Go recipe collection and check out these Trader Joe's recipes.