Check out the new Hot Pot restaurant… Tabu Shabu in McKinney, Texas. See why I think it's one of the best McKinney Texas restaurants when you're in a soup mood and check out menu photos…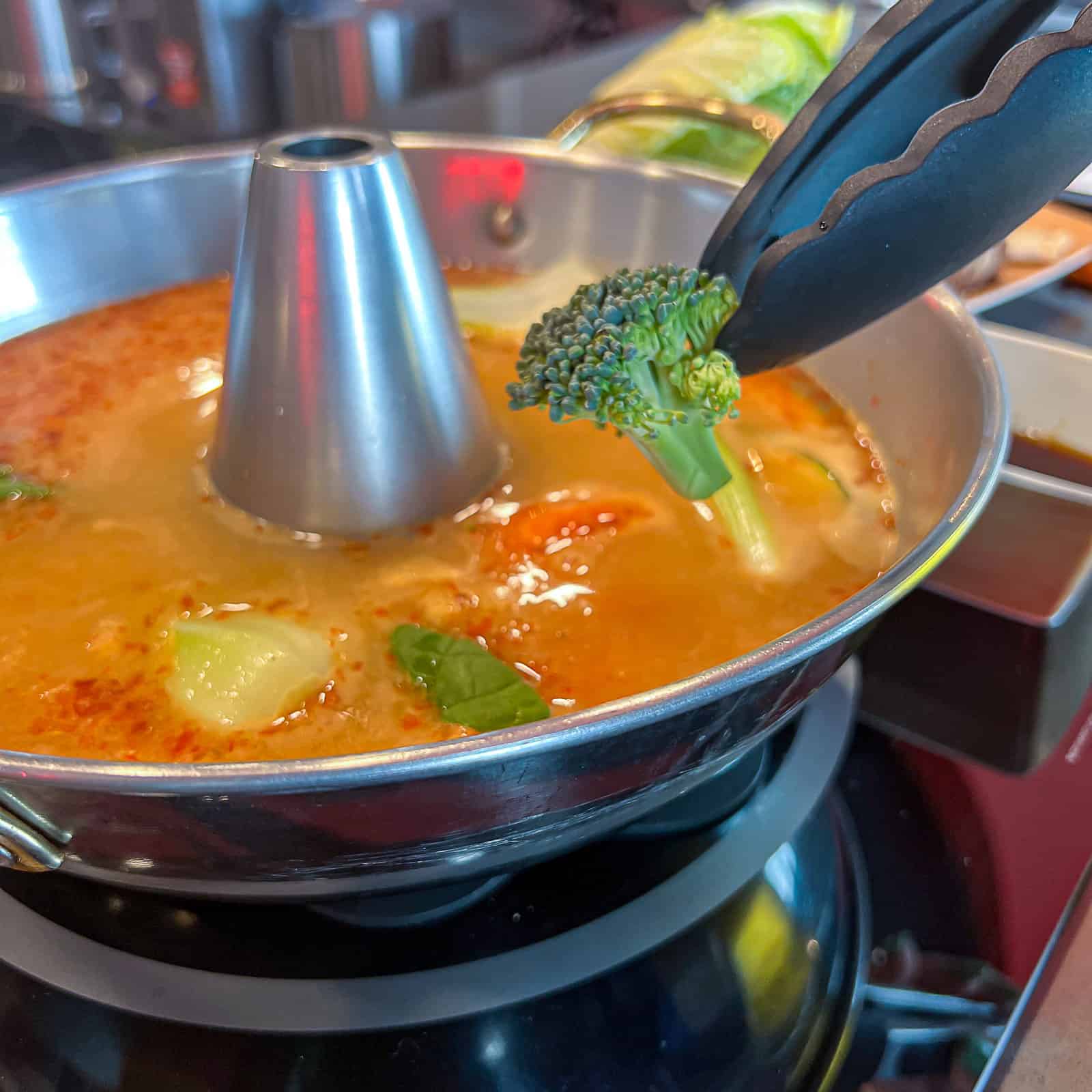 Follow Sip Bite Go on Instagram and TikTok for North Dallas Restaurant reviews…
Check out my review on these Hot Pot menu items at Tabu Shabu in McKinney, Texas…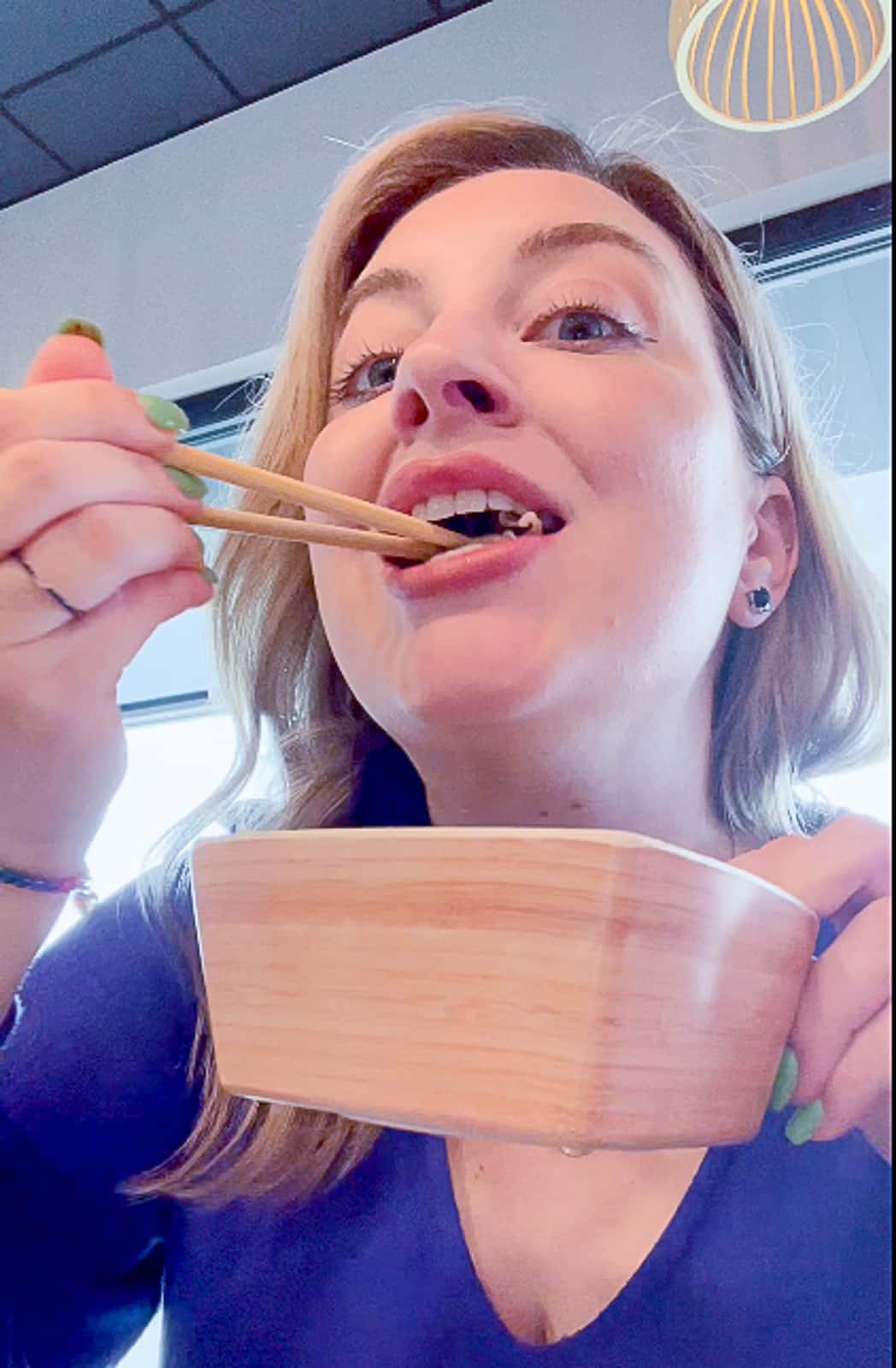 Tabu Shabu McKinney Menu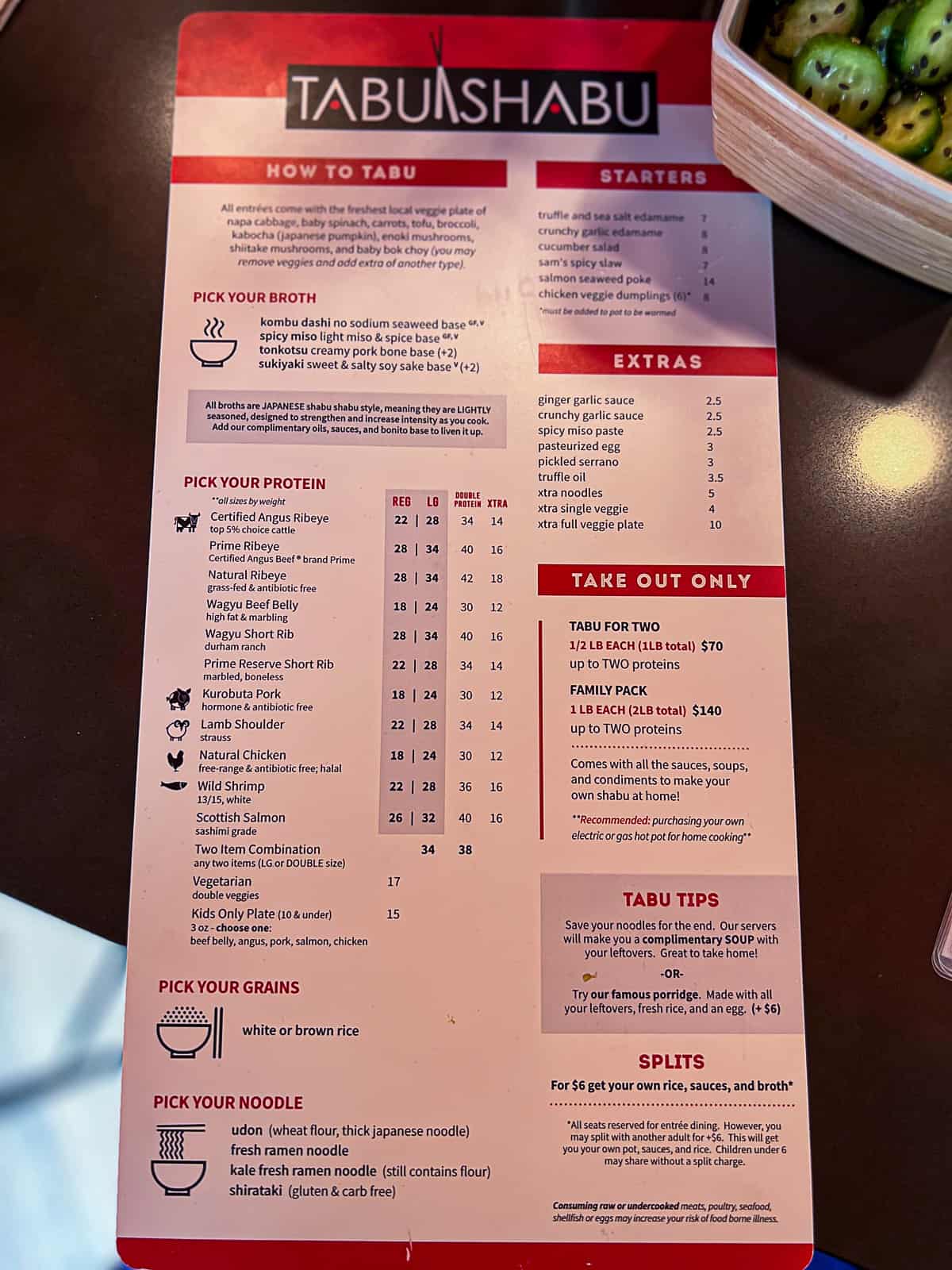 Here's a look at the hot pot menu at the Tabu Shabu McKinney location.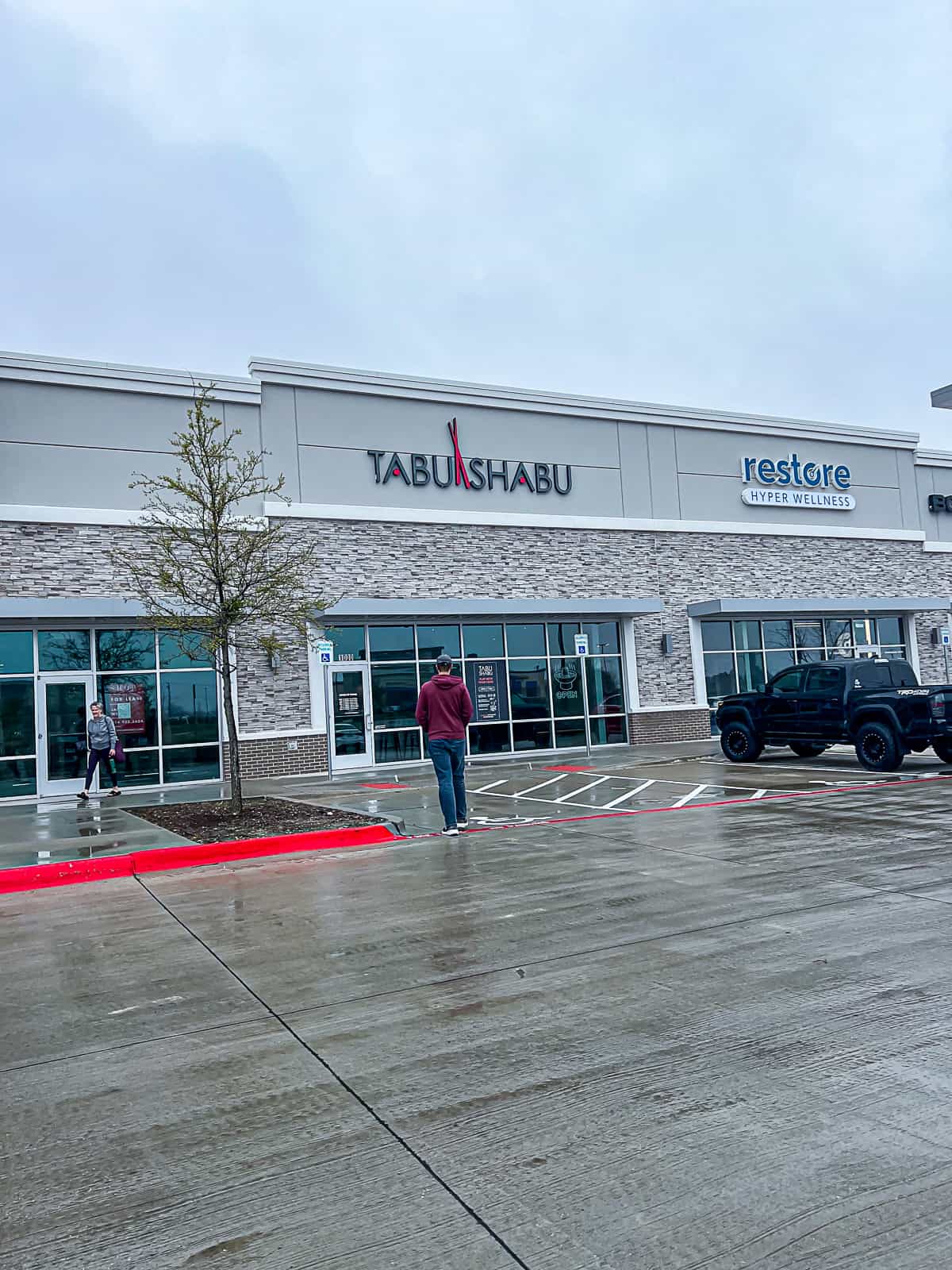 We began with two starters from the appetizer menu to enjoy while our hot pot broth heated up…
Asian Cucumber Salad Appetizer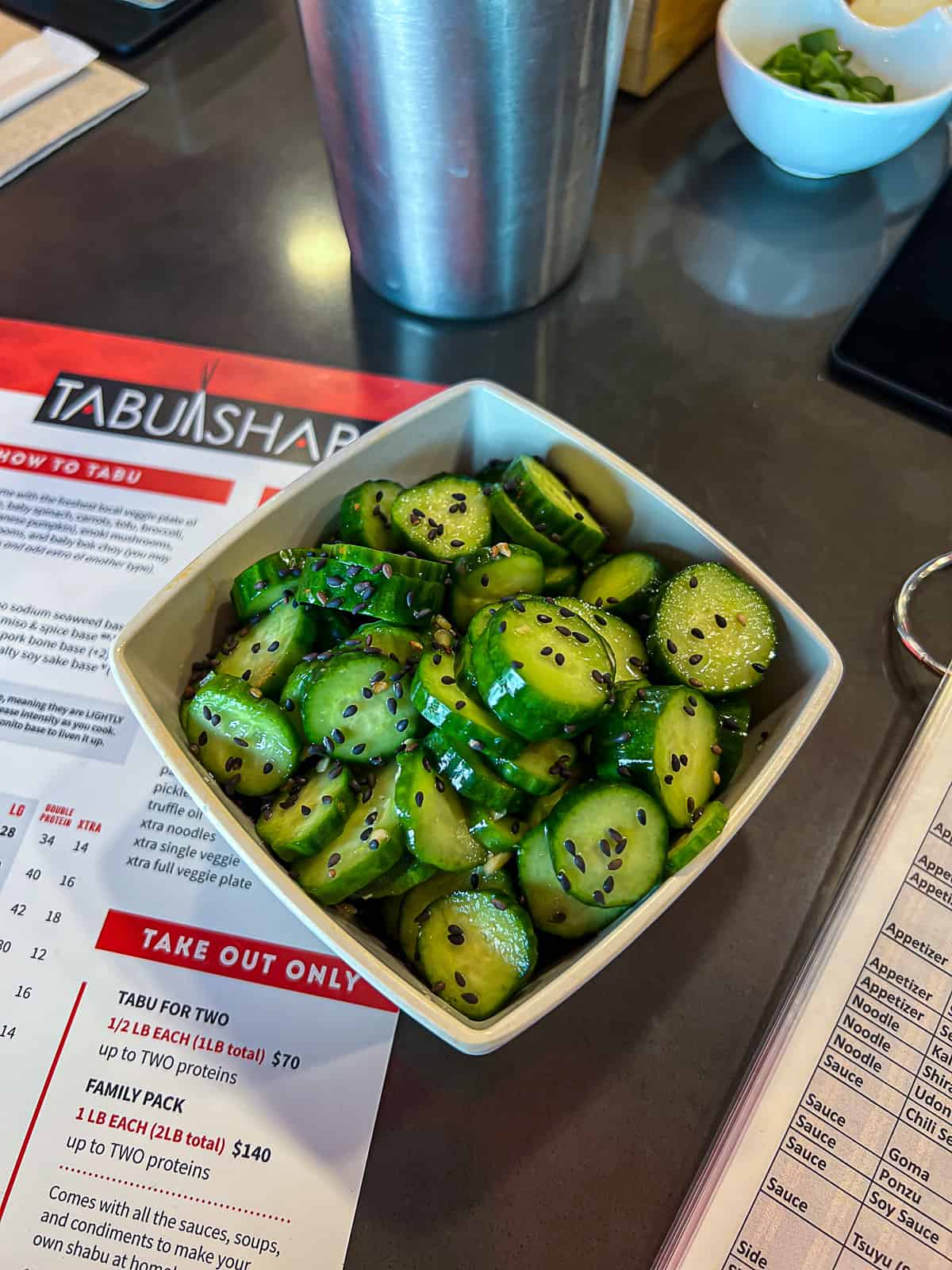 The Asian Cucumber Salad is crisp and full of delicious vinegar flavor. It definitely wet my appetite while my hot pot broth was heating up.
Edamame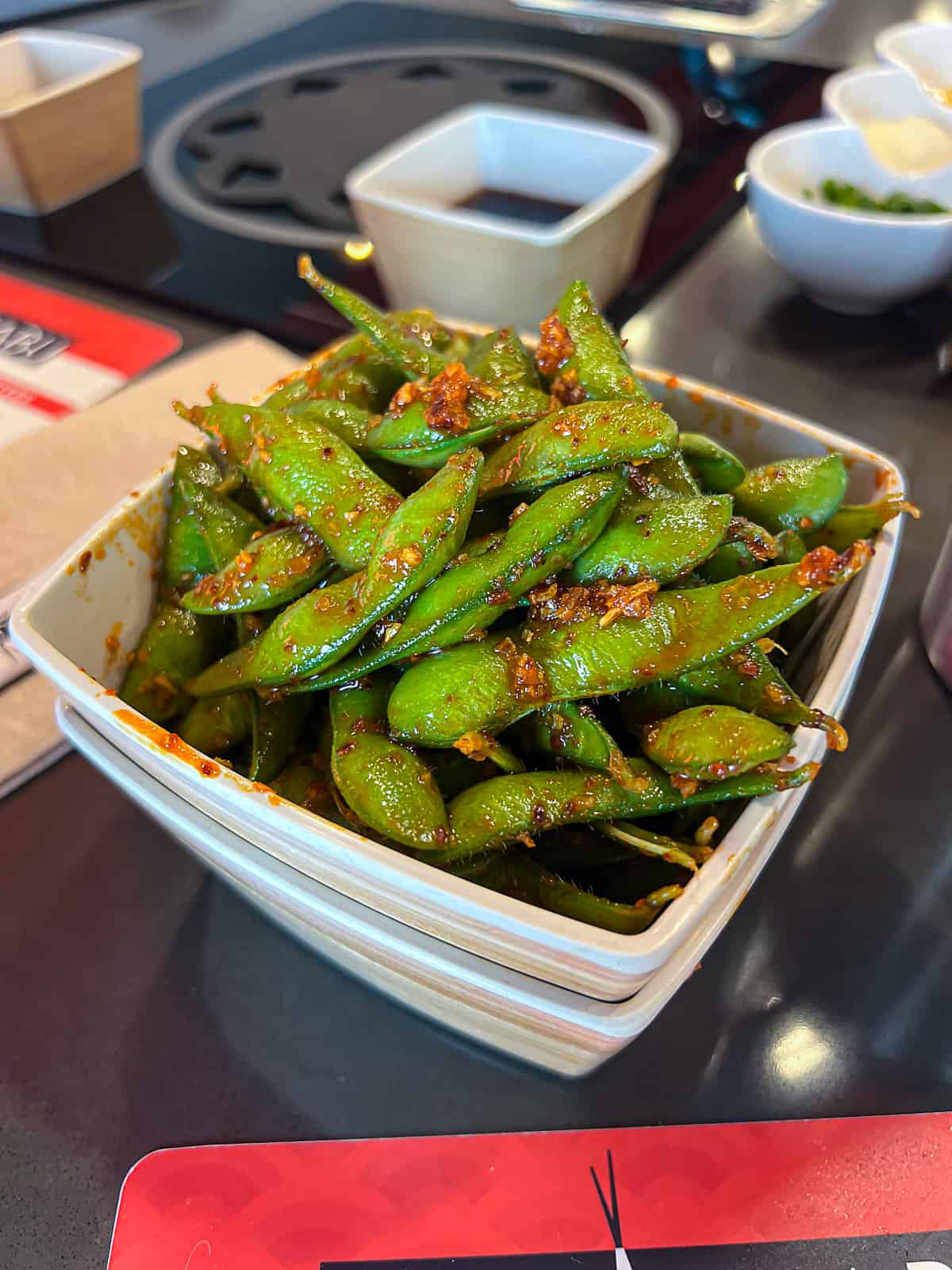 I can't say no to Edamame, and to make things even more interesting, they have two flavors. We upgraded to the somewhat-spicy Crunchy Garlic Edamame, and ate every last piece…
What's in the hot pot platter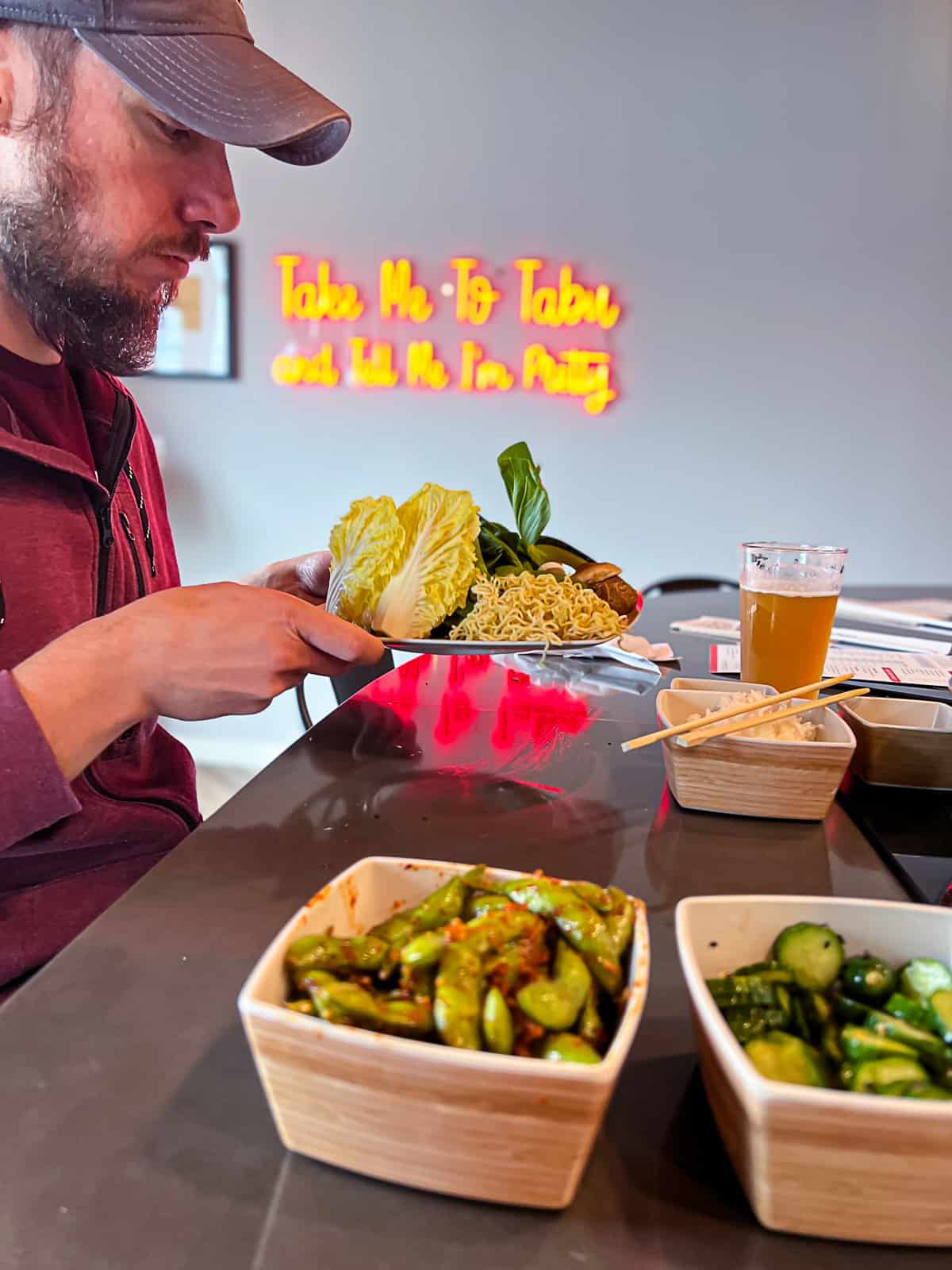 To start things off, you're given an overflowing platter of veggies, brown or white rice, seemingly endless sauces and condiments…
Along with all the tools you need to make a hot pot meal at the counter station in front of you.
Broth options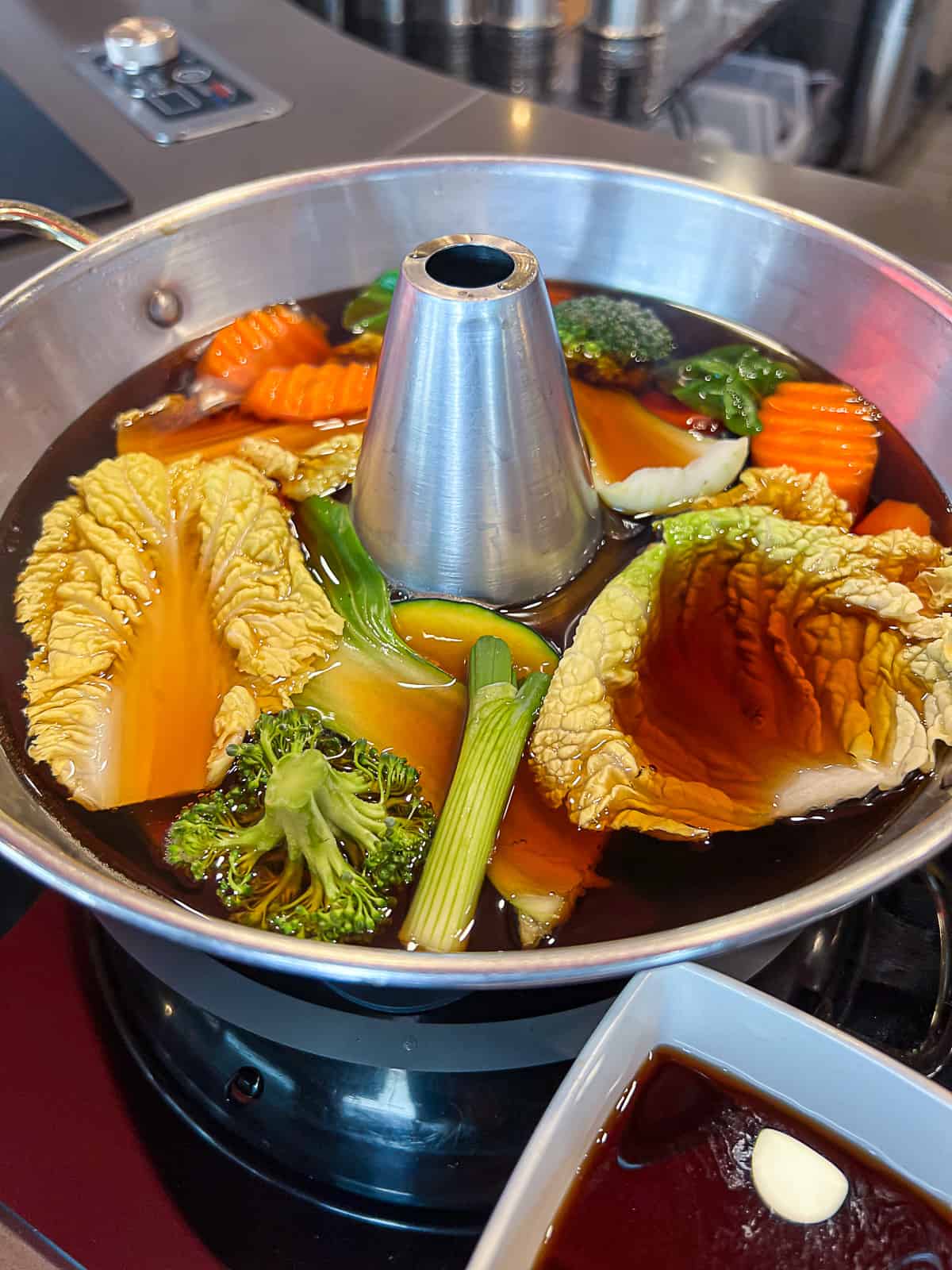 We each got a broth. My husband got the Tonkotsu Pork and I got the Sukiyaki. Both are delicious!
Tabu Shabu meats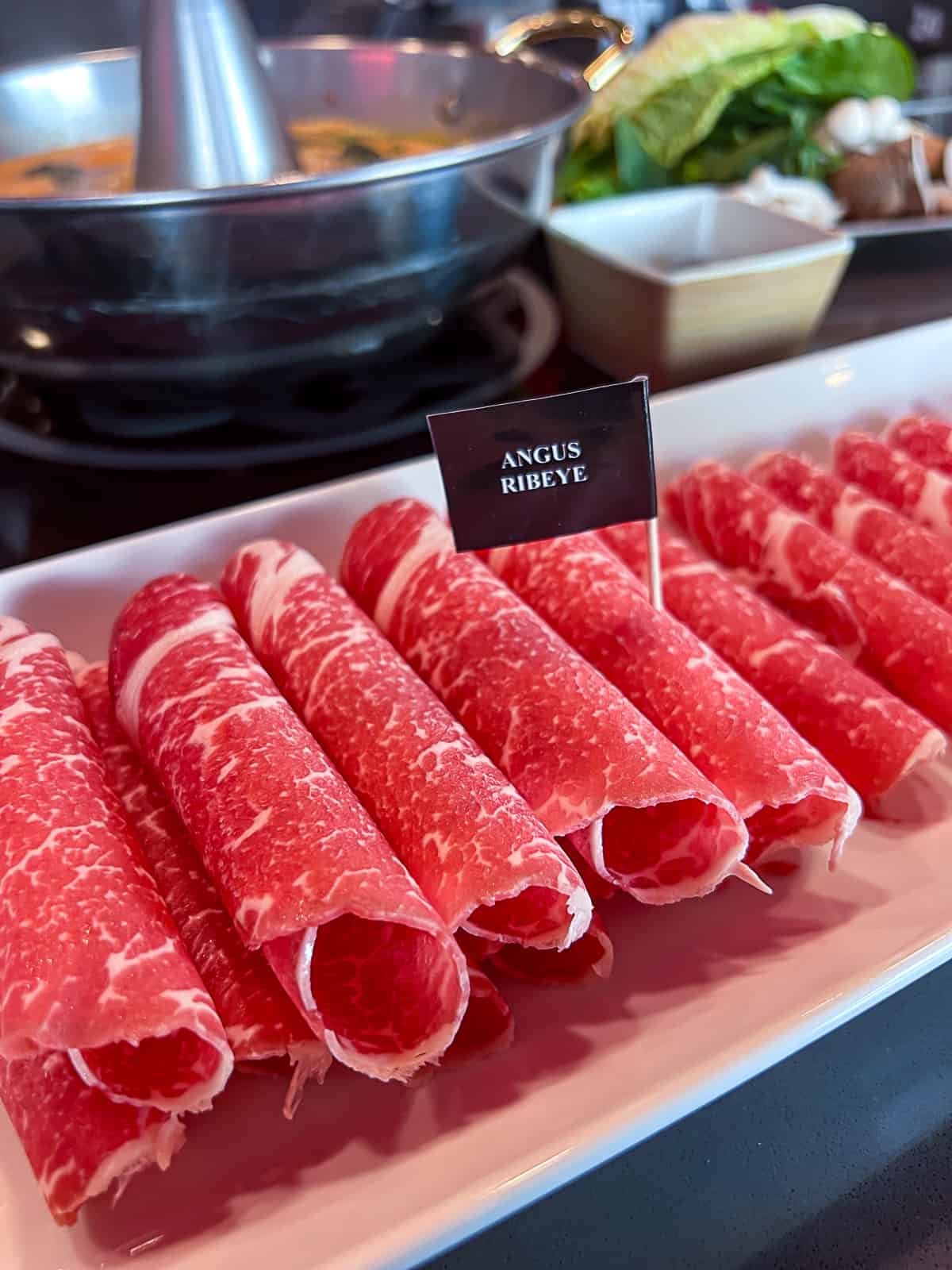 After deciding your broth, it's time to decide which proteins to add to your hot pot meal. I got the Angus Ribeye… which is *completely* melt-in-your-mouth. It was so phenomenal.
My husband got the Short Rib, which is cut super-thin and cooks super fast.
The texture of short rib is a bit more chewy since it has more fat. It's really a personal choice which one to get, but I'd get both again next time and try the pork and chicken as well.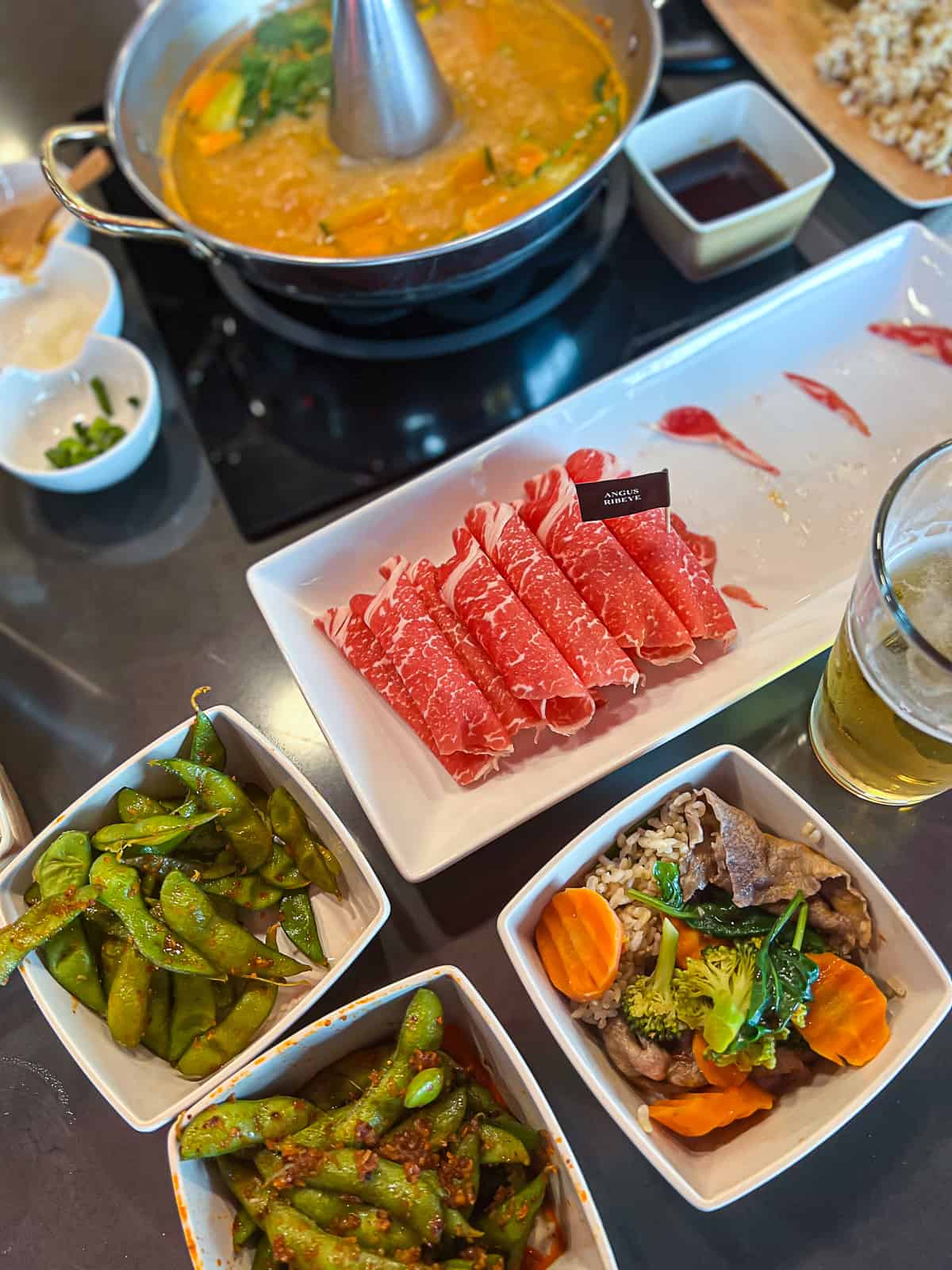 Drinks at Tabu Shabu restaurant in McKinney
This location of Tabu Shabu in Texas, outside of Dallas, has drinks, too. They have nice chilled beer on tap which is great to cool off from the spice you add to your hot pot meal and the heat of the broth. 
Plus the owners at this location treated us to sake bombs, which were made with delicious apple sake.
To say I'll be back is a complete understatement!
Are you a Dallas foodie, too?
Hey McKinney and Dallas foodies, hope that answers all your questions about the new hot pot restaurant in North Texas.
Enjoy eating and cooking and chat soon on Instagram / TikTok / YouTube.
– Jenna
Browse the Sip Bite Go recipe collection…
Dallas Area Guides