If you love flowers, don't miss Swan Island Dahlias in Canby, Oregon. It's one of the top 100 Destinations in Oregon, two years in a row. The 2019 Annual Dahlia Festival at Swan Island Dahlias is Sat, August 24 – Mon, August 26 from 8am-6pm daily. But you can explore the gorgeous Oregon dahlia fields during the month of August.
Bring a camera, as 35 acres of dahlias provides plenty to explore.
Watch my visit from my last trip to the Oregon Dahlia Festival…
About Swan Island Dahlias in Canby, Oregon
A quick 45 minute day trip from Portland lands you at Swan Island Dahlias in Canby, Oregon. The fields are open August and September, and some years the blooms last into October.
The annual Swan Island Dahlias Festival is the last weekend of August and over Labor Day weekend.
The flower gardens and Swan Island Dahlia grounds are beautiful and relaxing. There's a koi pond and a shaded picnic area to enjoy a picnic lunch.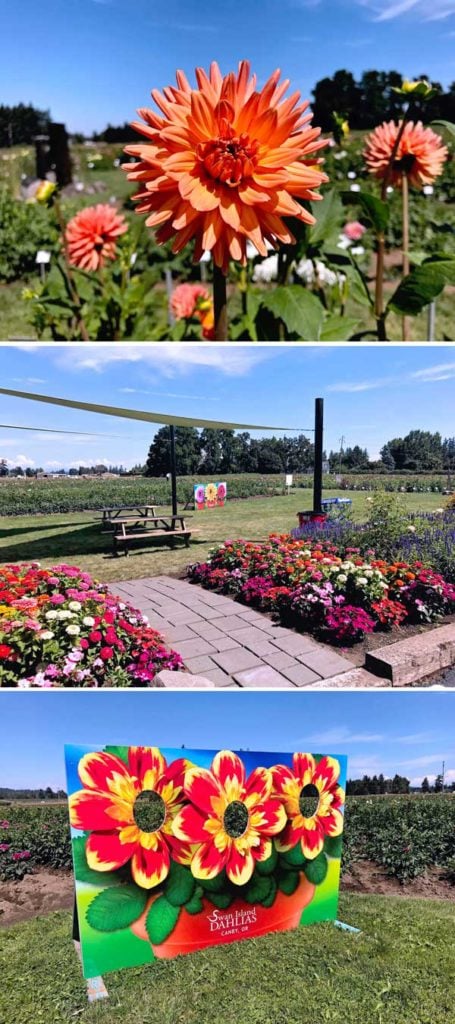 Don't miss the funny names of each dahlia variety at Swan Island Dahlias.
For such beautiful, elegant flowers, the dahlias have some pretty funny and quirky names. Here are a few of the varieties you can find in the Swan Island Dahlias Catalog:
"Awe Shucks"
"Bed Head" (this one has wild, carefree petals)
"Blah Blah Blah" (a pretty interesting looking dahlia, despite it's name)
"Hokey Pokey"
"Sugar Daddy"
….yes, I'd like an order of 60 Sugar Daddy's, please…
I love taking a trip from Portland to the Dahlia Festival at the end of each Summer. There are great wineries around Canby, Oregon to explore when you're in the area.

For visiting details, check out the Swan Island Dahlias site.
Love flowers? The Tulip Festival is another stunning, not-to-miss flower event in Oregon.
Don't hesitate to reach out if you have any questions about trip planning in Oregon! Tag me @sipbitego on Instagram so I can see how much fun you had. Plus, sign up for the Sip Bite Go newsletter for future tips and giveaway announcements.