The 2021 Best Stuffing Recipes to make for Thanksgiving and homemade holiday menus. Traditional classic ideas plus cornbread, stove top, and more.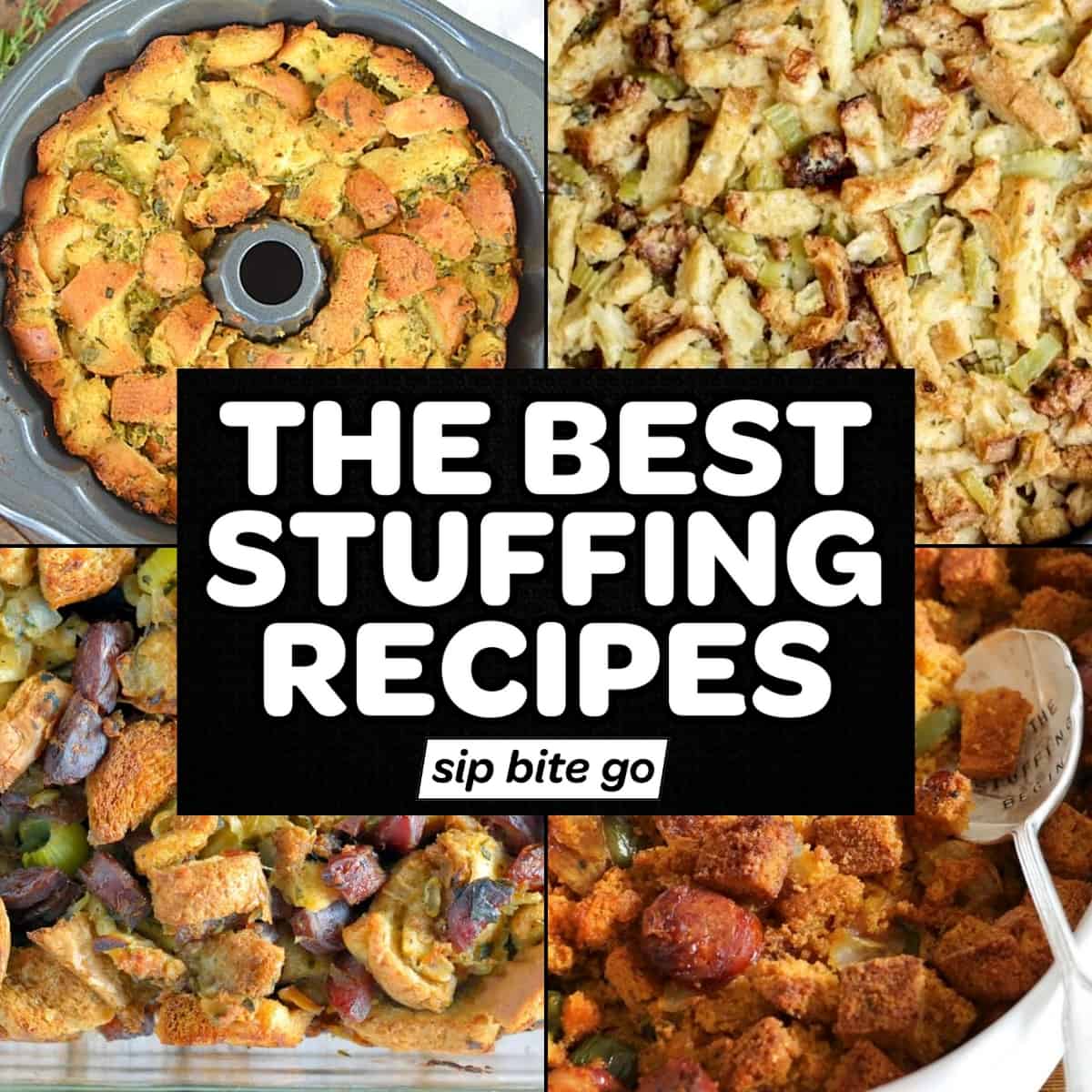 Here you'll find some ​​unique and traditional turkey stuffing recipes for Thanksgiving, Christmas, and other holiday get-togethers. Make them in the oven, crock pot, Instant Pot, or with an air fryer. Let's see these tasty ideas…
Sausage stuffing recipes
One of my favorite ways to make stuffing with sausage or smoked brats cooked with turkey blend Traeger pellets is to pile on the herbs and make it a super savory dish.
Chorizo sausage stuffing
Check out this chorizo sausage stuffing recipe that's baked in the oven to golden brown perfection right here on Sip Bite Go.
Chinese sausage stuffing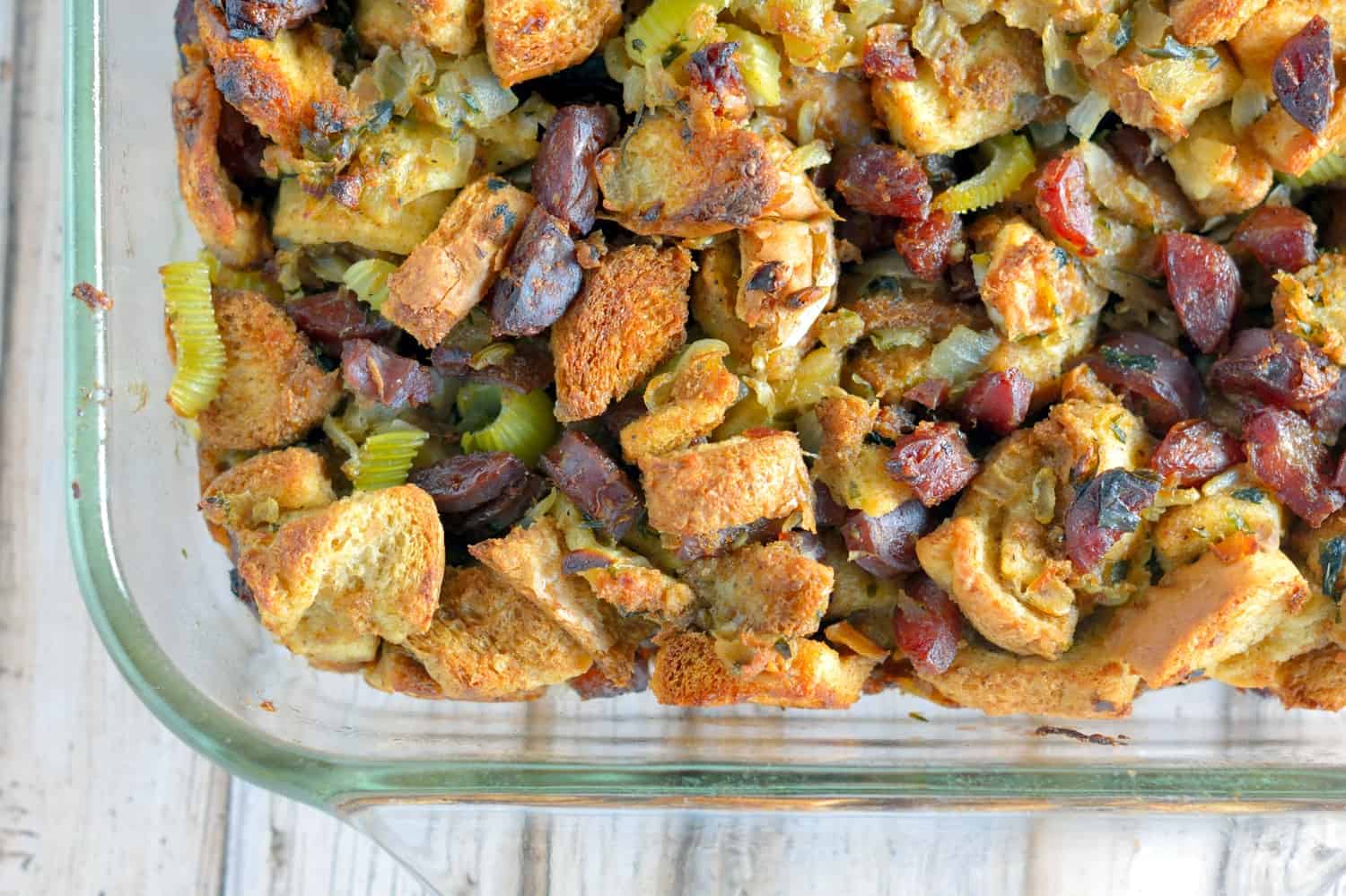 This stuffing recipe uses Chinese Sausage, a unique dried pork sausage that
is both sweet and salty. It adds the perfect texture, flavor and color to
this savory stuffing recipe and is suitable for a weeknight meal or holiday
Dinner. See how to make Chinese Sausage Stuffing and Herb Stuffing from Savory Experiments.
Cornbread stuffing recipes
Cornbread Stuffing with Chorizo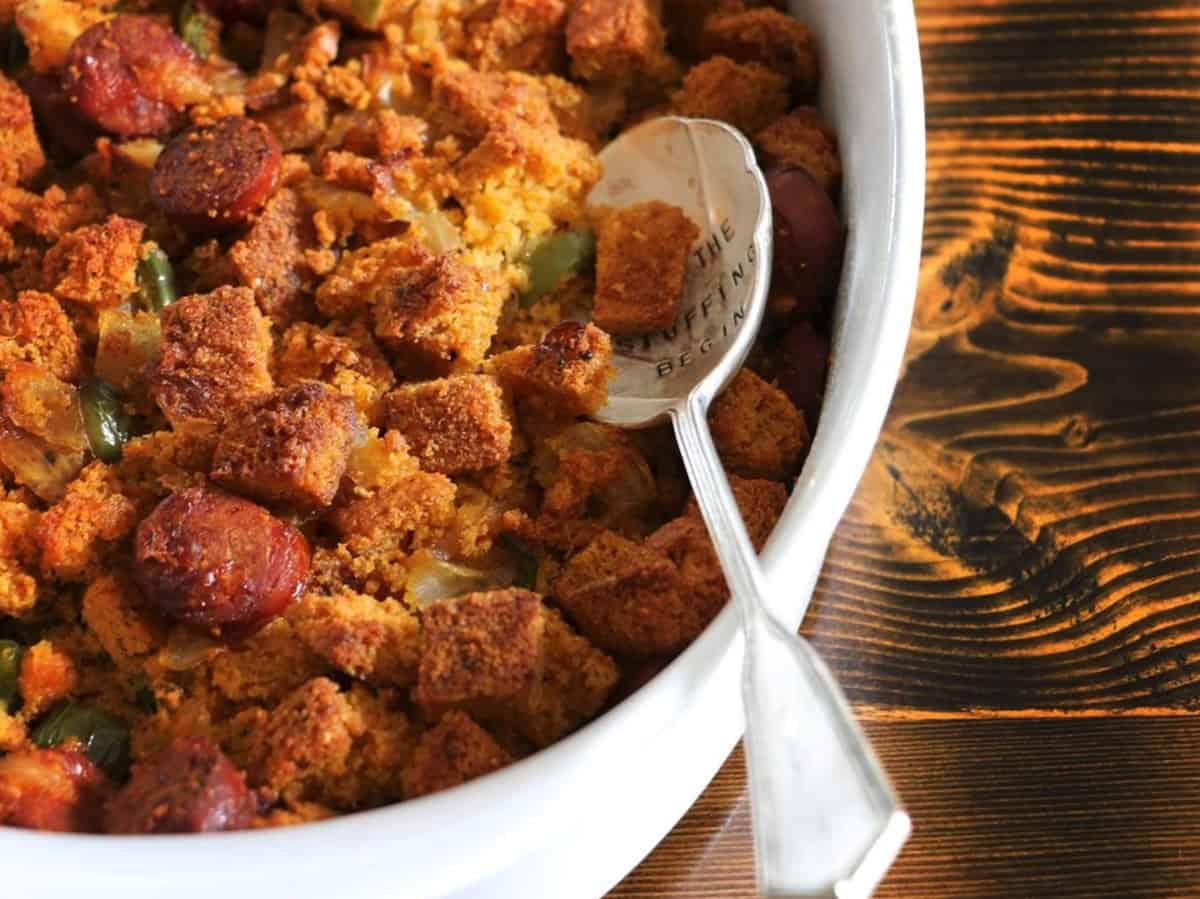 This is a spin between a cornbread stuffing recipe and a sausage stuffing dish. Its packed with ​​cubed cornbread instead of regular bread and has hints of spice from the jalapenos. See the recipe for Cornbread Stuffing with Chorizo from Spiceology. Drizzle this jalapeno ranch dressing on it for a tasty touch.
Low carb stuffing recipes
Keto friendly cauliflower stuffing recipe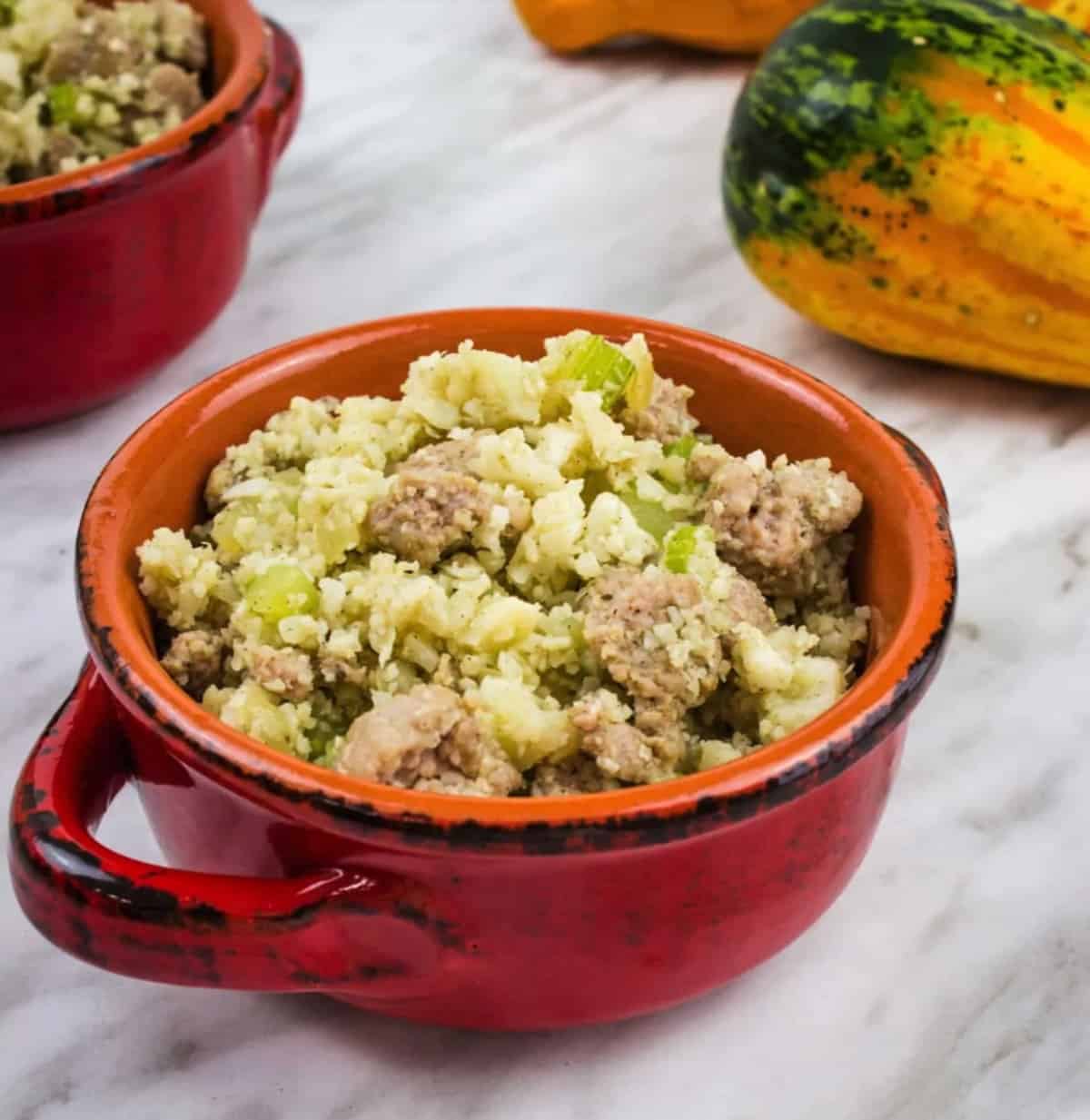 Here's a unique keto and low-carb friendly stuffing recipe. Loaded with sausage, great spices, and plenty of veggies, this Cauliflower and Sausage Stuffing recipe from Keto Cooking Wins is a perfect way to lighten up your holiday side dishes.
Love cauliflower rice? See these low carb cauliflower meatballs.
Vegan stuffing recipes
Here you'll find stuffing recipes with fruit and other tasty ingredients that are completely vegan stuffings.
Apple stuffing recipe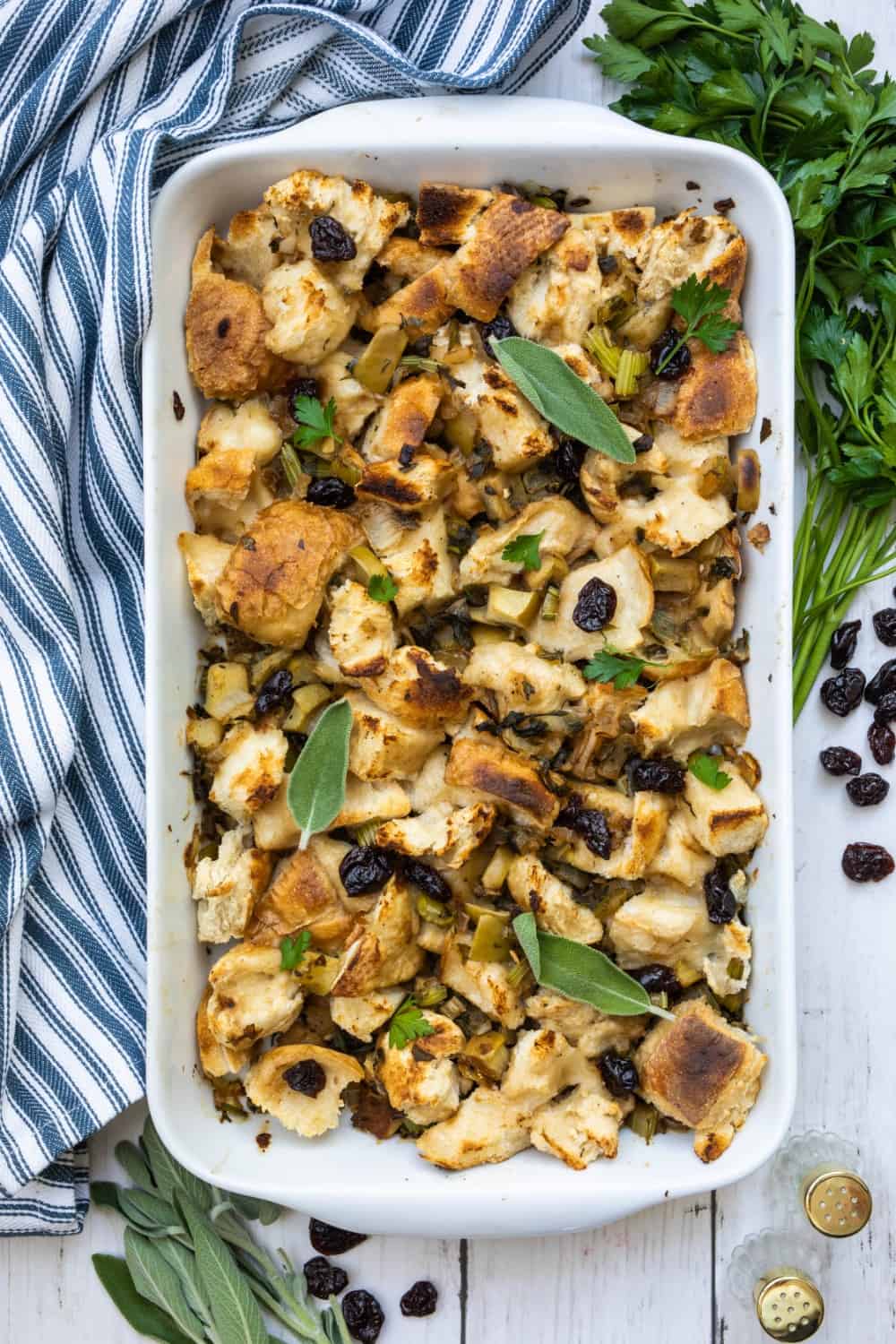 This plant-based stuffing is a twist on a holiday staple! A hint of granny smith apples adds the perfect amount of tartness in this savory dish made with sourdough baguettes or French bread. Get the recipe for apple stuffing from Plant Based On A Budget.
Instant Pot Stuffing Recipes
Simple Instant Pot Stuffing
Did you know you can make a stuffing in the Instant Pot, instead of baking it in the oven? Stuff it with your favorite fruits (like apple and cranberries), and load it up with sausage or chorizo for a spicy touch. Recipe coming soon.
Crockpot stuffing recipes
Slow Cooked Southern Cornbread Stuffing in the Crock Pot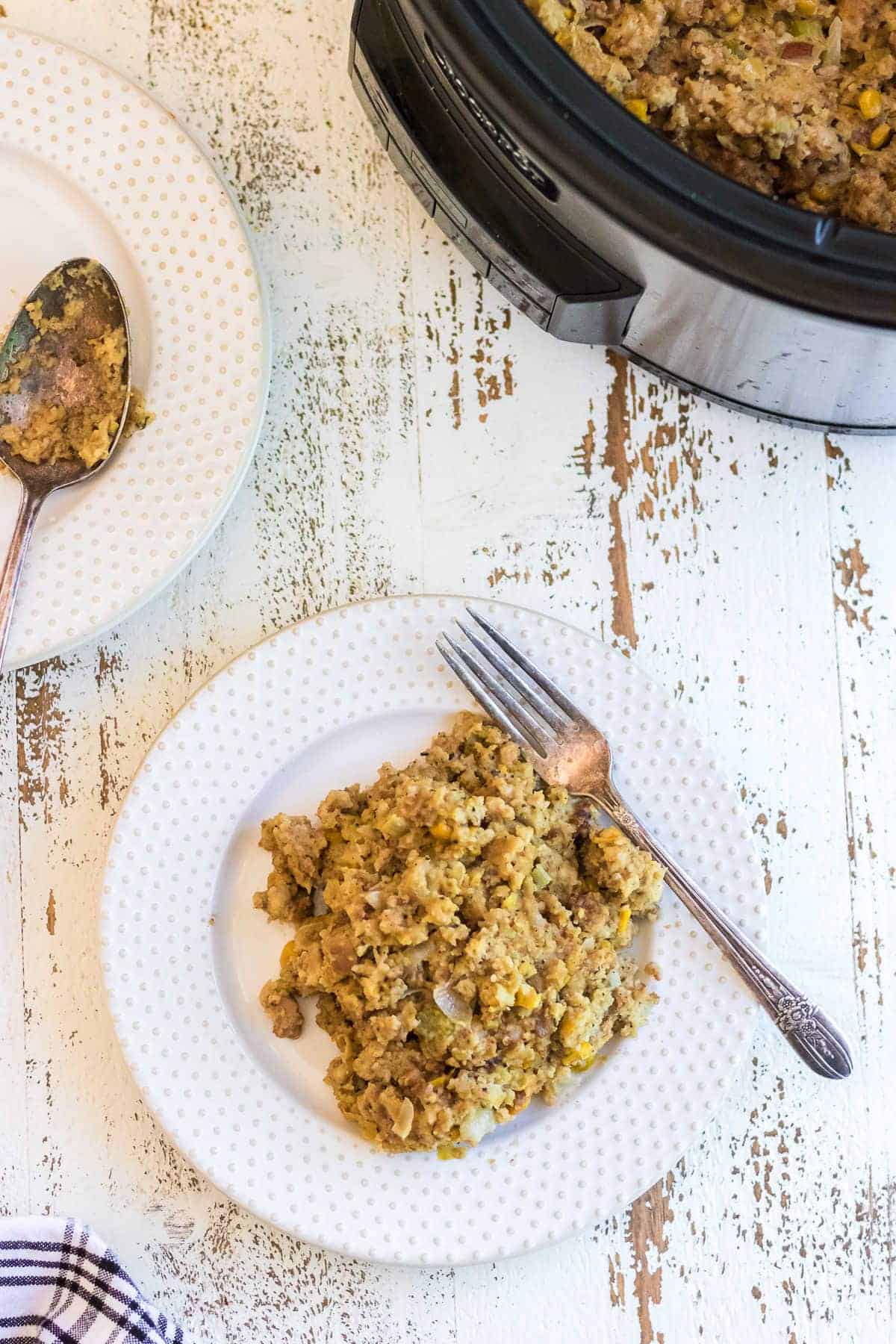 This easy slow cooker southern cornbread stuffing from Restless Chipotle is light and fluffy every time. It's completely made in the crockpot so your valuable oven space is freed up for the most important things… like little apple handpies!
Slow Cooker Quick Dump Stuffing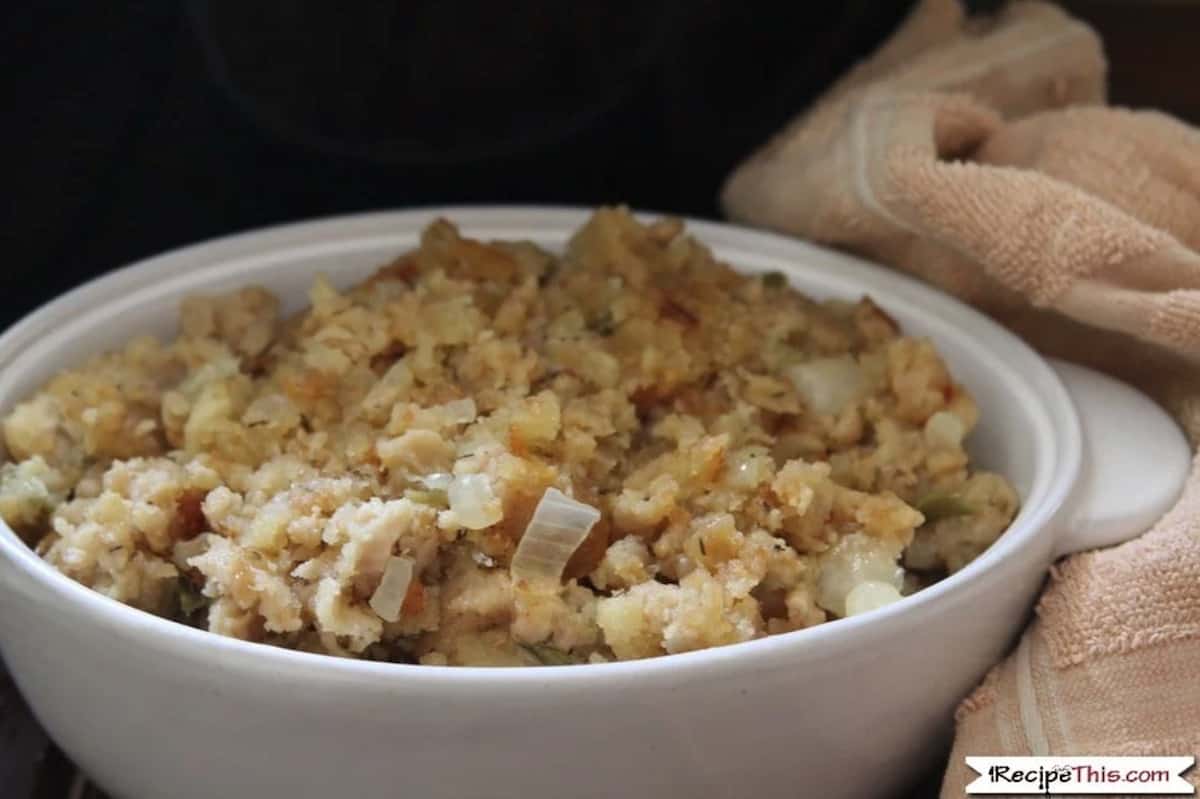 This delicious stuffing recipe is perfect for a quick dump and go stuffing where everything is loaded into the slow cooker and then you can forget about it. You can also turn off your slow cooker once it is cooked and it will stay warm for 3 hours making it perfect for a make ahead side. See the recipe for slow cooker dump stuffing from Recipe This.
Air Fryer Stuffing Recipes
Air Fryer Stuffing Balls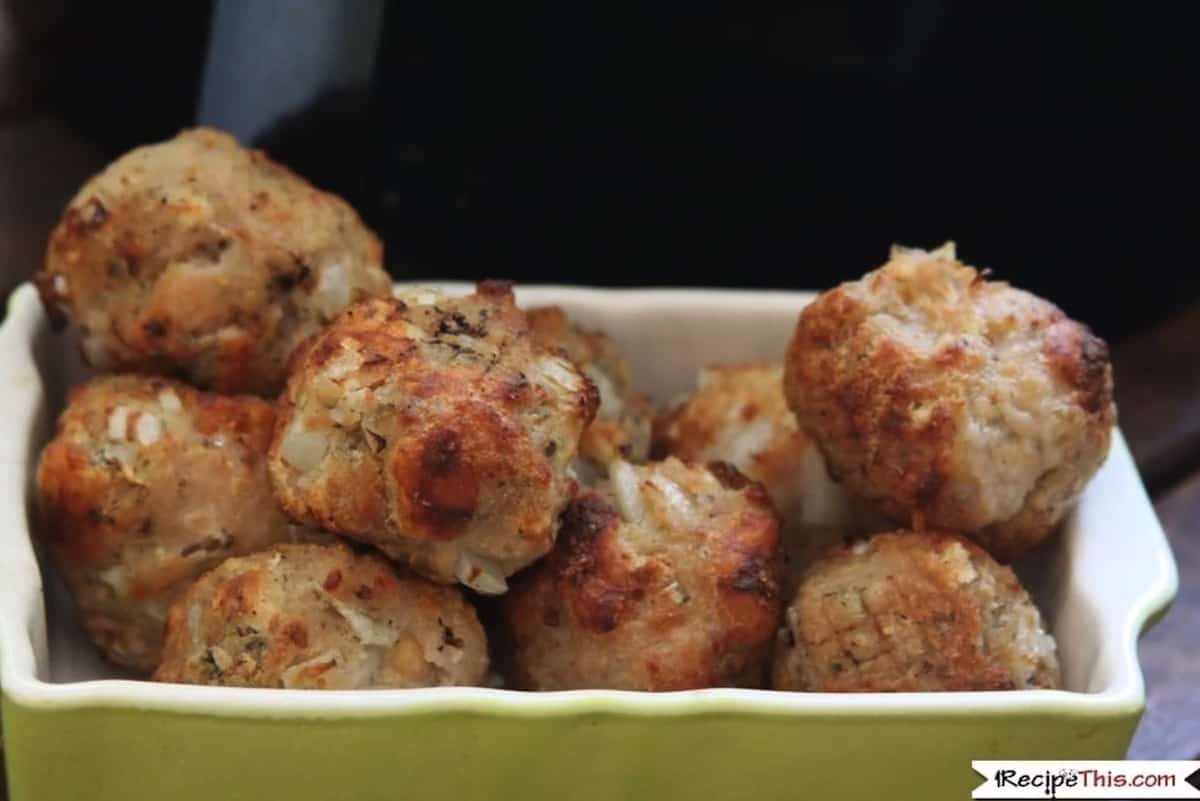 See how to make your own homemade sage and onion Air Fryer Stuffing Balls from Recipe This. They're ideal for a smaller household and perfect for cooking alongside other side dishes in the air fryer.
Unique stuffing recipes
Herb Wreath Stuffing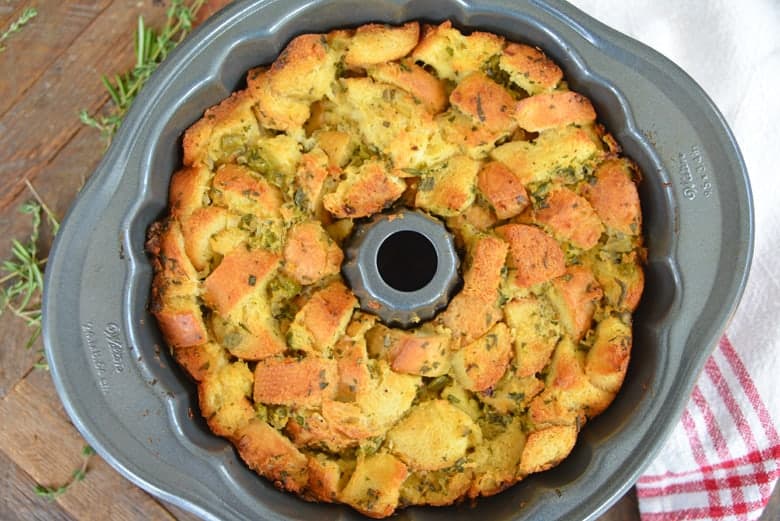 Herb Wreath Stuffing takes a fairly traditional stuffing recipe that uses
fresh herbs and makes it into a lovely centerpiece for any table. Buttery,
rich and delicious, serve it by the slice just like cake! See how to make Herb Wreath Stuffing from Savory Experiments.
Mushroom Stuffing Recipe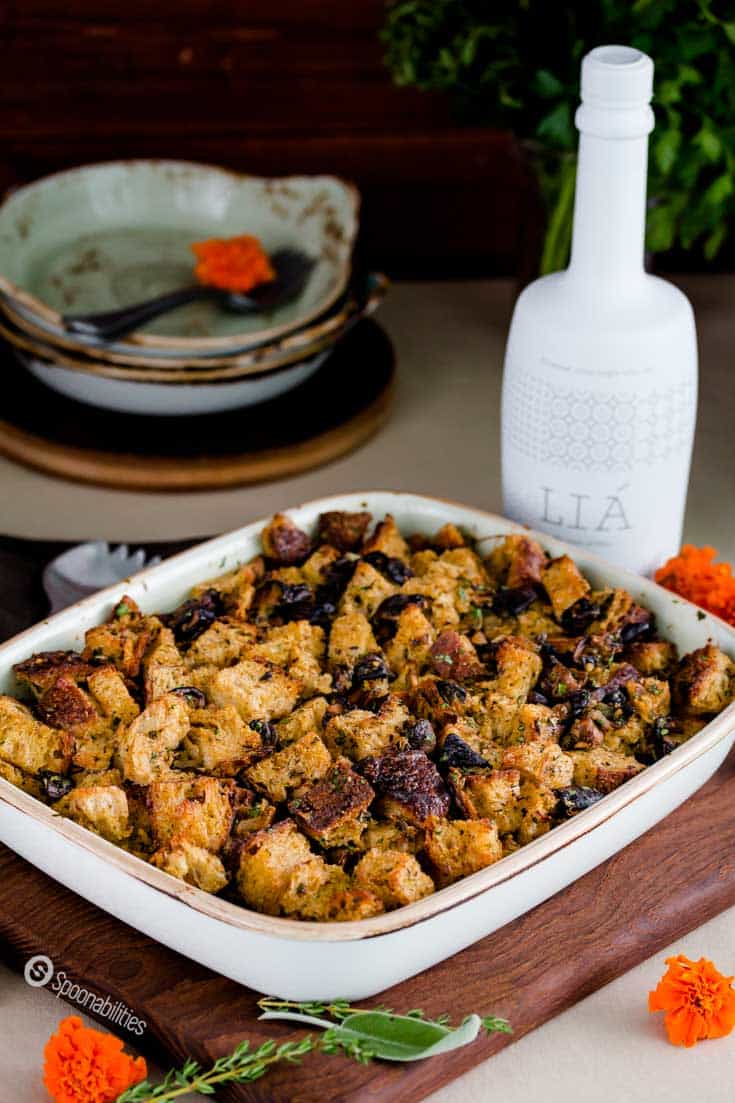 This recipe is packed with unami from all the tasty, rich mushrooms. See how to make this Mushroom Stuffing from Spoonabilities.
What do you add to store bought stuffing?
If you're looking for more inspiration for your boxed stuffing, I have you covered. Here are some more tasty things to add to store bought stuffing…
As some crunch with toasted pine nuts or toasted walnuts or pecans.
Sous vide bacon or turkey bacon crumbles.
Add fruits like dried cranberries, cherries, apples or pears.
Add meat with sausage or ground beef.
FAQs
Is stuffing better with or without eggs?
Eggs are an optional ingredient and not included in every recipe, but they will give you a fluffier stuffing and help bind all the ingredients together. If your recipe doesn't call for eggs it will include another liquid ingredient to bind the  bread cubes.
What is the difference between stuffing and dressing?
The words stuffing and dressing are used interchangeably, but technically the dish is stuffing when it is cooked inside the bird, and dressing if it is cooked alongside.
Can I freeze uncooked stuffing?
You can! If you love simplifying your life with meal prep as much as I do, just combine all your ingredients and freeze them in a zip-loc bag or shallow freezer container. When you're ready to cook, you'll want to stick the frozen stuffing straight into the oven– no defrost required!
What can I serve with stuffing?
All the holiday menu favorites, like you'll find at the end of this post, are good options. I like to serve stuffing with sous vide turkey breast or my air fryer turkey breast but it's delicious with any poultry meal. If it's for a holiday other than Thanksgiving, I might serve it with this sous vide whole chicken or sous vide prime rib instead.
Are you a foodie, too?
Connect with me on Instagram @sipbitego to see my new tasty recipes – I always share previews before the recipes go live on the site. For more deliciousness, subscribe to the Sip Bite Go channel on YouTube.
To find more delicious recipes to try on your culinary journey, scroll through the Sip Bite Go recipe collection.
See tasty recipes for holidays