In this sous vide turkey leg recipe, you'll learn how to prepare turkey legs sous vide style for two ways. First, Thanksgiving style with traditional savory herbs. And second, BBQ style sous vide turkey drumsticks for any day of the year. Once you learn the steps, you'll be able to prepare sous vide turkey legs that are tender, juicy and falling off the bone.
Choosing turkey legs to sous vide
You can butcher your own turkey legs, or, my favorite, buy dark meat turkey legs in bulk to sous vide. If you're serving turkey for Thanksgiving, it's a great idea to cook extra dark meat turkey legs so more than two guests can enjoy them.

Some butchers will sell more than the standard turkey drumstick. If you sous vide a turkey thigh, for example, you'll want to leave it in the water bath a couple extra hours.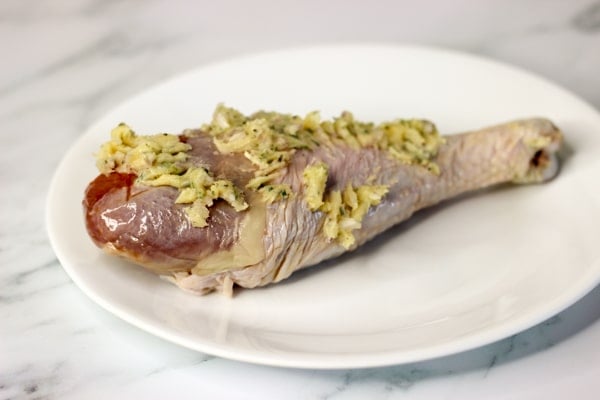 Sous vide turkey time and temp
Turkey legs aren't one of the sous vide recipes you have to sous vide for 24+ hours. You can, but there's no need as this method creates juicy turkey legs that come together at 155 degrees in 4 hours.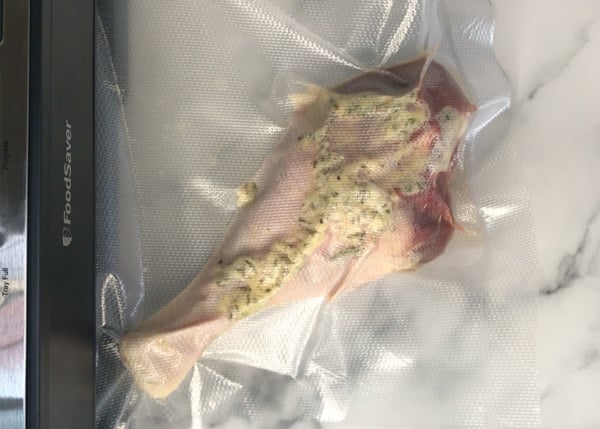 Finishing sous vide turkey legs without pinkness
Turkey legs weights can vary, so this preparation uses a similar technique as my popular sous vide turkey breast recipe. To prevent pinkness, after the turkey leg sous vides for a few hours, there is a final step. Either bake or broil the legs in the oven, depending on the internal temperature.
If your turkey legs reach safe poultry temperatures from the sous vide bath alone, you can broil or sear them. To sear, add hot oil to a medium-hot pan and sear the leg skin side down. If you have the time, I'd suggest instead to broil the legs for 3-5 minutes for a completely crispy skin.
Here's a side dish you can make in under 10 minutes… sous vide asparagus is so tasty!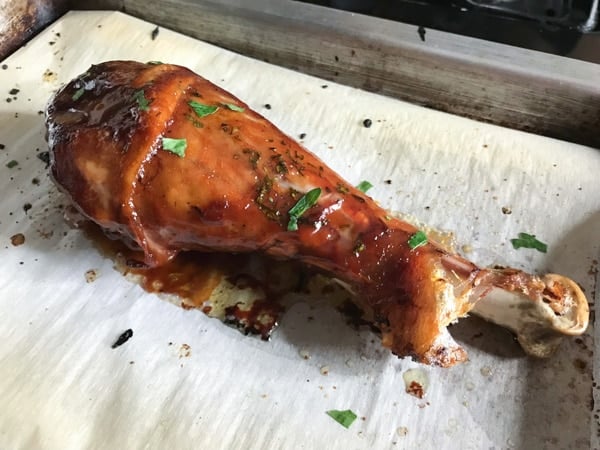 Thanksgiving sous vide turkey legs
The final step in the oven adds a crispy skin to the turkey leg, without drying it out. To make your turkey leg Thanksgiving style, crisp the skin in the oven with butter and seasonings. Garlic and fresh herbs like thyme, sage and parsley are great choices.

BBQ sous vide turkey legs
If you're looking for an "everyday turkey leg" instead of a "Thanksgiving turkey leg", add a generous coat of BBQ sauce before broiling or baking.
The sous vide turkey legs with BBQ sauce are so delicious, we stocked up on turkey legs in early November. I'm looking forward to batch cooking sous vide turkey legs when it's too cold in Portland to grill or smoke them outside.
Which sous vide sides to make with turkey legs?
These sous vide brussels sprouts and garlic dill carrots are the perfect side for sous vide turkey legs. Want to spice things up? Try this chorizo sausage stuffing!
Another easy way to make turkey is this air fryer turkey breast recipe. It's great for making turkey for a small holiday meal.
See these easy leftover turkey recipes for inspiration on using leftovers.
Readers also love these sous vide recipes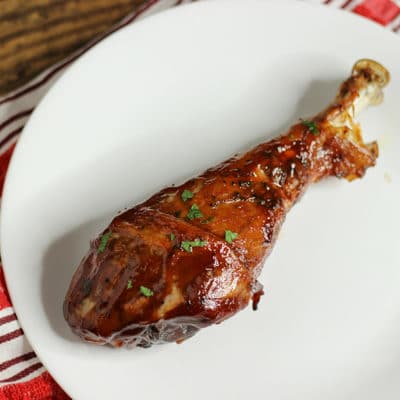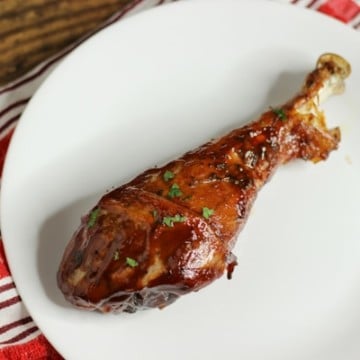 Sous vide turkey legs (Sip Bite Go)
The guide to tender, juicy sous vide turkey legs with crispy skin. Make them in batches and serve them with bbq sauce, or make them in bulk to please all the dark meat eaters at Thanksgiving.
Print
Pin
Rate
Ingredients
1

turkey leg

½

tsp

garlic salt

½

tsp

black pepper

1

tbsp

ghee (Whole30 compliant) or butter / oil

½

tbsp

shallot diced

2

tbsp

BBQ sauce

or Whole30 compliant sauce orThanksgiving seasonings
Instructions
Set the sous vide machine to 155 degrees. Make a paste of the garlic salt, pepper, and ghee. Season the turkey leg with the paste. Vacuum seal the turkey leg in a bag.

Sous vide at 155 for 4 hours.

When the sous vide bath is complete, remove the turkey leg from the bag and pat it dry. Add your choice of seasonings (as in blog post) OR BBQ sauce to the skin, and broil the turkey on high for 3-5 minutes to until golden and crispy.

Rest turkey for 10 minutes, then serve.
Notes
I'd love to see your juicy turkey legs! Find me on Instagram @sipbitego and tag #sipbitego when you post your version.
Nutrition