These are sous vide beef recipes that you can easily master, with any level sous vide cooking experience. They are "get it right the first time" recipes. From steaks like filet mignon and ribeye, to sous vide brisket and sous vide meatballs. Prepare to be very, very, hungry by the end of this post…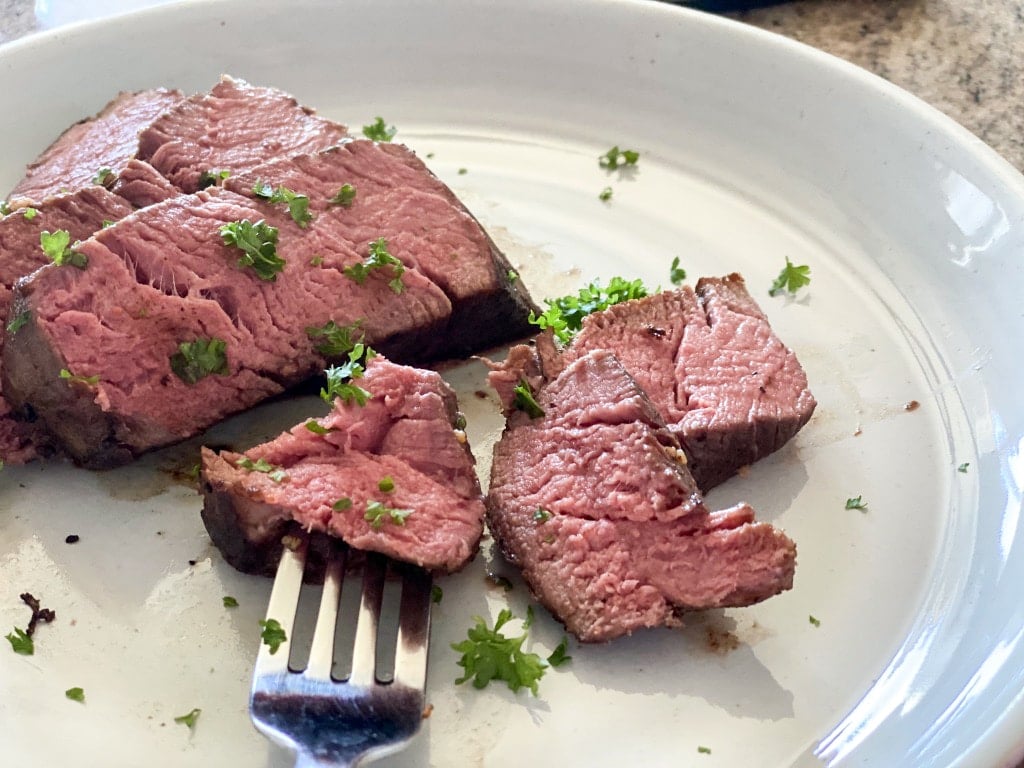 Each of these beef sous vide recipes are available to you in my sous vide recipe index or my new sous vide cookbook. I even have video recipes for many of them!  Some of the recipes are also featured on my pretty popular sous vide blog, right here on Sip Bite Go, which also happens to be a wonderful place to collect useful information which will help you create restaurant-quality food in your own home.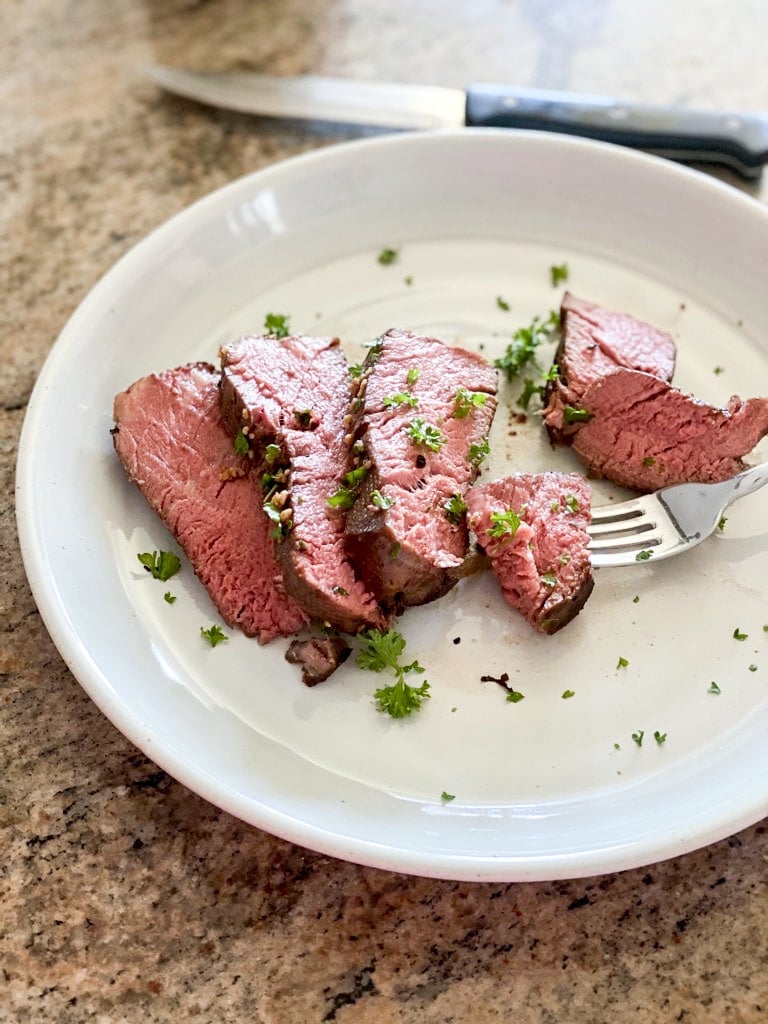 The basics of sous viding beef
Sous vide for beginners often starts with beef because it is so versatile. You can cook any type of beef: steak, meatloaf, short ribs or stew meat. If you've got your time and temp right, it'll always come out perfect: juicy, tender meat that features that signature edge to edge cooking you get no where else. No sous vide accessories necessary: all you need is your water bath, sous vide immersion circulator, and a sealable bag.
Wet your pallet with sous vide steak recipes
If you're diving into sous vide cooking steak for the first time, you can confidently start with a beautiful steak.
For that steak house cooked vibe, start with sous vide filet mignon, sous vide NY strip steak, sous vide boneless ribeye steak, sous vide tri tip, sous vide prime rib, or sous vide t bone steak. All are great choices. You can finish them on the grill, in a cast iron skillet, or with an air fryer for a crisp bark.
So few ingredients go in the bag for these sous vide steak recipes. You can skip butter, but always make sure to add a little salt when you vacuum seal meat so it cooks with flavor. I use a lot of flavored salts (garlic and BBQ are favorites) and will often throw in herbs from my kitchen herb garden.
Add BIG flavor with tasty sous vide steak marinade ideas. See easy marinades for sous viding flank steak, london broil, or a sous vide filet mignon at home.
Cook up some sous vide lobster for an EPIC surf and turf dinner cooked to perfection.
Long sous vide recipes with beef
While I've got plenty of sous vide recipes that you can make in a few hours, it's the overnight + recipes that really bring out everything that's wonderful about sous vide meats. Your meat comes out melt-in-your mouth tender and full of flavor, and there's never any hint of overdone.
A favorite 24-hour sous vide recipe is Mom's best sous vide stew meat. Okay, my mom stewed her meat in the crockpot, not the sous vide cooker— but she always knew how to mix and match dressings and sauces for a wonderfully flavorful result.
For the recipe featured in The Home Chef's Sous Vide Cookbook, you'll be using Catalina dressing, shallots, and fresh cilantro to bring out and accent the rich meaty flavor of 24-hour beef. I like to serve this stew meat with cooked carrots and mashed potatoes.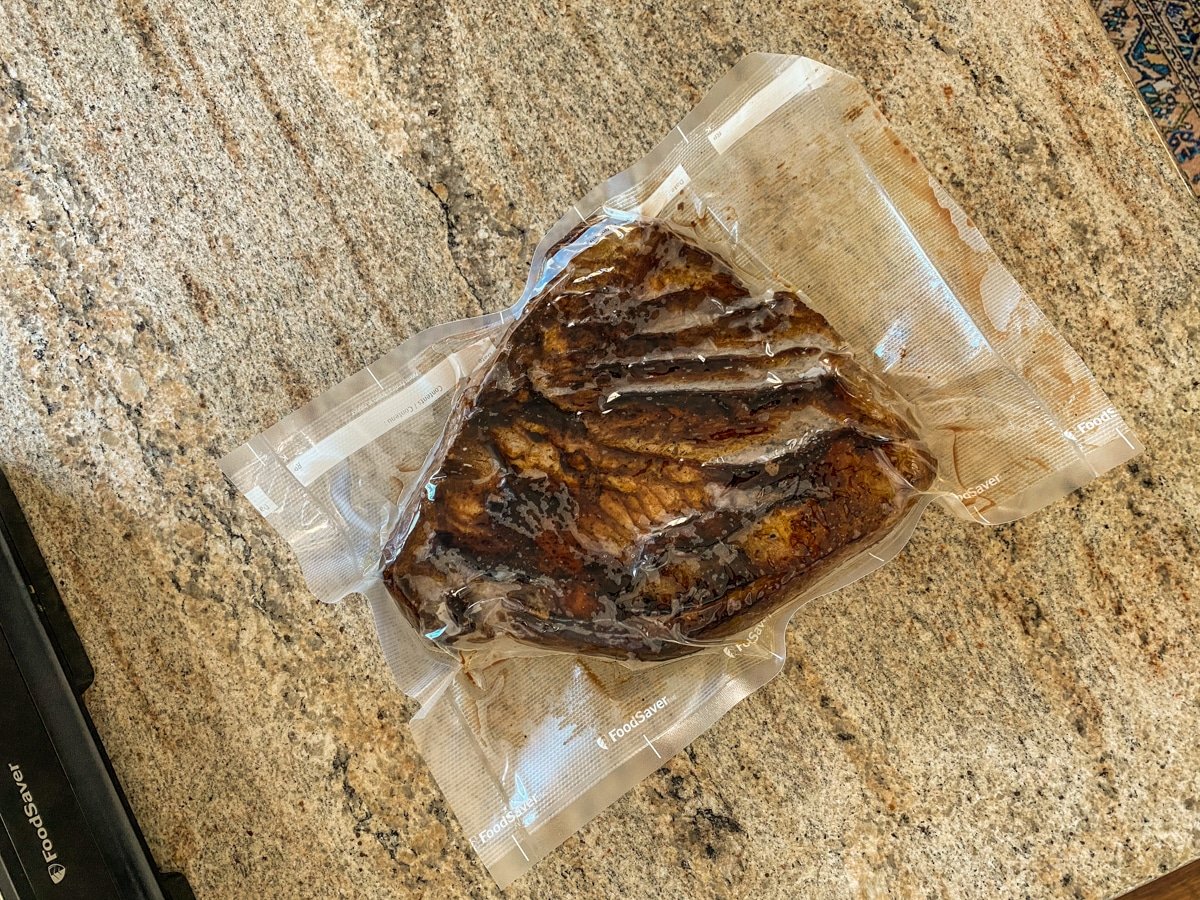 My smoky sous vide brisket recipe takes the long cook times one step further. For this one, you're going to want to leave your 3-pound sous vide brisket in the water to cook for 48 hours. Cover it to keep the water level high, but check on it along the way to make sure the meat is fully submerged in liquid.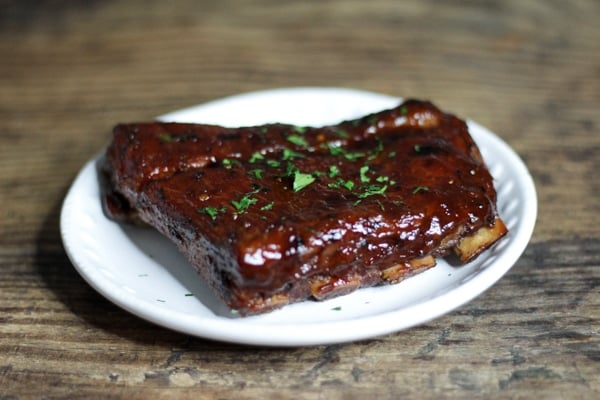 BBQ sous vide spare ribs cook in barbecue seasoning for 24 hours. Then they are shocked in an ice bath, and broiled for 5 – 10 minutes.
This recipe is such a staple in my house I never meal prep for just one meal—instead, I'll buy a large pack of ribs (2-4 sets) and divide it into portions that better fit my little, but hungry, family. I'll season them, package them neatly, and put them away in the freezer to wait till we want ribs.
A night or two before making sous vide spare ribs I'll usually pull out the package to thaw in the fridge and then it will go right in the sous vide bath.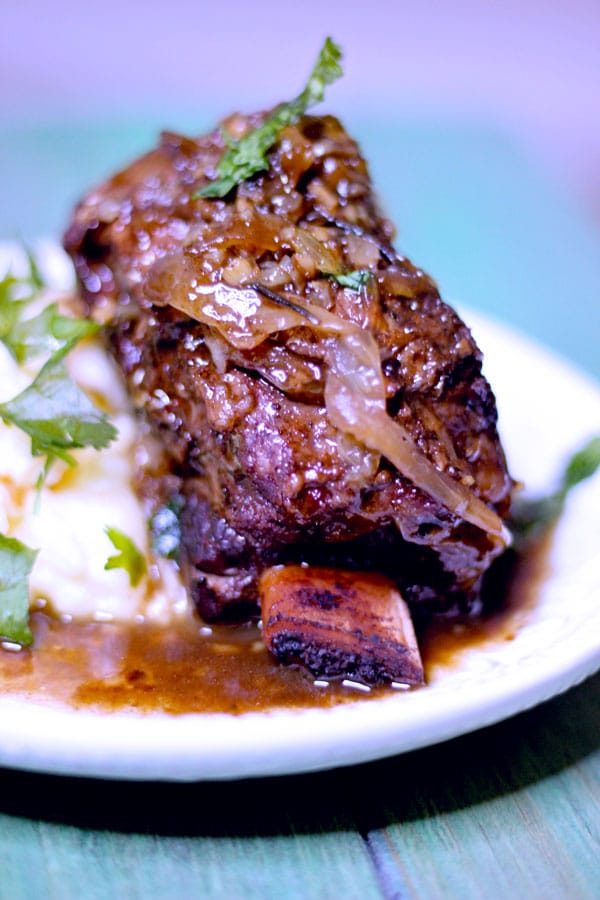 My simple sous vide short ribs recipe is another family favorite. These ribs are cooked with shallots, rosemary, and black pepper, and I like to serve them with mashed potatoes and my signature black peppercorn sauce.
You've never experienced fall-off-the-bone with so much dense flavor, thanks to the 24-48 hours cook time. These sous vide short ribs are a must-try. Here's the recipe video.
Free sous vide cookbook excerpt
Preview recipes from my new sous vide cookbook free below…
If you want to showcase your long-cook skills and sous vide for large groups my hearty sliced sous beef sandwich recipe is one I will recommend.  To get that optimal hearty flavor I sear twice: once, before vacuum sealing my round roast, and then again when it comes out of the sous vide bath.
I usually serve these sandwiches on French rolls with mayonnaise, provolone cheese, and sautéed onions, but you can also make them with mozzarella and sautéed green peppers for a more Italian flavor. Either way, your guests will love them served with my tortellini pasta salad or Caprese salad.
Then there are flanken ribs sous vide style. This chewy cut of meat is cooked completely tender within 48 hours in the sous vide water bath, and then you're left with flavorful, tender meat that is ready to fall off the bone.
My mojo sauce marinated sous vide flanken ribs recipe calls for a finish on the hot grill when the sous vide cook time is over, and more mojo sauce and a side like sous vide corn on the cob or sous vide asparagus.
You'll feel like you're cruising the Canary Islands when you enjoy this saucy meal.
Short cook time sous vide beef dishes
Not every beef recipe calls for overnight sous vide cooking, and though they might not be as fast as the 10-minute sous vide soft boiled egg, I have a whole repertoire of delicious recipes that come together in a few hours. Here are a few of my favorites.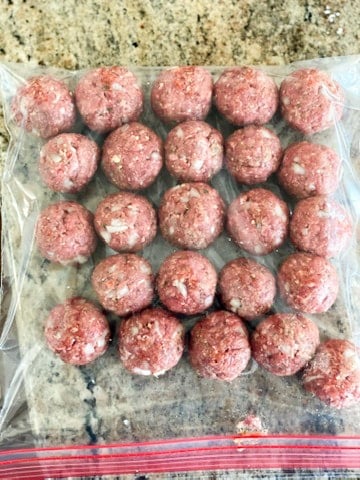 Ready-to-party Hawaiian sous vide meatballs can be served as a yummy appetizer, or sometimes I'll make them up into sweet and sour meatball sandwiches. You can even use them as a topping for homemade pizza.
The ultimate sous vide party food, these meatballs have only a two hour cook time. Making meatballs from scratch can be time-consuming, but the final taste makes it worth it. Here's a version of slow cooker Hawaiian meatballs that are tasty, too.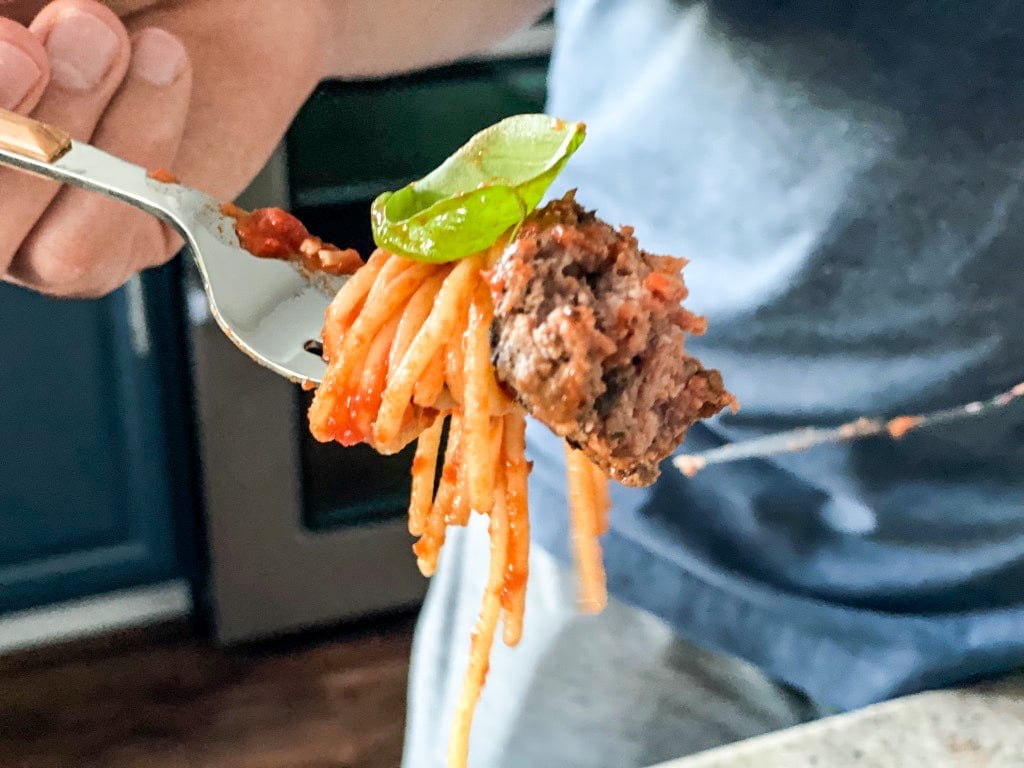 Long weekend style sous vide burgers are another meal I like to make when I'm expecting guests over. Life with a baby — err, actually overnight he just ripened into a toddler! — means I'm all about meal-prep in advance. They're usually topped with something gourmet like caramelized red onions.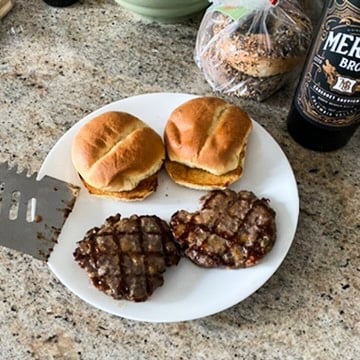 I've spent so much time testing sous vide beef recipes for my cookbook that I can almost prepare them blindfolded.
Sous vide burgers along with many other beef sous vide recipes are perfect for this. So I'll get these burgers all ready to go a day before – either buy them pre-made at the butcher, or make my own ground beef patties for burgers. Then I vacuum seal burgers until the morning guests are expected.
When it's approaching dinner, the vacuum-sealed sous vide burgers get a bath in the sous vide water bath. When people arrive, they are ready to toss on the BBQ grill for a final sear.
If it's a rainy day in Portland, or we are just doing a casual dinner at home, we'll just finish burgers in a cast-iron skillet for a few minutes each time. Hubs and I swear by this mayo sear technique.
Love the mayo sear on your burgers? Learn how to do the mayo sear sous vide technique to finish sous vide proteins like steak, chicken, and pork. A mayonnaise sear makes all types of protein so juicy!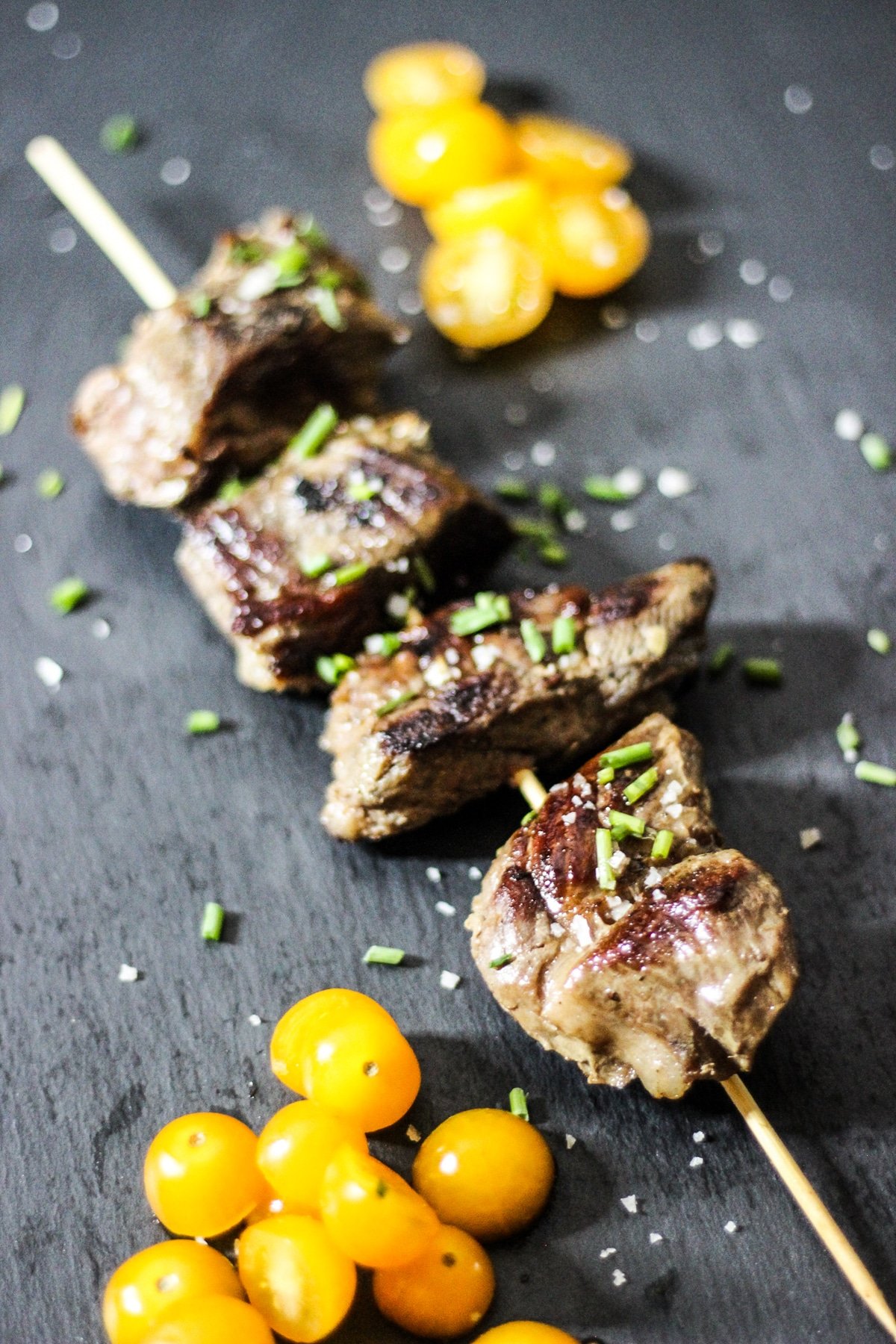 For summer afternoon gatherings I like to make grilled sous vide beef kebabs with garlic dill yogurt: the sous vide cooker makes this meal effortlessly, and still I get to serve my guests true gourmet goodness. These sous vide steak kebabs are delicious over rice, or served with a cucumber tomato salad.
My simplified sous vide beef Wellington bites recipe always turns out elaborately beautiful, but it's surprisingly easy to make. The sous vide beef is cooked till rare in the sous vide cooker, then cooked again inside the puff pastry with mushrooms and red wine.
This is one sous vide beef recipe for holidays you'll find in my book. There's nothing difficult about it and you'll be impressed by your own results. You can double up on the puff pastry and make these delicious raspberry turnovers for dessert.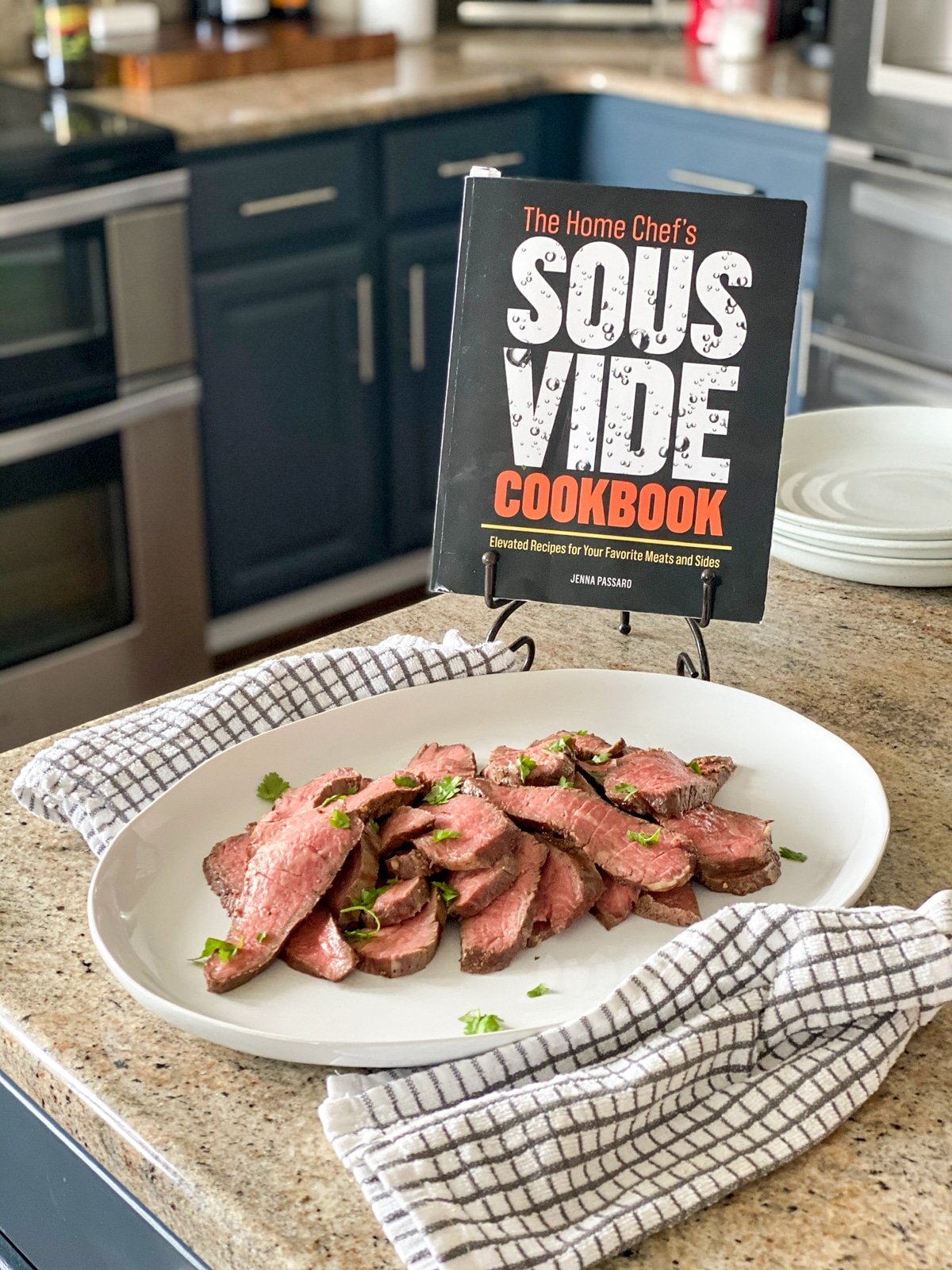 Time and temperatures for sous vide beef
Recipes for beef cooked sous vide style to showcase the full range of sous vide cooking times.  Usually in the range of 45 minutes to 48 hours.  Long cook time recipes often call for low temperatures: sous vide beef brisket is cooked at 135ºF.
Recipes like my Hawaiian sous vide meatballs, are likely to require temperatures of 140ºF.
Check the time and temp called for in each individual recipe before making it. Every cut of meat has its own ideal cooking method.
And, not to confuse things, but a sous vide beef temperature chart will help you figure out the right cook temp for your particular taste.
Ways to finish sous vide beef
While sous vide steaks are usually finished in the cast iron skillet, many other beef recipes I like to finish on the broiler or the grill.
The broiler is quick, convenient, and allows me to get every portion to perfection at the same time, but finishing sous vide beef on the grill gives it that authentic smokey flavor that really sets off a recipe like long weekend style sous vide burgers.
Want to spice up your freshly cooked steak? This creamy peppercorn sauce recipe for steak takes only 15 minutes! Make it with beef stock or leftover juice from sous vide cooking or roasting beef.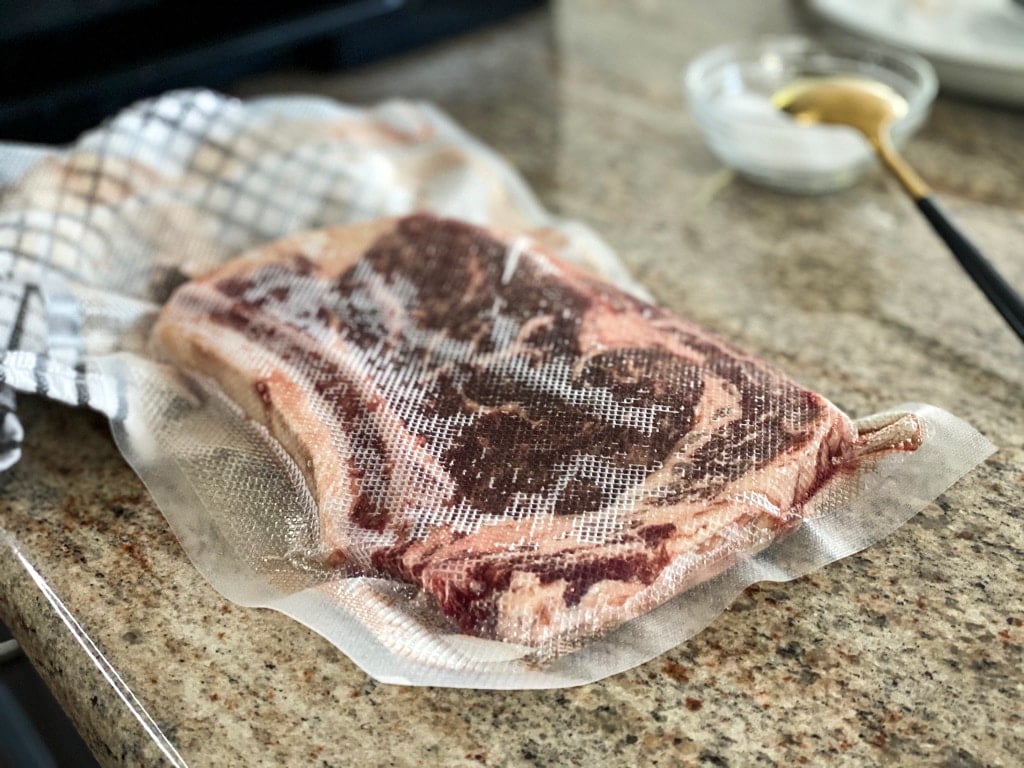 Sous viding frozen beef
It's easy to sous vide from frozen, and since I love meal prep I'll often prepare my beef in vacuum seal bags (with seasonings) as freezer meals.
The convenience of it is one reason why sous vide is popular with busy people myself. I've got a nice lineup of sous vide frozen steak in my pantry right now just waiting for me to cook them.
Sometimes I'll pull the bags from the freezer and defrost in the fridge overnight the day before our meal. Other days I'll just sous vide the beef frozen.
There's just one thing to remember: always add an extra 60 minutes to cooking time if you start with frozen steaks in the sous vide cooker. And remember: larger cuts of beef like chuck roast/eye round roast will take much longer to sous vide from frozen. Consult the individual recipe for notes.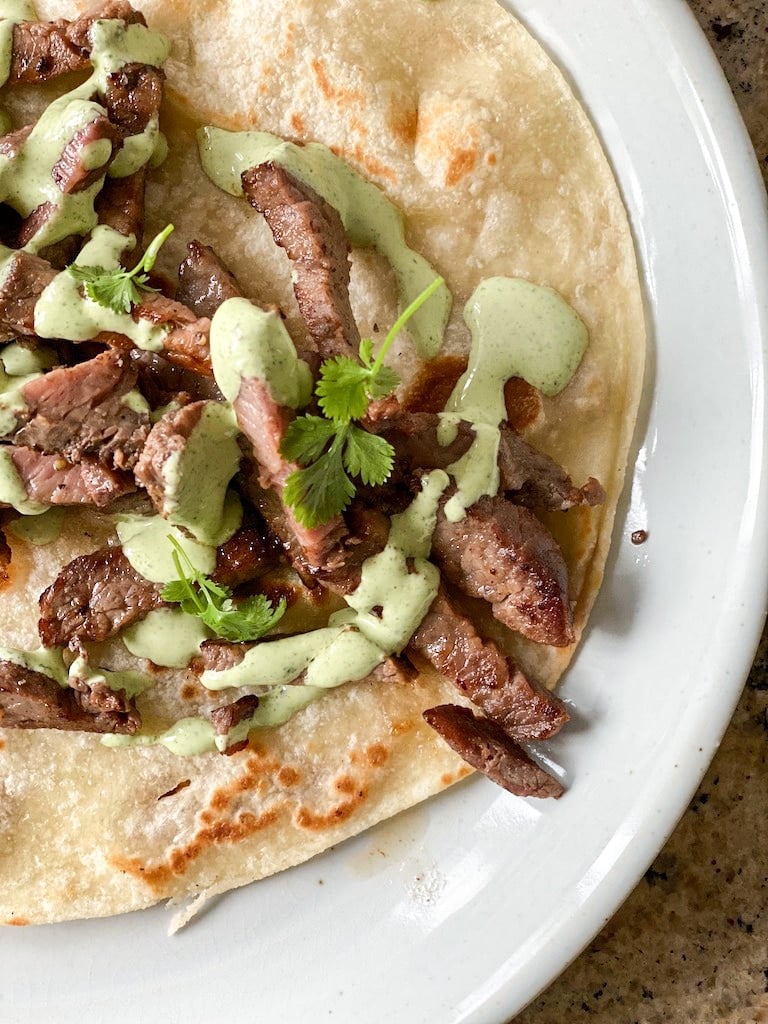 Find a similar sauce in this recipe for sous vide pork chops bone in.
Equipment needed for sous viding beef
Here are some products with affiliate links to check out
Sous vide machine Joule, SousPreme multipot, Anova, or Instant Pot Slim (learn about the new Instant Pot sous vide machines)
Sous vide container – bucket or stockpot to hold sous vide water
Bag to cook food in – vacuum sealer or ziplock gallon bags
Stock Up on your favorite meats at Crowd Cow and Snake River Farms. They'll ship craft butcher cuts right to your door. Which is awesome.
POP QUIZ
Q. Can you cook vegetables at the same time as sous vide steaks?
A. Usually, NO. Vegetables cook at a much higher temperature than sous vide steak. The good news: veggies cook quickly sous vide style. Cook them before/after most sous vide beef recipes.
Making sous vide vegetables with sous vide beef dishes
Some sous vide foods like veggies tend to float when submerged in the water bath. Weigh them down with commercial sous vide weights. These will help your sous vide vegetable recipes stay down.
Cook vegetables in a separate bag. See this guide on how to vacuum seal asparagus for an example. 
Want more beef sous vide recipes?
With my easy sous vide recipes, you'll get the time, temp, and prep details you need to successfully cook with this technique. My goal is to teach you how to use sous vide cooking to meal prep. And how to make a practical and delicious meals at home.
There are so many more recipes I have to share with you in the time to come. You'll learn all about how to turn sous vide beef into a full restaurant-style meal. Complete with sauces, sides, and additional flavors.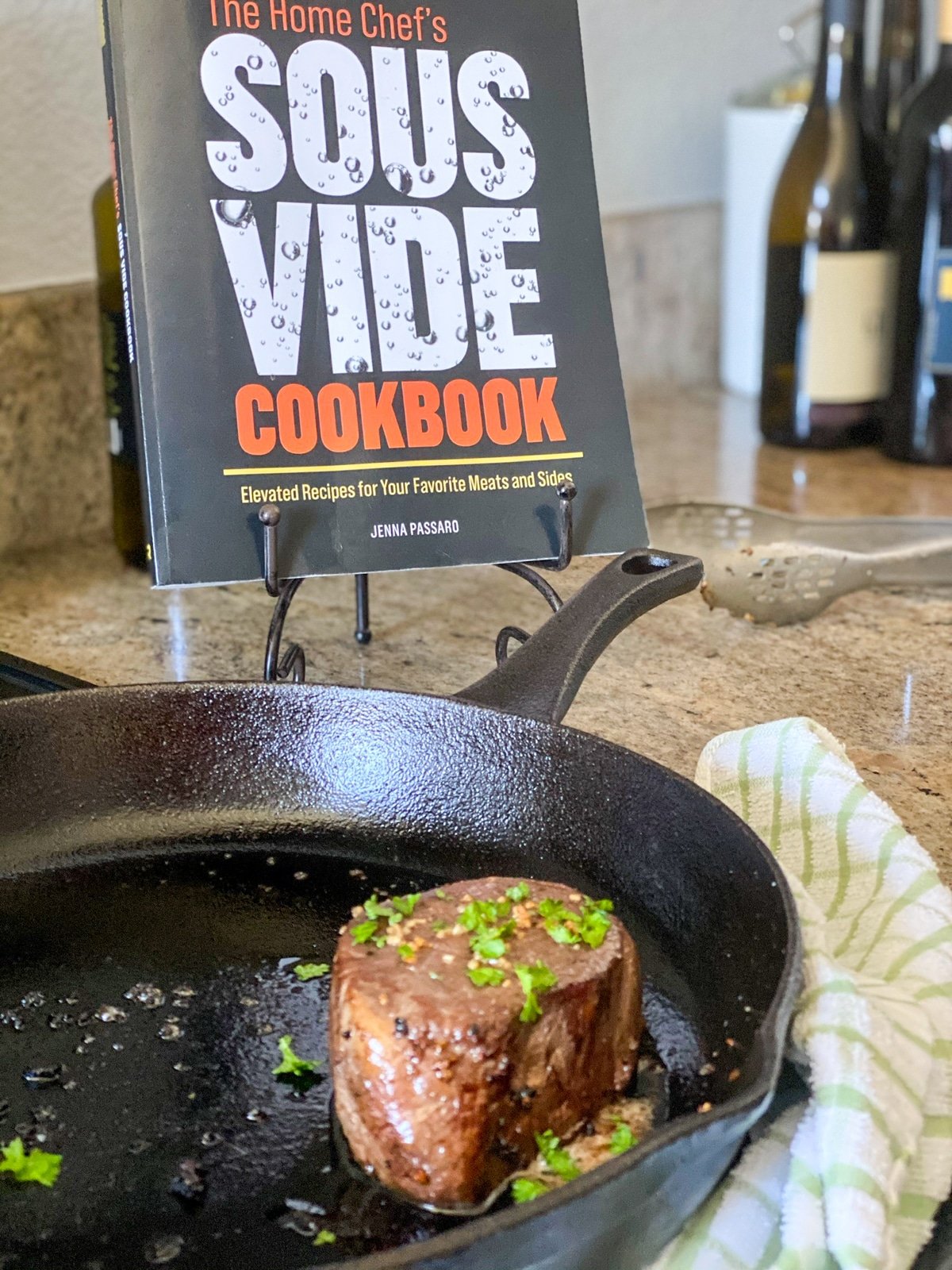 If you want to really dive into sous vide and experiment with everything beef to sous vide pork chops, seafood, breakfasts and sous vide vegetables, you'll want to get your hands on a copy of my new book The Home Chef's Sous Vide Cookbook.
I am passionate about equipping the would-be home chef with everything they need to be successful. Even down to tips about plating and presentation. That's why you'll find not only 100 recipes, but also hundreds of little tips along the way.
Have you tried one of these recipes?
Find me on Instagram  @sipbitego  and let me know how it worked out for you.
There's always something new happening on my website. See my latest sous vide recipe videos on the Sip Bite Go channel.