Before you head to the butcher or order meat online, check out this guide to skirt steak vs flank steak. While they're easy to get confused because they look similar, they're two separate beef cuts. Learn what's the difference and tips for cooking and grilling them.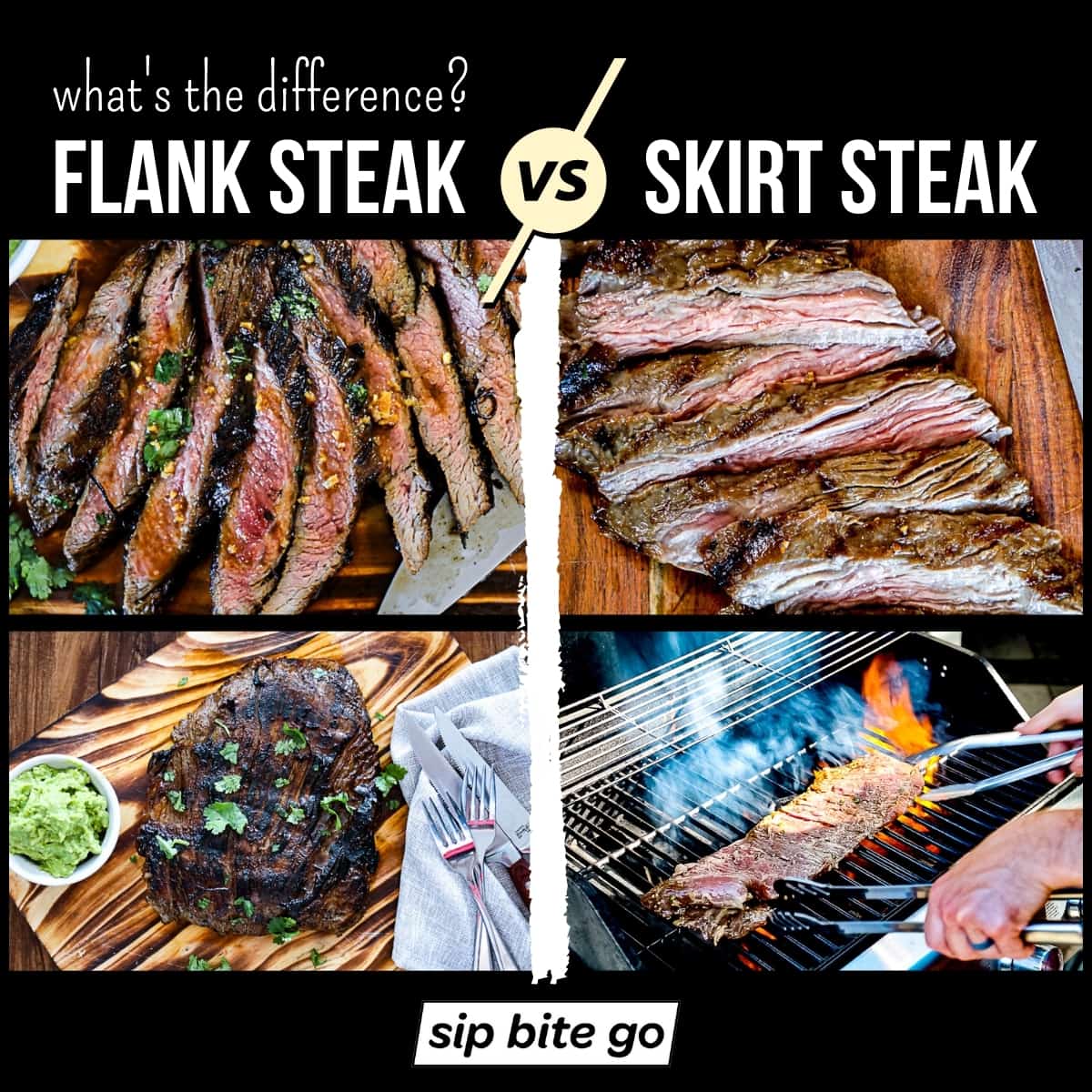 Why not try a new-to-you cut of meat like flank steak or skirt steak to switch it up for dinner? I totally get that it can be overwhelming to walk up to the butcher counter, so I'm here to help you answer… is flank steak the same as skirt steak?
See how to make a steak salsa marinade…
The Location Of These Steak Cuts
Here's a look of the placement of flank and skirt steak on a cow.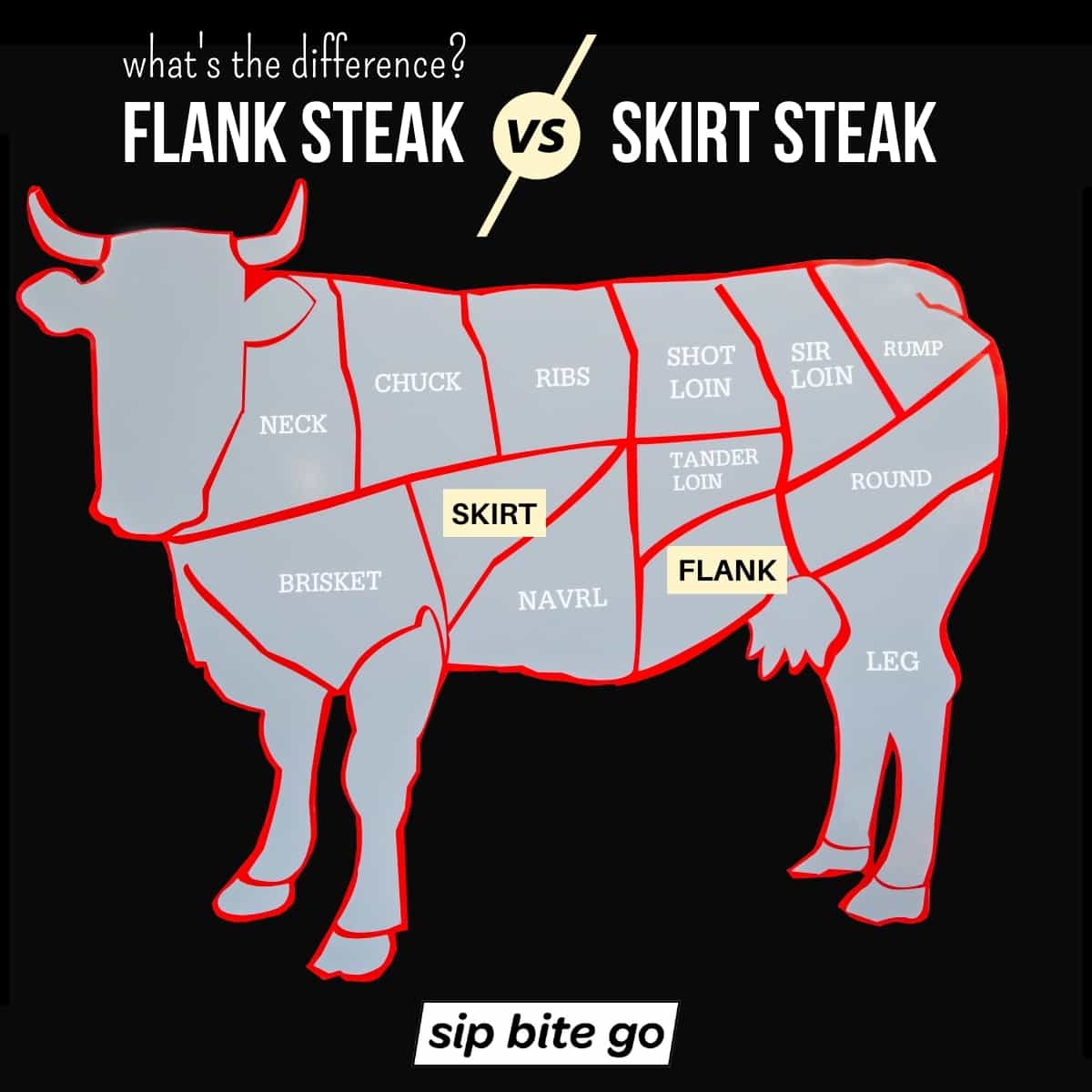 Overview and location of skirt steak
Appearance: Long and thin.
Meat vs fat content: Moderately meaty, higher fat than other cuts like filet mignon or porterhouse.
Location: Center of cow's belly, in the section referred to as "plate", below the rib.
Skirt steak is part of a cow's diaphragm, which isn't far from the abdominal muscle of a flank steak. Given the fact that the diaphragm powers the lungs, skirt steak is even tougher than flank meat.
See how to smoke flank steak…
Overview and location of flank steak
Appearance: Long and wide.
Meat vs fat content: More meaty, lower fat content than skirt steak or prime rib.
Location: Below the tenderloin, near the rear.
Flank steak comes from the lower abdomen of a cow. Since this area gets a lot of exercise, you can expect meat that's a bit tough but lean. You'll see long, narrow strips of muscle with pieces of fat on the edges.
The Texture and Flavor of Skirt and Flank Steaks
Both cuts of beef are known for their tough texture, but skirt steak has tighter muscle structure. Skirt steak is narrow, while flank steak is thicker and wider.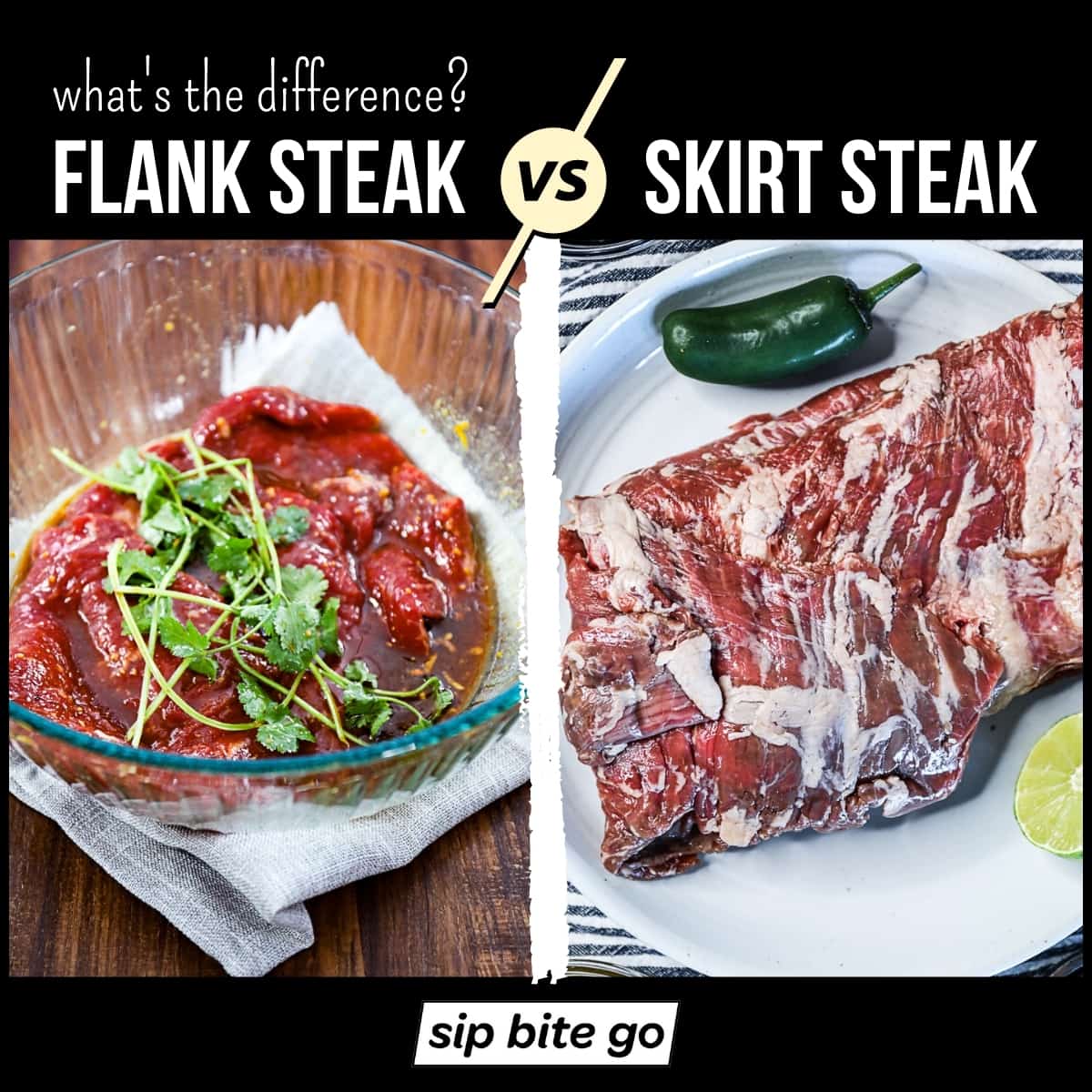 They both have a very rich beefy flavor. But, between the two, skirt steak has a slightly stronger beef flavor.
See the recipe for flank steak marinade.
Ideal Cooking Methods
Despite their slight differences in flavor and texture, you can often use beef flank steak as a skirt steak substitute in recipes. For the best results, stick to grilling or searing quickly in a cast iron skillet.
Since both beef flank and skirt steak are very tough, they taste the best when you leave them medium rare or rare. Plus, you'll get to enjoy the rich meaty flavor even more.
The skirt steak cut is the one that's traditionally used in steak fajitas with sauteed onions and peppers.
If you're looking to add flavor and tenderness, try marinating the meat in the refrigerator for a few hours or even overnight. Try serving the steak with a homemade sauce like this Creamy Jalapeno Ranch Sauce and one of these steak pasta sides or easy potato side dishes.
Air fryer steaks
Lately I've been getting into air fryer steak recipes, like air fried filet mignon. It's worth a try to see if you like the difference and convenience.
New to cooking this way? Check out what an air fryer does.
Sous vide steaks
As a sous vide cookbook author, it's no surprise that sous vide steaks are up there on my list of delicious ways to enjoy these somewhat chewy cuts of meat.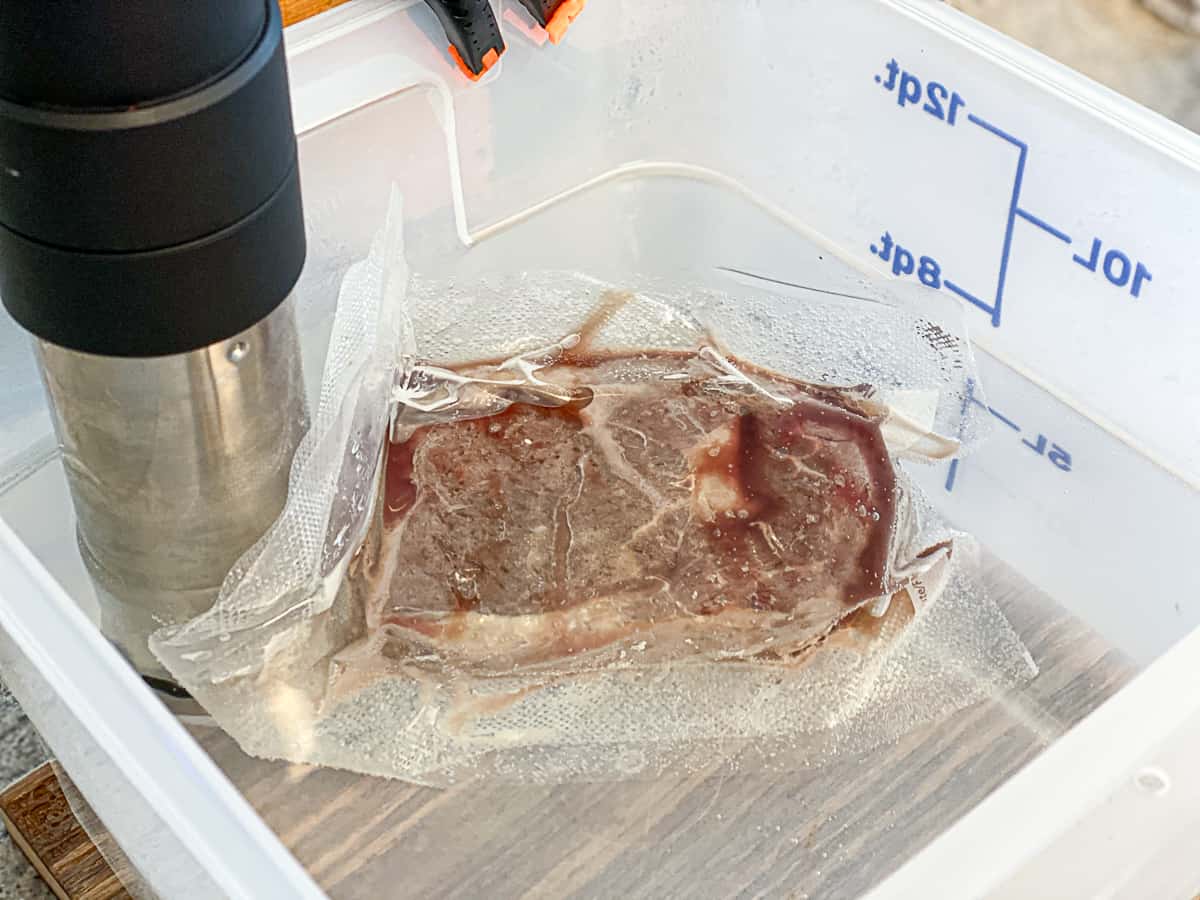 By vacuum sealing meat, then sous vide cooking it low and slow, you're able to really break down the tough muscle fibers and make some melt in your mouth steaks.
Did you know that you can sous vide in Instant Pots? A lot of the new models allow you to sous vide food.
Cast iron searing steaks
Indoor cooking steaks on a cast iron skillet is preferred to cooking in a nonstick flat pan.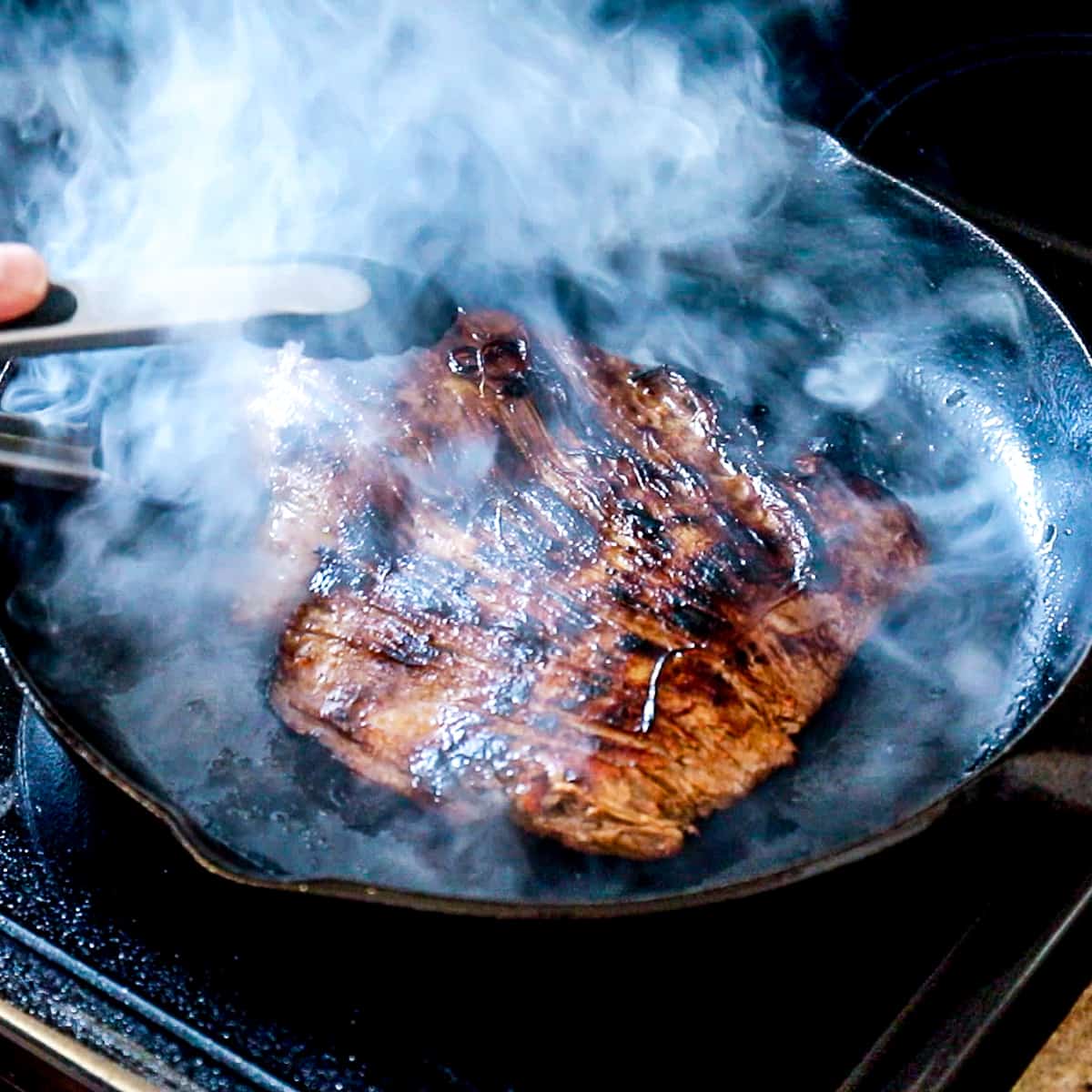 The steaks turn out with a better browned crust on the edges when using cast iron cooking.
Grilling steaks
Grilling is one of my favorite ways to cook steaks (I mean, I guess they all are my favorite!) because I love char flavoring.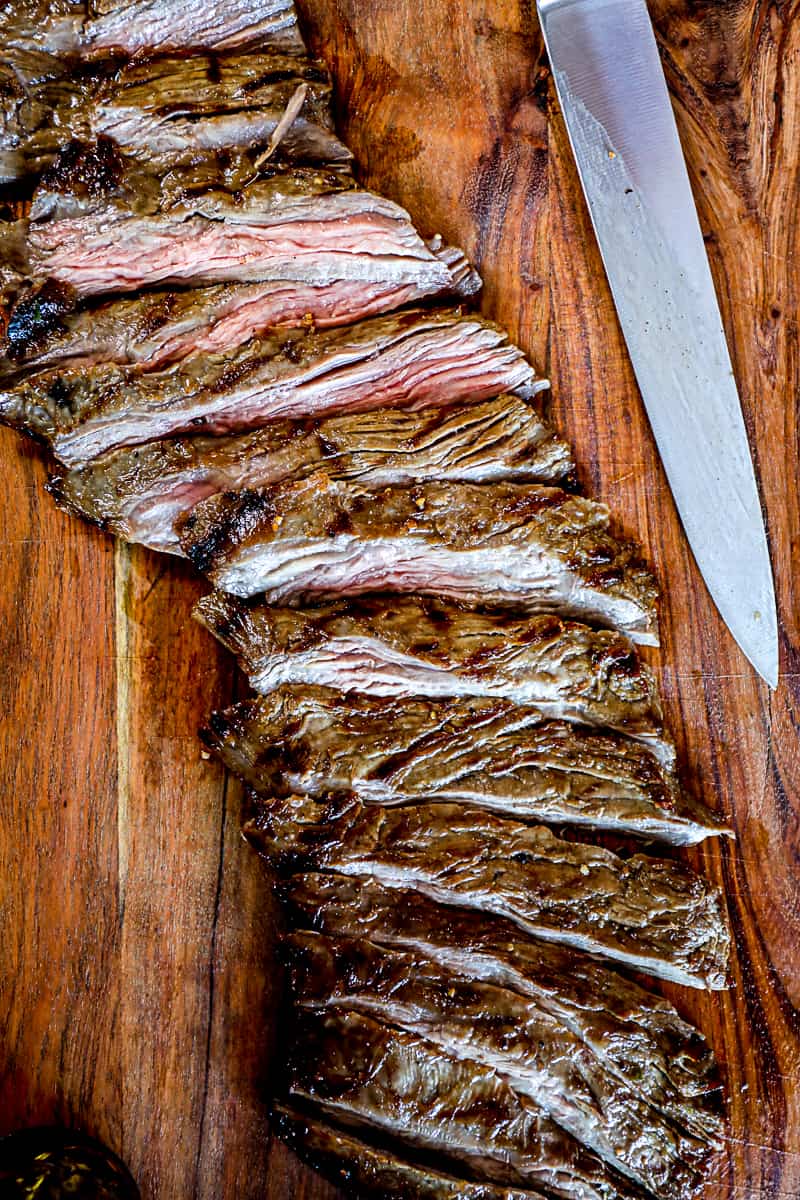 Grilling is unparalleled to other cooking methods if you want to get that grilled recipe taste.
Always Cut Against the Grain
Whether you're enjoying flank or skirt steak, you have to cut against the grain. If you don't do this, the meat will be nearly impossible to chew. Cutting against the grain will separate those tough fibers so each bite is easy to chew.
When you're cutting flank steak, look for the grain or those long narrow strips of muscle. In flank steak, the grain runs the length of your piece of meat. Take your knife and place it perpendicular to the meat grain and slice it thin.
Before you learn how to cut skirt steak, know that the grain often runs between the short sides. That means you'll need to make long cuts in the meat to slice it against the grain. For example, if the meat is a 10 inch by 4 inch piece, each strip will be 10 inches long.
That said, always refer to the grain before you start cutting.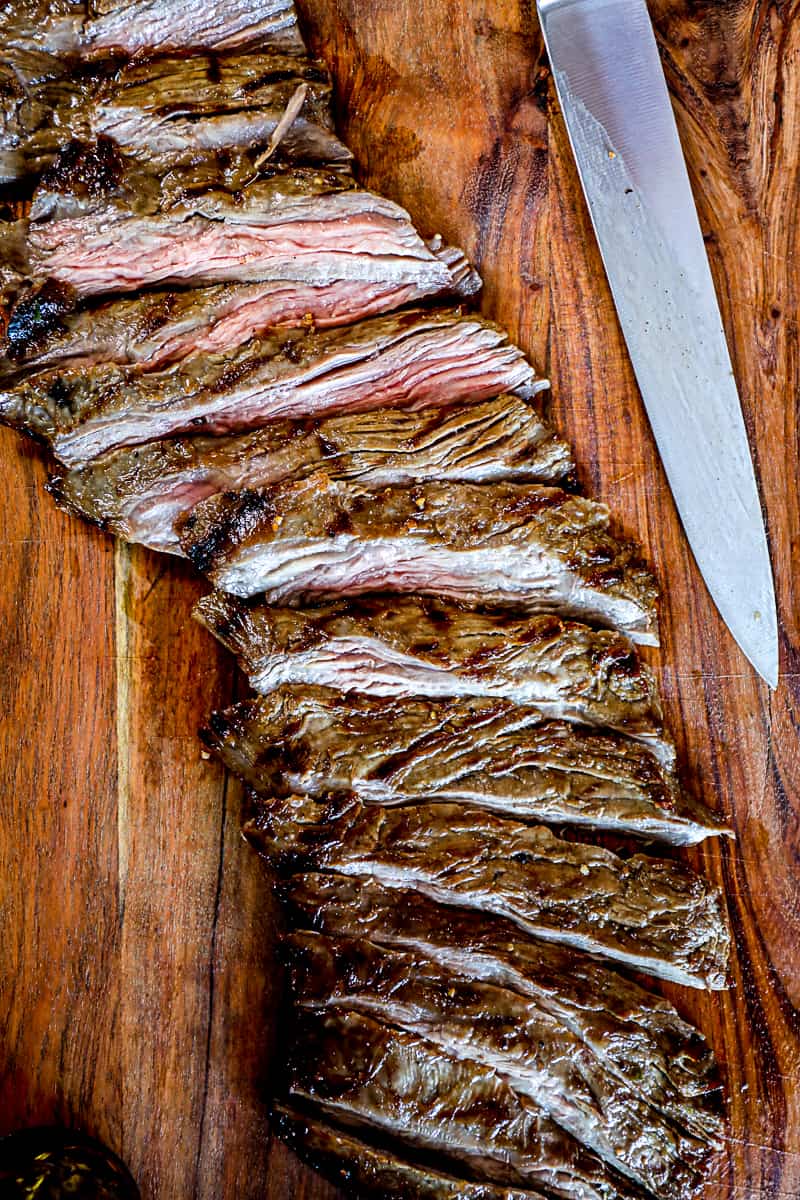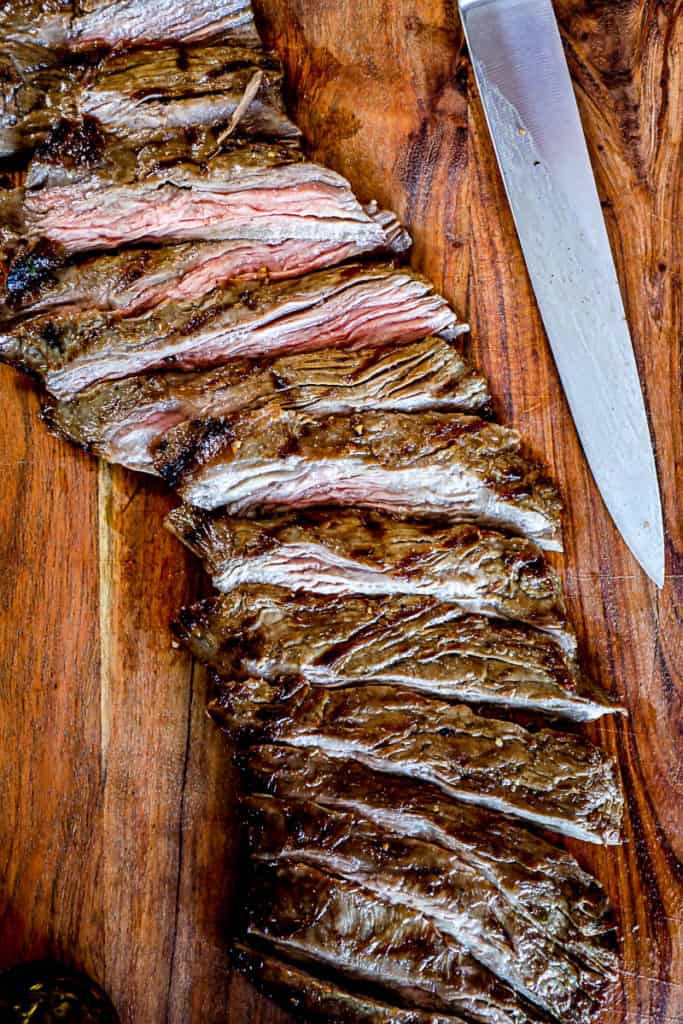 Skirt Steak vs. Flank Steak: Which One Will You Try?
It shouldn't come as a surprise since beef is a complex protein that you can enjoy as steak, in burgers, tacos, and much more. That said, beef is much more versatile than many of us give it credit for.
Flank steak and skirt steak are both flavorful cuts of meat that can be tough. As long as you cut them against the grain and don't overcook them, you'll enjoy some delicious beef at an affordable price.
New recipes and foodie guides….
Grill and smoker recipes…
Meat thermometer recommendations
Every home chef needs a reliable meat thermometer to cook food perfectly.
On Sip Bite Go, you'll often see me using:
Meater thermometer – a fancy wireless thermometer that connects to a phone app – gifted to me from a Traeger partnership.
ThermoPro digital thermometer – which has a wire that connects the thermometer to a display box outside the oven/grill.
It's like being psychic! The great thing about either of the thermometers above is that I don't have to take the food out of the oven to know the temperature.
How to use 'em… What I do is stick the digital thermometer in steak, pork, chicken, whatever… Then put the food in the oven, on the smoker, or grill.
While the meat cooks, it reads the temperature so I know exactly what temp meat is as it's cooking. Without having to take it out and check. It's really difficult to overcook food when you know exactly what temp it is inside!
Are you a foodie, too?
Find me on Instagram @sipbitego to tag me and connect about home cooking.
To find more delicious recipes to try on your culinary journey, scroll through the Sip Bite Go recipe collection and see video guides on the Sip Bite Go channel.