Whether you're #hashtagging your heart out or haphazardly slapping tags on posts in efforts to make the social media gods happy, the Instagram hashtags you choose speak volumes about you. With each carefully curated snapshot you upload, the accompanying hashtags have the power to make or break the popularity of your post. (#crickets vs. #instalove). Want to avoid unintentional social media slip-ups? Review your hashtags.
Reach your next 100 followers + avoid hashtag slip-ups
There's a lot of responsibility with growing your social media following, because people expect you to be present and engaged, yet you only have a few seconds to connect with them. To hit your next milestone, you'll need to get out of marketing-bot mode. It sure sounds simple, but I went on for months without double-checking the hashtags I used. Then I focused on my hashtags for a month + just this week reached my next 100 followers. (then I waited until I got an additional 15 before posting this – just so I wouldn't jinx it!!)
It feels good to reach an Instagram milestone worth a pat on the back.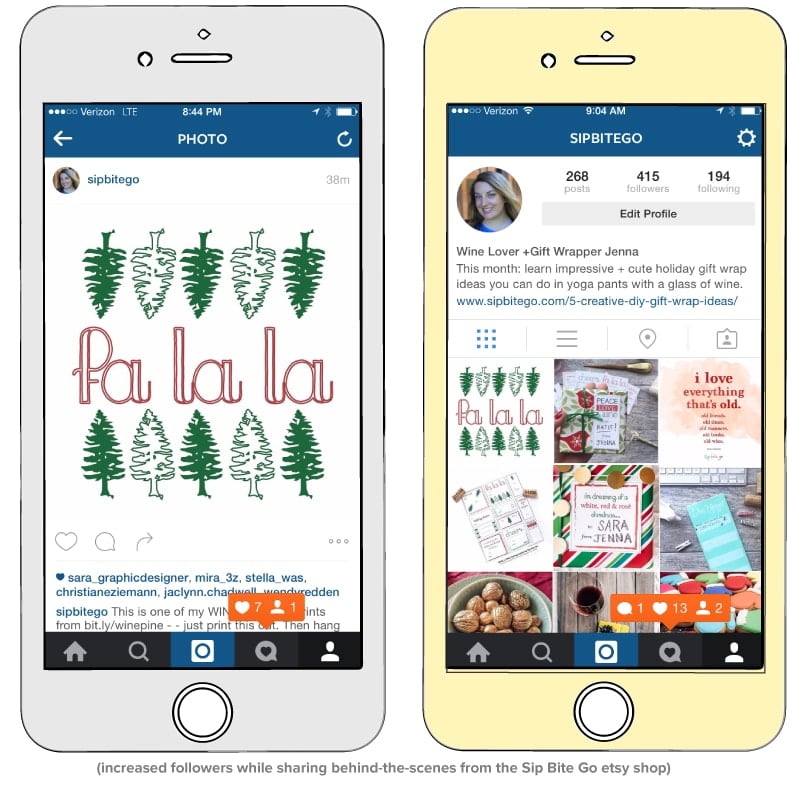 Attracting new followers to your Instagram account during holiday months can be a challenge. Before it got cold out, I was at my desk, sipping my ice coffee, rolling my eyes at all the hashtag junk out there in the world. Can't a girl just let people know she has really creative + cute gift wrap ideas that will make people smile this holiday season?? YES. With the right hashtags, she can. My spirits were up when I found an intriguing French hashtag. The French make great wines, crepes, and now, hashtags? (jackpot)
Fortunately, I realized after a split second that I don't actually know French. Even though this shiny new hashtag was surrounded by a sea of hashtag friends I use frequently in my WINE+PINE posts, I knew I had to figure out what it meant before I blindly associated it with SipBiteGo.  
Further research exposed my favorite new hashtag as someone's last name. What a close call. All the lights seemed green. Hundreds of posts under the hashtag. All different photography styles (as if they were by different people). Thankfully I was concerned enough to check it out again before posting. Long story short, I compiled a list of well-researched hashtags to sprinkle throughout December's posts.
You can grow your Instagram presence and gain followers without bumps in the road. Personally, I practice keeping an updated list of hashtags that are relevant for the topics of my Instagram each month. Feel free to borrow the ones that work for you.
Where can I find you on Instagram?
Got hashtags you can't live without? Have a tip to share? I'd love to hear from you.  Join the discussion in the comments + let me know your Instagram account so we can connect.