If you're a food blogger trying to meet Mediavine requirements, this post is for you. A food blog friend recently asked me how to qualify for Mediavine in one year. This came up because she wanted to turn her food blog from a hobby into a source of income. She's been blogging 11 years and had about 700+ posts. I couldn't believe she didn't qualify for Mediavine yet. It's a very important goal for a food blogger looking to make a living. Because in the first month of Mediavine, it's possible to make $500 or more. After getting into a discussion, we decided to share the interview with others aspiring to make money with food sites. 
If you don't know how to make money with a food blog, quality advertisements from reputable brands are a great way to earn money. Just like a magazine has ads, so can a site. Mediavine reviews confirm that they are one of the best ways to monetize food blogs (and other blogs from travel to fashion). Learning how to meet Mediavine requirements – i.e. the minimum sessions needed a month to get accepted into Mediavine – is a goal for many food bloggers looking to make income. 
So here's a super open conversation with myself and interviewer, buddy food blogger, Victoria Kabakian from Mission Food, on what I did to qualify for Mediavine income in one year.
The short version: Reaching the goal of earning Mediavine income involved putting out better recipes, learning how to make my site better for readers and utilizing the right social media channels for people who love the type of food I make.
Now, I didn't start from scratch. I went from 5k sessions a month to 25k in one year. Reaching a steady 5k sessions a month happened naturally as my recipes improved, my food photography improved, and as I blogged more consistently. 
What I'm here to share is how to get to that point once you realize you can make money with Mediavine, at whatever point you're at in food blogging..
If you're starting with under 5k sessions a month, and want to qualify for Mediavine in one year, don't be discouraged! Honestly, it may have been easier to reach 25k sessions a month if I didn't get pregnant (oh those pesky food aversions slowed down my blogging!). So – get inspired to make income from your food blog by qualifying for Mediavine with these tips.
Let's dish: how to qualify for Mediavine in one year
Victoria
I'd love to pick your brain about some food blog monetization stuff. I'm migrating my blog (hopefully) and making a bunch of changes to boost food blog traffic to qualify for Mediavine, so I'd love your input on what has helped you grow your blog. 
What was it like to make Mediavine?
Jenna
I was so happy to get to 25k sessions to monetize with Mediavine. It took about one year to make Mediavine income after I set the goal. I started with 5k when I learned about making money with Mediavine. 
I had been food blogging for a while, but it took years to learn about SEO, social media, making recipe videos, how to write recipes. I thought I was starting ahead because my background is in marketing, but 
The year I made Mediavine was the busiest year of my life personally, and I was so thrilled to get accepted into the Mediavine advertising program.
Victoria
I'm not there yet, but I think it's because I'm on the Blogger platform and haven't utilized a lot of food blog monetization tools to help me. I've had more traffic in the past and then it kind of slowed down. I just think I need a revamp to start, and also use recipe cards through a plugin, which I can't use on Blogger. I use Facebook and Instagram but need to prioritize Pinterest more it seems. So let's dive in!
Technical food blogging stuff
Victoria
Which web hosting service do you use?
Jenna
Cloudways. I had with Blue Host, but Casey Markee, an SEO specialist from MediaWyse recommended switching to Cloudways, which I did myself. Different hosts impact the speed of websites, and a faster website is a better website for readers. It only took a day to switch hosts. 
Victoria
Which theme do you use?
Jenna
Genesis! They have a bunch of food blog specific themes, look for Foodie Pro. These are made for all the necessary details and set up a food blog needs. I find it easier to use than the ones in the past. Before, I used Divi and Avada themes. Both of those previous themes were holding me back because they aren't meant for food blogs.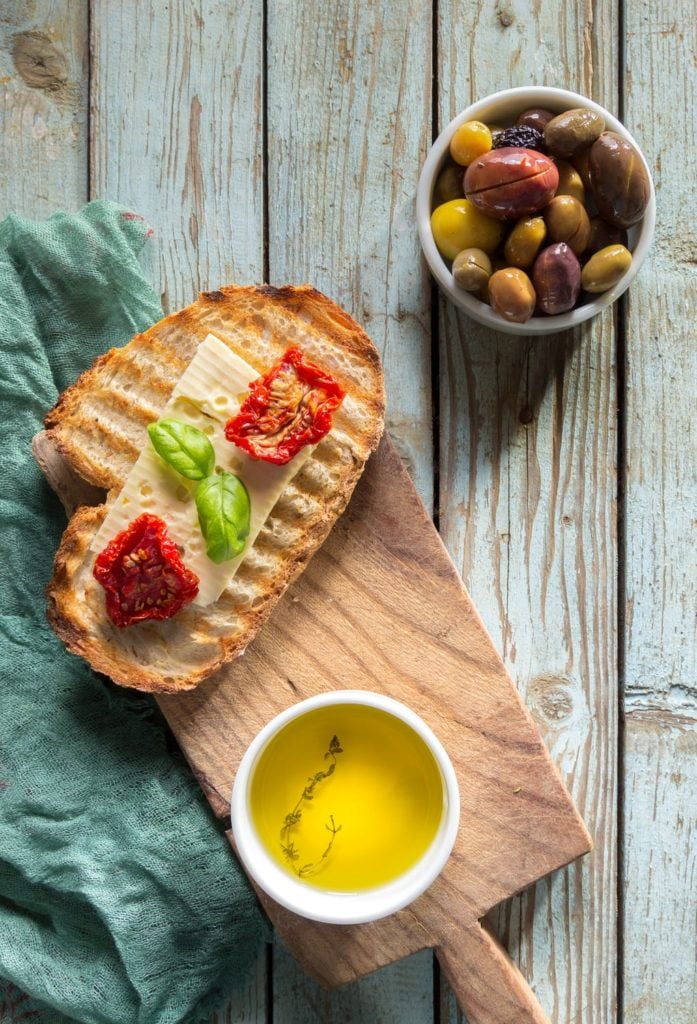 Social media tips for growing a food blog
Victoria
Simply bulking up on social media hasn't really earned me more followers or more traffic so I figured there has to be more I can do.
Jenna
Social media really needs to be done per channel. Before concentrating on Sip Bite Go, I was a social media marketer for many lifestyle brands including jewelry, sunglasses, and restaurants. First hand, I can confirm it's true – what works for connecting with people on Instagram is different than serving readers things they'll be interested on Facebook and Pinterest. 
Whenever there's something I want to make sure I do to share each blow post on social media channel – like add a new food post to Instagram stories – I add it to a checklist to make sure it gets done. I love my blogging spreadsheets! I'd encourage you to make a checklist, too. That way you are consistent and share each post, which may take a couple days depending on how much time you have after hitting publish.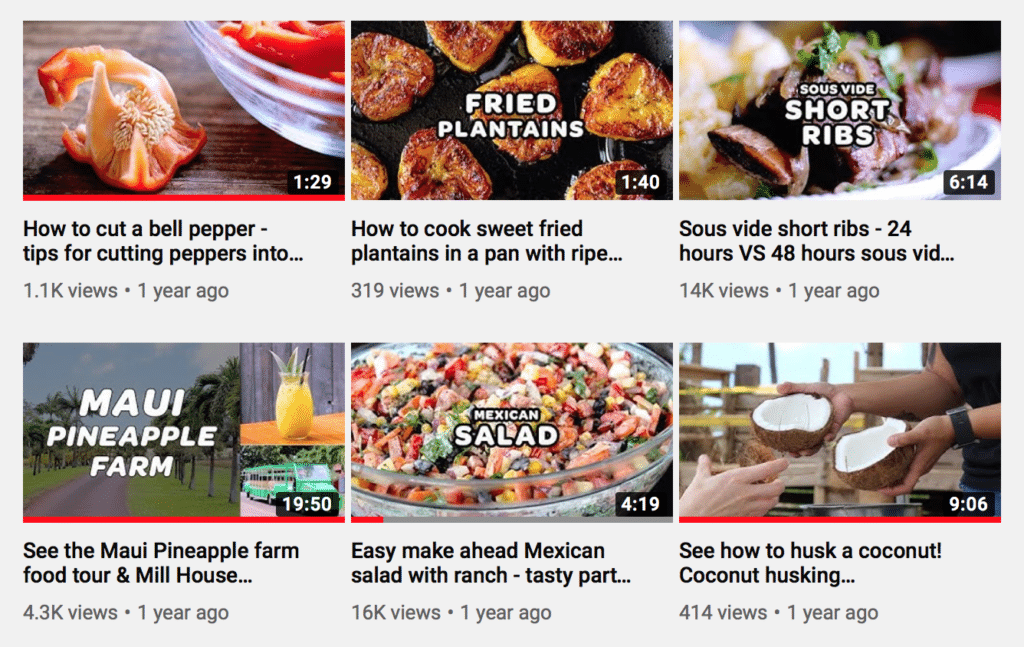 What about sharing recipe videos on YouTube?
Victoria
Some food blogger tips suggest making YouTube videos. Thoughts?
Jenna
It's great to learn how to film and edit videos to go along with your recipes. You can start with your most popular recipes and go from there. Or start with all the new recipes you post. Whichever motivates you. 
YouTube has their own requirements to qualify for the ability to earn ads on there. And the earning amount, at least from my experience, isn't as high as Mediavine. But as a creator, I love making YouTube videos and my readers always request them if there isn't a video to go along with a recipe!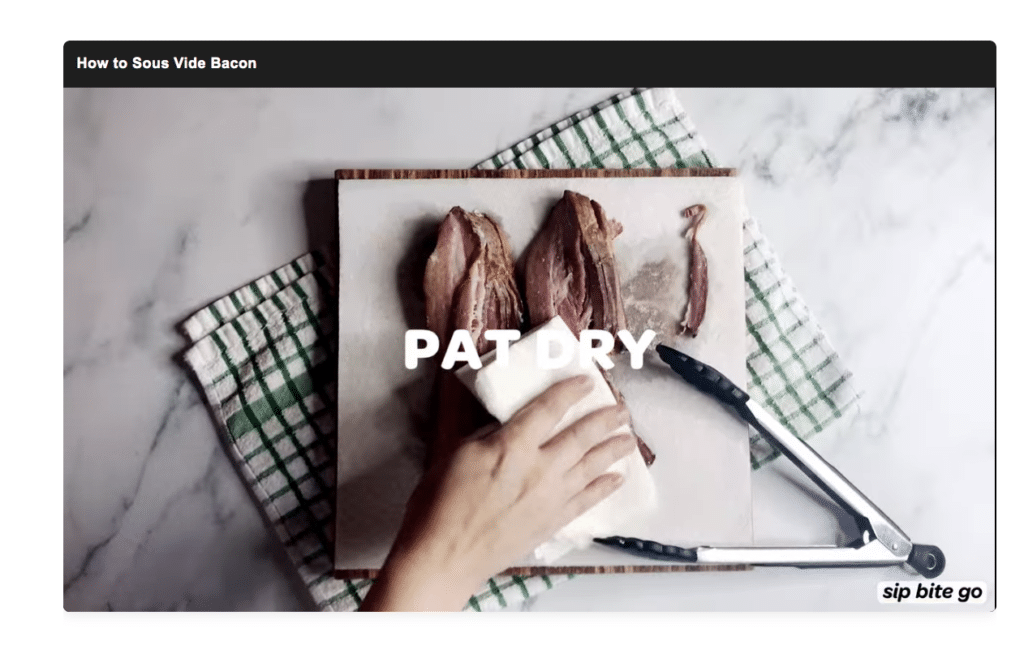 Can you make money with Mediavine video ads?
Victoria
How do video ads with Mediavine work?
Jenna
Once you learn how to make videos for your recipes, and you get accepted into Mediavine, you can make more money with video ads. How this works is that you make 30 to 60 second clips of the recipes and plug the videos into Mediavine. Then they run ads on them. It's not overkill – it's usually just in-between recipes like a mini commercial.
To make this easy, I take my 2-10 minute YouTube recipe videos and make versions for Instagram, Facebook, and Mediavine. 
Mediavine shows a video, then a video ad, then a video…
See this article on how to sous vide bacon to see the Mediavine video ad, about halfway down the page.

Using Pinterest to grow blog traffic
Victoria
I also need to start making Pinterest specific images. I have never done that but it seems to be a big deal now. Is Pinterest important for growing food blog readers?
Jenna
Pinterest is usually faster to see results than YouTube – if you're looking to drive people to your site. People go on YouTube to stay on YouTube and watch videos. They don't click to the site as often. 
But on Pinterest, the whole point is to find ideas that connect to web pages with relevant results.  One pin can go viral and start sending dozens, then hundreds, then thousands of readers to your site each day. People love going to Pinterest for recipes, so it's a great place to add all of your posts if you want to know how to qualify for Mediavine income with the help of social media. 
Definitely look up the latest size requirements for pins before making them. Then make some templates that work for you with your preferred type and logo. Aim to make 1-3 pins per blog post.
Victoria
Do you use any particular templates to create pins for Pinterest? Or do you simply create them manually in Photoshop? I'm not sure what is the consensus on what works best.
Jenna
A lot of people use Canva. Personally I love keynote to make templates. But I used to make a lot of PowerPoint presentations when I worked a 9-5! So maybe that's why. Keynote is on a Mac – it's the equivalent to PowerPoint. I just adjust the dimensions to make the right size pins and have templates set up. It's faster in my opinion if you want to have text on your pins. 
Victoria
If you create a special pin image do you post that in your blog post so people can pin directly from there or do you upload it into Pinterest so people can copy your pin?
Jenna
You can do either. I post any pic I think looks good on Pinterest. If I made another pin that has text, I usually won't post it in my blog, so I'll post directly to Pinterest. With a link to the post.
Victoria
Some of those Pinterest graphics are just so long that I cannot imagine making that look good in my actual blog post. It would be so much scrolling!
Jenna
Again – before you make any images, look up the image sizes Pinterest recommends. They do NOT recommend those super long ones these days. They become way too small for people to see on their phones – where most people are accessing the web.
Victoria
Makes sense. I usually pick my favorite image but try to make it a vertical image (although that doesn't always happen). When I look at my pins on Pinterest it doesn't always put the title of the post under the pin so sometimes there is no identifying information. I'm not sure why on some boards it shows the names and on others it doesn't. But making a graphic with the title will help.
Jenna
Sometimes Pinterest doesn't carry all the text over. They are constantly changing their stuff. But it's definitely a good place to have a presence for food.
Once you have official recipe cards the ingredient list will get pulled from your site to Pinterest automatically which helps more people figure out if the recipe is right for them.
Victoria
I didn't even have a Pinterest business page until today. It was just a personal page.
Jenna
The first thing to do as soon as each blog post is done, is to add it to Pinterest. Add 1-3 images and a video if you have it.
Using plugins for food blogging
Victoria
I think a few basic things like even finally setting up recipe cards (blogger doesn't have them) will make it easier to find my recipes on google. I'm trying to be optimistic and not get down on myself for not doing this sooner. Do you use plugins or apps to automate your social media posts? If so what do you like?
Jenna
I use a plugin for many things, and I'd particularly recommend Yoast SEO (free version is fine) and an image compressor. The more compressed the images on the site, the faster the pages load. Which is good for readers because people like fast loading websites that give them the information they need. 
SEO tips to help reach Mediavine numbers
Victoria
Do you use any tools for food blogging SEO to help you find the best keywords for recipes? I need to work on my SEO skills more than anything I think. I think I will be better off paying for an SEO class vs paying for an SEO tool but I need to do more research.
Jenna
The parts of SEO I like to follow are ones that are better for Sip Bite Go readers. 
One big SEO thing to do to grow traffic and qualify for Mediavine ads is to add process shots to recipe posts. I had a mini SEO Audit with Casey Markee and he tipped me off on another thing: I don't need to include a million photos in each recipe! 
This sounds crazy, but I still take about 250 photos per recipe post! Now I'm more selective. So I have step-by-step process shots but I don't include a photo for each piece grain of shredded cheese I including in a quesadilla recipe for example. A handful of in-process photos and 1-2 final shots is great for SEO.
Victoria
I know next to nothing on the subject. It's a bit daunting.
Jenna
It takes months for blog posts to pick up on SEO usually. And yes, there are many, many parts to SEO. It's definitely a good idea to take a class or read more about it. 
Victoria
I found a site that used one of my recipes and photo without my permission so I emailed them, but I'm not sure the best way to go about reporting them. When I google it shows me services where you have to pay to report stuff. I'm sure there must be a free way to do it.
The post lists the ingredients but not the instructions and has a link to my site. They said they can remove the link and the photo but that it is a backlink so it will help my site. I'm feeling conflicted. Technically my post rates higher than theirs on google. What would you do?
Jenna
I've had sites take my recipes and photos as well. To me, it's not worth going after them and recipes don't carry a copyright anyways. Google is smart and usually knows who had the recipe first, and the fact that they are linking to you is a good thing further confirming that for Google. So I would just leave the one-offs that take the recipes. Now, if you find out a site is republishing every recipe, that would be something to look into.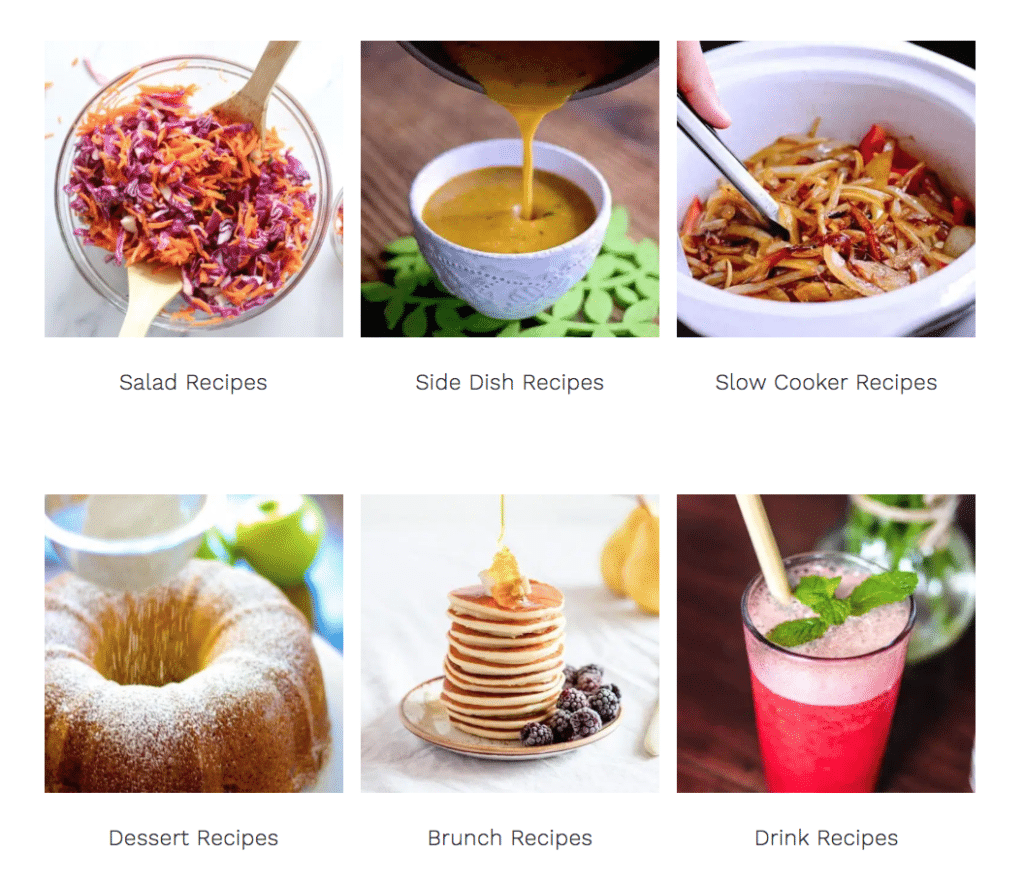 Revamping and updating old recipe posts
Victoria
I'm likely going to have to audit all my old posts and reformat them with recipe cards and edit them for SEO. I'm told that by not having recipe cards, Google isn't even realizing my posts contain recipes. This seems like a big task – is it?
Jenna
I've heard of people having a site for years then going back and revamping the site, just like you plan to, and the site does well and qualifies for Mediavine. For most of us, doing the recipes and taking pics is fun, so when it's time to do heavy writing tasks we have to get into a different mode. 
Google how to correctly plug in info for recipe cards – come up with a checklist. So when you're transferring them from text on your current site to the plugin, you're doing it "right". I learned I was doing some things wrong with my recipe cards after learning from Casey. 
Victoria
I am hopeful that by making some moderate adjustments like moving to WordPress and adding recipe cards that will already give me a bit of traction to go in the right direction.
Jenna
Definitely. My recipe writing got better and faster over time so I started doing 1 new and 1 revamped post a week.
You absolutely have to revisit old posts and update them as your writing and photography will get better over time. 
I was so surprised how my own recipe writing evolved over time. When I was getting ready to make my make ahead Mexican salad on air for Portland's NBC morning news show, it came to my attention that I didn't write out everything for a beginner. So I went back and added tips, like rinsing the beans with water before adding them to the salad. Making minor adjustments to help the recipe become a success and staple for readers in their own home is good for SEO and for readers. Win-win.
See my KGW Portland Viewers Recipe appearance.
Recipe development tips
Victoria
Do you make all of your recipes based on keywords? Do you research all your recipes before posting?
Jenna
A lot of what I cook and share on Sip Bite Go is what we like to eat at home so I feel like keeping in line with that, the right people will find me. I get so many people reaching out to me through comments and Instagram saying they love things I never wrote for SEO and never did keyword research on – like my homemade pizza with store bought dough recipe.
Readers love that recipe and it was just something I had to share. Not something I researched to share. I also started sharing sous vide cooking, a hobby of mine I'm very passionate about, which led to me writing a 2020 sous vide cookbook.
When I myself was wondering, how to make money with a food blog, if you ever told me cooking things I loved to eat would be the answer – because the right people will find you and keep cooking more of your recipes – I don't know if I would have believed it. But my husband, who used to be a chef, loves our meals at home so why wouldn't other people? 
Victoria
That's a great point. I want to cook what I like and not just cook what they want. I don't want to sacrifice the blog I love to have a blog that is successful. I feel like I should be able to have both with the right modifications. 
Tip: stay organized to qualify for Mediavine income
Victoria
How do you stay organized and keep track of all the recipes and posts?
Jenna
I love spreadsheets! By now you've probably come up with some things you need to do to make each blog post the best it can be. 
Excel or Google Sheets is great for making checklists and adding in steps to do before I hit publish on a recipe. Getting organized and just checking off tasks helps me get recipes out of my brain and onto Sip Bite Go.
Applying for Mediavine acceptance
Victoria
When applying for Mediavine, is the 25k sessions based on the previous 30 days or the previous month?
Jenna
The number of 25k sessions is based on the previous 30 days. Once you get close, you'll be tracking your stats like never before..
Victoria
Do you need to have the same amount of traffic each month to stay with Mediavine?
Jenna
Nope! I'm not sure if they'll reach out if your stats drop drastically, but you just have to hit the number once to apply.
How long does it take to get accepted to Mediavine?
Victoria
Once applied, how long does it take to set up Mediavine ads?
Jenna
You apply on the Mediavine site, then they'll reach out to you with a couple extra steps to take. The setup was pretty easy and they can even log into your site to help with technical stuff. My ads were up and running within a week and I made between $15-20 the very first day. 
It's time to jump in!
Thanks again to my food blogger friend and Mediavine review interviewer Victoria from Mission Food. 
Once you decide you're up to do the work, everything is achievable. It's amazing but people make nice livings running sites they love.
The key, it seems, to getting a food blog to qualify for Mediavine is to work smart and take little steps in advancing your site speed, SEO skills, and the impact of social media posts. You have to keep creating, improving, and getting the technical stuff right. 
Now go meet Mediavine requirements!
When you put energy into something and focus on something like growing a food blog to meet Mediavine requirements, you've set a tangible goal you can actually achieve. When you're focused on the number of sessions you need for Mediavine (25k at the time of writing this), put everything you can into getting to that number. 
I had the least amount of time to blog this year with a new baby and I did the best. I knew exactly what I could do next when I got even 5 minutes. There are a ton of little things you can do here and there. And so many of them can be done on the phone! Video editing in the iPhone iMovie app, for example. 
Learn from pro food bloggers in this post on why food blogs fail.
Thinking about food blogging as a career? Jessica Randhawa from The Forked Spoon shares tips about starting a blog as a stay at home mom.