Here is your go-to list of easy puff pastry recipe ideas for parties. In this lineup, you'll find everything from savory to sweet options. Recipes using puff pastry dough are usually easy to throw together with just a few ingredients – that's why I love them! Use these puff pastry recipes for holidays, kid parties, or potlucks. Ready to get cookin'? Let's go!
Easy puff pastry recipe ideas for parties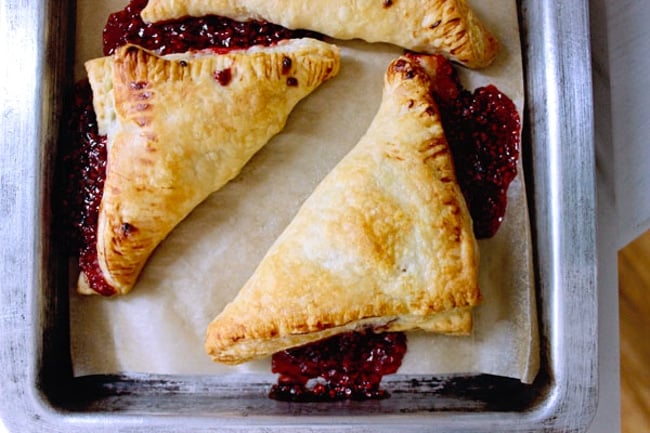 Fresh Raspberry Puff Pastry Turnovers
This recipe for fresh raspberry puff pastry turnovers on Sip Bite Go is one of my favorites for using all those delicious summer raspberries. I made it every year, after we go fresh berry picking. They're great to make in large batches and bring as a party dessert with vanilla ice cream. Freeze any leftovers to enjoy for months to come.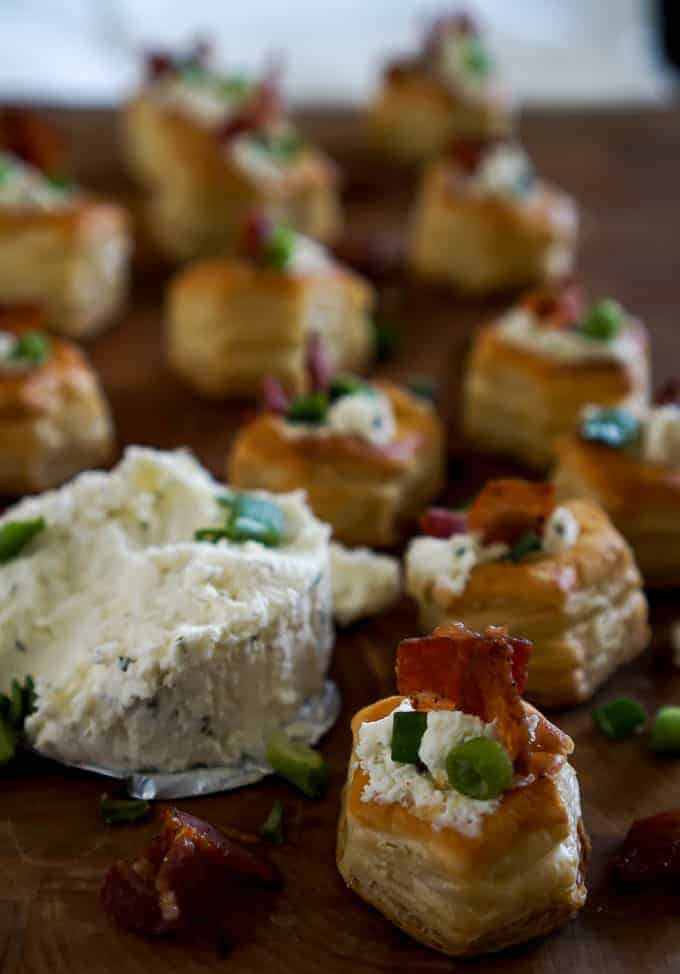 Boursin and Bacon Puff Pastry Bites
Just five ingredients – including bacon, cheese and green onions – make up this recipe using puff pastry dough. Great app for a holiday party, like a Thanksgiving or Easter dinner. It's just as addictive as this other easy make ahead party appetizer with bacon that I love.
Get the recipe at The happier home maker
Do you love cheese? Check out this gorgeous wooden cheese board with a built in cutter.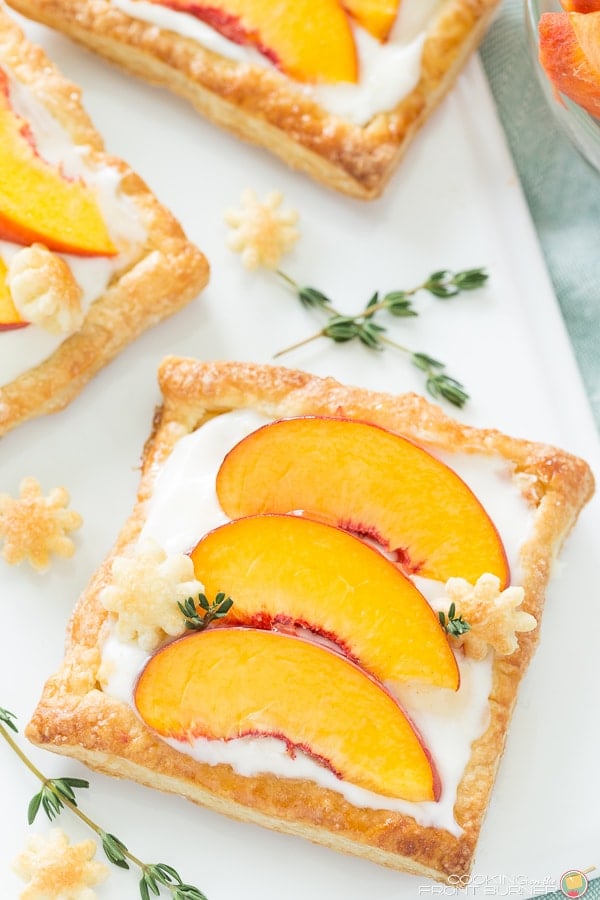 Fresh Peach Tart
Try the tasty combo of puff pastry and stone fruit! This sweet puff pastry recipe is a great party dessert. It has a center filled with fresh peaches and cream.
Get the recipe at Cooking on the front burners
See how to make peach mini loafs…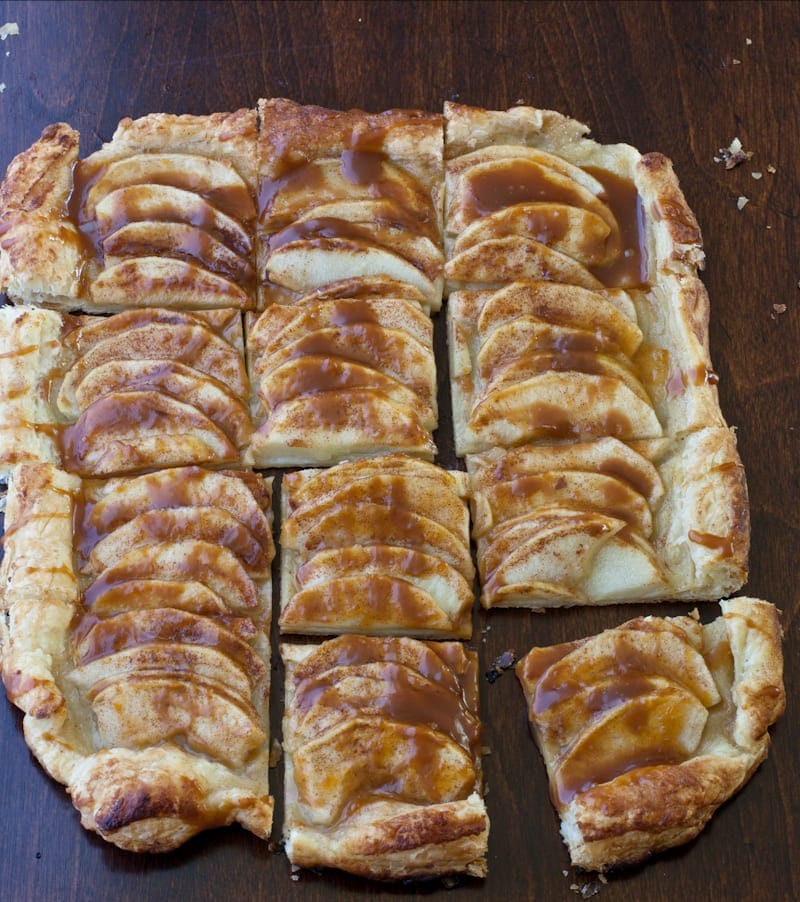 Caramel Apple Tarts
It's a new take on the good ol' American pie…Here's an easy puff pastry recipe idea for parties in the Fall. Take advantage of apple season with this tasty idea: a creamy liquid caramel and apple tart baked inside of a puff pastry crust.
Get the recipe at What a girl eats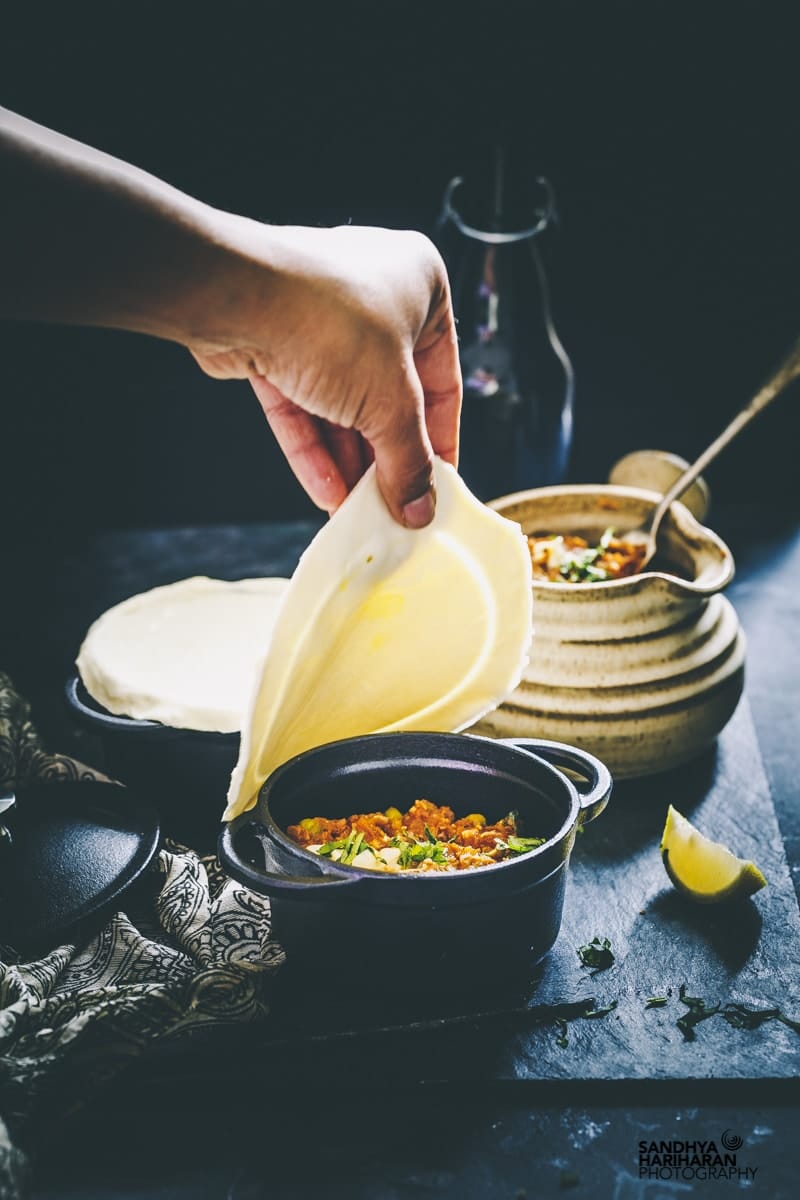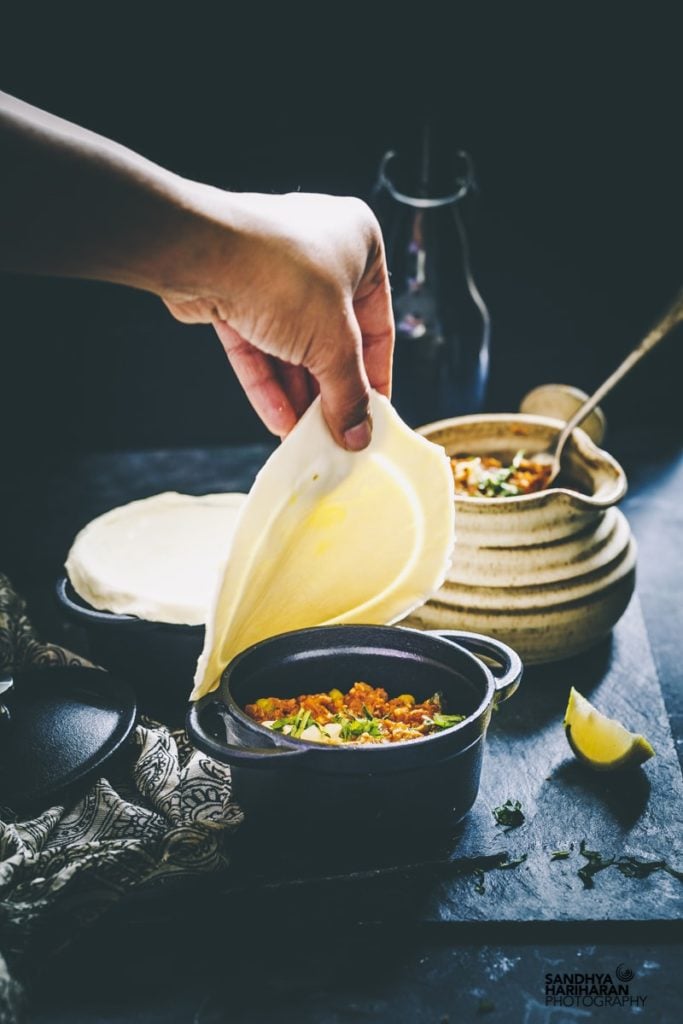 Pav Bhaji Puff Pie
Here's a savory puff pastry party appetizer. Make these mini puff pastry pies inspired by Indian cuisine. "Pav" means bread and "Bhaji" means vegetable medley stirred with spices. Serve them in small crocks for guests to enjoy tapas style.
Get the recipe at Sandhya's kitchen
These colorful ramekins are perfect for this app.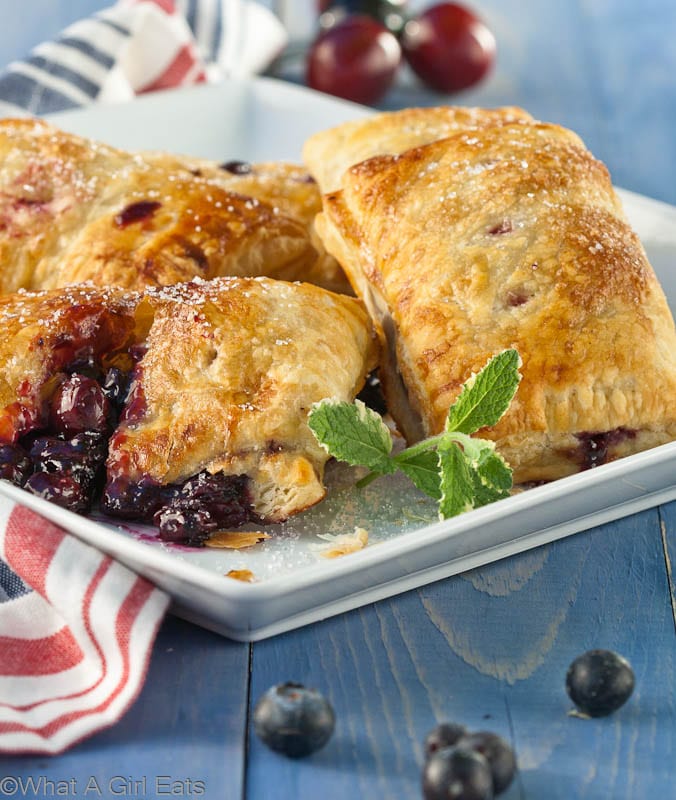 Fresh Fruit Hand Pies
This somewhat healthy recipe with puff pastry dough is on the more nutritious side, thanks to all the delicious fruits and vegetables inside.
Get the recipe at What a girl eats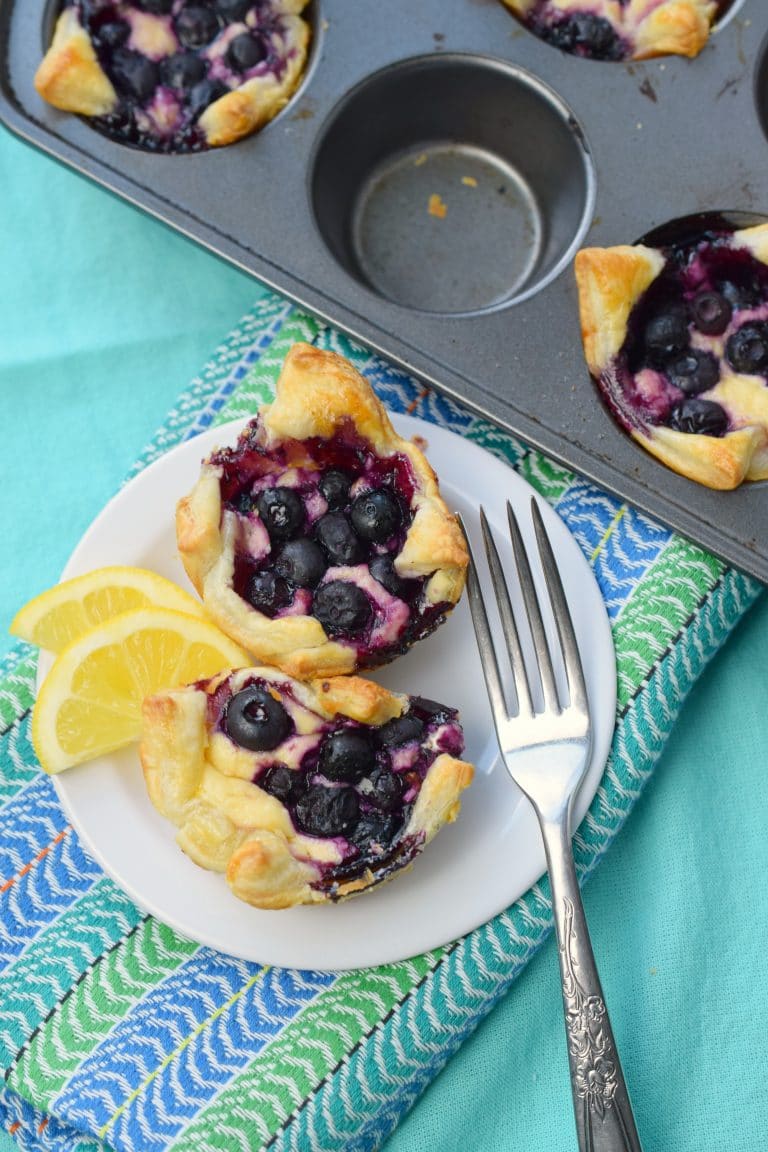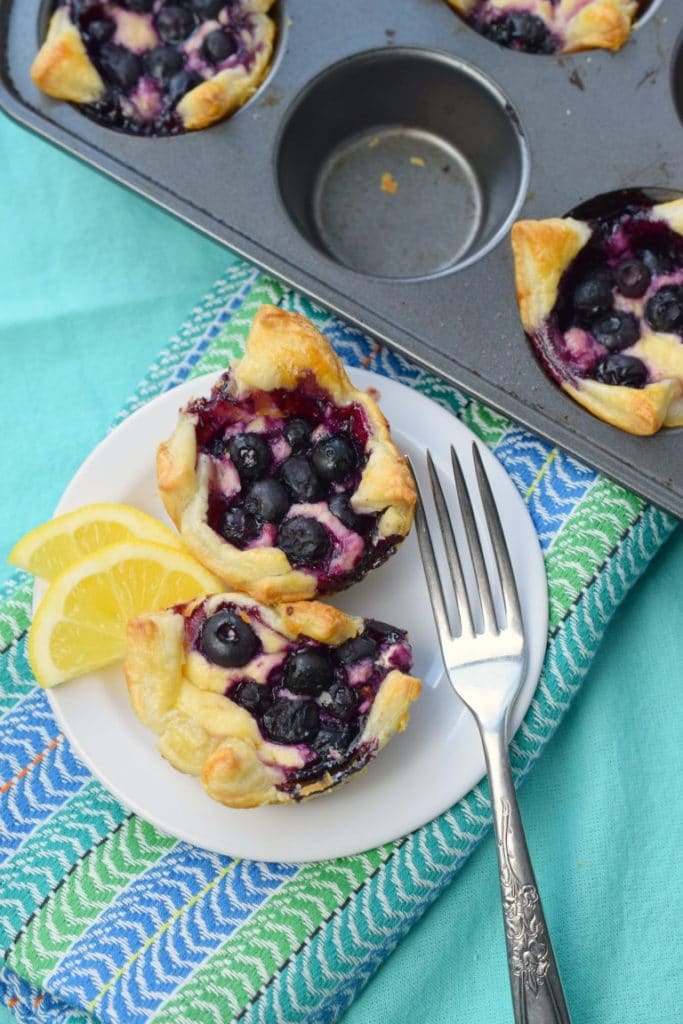 Blueberry Cheesecake Tarts
Yum…. This fruity puff pastry recipe idea is made up of a puff pastry cup with sweet creamy fillings and fresh blueberries. Serve it for a party dessert or a brunch.
Get the recipe at Who needs a cape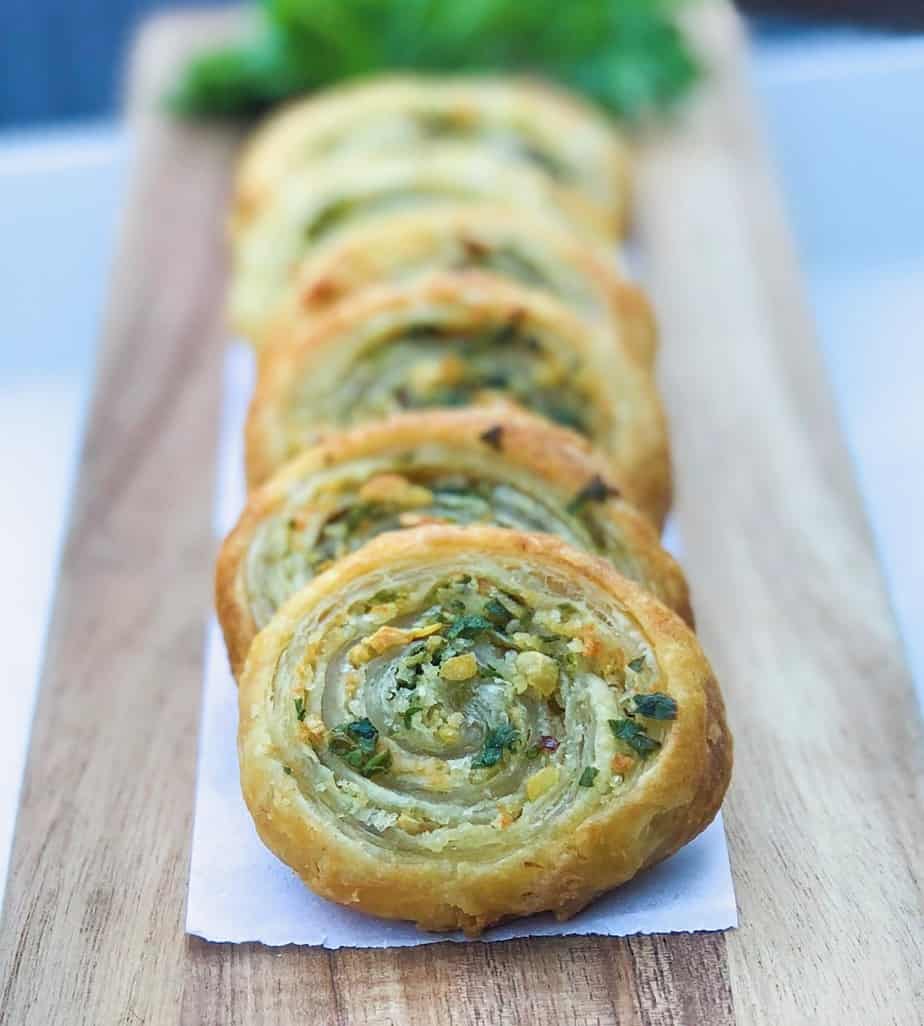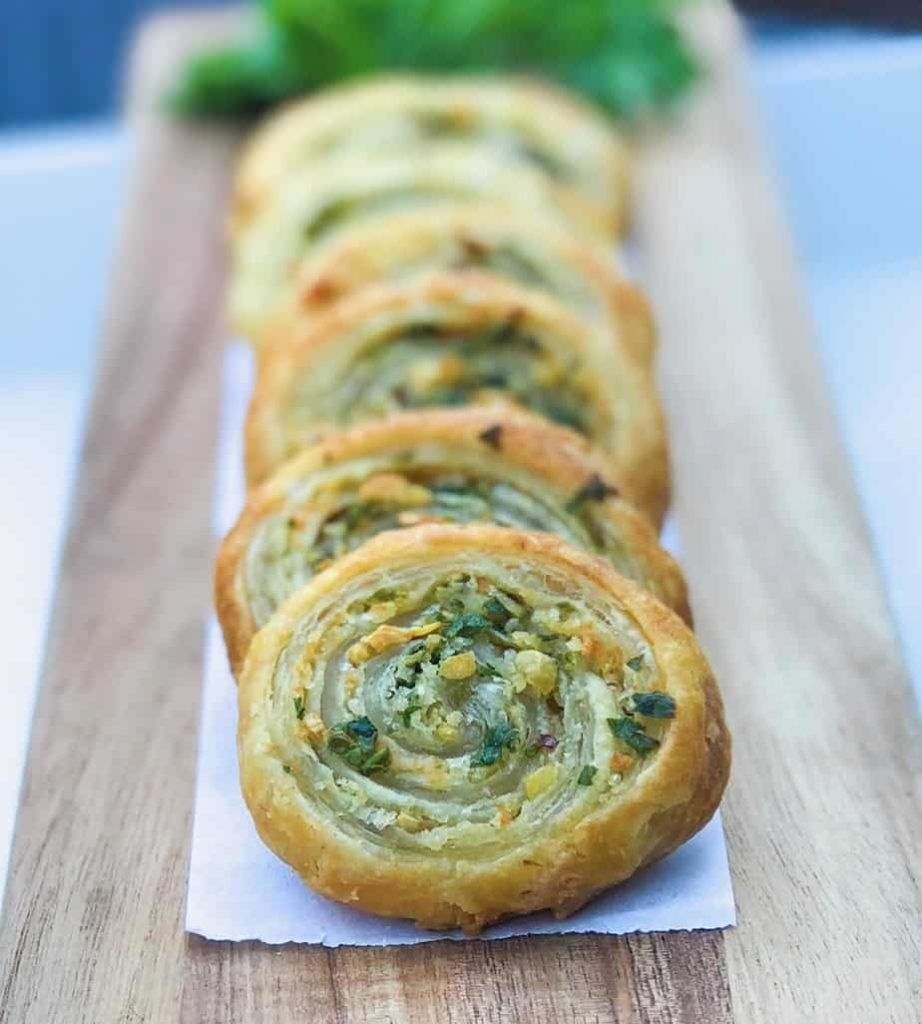 Puff Pastry Garlic N' Herb Pinwheels
Here's a savory puff pastry recipe for a party. These garlic and herb pinwheels are not only easy but also fun to make. If you're cooking with kids, this is an easy one to have them help whip up.
Get the recipe at Bite sized kitchen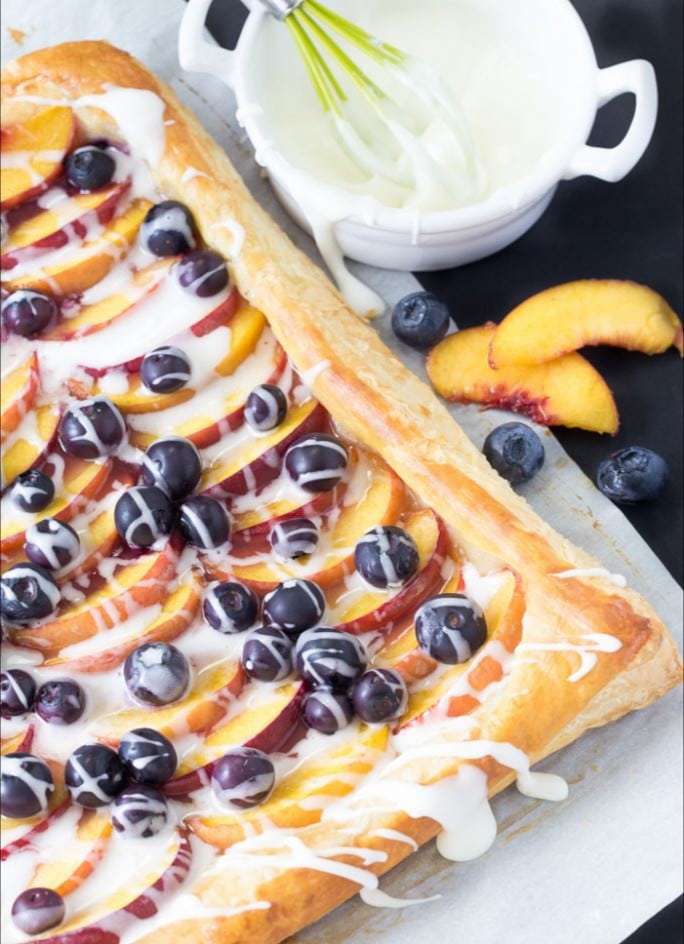 Fresh Peach And Blueberry Tart
Looking for a quick and an easy to cook yummy puff pastry dessert recipe for a party? Then this berry packed dessert is the one. The flaky puffed pastry is stuffed with fruits and a sweet glaze.
Get the recipe at Cooking on the front burners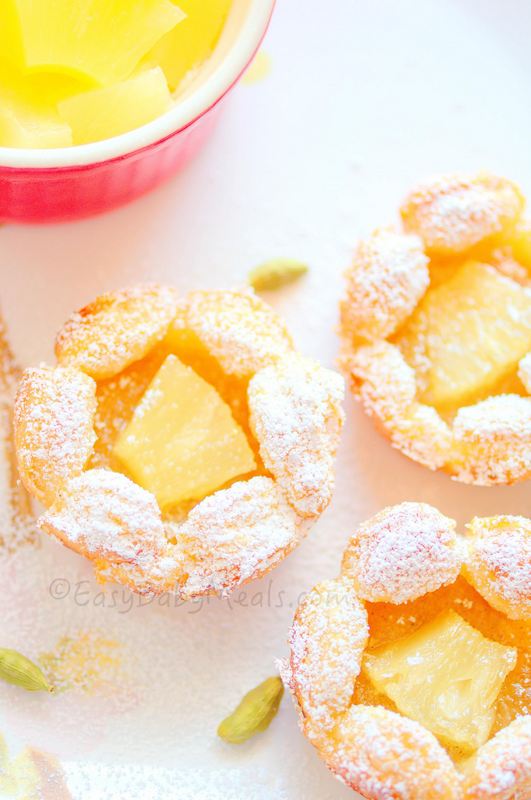 Pineapple Cups
These are sweet, melt-in-your-mouth, flaky puff pastry cups packed with pineapple. Pair this luau-ready puff pastry recipe with one of these Easy Tropical Drink Recipes.
Get the recipe at Easy baby meals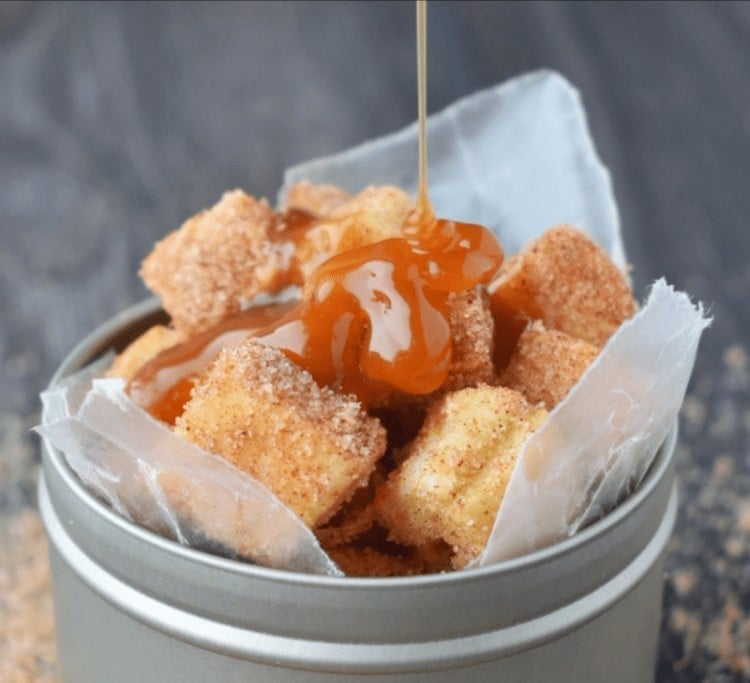 Churro Bites
Sometimes, you need a super easy treat to make for a party. This is the puff pastry version of the classic cinnamon sugar churro.
Get the recipe at Dance around the kitchen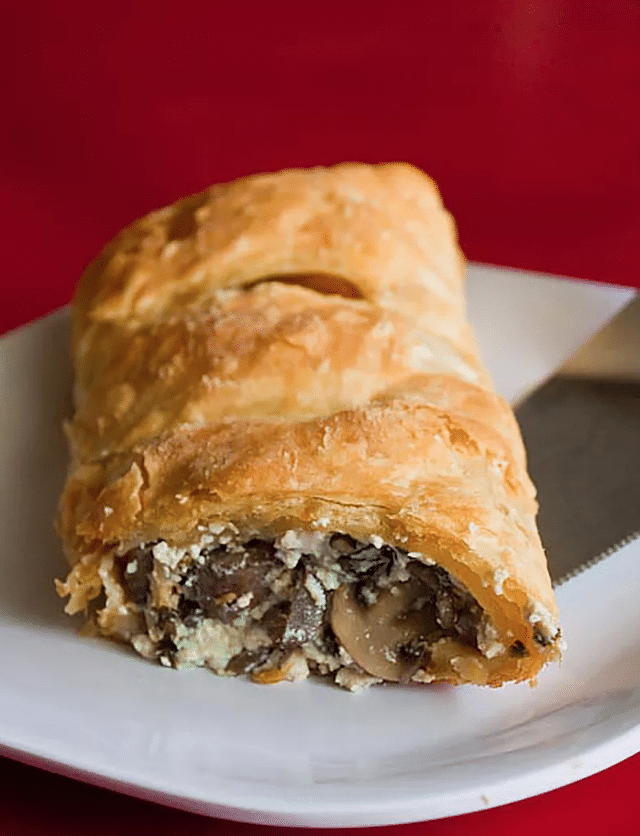 Savory Spinach and Mushroom Strudel
Here's a savory vegetarian puff pastry recipe with spinach, mushrooms, and tofu. It's always a great idea to include a vegetarian option for party guests. This one is beautiful and can be turned into a vegan puff pastry main dish with dairy-free puff pastry dough.
Get the recipe at The spruce eats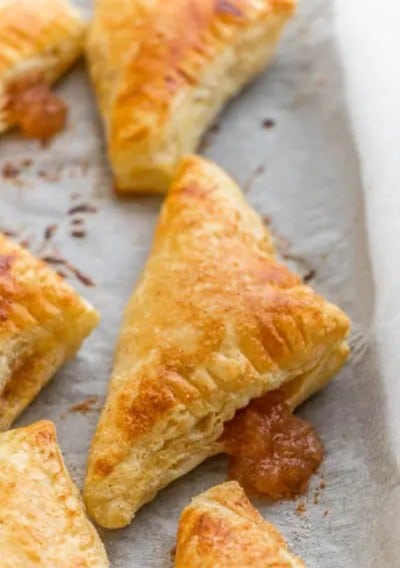 Apple Turnovers with Puff Pastry
This is a spicy, warm and sweet dessert perfect for a Fall event – like a Halloween party or weekend brunch. In addition to crisp apples, this puff pastry recipe has plenty of tasty spices.
Get the recipe at I just make sandwiches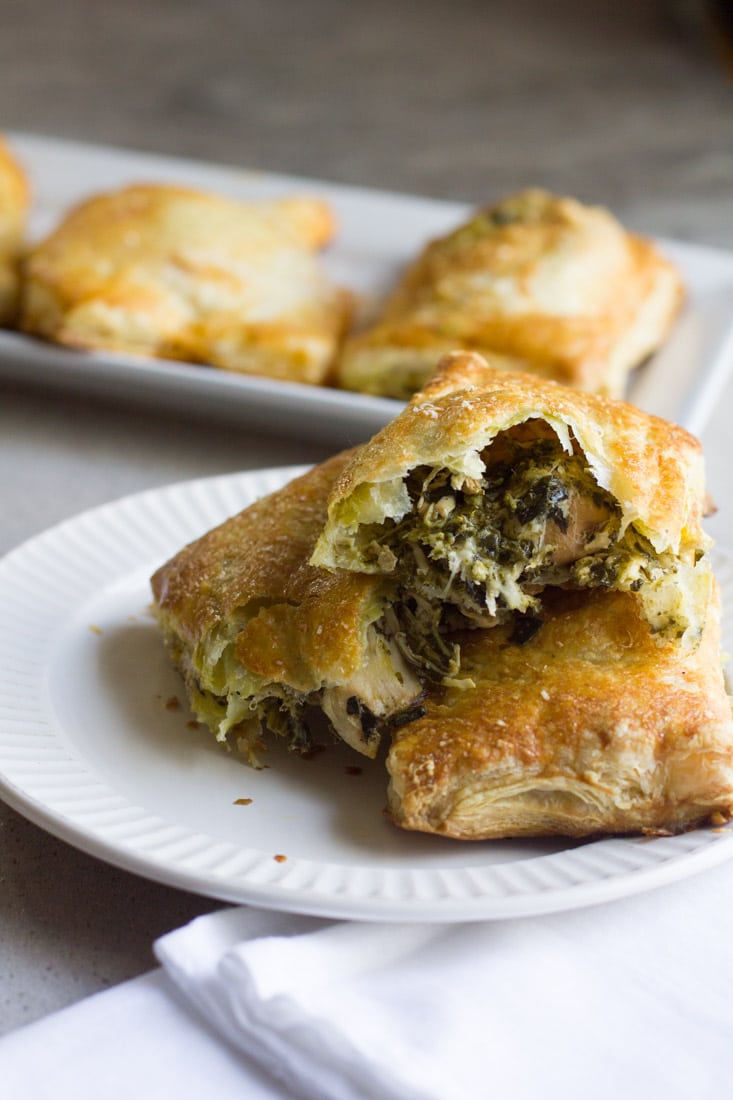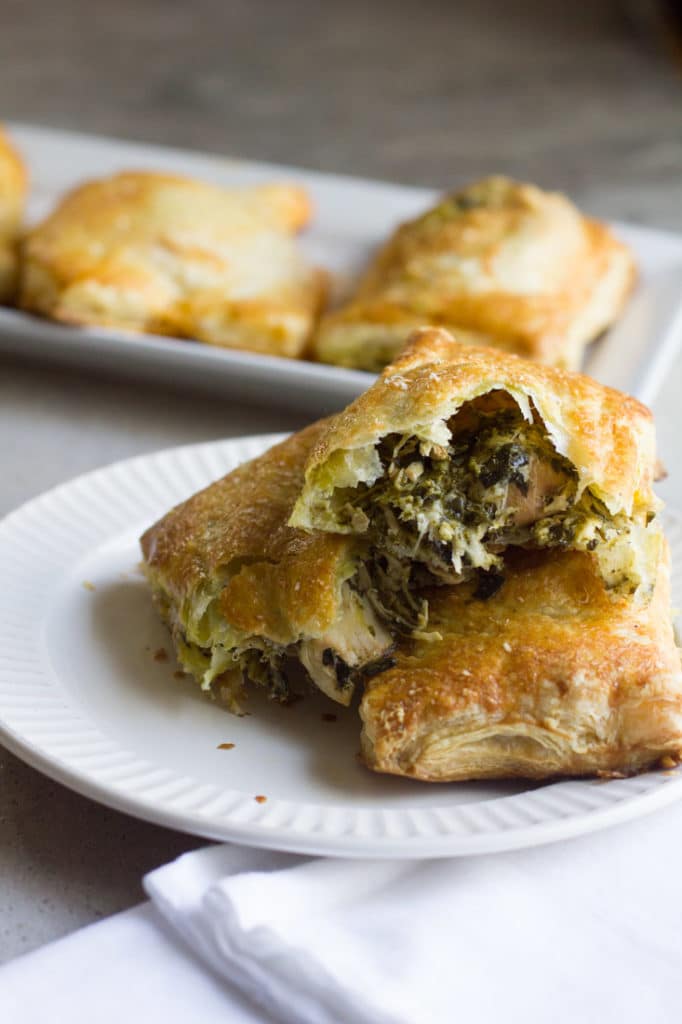 Pesto Chicken Copy-cat Hot Pockets
Here's one of my favorite easy puff pastry recipes for kids parties. You could just buy generic store-bought hot pockets. But this alternative with puff pastry dough is homemade – and people will notice the difference!
Get the recipe at Away from the box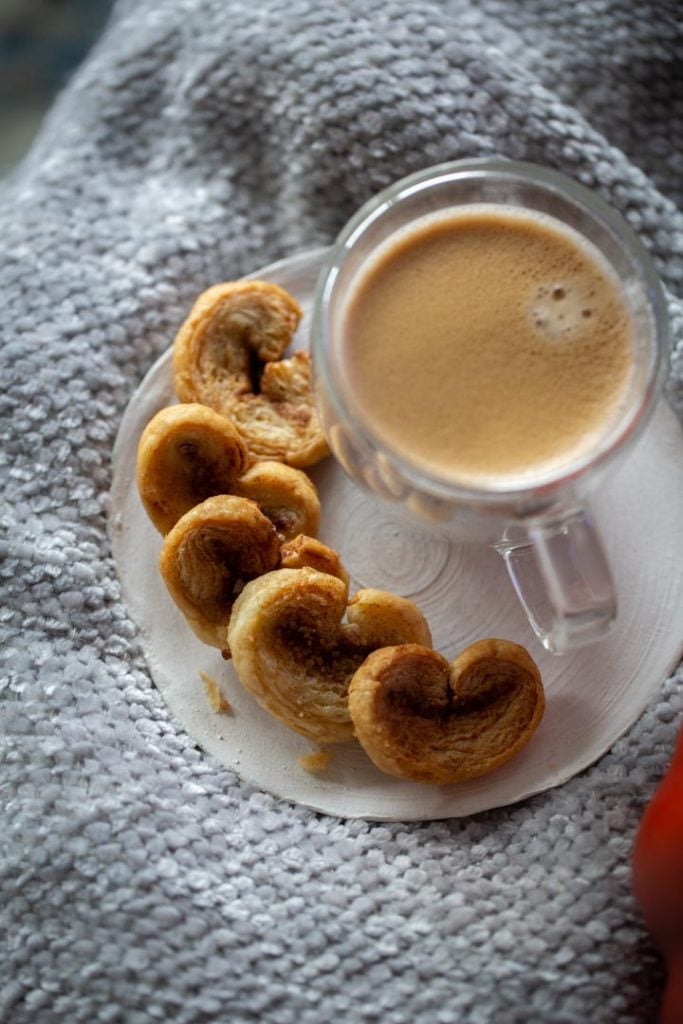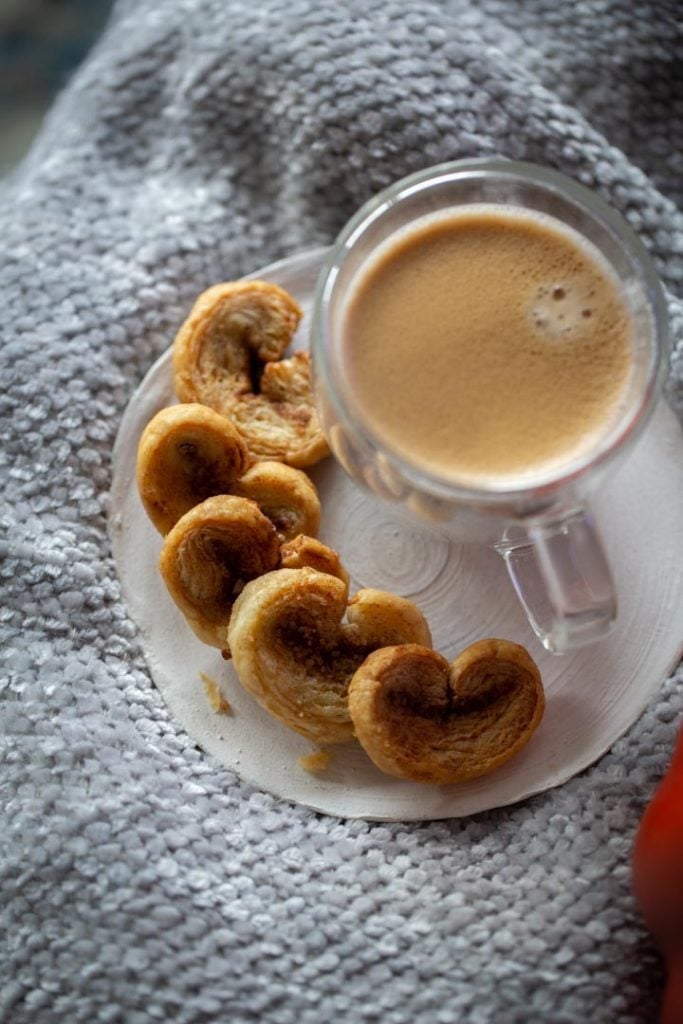 Pumpkin Spice Palmiers
Here's a perfect treat to accompany a cup of coffee – or wine! I love how this puff pastry dessert is subtly sweet and filled with pumpkin spice flavor.
Get the recipe at Away from the box
Which puff pastry recipes will you make?
Let me know when you make any of these easy puff pastry recipe ideas. It means so much to hear from Sip Bite Go readers and I love seeing photos of your food! Don't forget to tag me @sipbitego on Instagram so I can see how the recipe turned out. And sign up for the Sip Bite Go newsletter.
Try these other tasty recipes with fresh fruit