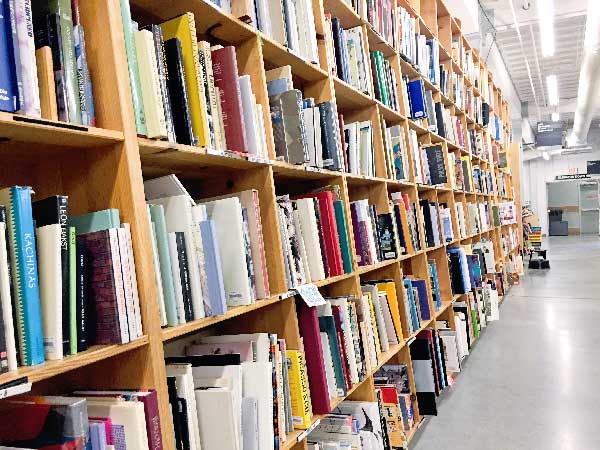 If you love books, walking into Powell's Books in Portland, Oregon is like stepping into a dream!
The giant, glowing billboard leads you into room after room of unexpected treasures, hidden corners, and rare finds. What else would you expect from the world's largest independent bookstore! From new releases to signed first-editions to a fabulous rare book collection, there is definitely something for everyone here.

Tables stacked with new releases beckon when you enter, but push on. You will find yourself in an entire room of History and Philosophy; or maybe you will get lost in the massive Mystery and True Crime sections. Books are often accompanied by recommendations from the amazing Powell's Books staff. You'll learn obscure facts about books (did you know Daniel Radcliffe loves Mikael Bulgakov?) and find new favorites from some of your favorite authors.
Over 1 million books means you will not leave empty-handed. You won't be alone when you stroll the aisles with a basket full of books and find yourself loading them up like groceries! You need these books! You love these books! A visit to Powell's means you are among friends.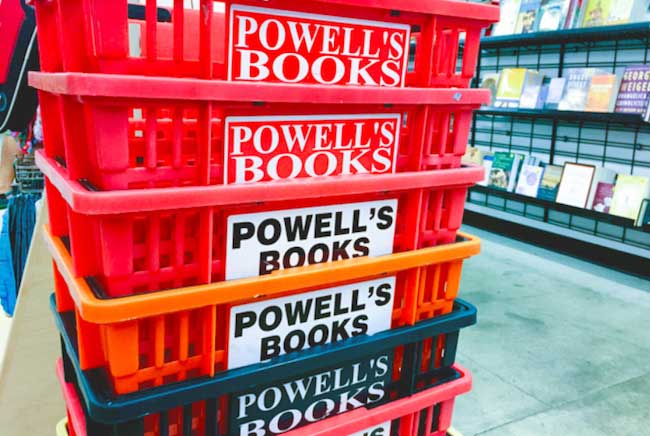 No visit would be complete without an adventure into Powell's Rare Book Room. Only open from 11-7, this is a don't-miss corner of the store. You might find hours have passed while you settled into the warm, wood-paneled room. You can explore (and buy) thousands of rare books from around the world. Illustrated natural histories from hundreds of years ago sit near first-editions of your favorite childhood stories. Gilt-edged encyclopedias compete for your attention. And don't be afraid to touch! The always-helpful staff will help you explore the entire collection.
Looking for PDX things to do?
Hey foodies, don't forget to check out Sip Bite Go's guide of the best restaurants in Portland, Oregon and best Portland lunch spots.
If you're looking to do a little sightseeing, see this guide to unexpected treasures to find at Powell's Books in Portland, what to do during Fall in Oregon, and find out whether or not it snows in Oregon.
Hey foodie friends, to see the new restaurants in Portland where I'm headed next, connect with me on Instagram @sipbitego. And for more deliciousness, subscribe to the Sip Bite Go channel on YouTube and scroll through the Sip Bite Go recipe collection.