Looking for new places to eat in Plano? I'm here to help! Find foodie spots in North Dallas in this guide to the best places to eat in Plano, Texas 2023 including restaurants and grocery stores. Let's dig in…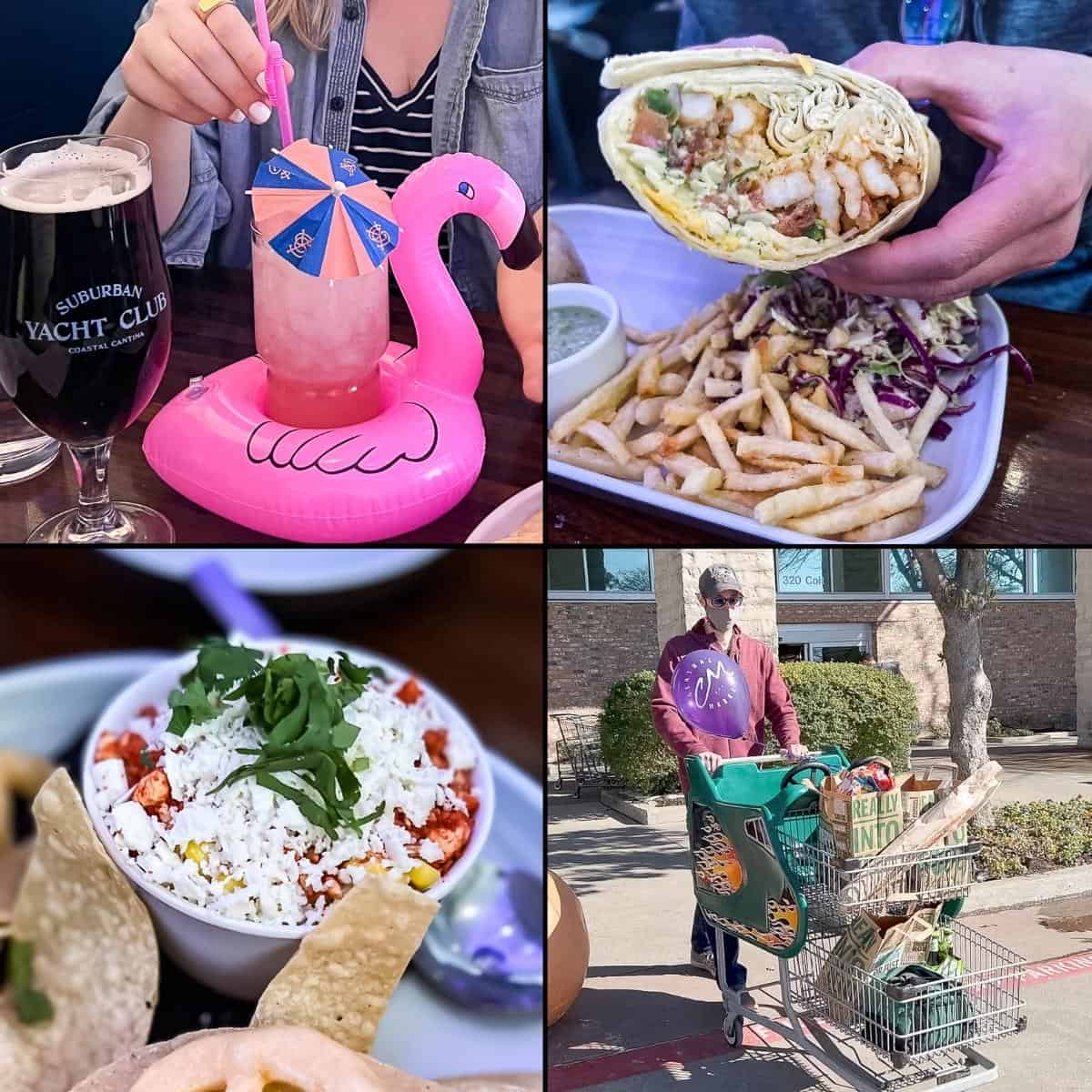 Ford's Garage
It's not a car repair shop — it's a restaurant that's serving up delicious freshly made burgers…
Check out my full review of the Ford's Garage menu in Plano.
Toulouse (Legacy West)
This is a HUGE favorite to note on this list of the best places to eat in Plano Texas.
Check out my full menu tour for Toulouse Plano…
In it, you'll see a delicious date night restaurant meal in Plano…
It's a French restaurant where they are serving up tasty Steak Frites with NY strip steaks…
Luscious French onion soup with the most rich gruyere cheese and caramelized onions… and light and fluffy chocolate soufflé for dessert.
Whiskey Cake Kitchen and Bar
There are so many tasty things to try when you dine out at Whiskey Cake Kitchen & Bar.
This is specifically from the Plano location.
There's a full whiskey cocktail menu where you can find twists on your favorite adult beverages, like the smoky old fashion – it's as delicious as it sounds.
And you have tons of options when it comes to tasty appetizers and side dishes to start off with… The fries and the smoked mac and cheese are great…
And these steak dishes like the grilled ribeye are not to be missed.
Bulla Gastrobar (Legacy West)
If you love tapas, Bulla Gastrobar in Plano, Texas is definitely a must-try spot.
It's Spanish Tapas type food, with lots of small sharable plates that come out of the kitchen as fast as lightening.
And then larger family style mains including paella.
They have a bunch of tapas and paella dishes to choose from, including this sirloin steak paella.
See how to smoke sirloin steak…
It's in the Legacy West area – a more upscale strip of restaurants and shops including Sprinkles Cupcakes, Tommy Bahama Restaurant, Tiffany's, Louis Vuitton, CAVA, North Italia Restaurant, and Earls.
Here's a video of the Bulla menu…
Here's what I recommend trying:
Starter salad: Mediterranean – It has a really herby dressing and no lettuce. It's made with tomatoes, cucumber, chickpeas, olives, croutons, lemon, EVOO.
Tapas: CHORIZO STUFFED DATES – A sweet and salty combo of Medjool dates, house made chorizo, and Manchego cheese, and is wrapped in bacon and served on arugula salad with a tasty dipping sauce similar to an aioli.
Tapas: HAM CROQUETTES – Basically fried cheese with Serrano ham and fig jelly.
Tapas: MONTADITOS – Similar idea to Italian bruschetta… But topped with Texas-favorite tastes-like-smoked brisket flat, a tomato marmalade, guindilla peppers, tetilla cheese – which, fun fact, literately translates to nipple cheese because it's in the shape of a cone / nipple.
Main: Steak Paella – A Spanish rice dish with cumin marinated C.A.B. sirloin steak, Valencia rice (named after the Spanish province that's home to authentic paella), sofrito rojo, and a chimichurri sauce sauce on top.
Churros and sangria for dessert.
Try this recipe for fig and prosciutto pizza…
Lockhart Smokehouse
Kind of like Hutchins BBQ in McKinney, TX, Lockhart is where you want to go for BBQ in Plano, TX. Check out their menu for items like:
Burnt Ends
Ugly Smoked Gumbo
Candied Bacon Ice Cream Sandwich
See the Lockhart Smokehouse menu.
Get inspired with easy recipes for a tasty backyard bbq menu – starting with this lineup of the best burger recipes ever.
Mexican Sugar
Called "sultry Mexican comfort food" – this spot for good food in Plano, Mexican Sugar, is close to the shops at Legacy West and has favorite dishes like an arepas appetizer, sharable chilaquiles, and frozen margaritas for happy hour.
The Boardwalk / Granite Park 3 restaurants to try
When you think of Texas you probably don't think about boardwalks and water-side eateries, but they exist! There's a freaking boardwalk in the middle of Plano, Texas.
And it's fabulous if you're a foodie.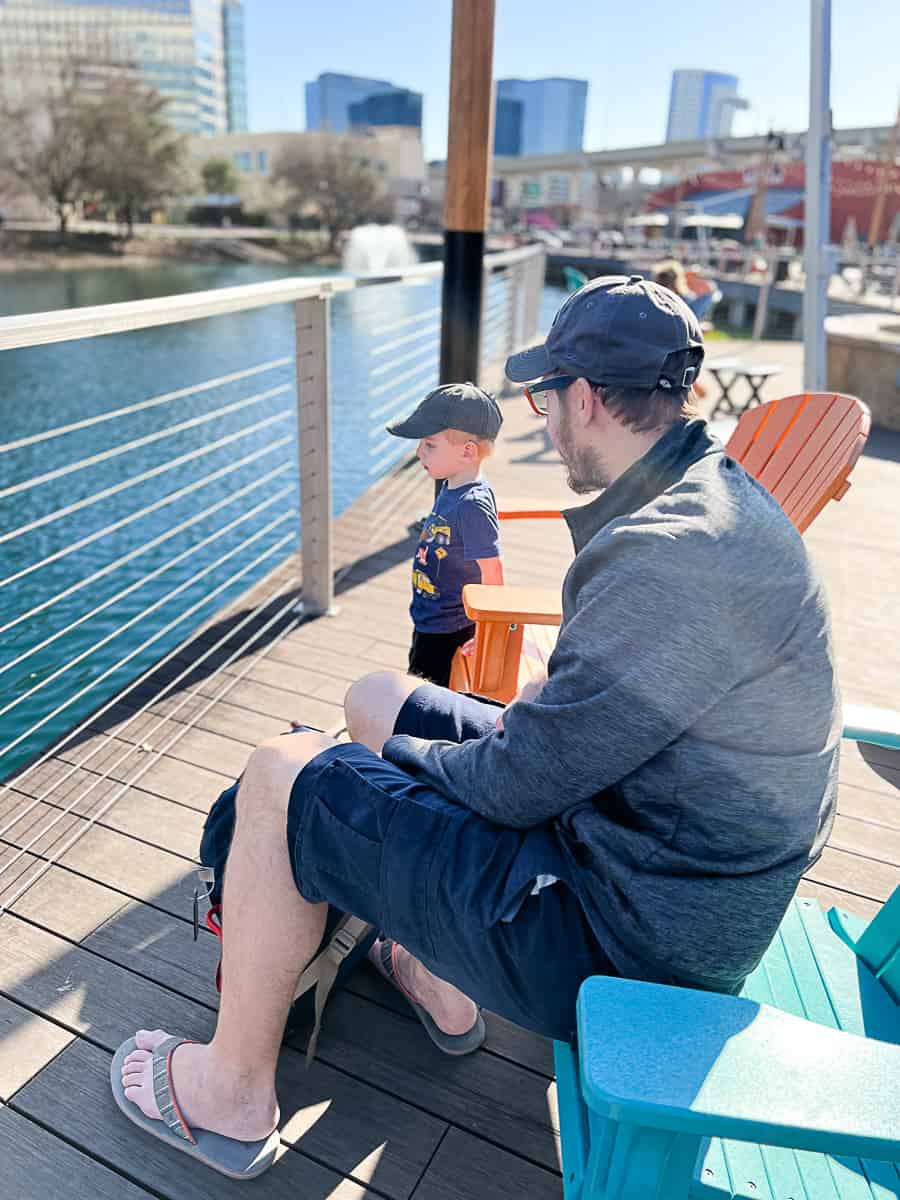 The atmosphere at the boardwalk is unbelievable considering you're in the middle of North Dallas. It's legit a boardwalk with tons of colorful, playful Adirondack chairs overlooking water fountains along a man-made river. Or some body of water.
And all along the boardwalk are eateries like breakfast spots, lunch spots, burger places, and even a prim and proper tea party restaurant. (I had one of their fancy $12 cupcakes.)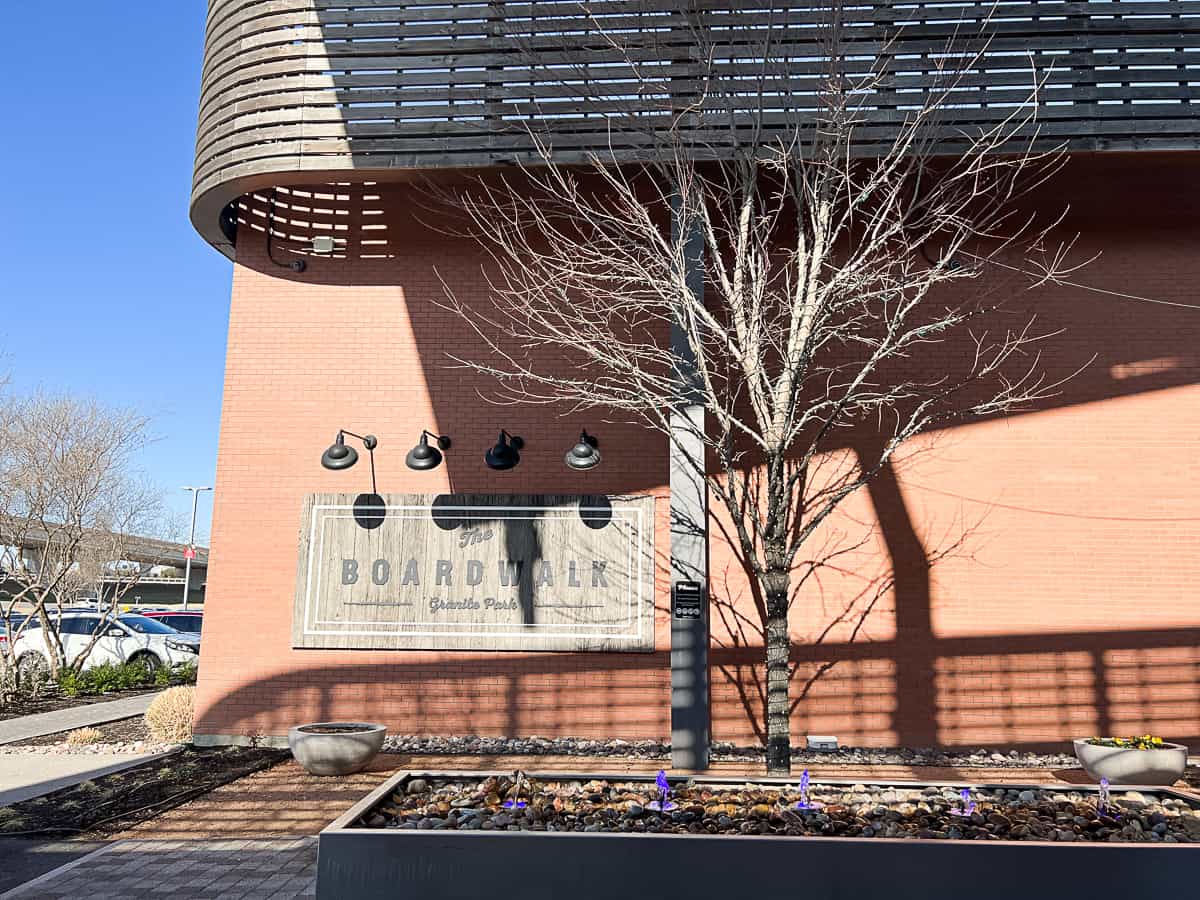 There's also a couple sections for kids (toddlers, younger pre-teens especially) to rome while parents are waiting for tables at restaurants and breweries. You can see the "fake hill" kids can roll down in my video below at Suburban Yatch Club.
OK let's get to the list…
Suburban Yacht Club
Well it's about time! I finally got to try a birria style taco at this Mexican / Tex-Mex / California-ish restaurant on the Boardwalk in Plano.
So as soon as we sat down, I said: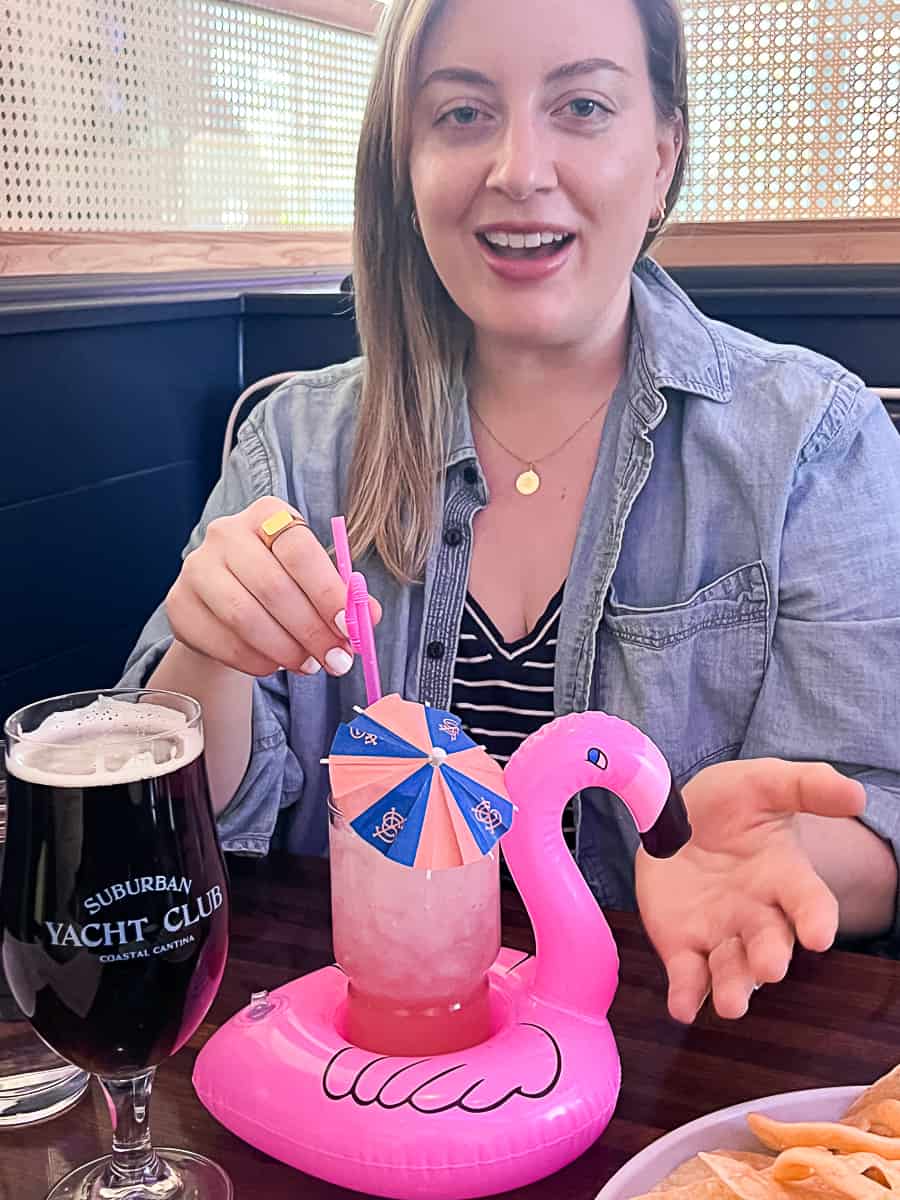 "I will take whatever comes in that blow up flamingo" (ended up being a watermelon Grey Goose)
Someone in the table across from us got a cocktail for 2+ people in one large bowl with what looked like a sparkler shooting out of the top of it.
A few must try food items here: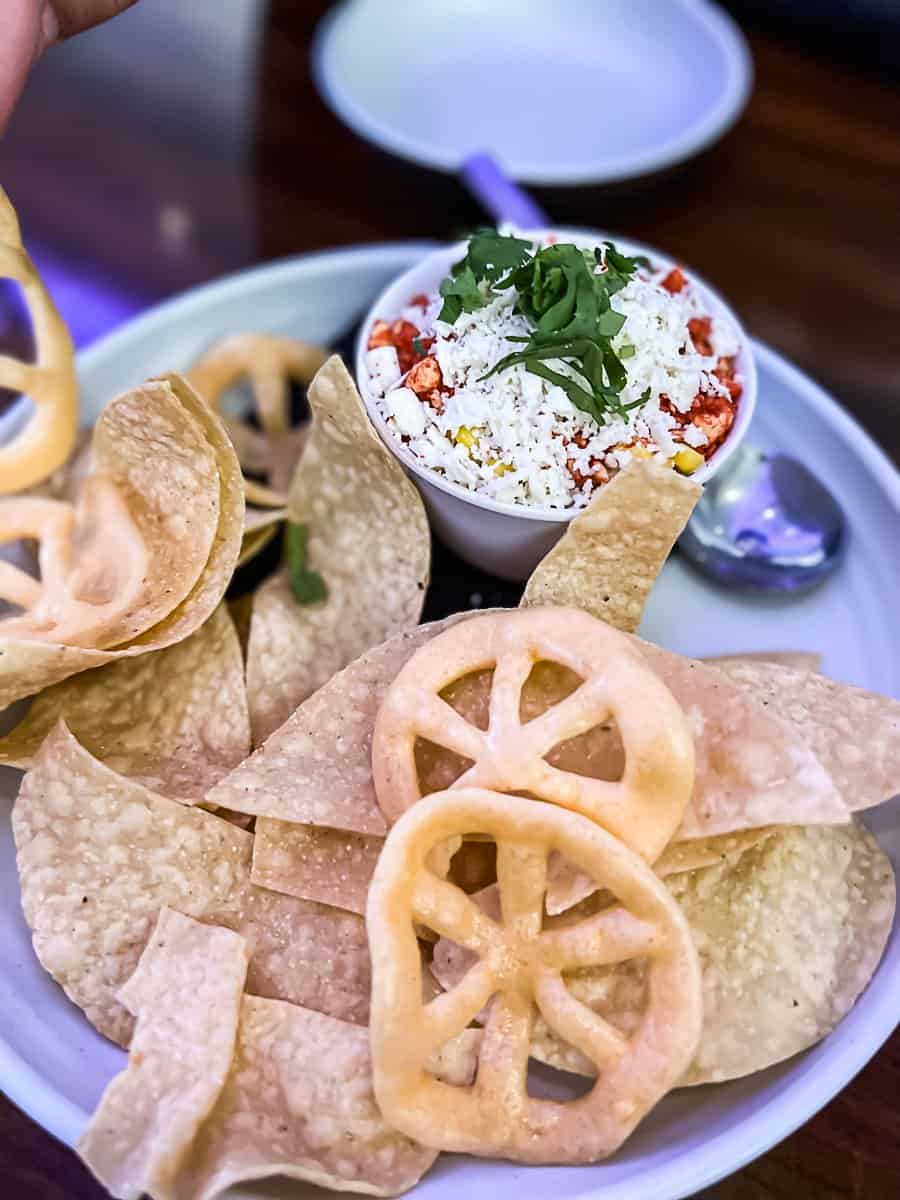 FLAMIN' HOT CHEETOS ELOTE (the waiter told us to switch from regular-ol' guac to this appetizer with hot cheetos sprinkled on corn with queso fresco, cholula, cilantro — so tasty!!)
Ceviche
Smoke-roasted BBQ ribs (see my sous vide spare ribs recipe)
Epic Shrimp Burrito (my husband got this, it's packed with chile dusted shrimp, mexi-rice, pico de gallo, salsa verde, ranchacado, quesadilla tortilla)
SHORT RIB QUESABIRRIA (which I loved! Filled with oaxaca-jack, onion, cilantro, jalapeño, radish, consomé, corn tortilla)
CRISPED PORK CARNITAS (yumm — it's packed with grilled pineapple, guajillo salsa, micro greens, corn tortilla)
Here's a look at a meal we had from the menu of Suburban Yacht Club…
See the Suburban Yacht Club menu…
Union Bear Brewing Co.
Owned by the same people behind Suburban Yacht Club is a brewery with West Coast feels. Try things on their menu like:
Roasted Poblano Queso & Chips
Cauliflower Elote
Grilled Fish Tacos
Huevos Rancheros
See the Union Bear Brewing menu…
Legacy Hall Food Options
There's a hidden gem in Plano that's a big indoor food hall called Legacy Hall at Legacy West. It's one of the reasons I'm one happy foodie in this new foodie city and suburbs of Dallas, Texas
Brisket Love at Legacy Hall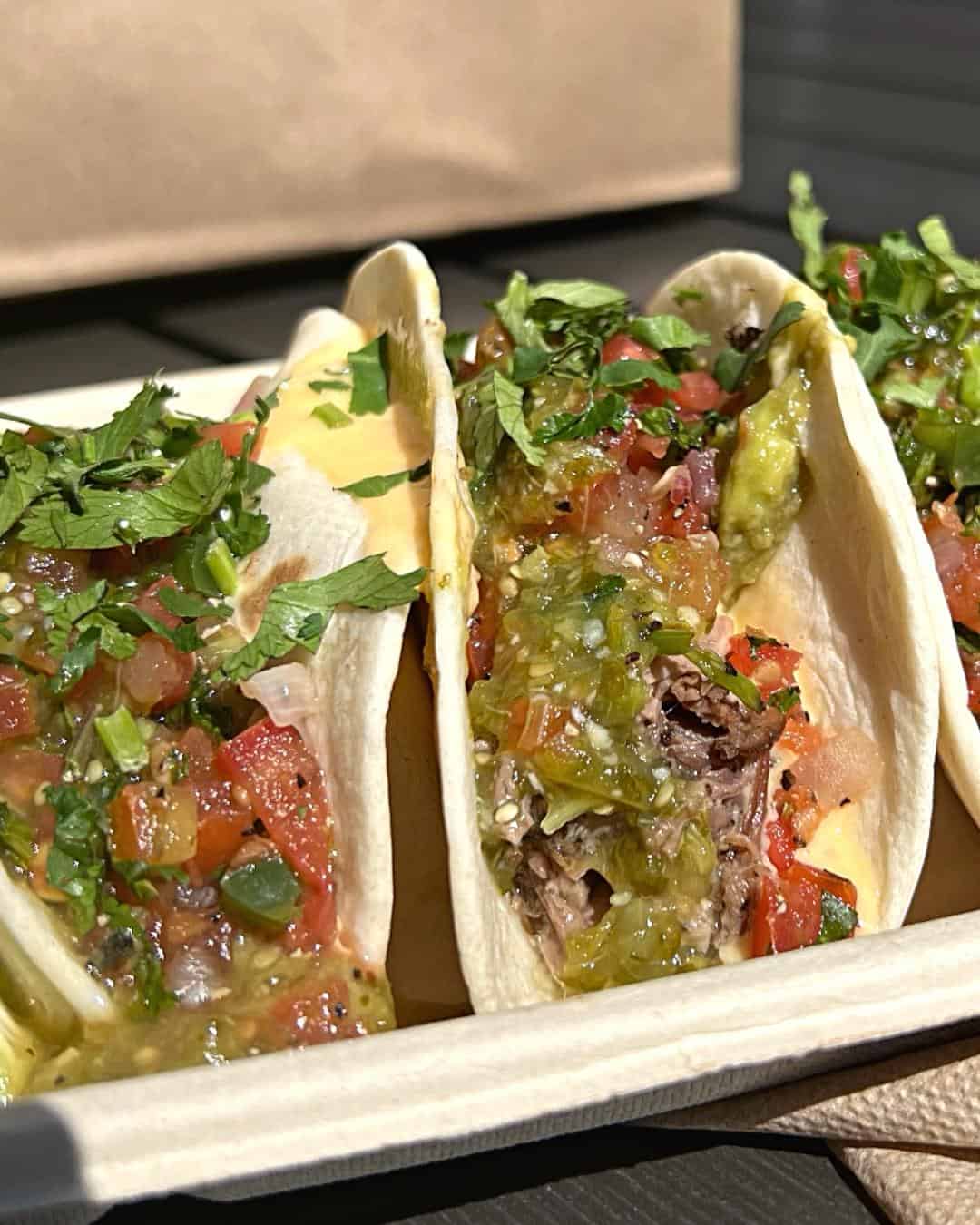 I've been going nuts with taco places and smoked brisket, so when the two come together in one taco, it's going to be a satisfying time! I got the 3 brisket taco platter and it came with queso-style cheese on top. Plus I loved the seriously tasty smokey mac and cheese.
Here's a video from my visit…
North Italia
The Legacy West PR team gifted me a restaurant gift card to North Italia in Plano. It's an Italian food spot that has everything from pasta, to steaks, seafood, pizzas, and tasty appetizers like this white truffle garlic bread…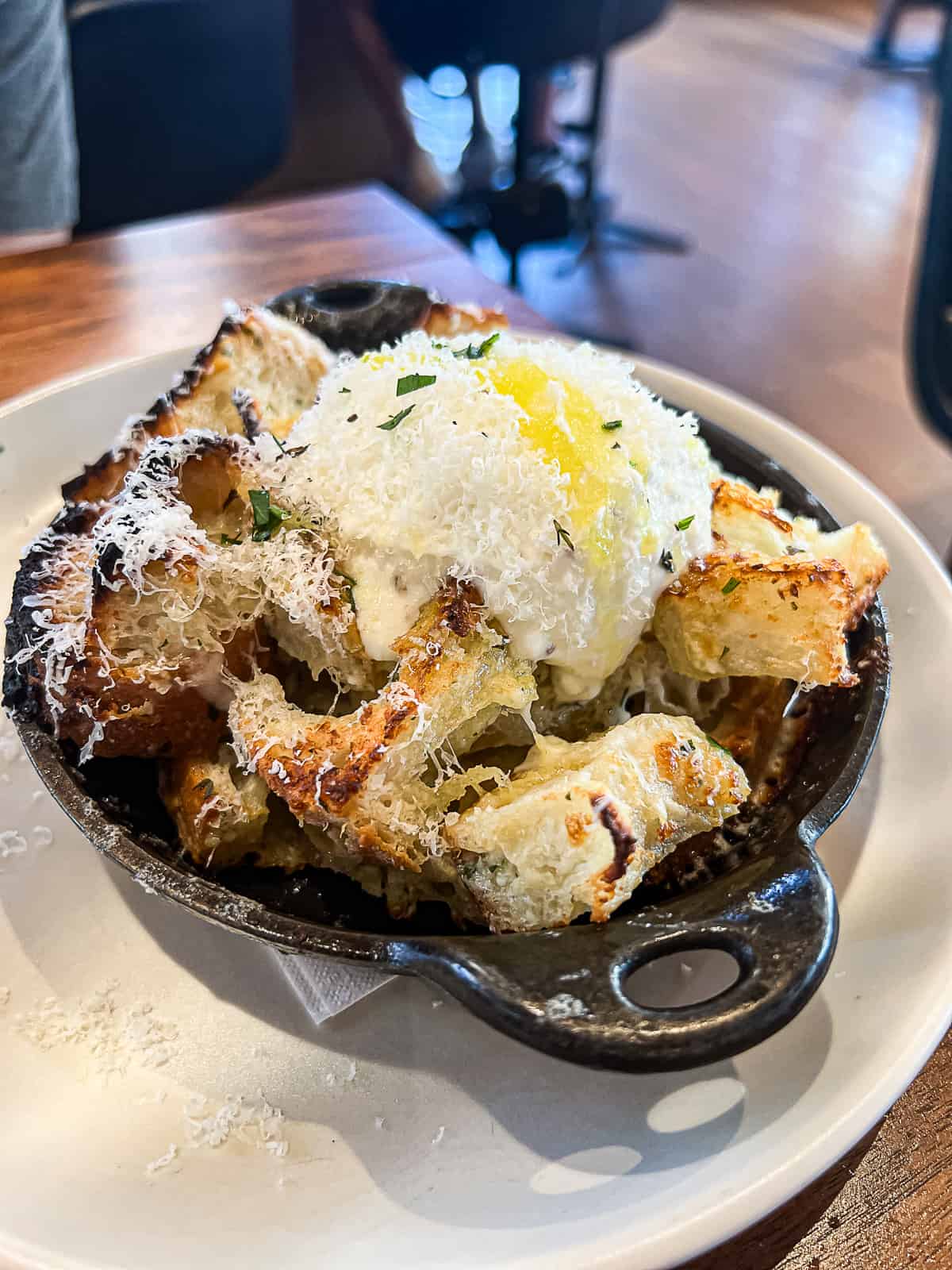 See my in-depth review of the North Italia menu.
Tour the dishes at North Italia restaurant in Plano with the highlights video below…
Foodie grocery stores in Plano
HEB / Central Market Plano
This place is a foodie shopping experience!
First off, before you go inside, your kiddo can burn off some energy outside in their playground…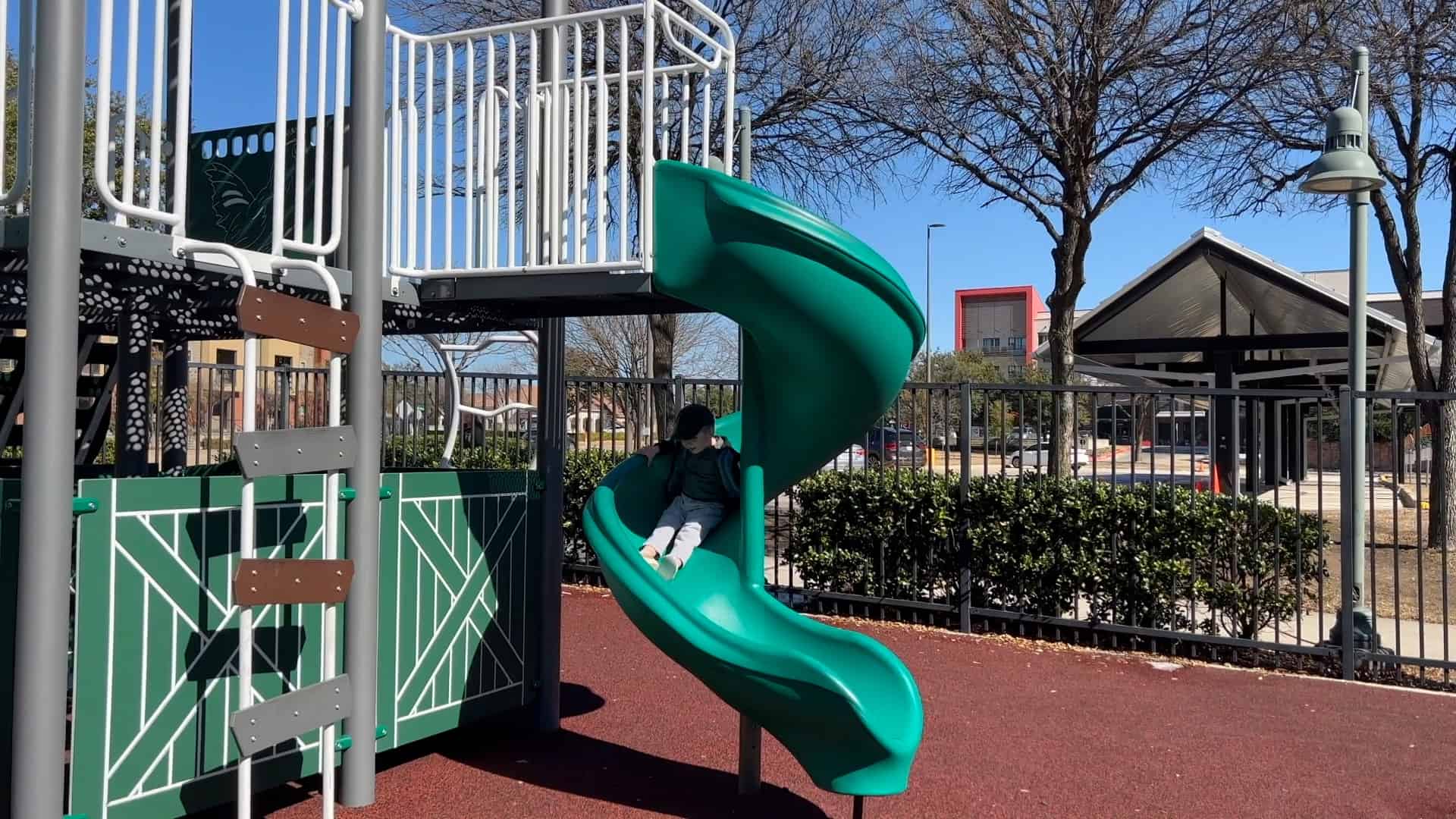 And then when you make it inside, they have so much fresh produce and every option of every type of food imaginable.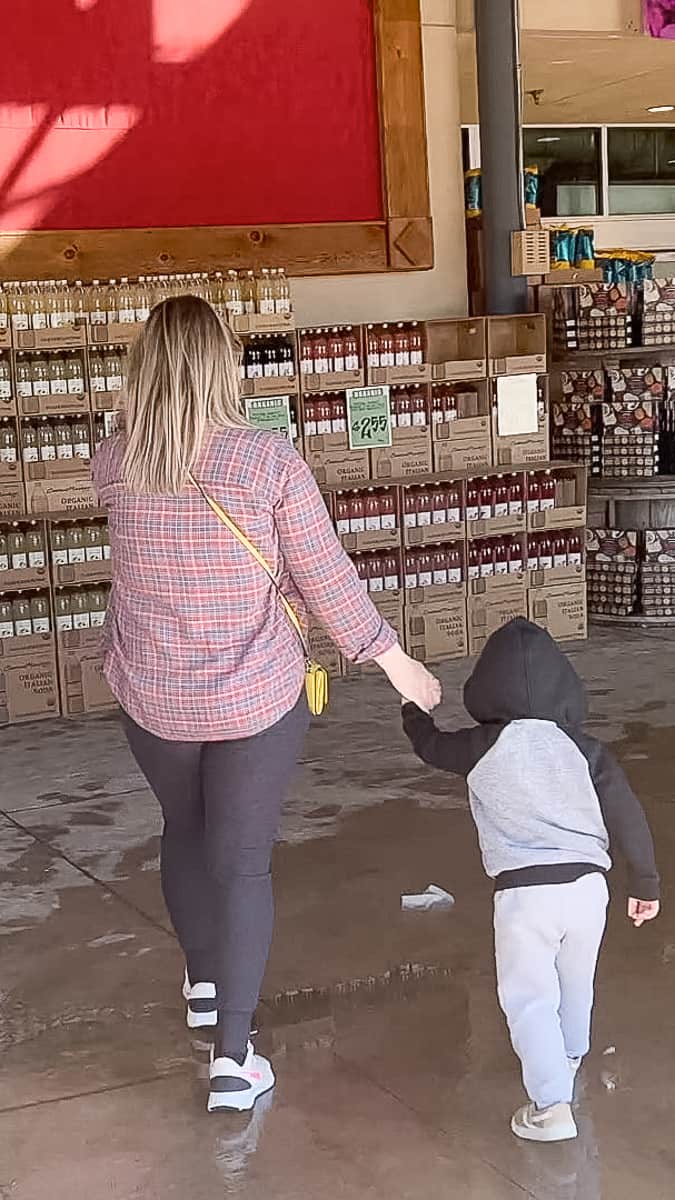 I can't really describe it in one paragraph so here's a video of a shopping trip we took to Central Market Plano…
Bonus TIP for shopping with kids:
Maybe you also know this trick: but if you're in a store that gives kiddos balloons, I've found the best option is to clip the balloon into the seat belt in the cart.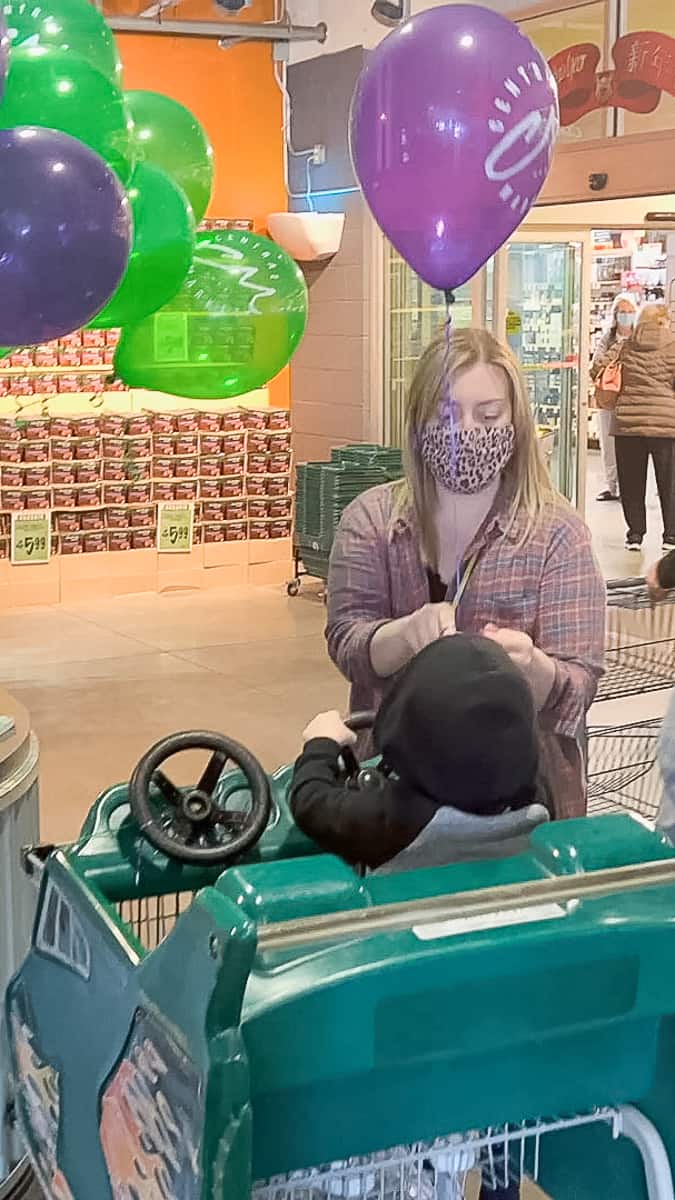 That way your kiddo can play with it, and it won't float away, and then it's not tied to the cart so you won't have to untie it at the end. Only caveat here is that your kiddo can't undo the buckle 🙂
Wood fired restaurants in Plano
Urban Crust – Satisfy all your crispy, light, flaky crust cravings at this downtown Plano wood fired pizza restaurant. It's quite the experience with multi-levels, and Italian-inspired menu, and an ice bar at the top. Get a classic pizza pie. Or, check out something creative like the Black & Blue pizza recipe with basil pesto, wood-fired sirloin, baby portobellos, caramelized onions, and bleu cheese.
Where to find bento boxes in Plano
The best times to check out bento box specials are usually around lunch. Here are some recommendations…
Akari Japanese Restaurant – check out the freshly made spicy chicken bento.
Tomoya Sushi & Hibachi – This place offers a great selection of 12 bento box options! Don't miss the ramen, and fresh fish sushi rolls, but also check out the hibatchi lunch bento box specials available with 12 main dish options including tempura, shrimp, beef bulgogi, steak, chicken and more.
See these griddle recipes…
More fun restaurants in Plano coming soon!
I'm at the lookout and eating around Plano, Frisco, McKinney and Allen at the moment.
My most up-to-date Dallas area restaurant reviews can be found on Instagram @sipbitego and on the Sip Bite Go YouTube channel.
For some tasty home cooking, see the Sip Bite Go recipe collection.
Dallas Area Guides
New recipes and foodie guides….
Grill and smoker recipes…
Meat thermometer recommendations
Every home chef needs a reliable meat thermometer to cook food perfectly.
On Sip Bite Go, you'll often see me using:
Meater thermometer – a fancy wireless thermometer that connects to a phone app – gifted to me from a Traeger partnership.
ThermoPro digital thermometer – which has a wire that connects the thermometer to a display box outside the oven/grill.
It's like being psychic! The great thing about either of the thermometers above is that I don't have to take the food out of the oven to know the temperature.
How to use 'em… What I do is stick the digital thermometer in steak, pork, chicken, whatever… Then put the food in the oven, on the smoker, or grill.
While the meat cooks, it reads the temperature so I know exactly what temp meat is as it's cooking. Without having to take it out and check. It's really difficult to overcook food when you know exactly what temp it is inside!