Wondering the difference between pizza sauce vs pasta sauce? Can you use spaghetti sauce instead of pizza sauce on pizzas? Yes, you can do it – but there are some things to know before you substitute pasta for pizza sauce.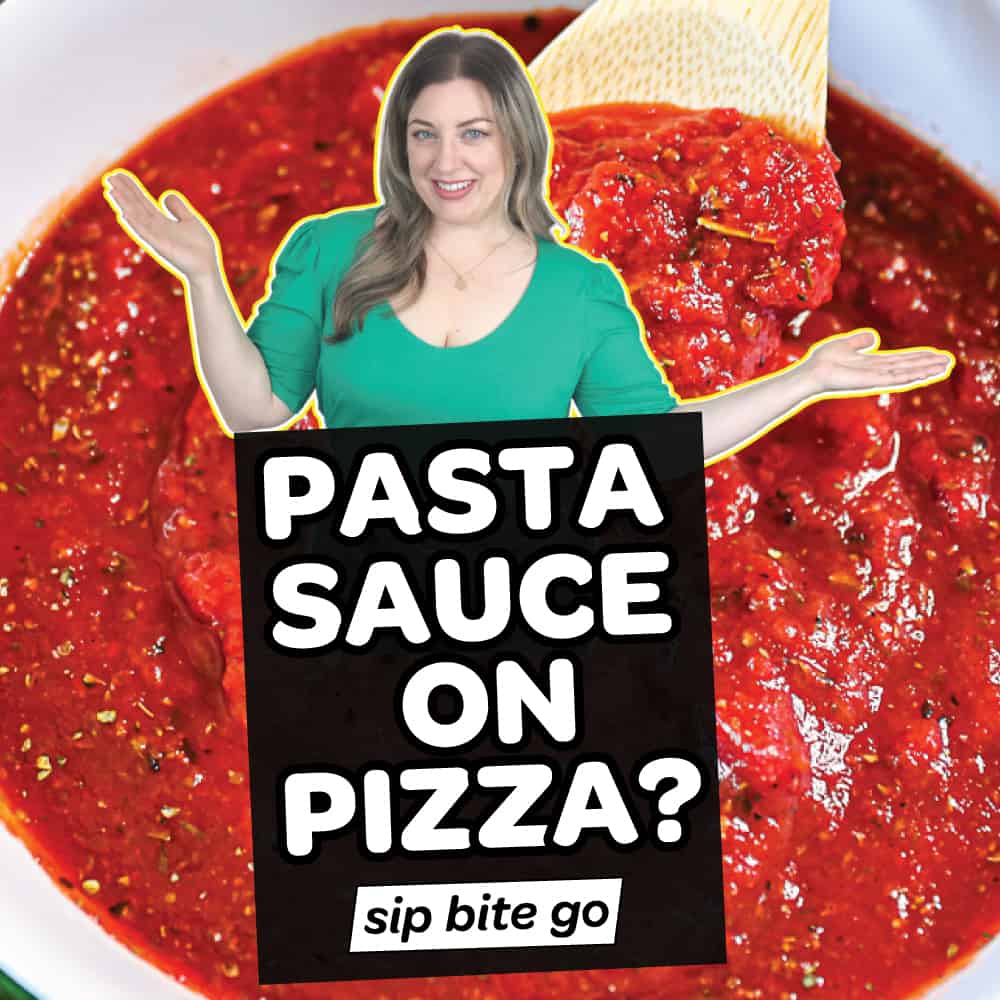 The difference between pizza sauce and pasta sauce
So what's the deal with pizza vs pasta sauce? Aren't they the same thing?
Actually, no. Tomato sauces meant for pasta (marinara sauces) are typically runnier than pizza sauce and the flavor is a bit different. Here's a video to check out…
How to make your pasta sauce taste like pizza sauce
Personally, I like making pizza at home with pizza sauce that has a little hint of sweetness in it. And I like it to have a bunch of tasty Italian herbs. You can sprinkle on an Italian seasoning blend with dried basil, oregano, parsley, and maybe even a little rosemary to add those flavors – although, they are probably already in your pasta sauce.
That's where adding a dash of sugar comes in. That's where I personally feel like the flavor changes.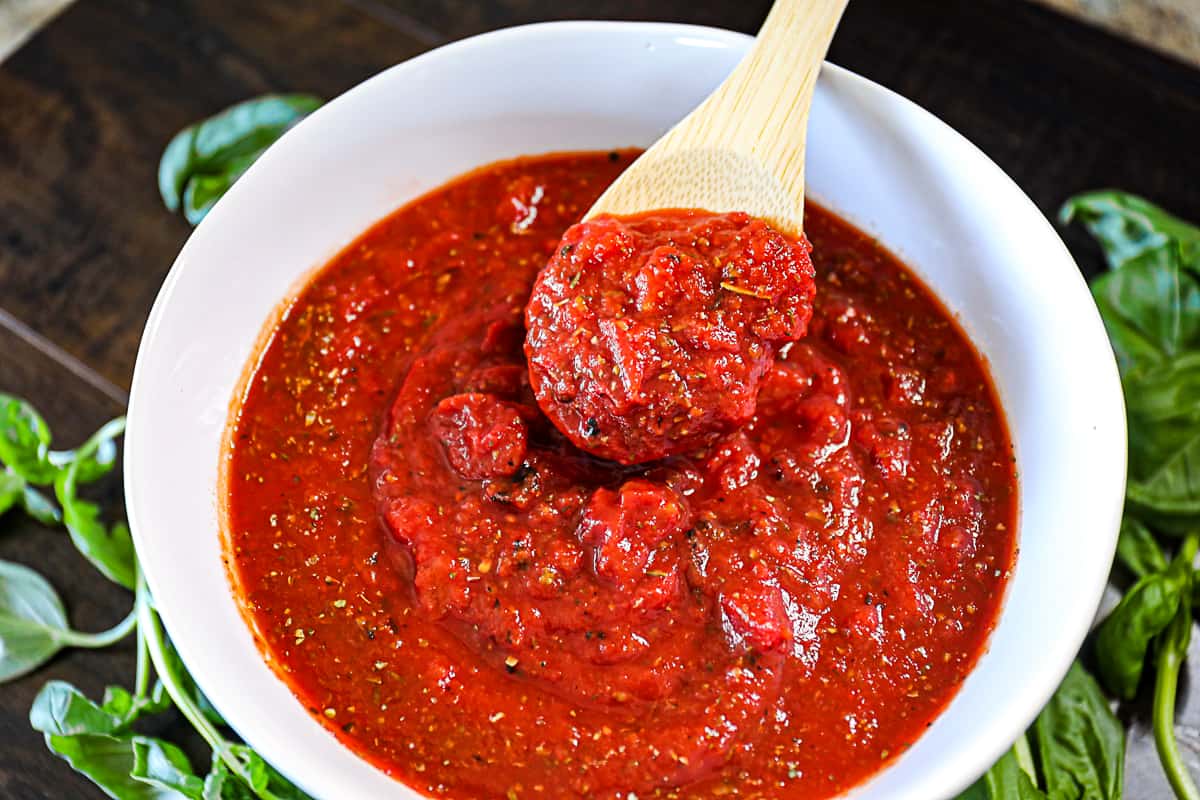 How to thicken pasta sauce for using on pizzas
Thickening up your pasta sauce for pizza is a great idea – so your pizza dough doesn't get soggy. To do this, add a can of tomato paste to your pasta sauce. You don't even really need to heat it on the stove – unless you want to reduce the liquid and make it even thicker.
So, yea, I find just adding one of those 12 oz jars of tomato paste does the trick.
Are you a TJ's fan? Learn about my favorite Trader Joe's pizza doughs.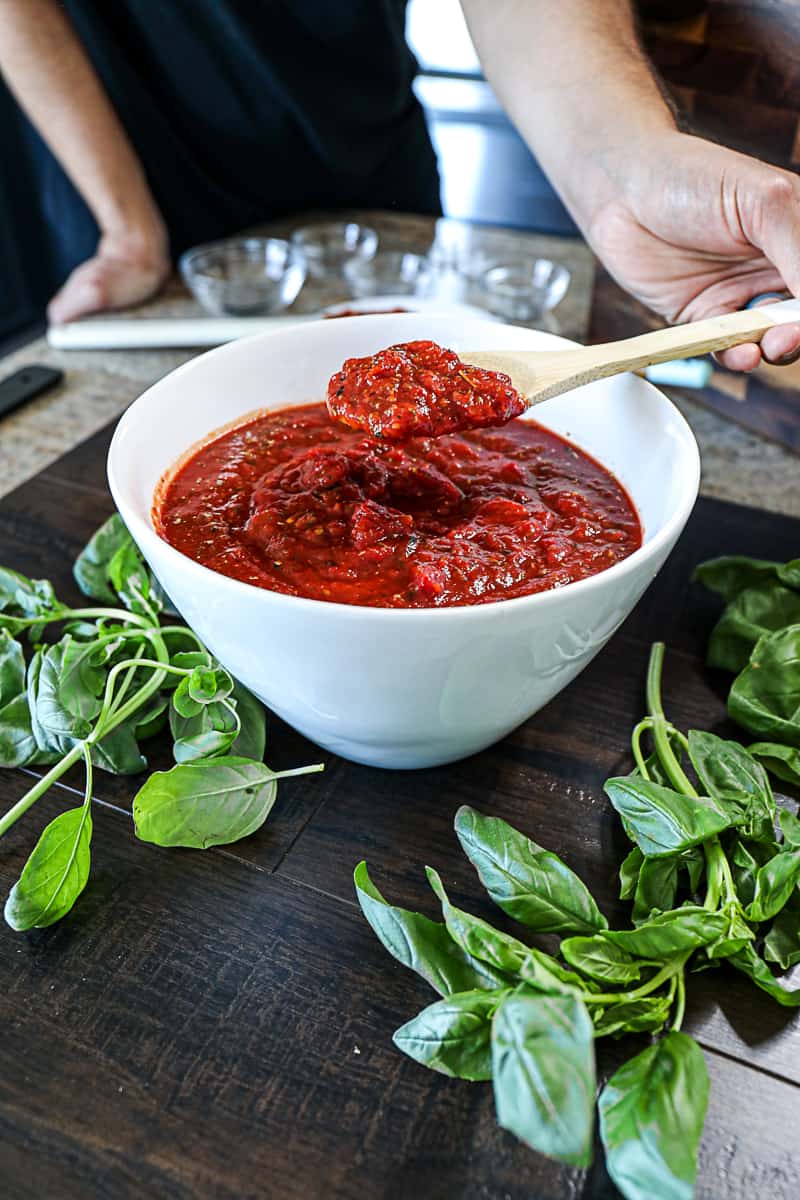 Consider making your own sauce instead
Making your own thick sauce will prevent your pizza from getting soggy – which in my experience happens sometimes when I'm using store bought or homemade pasta sauce.
See how to make a simple homemade tomato pizza sauce using canned tomatoes.
Are you a foodie, too?
Hey home chefs, I hope that answers all your questions about pizza sauce vs pasta sauce. Don't forget that you can always use store bought Alfredo sauce, too.
To get my latest and greatest creative recipes before they're shared on the site, connect with me on Instagram @sipbitego. And for more deliciousness, subscribe to the Sip Bite Go channel.
To find more delicious recipes to try on your culinary journey, scroll through the Sip Bite Go recipe collection.
The Perfect Pizza Setup
Want to make restaurant style pizza at home? I've got you covered! Here are some of my top tips, tricks, secret ingredients and tools for a pizza night everyone will look forward to, again and again.
NEVER do this… Contrary to what most people believe, when baking pizza on a sheet pan, never add toppings to raw pizza dough. Instead, follow my recipe for making homemade pizza with ready made dough, which will teach you how to par bake pizza dough first.
Get help from secret ingredients…
– This dough seasoning is the secret to real Italian-tasting homemade pizza dough.
– Add pizza seasoning to store bought pizza sauce. This makes the pizza taste really fresh!
Herbs are for after… In my weekly pizza making practice, I've found that fresh herbs, like basil, need to be added to pizza after the pizza is done baking (so the herbs don't wilt).
Buy fresh dough and get amazing results. Yup, fresh dough from grocery stores is one of my favorite short-cuts. Learn how to use fresh Trader Joe's pizza dough and Whole Foods pizza dough with my tutorials.
Frozen pizza can taste amazing, too!! Learn how to spruce it up with this recipe for pizza using frozen crust.
Slice pizza pies like a chef with just a few swipes, using big ol' pizza cutters.
Want to grill pizza? Here are some pizza grilling tools to check out.
Do you really need to cook pizza on the rack? Nope! I basically never do. Here are tools you see me using in my tutorials on cooking pizza in the oven…
– Bake pizza on a rimmed baking pan set to get a beautiful golden brown crust.
– Love crispy crust? Let the air flow with this dishwasher safe pizza pan.
– Get personal – let your fam / friends top their own pies with this set of personal pizza pans.
More pizza recipes from Sip Bite Go