Want to make and eat healthy paleo sous vide food? With sous vide paleo recipes, you get an easy way to make nutritious paleo-friendly food right at home. You get to decide on the best ingredients, and then you get to make them taste restaurant quality by cooking them slowly under water, sous vide style.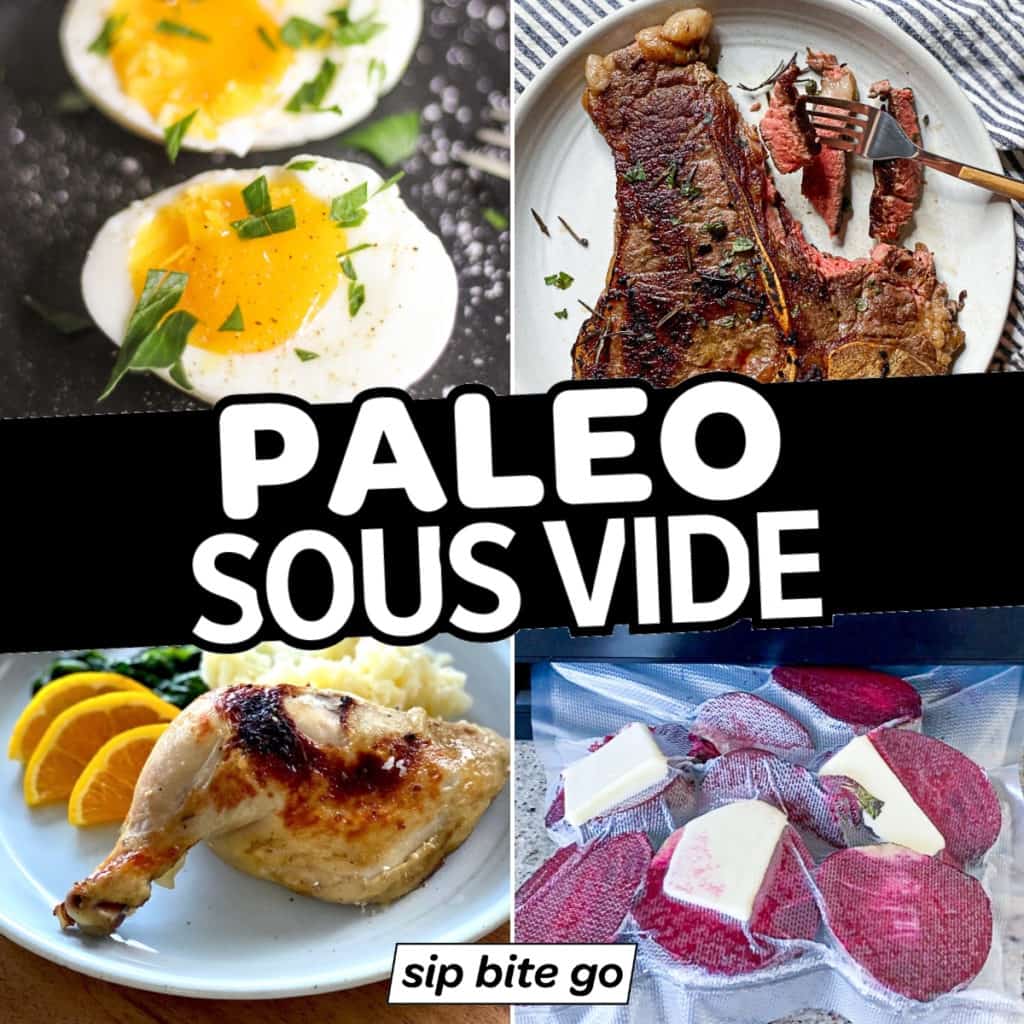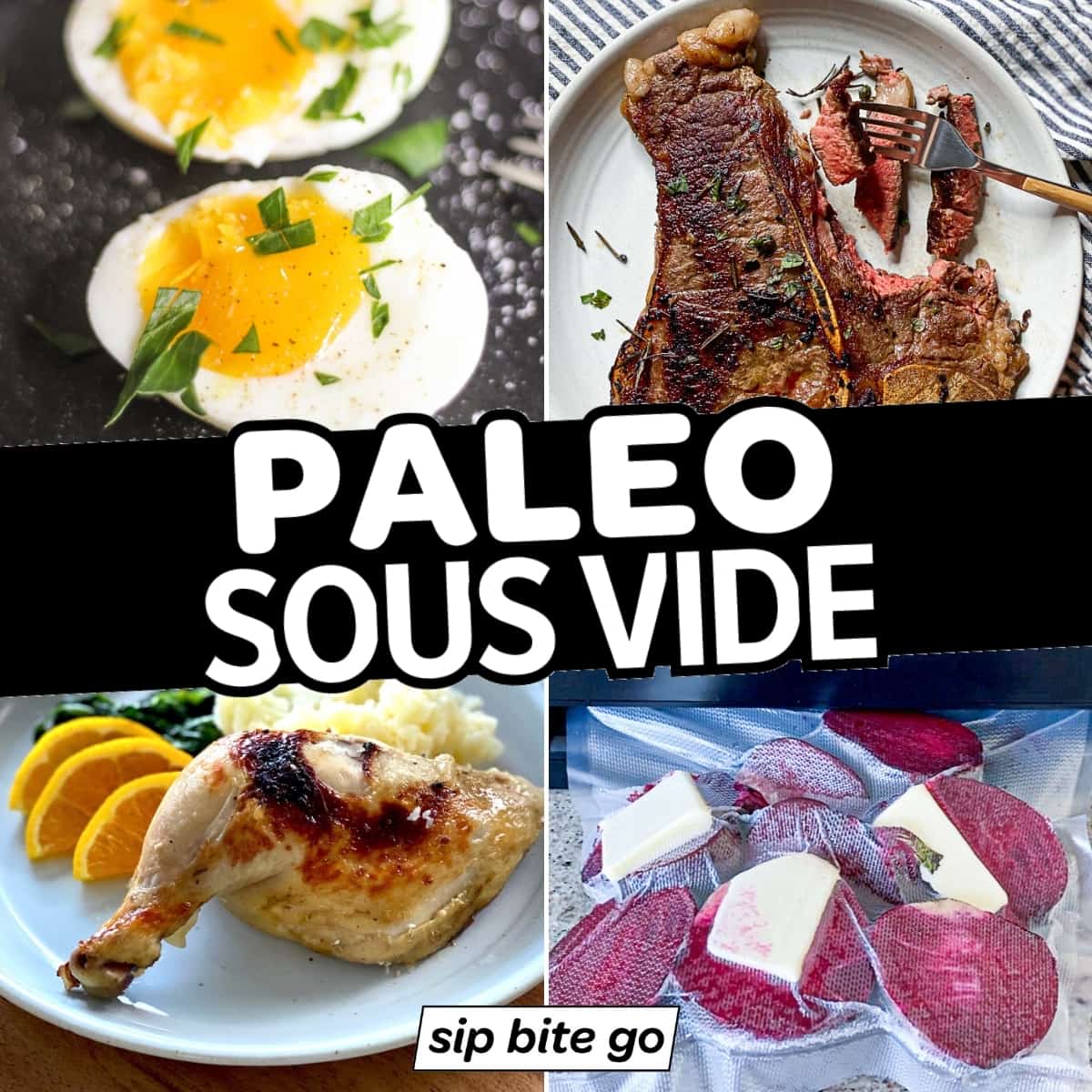 There are so many options, let's dive in.
Why cook paleo food sous vide style?
Sous vide cooking paleo meals makes it simple to cook from scratch, often in a low carb way: using raw meat, fresh fish, fresh vegetables from the farmers market or garden.
You'll find full recipes for each of the paleo sous vide meals featured here in my new sous vide cookbook, a hard-copy resource you'll want to have in your kitchen.
You'll also find a good selection of paleo and low carb keto sous vide recipes in the sous vide recipe index on this website. Each recipe has a detailed, step by step tutorial, and some even have video walk-throughs.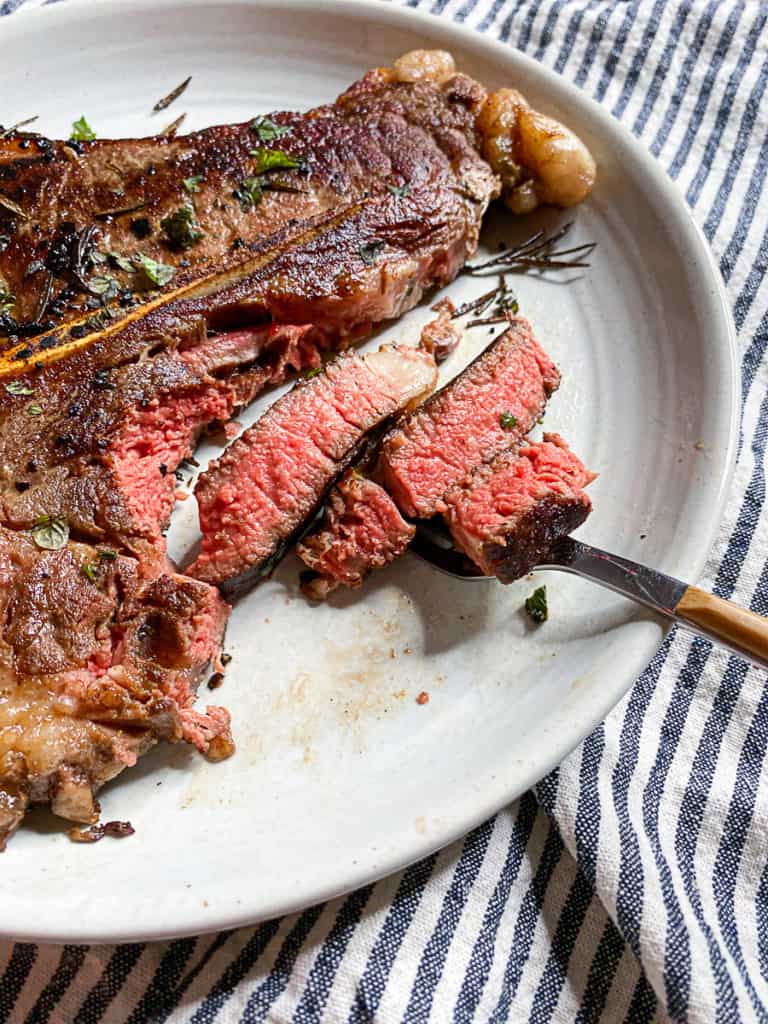 The basics of sous viding paleo recipes
Sous viding nutritious, paleo recipes for your family is simple once you've mastered the basics of this cooking method. When choosing recipes for paleo sous vide cooking, remember that you can very simply season most food with salt, then cook it. Remember to skip sous vide steak marinades and sauces that will take you off the paleo diet.
You won't feel any desire to buy processed meats again once you taste your own 48-hour sous vide beef, and your own herby sausage breakfast patties will outshine anything found in the frozen food aisle.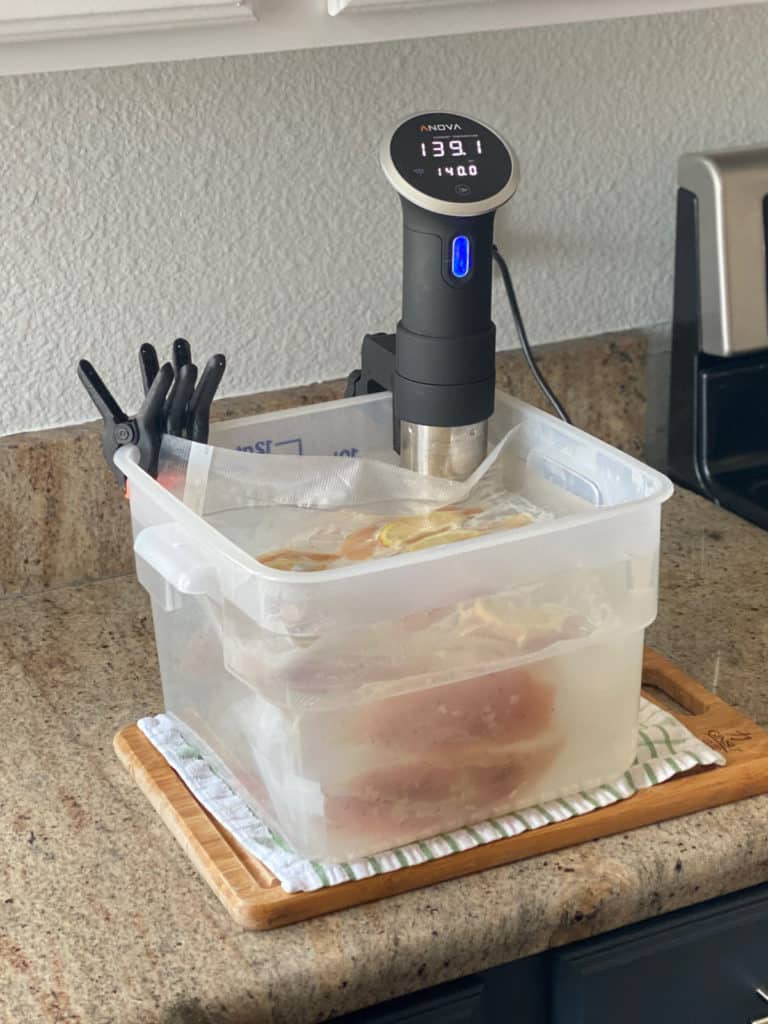 Overview of the sous vide cooking process
This example uses steak as the main ingredient.
Season steak.
Vacuum seal steak (or pop it in a ziploc if it will fit).
Sous vide steak for time and at the temperature indicated in the recipe.
Remove steak from bag and pat steak dry to remove moisture from the outside.
Cast iron sear, grill, or air fry sous vide steak to finish the outside. You can add your favorite fat to the outside to do this.
Rest steak.
Nom nom sous vide steak and tell all your friends about it.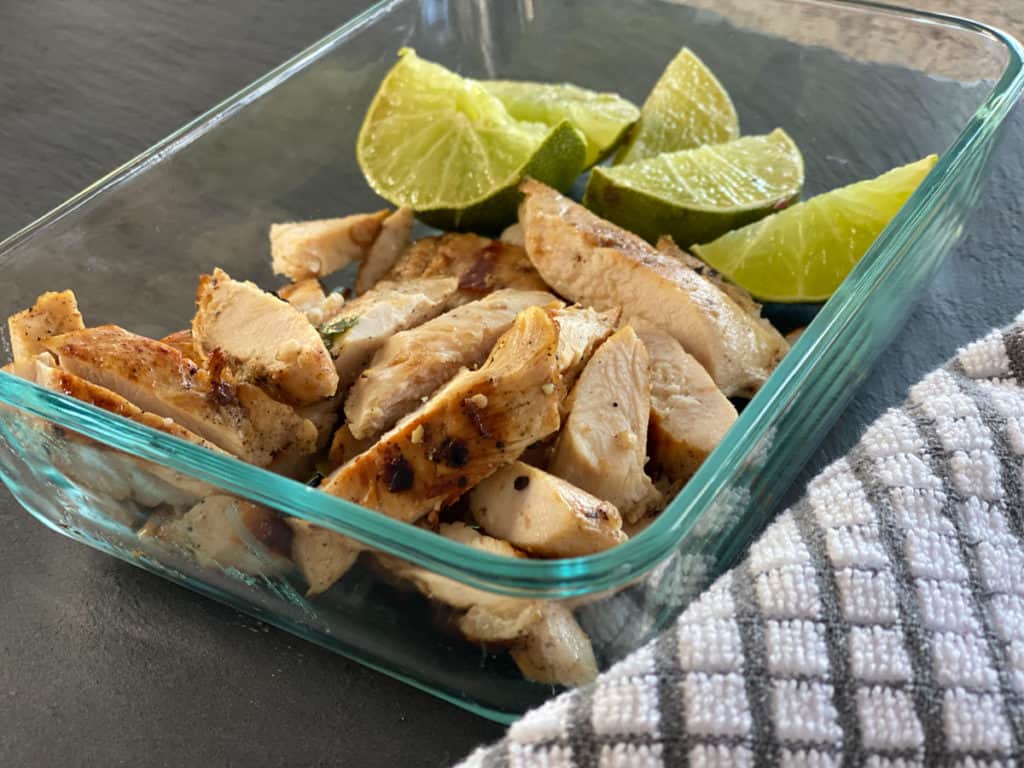 Sous vide paleo chicken recipes
Sous vide paleo chicken breast
Making nutritious paleo food for a crowd is easy with sous vide. One simple fall-back recipe when you want to sous vide for large groups is grilled chicken that's first cooked with the sous vide machine then grilled on the barbecue. Serve it alongside a large salad bar filled with greens and your choice of paleo friendly vegetables.
The sous vide chicken tenders recipe here on Sip Bite Go is cooked in the sous vide bath for 60 minutes, which means you only need to do a 2-4 minute grill when your guests have arrived. For an alternative, pop some lemon in the bag to make these sous vide lemon chicken breasts.
Here's a little trick: sous vide frozen chicken to make meal prep easy!
Sous vide paleo whole chicken
How freakin good does this chicken look? See how to make a family style meal with this sous vide whole chicken. Oranges are paleo friendly, too. You can vacuum seal chicken with oranges like I do in the photo above featuring this sous vide whole roast chicken recipe.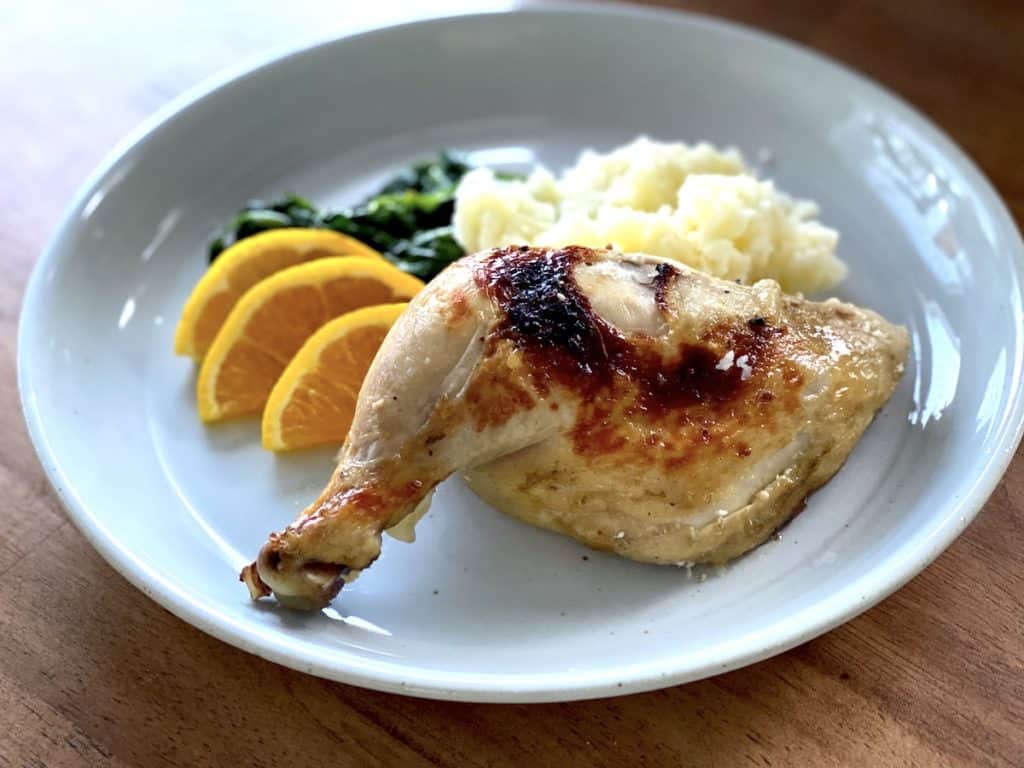 More recipes to turn into paleo sous vide chicken dishes
Now, just a heads up, chicken tends to look a little weird when cooked sous vide style. It's tender and moist, but can be a little more pink. You can learn all about why sous vide chicken looks strange.
Paleo sous vide steak recipes
Sous vide paleo steak dinners
Make a gourmet sous vide steak recipe for a sous vide dinner party or date night in. There are so many options for using your favorite cuts from the butcher to cook using the sous vide technique.
If I had to pick one recommendation, right this moment I'm in love with paleo-friendly sous vide porterhouse steak. Earlier this year, I was featured in Oregon Home Magazine cooking up this fancy cut.
Sous vide brisket
Smokey sous vide brisket is cooked with smoked salt, pepper, and cumin powder for 48 hours. This is all unattended, as the sous vide cooker does its thing on the back of your kitchen counter, but you will want to check the water levels periodically to make sure the beef always stays well under water.
Serve this tender, melt-in-your mouth sous vide brisket with a green salad or a selection of your favorite steamed or sous vide vegetables.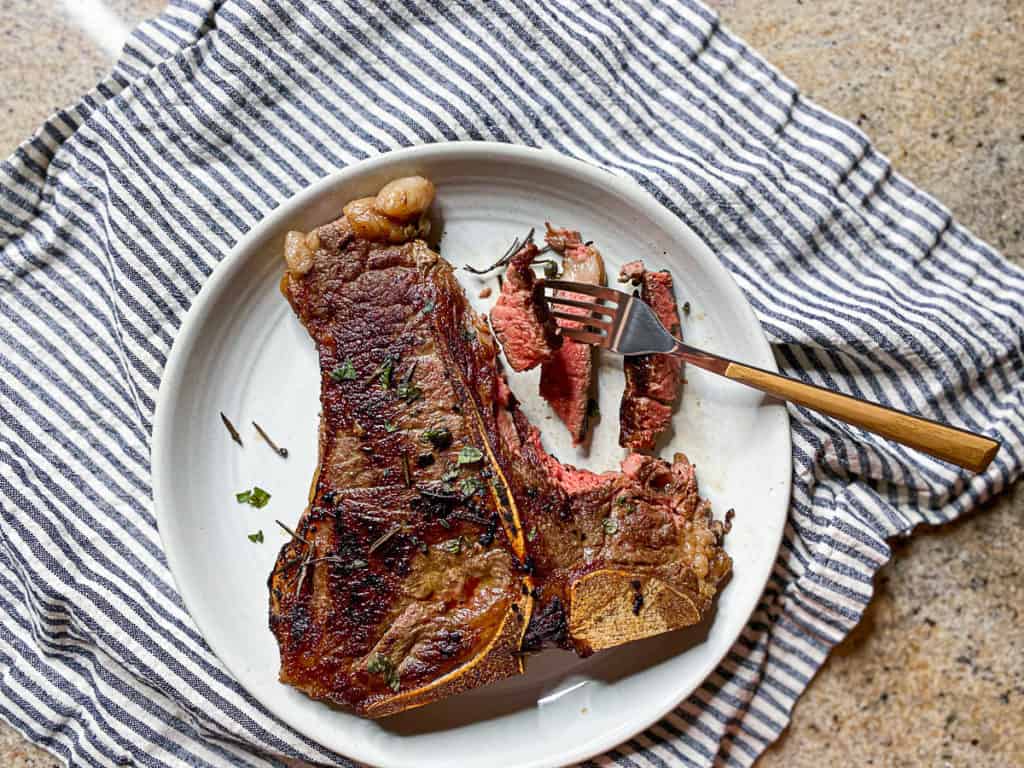 More sous vide paleo steak recipes
Cast iron finished sous vide T-bone steak
An easy-to-make paleo sous vide flank steak recipe can be found in The Home Chef's Sous Vide Cookbook.
Sous vide filet mignon.
Recipes you can alter to make paleo ribs
Beef ribs are easy to buy in bulk during my once a month Costco haul. Here are some of my go-to recipes, which you can change up with different sauces to make paleo friendly sous vide dishes: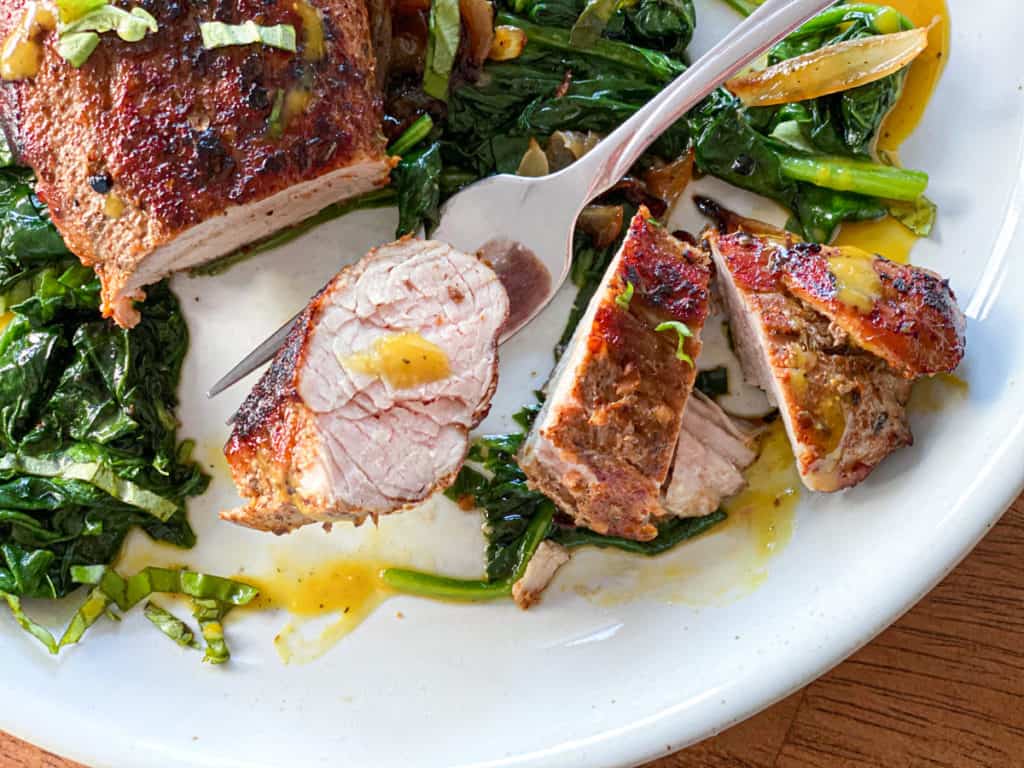 Sous vide pork recipes
Paleo sous vide pork chops
Whip up some paleo sous vide pork chops either boneless or bone-in style. With a 2 ½ hour cook time, they always turn out tender and juicy. I typically finish them on the grill or in a cast iron frying pan to get a seared brown crust on all sides and edges, and serve with homemade sauce and chives or cilantro.
Sous vide sausage
When I want to meal prep for brunches I'll make up a big batch of sous vide herby sausage breakfast patties, vacuum seal, and stick them in the freezer. I can either pull them out the night before to thaw for a two hour morning sous vide session, or simply sous vide from frozen.
When cooking from frozen, I'll add an extra hour to the cook time and leave them three hours in the sous vide water bath.
Sous vide pork tenderloin
Here's a meal for two: sous vide pork tenderloin served with a side of spinach is one of the most beautiful things you'll ever see on a plate.
Transform these recipes into paleo sous vide pork dishes
Make mini tacos or lettuce wraps out of this recipe for sous vide carnitas (made with paleo-friendly sauce instead of BBQ).
Sous vide pork belly
Sous vide pork medallions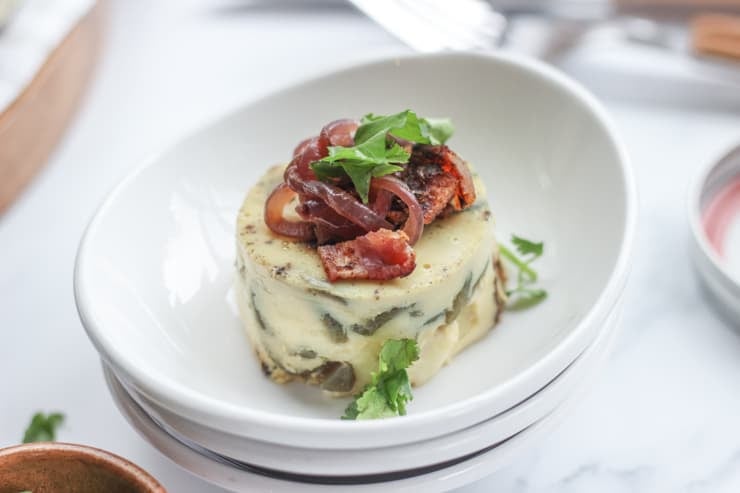 Sous vide paleo egg recipes
Sous vide paleo snack: soft boiled eggs
Here is a staple for people on the paleo diet who always seem to be in a hurry. You can make sous vide soft boiled eggs in a batch at the beginning of the week to enjoy for lunch and on the go paleo snacks. I love making avocado toast with them.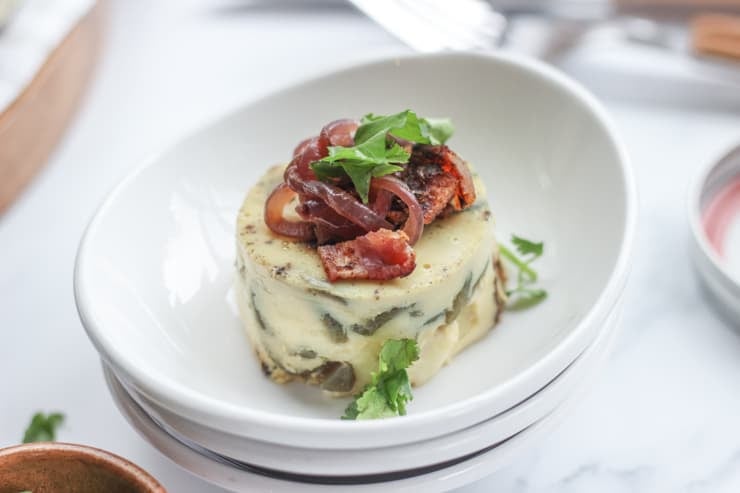 Sous vide paleo egg bites
One of the joys of cooking instant pot sous vide egg bites paleo style is that you can make them in advance and freeze them. In my list of tips for sous vide egg bites, you'll learn about adding mixins to make them taste just like Starbucks. Get my base recipe for making sous vide egg bites at home.
Here are some paleo-friendly vegetables to make paleo sous vide egg bites:
Love your Instant Pot or other pressure cooker? Check out these Instant Pot sous vide recipes!
Sous vide boiled egg salad
When I want to serve sous vide boiled egg salad I'll cook my eggs for 40 minutes in the sous vide water bath. That produces a perfectly done hard-boiled egg. 40 minutes might seem a long time to wait for boiled eggs, but there's no work happening here: these eggs are sous vide in their shell, so the vacuum sealing step is eliminated.
Sous vide scrambled eggs
If you're looking for another quick and easy paleo sous vide breakfast, go for scrambled eggs. This recipe is both a meal and it feels like a science experiment while you're making it. Sous vide scrambled eggs, cooked in a zipper seal bag, take just 17 minutes in the sous vide cooker. That's 15 minutes of cook time, and an extra two minutes to take the eggs out at intervals and massage them into a fluffy, scrambled texture.
More sous vide paleo friendly breakfast options can be found in this guide to sous vide breakfast recipes.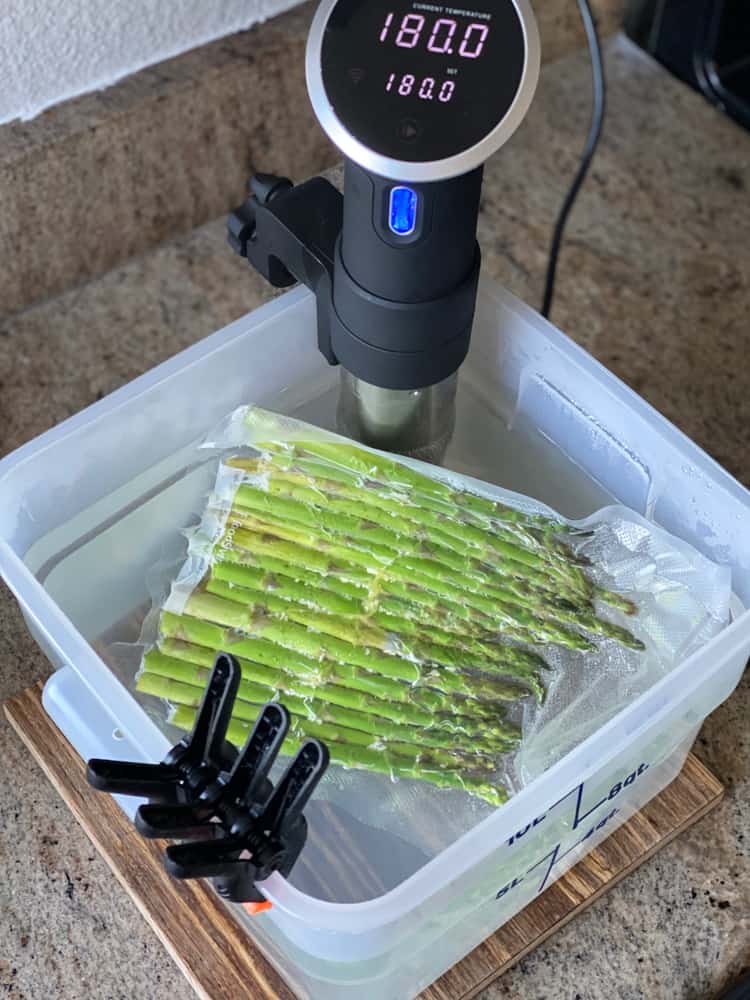 Sous vide paleo vegetable recipes
Sous vide asparagus
There's one vegetable that cooks up in the sous vide cooker even faster than eggs: asparagus. Asparagus, cooked 6 minutes for thin spears or 9 for thicker, turns out tender but still crisp: none of that mushiness you get so easily when you boil on the stovetop.
My favorite paleo asparagus recipe in the book is sous vide asparagus with toasted almonds: a fancy dish that makes at-home dinners something out of the ordinary, and is sure to impress if you serve it to guests. Learn how to vacuum seal asparagus to meal prep these.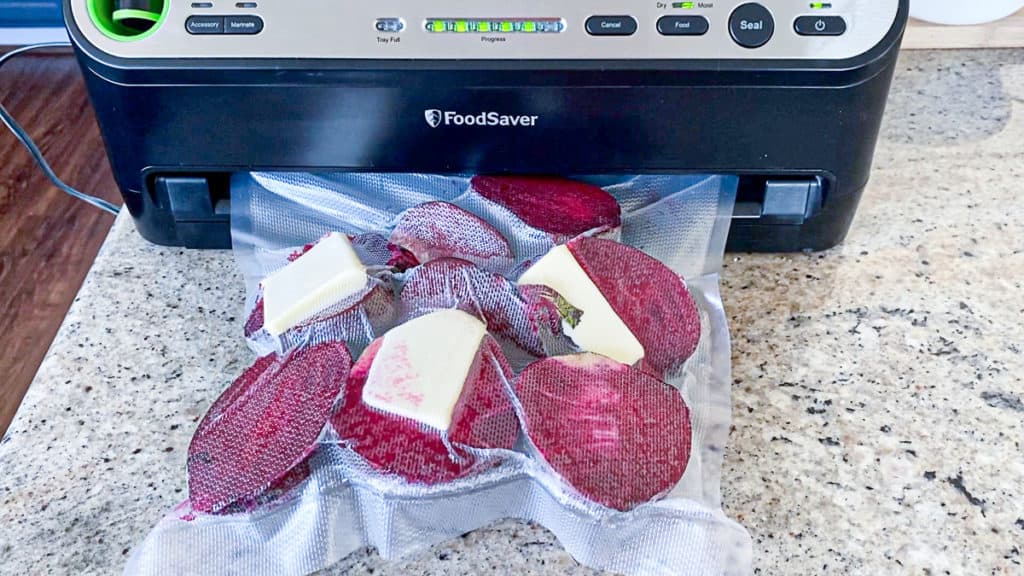 Sous vide beets
One of my favorites of all times – sous vide beet salads on arugula are so satisfying!
More paleo sous vide vegetables
Here are some of my favorite ways to cook vegetables sous vide style that can be modified if not already paleo friendly:
Sous vide onions (replace the beer used in this recipe with chicken broth).
Sous vide pickles like cauliflower pickles and traditional cucumber pickles which are both in The Home Chef's Sous Vide Cookbook.
Okay so it's not sous vide, but since mushrooms are a favorite for a lot of paleo dieters, check out this recipe for mushrooms with thyme. Skip the wine to make it paleo.
There are quite a few restrictions when it comes to paleo vegetables, so you'll need to skip sous vide little potatoes and sous vide sweet corn.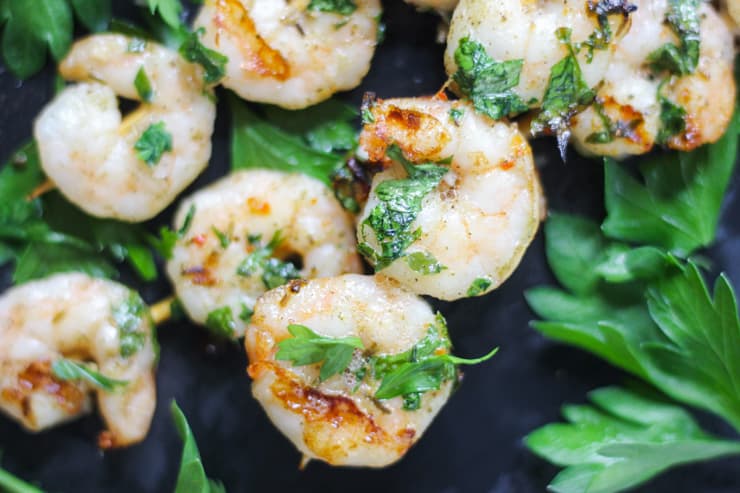 Sous vide paleo seafood recipes
Sous vide shrimp kebabs
These skewers with sous vide shrimp are one of my favorite things to eat on "Something On A Stick Day" (which is a May food holiday if you haven't heard of it!)
Sous vide lemony sea bass
This recipe from the book calls for a 30 minute cook time, and is at its best after finished with a 30-60 second sear in a sauté pan. This sous vide fish is delicious served with kale, chard, or artichokes for a fully balanced, nutritious meal.
Sous vide tuna
Tuna cooks just a little longer: 40 minutes in the sous vide cooker, then 30 – 90 seconds over a hot stove. Flavored with oregano, thyme, and basil, my sous vide lemon herb tuna is a guaranteed crowd pleaser, and you'll love how it comes out cooked perfectly edge-to-edge every single time.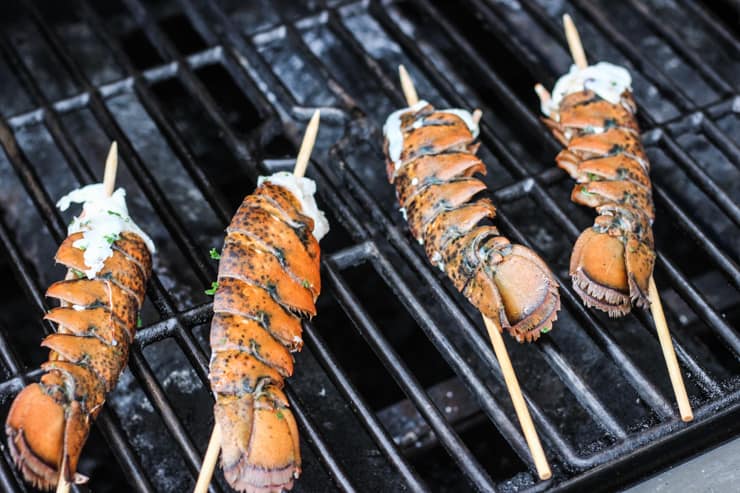 More recipes to transform into sous vide paleo seafood dishes
Sous vide lobster is always a decadent choice — try it grill finished.
Sous vide salmon.
Sous vide paleo dessert recipes
Isn't it a beautiful thing that you can make sous vide desserts paleo friendly? There are a lot of flourless cake options available with sous vide cooking. You just need a set of mason jars to pull them off. My advice is to top them with paleo friendly fruits like berries or nuts.
Some sous vide paleo desserts to try
sous vide creme brûlée
paleo cheesecake sous vide cooked
sous vide lemon curd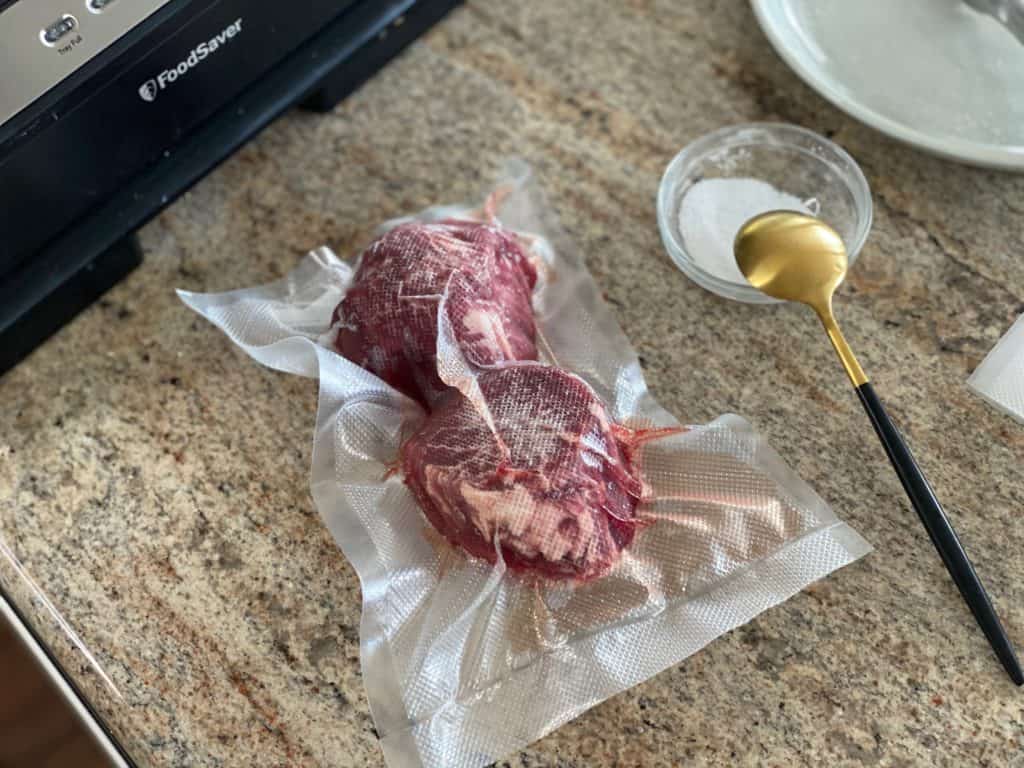 Times and temperatures for sous vide cooking
Every sous vide recipe will include the time and temperature, basic information you need to be successful with your paleo sous vide cooking. Time can vary widely: from six minutes for thin asparagus spears to 48 hours for beef brisket. Temperatures also vary.
Vegetables tend to cook best with higher temperatures—for instance, 180ºF for asparagus—and lower for meat and fish. Grilled paleo sous vide chicken breast, for instance, cooks at 140ºF.
Do make sure you check the details given in your recipe, as time and temp vary not only on the type of food being cooked but also on your cooking goals and the finishing you'll do.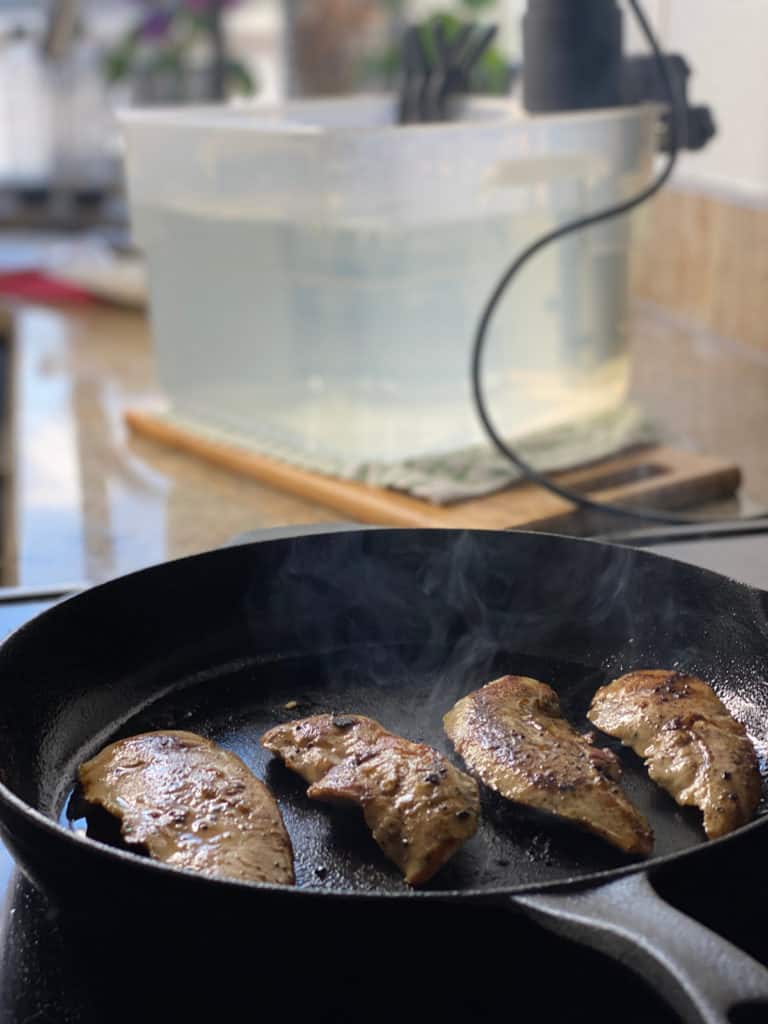 Ways to finish sous vide paleo meals
First you sous vide, then you usually grill, sear in a cast iron skillet, or air fry sous vide food.
Why finish them? Your sous vide paleo meals — particularly meats — might look a little soggy right out of the bag, but no worries— you don't need to serve them that way! Each of my sous vide recipes for beginners includes all the details on finishing your meat or veggies for a beautiful browned crust and picture-perfect presentation.
Sous viding frozen paleo meals
Did you know sous vide food can be cooked from frozen? The secret is in the "sous vide cooking method". It will seem like magic, but it's really just a little nerdy science and an extra 60 minutes in the sous vide "jacuzzi".
It's super easy to sous vide from frozen – all you need to do is adjust the cooking times. For many meats— sous vide frozen turkey breast and sous vide frozen steak, for instance— a basic rule of thumb is to add an hour to the cook time.
The simplicity of sous viding frozen ribeye or sous viding frozen chicken means you can meal plan for the entire week on the weekend, for instance, and stock your freezer with vacuum-sealed bags of pre-seasoned meats for a whole week of meals. It's a lifesaver for busy work at home parents, I can tell you!
Read more on this cooking method
I'm passionate about sous vide cooking, and maybe that's why Sip Bite Go has become one of the most popular sous vide blogs on the web. This food hobby, turned blog, has recently become a sous vide cookbook.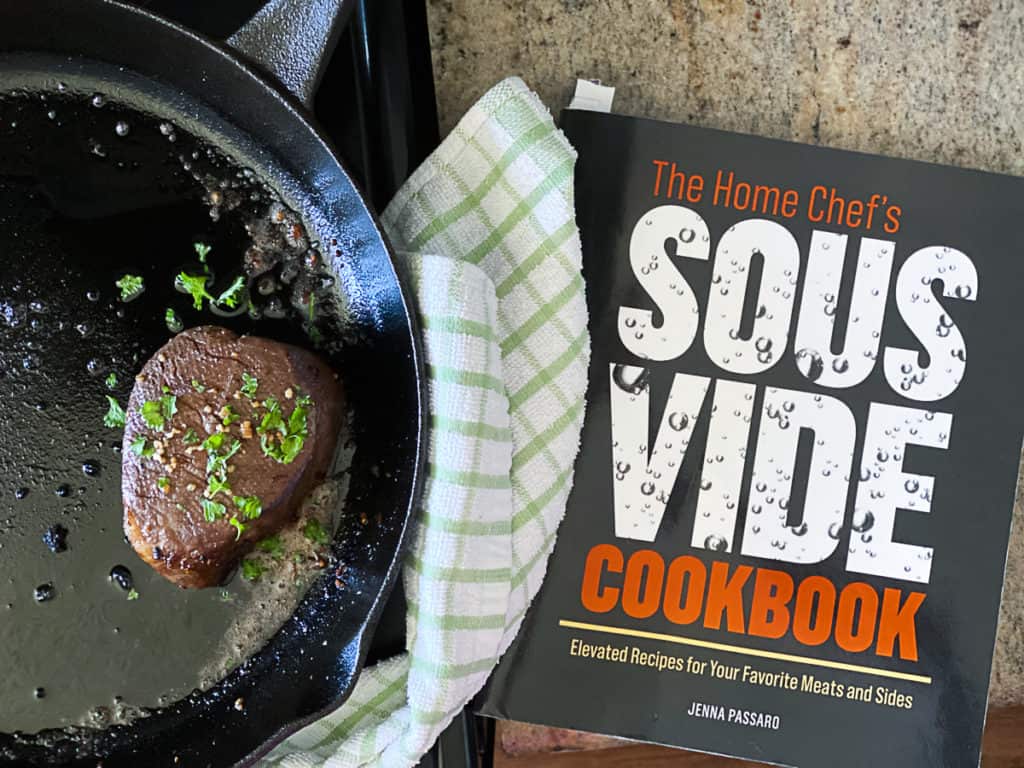 Many of these paleo recipes—and many more—are detailed in my cookbook: The Home Chef's Sous Vide Cookbook.
Are you a foodie, too?
If you're new to the sous vide method, start learning more in my guide to beginner tips for sous vide cooking.
Leave a comment here or find me on Instagram @sipbitego to let me know what you think about using the sous vide machine to make paleo recipes taste amazing. Want to make restaurant-style food at home? I'll teach you how, with in-depth video guides on the Sip Bite Go channel.
The Perfect Sous Vide Setup
Everyday I'm asked, "what do you need to sous vide food?". Here's my answer.
Try a new sous vide recipe…