Listen to My Weird Food Obsession Podcast – episode 19 on Apple, Spotify, or wherever you get podcasts to hear about opening a pastry business, and more, in this foodie podcast episode…
What is a micro patisserie?
How French Kiss PDX came to be.
The secret to opening a successful business amidst a pandemic.
Celebrating and learning from failures.
How it all began: Lisa's French pastry journey.
Managing instability as an entrepreneur.
How the pandemic made way for her new business.
The joys of baking and being in the kitchen.
Creating nuance and depth in pastries.
Lisa's current pastry obsessions.
What's next for French Kiss?
How to get started on baking as a hobby or career.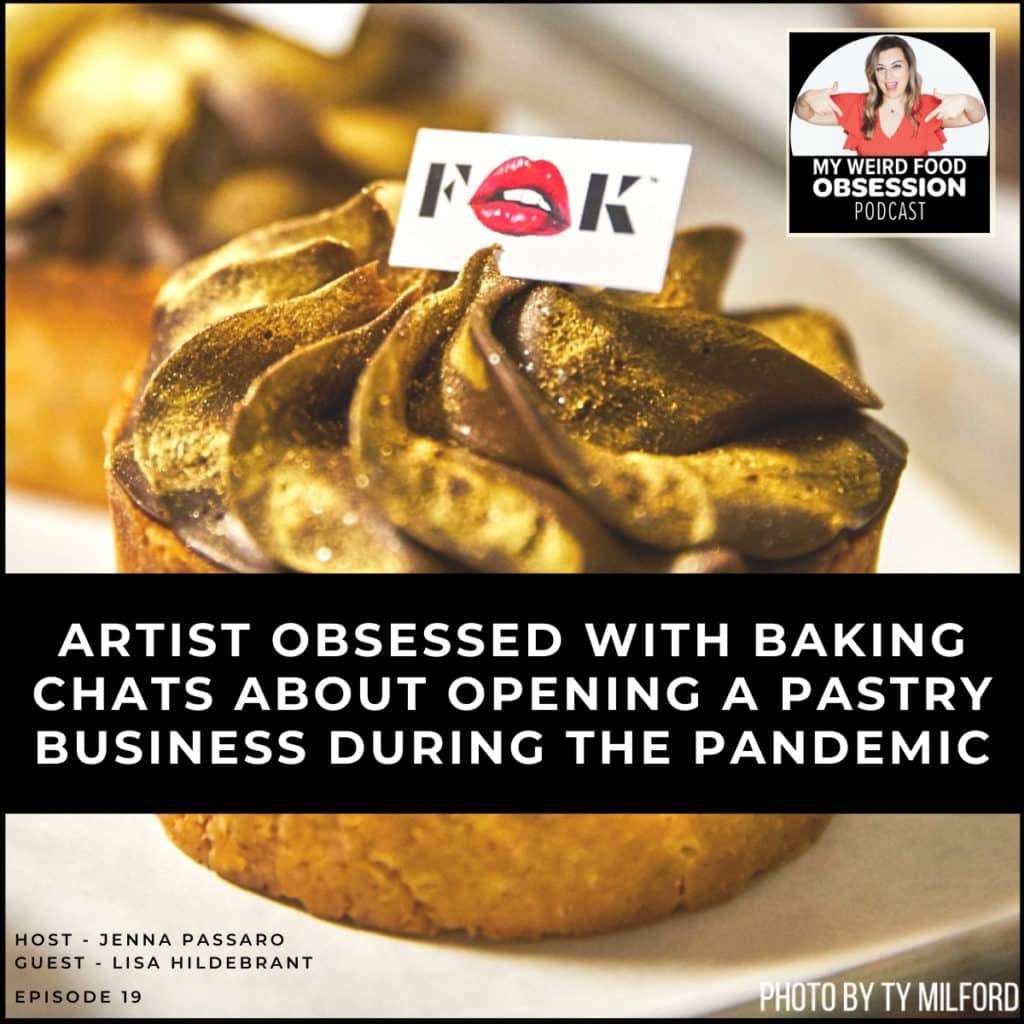 Learn about opening a pastry business
You are never too old to change the direction of your life. Of course, if you don't believe that, you will always be too old to steer your life in a new direction.
Approaching 40, when others may feel stuck in their ways, today's guest quickly pivoted careers at the start of the pandemic. She was living life as an artist, commissioned by interior designers to create art for Portland hotels and businesses. As projects were put on hold, she found the opportunity to reconnect with her experience as a baker and fall back in love with the art of baking pastries.
So join me as I chat art, pastry, Portland restaurants, feeling mediocre but knowing your moment is going to come, and everything in between with today's guest, Lisa Hildebrant. We chat about how innovation comes from failures and how she was always destined to become owner of French Kiss, a micro pâtisserie located in St. Johns, Portland, Oregon.
Lisa's photos in this article are shot by Portland photographer Ty Milford.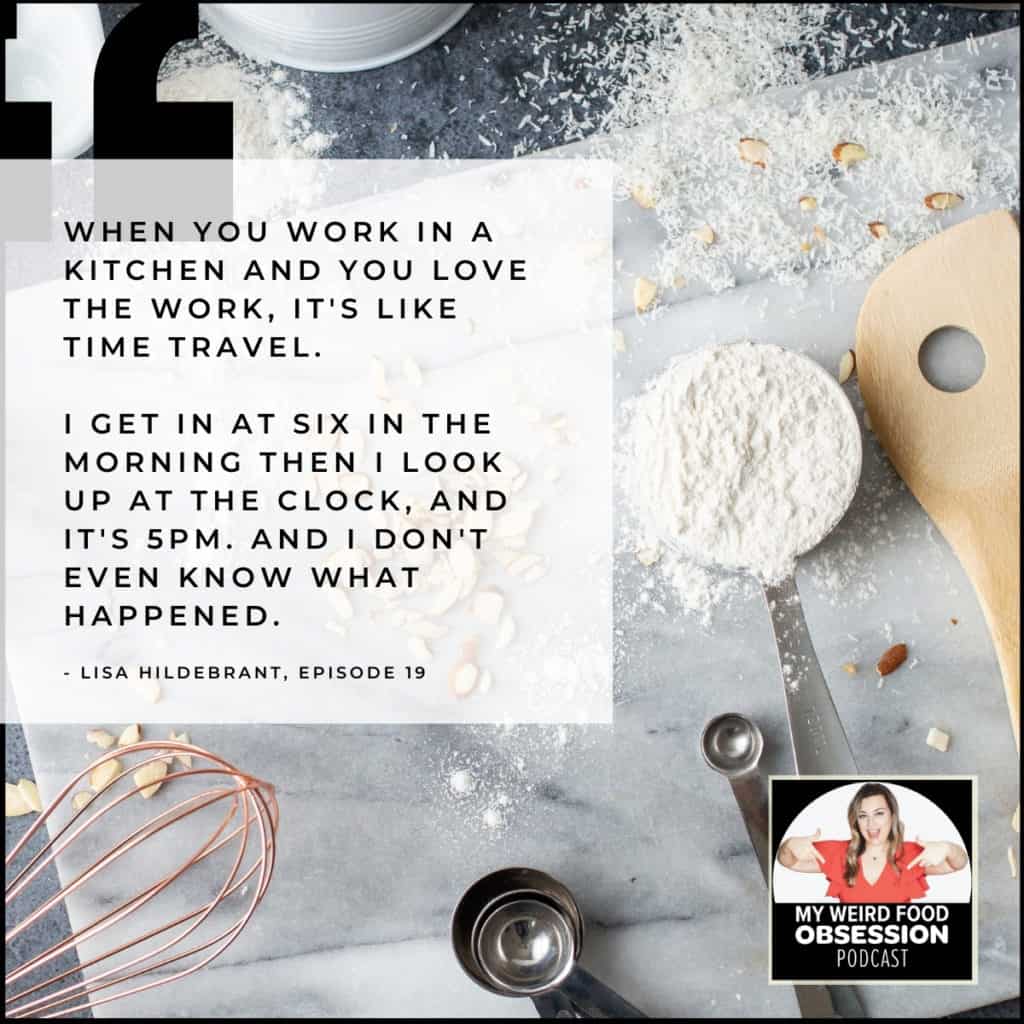 Pressing on when the world says no
As we chatted about her life path, one thing came out clear: Lisa is no stranger to blazing her own path. When, as a brand-new highschooler from a non-artistic, conservative family she enrolled in a Performing and Visual Arts homeschool, she found fitting in was not an option: her class-mates had grown up in art-steeped homes, and were already miles ahead of her when when it came to anything artistic.
Determined to succeed when even her teachers suggested she 'just didn't have it in her' she persevered and, after years of hard work, ended up with the hard-won skills and talent she had so long desired. As an extra bonus, she found herself with an artistic career, and the ability to pay the bills with her painting.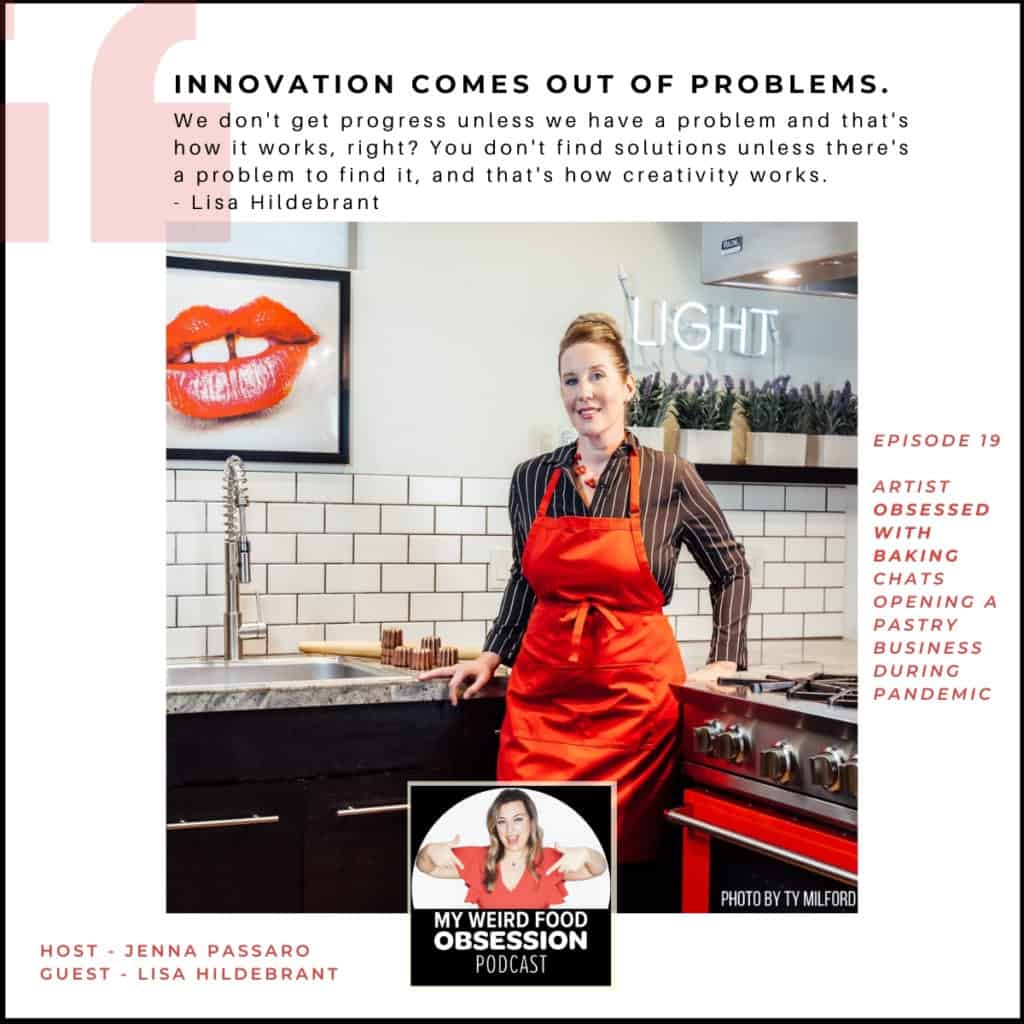 "Innovation comes out of problems. We don't get progress unless we have a problem and that's how it works, right? You don't find solutions unless there's a problem to find it, and that's how creativity works." – Lisa Hildebrant
A sweet tooth and a love of pastry
For Lisa, her life was her art. Even as a child, she was always busy drawing or making something with her hands. When she wasn't in the kitchen, that is. A sweet tooth and a love of cooking meant that her family was often treated to delicious baked concoctions. When in highschool, her friends were hanging out by the beer keg, she'd be the one in the kitchen, making cookies for everyone.
But it wasn't till her apprenticeship stint at a French patisserie that she discovered how, in a unique way, baking could be art. A slump in the economy had left her temporarily penniless and a resident, again, of her parent's house. When mom suggested she apply at the new French patisserie, her first reaction was a decided no. But hanging out at home with nothing to do gets old fast, and it wasn't long before she was knocking on the little bakery's door, asking for a trial.
Citrus tarts was where it began, but it wasn't long before she had learned the secrets of every sweet morsel in the book—and discovered an intense love of pastry making in the process.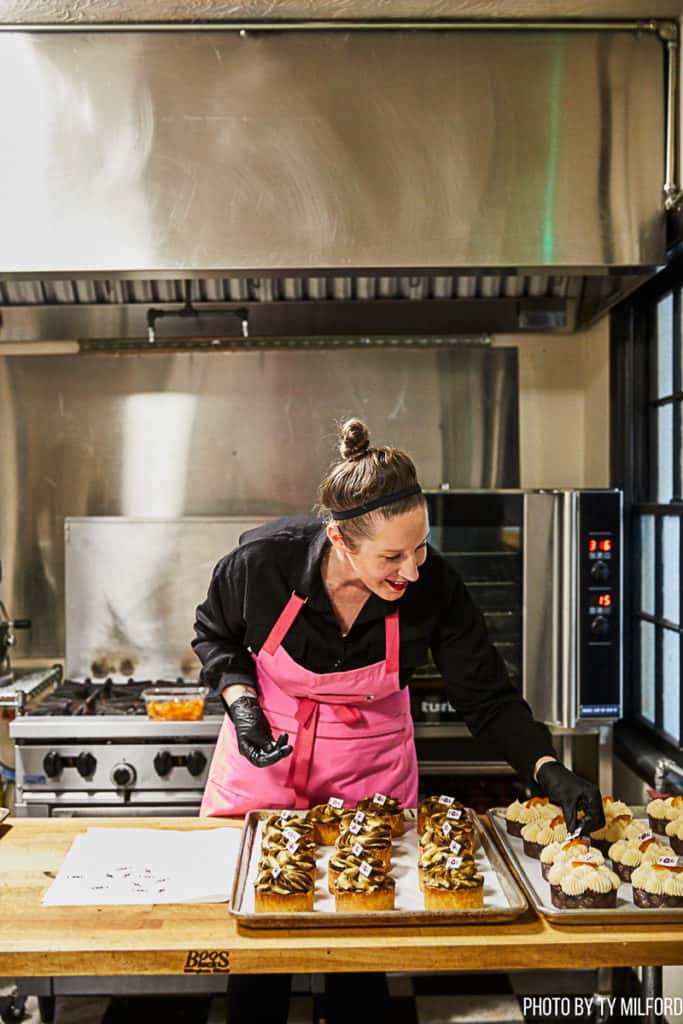 "When you work in a kitchen and you love the work, it's like time travel. I get in at six in the morning then I look up at the clock, and it's 5pm. And I don't even know what happened." – Lisa Hildebrant
Opening a pastry business in the middle of a pandemic
Kitchens are contagious, the pastry chef at Lisa's French pâtisserie had told her. If you work in one, you'll never want to work elsewhere again. It wasn't long before she understood what that meant—making beautiful, delicious pastries was strangely addictive; and a form of beauty that appealed deeply to her artistic nature.
But she didn't stay at the pâtisserie, and when she moved to Portland with her husband she focused on her painting, creating masterpieces on commission to hang in Portland hotels and other public places.
Life was good, if busy.
But then the pandemic struck, commissions decreased, and she found herself free to experiment again— free to follow up her dream of micro patisserie.
With coffee shops and cafes closed for indoor dining, Lisa created an innovative business model that fit perfectly her unique circumstances. French Kiss has no brick-and-mortar storefront.
It works on a subscription model, and lucky subscribers receive a weekly box of fancy French pastries—pastries that, if the reviews are true, transport them immediately back to sunnier places and times.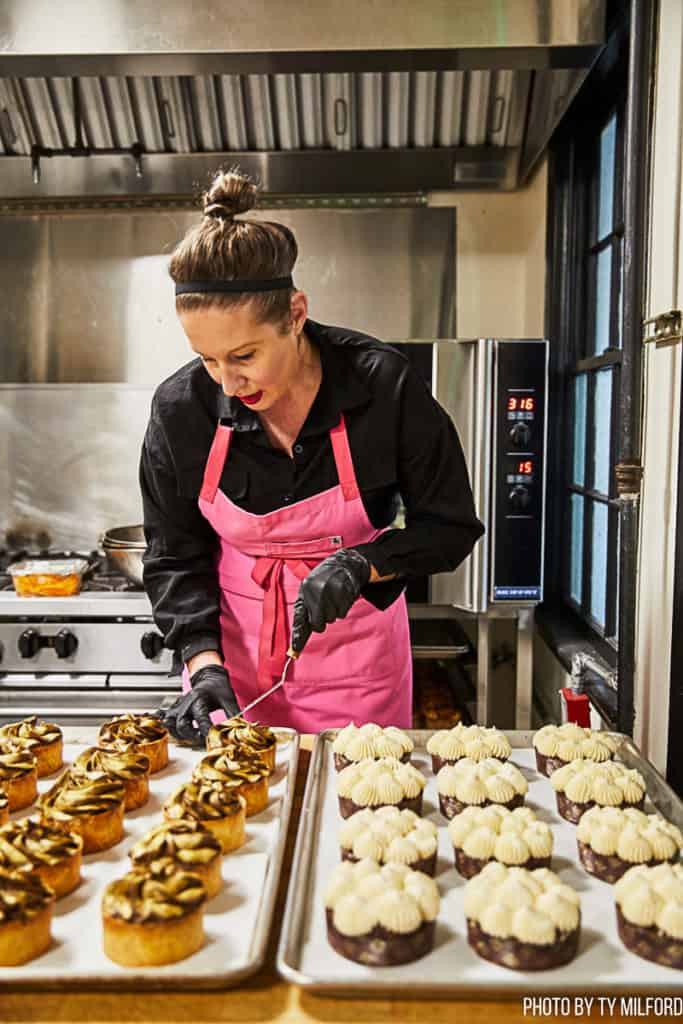 What is your secret foodie dream?
Lisa tells us that it's not too late to follow up on it, whatever it may be. Don't forget to listen to the podcast episode to hear the full story and get inspired.
Links mentioned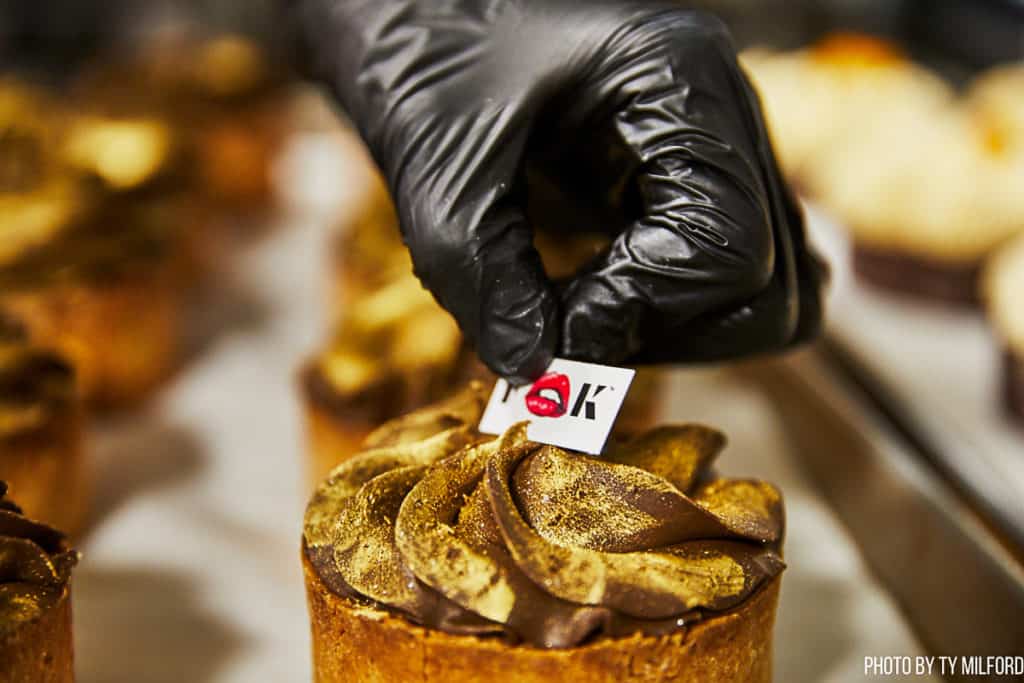 Learn more about opening a pastry business
Listen to My Weird Food Obsession Podcast – episode 19 on Apple, Spotify, or wherever you get podcasts.
More from My Weird Food Obsession